22 Best Beaches in Greece
Just the mention of Greece evokes images of blissful beaches, quaint fishing villages, and endless sea views. With lush Mediterranean landscapes and glimmering crystal-clear waters that sparkle in the sunshine, the most beautiful beaches of Greece offer the impression of paradise.
There are so many stunning beaches in Greece, from the sublime pink-sand shores of Elafonissi to the emerald bays of Corfu Island. Sandy beaches are the most prized, but many of Greece's pebbly beaches are appreciated for their gorgeous natural scenery.
The beaches of Greece are well designed for leisure and recreation. Most have amenities like restaurants and sun bed rentals. Many beaches feature water sports facilities.
Delightful seaside escapes await at Greece's beaches. This list covers the most desirable beaches found on various Greek Islands.
Idyllic and easy-going, Greece is one of the best places to visit in Europe for a carefree beach vacation. For ideas on where to go, see our guide to the best beaches in Greece.
1. Elafonissi Beach, Crete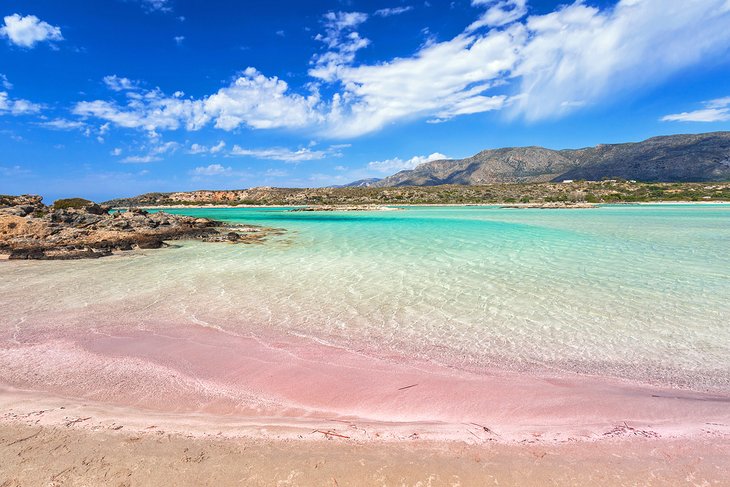 Among the most beautiful beaches on Crete, Elafonissi dazzles visitors with its natural beauty. The shoreline of fine sand has a subtle pink tint, and the crystal-clear waters glisten with aquamarine hues resembling the Caribbean Sea.
The expansive mile-long beach is actually found along the lagoon of a small islet, which is a protected nature reserve near the mainland of Crete (connected by a reef). With the sun-parched Cretan mountains providing a serene backdrop, Elafonissi has a remote quality.
There are no hotels in the area. However, the beach does have a few snack bars, as well as lounge chair and sun parasol rentals.
Elafonissi Beach is ideal for sunbathing and wading. Families with children appreciate the safe, shallow waters. On windy days, Elafonissi Beach is a good place to go windsurfing or kiteboarding.
Getting to Elafonissi Beach is an easy day trip from Chania, about a two-hour drive away. Because of its popularity, Elafonissi Beach gets very crowded during the summertime.
Although Chania is the most popular place to base a vacation in the area, it is also possible to stay right next to Elafonissi Beach. Accommodations are available nearby at Lafo Rooms. This small boutique hotel stands on a quiet hillside, surrounded by a garden. Just a five-minute walk away from Elafonissi Beach, a hilltop grove of olive trees conceals the three-star Elafonisi Resort.
This is just one of many outstanding beaches on Crete, an island packed with fascinating places to visit. Almost equally famous is Balos Beach, with a huge turquoise lagoon.
2. Platys Gialos, Mykonos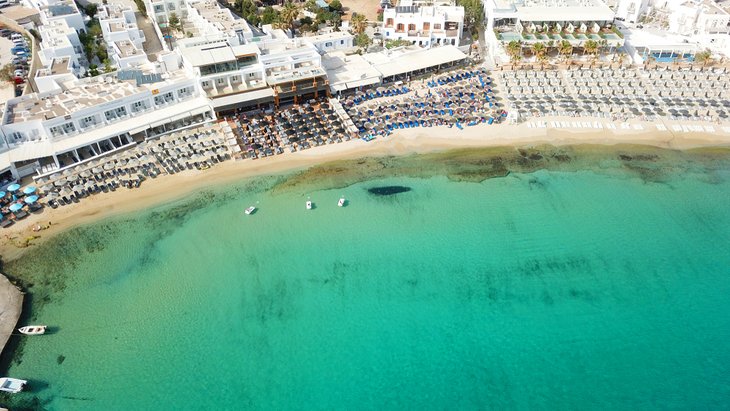 This lively beach has a multitude of draws: a wide sandy shoreline, natural beauty, safe shallow waters, and a selection of beachfront restaurants where guests linger on pleasant verandas or outdoor terraces overlooking the seashore. During the day, Platys Gialos is a family-friendly beach, whereas in the evenings, it's known for its nightlife.
In the high season, the beach is lined with rows of lounge chairs and sun parasols. Some of the beachfront restaurants deliver refreshments to guests at their lounge chairs, which allows for the ultimate relaxation.
Typical of a Cycladic island landscape, the cove of Platys Gialos beach is sheltered by barren hillsides dotted with cubic whitewashed houses. Surrounding the beach are several upscale hotels with top-notch amenities and fabulous views of the Aegean.
The four-star Petinos Beach Hotel charms guests with its quaint Cycladic island style. The five-star Myconian Ambassador is a luxurious Relais & Châteaux property that offers a spa, wellness center, an outdoor swimming pool and sundeck with sea views, a fine-dining restaurant that serves organic seasonal cuisine with regional flair, and private charter yacht services.
From Platys Gialos, beach hoppers can take a caique (Greek fishing boat used as a shuttle service) to a few of Mykonos Island's other top beaches: Paradise Beach, Super Paradise Beach, and Elia Beach.
3. Myrtos Beach, Kefalonia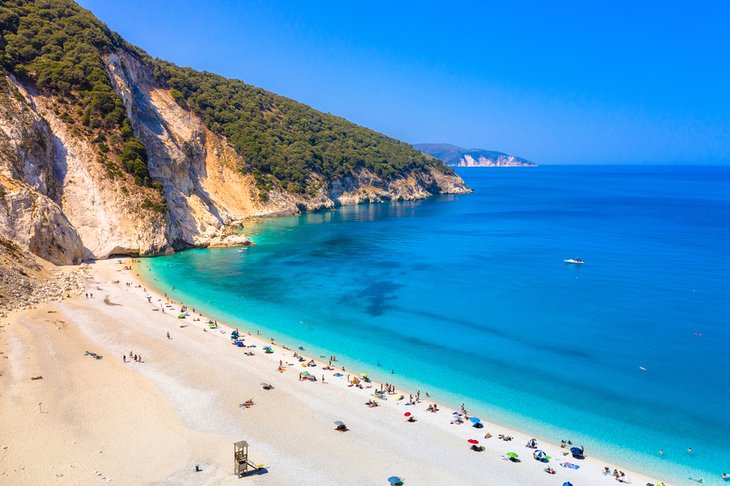 The dramatic landscape of Myrtos Beach on Kefalonia Island creates a striking impression. Just the drive to the beach hints at its remoteness, as it is approached by a narrow winding road, with astounding sea views along the way.
Tucked in between two steep cliffs, Myrtos Beach features a wide semicircular shoreline of fine white sand and smooth pebbles. Gentle waves glimmer in the sunshine, while the pristine waters reveal an array of mesmerizing shades, from aquamarine to deep cobalt blue.
Myrtos Beach has a wild and untouched feel, because of its undeveloped natural setting. However, the beach does have facilities, including a snack bar, restrooms, and rentals of sun beds and parasols. Myrtos Beach can get very crowded during summertime.
This gorgeous beach faces west, which allows for spectacular sunsets. Because of its secluded ambience and breathtaking sunsets, Myrtos Beach is one of the most romantic places to visit in Greece. The beach appeals to couples who want to share a moment of relaxation at the beach.
Another wonderful beach on Kefalonia Island is Skala, which has a pebble shoreline and crystal-clear waters. Skala Beach has been awarded the Blue Flag label for its cleanliness, so it's a great place for snorkeling. This beach has good facilities, plus there are many restaurants and cafés nearby.
Kefalonia Island has a wide variety of accommodations, with something for all types of travelers. Visitors can rent apartments, cottages, and private villas in the area around Myrtos Beach.
The more luxurious hotels are located a short drive from Myrtos Beach on the opposite side of the island in Agia Efimia, a picturesque seaside village full of restaurants, cafés, and snack bars.
Located on Paradise Beach in Agia Efimia, the four-star Odyssey Boutique Hotel presides over the coastline of Sami Bay and the emerald expanse of Ionian waters. The views extend to the neighboring Island of Ithaca. Another highly rated hotel in Agia Efimia is the three-star Kefalonia Bay Palace. This seafront resort property is perched on a hillside, which affords breathtaking vistas of the bay.
4. Paleokastritsa, Corfu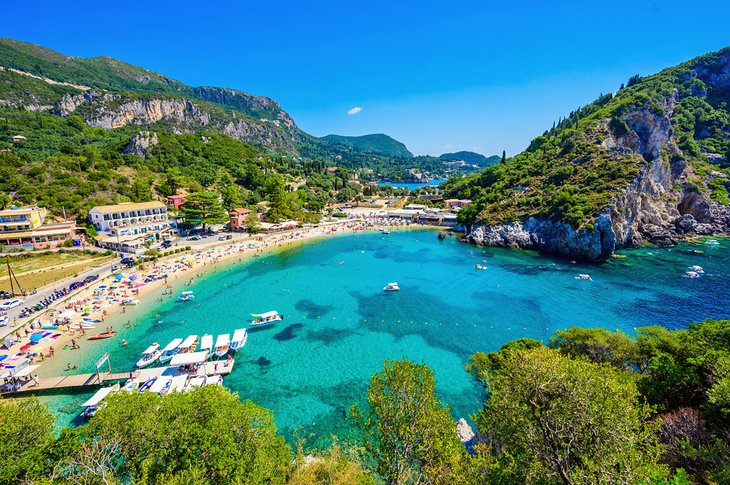 Near the picturesque seaside village of Paleokastritsa, surrounded by olive groves, are some of Corfu Island's most beautiful beaches. This lovely stretch of verdant, hilly coastline has six small sheltering bays, where each of the beaches enjoys a tranquil environment.
Paleokastritsa beaches are prized for their natural beauty and crystal-clear emerald waters, which are ideal for swimming or water sports. However, the beaches have pebble shorelines, except for one sandy beach, Agios Spyridon, which is the largest beach. Most of the beaches offer rentals of sun beds and umbrellas, as well as canoes, paddle boats, and motor boats.
The main beach of the area, Agios Spyridon features snack bars, cafés, and typical Greek tavernas. Alipa beach has a harbor for yachts and fishing boats; visitors can rent motor boats to sail to the neighboring beaches or to explore the caves that are south of the Paleokastritsa beaches.
Paleokastritsa is a popular resort area with an abundance of hotels, shops, and restaurants. Many wonderful waterfront tavernas are found in the village of Paleokastritsa.
5. Mylopotas Beach, Ios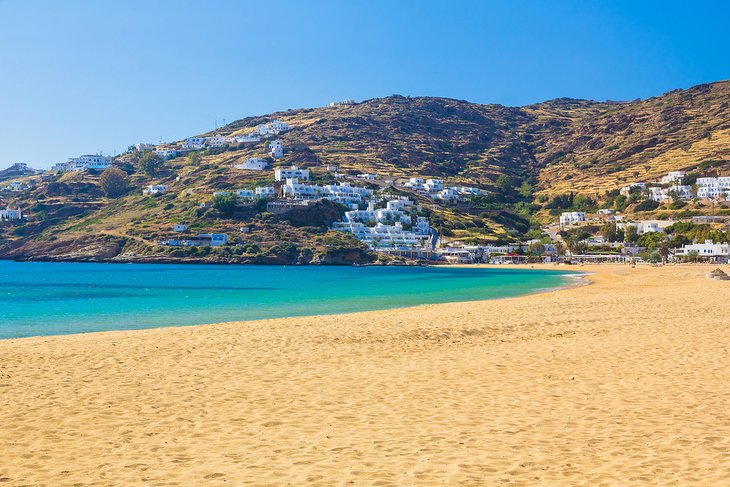 This spectacular white-sand beach is nestled in a tranquil bay, sheltered by hillsides dotted with Cycladic whitewashed houses. Mylopotas Beach dazzles visitors with dreamy turquoise waters, which appear completely transparent in the shallow areas.
The shoreline extends for one kilometer, so there is plenty of space for everyone to enjoy it, even in the high season. During the summer months, Mylopotas Beach (and Ios Island) attracts a young international crowd, including many who come for the nightlife.
Thanks to its calm and clear waters, Mylopotas Beach is designated with a Blue Flag label, which indicates cleanliness and safety. Mylopotas is a great place for swimming and water sports like scuba diving, windsurfing, and recreational boating. There are also beach volleyball courts.
Several cafés, snack bars, and restaurants on Mylopotas Beach cater to tourists in need of food and beverages. Some of the restaurants provide lounge chairs for sunbathers to chill out while sipping refreshments.
6. Mykonos Beaches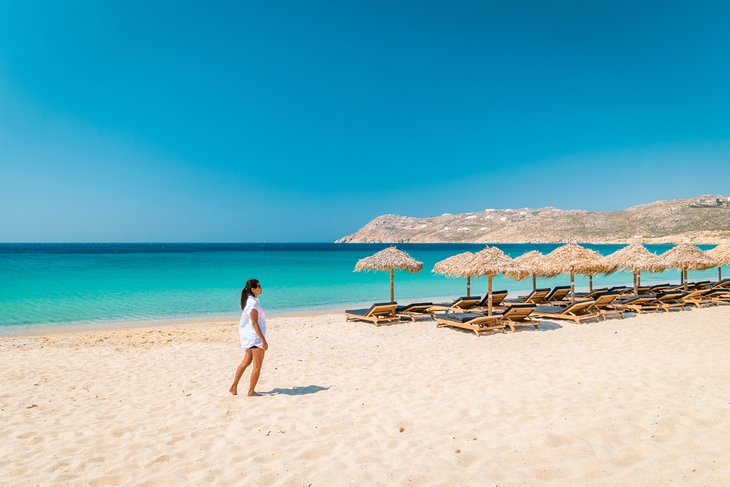 The famous Paradise Beach and Super Paradise Beach epitomize the party lifestyle of Mykonos Island. Both beaches appeals to a young crowd seeking a hip nightlife scene. During summertime, the beach clubs play nonstop electronic music all day and all night.
For a more relaxing experience, Elia is a quiet beach with lovely scenery and superb seaside dining. The stylish Elia Beach Restaurant serves gourmet Mediterranean cuisine on a pleasant outdoor terrace overlooking the gentle waves.
At the more remote Panormos Beach, the fashionable Principote Mykonos beach club offers upscale dining and pampering beachside services. The Principote restaurant serves organic, seasonal Mediterranean cuisine on shaded outdoor patios with sea views. This exclusive beach club also has a trendy fashion boutique.
7. Plaka Beach, Naxos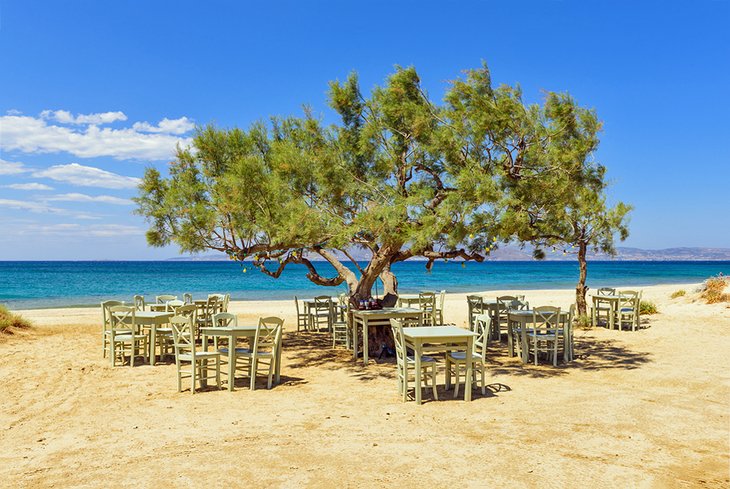 A long expanse of fine white sand and pebbles lapped up by glimmering turquoise waters create the impression of paradise. The calmness and crystal-clear quality of the sea add to the sense of tranquility.
Plaka Beach is mostly unspoiled and undeveloped, allowing visitors to appreciate the natural beauty. The idyllic scenery makes Plaka Beach a perfect place for relaxation.
During summertime, this beach gets very crowded with people sunbathing on the beach and strolling alongside the shore. Sun beds and parasols are available for rent.
At Plaka Beach behind the sand dunes, there are beachfront hotels, snack bars, and cafés. In the town of Plaka, several traditional Greek tavernas serve delicious local cuisine at outdoor terraces (some with splendid sea views). Travelers will also appreciate the large inventory of accommodations in Plaka.
8. Porto Katsiki, Lefkada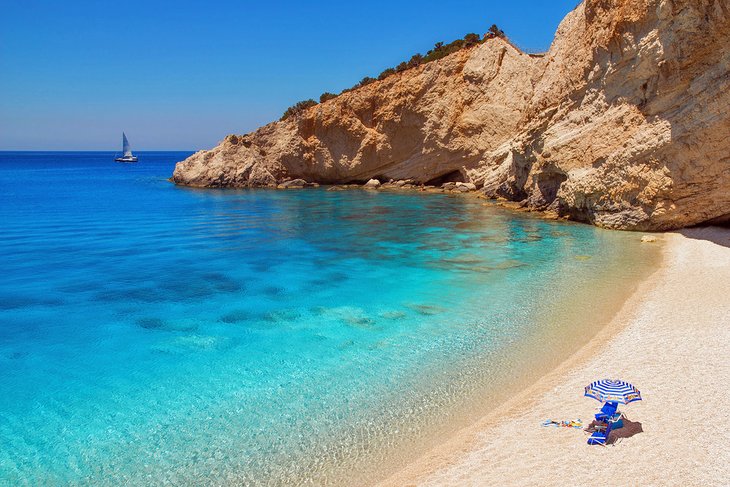 The winding drive to the Porto Katsiki hints at the natural splendor of this breathtaking beach. Tucked away behind steep limestone cliffs, the beach is accessible by a staircase of 80 steps or by taxi boat. The secluded setting, with its mesmerizing sapphire waters, feels truly magical.
Porto Katsiki beach has a long shoreline, with plenty of space for sunbathing. Lounge chairs and parasols are available for rent. At the top of the stairs leading to the beach, a few snack bars sell refreshments.
Besides soaking up the sunshine, when the conditions are right (calm waters and gentle breezes) things to do include swimming, sailing, and bodyboarding. The beach does not have water sports facilities, so visitors should bring their own equipment. Even though the beach has many visitors in the high season (July and August), there are no lifeguards.
9. Bataria Beach, Corfu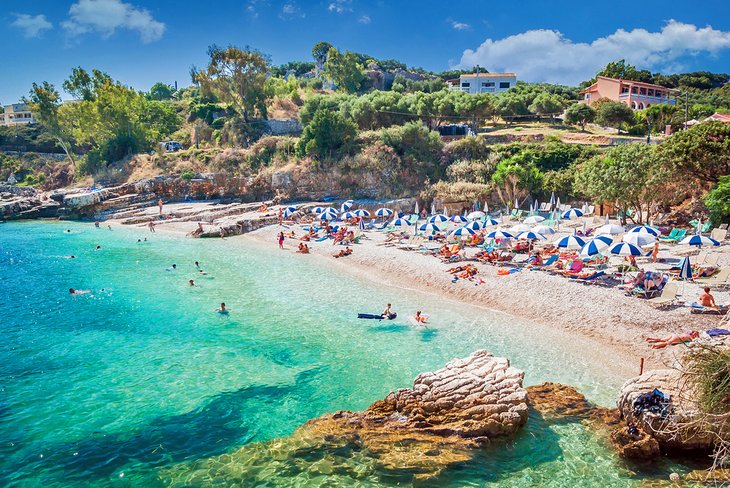 A luxuriant cove conceals Bataria Beach on Corfu Island. The small pebble shoreline leads to emerald waters that reveal a marvelous translucent quality. From the beach, visitors can admire views of the Ionian Sea and the Albanian mountains in the distance.
This secluded spot has a quiet and family-friendly ambience. Families with children appreciate the clean, calm, and shallow waters, ideal for swimming or splashing around on hot summer days.
The beach has a traditional Greek taverna that offers sandwiches, snacks, and refreshments. Sun beds and parasols are available for rent.
Tourists can also enjoy a meal at one of the restaurants in the village of Kassiopi, which is a five-minute drive or 15-minute walk from the beach. In addition to its casual restaurants and tavernas, Kassiopi has a wide selection of hotels in different categories.
Overlooking the waterfront in Kassiopi, the four-star Melina Bay Boutique Hotel is an affordable place to stay. The rooms feature modern decor and amenities; some rooms have sea views.
10. Golden Beach, Thassos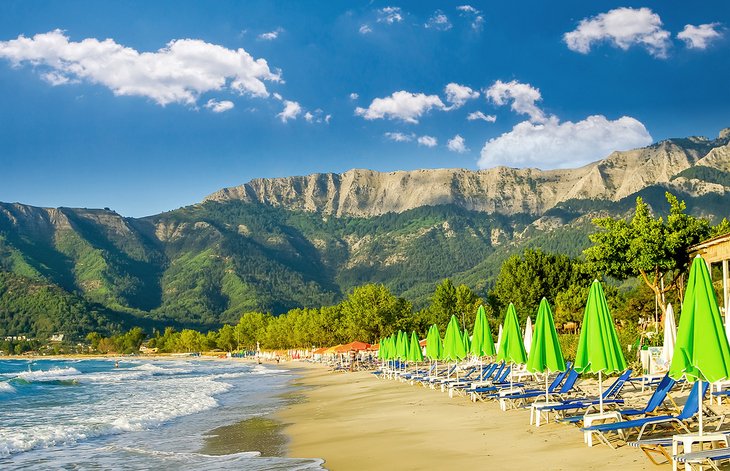 Psili Ammos beach, also known as Golden Beach, is a highlight of the lush and mountainous Thassos Island. The most alluring aspects of this beach are the white-sand shoreline and the brilliant crystal-clear turquoise sea.
Sheltered in a cove, the waters are so gentle and shallow that it appears to be one giant swimming pool. The serene natural environment features wooded hillsides covered with pine and olive trees.
Golden Beach is a popular place for sunbathing, swimming, and water sports. Facilities include rentals of sun beds and parasols.
11. Koukounaries Beach, Skiathos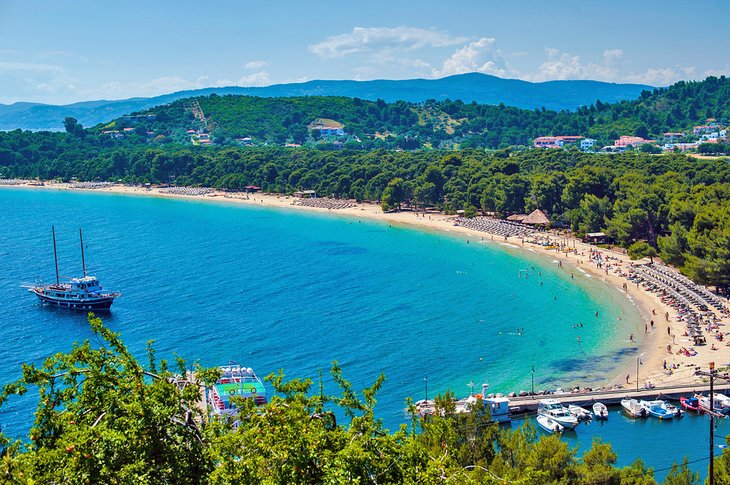 Refreshing pine groves surround this pristine sandy beach, which is considered one of the most unspoiled beaches in Greece. Koukounaries Beach is especially prized for its exceptional soft and fine sand, something quite rare in the Greek Islands. The waters are deep blue and translucent.
Koukounaries Beach is a great place for sunbathing and water sports. Visitors will appreciate the facilities, including rentals of lounge chairs and umbrellas, as well as beachfront snack bars.
Many hotels, restaurants, and traditional tavernas are found nearby. Nature sites in the area have been protected and designated for eco-tourism.
12. Navagio Beach, Zakynthos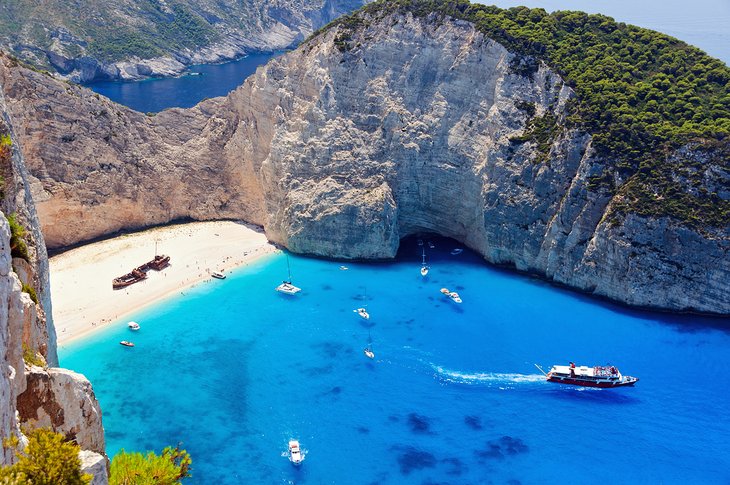 Hidden within a narrow cove and enclosed by steep cliffs, this dreamy beach is only accessible by organized boat tour. The Zakynthos Shipwreck Beach Excursion gives tourists a chance to see the beach, swim in the sea, and visit nearby sea caves.
Visitors are enchanted by the dramatic setting, fine white-sand shoreline, and cerulean water that seems almost tropical. Unfortunately, the crowds of tourists can detract from the idyllic environment.
Navagio Beach is also known as Shipwreck Beach because of the crashed smugglers' ship that stands on the shore. Navagio Beach is found on Zakynthos, one of the most picturesque Ionian Islands.
13. Glyfada Beach, Corfu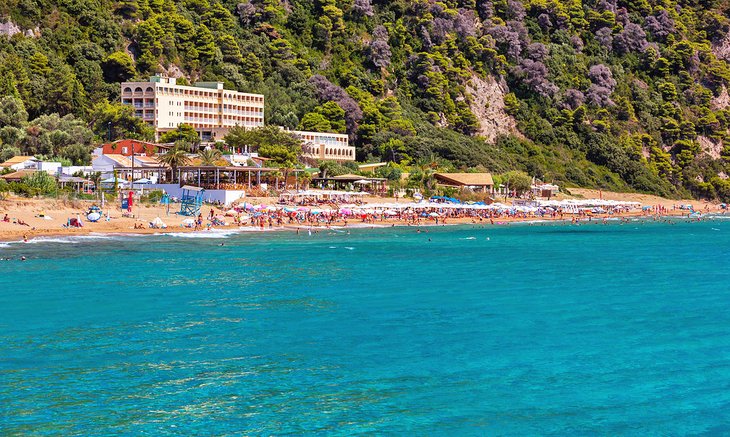 Glyfada Beach is nestled in a secluded cove on the Island of Corfu. Wooded hillsides covered in pine trees and olive groves add to the inspiring natural setting.
The beach offers a wide stretch of fine golden sand, lapped up by gentle waves. The calmness and crystal-clear clarity of the sea has earned this beach a Blue Flag label for water safety.
Glyfada is one of Corfu's most popular beaches. During the summer (especially August), Glyfada Beach can get crowded and noisy. Luckily the beach is prepared for the throngs of tourists, with amenities such as water sports facilities and rentals of sun beds and umbrellas.
There are also beachfront accommodations and casual restaurants on the shore, with outdoor patios that offer delightful sea views.
14. Kolymbithres Beach, Paros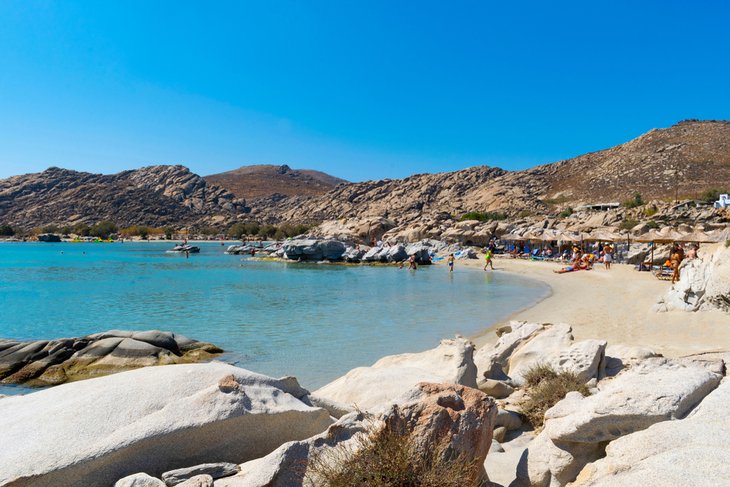 A unique landscape of granite rock formations distinguishes Kolymbithres on the Island of Paros. This marvelous stretch of coastline is actually a string of small coves with sandy shores. The Greek word "Kolymbithres" translates to "swimming pools," which perfectly describes the shoreline's little bays with their shallow, placid waters.
Amenities at Kolymbithres are more limited than at bigger resort beaches. However, rentals of sun beds and parasols are available at some of the beaches. There are also facilities for water sports.
Dining options include a few authentic Greek tavernas. On a hillside above the beach, the Anemos Taverna features a shaded outdoor terrace with sea views. Right next to the beach, the Anemos Beach Club has a casual restaurant with shaded patio seating and provides rentals of sun beds and water sports equipment.
Kolymbithres is a short drive by bus or car from Naoussa, a postcard-perfect seaside village with typical Cycladic whitewashed houses. The beaches of Kolymbithres are also accessible by caiques (traditional fishing boats) from the Naoussa harbor.
15. Panormos Beach, Skopelos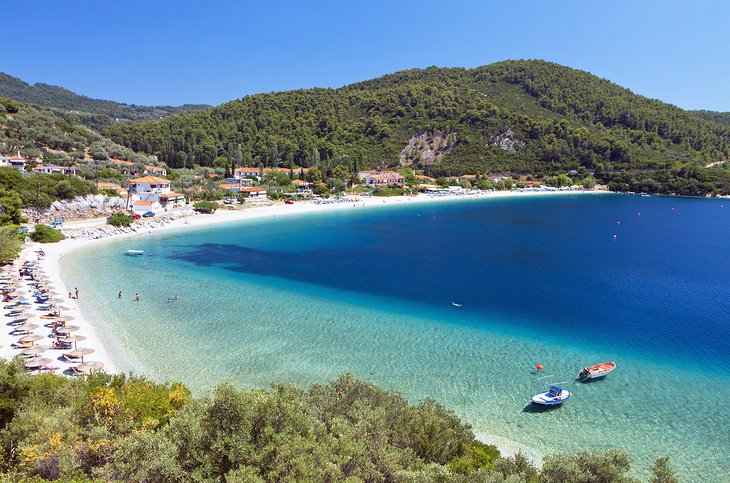 Panormos Beach is sheltered by verdant hillsides in a calm, quiet cove on Skopelos Island. Although the shoreline is covered with pebbles, the otherwise perfect beach has a way of soothing the soul.
The refreshing greenery and transparent turquoise waters provide a peaceful effect for those who come here to enjoy nature. Tourists will also appreciate the facilities.
Overlooking the beach stands the Panormos Beach Hotel. Designed in typical Aegean Island style, the hotel features cheerful decor, a garden courtyard, and a swimming pool. Some of the guest rooms have sea views.
The nearby village of Panormos is full of restaurants, shops, and seafood tavernas. Panormos village is known as a family-friendly holiday destination.
Many tourists are also drawn to the Island of Skopelos because they are fans of Mamma Mia! Most of the scenes in the Mamma Mia! film were shot here. It's possible to take a film location tour.
16. Mikri Vigla, Naxos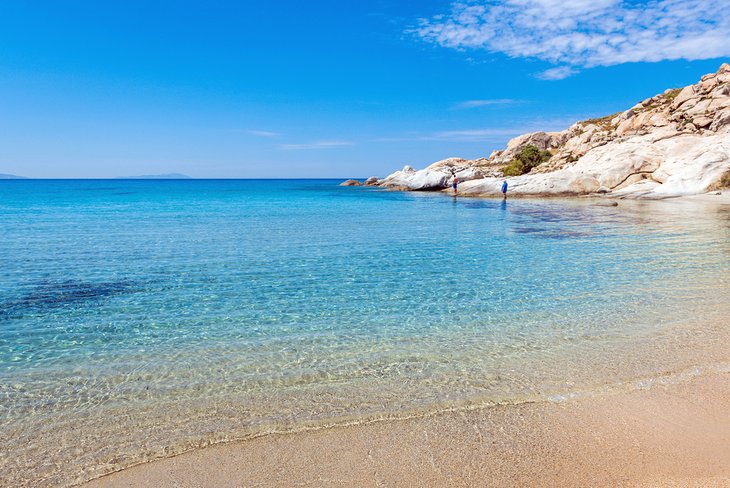 The two beaches of Mikri Vigla are considered some of the most beautiful in the Aegean. This wild coastal landscape features golden-sand shorelines and crystal-clear cerulean waters. Surrounding the beaches are hillsides dotted with typical whitewashed Cycladic houses.
The southern beach of Mikri Vigla (called Limanakia) is a long shoreline with shallow, calm waters that are ideal for swimming. Limanakia beach has a traditional Greek taverna.
The northern beach of Mikri Vigla is popular for windsurfing and has water sports facilities. There are several hotels and restaurants near the Mikri Vigla beaches.
17. Faliraki Beach Resort, Rhodes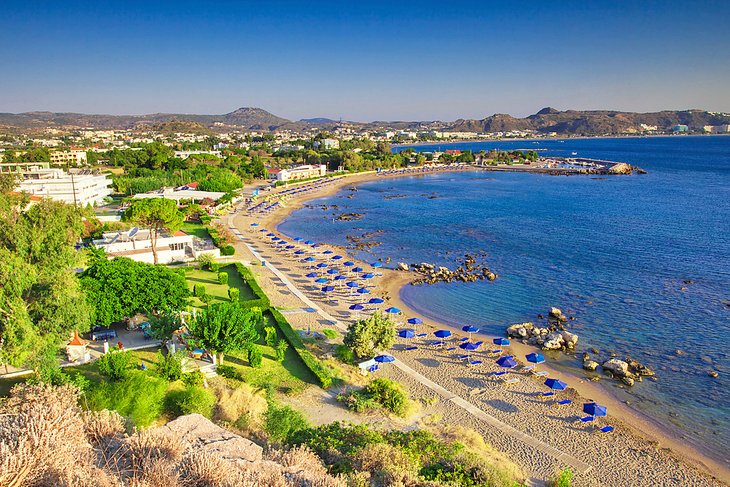 Faliraki is the most popular beach resort of Rhodes, an island remarkable for its ancient ruins and UNESCO-listed Old Town in Rhodes Town. The wide Bay of Faliraki is fringed with a sandy shoreline.
About three kilometers from Faliraki is Ladiko, one of the prettiest beaches on the island. This picture-perfect beach nestles in a small, sheltered cove with verdant scenery. The shoreline is sand and pebbles, while the waters are a sparkling turquoise hue.
Ladiko Beach has excellent facilities and amenities, such as showers and rentals of sun beds and parasols. Besides sunbathing, other things to do include dining at traditional tavernas that serve authentic Greek cuisine.
The Faliraki resort area has many hotels, restaurants, cafés, and shops. This cosmopolitan tourist destination is also known for its nightlife.
Read More: Top-Rated Attractions & Things to Do in Rhodes Town
18. Potami Beach, Samos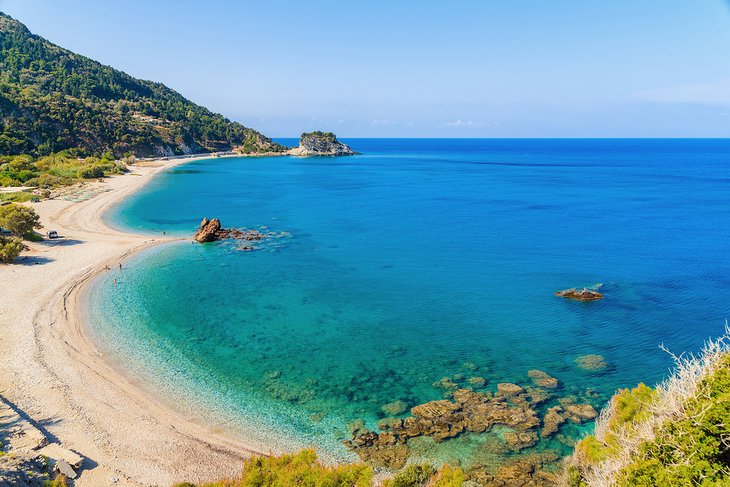 In a cove sheltered by forested hillsides, Potami Beach on the Island of Samos is appreciated for its spectacular natural scenery. Visitors marvel at the lush green mountains that surround the beach, and the distinctive rock formations along the coast and in the sea. A drawback is the pebble shoreline.
Despite its untouched appearance, Potami Beach has good facilities, including a few cafés and restaurants. Sun beds and umbrellas are available for rent.
Potami Beach is also known for its crystal-clear waters and gorgeous sunsets. Overlooking the beach is a medieval castle (known as the "Kastraki of Panagia Potamiou" or the "Genoan Castle") and an 11th-century Byzantine church.
19. Santorini Beaches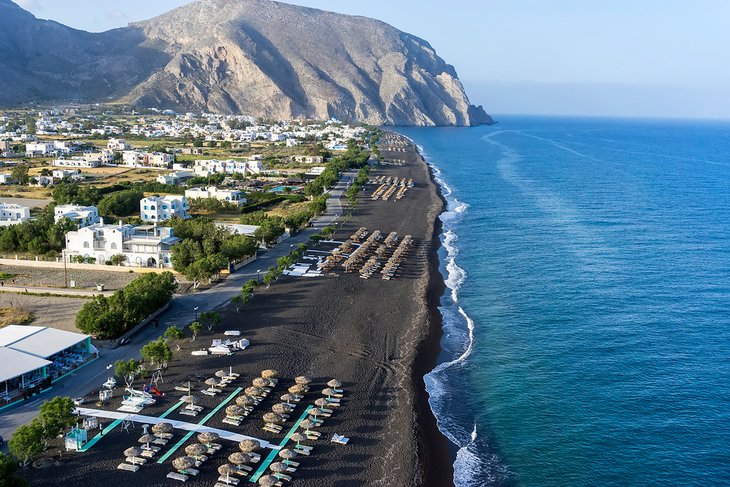 The Island of Santorini is not as well known for its beaches as other Greek Islands. However, it does feature several distinctive beaches that are worth visiting. The unique volcanic geology of the island gives these beaches an almost surreal quality.
Surrounded by cliffs of rusty-toned volcanic rock, the aptly named Red Beach is a stunning nature site. The beach itself is quite small, and during summertime, the tiny shoreline is covered with sun beds and parasols. Red Beach is a must-see attraction because it's unlike any other beach in the world.
Perissa Beach wows visitors with its striking shoreline of black sand and pebbles, derived from volcanic lava. The crystalline, azure waters are equally dazzling.
Tourists will appreciate the facilities of Perissa Beach: a scuba diving center, restrooms, showers, sun beds, and umbrellas. This Blue Flag beach has a lifeguard on duty during summertime. Many hotels, restaurants, and cafés are found nearby.
The family-friendly Kamari resort centers around another black-sand and pebble beach. The shoreline is backed by a charming whitewashed village with many hotels, cafés, and restaurants.
Alongside the five-kilometer-long shoreline of Kamari Beach is a promenade for taking strolls. Ideal for tourists, the promenade is lined with shops and casual eateries.
Kamari Beach has excellent amenities including restrooms, showers, sun beds and parasols, as well as water sports facilities. A lifeguard surveys the beach during the summer months. The waters have a Blue Flag label for their cleanliness and safety.
20. Agali Beach, Folegandros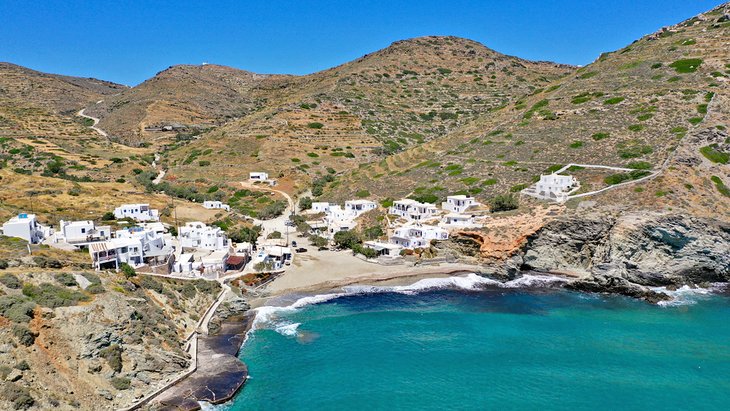 Travelers adore the traditional villages and romantic, secluded beaches on Folegandros. This rural island has a laid-back pace that allows visitors to slow down and relax.
Agali Beach is a small family-friendly spot that gets crowded during summertime. The pristine shoreline features sand and pebbles, while the shallow waters are safe for swimming. There are many cafés, tavernas, hotels, and other accommodations in the area.
Another popular beach on Folegandros Island is Livadi Beach, which has a long sandy shoreline. Livadi Beach is surrounded by farmlands, as well as sheltered by hillsides from winds. Nearby there is a casual café-restaurant and a campground.
21. Kyra Panagia, Karpathos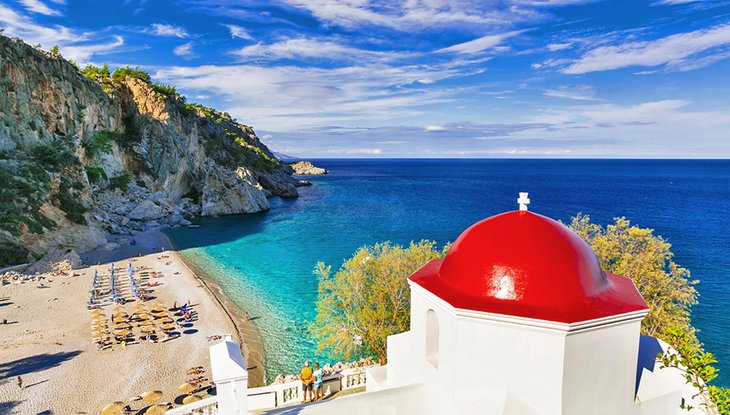 Tourists know that they're in for a wonderful surprise when taking the narrow, curvy mountainous route to Kyra Panagia Beach, with amazing sea views along the way. The half-moon-shaped beach is protected by sheer rocky cliffs, covered with luxuriant Mediterranean vegetation, creating the impression of an island paradise.
This sand and pebble beach is prized for its natural beauty, with the surrounding hillsides sprouting vibrant flowers and palm trees. Ideal for swimming, the calm waters are translucent in the shallow areas. From a distance, the sea appears a dazzling emerald hue.
Kyra Panagia is well designed for visitors with excellent facilities: restrooms, showers, changing rooms, and rentals of sun beds and parasols. A nearby seafood taverna offers splendid vistas of the Aegean Sea.
Overlooking the beach in a peaceful setting, the three-star Kyra Panagia Hotel offers modern guest rooms with balconies. This accommodation allows visitors to enjoy a blissful vacation right by the beach. In the area, tourists will also find other accommodations, shops, and traditional Greek tavernas.
22. Lemonakia Beach, Samos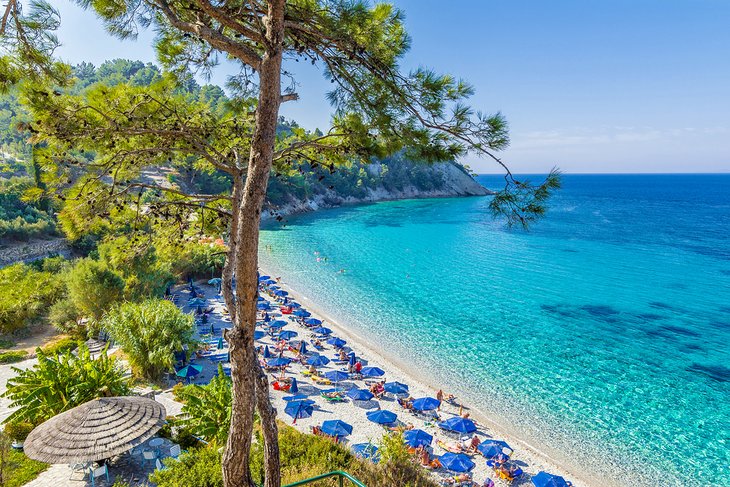 This picturesque beach on the Island of Samos is tucked into a small bay, with a lush pine forest as a backdrop. The crystal-clear turquoise waters are calm and shallow.
The downside of this beach is the pebble shoreline, but that doesn't take away from the joys of sunbathing and swimming.
The beach gets very crowded in high season but is well prepared to welcome visitors. Facilities include a snack bar and rentals of sun beds and umbrellas.
Map of Beaches in Greece
More Related Articles on PlanetWare.com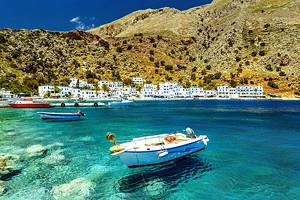 Cultural Attractions of the Greek Islands: A beach vacation in Greece offers the chance to see some of the highlights of the Greek Islands, beyond the beaches. The Island of Crete boasts a fascinating Bronze Age archaeological site, UNESCO-listed natural parks, and lovely historic port towns. Popular places to visit on this island include Agios Nikolaos, Rethymon, Chania, and Heraklion. The medieval Old Town of Rhodes Town is a must-see site on the Island of Rhodes.