11 Top-Rated Things to Do in Kotor, Montenegro
We may earn a commission from affiliate links ()
In a stunning location in the fjord-style Bay of Kotor and backed by the limestone cliff of Mount Lovcen, Kotor is a fairy-tale-looking fortified old town dating back to medieval times.
This city on Montenegro's Adriatic Coast is filled with winding cobblestone streets and vibrant squares with a flourishing café culture, well-preserved city walls you can walk, old fortresses, churches galore, and so many other things to do for tourists.
While many people only visit Kotor for an afternoon on a cruise ship excursion, independent travelers will want to book a few nights in this fascinating city to really soak up the atmosphere and check out all the tourist attractions. But if you are short on time, we recommend going straight to the city walls and hiking the steps to the very top of the town for mesmerizing views.
Plan your sightseeing with our list of the top things to do in Kotor.
1. City Walls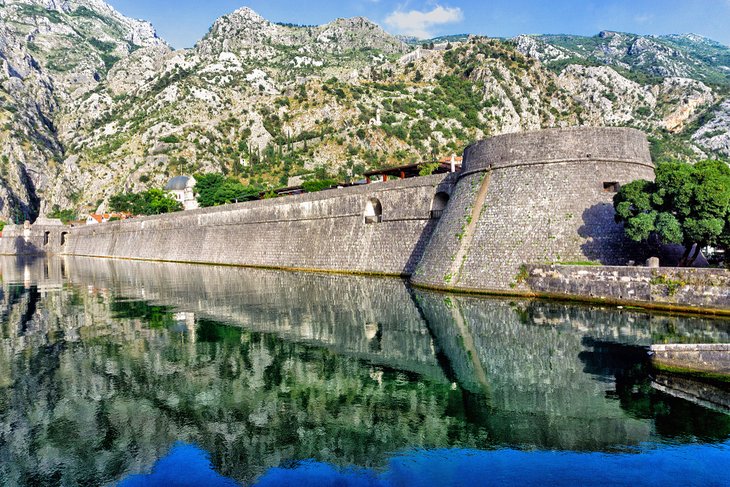 Kotor's City Walls cover around 4.5 kilometers and are between two and 16 meters wide and up to 20 meters high. Although they can appear to be falling apart in places, the walls are in quite good condition considering their age dates back to the 9th-century.
Kotor's city gates are especially well preserved. The River Gate is the main entrance, where you'll pay an admission fee. Here, you'll be given a brochure that identifies main attractions along the walk, which has you climbing more than a thousand steep stone steps to breathtaking views across the bay from the very top.
Our Lady of Health is one of the significant sights you'll find while climbing up the ramparts – it is about one-third of the way up. The church dates back to the 15th century and supposedly healed people suffering with the plague. If you don't want to make the entire climb, it is a good turnaround point as well.
2. Castle of San Giovanni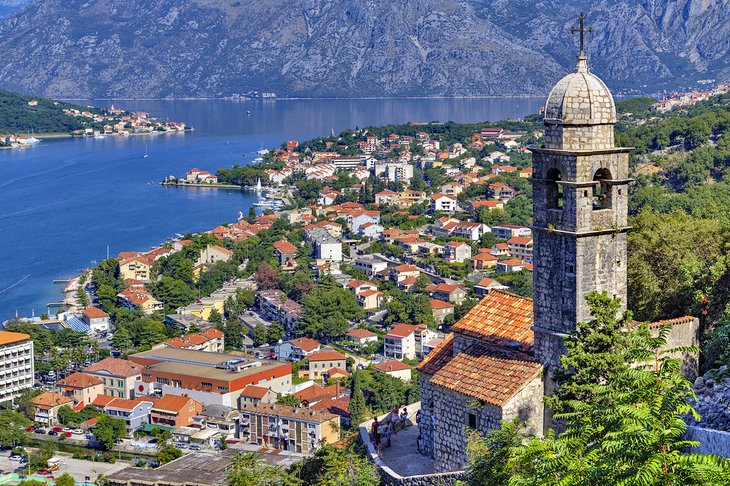 You'll have to climb all 1,350 stairs and 1,200 meters in elevation to reach the Castle of San Giovanni (Castle of St. John) and the old fortress atop Kotor's City Walls, but it is well worth the effort for the views. From here, you can see the city below and then the fjord that is the Bay of Kotor beyond.
The Chapel of St. Ivan is also located atop the city walls. To reach it, you climb through a hole in the old wall. Note you can also get a great photo of Our Lady of Health church from just below the top.
You will want to allow around three hours to hike to the castle although it can be done in around two hours if you are in excellent shape and in a rush. Doing the hike in the late afternoon is particularly stunning, as the light is best for views across the Bay of Kotor and the castle ramparts, but note that the sun sinks fast, so try to snap more photos on the way up when the light is still good.
3. Our Lady of the Rocks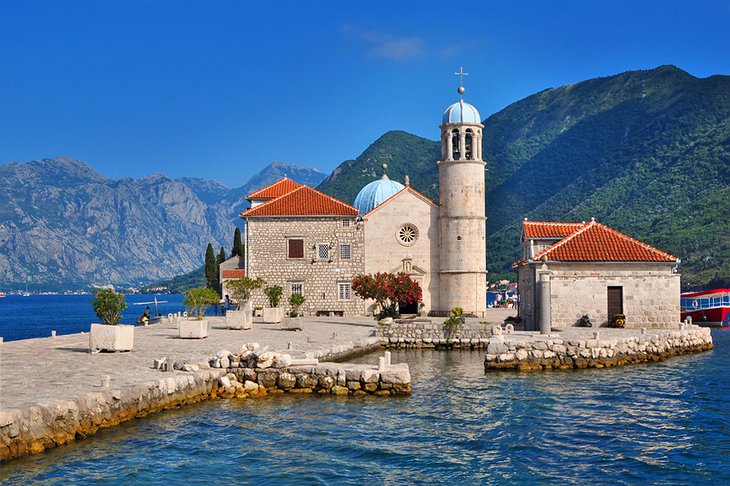 A manmade island in the inner portion of the Bay of Kotor near the ancient town of Perast, Our Lady of the Rocks houses a circa 1722 church. The history of this island stretches back to July 1452, when two fishermen allegedly discovered an image of the Virgin Mary on a pile of rocks that would later become the island. They built a tiny Orthodox chapel in the place where the image was discovered.
By 1630, the Venetians were running the region, and they replaced the Orthodox chapel with a Catholic one. They also built up the pile of rocks into a proper island. The church on the island today still houses the original 15th-century Virgin Mary icon discovered here. There is also a museum and gift shop attached.
To reach Our Lady of the Rocks from Kotor, you can take a bus to Perast (30 minutes) and then catch a quick ferry over to the island.
4. St. Tryphon Cathedral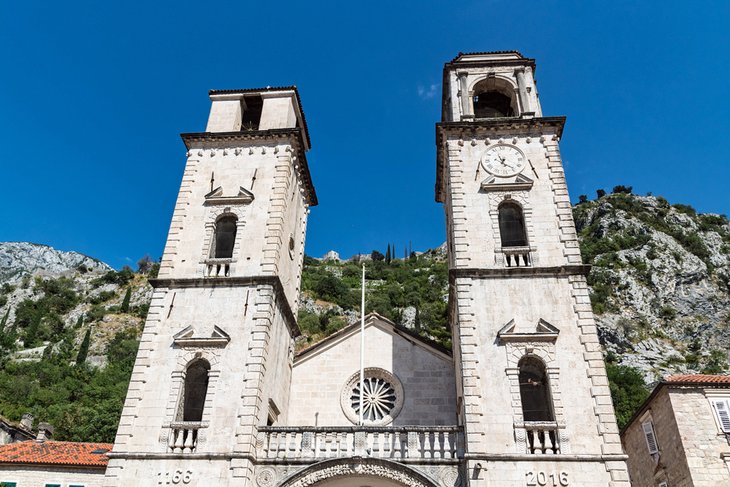 One of only two Roman Catholic churches in all of Montenegro, Saint Tryphon Cathedral is considered by many to be Kotor's most beautiful building and a symbol of the city. The cathedral, with uneven towers, was originally built in 1166 but has been reconstructed over the centuries after damage from multiple earthquakes.
When an earthquake destroyed the front of the church in 1667, the Baroque bell towers were added; however, only one was completely finished, leaving the uneven tower structure seen today.
Make sure to step inside, as it is an impressive example of Romanesque architecture, with slender columns and pink stone pillars supporting its vaulted roof. Look closely at the interior arches for remains of ancient frescos.
5. St. Nikolas' Church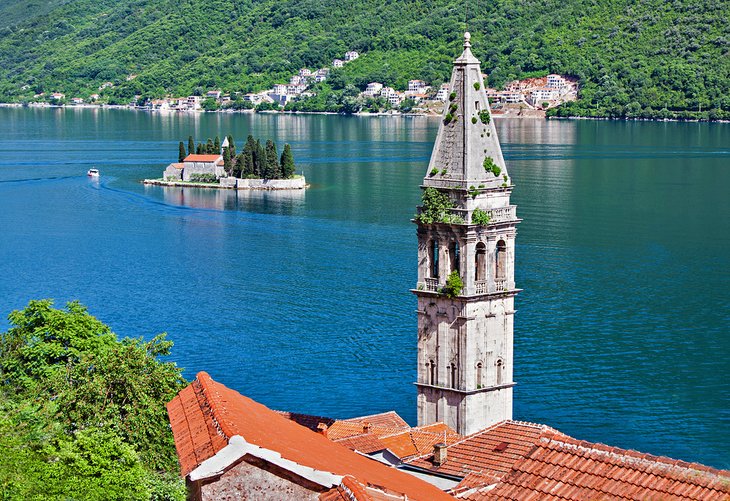 St. Nikolas' Church is Kotor's most important Orthodox Church and is on St. Luke's Square in the northern portion of old town. It was built over the foundation of a building destroyed by a fire in the late 1800s. Construction on St. Nikolas' began in 1902 and was finished in 1909.
The church has two bell towers on its main facade and a large cupola that rises above the surrounding rooftops. The style is a mix of Byzantine and Romanesque. The golden crosses seen atop the black domed bell towers were a 1998 addition – they were a gift from Russia.
Inside, you'll find impressive silver pieces, including enormous chandeliers and large candle holders. There is also a stunning mosaic by the entrance, and a large Serbian flag hangs on the second floor. The church treasury is also notable, with a large collection of icons, ecclesiastical garb, documents, and other valuables gifted to them by Kotor's wealthy families over the last 100 years.
6. Sea Gate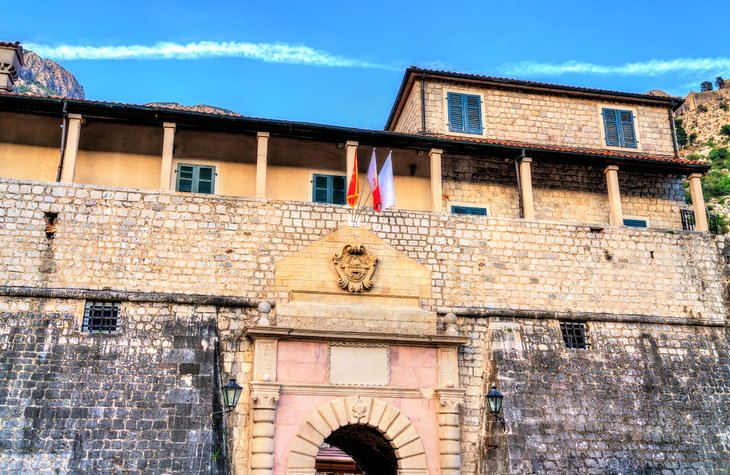 Like much of the region, Kotor was under Venetian rule between 1420 and 1797 and during this time, the main entrance to the city was built in 1555. Known as the Sea Gate, it is well preserved and has a few notable marks. The symbol of Venice, a winged lion, is displayed on the walls here.
Also look above the gate for the date etched into the stone. Translating to Nov 21, 1944, it is the day the city was liberated from the Nazis during WWII. You'll also see a communist star and a quote from President Tito of Yugoslavia.
From the Sea Gate, you will enter into the old walled city, where you'll come across a beautiful square lined with Venetian-style stone buildings now filled with cafés and shops. Also here is a three-story high Kotor Clock Tower with two clock faces. A city focal and meeting point, it dates back to 1602 and features a mix of Baroque and Gothic architecture.
7. Lovcen National Park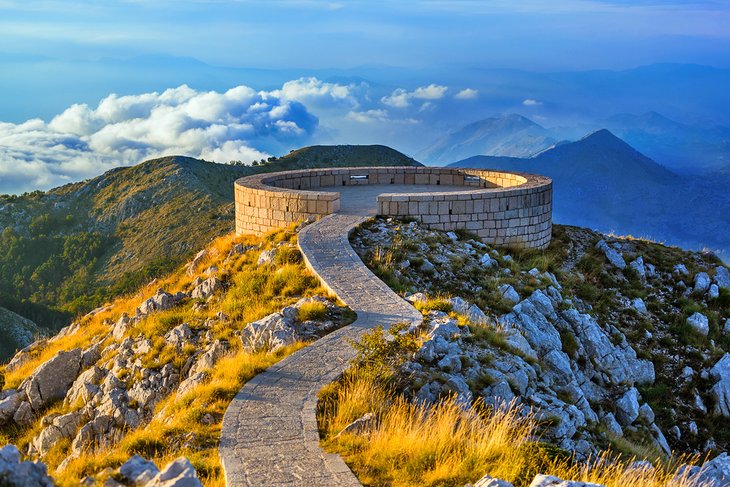 An easy day trip from Kotor, Lovcen National Park is one of the top places to visit in Montenegro, and one of the country's most accessible protected natural places. The park sits between Kotor, Cetinje, and Budva, and the road to get here from Kotor is one of the country's most stunning, with gorgeous views of the Bay of Kotor all the way up the winding, serpentine track.
There are 25 hairpin turns along the way, so it isn't a good drive if you get carsick quickly, but with each turn is another Instagram-worthy view, so you'll want to stop often.
The park itself covers some 6,220 hectares and is heavily forested. It is a great place to visit for a picnic or a hike, and local families come in summer to escape the heat – temperatures are about 10 degrees lower here than in Kotor.
Lovcen is home to more than 200 species of birds, including eagles and falcons. Bears and wolves still live in these woods, but they tend to stick to the most remote corners of the park where no humans venture.
8. Cats Museum of Kotor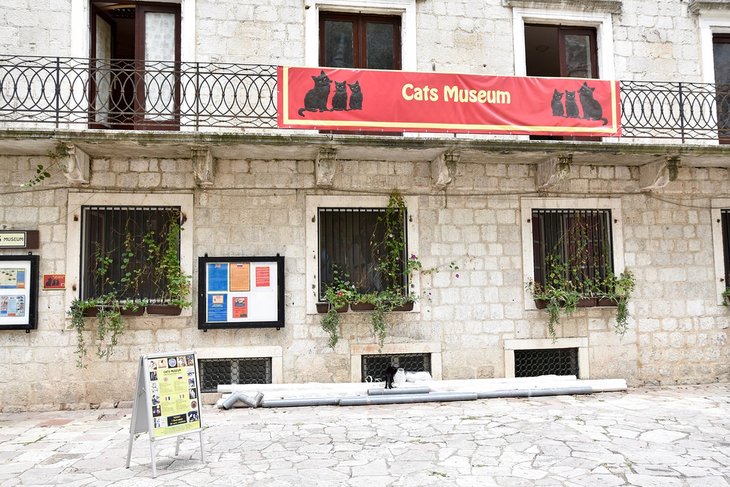 Wherever you go in Kotor, you will see street cats lounging, purring, and being loved on. So it is of little surprise that Montenegro's self-proclaimed "cat capital" of Kotor has a museum dedicated to these feline friends.
The Cats Museum of Kotor opened in 2013 after the International Cats' Adoption Centre in Venice received a donation of a collection of period images of cats in various human-style poses – some are reading books, others cooking – and needed somewhere to place them. They chose the former Venetian stronghold for its longtime love of cats. Beyond the images there are antique books, posters, advertisements, and stamps that are all kitty focused.
For cat lovers, it is a must-see. And beyond the exhibits in its two rooms and a hallway, you'll also find some resident real kitties to interact with. If you want to take a souvenir home, the museum has a gift shop with all sorts of cat-themed items.
9. Maritime Heritage Museum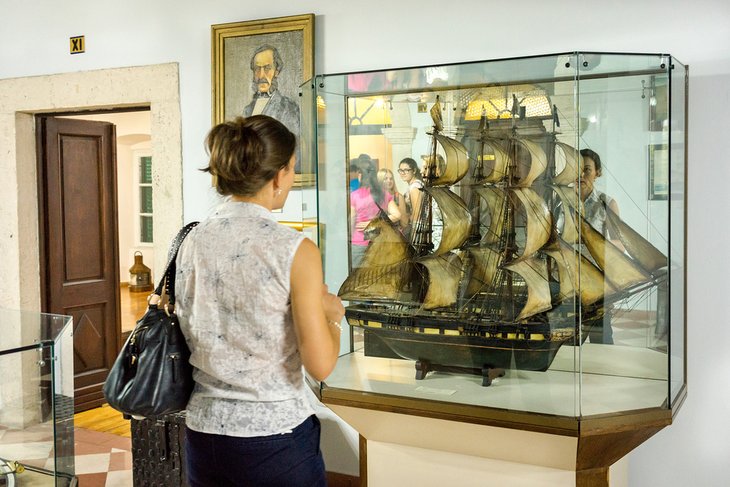 Another popular museum is Kotor's Maritime Heritage Museum. Located on Boka Fleet Square in a beautiful 18th-century Baroque mansion, the exhibits here give an excellent summary of Kotor's longstanding maritime history. The exhibits cover two floors and include everything from nautical instruments to weaponry and national costumes to navigational maps.
The central hall has the most impressive exhibit of model ships that were used for both trade and war throughout the centuries. Here, you will also find the museum's weapons collection used on ships between the 17th and 19th centuries.
10. Perast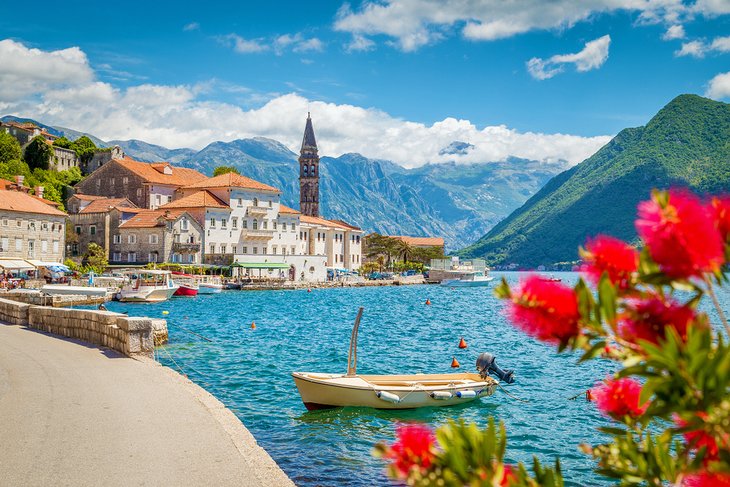 Another easy day trip from Kotor is a visit to Perast. Set on the northwest corner of the Bay of Kotor, it is another picturesque, ancient town and also the jumping-off point to Our Lady of the Rocks and St. George's churches, which are set on islets in the bay near the town.
In the town itself, the Church of St. Nikola has excellent views of the town and deep blue bay from its belfry tower. While Perast does not have a proper beach, you can do as the locals do and sunbathe on the stone jetties fronting the bay on warm summer days.
Accommodation: Where to Stay in Perast
11. Budva Riviera Day Trip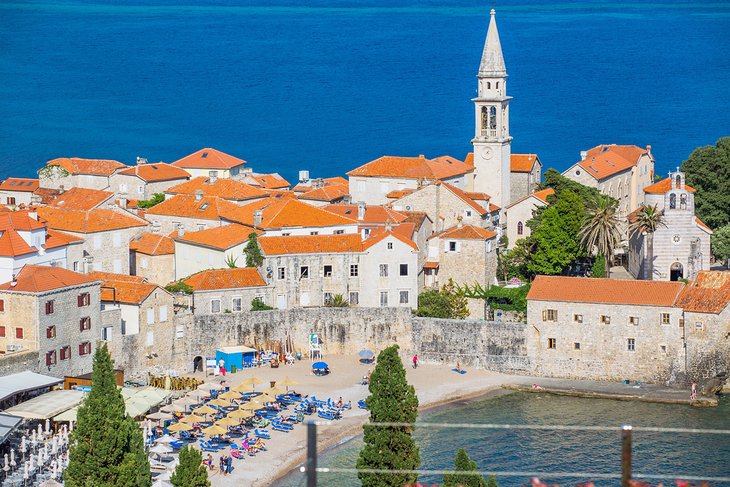 It is an easy 30-minute drive or slightly longer bus ride to reach the Budva Riviera from Kotor, making it very feasible to stay in Kotor and just head to the beach for the afternoon.
In summer, this is Montenegro's top beach destination for locals and tourists. Budva is the anchor city, but the sand and pebble beaches here stretch out along the central Montenegrin coastline in either direction, and you can hop from one to another quite easily.
The Adriatic Sea water is a pretty turquoise hue, with flashes of aquamarine and emerald, and is very clear and warm. It is also very calm, making it great for swimming or floating or just relaxing in. With the dramatic mountains that also run along the coast as a backdrop, the entire area is gorgeous.
Old Town Budva is worth a wander. It is a medieval walled city that dates back 2,500 years and has a vibrant atmosphere with lots of restaurants and shops.
One of the top beaches in the area is Mogren Beach, which also happens to be nearest to the Old Town – just follow a seaside pathway for five minutes, and you'll reach it. Once you get to the beach, you'll find plenty of dining options with outdoor seating lining the beachfront.
Accommodation: Where to Stay in Budva
More Related Articles on PlanetWare.com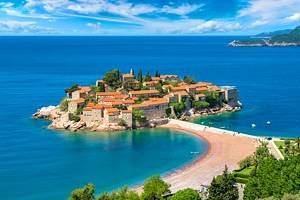 Explore Montenegro: Montenegro is home to so many amazing attractions and places to visit beyond Kotor. The pocket-sized country is easy to explore in a few days, although to really appreciate its rich history and culture not to mention ancient walled cities and miles of coastline, you'll want to devote more time to exploring here. Check out our top-rated things to do in Montenegro for more ideas on what to see, from the glorious beaches along the Budva Riviera to mountain cities like Cetinje and national parks galore.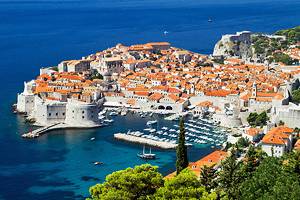 See Croatia: Montenegro's next door neighbor to the north is Croatia, which has become one of Europe's top tourist destinations in the last decade. Still affordable when compared to other parts of Europe, Croatia is a beautiful country filled with a mix of ancient cities like Dubrovnik and long stretches of beaches on its Dalmatian Coast, as well as islands off the coastline like beautiful Hvar. See our guide to the top-rated tourist attractions in Croatia to learn more about this historic and naturally attractive destination.