9 Popular Beaches in Split
Author Meagan Drillinger visited the beaches of Split as part of a month-long journey throughout Croatia.
Beaches in Croatia are legendary, but the best beaches in Split are among the most famous in the world. Split is a buzzy, vibrant seaside city that caters to absolutely everyone, from humble backpackers to the yacht-cruising glitterati — and its beaches are no different.
During my month-long visit to Croatia, I was able to get fully acquainted with the best beaches of Split and their distinct personalities, and I can attest that there is certainly a beach for everyone.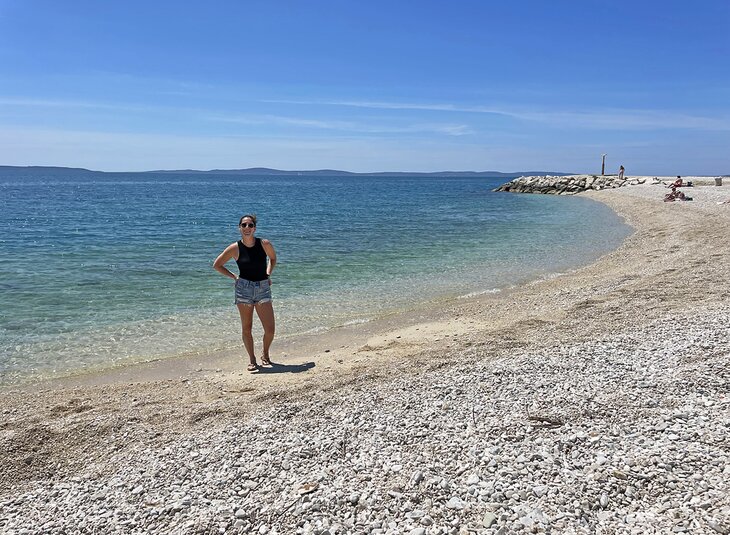 Split's best beaches are just as diverse as the bathers who visit them. But one thing they all have in common is their white pebble shoreline. If you are looking for sandy beaches, Split is not the destination for you. But if you want a mesmerizing aesthetic of pearly white pebbles contrasted against impossibly turquoise water, Split delivers in spades.
From the boisterous energy of the downtown beaches, like Firule and Bacvice, to the more tranquil, escapist vibes of Jezinac, and the sheer natural beauty of Kasjuni, the beaches in Split are ready and waiting.
One thing to note: water shoes are a good idea at all beaches, as sea urchins like to gather just offshore (and the pebbles can be tough on sensitive feet). Oh, and bring your camera — you won't want to miss out on the spectacular photo ops of these gorgeous seaside spots.
If you're ready to dive in, check out my list of the best beaches in Split, Croatia.
1. Kasjuni Beach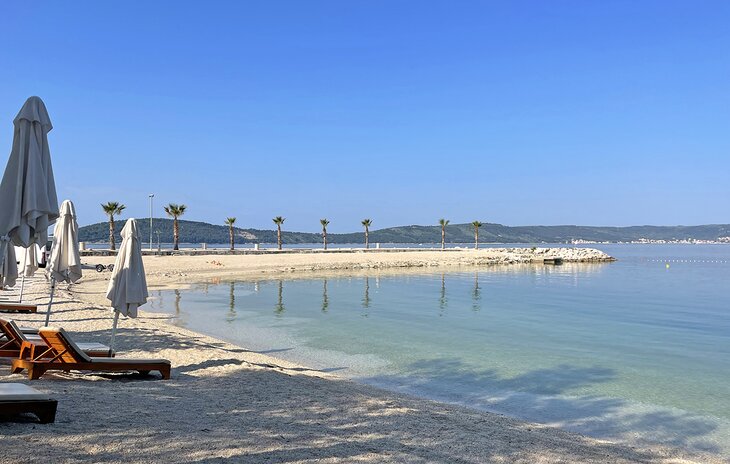 Split's Kasjuni Beach takes everything you want from a Dalmatian Coast beach and puts it all in one stunning package. The white pebbly beach adds a sparkling trim to a gentle, lapping crescent of turquoise water. Catamarans bob gently in the distance, while a slope of tree-covered white limestone mountain stands protectively overhead.
Kasjuni Beach is beautiful — and feels like a world away from the tourist-packed streets and bustling restaurants of downtown Split, which is just a 10-minute drive away. What I loved most bout this beach is that it is a mostly locals-only beach and sits at the very tip of the Marjan peninsula, entirely engulfed by the rugged Park Šuma Marjan.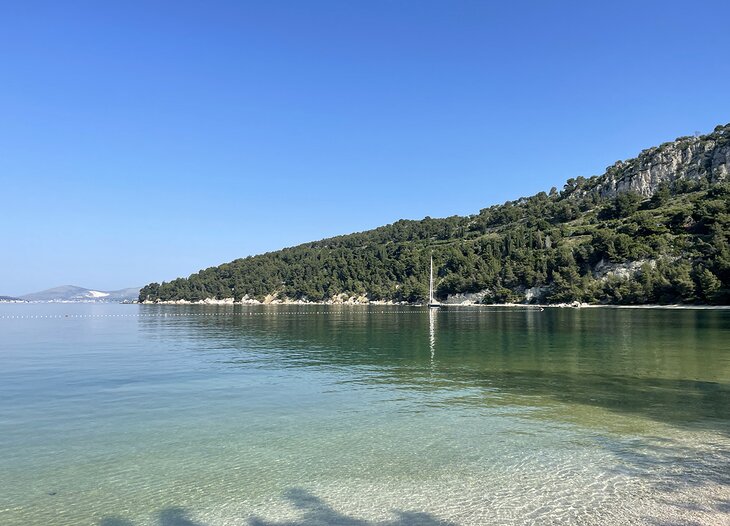 Visitors can perch themselves on the pebbly shore or can snag one of the chic cabanas at Joe's Beach Lounge, a scenic watering hole with on-site massage services, food, and drink. Their wooden Bali daybeds with billowing linen curtains practically beg for an Instagram photoshoot.
I highly recommend going early in the day for peace and tranquility. The music from Joe's turns up around noon, and the parking lot can fill up quickly. A breakfast dip is the perfect time to beat the crowds. Or, stay until sundown and join in on the festivities.
2. Žnjan City Beach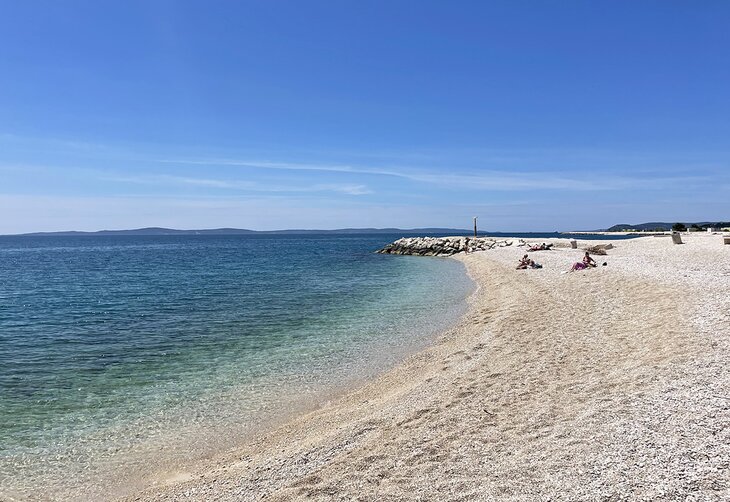 East of downtown Split, Žnjan City Beach is a conveniently located spot overlooking a wide expansive crystalline sea and the gentle slopes of the island of Brac in the distance. A long boulevard of beachfront hotels overlooks the beach and you'll find ample free parking, too.
I enjoyed this beach thanks to its broad stretch of sun-drenched pebbly shore and the impossible blues from sea to sky. But while it is one of the best-ranking beaches in Split, I did find it to be a little bit boring. Convenient parking is great, but the view of the concrete parking lot is not. The beach does have a walking path that runs between the street and the shoreline, which is popular for joggers or dog walking.
I would also recommend bringing your lunch, as the restaurants nearby are either temporarily closed, seasonal, or have disappointing reviews. Still, Žnjan knows how to set the scene for a quiet picnic. Just be sure to sit with your back to the street and keep your eyes out on the islands, which appear swimmably close from this vantage point.
Address: Šetalište Pape Ivana Pavla II 31, 21000, Split
3. Bačvice Beach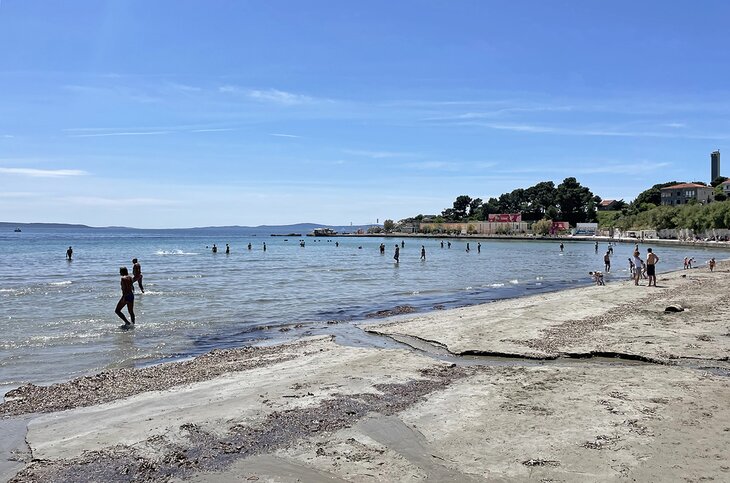 Bačvice Beach has the potential to be one of the most fabulous beaches in Split — especially if you're tired of the pebbles and want to feel a bit of sand between your toes.
A series of steps lead away from the main road and down the cliff to the crescent-shaped sandy beach cove. The beach feels like it's practically in the heart of Old Town, which is why it is such a popular beach — great to take a dip in between sightseeing.
True to Split beach form, you'll also find a concrete pier and perimeter, as well as a bustling coffee shop and restaurant that overlooks the beach.
While this is one of the locals' favorite beaches (the water was practically buzzing with swimmers when I visited), I thought the sand was hard-packed and cracked, strewn with lots of dry brush.
Still, no one seemed to mind as the water was packed with delighted bathers. It also had rained quite a bit in previous days, so that could have contributed to the looks of the sand. This is certainly one of the most popular beaches in Split, so I say give it a shot and decide for yourself.
4. Kupalište Podstrana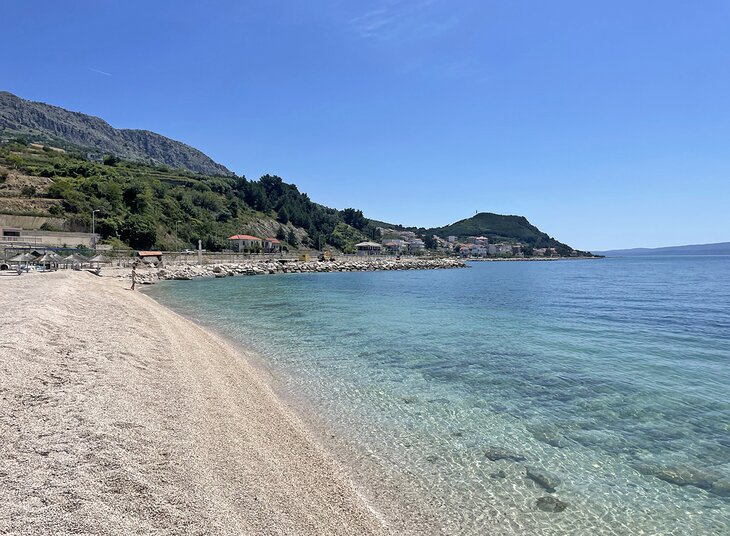 The small seaside town of Podstrana is about a 20-minute drive from Split's city center. This laid-back coastal town offers a much more relaxed vibe than Split, with a focus on casual beachfront hotels and sunny coves for swimming.
The best beach here is certainly Kupalište Podstrana, down below the main highway. Tip: A skinny road that looks like a driveway leads directly down to a small parking lot, providing drive-up access to the beach. Just look for the signs for the Autocamp. Otherwise, you can park on the street with the hill directly above the beach.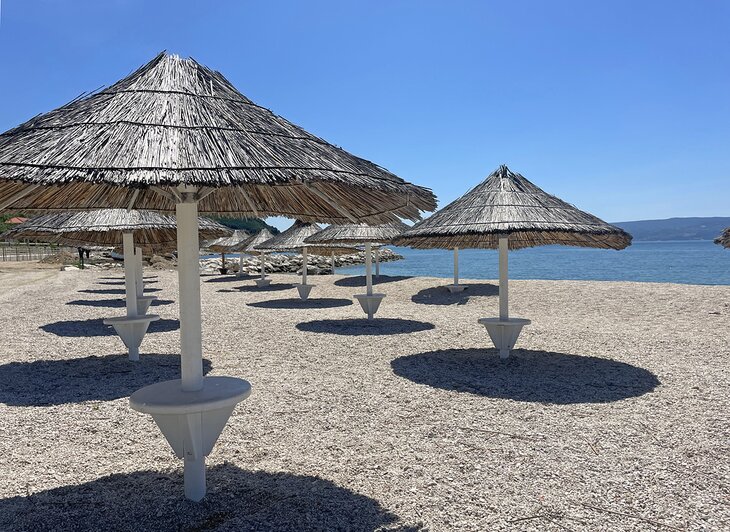 Down on the white stone beach is a lovely walking path and plenty of space to lay out and enjoy the blue and turquoise water. Most inviting, though, are the straw-topped palapa umbrellas from M Caffe. This seasonal beachfront cafe has delicious pizzas, snacks, and cold drinks. It's a perfect spot for a beach escape a bit outside the city. I also really enjoyed Caffe Bar Porat for a seaside coffee. This casual outdoor cafe has friendly service, free Wi-Fi, and lovely views of the beach.
Keep in mind most restaurants around here are seasonal and don't open with their full menus until the end of May or early June.
Address: Cesta Svetog Martina 18, 21312, Podstrana
5. Kaštelet Beach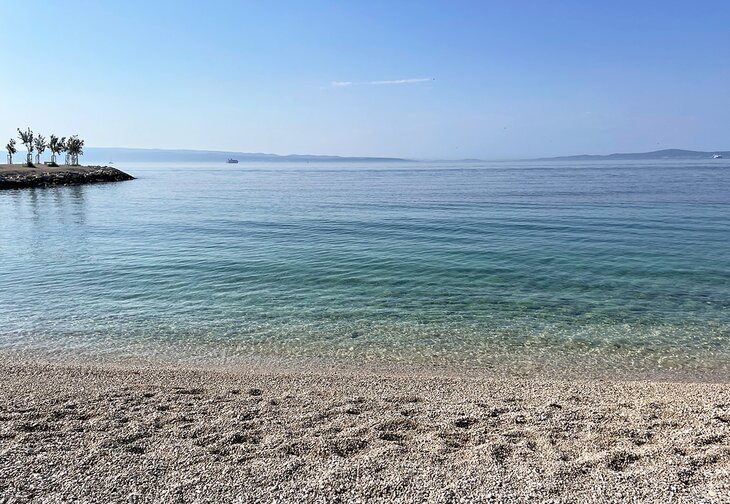 Not far from Kasjuni, Kaštelet Beach offers the same spectacular landscape of the Marjan peninsula. A broad stretch of white pebble beach, plus an extended jetty that juts out into the water, leaves ample room for finding a place to spread out for the day.
Like most beaches in Split, the beach is backed by a concrete pier and a parking lot, which may not be the most visually attractive but does make accessing the beach convenient. The beach is peppered with palm trees, which does add to its aesthetic. I recommend bringing your food, but if you want a cold drink you'll find a small restaurant.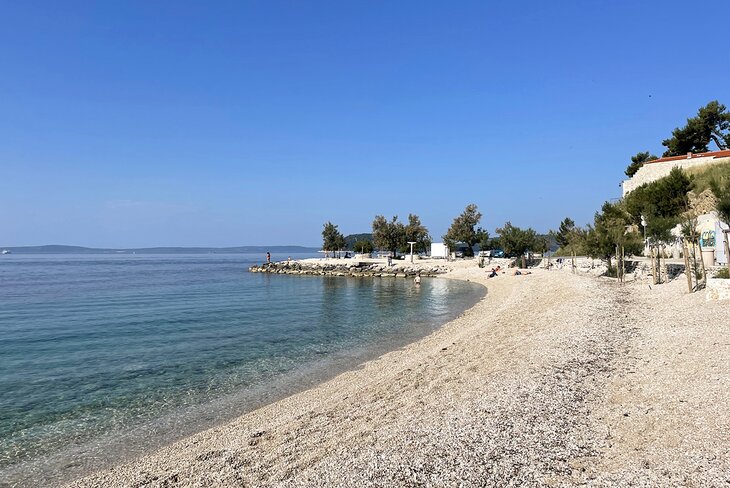 Note: We were warned about sea urchins, but did not see any ourselves. It's a good idea to keep a lookout, though, and to bring those water shoes.
Address: Šetalište Ivana Meštrovića 39, 21000, Split
6. Beach Stobreč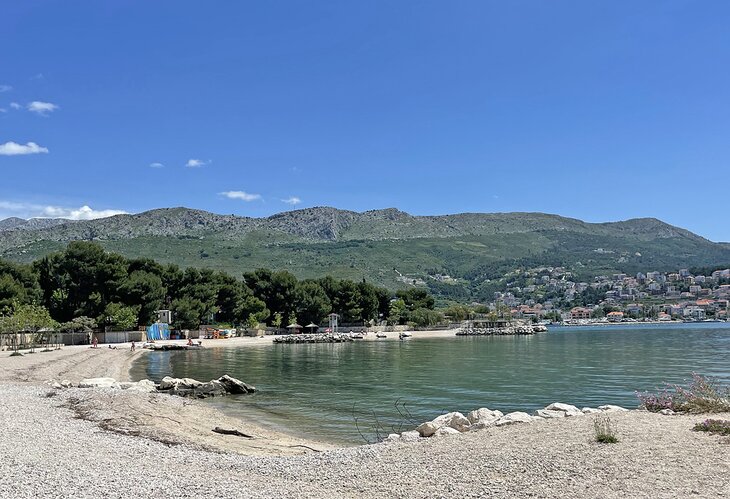 Stobreč is a small, riviera-style seaside village just outside Split proper. Its main waterfront area has a promenade vibe with strings of restaurants, palm-fringed walking paths, and plenty of stony coves where you'll find people swimming, kayaking, or stand up paddleboarding.
Stobreč Beach is less about escaping the crowds and more about diving right into them. That's what you get with beaches that are in the heart of town. But that also makes Stobreč Beach one of the most convenient for travelers. Parking is abundant and you'll never run out of places to grab a coffee or a bite to eat.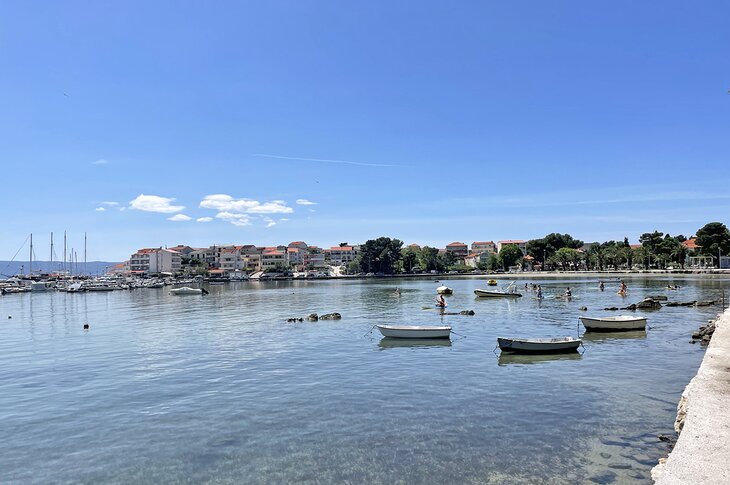 The views from the beach look out over nearby villages, and the water is shallow and calm. The shore is pebbly but the swimming area has a sandy bottom. We were warned that further out is a lot of algae, but closer to shore the water is beautifully clear.
Address: Put Svetog Lovre 6, 21311, Stobreč
7. Firule Beach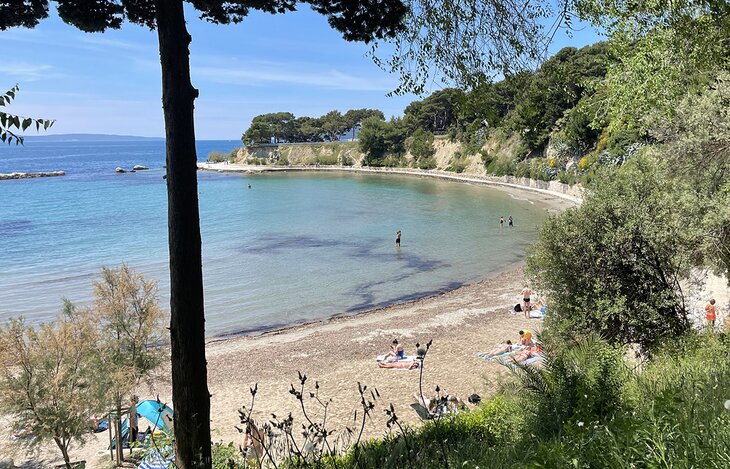 A quick walk (or even faster drive) from Bačvice Beach, Firule Beach is another vibrant, lively beach scene known for its shallow water and energetic restaurants at the top of the hill with staircase access to the beach.
Author's Tip: Seats outside at the back of the Caffe Bar Tenis restaurant have views overlooking the calm, blue cove.
Speaking of tennis, people also come to the beach to play tennis, as the area has large courts with sea views and the outdoor restaurant. You can park in the parking lot for the tennis courts if space is available, but you'll have to get there early. Otherwise, the street that runs the entire length of the cliff has parking.
This was a fun, lively beach that seemed to be incredibly popular with locals. In addition to the sandy stretch, a concrete beach juts out into the water at the opposite end, so visitors can choose which side they want.
The only disappointing part of the beach, for me, was that the much-talked-about sandy shore was covered in a thick layer of dried sticks and leaves — much less inviting for laying down the towel. Again, the rains may have had something to do with that. Still, the locals didn't seem to mind and dove right in. I was told that during the high season, the beach is cleaned up much better.
Just around the rocky outcrop from Firule Beach, Ovčice Beach is another shallow beach cove in the heart of Split. Of the three that I visited along this stretch, Ovčice was my favorite thanks to its blue water and combination of white sand and pebble beach. It also has much calmer energy compared to Bačvice and Firule, and I found it to be cleaner.
Address: Put Firula 18, 21000, Split
8. Ovčice Beach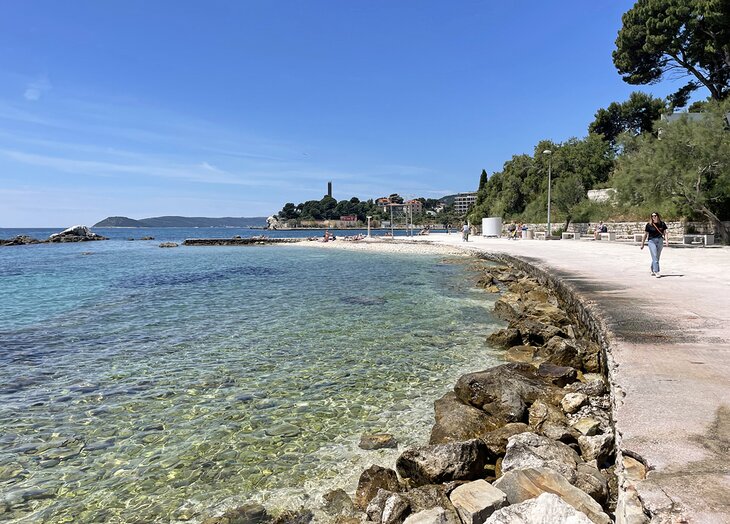 It seems every beach in Split has that ubiquitous concrete walkway, and Ovčice is no different. The simple promenade also has one small cafe and a little playground for kids, which makes it a good option for families.
This is a great beach option if you want to be close to town but do not want to be swarmed with people, as may be the case at Bačvice or Firule.
Address: Šetalište Petra Preradovića, 21000, Split
9. Ježinac Beach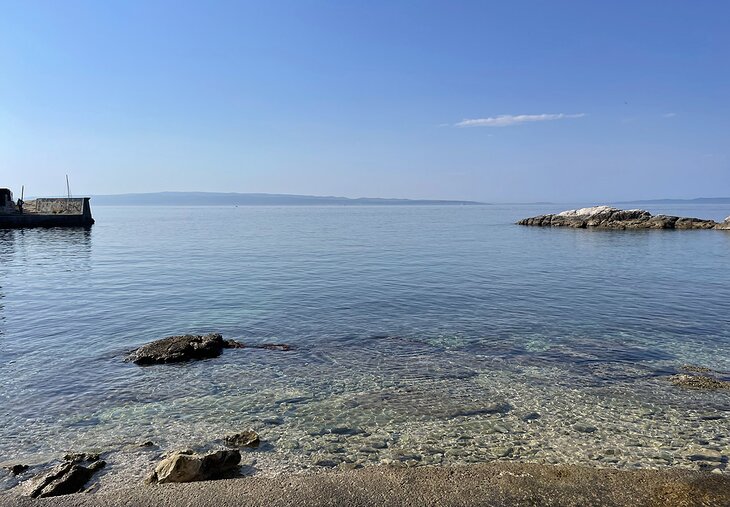 Zipping back over to the Marjan peninsula, this list wraps at Ježinac Beach. What's cool about this beach is that it's tucked at the base of a cliff and has an aesthetic that feels like you're bathing in and around crumbled ruins.
To access the beach, you can park your car at the top of the hill on the street. Use the Mestrovic Gallery as a reference point. The stairs down to the beach are directly in front of the museum. The zig-zagging stone steps switch back and forth down the cliff, through overhanging tropical trees, before emerging at the sea below.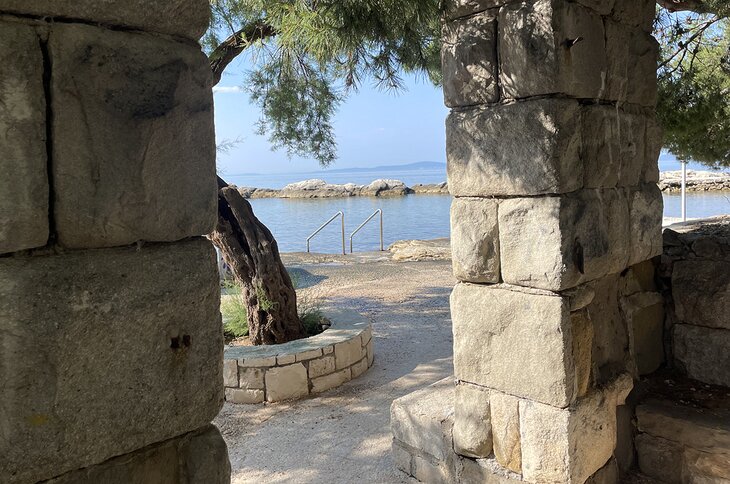 This beautiful beach is supremely quiet and calm, surrounded by the exclusive homes of this upscale Split neighborhood. I loved the aesthetic of this beach which, as I mentioned, looks like the remnants of an old Roman forum in certain places. The lush vegetation behind the beach also adds to the "lost world" vibe.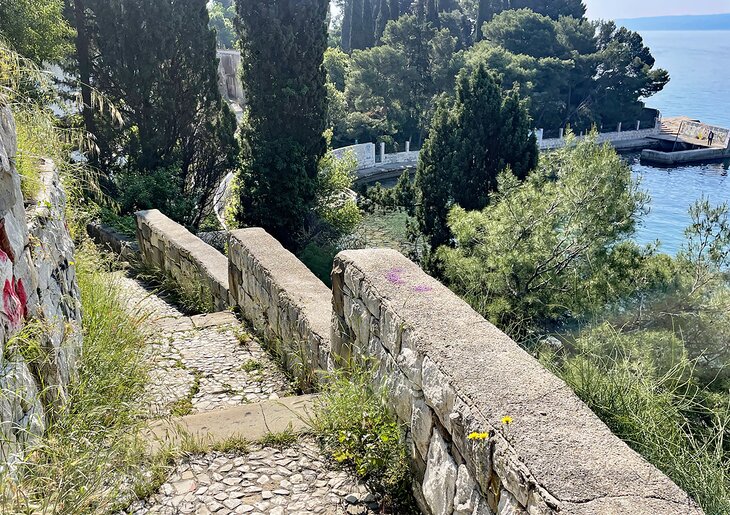 The water is crystal clear here, as is common among Split beaches. But I heard that the sea urchin presence is strong so be sure to bring water shoes, or at least have your wits about you before venturing in.
Address: Šetalište Ivana Meštrovića 29, 21000, Split