10 Most Popular Beaches in Trogir
Author Meagan Drillinger spent nearly two weeks based in Trogir while traveling around Croatia in May and early June 2023.
Trogir is one of the Dalmatian Coast's most impressive historic cities. Located on the opposite end of the bay from Split, Trogir offers the same medieval charm of a quintessential Adriatic town, but with far fewer crowds than its neighbor to the south.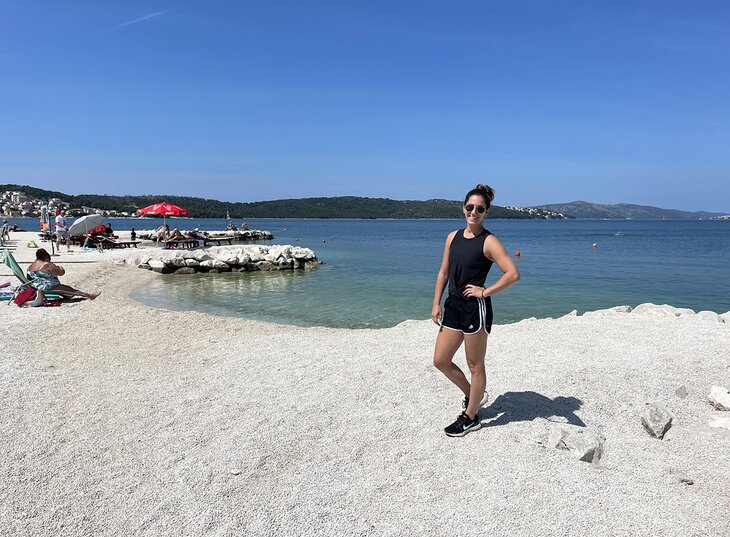 Being positioned along the coastline means that Trogir is blessed with some really beautiful beaches. Known for the white, pebbly shores, rocky outcrops, crystal-clear tranquil coves, and lots of opportunities for activities and entertainment, the beaches in Trogir are among the top beaches in Croatia, and often with a fraction of the tourists.
I spent nearly two weeks in Trogir just before the high season kicked off, and was able to experience many of the city's best beaches before the throngs of people arrived. The beaches of Trogir are truly splendid and offer something for everyone, whether travelers are looking for an action-packed afternoon of water sports, or a tranquil dip at the end of dusty dirt roads.
If you're ready to dive into this part of the Adriatic, read on to discover my list of the best beaches in Trogir.
1. Okrug Gornji Beach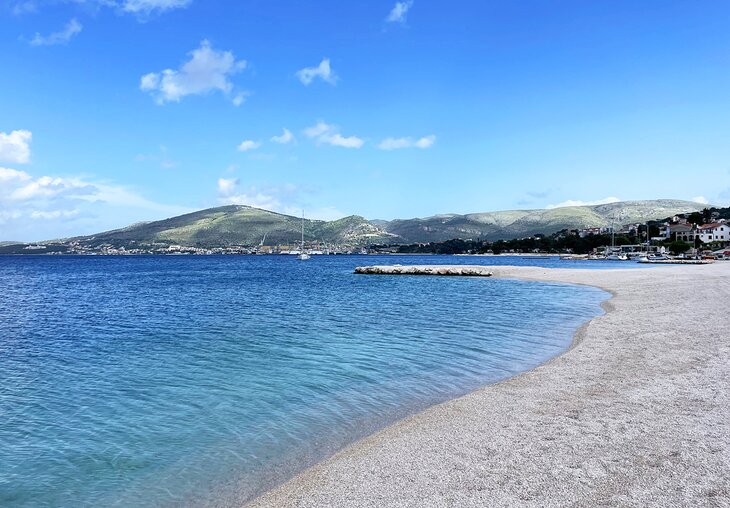 While Trogir does have some very nice beaches near Old Town, most of the best beaches in Trogir are actually located across the narrow strait on Ciovo Island. This hilly island, which is visible from both Split and Trogir, is within walking distance from Old Town over a short bridge. Its entire circumference is peppered with beautifully white, pebbly beaches, many of which are hidden gems known mostly only to locals.
Okrug Gornji Beach is certainly not hidden, but it is most definitely a gem. Here is where you will find one of the best and most popular beaches in Trogir — Okrug Gornji. Located on the inner western coast of the island, and sheltered within a huge bay, this is the largest beach on the island and is in the heart of Okrug Gornji town.
The broad stretch of beach hugs the entire bay and is lined with little coffee shops and casual restaurants. You'll also find a slew of sunbeds for rent, playgrounds, and calm water perfect for swimming and snorkeling. The beach has plenty of parking, but if you don't have a car you can take a water taxi directly from Trogir's Old Town, which will put you right on the beach.
It is definitely the most popular beach in Trogir, so expect crowds in the high season. But it is also one of the largest so it's likely that if you arrive early you'll find a place to yourself.
2. Kava Beach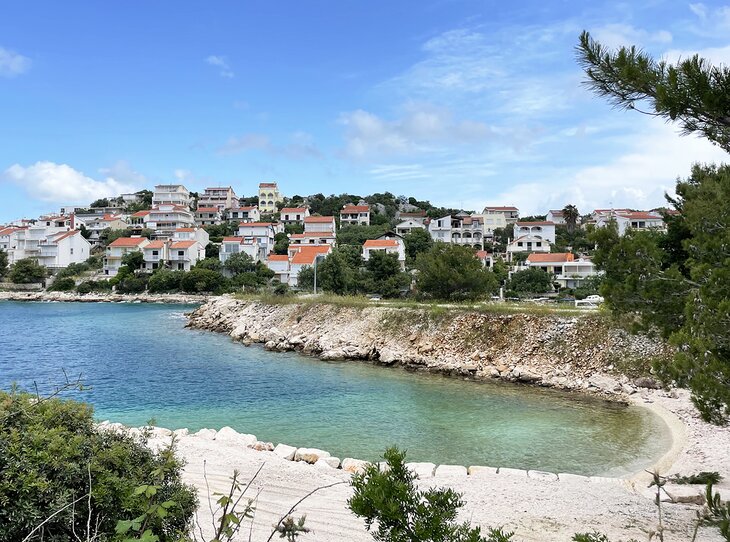 Also located on Ciovo, Kava Beach may not be the highest-rated beach in Trogir, but it was my favorite beach. Kava Beach sits on the very western tip of the island, curved around a small bay next to a tiny marina. A series of rental apartments overlook the marina and the beach, but other than that it is pretty remote.
I loved this beach for its seclusion at the end of a dirt road and for the stunning colors of the water and surrounding nature. It's the perfect Croatian color palette here with that bright turquoise, sun-bleached whites, rosy pinkish reds, and lush greens.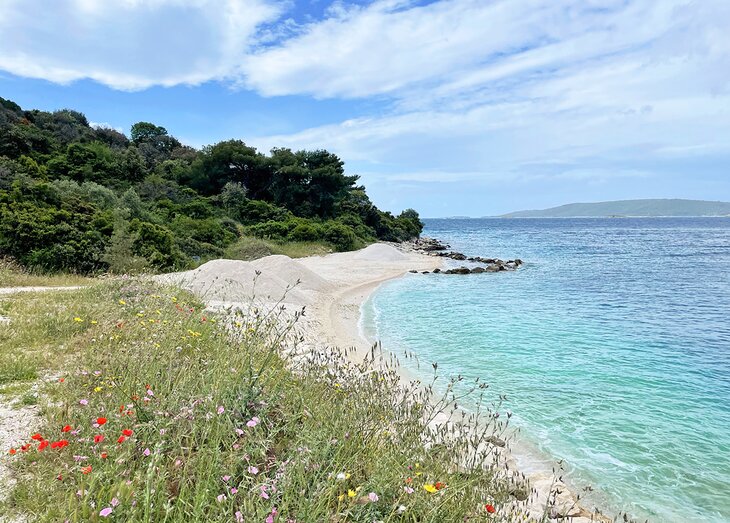 The banks along the hilltop above the beach were strewn with wild poppies and tiny yellow and pink flowers. It was incredibly quiet, peaceful, and practically empty. I highly recommend this beach if you're looking to get away from the crowds closer to Trogir proper.
Address: Put Kave, 21223, Okrug Donji
3. Labadusa Beach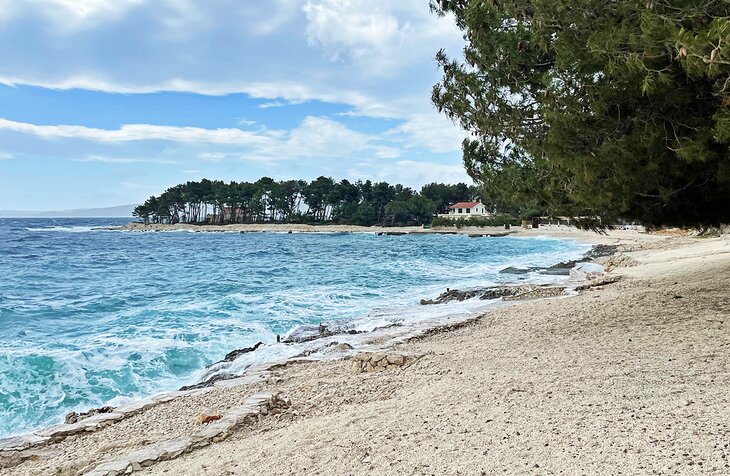 On Ciovo's southern side, Labadusa Beach is a beautiful spot with stunning views out over the Adriatic. Many people love Labadusa Beach because it is shrouded in a pine forest and the fresh smell of the trees adds a little something extra to the beach experience. The beach is made up of both pebbles and stone, and you'll also find concrete patches to lay on, as is typical with many beaches in Croatia.
Labadusa Beach's shoreline is narrow but stretches around a broad bay, and you'll find plenty of beach chairs to rent once the high season kicks in. Remember to bring water shoes if you have sensitive feet. Keep in mind that the beach is on the windward side of the island so if it's breezy that day you will feel it with an extra kick on Labadusa.
You'll need a car to reach Labadusa Beach, or take a taxi. If you do rent a car, make sure it's a small one. The roads that lead to the beach are quite narrow and parking is limited. Big camper vans will have an issue on these roads. The smaller the better.
Address: 21223, Okrug Gornji
4. Slatine Kava Beach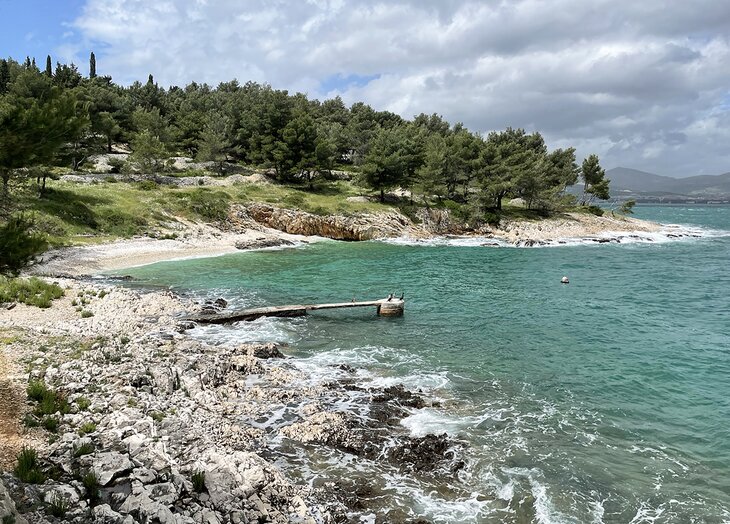 It can be a little confusing to see two Kava beaches on Ciovo, but indeed the island has two. One Kava beach is located near Okrug Gornji (my personal favorite beach) and the second is near the village of Slatine. This second Kava beach is Slatine's Kava and also ranks highly on my list of best beaches in Trogir.
This beach sits at the end of a very (very) narrow road that plummets down a steep hill. At the base of the narrow road is a tiny place for parking and an overgrown footpath that leads to the stairs to the beach.
The colors here are unbelievable. The water is so turquoise, which looks beautiful against the yellow-white rocks and the slope of green grass and trees. Because the beach is a little bit of a hike, it stays pretty quiet, as well. It's a small beach, but an impressive one.
You won't find any facilities here so you'll have to bring anything you want for the day with you, but if you like a beach without other tourists, this is the beach for you.
Make sure your car maneuvering skills are up to code because you either have to back out of this narrow street or make a very tight turn at the bottom of the hills.
Address: Jadranska ul., 21224, Biograd na Moru
5. Bučevica Beach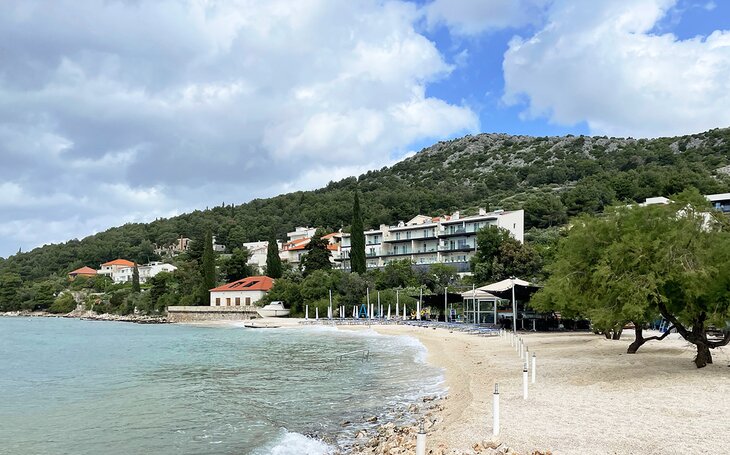 Bučevica Beach is actually on the mainland, about four kilometers north of Old Town. This insider beach is most popular with locals and tourists in the know. Located on the far side of a small harbor, Bučevica Beach is loved for its fine, white pebbles and crystal clear water. It has parking, too, which is always a plus.
Be sure to bring the camera for that Insta-worthy moment — this beach most definitely has a sea swing and you won't want to miss your shot.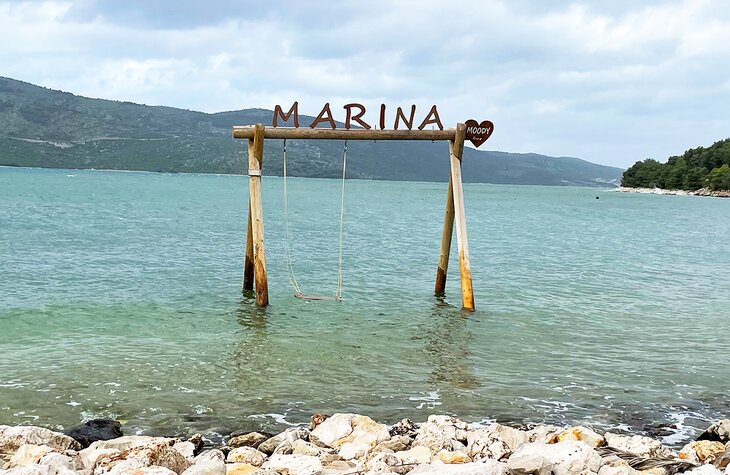 The beach itself is not very big so come high season it can get really crowded. Go early in the day to snag a spot. It's a popular sport for water sports like hang gliding or jet skiing and the beach also has a small little restaurant, Moody's, which is perfect for a snack or beverage.
6. Duga Beach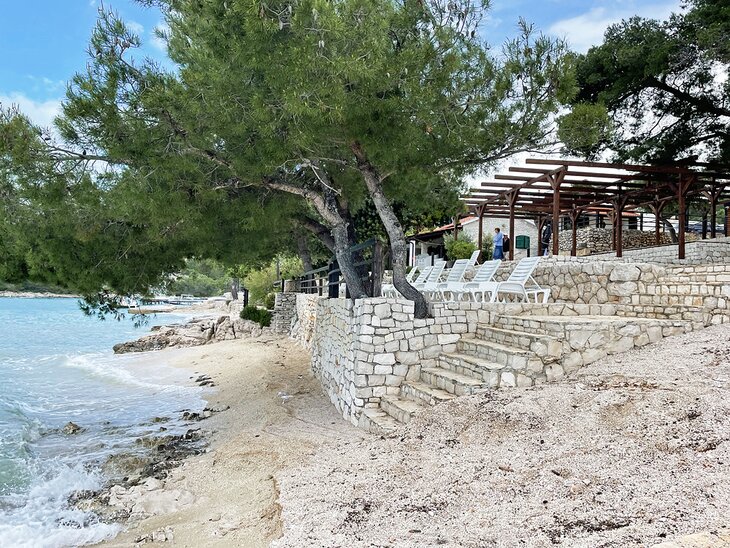 Back over on Ciovo, just up the hill from Labadusa, Duga Beach is truly a local's beach. Most people are over on Labadusa, so if you want to soak up the silence, Duga Beach is the place to go.
I loved Duga Beach for its concrete jetty that sticks out into the water — perfect for jumping off into the turquoise water. But the beach also has a restaurant, Konoba Duga, that offers lounge chairs and tiered platforms for sunbathing. The restaurant has freshly grilled fish, indoor and outdoor seating, and lovely views over the shallow bay that protects Duga Beach.
Because the beach faces west, it's also a top spot to catch spectacular sunsets.
7. Seget Beach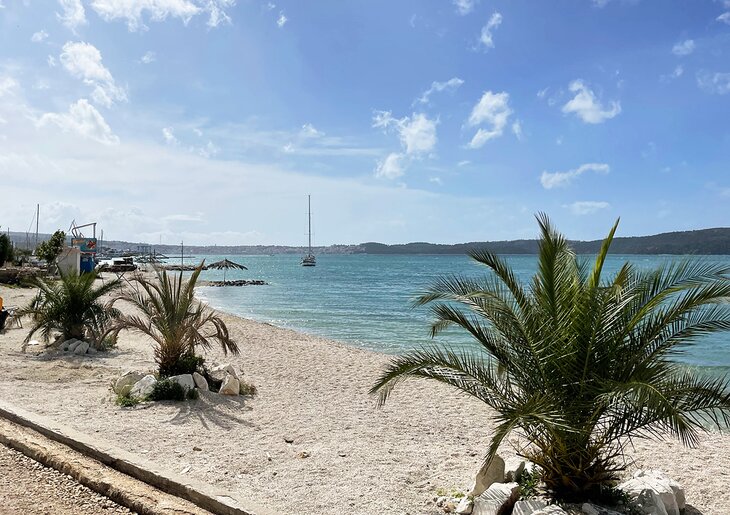 Back over on the mainland, Seget Beach offers a stark-white stretch of pebbly shore that faces Ciovo and the splashy, turquoise water in between. The long beach is peppered with lovely little palm trees and has plenty of places to lay out and relax. Plus, you are just a stone's throw from Seget Donji village, which has lots of restaurants to enjoy.
One thing to note is that the beach is fairly exposed with limited shade so if you are sensitive to the sun you may want to bring your own umbrella, or find a different beach. A campground is directly behind the beach, too, so if you're in Trogir for a bit of camping this could be a lovely spot to set up for the night.
If you have a car, Seget Beach is a quick drive from Trogir, but you can also take a water taxi from Old Town if that's more convenient.
8. Zen Beach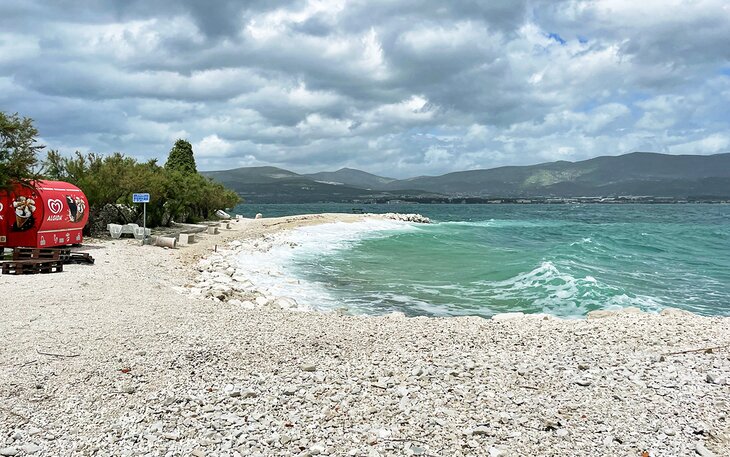 Circling back around to Ciovo's eastern banks, which look back toward the mainland, Zen Beach is magical for its fine white pebbles, mesmerizing blue water, and views of the mountains back on shore.
Many of the beaches on this side of the island all show up on Google Maps as "Slatine" because that is the town that they are all closest to. So if you want to find Zen Beach, just put Apartments Bakovic into Google Maps and you'll find Zen Beach.
For many residents, Zen Beach is their top beach in Trogir for its beautiful setting, free parking, and the facilities like toilets, showers, and a small restaurant. I loved it for its distance from the craziness of Okrug Gornji beach, and its proximity to where I was staying close to Trogir Old Town. The drive to the beach along the coastline is beautiful, as well.
9. Slatine Beach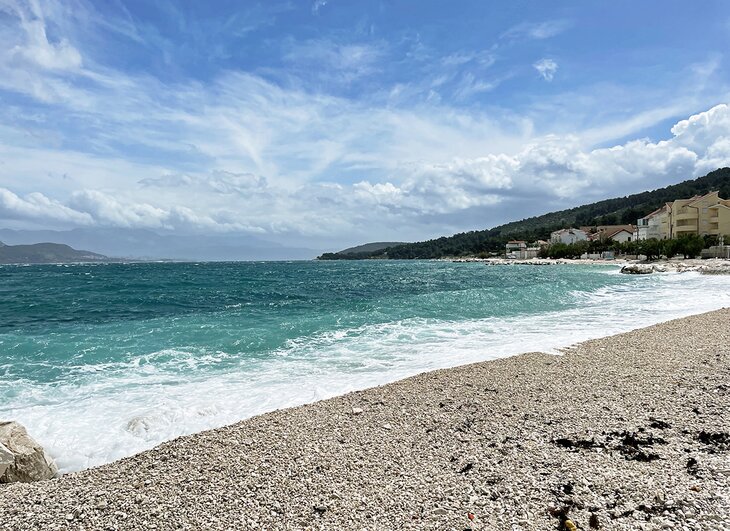 Of course, then you also have the actual main beach in Slatine, appropriately called Slatine Beach. Also located on the leeward side of the island, the water here is almost always calm and clear. And the views of the mainland are beautiful.
Slatine is a popular resort town along the island, so you'll find a string of apartments and guesthouses. This means the beach can get a little crowded in high season, but it's never too overwhelming. You'll find many beach restaurants, here, as well. The rocks on the beach are bigger than other beaches and if you are sensitive you may want to bring water shoes and some padding to lay on.
One thing to note is that the beach has a quick drop-off when you get a little bit out from shore, so if you have kids you may want to keep them close by in case they are not strong swimmers.
The beach has a well-paved road directly behind it with some spots for parking and you'll also find some showers.
Address: Zvonimirova Obala 82, 21224, Slatine
10. Piramida Beach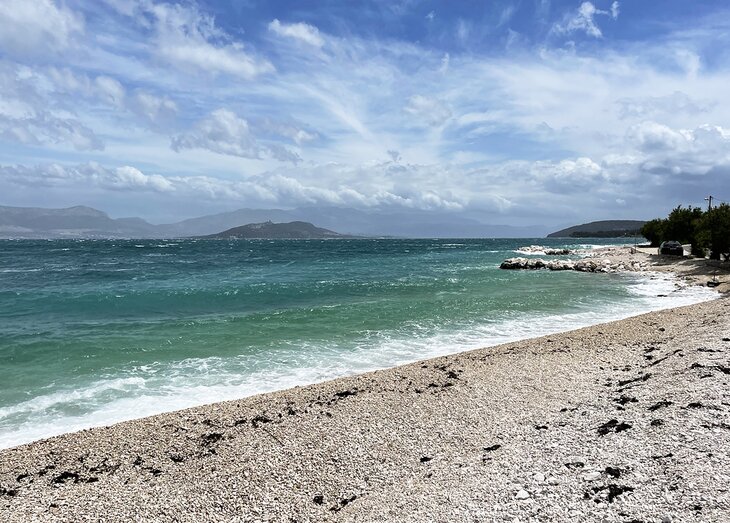 Finally, another popular Slatine beach is Piramida Beach, which sits on a pebbly outcrop in front of Apartment Boban. Piramida is a slender beach just off the road, with little turnouts where you can park your car. The color of the water is beautifully turquoise and the mountain views across the water are lovely.
The beach here is a combination of pebbles and larger rocks. Piramida Beach does not have any facilities, either. For this reason, it stays pretty quiet and peaceful, which can be a welcome change, especially at the height of the summer season.
Address: Put Duboke Garme 11, 21224, Slatine