12 Top-Rated Attractions & Things to Do in Split
We may earn a commission from affiliate links ()
Set on Croatia's gorgeous Dalmatian Coast, Split is the country's second largest city and a vibrant place that perfectly blends modern and ancient. It is also one of the Croatian cities used as a Game of Thrones backdrop, and fans of the hit show can join an organized tour to learn more about their favorite scenes.
The town has been continuously inhabited for thousands of years, starting with the Romans, followed by the Byzantines, Croats, Venetians, and finally the Austrians, who only left in 1918. As a result of these diverse influences, you'll find plenty of historical things to do in the city's wonderfully preserved Old Town.
Split is also famous as the home of the UNESCO World Heritage-listed Palace of Diocletian, one of the most impressive remaining Roman monuments anywhere in the world. It's also where you'll find the first-rate Archeological Museum, as well as what many consider to be Croatia's best art museum, the Ivan Mestrovic Gallery.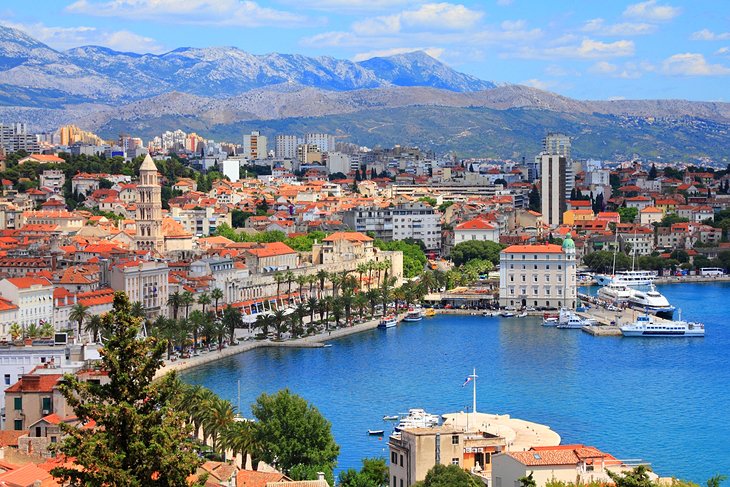 Just east of its pretty waterfront promenade is Split's main tourist center. Here, visitors will find some of the top restaurants, entertainment venues, and hotels in Croatia. There are also a number of wonderful day trips available from Split that take you to other nearby parts of this lovely country. These include visiting the ancient city of Salona and taking in the beautiful beaches of Zlatni Rat, Brela, the Pakleni Islands, Solta, and Milna.
Find the best places to visit in and around the city with our list of the top attractions and things to do in Split, Croatia.
See also: Where to Stay in Split
Note: Some businesses may be temporarily closed due to recent global health and safety issues.
1. Explore the Roman-Era Diocletian's Palace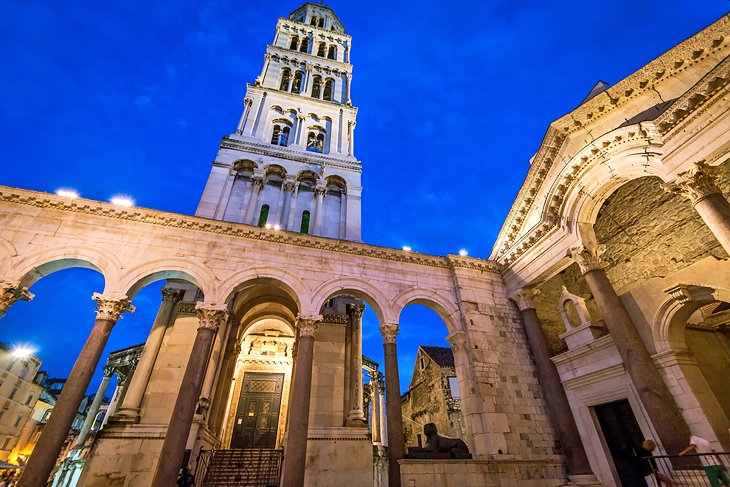 The spectacular Diocletian's Palace (Dioklecijanova palača) is a well-preserved UNESCO World Heritage Site built in Roman military camp style, and a visit here is one of the top things to do in Split. Its basement also served as a set location for filming the Game of Thrones, resulting in its being one of the attractions for fans of the TV show.
Although Emperor Diocletian only lived here for eight years until his death in AD 313, the palace continued to play an important role as an administrative center and the governor's residence. Three centuries later, in AD 615, the palace was used as a refuge for the residents of Salona when their city was sacked by the Germanic Avars.
Originally some 215 meters long, 180 meters wide, and enclosed with thick walls up to 28 meters high, the palace was also protected by towers at each corner and boasted four entrances, including the Golden Gate, Silver Gate, and Iron Gate. Leading in from the gates on each side, two roads are laid out according to Roman tradition.
Several notable attractions within this site include the Temple of Jupiter, the Cathedral of St. Domnius and medieval Brace Radica Square with its 15th-century Marina Tower. Also of note here are the 17th-century Milesi Palace, and a statue of Marko Marulic, who is considered the founder of Croatian literature.
It is also possible to visit Diocletian's Palace and other attractions on a walking tour of Split. This popular Split tour includes sampling of traditional regional dishes, the services of a professional English speaking tour guide, and the chance to hear insights and anecdotes relating to the city's top landmarks.
Address: Dioklecijanova ul. 1, 21000, Split, Croatia
Official site: www.diocletianspalace.org
2. See the Cathedral of St. Domnius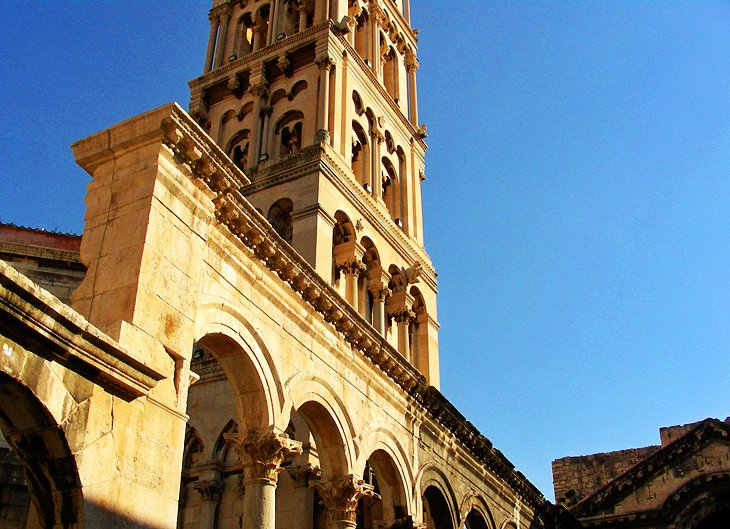 The Cathedral of St. Domnius (Katedrala Sv. Duje) can also be found within the ancient area of Diocletian's Palace. Originally Diocletian's mausoleum, this stunning structure was designed by Filotas and consecrated in the 7th century.
The cathedral has changed little since then, apart from the addition of a 60-meter-tall bell tower built in stages from the 12th to the 16th centuries. The tower can in fact be climbed and is well worth tackling for its great views of the palace.
Laid out on an octagonal pattern and with a double line of columns – some of them Roman originals – this splendid Corinthian-designed cathedral also contains many notable interior features. Perhaps the most important is the Altar of St. Domnius and the 13th-century hexagonal Romanesque stone pulpit.
Address: Ul. Kraj Svetog Duje 3, 21000, Split, Croatia
3. Learn about Croatia's Greatest Artists at the Ivan Mestrovic Gallery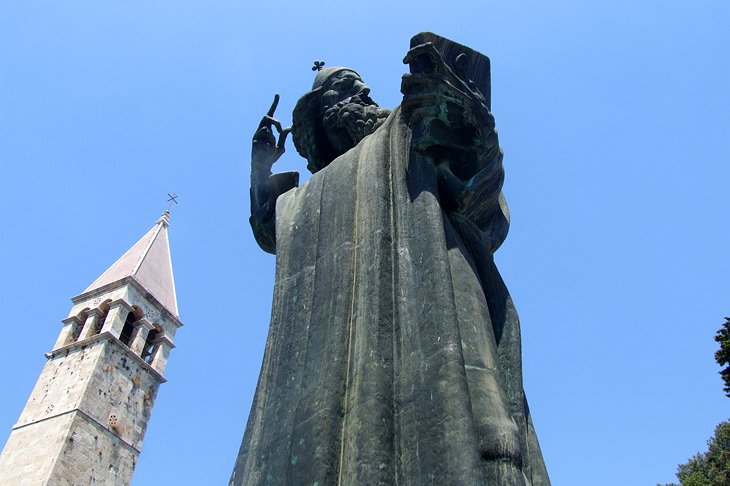 While numerous fine examples of Ivan Mestrovic's work can be seen across the city, the best place to find out more about Croatia's most revered artist is at the gallery named after him: the Ivan Mestrovic Gallery. A good friend of Rodin, Mestrovic was widely considered one of the most important sculptors of the 20th century, and he oversaw the design of the gallery himself.
Originally his residence during the 1930s, the Ivan Mestrovic Gallery was started in 1952 after a substantial donation of art from the artist himself. Highlights include a collection of 86 statues in marble, stone, bronze, wood, and gypsum, along with numerous drawings. Also worth seeing are the eight large bronze statues in the gallery's pleasant gardens.
Address: Setaliste Ivana Mestrovica 46, 21000, Split, Croatia
Official site: https://mestrovic.hr/en/home-en/
4. Enjoy a Day Trip to Zlatni Rat and Nearby Beaches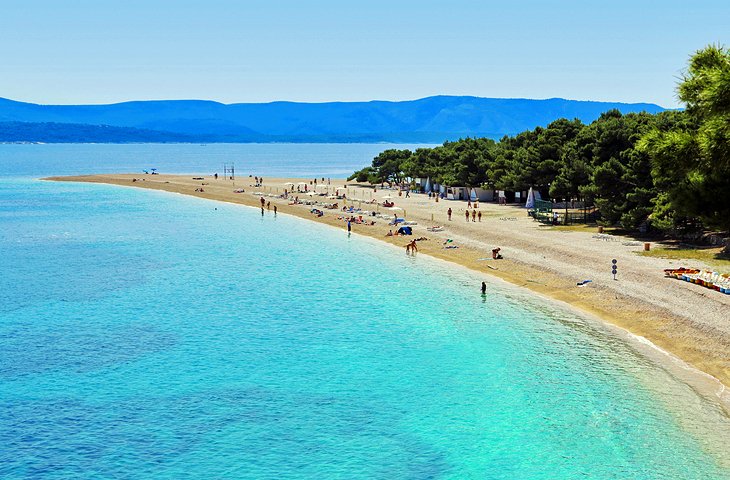 Located just a few minutes' drive from the ancient city of Salona and an easy day trip from Split, the popular beach areas of Zlatni Rat, Brela, Solta, Milna, and the Pakleni Islands are all well worth visiting.
Of these beautiful locations, the best known is Zlatni Rat (Golden Horn) on the south coast of Brac. This wonderful beach area is famous for its unique shape and is formed largely from pebbles deposited here by wind and currents. It's a fascinating "spit" of land that juts out into the sea some 500 meters, with its shape changing a little each year.
Overlooked by shady pine trees and the tall Vidova Gora mountain, the beach's warm waters ensure it is almost always busy come summer with locals and tourists alike. The draw? They're all here to enjoy great swimming and sunbathing, as well as water sports such as paddle boating, kayaking, and windsurfing.
Almost as popular (and equally beautiful) is Brela. Consistently voted one of Europe's best beaches, Brela makes for a wonderful place to visit to kick back and relax. Also popular are the Pakleni Islands, a spectacular 10-kilometer-long chain of islands boasting numerous quiet coves and lovely beaches.
5. Climb up to Marjan Forest Park and the Marjan Stairway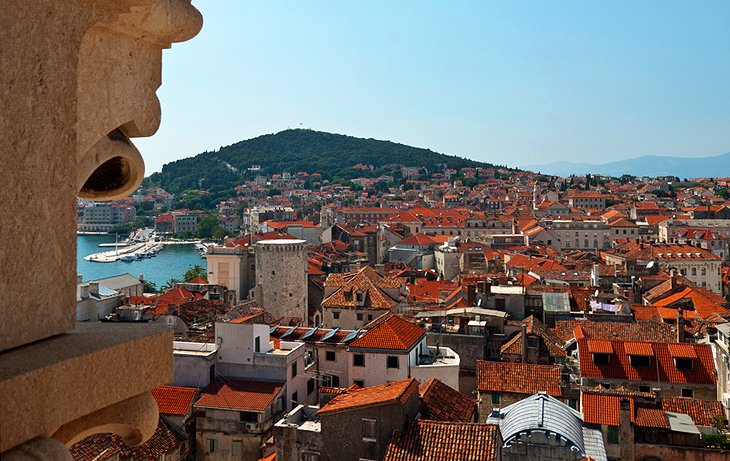 The citizens of Split are justifiably proud of Marjan Forest Park, and with good reason. Dating back to the fourth century, this beautiful park occupies a peninsula overlooking the city and is a wonderful retreat for foot-weary visitors.
Apart from its many rest areas and benches, the park is notable for its towering pine trees, which shelter peaceful walking trails. Take a picnic, or stop at sunset for incredible, breathtaking vistas.
Also of interest is the famous Marjan Stairway. While at 314 steps and a distance of 174 meters it may be a long climb, it's certainly worth it, as it provides access to the vantage point of Telegrin, where the views out to sea are spectacular. On a clear day, you can see all the way to places such as the Kastela Gulf, Salona and Klis, Trogir and Ciovo, as well as the islands of Solta, Brac, Hvar, and Vis.
It's also a popular spot for rock climbing on the cliffs below the lookout. Marjan Forest Park can be easily accessed from the city center by walking through the old quarter of Varos, a 15-minute walk, and should most definitely be included on your Split travel itinerary.
6. Dig Up Some History at Split Archaeological Museum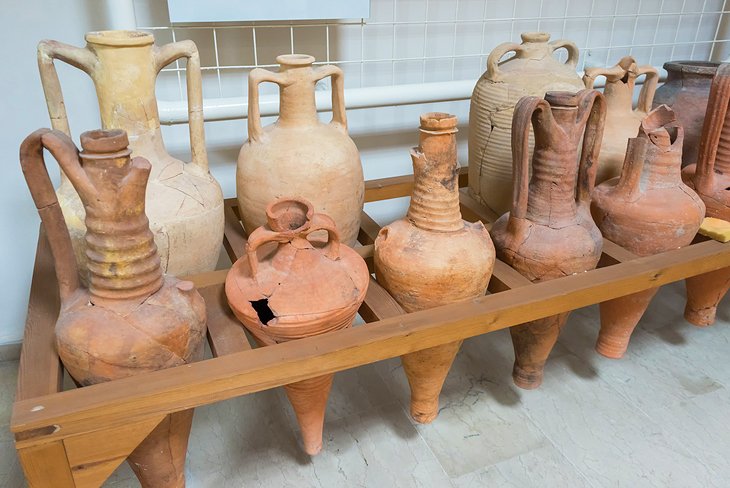 The Archaeological Museum should be on every history buff's list of must-see attractions when in Split. Considered to be the oldest such institution in Croatia, the museum was founded in 1820 and has been at its present location since 1922.
Highlights of its more than 150,000 items include the country's largest collection of gems, as well as stone carvings from Salona, Greco Hellenistic ceramics, Roman glass, approximately 1,600 ancient clay lamps, and numerous bone and metal objects. Also worth a visit is the museum's beautiful garden.
Address: Frankopanska 25, Split, Croatia
Official site: www.mdc.hr/split-arheoloski/eng/index.html
7. Storm Klis Fortress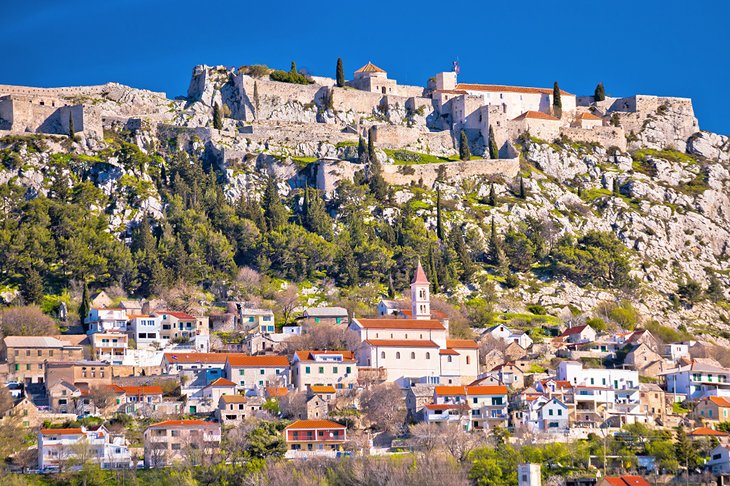 Located about 12 kilometers northeast of the town center, the Klis Fortress is well worth a visit and can even be reached by city bus 22, which departs from Split's local bus station. If you watch Game of Thrones, you may recognize the castle as the City of Meereen.
The impressive fortress sits along a limestone bluff, which is 385 meters at its tallest point, and it's used to control the valley leading into town. The fort is long and narrow thanks to its lengthy existence, which led to constant extensions as the centuries progressed.
A small museum on-site features displays about the castle's bloody past, as well as traditional costumes and swords. There is also a room dedicated to filming Game of Thrones, and visitors can climb over the fortifications inside.
You can visit Klis Fortress and other Game of Thrones attractions, like the basement of Diocletian's Palace, which served Daenerys' Throne Room, on an organized Game of Thrones tour in Split.
Official site: www.tvrdavaklis.com/?lang=en
8. Get Cultured at the Croatian National Theatre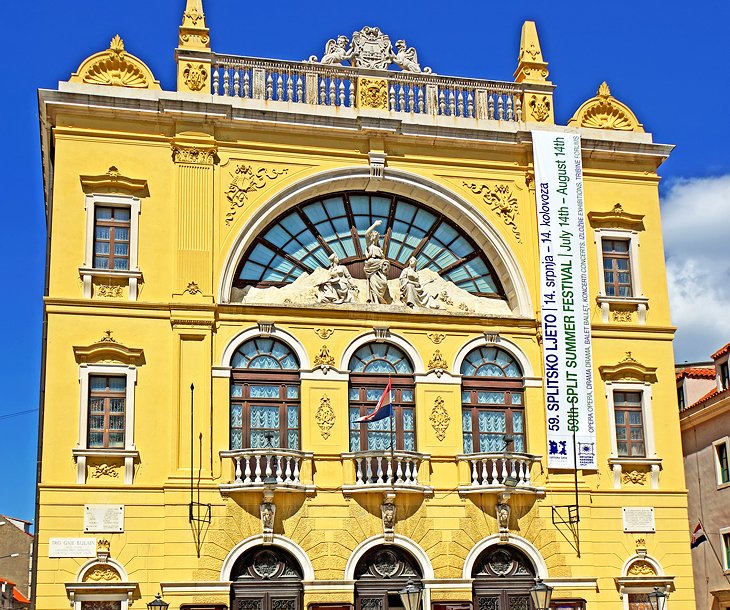 Opened in 1893 and one of the oldest such buildings in the country, the Croatian National Theatre in Split (HNK Split) continues to play an important role in the city's vibrant arts and cultural community.
All told, the theater holds a diverse program of more than 300 performances annually, including everything from ballet to theatrical events, as well as classical music performed by a local symphony orchestra.
The National Theatre also hosts a number of important festivals, including the popular Split Summer Festival (Splitsko ljeto), one of the country's oldest performing arts events, and the Days of Marulic (Marulicevi dani), a weeklong celebration of important Croatian literature.
Address: Trg Gaje Bulata 1, 21000, Split, Croatia
9. Visit the People's Square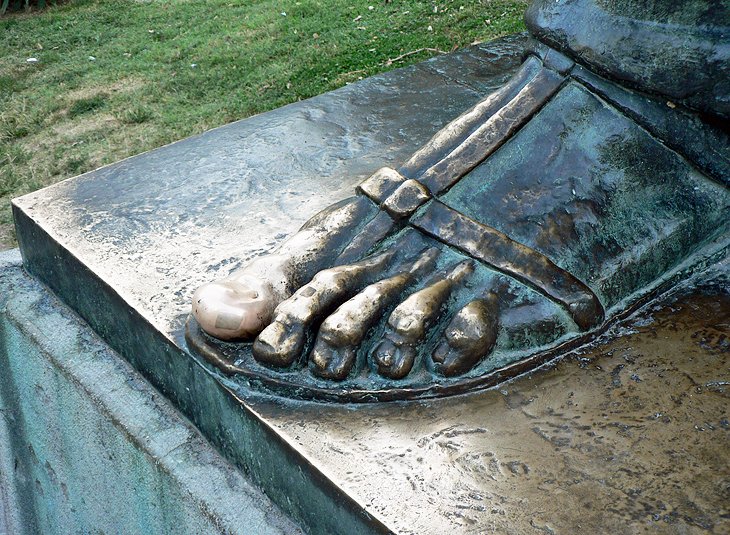 Dating from the 15th century, the People's Square (Narodni Trg Pjaca) in Split features many interesting Renaissance, Venetian, and Gothic buildings constructed through the ages.
Of particular note is the Venetian-Gothic Cambi Palace, along with the Renaissance-style Town Hall building, home to the Ethnographic Museum of Split, a fascinating museum that is well worth a visit.
The People's Square lies in the area once occupied by the Palace of Diocletian and is west of the Peristyle. Also of interest is the nearby statue of Grgur Ninski (Gregory of Nin), created by famous Croatian sculptor Ivan Mestrovic.
10. The Church of St. Dominic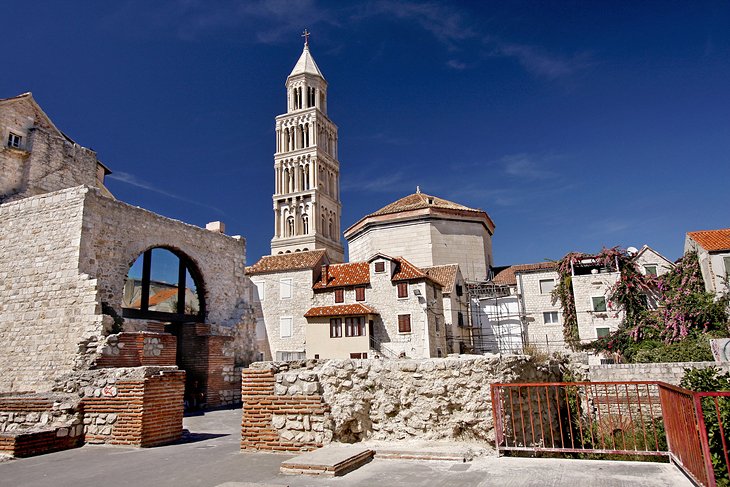 Rebuilt in the 17th century and enlarged in the 1930s, Split's Church of St. Dominic (Srebrna Vrata I Sv. Dominik) stands on the site of the former Oratory of St. Catherine. Originally constructed in the middle ages, this splendid church features artwork by Palma il Giovane and his followers, including the famous Miracle in Surian and Apparition in the Temple.
Also of interest is the nearby marketplace with its wide range of fruits, vegetables, cheeses, and meats from across Croatia (it also boasts the best views of Diocletian's Palace).
Address: Hrvojeva 4, 21000, Split, Croatia
11. The Baptistery of St. John and the Papalic Palace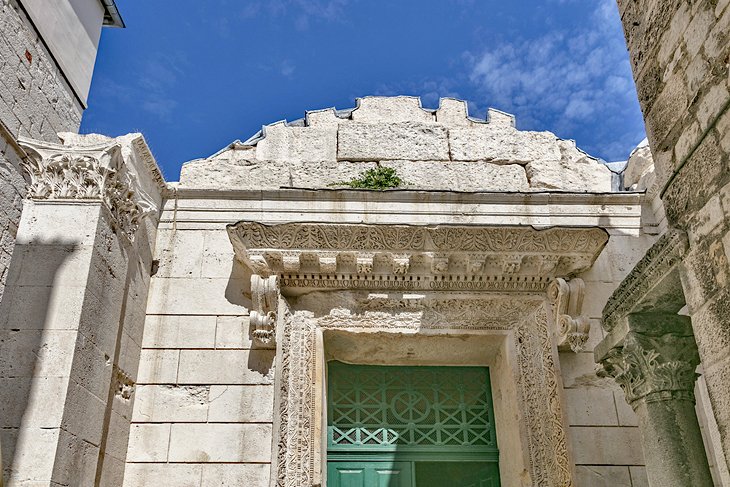 The Baptistery of St. John (Sv. Ivan Krstitelj) is centrally located inside Diocletian's Palace. Consecrated in the sixth century, it was originally a Roman religious building, the Temple of Jupiter. Several features of note are the baptismal font with a panel representing King Zvonimir and other dignitaries, as well as carvings by Ivan Mestrovic, which were added to the statue of St. John on the end wall.
Also of interest are the tombs of two bishops from the 8th and 11th centuries. A number of interesting relics from both the Baptistery of St. John and Diocletian's Palace can also be enjoyed at the neighboring Museum of Split (Muzej Grada Splita), in the former Gothic Papalic Palace.
Considered to be the finest of the 15th- and 16th-century buildings constructed in the open areas of Diocletian's Palace, the museum is noted for its collection of books illustrating the history of the city, as well as an armory featuring weaponry from the 15th to 18th centuries.
12. Enjoy a Day Trip to the City of Salona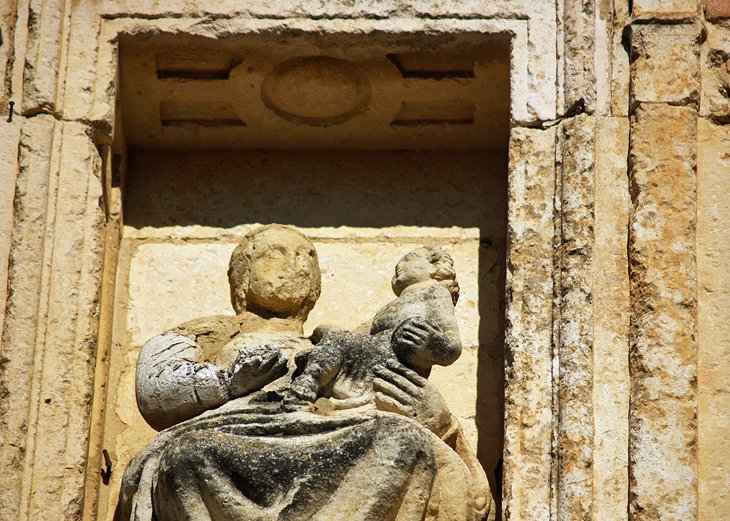 About eight kilometers north of Split is the old town of Salona (Solin), a popular destination for history buffs. Occupied by Illyrians, Greeks, and finally the Romans, this ancient town holds many historical attractions within its ancient city walls, including its amphitheater, aqueduct, Bishop's complex, and forum.
Built by the Romans in the second century, the impressive Salona Amphitheater is designed to hold up to 20,000 people at a time and is notable for its underground channels, believed to have been used for staging mock naval battles. The Salona Aqueduct, built in the first century, is an impressive sight that is easily accessible and once carried water from the river Jadro to Split, ending at Diocletian's Palace.
Where to Stay in Split for Sightseeing
The most historic and atmospheric area to stay for sightseeing is the Old Town, where you'll also find many hotels, as well as tourist attractions, shops, restaurants, and cafes. Here are some of our favorites:
Luxury Hotels:
In Old Town, check out the wonderful Heritage Hotel Antique

Split

in the heart of Diocletian's Palace. This family-run luxe property offers the perfect mix of modern and ancient decor, with original stone walls and contemporary furniture.
Another excellent luxury selection is the Palace Judita Heritage

Hotel

, which is also found right in the center of the Old Town and has elegant rooms with posh baths.
If you want a romantic boutique hotel, try the Hotel Vestibul

Plaza

with just 11 rooms.
Mid-Range Hotels:
Divota Apartment

Hotel

is an excellent upper mid-range choice, popular with families for its contemporary rooms and apartments, Old Town location, and excellent spa treatments.
Hotel

Marul

is another top mid-range property, just a short stroll to the old town. It features modern decor and a wonderful free breakfast.
Budget Hotels:
Nirvana Rooms &

Apartments

is at the upper end of the budget spectrum but features a great locale, delightful breakfast, and bright rooms. There is also a kitchen guests can use to cut down on meal costs.
Villa

Marjela

features clean and comfortable rooms within walking distance of the Old Town. A breakfast buffet is also served.
Tips and Tours: Visiting Plitvice Lakes National Park
Day Trip Tour to Plitvice Lakes National Park: Split makes a great base from which to explore some of Croatia's top tourist attractions on day trips. The full-day tour of Plitvice Lakes National

Park

visits this UNESCO-listed wilderness area, filled with breathtaking scenery and wonderful hiking trails. If you have limited time, it is best to explore with an organized day trip like this one, which takes you to the park under the care of an expert guide and allows for touring of the lakes by boat, and sightseeing by electric train or bus.
More Related Articles on PlanetWare.com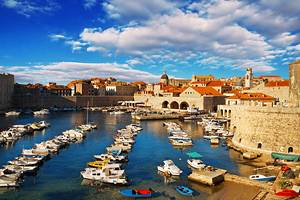 Croatia's Dalmatian Coast: Charming towns and villages dot the picturesque Dalmatian Coast, the most famous of which is the port city of Dubrovnik. For ideas on what to see here, review our article on the Top Tourist Attractions in Dubrovnik and check out our pages on cities like Zagreb, the capital of Croatia, and Zadar, where you can visit its beautiful cathedral, old town, and beaches. For an overview of all the exciting things to see and do in this fascinating country, read our page on the Top-Rated Tourist Attractions in Croatia.