13 Top-Rated Attractions & Things to Do in Trogir
Beautiful Trogir has a prime spot along the Dalmatian Coast. About 30 hours from Split's airport with views over the Adriatic Sea, a 15th-century Old Town, and easy access to many of the Dalmatian Islands, some may say that Trogir is one of the best spots along Croatia's coastline. I would have to agree.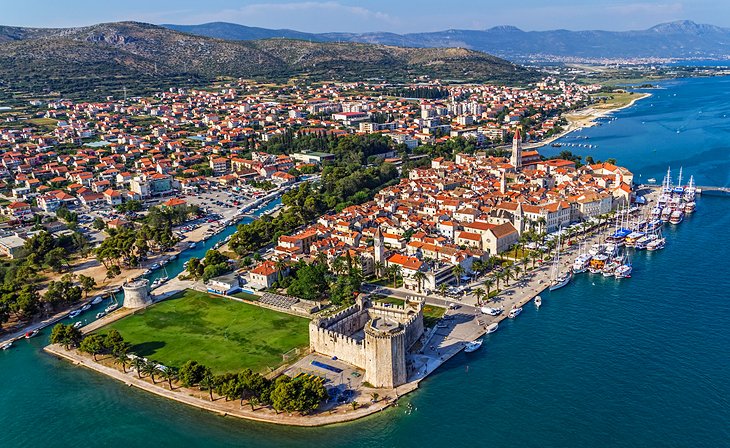 I booked an Airbnb in the town of Trogir for a week during a month-long visit to Croatia. I wanted the historic beauty and charm of a medieval village, with the amenities of a modern-day city, all within easy driving of Split without having to actually be in Split. Trogir ticked all of the boxes. While Split is undeniably more famous and larger than Trogir, I would argue that Trogir is the better option simply because it is much more compact in size, has interesting attractions, and sees far fewer tourists, but is still just as beautiful.
Trogir's history dates back to 380 BC and has been continuously inhabited by Greeks, Romans, Hungarians, and Venetians. A melting pot of culture, architecture, and heritage can be found in every corner of Old Town. In fact, Old Town was declared a UNESCO World Heritage Site in 1997. Modernity hasn't overlooked Trogir, either, as the newer parts of the city have fabulous restaurants, well-stocked supermarkets, a fitness center, and easy access to spectacular beaches.
Restoration projects undertaken in recent years have helped revitalize the numerous historic attractions, in particular Trogir's splendid Romanesque and Renaissance architecture, most of which is found within the 15th-century city walls. And just a few steps down from this delightful tangle of medieval streets is a pleasant waterfront promenade.
From here, it's also easy to explore the islands of the Dalmatian Archipelago and see the famous Blue Cave, on a speedboat day trip from Trogir. Learn more about this and other adventures with our list of top things to do in Trogir.
1. Relax on the Historic Waterfront Promenade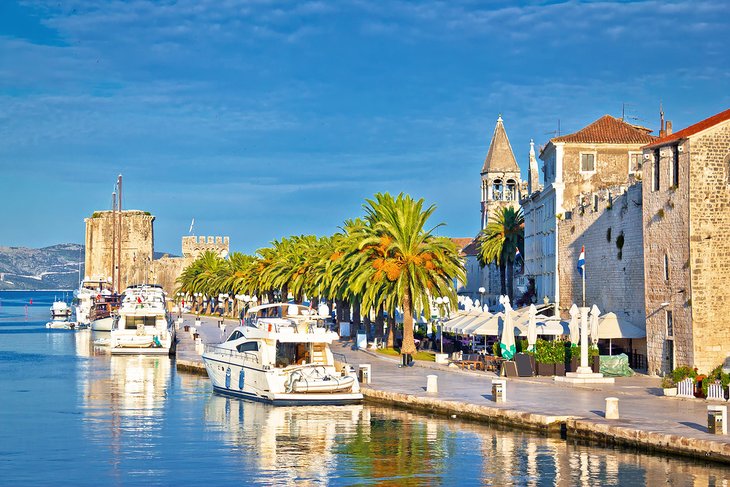 Think of Split's waterfront promenade, and then shrink it considerably and remove all of the overrun catamarans and people. Trogir's promenade is truly a stunner and it blew me away the first time I saw it.
My first glimpse of the waterfront was from across the bridge on the island of Čiovo. It's worth the quick walk over to the island for one of the best views of the promenade.
Along the waterfront are wide walkways fringed with palm trees, waterfront views, and vendors who have set up tables selling everything from antiques to paintings and knick-knacks. You'll also be able to walk directly to some of the other top sites and attractions in Trogir directly from the promenade.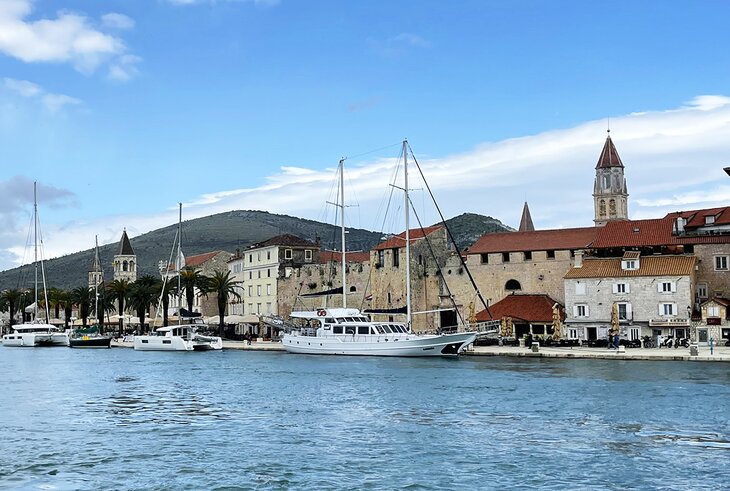 Lined with restaurants serving food al fresco, this is the best spot in Trogir for people-watching. You'll also be able to see the yachts bobbing gently in the water on the other side of the water. Vrata O'Grada sits just in front of the gates overlooking the promenade and has beautiful outdoor seating in a stone-clad courtyard. Try the fresh pasta with truffle sauce and oil or the fresh tuna steak with grilled vegetables and lemon.
Be sure to come by the waterfront in the evenings, when the promenade glows with lights and street entertainers put on a flurry of performances.
2. Cathedral of St. Lawrence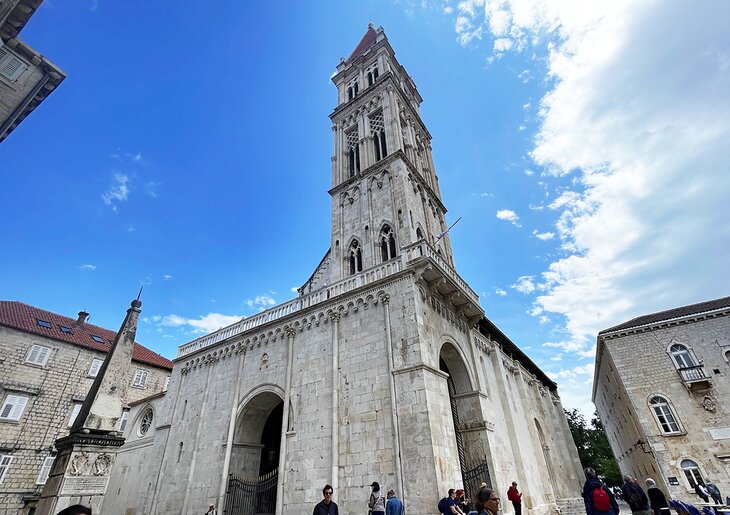 Trogir's Cathedral (Katedrala Sv. Lovre) – also known as the Cathedral of St. Lawrence – is widely considered one of the finest architectural achievements in Croatia. Construction of this splendid three-aisled structure, built on the site of an ancient church destroyed by the Saracens, commenced in 1193 and continued for many years until finally completed around 1500.
One of the most notable features is the amazing Romanesque door, carved in 1240 by Master Radovan, and flanked on either side by two stone lions. Other interesting highlights include a 47-meter-tall, 14th-century bell tower, well worth climbing (usually before noon, for a small fee).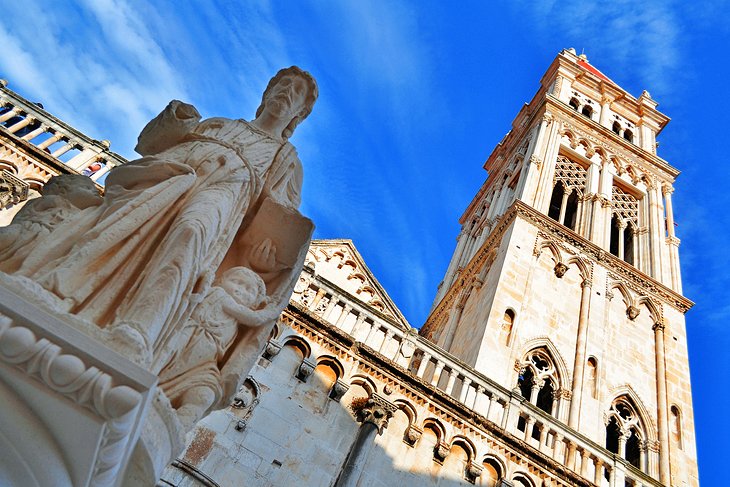 Also not to be missed is the Renaissance Chapel of St. Ivan featuring many fine paintings of St. Jerome and St. John the Baptist, as well as decorations created between 1461 and 1497 by Firentinac and Duknovic.
Address: Trg Ivana Pavla II, Trogir
3. Enjoy the Beaches around Trogir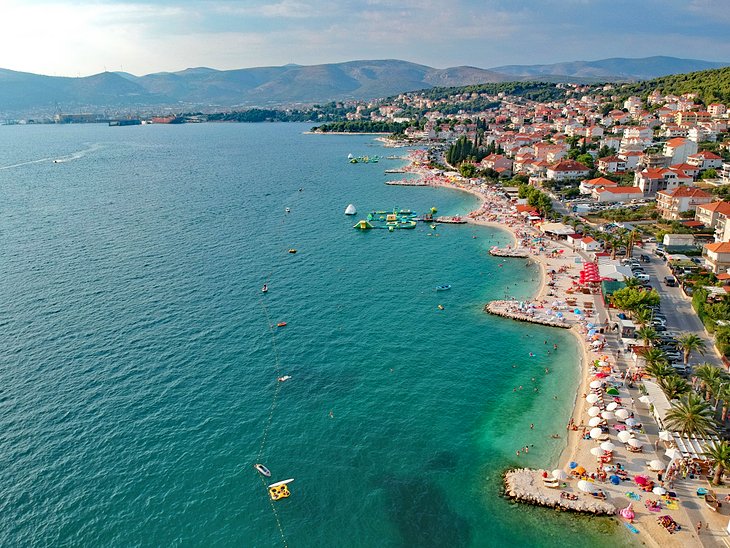 The Dalmatian Coast is famous for its calm and blue water, which is perfect for swimming, and its pebble beaches. While there are no beaches in Trogir's city center there are a number of beautiful beaches within a short walk or drive. Medena Beach is in Seget Donji, which is a village located some four kilometers from Trogir. It is a pretty pebble beach that can get crowded in the summer but is still fun.
The easiest beaches to reach from Trogir's Old Town are just across the bridge on Ciovo Island. This summery getaway is peppered with small seaside towns and is accessed via both a ring road and a road that goes up and over the mountain to the other side. Along the drive, you'll pass through town after town, each one has its own stretch of white, pebbly beaches.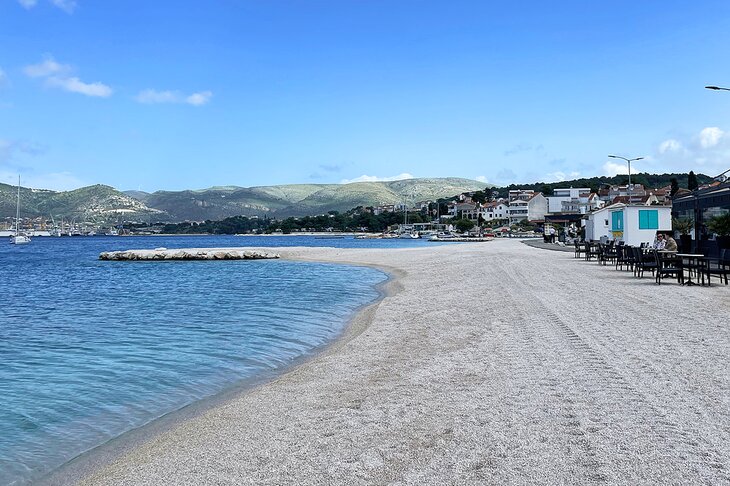 The largest beach on Ciovo is Okrug Gornji which is easily the most popular beach on the island thanks to its close proximity to Trogir, a large number of beachfront restaurants, tour offices, and ample parking. Plus, the beach has a floating adventure park offshore and seven different beach areas to spread out on.
While Okrug Gornji has a lot to offer, it was not my favorite beach on Ciovo. That award goes to Kava Beach near the town of Okrug Donji. The small, white pebble beach has jaw-dropping turquoise water, a tiny marina, and beds of beautiful wildflowers. The beach does not have any facilities so you'll have to bring everything with you.
4. The City Gates: Land Gate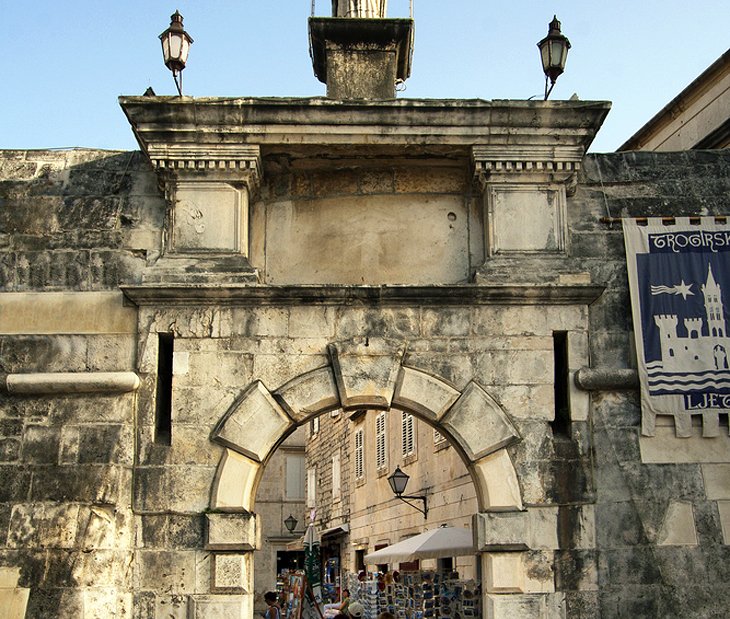 The Land Gate (Kopnena Vrata) was the main entrance to Trogir during the 15th century and was a vital part of the Venetian defenses along with the city walls, which were built at the same time. Rebuilt in the 17th century in late-Renaissance style, the structure's tall doorway once housed a drawbridge.
Notable features include, the Lion of St. Mark (the symbol of Venice) above the door's arch, and a statue of the city's patron saint, St. John of Trogir (Sv Ivan Trogirski), also referred to as Giovanni Orsini in Italian.
Another historic structure worth a visit is the North Gate. Though much smaller, it served as an important access point, and today it's surrounded by many great cafés, shops, and restaurants.
5. The Clock Tower and City Loggia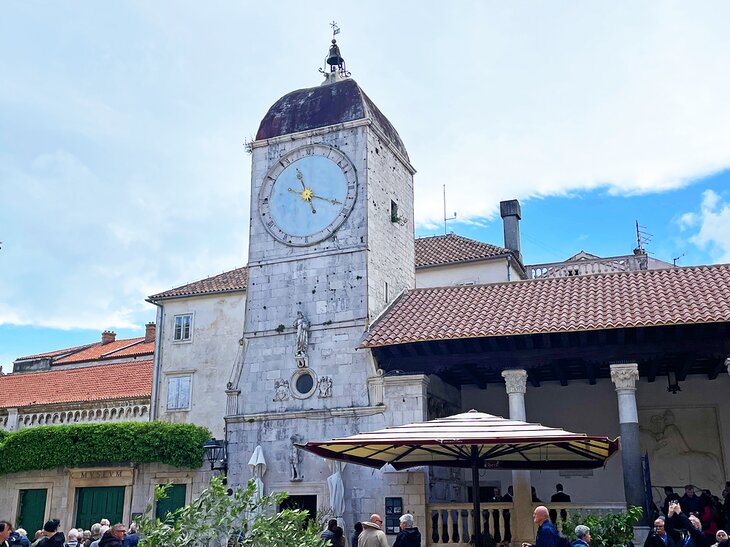 One of Trogir's most famous landmarks, the Clock Tower was once part of the church of St. Sebastian. Located on John Paul II Square (Trg Ivana Pavla II) next to the Loggia, it is famous for its large blue face and domed roof taken from the chapel of St. Sebastian in the middle of the 15th century. The tower also boasts a statue known as Justice, which was carved by Nikola Firentinac in 1471.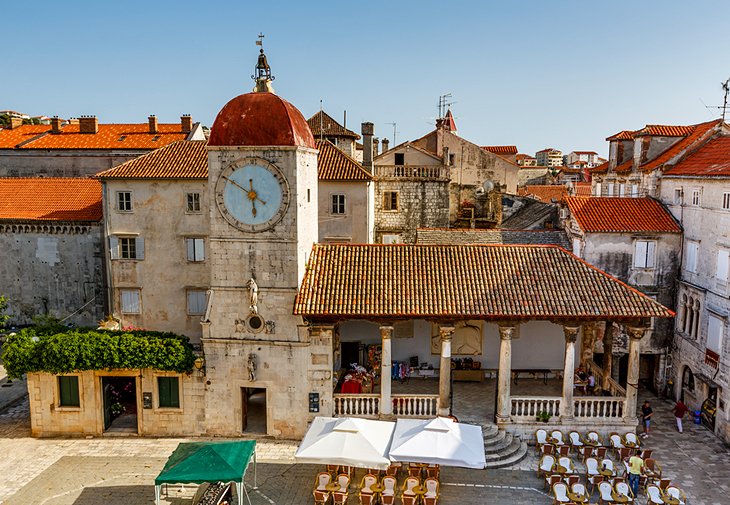 The Loggia, previously at the level of the square but now reached by a few steps, was once linked with the Church of St. Mary and is notable for its fine reliefs and columns. This area is a delightful place to rest your legs and grab a bite to eat on one of the patios in the square.
6. Cipiko Palace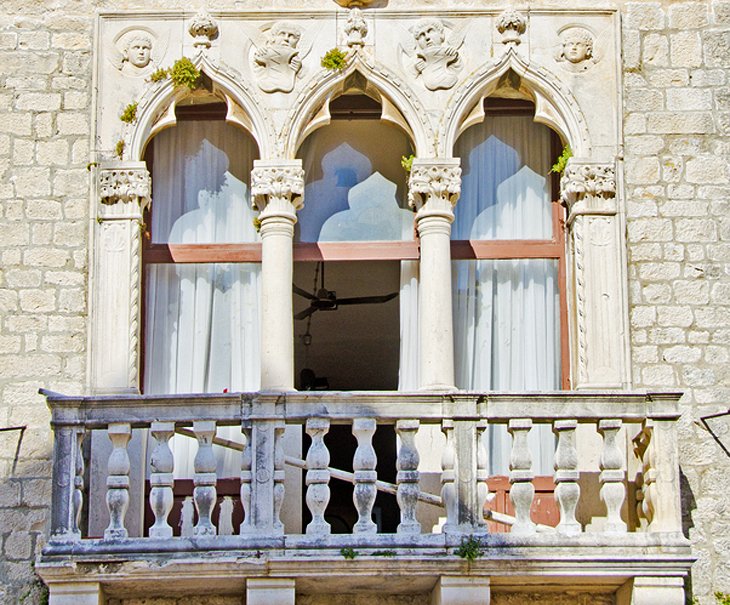 Cipiko Palace, in the Town Square across from the main entrance of Trogir Cathedral, was the home of the Cipiko family, one of the region's most prominent families during the 15th century. The creation of famed architects Firentinac and Alesi, this splendid old palace – really two palaces joined together as the family's wealth increased – boasts a number of unique and noteworthy features, including a carved Venetian Gothic window designed by Alesi himself.
As you approach the main entrance look for a carved wooden statue of a cockerel taken from the prow of a Turkish ship following a decisive battle in the mid-1400s in which Turkey was defeated (one of the Cipiko family members, a captain from Trogir, was involved in the battle).
7. Kamerlengo Castle and St. Mark's Tower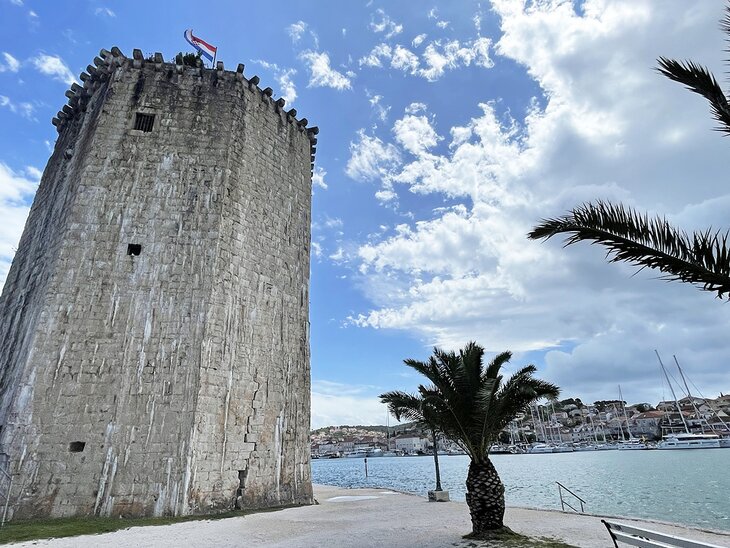 The impressive Kamerlengo Castle dates back to the early part of the 15th century and is another top thing to see in Trogir. It was built by the Venetians and served for a time as the governor's palace. With commanding views over the sea and high walls connecting its three towers, this splendid old castle has found new life as a venue for outdoor performances held during the summer months in the courtyard.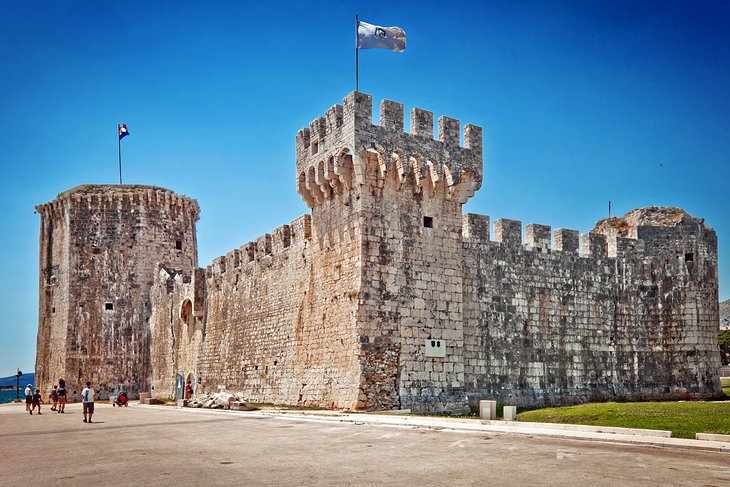 Renaissance St. Mark's Tower (Kula svetog Marka), built after the castle in a circular shape, was once used to support artillery on its broad roof and was built to defend the channel between the island and the mainland. Along with its broad grounds and waterfront setting, it's a delightful place to explore as you ponder its former role safeguarding the old city.
Address: 21220, Trogir
8. Day Trip to the Blue Cave and Hvar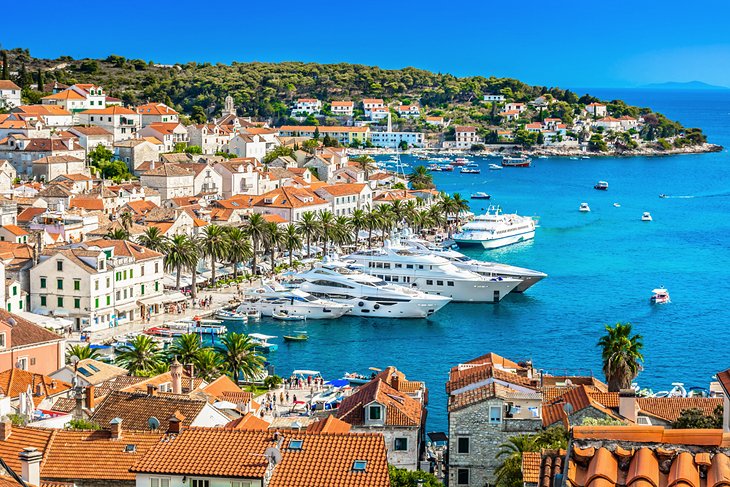 One of the top day trips from Trogir is to see Hvar Island and the Blue Cave. If you don't have a lot of time to explore the Dalmatian Archipelago, an organized tour like the five island speedboat tour is a great way to experience these stunning destinations.
This tour isn't for the faint of heart, as it lasts 11 hours from start to finish, but you get your money's worth. And from Trogir, you'll visit Biševo Island and the coastal town of Komiža, explore the epic Blue Cave and Stiniva Bay, swim in the clear waters off Vis and Pakleni Islands, and check out Hvar Island's ancient architecture.
9. The Church of St. Peter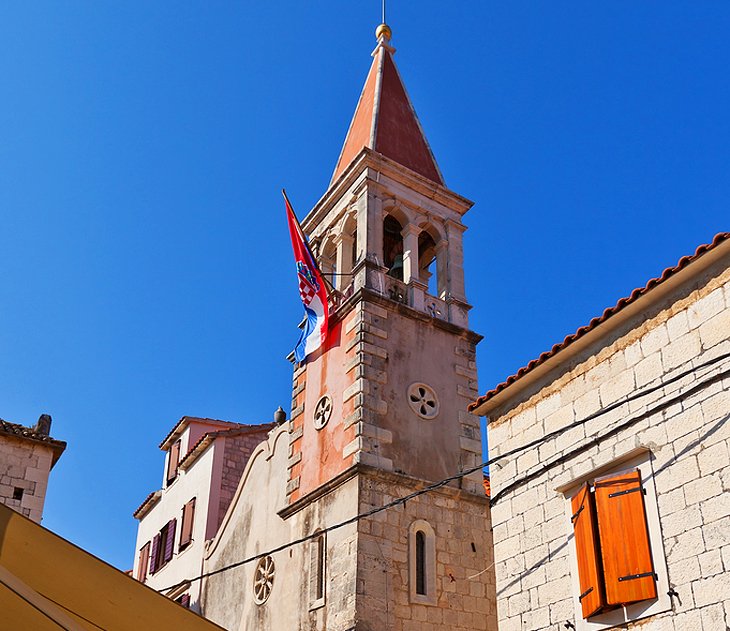 Once part of a Benedictine monastery, the lovely Church of St. Peter is best known for the half sculpture of its patron saint looking down from the doorway with Bible and scrolls in hand. Believed to have been built in the 14th century, the church's interior belies its rather plain exterior and contains numerous fine paintings, including works by such important artists as Molinari and Lazzarini.
Other highlights include a number of 17th-century sculptures by Jakov Jucen, who is also believed to be responsible for the building's fine paneled ceiling, as well as statues of Saints Peter and Paul carved from wood.
10. The Benedictine Monastery of St. Nicholas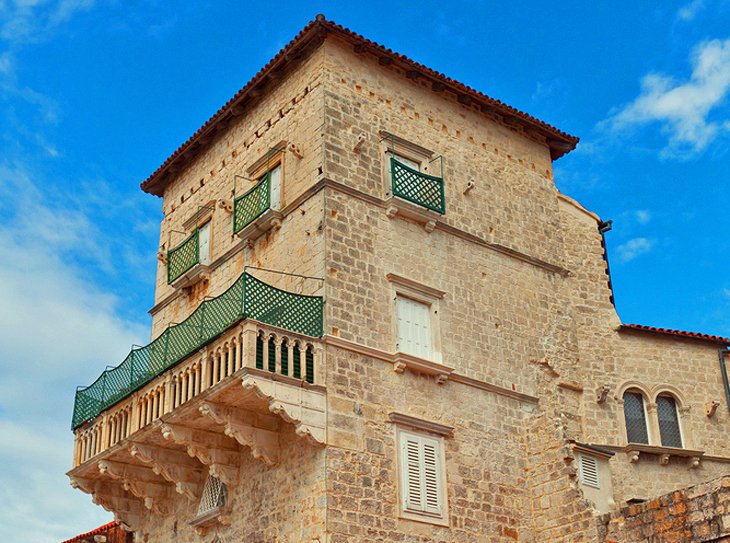 Another monastic church of interest is that of the Benedictine Monastery of St. Nicholas. Built in 1066 with a bell tower added in the 16th-century, the building's most impressive feature is its splendid interior, completely rebuilt in Baroque style in the 1700s. In addition to fine inscriptions carved in honor of the city's leading figures, the building boasts a number of precious artworks, including the Kairos, an exquisite relief depicting figures and scenes from Greek mythology. Of the church's many paintings, the most notable are pieces by Antonio Zanchi, Paolo Veneziano, and Nicollo Grassi, along with a 13th-century Madonna and Child.
11. Trogir City Museum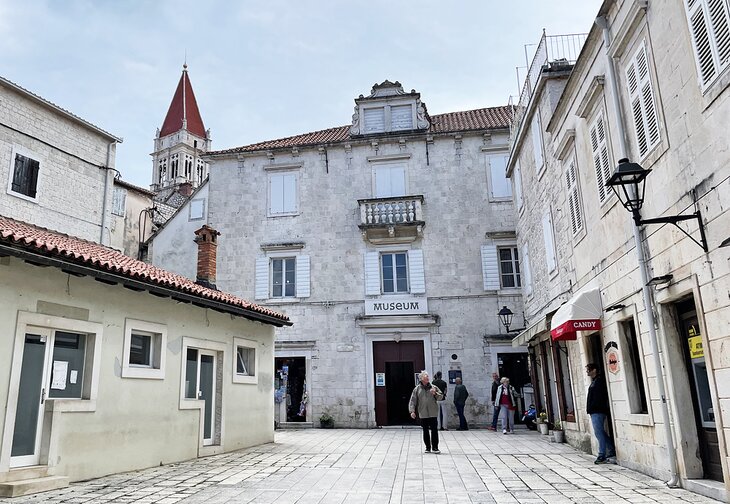 The Trogir Civic Museum (Muzej Grada Trogira), housed in the Baroque Garagnin-Fanfogna Palace, is across from the Land Gate in the northwest corner of Trogir. Highlights of this worthwhile museum are displays of a variety of Greek and Roman artifacts, old manuscripts and documents, drawings and paintings, as well as old uniforms and antique clothing. Also of interest is a fine collection of 18th-century furniture on the first floor.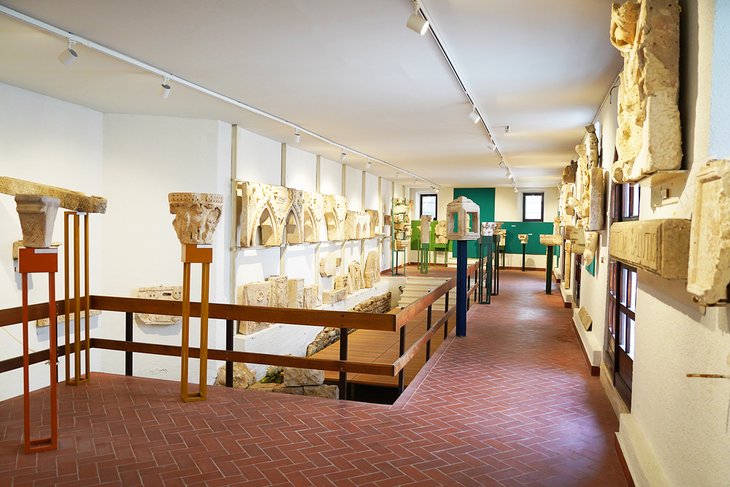 While a quick visit is enough to explore the museum's highlights, its location near the Land Gate and the cathedral make it a convenient stop during a walking tour of this area of Trogir.
Address: Ulica Gradska vrata 4, 21220, Trogir
12. St. Dominic Monastery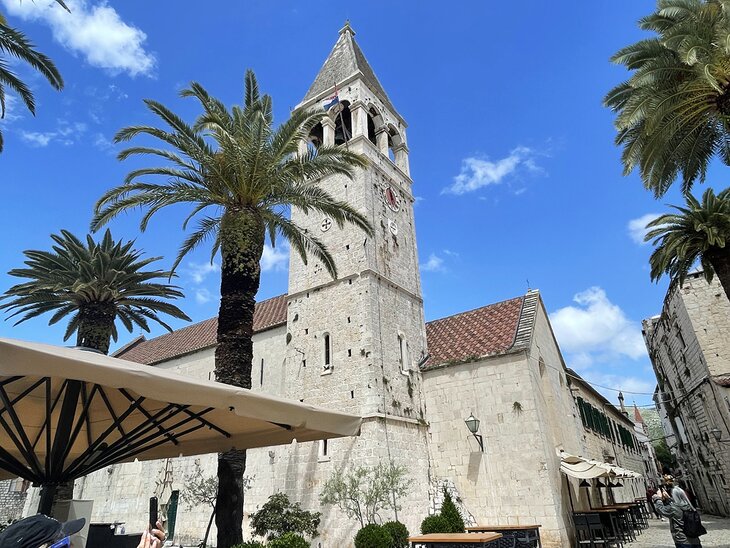 Founded in 1265, St. Dominic Monastery has been much added to over the years, with its church and nave constructed later in the 14th-century. Highlights of this lovely monastery's exquisite interior include a number of important old tombs, including those of Ivan and Simun Sobota, well known in the city as humanists in the 15th-century.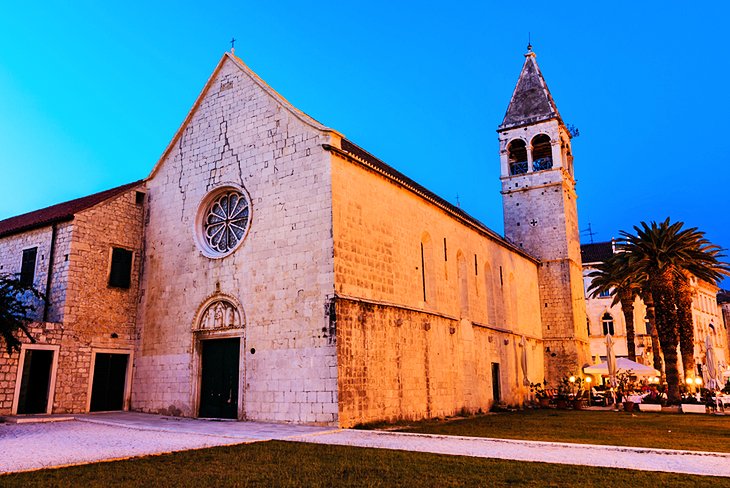 Also of interest is the triumphal arch and an altar made of wood by Palma the Younger dating from around 1600, along with numerous important works of art and religious relics.
13. Visit the Town of Marina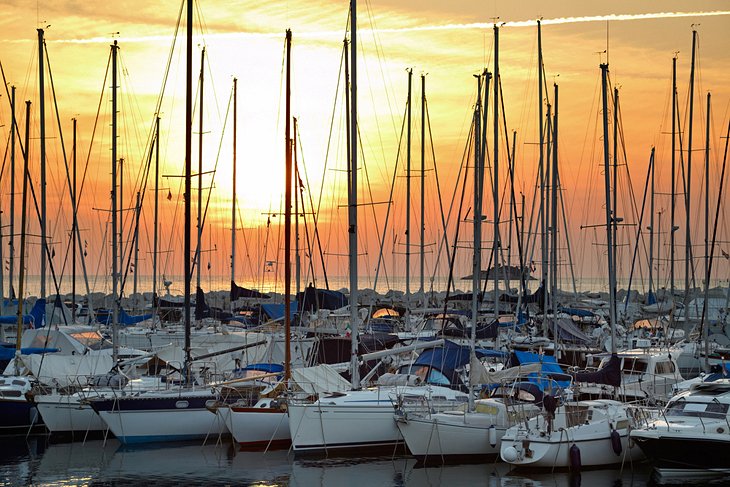 Just 20 kilometers west of Trogir is the delightful coastal town of Marina, a picturesque community dominated by a massive tower that has been converted into the Hotel Kastil. This small seaside resort on the Dalmatian Coast boasts a beautiful sand and pebble beach, along with notable architecture in its two churches: the Gothic St. Luke and the Gothic and Renaissance St. John. Both were built in the 15th-century and still maintained by the same family. Marina makes for a fun day trip, especially if the aptly named Marina Bay is included, a much-favored spot for yachting types from around the world.
Map of Attractions & Things to Do in Trogir
More Related Articles on PlanetWare.com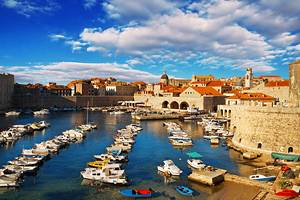 Croatia's Dalmatian Coast: This is the country's most famous stretch of coastline, dotted with towns and villages, as well as pebble beaches backed by clear blue water. The most famous town is the port city of Dubrovnik, which Game of Thrones fans will recognize as King's Landing but it's also worthwhile exploring the highlights of Zagreb and Zadar, including historic buildings and impressive art galleries and museums.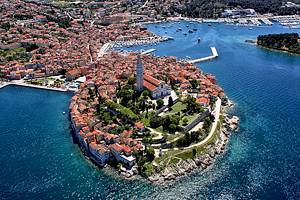 Other Places to Visit: For an overview of the country, check out our page on the top tourist attractions in Croatia and consider visiting lesser know regions like Istria, where you can explore attractions like the medieval town of Rovinj and beautiful Brijuni National Park.