16 Top-Rated Tourist Attractions in Dubrovnik
We may earn a commission from affiliate links ()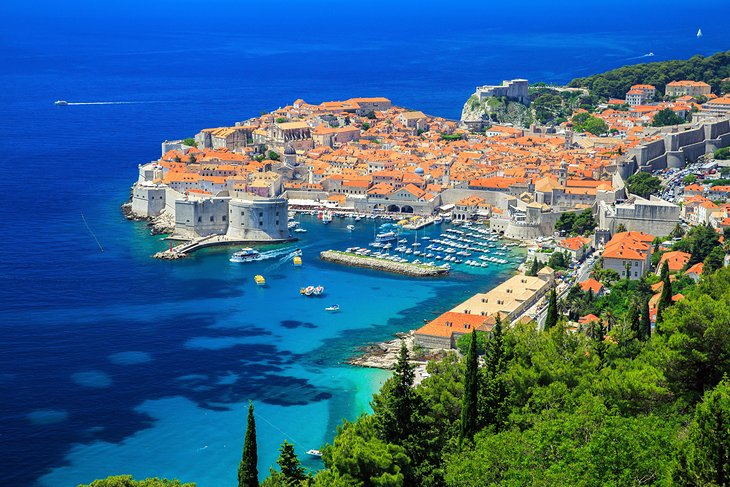 Dubbed the "Pearl of the Adriatic," the beautiful city of Dubrovnik offers a wealth of tourist attractions for visitors to explore. Dubrovnik was founded in the 7th century and has been ruled through the centuries by the Venetians and the Hungarians, each of which have left their mark. The city enjoyed its greatest growth in the 15th and 16th centuries, a fact reflected in the impressive architecture and its designation as a UNESCO World Heritage Site.
Popular for its spectacular seafront location on the Dalmatian Coast, coupled with its evocative and historic Old Town district, Dubrovnik is home to Croatia's artistic and intellectual elite and offers numerous cultural activities and festivals.
Highlights of a visit include walking around its picturesque old streets and alleys while visiting such excellent attractions as its splendid cathedral and treasury, the broad Stradun pedestrian walkway, and its many fine old palaces and fortifications.
To find out more about the many fun things to do and the best sightseeing opportunities in this amazing city, be sure to read through our list of the top tourist attractions in Dubrovnik.
See also: Where to Stay in Dubrovnik
Note: Some businesses may be temporarily closed due to recent global health and safety issues.
1. The Old City Walls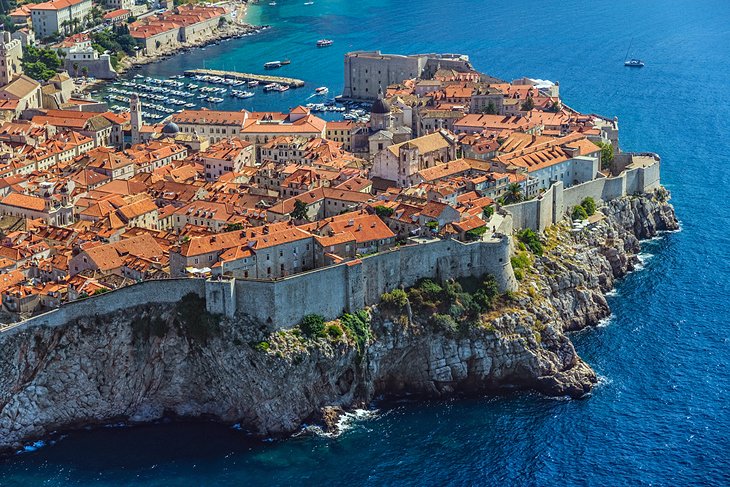 The old city walls of Dubrovnik are one of its best-known features, now more than ever thanks to being featured in the hit TV series, Game of Thrones. Built in the 10th century and modified in the 13th and 14th centuries, these formidable walls—as high as six meters in places, and up to six meters thick—provided a solid defense against invaders. Totaling nearly two kilometers in length, Dubrovnik's city walls make a great spot for a casual stroll and offer numerous excellent views over the Adriatic and inwards over the old city center.
Other highlights include its two towers, the Minceta Tower (Tvrdava Minceta) and the Bokar Tower (Tvrdava Bokar), along with two forts, the Fort Lovrjenac and the Revelin Fortress. Access to the walls is through the main entrance on the left of Pile Gate (admission is charged).
2. Stradun of Dubrovnik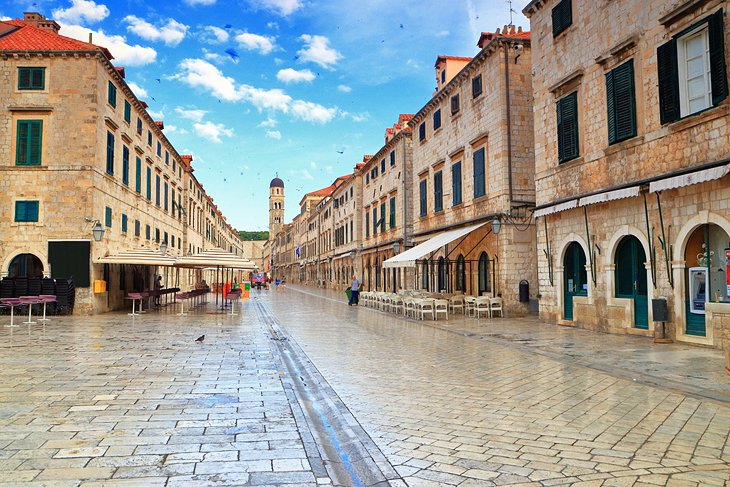 The spectacular Stradun—also known in Dubrovnik as Placa—is a place where locals and visitors alike gather day and night to watch the world drift by. Undoubtedly one of Europe's most picturesque pedestrian thoroughfares, the Stradun boasts many cafés and restaurants and is a good spot to get in some shopping, or to rest weary feet after a day touring Dubrovnik.
Measuring 300 meters in length and famous for its white limestone paving, the street dates back to 1468, although many of the surrounding buildings were built in the 17th century after the devastating earthquake of 1667, when most of Dubrovnik was heavily damaged.
The Stradun's unique homes are designed to enable residential living upstairs and business activities on the main level, and are notable for having their main doors and windows under the same arch.
Just a few steps away from the Stradum on one of the side streets, War Photo Limited is a fascinating photography museum displaying images from the countless armed conflicts mankind has found itself caught up in.
3. Dubrovnik Cathedral and Treasury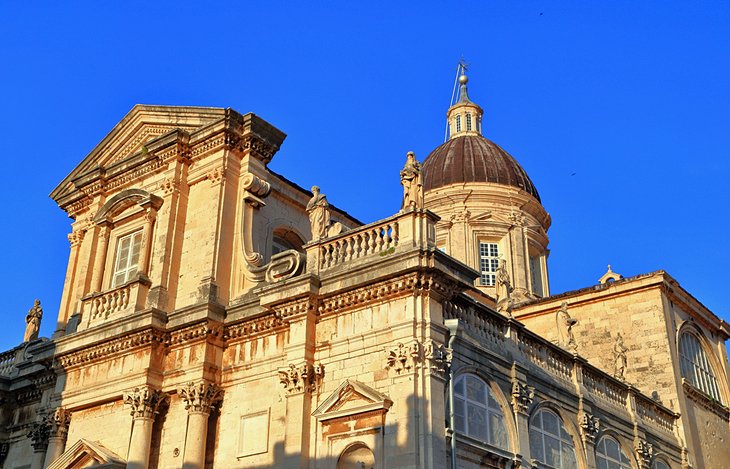 Standing on the site of an older cathedral dating from the 6th century that was destroyed by earthquakes, beautiful Dubrovnik Cathedral—also referred to as the Assumption Cathedral (its full name is the Cathedral of the Assumption of the Virgin Mary, or Katedrala Velike Gospe in Croatian)—was designed in Baroque style by Andrea Buffalini of Rome.
Notable for its three aisles, three apses, and splendid interior décor, the cathedral includes highlights such as paintings by Italian and Dalmatian artists from the 16th to 18th centuries, including the Virgin of the Chair by Raphael from the early 1600s.
A must see is the Cathedral Treasury (Riznica Katedrale) with its many important relics, the most famous being a portion of the cross that Jesus is thought to have been crucified upon. Other famous relics include the head, leg, and arm of St. Blaise, the city's patron saint, dating from the 13th century, as well as a splendid display of 138 gold and silver reliquaries from around the world.
Address: Opcina Dubrovnik, 20000
4. The City Gates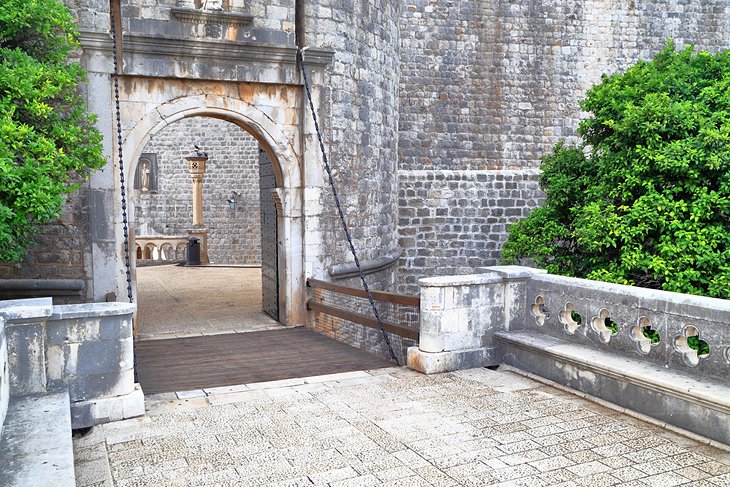 For centuries, Dubrovnik's famous Pile Gate has served as the main entrance and is still the most interesting access point to this fabulous old city. Formerly surrounded by a moat complete with a drawbridge built in 1537, the pedestrian-only Pile Gate—one of two entrances to the Lapad area—also boasts a pleasant garden in the old moat.
Other highlights include a statue of St. Blaise located in a niche in the arch and carved by famous Croatian artist Ivan Meštrovic, and, within the ramparts, a door dating back to 1460.
Another gate worth seeing is the 14th-century Ploce Gate, just behind the Asimov Tower. Designed as a "double defense" system, it proved effective in times of trouble. Also imposing and located just across the moat from the Ploce Gate is the Revelin Fortress, built in 1580.
5. Loggia Square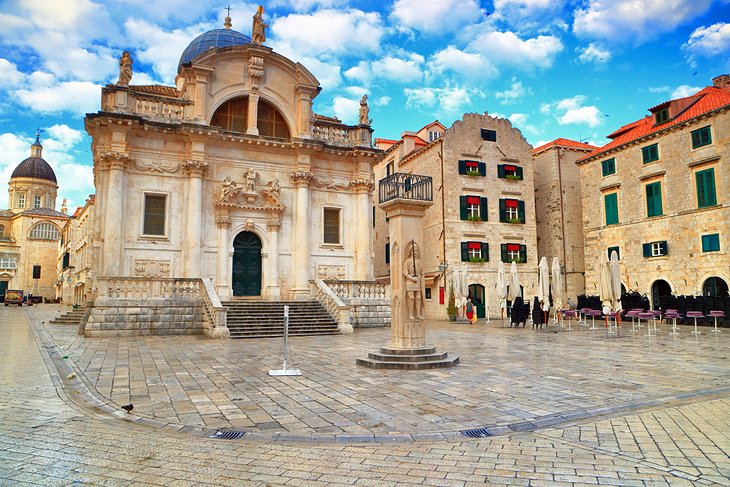 Loggia Square in Dubrovnik has long been a central gathering point for citizens and visitors alike. Featuring some of Dubrovnik's most famous buildings and public monuments, this former market square is found in the northeast section of the old city center.
Highlights include Orlando's Column (Orlandov stup), built and designed by sculptor Antonio Ragusino, as well as the famous Loggia of the Bells, dating from 1480 and used as an early warning system by residents in times of unrest.
It's here you'll also find the Church of St. Blaise, of interest for its Baroque façade and priceless collection of works of art. Also of interest on the square are a clock tower from the 15th century; the main guardhouse; the small fountain of Onofrio; and Sponza Palace, now home to the city's archives.
6. Dubrovnik's Gibraltar: Fort Lovrijenac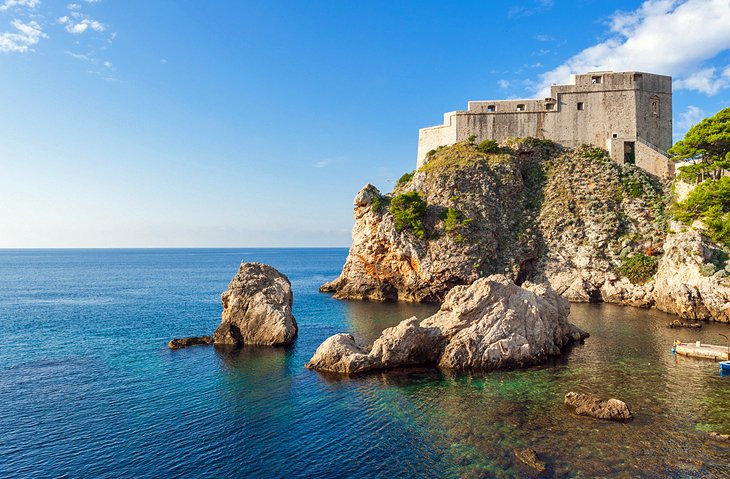 Dubbed "Dubrovnik's Gibraltar" for its location on a rocky promontory just outside the city's western wall, Fort Lovrijenac—also known as St. Lawrence Fortress—has long been one of Croatia's most important fortresses.
Rising an impressive 37 meters above the Adriatic, this stunning fortification proved impregnable during the many sieges undertaken by the Venetians from its completion in the 11th century onwards. Legend, in fact, has it that the Venetians themselves planned to build a fort here but were beaten to it by industrious city folk.
Also notable for its unusual triangular layout with its three terraces, Fort Lovrijenac is accessed via two drawbridges and a gateway through its impressive walls, in places as thick as 12 meters.
In addition to serving as a tourist attraction, the fort is also used as a venue and backdrop for Dubrovnik's famous Summer Festival and its many theatrical and musical performances.
Address: Ul. od Tabakarije 29, 20000, Dubrovnik
7. The Large Fountain of Onofrio and St. Saviour Church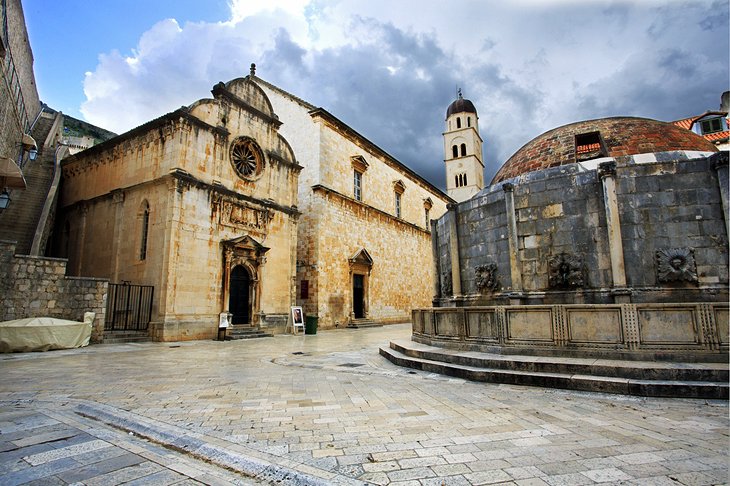 Built between 1438 and 1444, Dubrovnik's famous Large Fountain of Onofrio is probably the best known of the city's many historic monuments. An easy stroll from the Pile Gate, this landmark structure is somewhat smaller today than the original due to damage caused by the earthquake of 1667. The fountain was an important part of the city's original water supply system (also designed by Onofrio de la Cava) that carried water from the Dubrovacka river.
The fountain stands immediately in front of the equally attractive St. Saviour Church (Crkva sv Spasa). Built in the early 16th century in thanks for what city elders believed was divine intervention after the city was spared during an earthquake a few years earlier, it is in fact one of only a few buildings to have survived the devastating earthquake of 1667 intact. Today, this small place of worship is well worth visiting for its fine Gothic and Renaissance features.
Address: Poljana Paska Milicevica 2000, 20000, Dubrovnik
8. Game of Thrones Walking Tour of Dubrovnik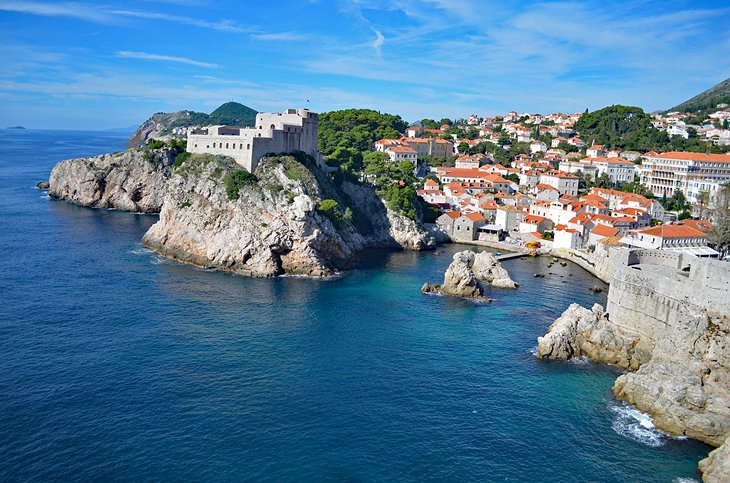 Whether your Dubrovnik sightseeing itinerary is on a tight schedule or you've got bags of time in which to explore this amazing Croatian city, you won't want to miss the chance to catch the best bits that appeared in the hit TV show, Game of Thrones.
The Game of Thrones Walking Tour of Dubrovnik is one of the most popular things to do here, and takes in many of the key locations used in the filming of the show. It includes a running commentary from a professional tour guide well versed in both the real and imagined history of the locale in question.
Highlights include getting some of the best views available over the city skyline that many will know as King's Landing, as well as the historic Fort Lovrijenac, which featured predominantly in Game of Thrones.
Part of the fun is hearing about the behind-the-scenes tales these guides have gathered, and an optional upgrade includes a visit to Trsteno Arboretum, which featured in the show as the royal gardens.
9. Dubrovnik Cable Car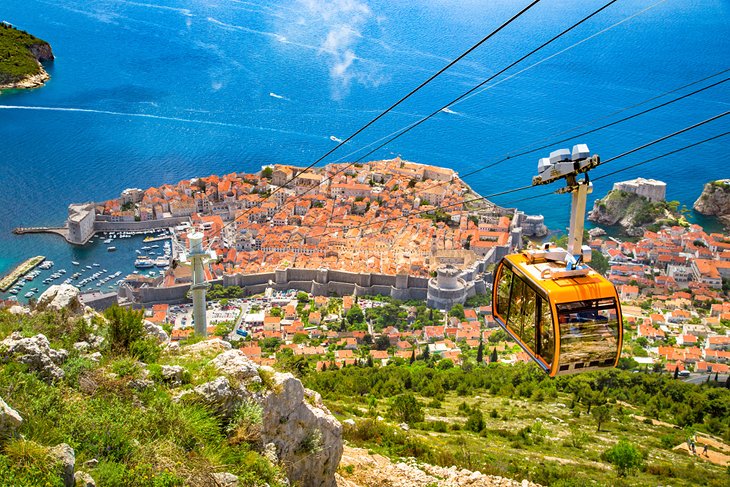 Another fun thing to do when visiting Dubrovnik is to head to the hills—via cable car. The Dubrovnik Cable Car whisks visitors high above the Old Town, up Srd Hill, with the views only getting better and better as you climb (on clear days, it's said you can see for some 50 kilometers). The journey lasts less than 10 minutes, and once deposited at the top, you're free to explore the area.
Attractions to look out for include the 19th century Imperial Fortress, built by the French during their occupation of the region and now housing a fascinating exhibit pertaining to the Homeland War of 1991-1995, when the city was defended against hostile forces. There's also a restaurant boasting spectacular views over the Old Town, along with unique shopping, including a fascinating traditional coin minting blacksmith shop.
Address: Ulica kralja Petra Krešimira IV, 20000, Dubrovnik
Official site: www.dubrovnikcablecar.com
10. The Dominican Monastery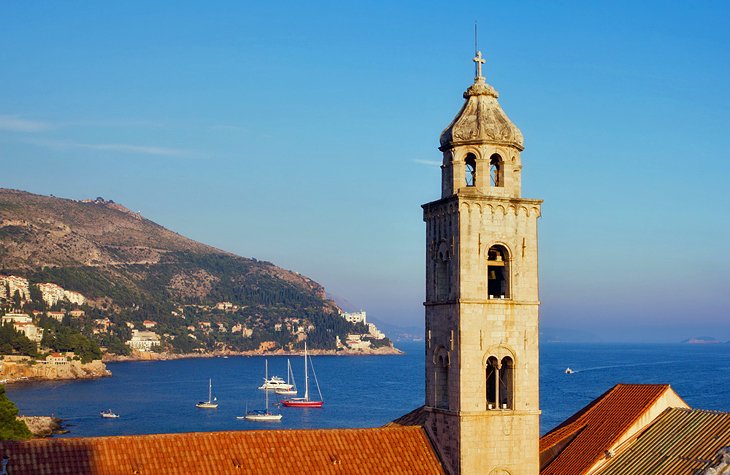 Built in the early 1300s, Dubrovnik's Dominican Monastery was so large that construction required moving parts of the city walls just to accommodate it. Heavily damaged in the 1667 earthquake, the monastery was completely rebuilt in its present form with special attention given to preserving features such as its splendid late Gothic cloister (the original was designed by Michelozzo di Bartolomeo of Florence in the 15th century).
A particular highlight is visiting the monastery's museum, with its many 15th- and 16th-century religious paintings in the style of the Dubrovnik (also known as the Venetian) School, along with interesting items of gold and silver and other relics.
Address: Ul. Svetog Dominika 4, 20000, Dubrovnik
11. The Franciscan Church and Monastery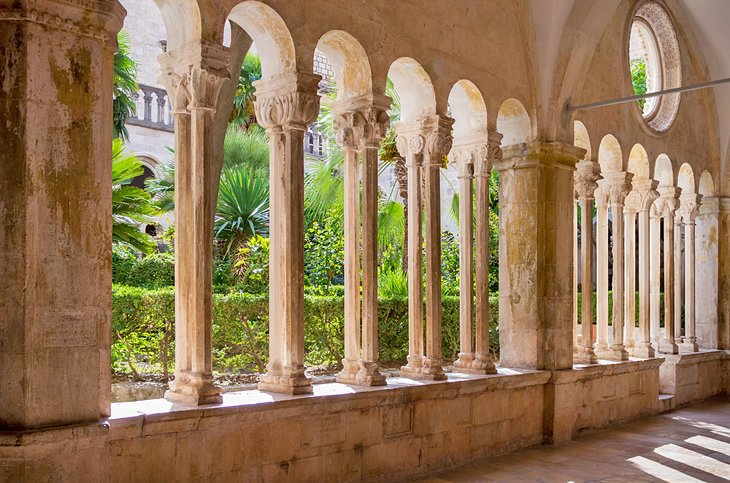 Another important historic site to add to your Dubrovnik itinerary is the city's Franciscan Church and Monastery. This well-preserved building was constructed in the late 1600s on the site of the original monastery from the 1100s, and is now home to one of the most valuable libraries in Croatia.
Established in the 17th century and housing a collection of more than 21,000 rare book manuscripts, it's also the location of a fascinating medieval pharmacy that's been in use since 1317 (making it one of the oldest in the world) and is notable for its numerous old decorated jars, measuring devices, and mortars.
There's also an on-site museum containing items of historical interest and a fine art collection.
Address: Poljana Paska Milicevica 4, 20000, Dubrovnik
12. The Rector's Palace and Cultural Historical Museum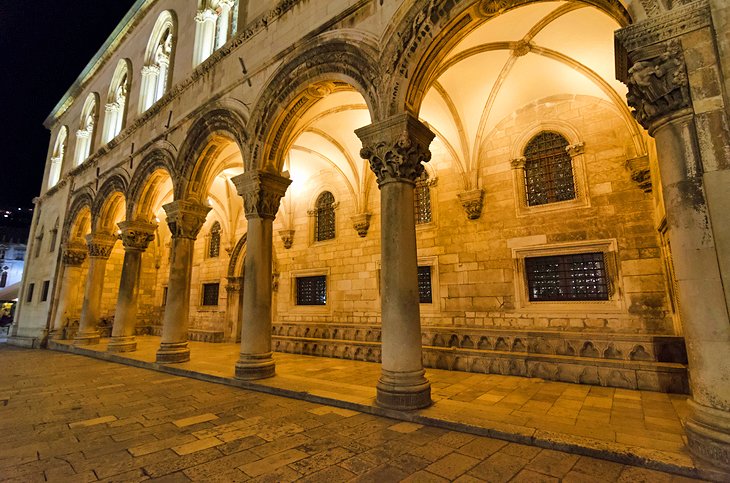 Designed by Onofrio de la Cava in 1435, the Rector's Palace (Knežev dvor), now home to the city's Cultural Historical Museum, has been much altered through the centuries. A beautiful mix of late Gothic and early Renaissance styles, this splendid old palace was heavily damaged by a gunpowder explosion not long after its completion, later by a fire, and then again in 1667 when an earthquake struck.
These days, this well-preserved building is a delight to explore, particularly its pleasant central courtyard. If possible, try to time your visit to coincide with one of its regular summer classical music performances.
Also of interest is the bust of Miho Pracat, a former merchant from the island of Lopud. Highlights of the museum's collection of 15,000 pieces include many interesting exhibits detailing life in the Republic of Ragusa during medieval times, as well as numerous fine paintings by Venetian and Dalmatian artists.
Address: Opcina Dubrovnik, 20000
13. The Fort of St. John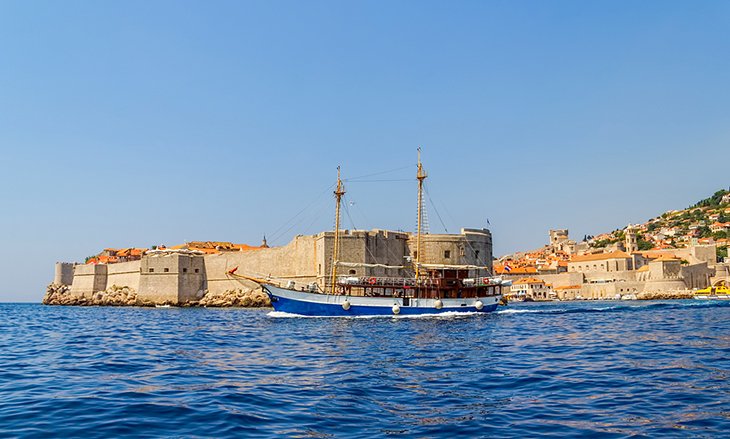 On the eastern edge of the old town sits the Fort of St. John, known to locals as the Fort of St. Ivan. Once an important part of Dubrovnik's defenses, this imposing structure now houses several modern attractions to keep visitors entertained.
In the upper area is the Maritime Museum of Dubrovnik featuring displays of Dubrovnik's maritime past illustrated through model boats and naval artifacts, while the lower area contains the Aquarium of Dubrovnik with its many interesting displays of local and exotic fish, as well as a superb collection of seahorses.
Also worth a visit is nearby Bokar Fort, designed and built by Michelozzo di Bartolomeo Michelozzi and a great spot to visit for its excellent views over the city and the Adriatic.
14. Banje Beach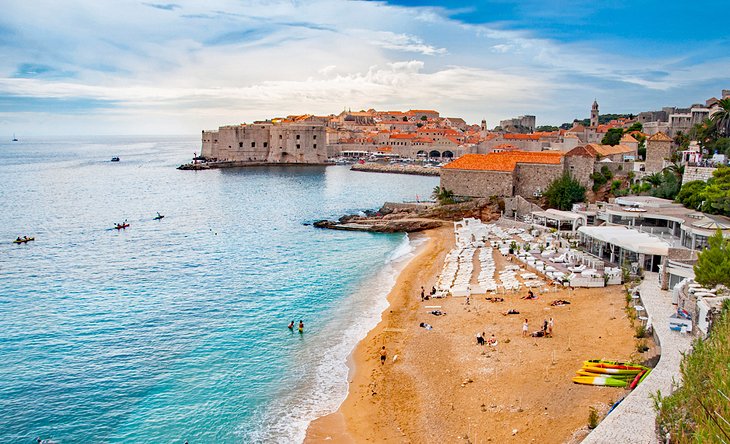 There's more to do in Dubrovnik than simply sightseeing. This historic city is in fact home to Banje Beach, widely regarded as one of the top beaches in Croatia. Located just a short walk from the historic Old Town, it's a delightful (if somewhat crowded) place to relax and splash your feet, or go for swim.
In addition to fun water sports activities such as sea kayaking and windsurfing, it's also a pleasant place for a stroll, especially after enjoying a meal at one the many restaurants or luxury hotels nearby, an especially fun thing to do as the sun sets (reservations recommended).
Although a little farther away, the beaches lining the Lapad peninsula are worth visiting, too. An easy four-kilometer drive or bus ride from the Old Town, you'll find three main beaches to explore and relax on: Cava, Uvala Bay, and the tropical sounding Copacabana. These kid-friendly beaches are great for those traveling as families, and although an admission fee is required, they are well worth it.
Other activities besides sunbathing and swimming include snorkeling and jet skiing.
15. The Island of Lokrum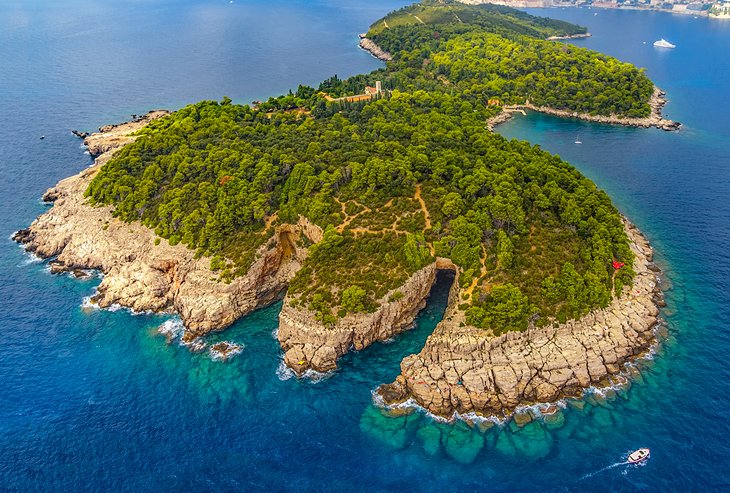 Located just 600 meters from Dubrovnik, the island of Lokrum is pretty hard to miss. If you've got time in your Dubrovnik sightseeing itinerary, hop aboard the short ferry ride to this fascinating island. In addition to the superb views over the Old Town of Dubrovnik, there are a few interesting attractions you'll find here worth exploring (and usually with few if any crowds).
Head first to Fort Royal Castle, a fortification constructed by Napoleon's troops to defend the harbor city. It's an easy climb, and the views in all directions are spectacular.
Other points of interest on this small island include a small inland salt lake known as the Dead Sea, a popular spot for selfies and scuba diving; an old Benedictine Monastery known to have been around since the 11th century and which now houses a museum about the island, as well as a restaurant; and a delightful botanical garden that's home to some 200 or so species of plants.
The island is also fun to access via sea kayak, which can easily be rented on the mainland.
16. The Museum of Modern Art Dubrovnik
Established in 1945, the Museum of Modern Art Dubrovnik (MOMAD) is a great place to visit if art is your thing. Home to an impressive collection of over 3,000 artworks from leading Croatian and international artists, as well as works by local artists, the building itself—once home to one of the city's leading families—is quite stunning.
Highlights include modern art dating from the late 1800s right up to the end of WW2, along with a large contemporary art collection from the post-war period to the modern day. Dubrovnik natives represented include Niko Miljan, Marko Murat, and Marko Rašica, to name but a few.
Address: Poljana Marina Držica 1, 20 000 Dubrovnik
Official site: http://ugdubrovnik.hr/en
Where to Stay in Dubrovnik for Sightseeing
To see Dubrovnik's top sites and absorb the city's rich history, the best place to stay is near the pedestrian-only Old Town. If you prefer a quieter location, the Lapad peninsula, about three kilometers northwest of the Old Town, is an excellent choice, and many of the high-end hotels here feature stunning sea views. Here are some highly-rated hotels in these prime locations:
Luxury Hotels: With breathtaking views of the coast and Old Town, the clifftop boutique Villa

Dubrovnik

whisks guests to the heart of the historic action within minutes in a private speedboat. Above a delightful seafront promenade on the Lapad peninsula, about five kilometers from the Old Town, the Royal Princess

Hotel

offers a pool and beach access as well as gorgeous sea views. Also with a pool and easy beach access and within walking distance of the Old Town, the waterfront Hotel Bellevue

Dubrovnik

has a contemporary feel and beautiful sea views from its floor-to-ceiling windows. Steps from the Old Town, the pet-friendly Hilton Imperial

Dubrovnik

offers great value in a convenient location.
Mid-Range Hotels: In Gruz harbor, a short bus ride from the Old Town, the boutique Berkeley

Hotel

, with a spa, pool, and free breakfast, offers modern rooms and apartments. You can walk to the Old Town in about 20 minutes from pet-friendly Hotel

Lero

, but a bus is also nearby. The hotel comes with a pool and free breakfast. In a lovely park-like setting, Hotel

Zagreb

occupies a historic residence a walk from the beach and a short bus ride away from the Old Town.
Budget Hotels: A stone's throw from the sea and a ten-minute bus ride from the Old Town, Hotel

Perla

features clean, simple rooms and includes breakfast. Also a short bus ride from the Old Town, Hotel

Petka

offers basic rooms, some with sea views, while the quaint Stella

Apartments

, with kitchenettes, are in a great location about five minutes' walk from the Old Town.
Tips and Tours: How to Make the Most of Your Visit to Dubrovnik
More Related Articles on PlanetWare.com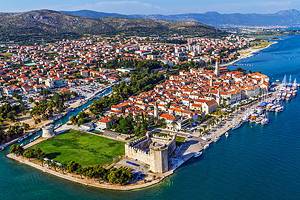 The Great Dalmatian Coast: Other great destinations to visit on the Dalmatian coast of Croatia include the country's second largest city of Split, home to the beautiful Diocletian's Palace, made famous for its role in Game of Thrones. Also worth checking out is the seaside town of Trogir, a delightful place to explore on foot that can trace its history back as far as the time of the Greeks. For a less crowded Dalmatian Coast experience, include Sibenik in your itinerary—its more relaxed pace and splendid architecture make it well worth exploring.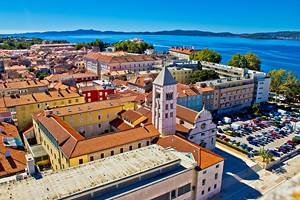 Croatia Vacation Ideas: Be sure to allocate time for a visit to the Croatian capital of Zagreb, popular for its stunning architecture and cathedral with its rich treasury. Another great city destination is Zadar, famous for its modern art installations, including the wonderful Sea Organ. Finally, the province of Istria is home to numerous sightseeing opportunities. Highlights include exploring the medieval coastal town of Rovinj, as well as the hilltop fortress town of Motovun, and the ancient Roman ruins of Pula.