14 Top-Rated Things to Do in Montenegro
We may earn a commission from affiliate links ()
Only established as an independent nation in 2006, the small but mighty country of Montenegro is fast becoming one of Europe's tourism hot spots. And for good reason. Home to picture-book perfect historic towns; beautiful beaches backed by the warm, clear waters of the Adriatic Sea; craggy peaks; and a mild Mediterranean climate, this tiny country in what was once Yugoslavia packs a big punch.
Best of all, Montenegro, which uses the Euro, is refreshingly affordable, with a beach vacation here costing you a fraction of what you'd pay in France, Italy, or neighboring Croatia.
From the impressive Venetian Old Town in Kotor, backed by a spectacular deep blue, fjord-like bay, to the mountainous interior, filled with national parks and towering peaks and underground caverns like Lipa Cave, Montenegro is full of attractions. For more ideas on the best places to visit, read our list of the top-rated things to do in Montenegro.
Note: Some businesses may be temporarily closed due to recent global health and safety issues.
1. Kotor Old Town & Bay of Kotor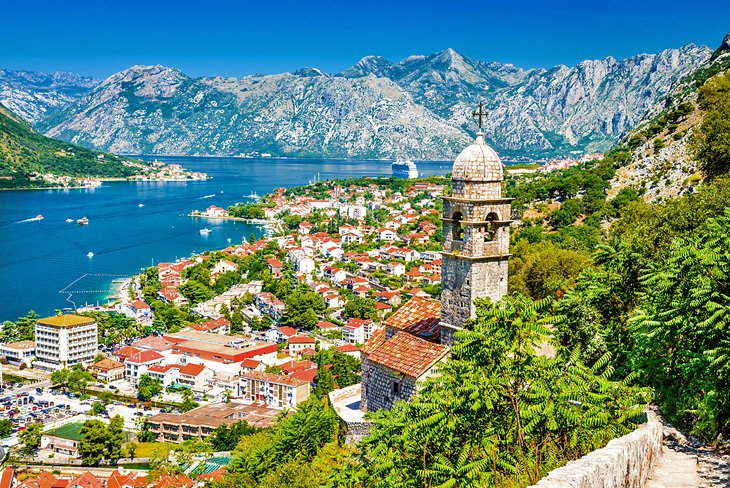 Dominated by the 12-century Cathedral of Saint Tryphon, Kotor's Old Town is one of the Adriatic coast's best preserved fortified medieval towns. Distinctly Venetian in its style (Venice was one of many city states and empires that ruled over this area throughout the centuries), Kotor sits at the edge of the brilliant blue Bay of Kotor surrounded by dramatic, soaring mountains.
The Cathedral of Saint Tryphon is known for its carved stone altar, an excellent example of the kind of stonemasonry the city was famous for during the Middle Ages. Spend some time wandering the maze of streets and alleyways throughout Kotor's Old Town, pausing for a meal at a traditional restaurant or a cold beverage at a sidewalk café in one of the piazzas.
If you want more exercise, challenge yourself with a trek up to the upper town walls. From here, you'll have stunning views across the city and bay.
Accommodation: Where to Stay in Kotor
2. Budva Riviera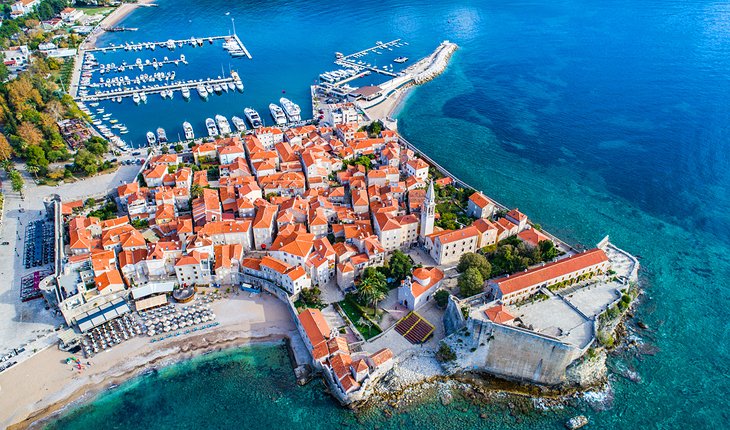 Stretching along the central Montenegrin coastline with Budva as its anchor city, the Budva Riveria is a hot summer beach destination for locals and tourists alike. The beaches here are a mix of sand and pebbles, backed by the clear, turquoise and aquamarine-blue hues of the Adriatic Sea on one side and dramatic mountains on the other.
There are a number of top quality beaches along the Riviera, including Mogren Beach, which is the closest to Old Town Budva at just a five-minute walk along a seaside pathway from town. The beaches along the Budva Riviera are also lined with restaurants with outdoor seating.
Old Town Budva has a history that dates back 2,500 years. This medieval walled city has a lively atmosphere and is filled with restaurants and shops, as well as a town museum.
Accommodation: Where to Stay in Budva
3. Lipa Cave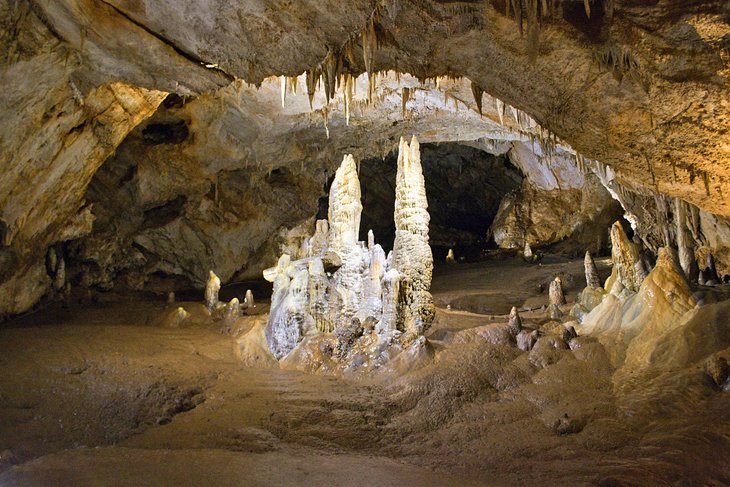 One of the largest caves in Montenegro, Lipa Cave, just a few kilometers from the village of Cetinje, is in the mountains north and just east of Budva. The cave was first discovered accidentally by a dog who fell through a hole into it, but managed to escape safely through another opening.
Today, the karst cavern is also one of Montenegro's most popular tourist attractions for adventurous kids and adults alike. A visit begins with a ride on a miniature train through the wild countryside, full of pomegranate and wild fig trees, to the cave's entrance. From here, you'll join a guided tour through some of the 3.5 kilometers of passages and great halls carved by thousands of years of dripping water and its underground river.
Accommodation: Where to Stay in Cetinje
4. Blue Grotto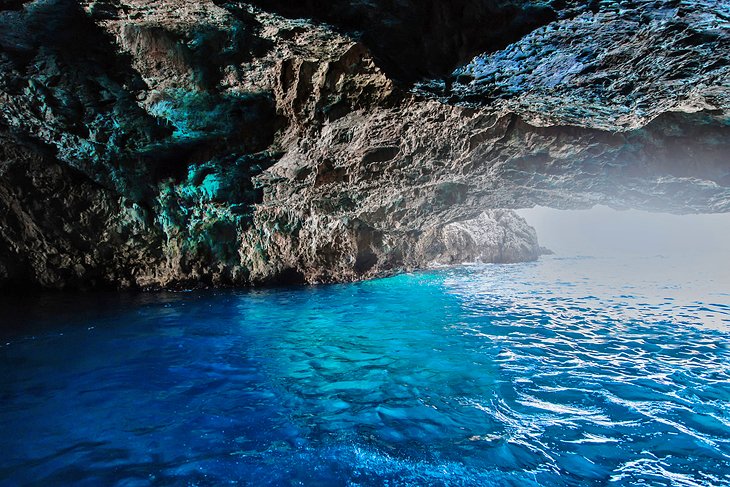 Montenegro's still relatively undiscovered Lustica Peninsula is home to charming villages, beautiful beaches, and the Blue Grotto. The grotto is named for its florescent blue water, which gets its dramatic hues from the light reflecting off the sandy bottom in the round-shaped cave with a vaulted ceiling.
You can only access the Blue Grotto by boat. Tours depart regularly from the Herceg Novia marina between April and October and either go only to the Blue Grotto or combine nearby attractions. The cave is also a great spot for snorkeling or diving.
Accommodation: Where to Stay Around Lustica
5. Lake Scadar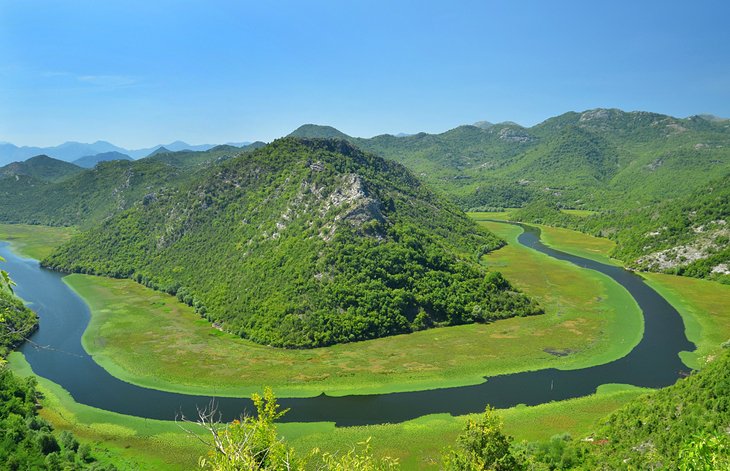 Lake Scadar, on the border with Albania, is the largest natural lake in Southern Europe. It is a great back-to-nature destination that hosts multiple species of migratory birds and other wildlife. The Montenegrin side of the lake has been designated as a national park. Explore the lake on a boat excursion and also spend some time checking out the villages dotting it. Many date back to the 13th century and have been designated as UNESCO World Heritage sites.
On the lake's southwestern shore, you'll find Murici Beach, which is a pristine and quiet stretch of shoreline backed by the beautiful Rumija Mountain Range. The beach can be accessed via a steep road to a small village at the edge of the lake. This is a great spot to just escape and breathe in the fresh air and countryside ambience.
Accommodation: Where to Stay by Lake Scadar
6. Ulcinj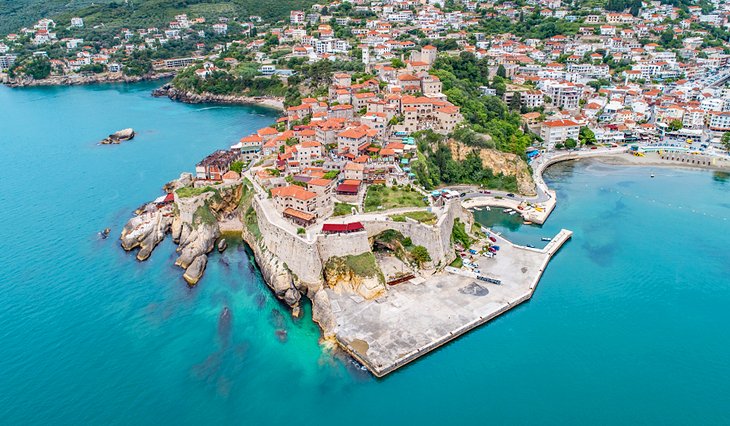 Right by the Albanian boarder at Montenegro's southern tip, Ulcinj is an ancient seaport that was once infamous as the Adriatic Sea's pirate capital. Today, Ulcinj is a unique Montenegrin town with a largely Muslim population and some beautiful mosques and excellent Middle Eastern restaurants and coffeeshops along its peaceful seaside promenade.
The area is also known for its beaches, including Velika Plaza (which translates to "Big Beach") and at 12 kilometers is Montenegro's longest beach. The water here is very shallow and great for families with small children. It is also a top spot for kite-surfers, who take advantage of the glassy smooth and shallow water and prevailing winds to catch a ride. If you'd like learn more about the sport, there are a number of kite surfing schools at the southern end of Velika Plaza.
Accommodation: Where to Stay in Ulcinj
7. Cetinje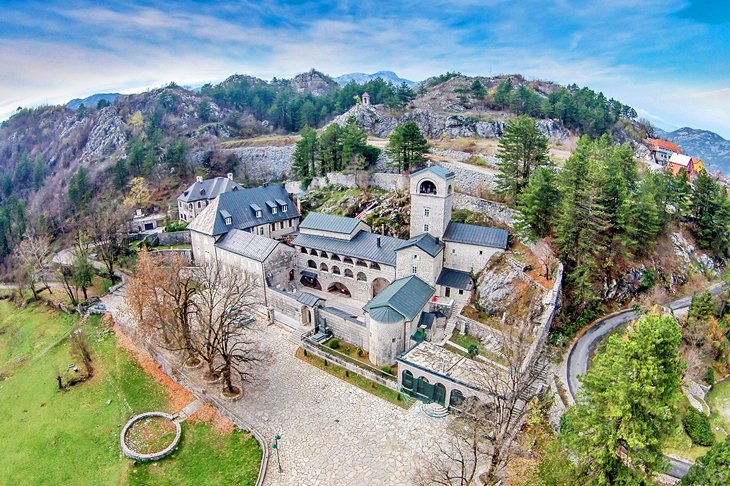 The 15th-century town of Cetinje once served as Montenegro's capital during the late 19th and 20th centuries (prior to WWI when it was still an independent country). At the time, the inland valley locale at the edge of what was then the Ottoman Empire made it a coveted spot to conduct diplomacy.
Today, the embassies have been turned into museums, government buildings, and educational academies, and the town is a pleasure to wander aimlessly about for an afternoon. The Cetinje Monastery here has a collection of Early-Christian-era relics you can see for a donation, and the Vlah Church dating back to the 15th-century is another notable sight.
Accommodation: Where to Stay in Cetijne
8. Mount Lovcen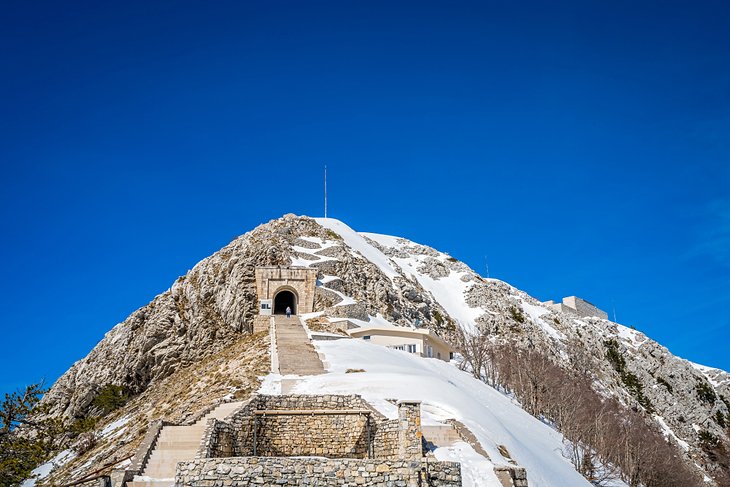 Montenegro's name was inspired by the towering granite peaks of Mount Lovcen, and the mountain is a source of national pride. Protected as a part of Mount Lovcen National Park, the views from the circular platform at the top are truly stunning and have you looking down upon the Bay of Kotor and the medieval city of Kotor on its shores.
Also nearby is Njegos Mausoleum, where you can pay your respects to the author of Montenegro's national epic poem, "The Mountain Wreath." Its poet Petar II Petrovic-Njegos is buried here. The village of Cetijne is the main base for this park and where you'll find a number of hotel and restaurant options.
9. Perast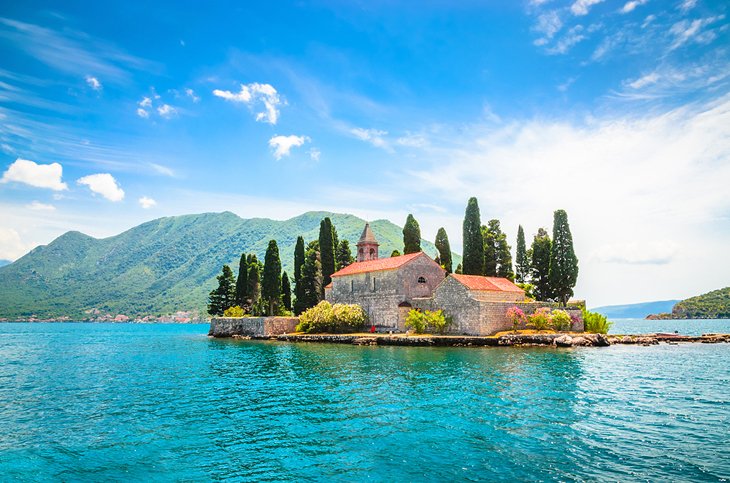 On the same beautiful bay as Kotor but located just to the northwest, Perast is a picturesque small town notable for its multiple churches and stone-crafted villas. In town, the Church of St. Nikola has great views of the town and Bay of Kotor from its belfry tower.
Two of Perast's most charming churches, Our Lady of the Rocks and St. George, however, are on tiny islets in the bay. The town does not have a beach, but the stone jetties along its bayfront are popular summer spots for sunbathers.
Accommodation: Where to Stay in Perast
10. Sveti Stefan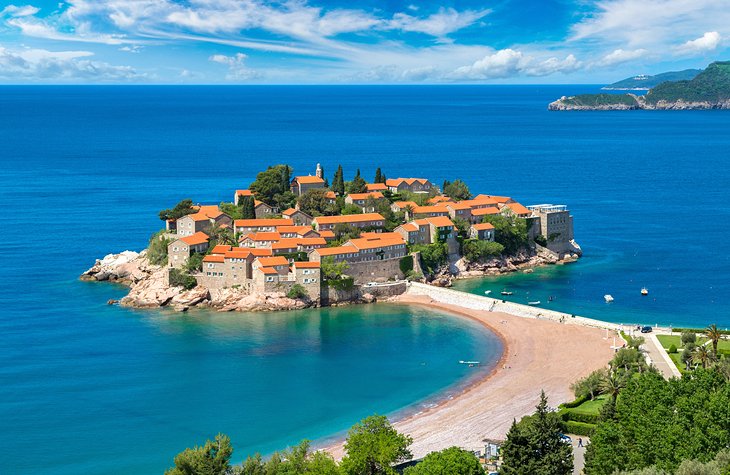 On the Budva Riviera, Sveti Stefan is connected to the mainland by a narrow isthmus and has been inhabited since the 15th-century. Back then it was a simple fishing village. The town came to be known in the 1950s when it was turned into a luxury resort area, and guests like Marilyn Monroe and Sophia Loren would holiday here.
Following a downturn at the end of the 20th-century as the Yugoslav federation collapsed, today it is again a vacation paradise, with two beautiful pebble beaches on either side of the isthmus. Although the beaches are public, the original village is only open to visitors staying at the Aman Resort here.
Accommodation: Where to Stay in Sveti Stefan
11. Durmitor National Park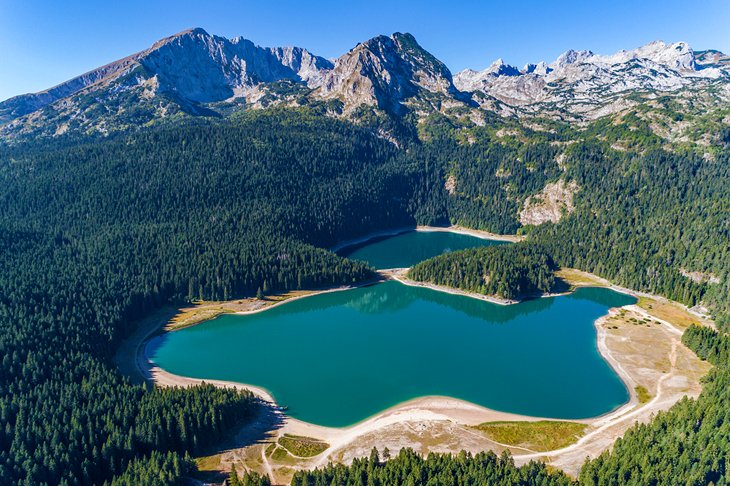 Near the mountain town of Žabljak, Durmitor National Park is another popular natural attraction. The park sits in the Dinaric Alps and is home to some 18 glacial lakes, the Tara River, and the world's second deepest canyon (see Tara Canyon below).
It is also home to thick areas of forest and wildlife, from brown bears to wild boars, and 163 different species of birds. There are opportunities to go skiing or snowboarding here in winter, and in summer, you can hike, camp, and whitewater raft among other activities.
Accommodation: Where to Stay in Zabljak
12. Tara Canyon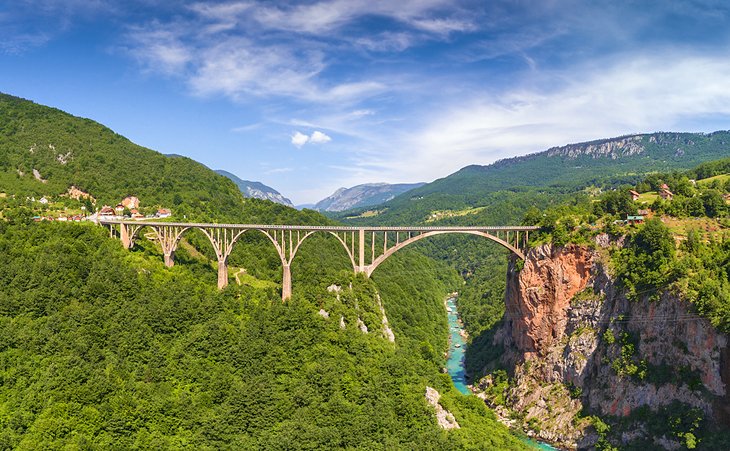 Tara Canyon is another of Montenegro's amazing natural wonders. After the Grand Canyon, it is the world's deepest canyon, and just like the Grand Canyon, it can be experienced with an epic whitewater rafting trip. Note that the water is a bit on the chilly side, however, at around 50 degrees Fahrenheit.
If you don't want to get wet, you can also see the canyon from the Ðurdevica Tara Bridge. The concrete arch bridge was rebuilt after WWII, when it was blown up in an effective attempt to stop the Italian invasion.
Today, the bridge is 172 meters above the canyon floor and besides taking in views from it, adrenalin junkies can ride across the canyon on a zipline.
13. Ostrog Monastery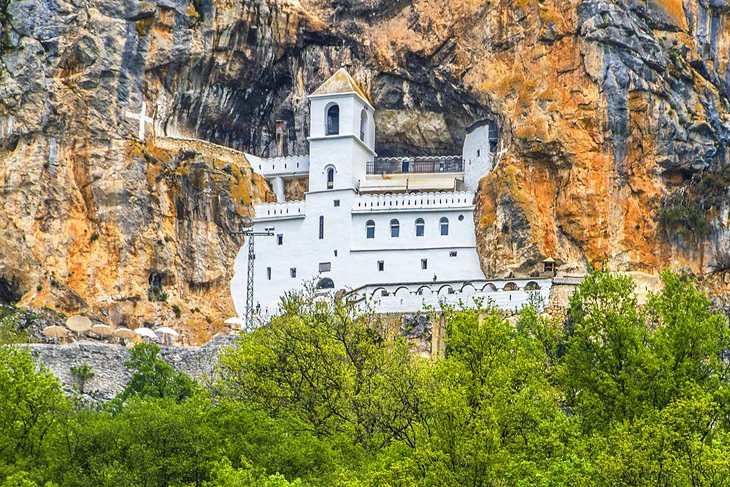 Built during the 17th century as a refuge against Ottoman Empire invaders, Ostrog Monastery is now a major Christian pilgrimage destination. Set atop a large granite outcropping, the entire monastery was carved from a cave on a nearly vertical cliff.
It is quite an impressive site, with two inner cave churches that can be visited. They are bedecked with frescos painted right onto the rock walls. The monastery also houses the remains of its founder, Sveti Vasilje, who became a saint after his death in 1671.
14. Biogradska Gora National Park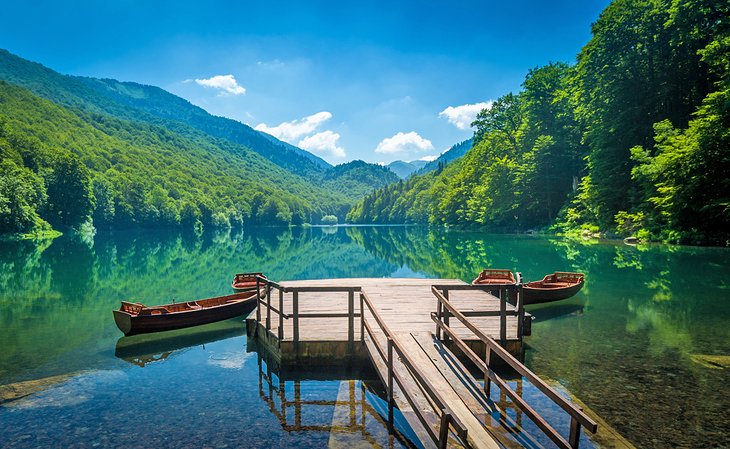 Montenegro has designated quite a bit of land to national parks, including the beautiful Biogradska Gora National Park in the center of the country. Set between the Lim and Tara rivers, it is filled with fast-running streams; sparkling, clear lakes; flower-filled meadows; and one of Europe's last primeval forests, where the trees are 500 years old.
The top natural attraction in this park is Lake Biograd, which is a large glacial lake in the middle of the park. The nearby town of Kolasin makes a good base with lodging and restaurants.
Accommodation: Where to Stay in Kolasin