7 Top-Rated Tourist Attractions in Áyios Nikólaos
On the north coast of eastern Crete, 65 kilometers east of Heraklion, Áyios Nikólaos (Agios Nikolaos) lies on the slopes above Mirabello Bay, close to Elounda, where you'll find Crete's most popular luxury resort hotels. Beautiful beaches surround the town, but the region's most impressive beach has to be Palm Beach, on the isolated east coast. Behind Áyios Nikólaos, the rural villages of the Lasithi Plateau add another facet to Eastern Crete's fascination.
1 Lake Voulismeni
Áyios Nikólaos centers on Lake Voulismeni, a small, circular lake ringed by steep rocky cliffs to one side and open-air cafés and seafood restaurants to the other and filled with painted wooden fishing boats and ducks. It's especially lovely at night, with flickering candles and neon lights casting reflections across the water. According to local legend, the goddess Athena used to bathe here, and the lake was long believed to be bottomless (though has now proven to be 64 meters deep). In fact, it was originally a freshwater lake, which was only connected to the sea when a channel was dug in 1870. A low bridge crosses the channel, meaning that only small boats can enter the lake.
2 Elounda
The rich and famous from the worlds of cinema, sport, and politics are drawn to Elounda by the discrete service provided by its exclusive modern hotel complexes set in landscaped grounds with villas and suites. Some come with extravagant extras such as private pools, Jacuzzis, saunas, gyms, and personal chefs. Lying eight kilometers north of Áyios Nikólaos, Elounda stretches along the coast between Schisma and Plaka, affording amazing views over the serene blue waters of Mirabello Bay and the islet of Spinalonga. Even if you aren't lucky enough to be staying in one of the hotels, some have wellness centers, which are open to non-residents for massage and beauty treatments.
3 Spinalonga Island
Anyone who has read The Island by Victoria Hislop, which was turned into a series by Greek TV in 2010 (filmed here), already knows the story about Spinalonga. Rising in Mirabello Bay, this tiny island was fortified by the Venetians in the 17th century as part of their strategy to protect Crete from Turkish invasion. From 1903 to 1957, it was used as a leper colony. Today, the ruins give a special atmosphere of abandonment, but nonetheless, the lepers lived reasonably well, building their own society and receiving food and medical supplies from the mainland. Daily excursion boats run to Spinalonga from both Áyios Nikólaos and Plaka.
4 Lasithi Plateau
Away from the coast, land that is not too rocky and mountainous is mainly given over to agriculture. One of the most fertile areas on Crete is the Lasithi plateau, a plain rising some 840 meters above sea level directly behind Áyios Nikólaos. Dotted with rural villages, orchards, and fields growing potatoes and cereals, it is also known for its white-sailed windmills, used to pump underground water for irrigation. Most tourists also visit a nearby attraction, the Diktean Cave, filled with stalagmites and stalactites and supposedly the birthplace of the king of gods, Zeus.
5 Kritsa
For a taste of Cretan village life, drive away from the coast and into the mountains to Kritsa, 11 kilometers southwest of Áyios Nikólaos (also served by local bus). Set amid timeless olive-groves, with whitewashed houses built into a hillside, Krista moves at a relaxing pace. Everyday life centers on its main street, lined with stores selling locally-made traditional crafts that make fine souvenirs, such as embroidered tablecloths, hand-woven rugs, ceramics, and leather goods. The main square is overlooked by old-fashioned cafés and tavernas with outdoor seating.
6 The Church of Panagia Kera
On the road from Áyios Nikólaos to Kritsa, about one kilometer before the village, stands the lovely whitewashed church of Panagia Kera (Our Lady of Kera). Dating from the 13th-century, its interior is decorated with the best-preserved Byzantine frescoes on the island. Depicting scenes from the Bible, such as the Nativity, Christ's Life, and the Last Supper, as well as various saints, the overall effect is one of serenity and beauty. Note that you should be suitably dressed to enter the church - shoulders and thighs should be covered for both men and women.
7 Palm beach
Undoubtedly Crete's most exotic beach, Palm beach (Finikodasos) lies 96 kilometers east of Áyios Nikólaos and makes a popular day trip. A beautiful stretch of fine golden sand extending to a crystal clear turquoise sea, the beach is backed by a dense "jungle" of some 5,000 palm trees, forming the largest palm grove in Europe. The beach lies on Crete's remote east coast, in an area owned by a local monastery. Thankfully this land has never been developed, so there are no hotels or other tourist facilities nearby. The drive from Áyios Nikólaos takes more than two hours as the road is narrow, twisty, and poorly surfaced in parts. It's at its best in June and September, outside peak season, when you don't get the excursion buses.
Where to Stay in Áyios Nikólaos for Sightseeing
We recommend these charming hotels and beachfront resort in Áyios Nikólaos: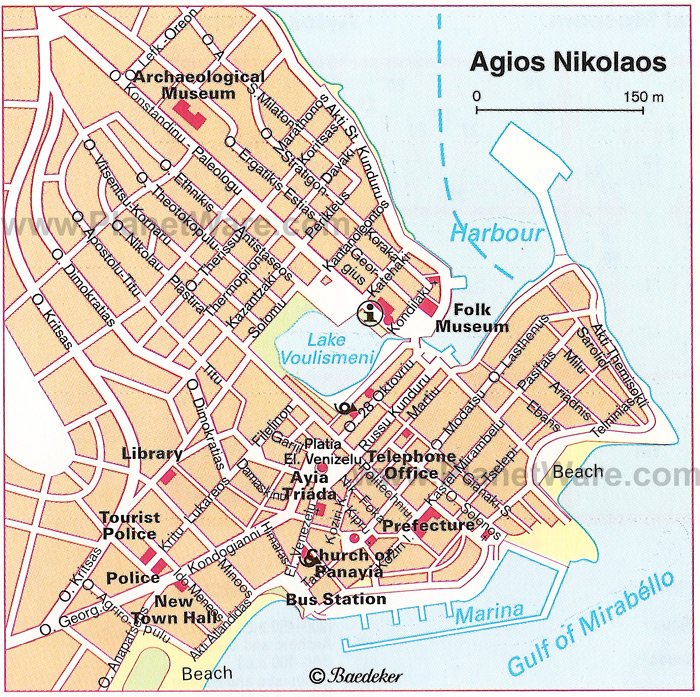 Ayios Nikolaos Map - Attractions
Want to use this map on your web site?
Copy and Paste the code below:
More on Greece