17 Top-Rated Things to Do in Agios Nikolaos
We may earn a commission from affiliate links ()
With a wonderful port area, tree-lined pedestrian streets, cobalt blue waters, hidden churches, and a small lake surrounded by restaurants and rocky cliffs, this is a must-see destination for travelers coming to Crete. Located 65 kilometers east of Heraklion, Agios Nikolaos lies on the slopes above scenic Mirabello Bay, close to Elounda, where you'll find some of Crete's most popular luxury resort hotels.
The town has a laid-back atmosphere and is easy to explore on foot in an afternoon, but it's also possible to spend several days here, lazing on the beaches, shopping, sightseeing, and dining at waterfront restaurants. Some of Crete's most spectacular beaches are found within a short drive of Agios Nikolaos. You can also do trips to olive farms, abandoned castles, rural villages, and other nearby attractions.
Even if you are not staying in Agios Nikolaos, the city makes a great day trip from some of the nearby north coast tourist resort areas, like Malia. For more ideas on why you should visit and an overview of things to do, see our list of the top attractions in Agios Nikolaos.
See also: Where to Stay in Agios Nikolaos
Note: Some businesses may be temporarily closed due to recent global health and safety issues.
1. Stroll around Lake Voulismeni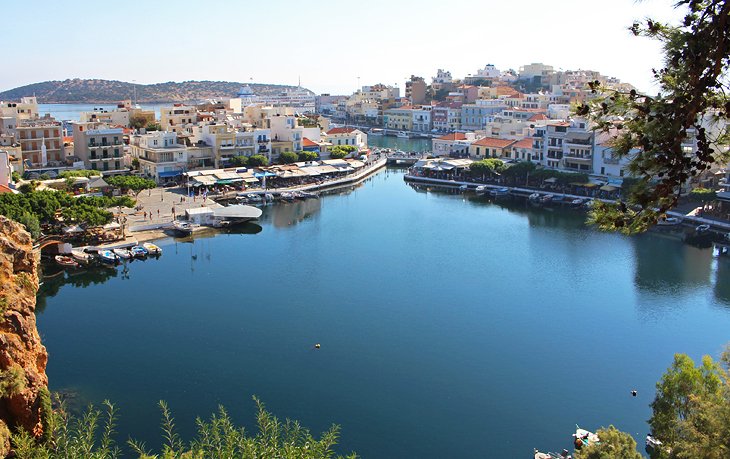 Agios Nikolaos centers on Lake Voulismeni, a small, circular lake ringed by steep rocky cliffs to one side and open-air cafés and seafood restaurants to the other. It is hardly ever referred to by name, and is usually only called "the lake" on signs, maps, and in general coversation.
As you stroll around the shoreline, keep an eye out for tame ducks on the walkway, who are always willing to pose for photos. The lake is especially lovely at night, when the cliffs are lit up, creating reflections of a lively scene across the water.
A variety of open-air restaurants line the lake, and others are perched atop the dramatic rock face overlooking the water. From up high, you can see beyond the lake to the sea behind.
According to local legend, the goddess Athena used to bathe here, and the lake was long believed to be bottomless (though has now proven to be 64 meters deep).
In fact, it was originally a freshwater lake, which was only connected to the sea when a channel was dug in 1870. A low bridge crosses the channel, meaning that only small boats can enter the lake.
2. Grab a Bite to Eat in the Port Area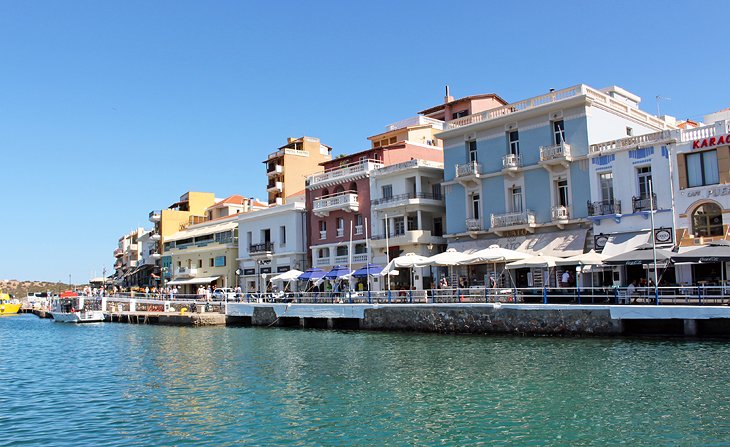 Just across the small bridge from Lake Voulismeni is the port area of Agios Nikolaos. It's lined with waterfront cafés and shops and is a perfect place to have lunch while enjoying the view and cool sea breezes.
Most commercial boat tours leave from here, including the one to Spinalonga Island. If you arrive on a bus tour, exit the parking lot and head to your right to find the port.
A pleasant walk along the seashore road will take you out to a point with fabulous views out to the eastern mountains. Continue on around the point, and you'll end up at Kitroplateia Beach and another busy tourist area.
3. Catch a Few Rays on Voulisma Beach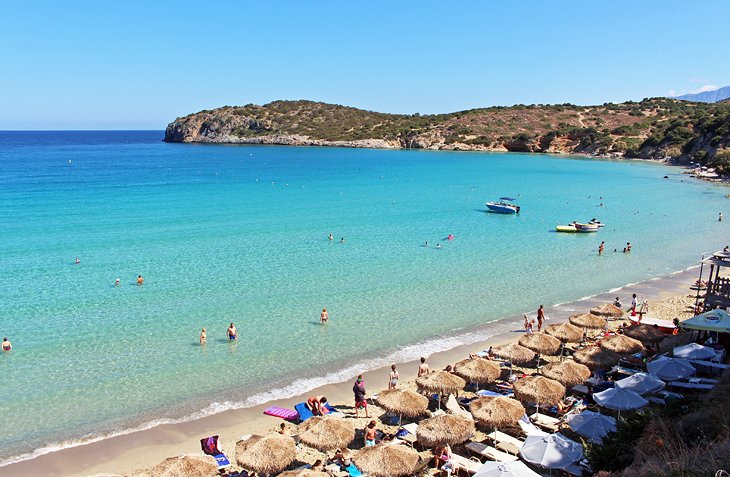 Located just a 10-minute drive down the coast from Agios Nikolaos, Voulisma Beach is a spectacular, shallow beach with clear turquoise water. It is considered one of Crete's best beaches for its curving ribbon of soft sand backed by cliff walls.
The beach is long, but not particularly wide. Unlike many other beaches in Crete, the sand here is soft and almost white. The beach is shallow well out into the bay, and the water gets warm in the hot Cretan sun. It's also perfect for children and for those who prefer to wade instead of swim.
A long set of stairs leads down from the carpark, and a few beach shops have umbrellas and chairs for rent and sell refreshments and snacks. Two other beaches are located nearby, Chartalami and Pylos.
4. Europa Statue & Horn of Amalthea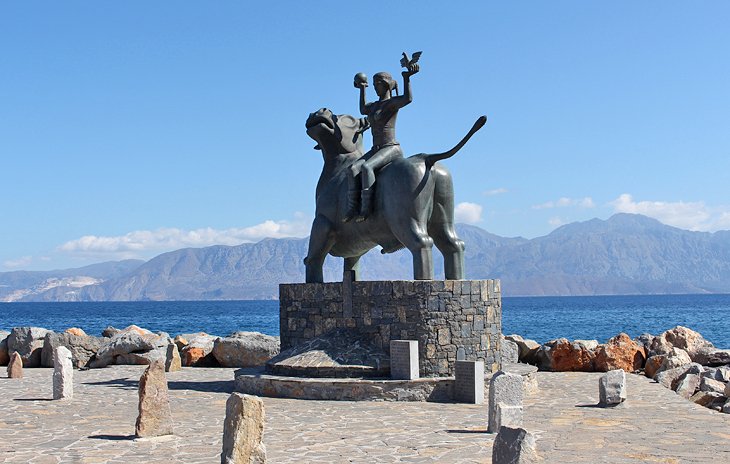 As you stroll along the waterfront road near the port at Agios Nikolaos towards Kitroplateia Beach, you'll pass two impressive works of art. The setting for both works is impressive, with the huge mountains of Eastern Crete rising up across Mirabello Bay in the background.
The Abduction of Europa sculpture shows Europa on the back of a giant bull. The legend is that Zeus fell in love with Europa and sent the bull to entice her. Once she got on the bull's back, he charged into the sea and went to Crete with her, never to return.
The second work of art is the Horn of Amalthea, an impressive artistic take on the legend of Zeus and the goat Amalthea. As a child, Zeus accidentally broke off the goat's horn. To make things right, he made the broken horn an unending supply of whatever Amalthea wanted.
5. Take a Tour to Spinalonga Island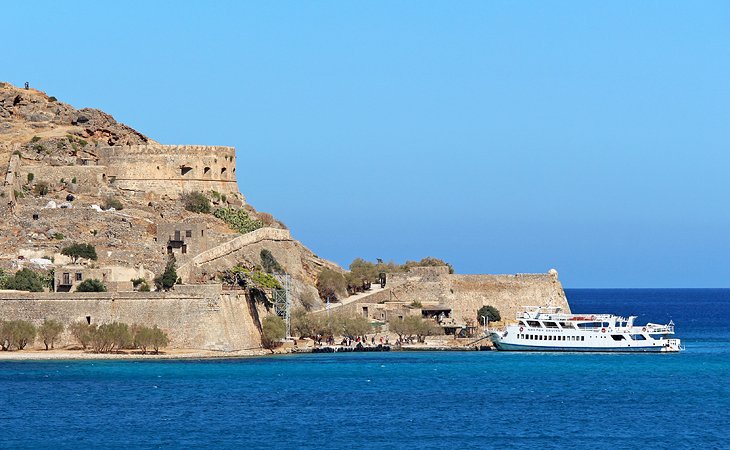 Anyone who has read The Island by Victoria Hislop, which was turned into a series by Greek TV in 2010 (filmed here), already knows the story about Spinalonga.
Rising in Mirabello Bay, this tiny island was fortified by the Venetians in the 17th century as part of their strategy to protect Crete from Turkish invasion. From 1903 to 1957, it was used as a leper colony.
Today, the ruins give a special atmosphere of abandonment, but nonetheless, the lepers lived reasonably well, building their own society and receiving food and medical supplies from the mainland.
Daily excursion boats run to Spinalonga from both Agios Nikolaos and Plaka.
6. Lie on Kitroplateia Beach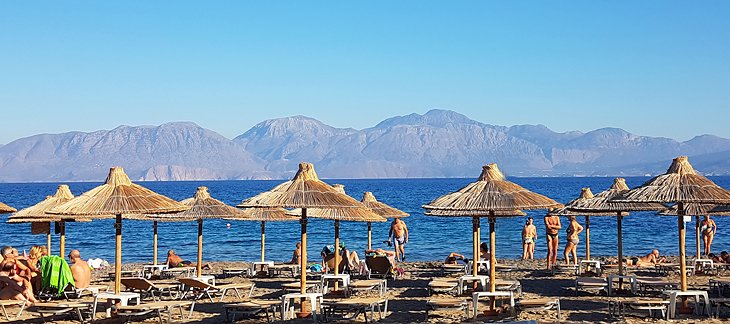 Within easy walking distance of the lake and the port, Kitroplateia Beach is a lovely crescent of pebbles and sand that looks across to the huge mountains on the opposite shore of Mirabello Bay. It's one of the most scenic spots in Agios Nikoloas.
Umbrellas line the beach, and many people come down for a morning swim in the calm, clear water. Backing the beach are a number of restaurants serving good food, not just cafés offering snacks. You can come down here in the evening to dine and look out over the beach and water at sunset, or simply stop in for lunch.
7. Take a Trip to Kritsa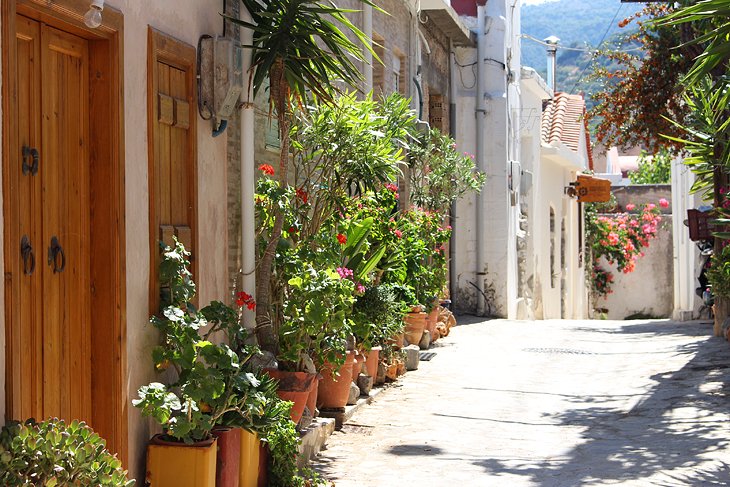 For a taste of Cretan village life, drive away from the coast and into the mountains to Kritsa, 11 kilometers southwest of Agios Nikolaos (also served by the blue trains, known as the Little Train Tours).
Set amid timeless olive groves, with whitewashed houses built into a hillside, Krista moves at a relaxing pace. Everyday life centers on its main street, lined with stores selling crafts and goods, such as embroidered tablecloths, hand-woven rugs, ceramics, and leather products, which make fine souvenirs.
The main square is overlooked by old-fashioned cafés and restaurants with outdoor seating. If you come by car, the parking lot is to your right, shortly after the road divides when you enter town. Be sure to park here, as the roads get steep, twisty, and confusing if you miss the sign.
From the parking lot, walk up the street, and before too long you'll come to the pedestrian area on your right. Don't limit yourself to the commercial area with the vendors-part of the charm of this mountain town is wandering the twisty, narrow back streets.
If you get thirsty, fill your water bottle at one of the many spigots located throughout town. The water is said to have life extending properties.
Combine a trip to Kritsa with a stop at the Church of Panagia Kera, just outside Kritsa.
8. The Church of Panagia Kera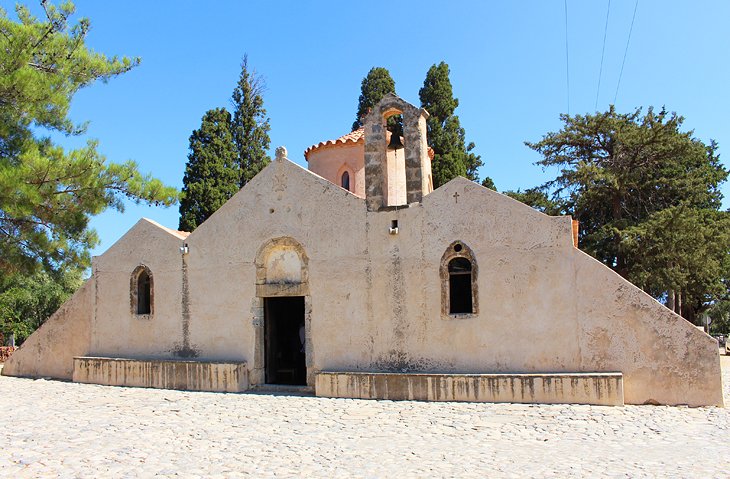 On the road from Agios Nikolaos to Kritsa, about one kilometer before the village, stands the lovely whitewashed church of Panagia Kera (Our Lady of Kera). Dating from the 13th-century, its interior is decorated with the best-preserved Byzantine frescoes on the island.
Depicting scenes from the Bible, such as the Nativity, Christ's Life, and the Last Supper, as well as various saints, the overall effect is one of serenity and beauty. The church is free to enter.
If you are coming up from Agios Nikolaos, note that the church is not visible from the road; keep an eye out for the small sign across from the Paradise Taverna. Park in the lot across from the taverna, and walk up the small gravel road.
9. Learn all About Olives at the Cretan Olive Farm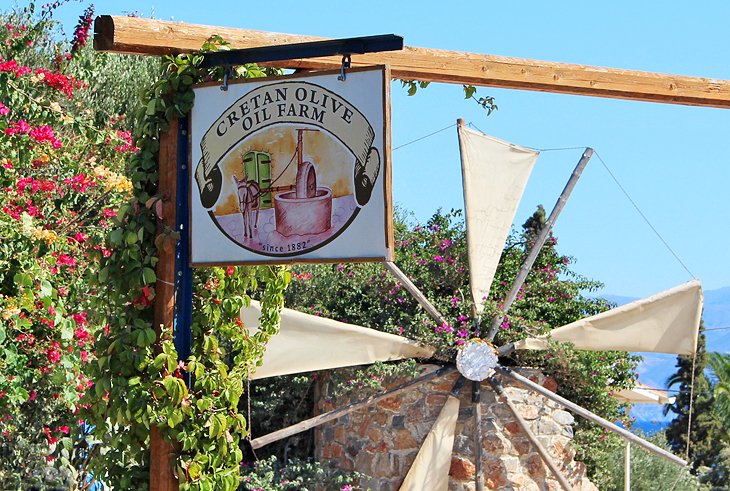 If you were wondering how all the wonderful olive oil you've been tasting in your meals is made, this is the place to visit. You'll be able to tour the farm and learn all about the process of olive farming. Displays are in multiple languages, and interesting videos are also worth checking out.
The Cretan Olive Farm makes for a great family day trip from Agios Nikolaos. Fun things to do here include making your own ceramic pots on a pottery wheel, cheese making classes, and even Cretan cooking lessons.
A fee is charged for each activity, or you can buy a Cretan Culture Panorama Pass that includes everything.
Official site: https://www.cretanoliveoilfarm.com/#/
10. Go for a Swim at Almyros Beach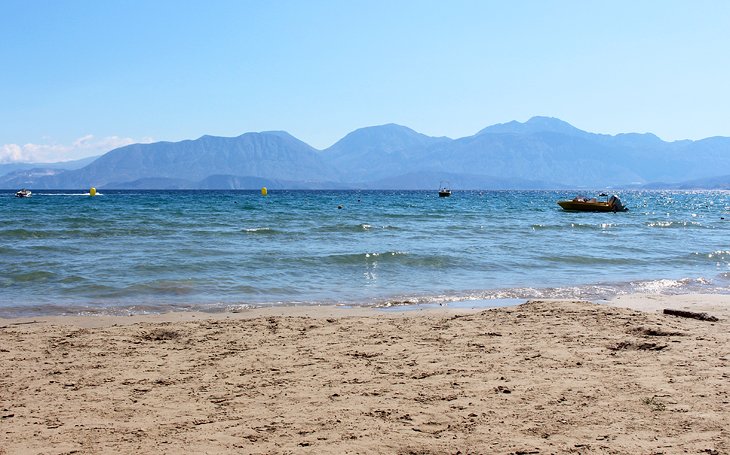 If you are looking for a larger beach than the ones in town and don't have a car or mind a bit of a walk, head down the coast about 15 minutes to Almyros Beach. The beach is sandy on the eastern end and stony on the western end and backed by tall swaying grasses, part of a protected nature reserve. This is one of the few beaches in Crete where a freshwater stream flows through to the sea.
The sea is warm and shallow here, but if you'd like a cool refresher, just take a dip in the river. Views out to the eastern mountains will most likely distract you from the novel you've been reading.
Sunbeds and umbrellas are available for rent, and food and drinks can be ordered from the small beach restaurants. Parking is free, and it is an easy walk to the beach.
11. Do a Bit of Shopping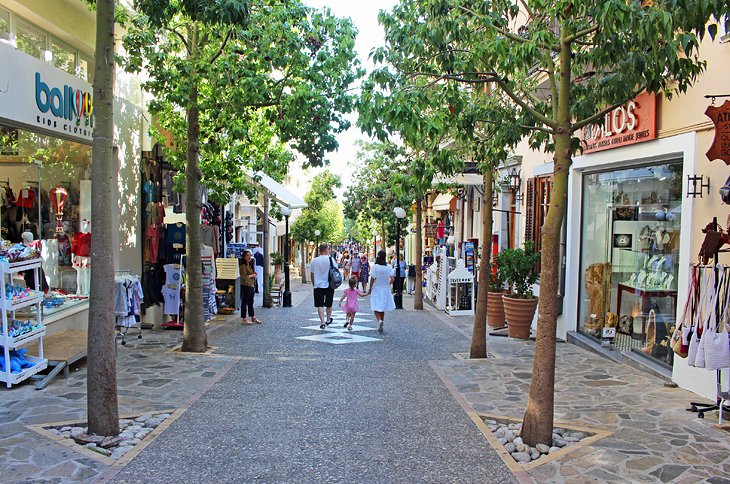 Agios Nikoloas is a great place to do some shopping, whether it's for fashionable clothing and jewelry or simple souvenirs, you can find it here.
One of the best places for tourists is 28is Oktovriou, a pedestrian street just back from the port and the lake, where you can find a wide range of stores that cater to tourists. There is even a small grocery store, which is very convenient if you are renting an apartment in this area. Other stores line the waterfront of the port area.
12. Agios Nikolaos by Night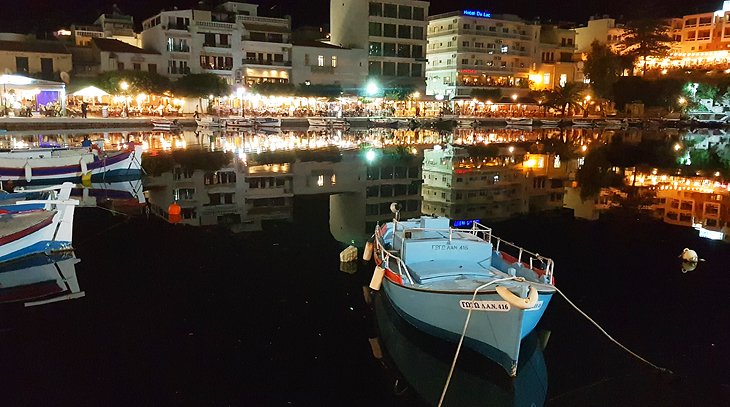 Evening is a wonderful time in Agios Nikolaos. All the shops are open into the evening, restaurants lining the lake and the port come to life, and you can safely wander around the town. If it's too hot during the day, save some of your sightseeing for night.
If you're looking for things to do at night in Agios Nikolaos, start by taking a stroll around the lake, past the restaurants, and beyond to the lit shrine at the back of the lake. Watch for the ducks near this end of the lake. Alternatively, walk along the port, out around the point to the Kitroplateia beach, passing an endless number of restaurants on the way.
13. Stock Up at the Wednesday Street Market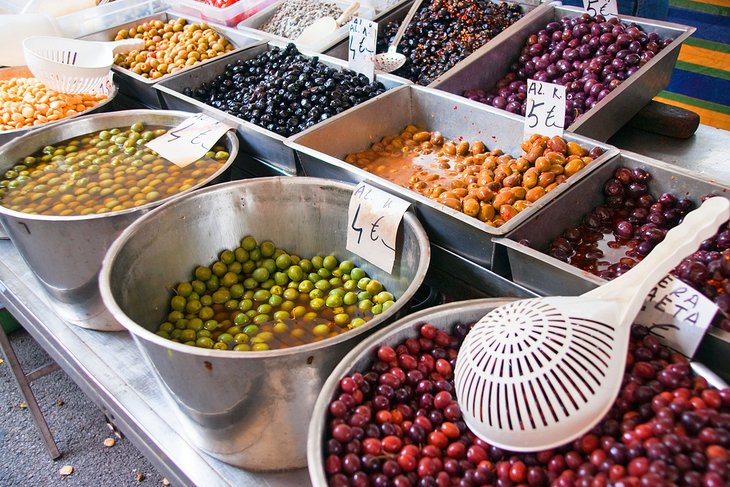 Each Wednesday, one of Agios Nikolas' narrow side streets is closed to traffic, and a wonderful street market appears. Easily accessed near the Santa Marina Hotel, the street market is full of vendors selling the freshest fruits and vegetables along with pretty much everything else you never knew you needed.
The stall sellers are a friendly bunch and will gladly let you sample some of the local olives, nuts, feta, and other produce they are offering. If you've blown out a flip-flop or stained a T-shirt, all kinds of cheap and cheerful (a.k.a. low-quality) merchandise is available as well.
The market starts relatively early and wraps up by 1pm.
14. Check into a High-End Resort in Elounda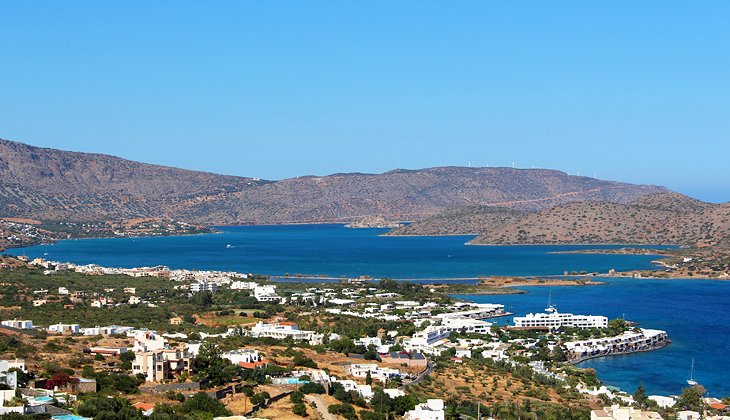 The rich and famous from the worlds of film, sport, and politics are drawn to Elounda by the discrete service provided by its exclusive modern hotel complexes set in landscaped grounds with villas and suites.
Some come with extravagant extras such as private pools, Jacuzzis, saunas, gyms, and personal chefs. Lying eight kilometers north of Agios Nikolaos, Elounda stretches along the coast between Schisma and Plaka, affording amazing views over the serene blue waters of Mirabello Bay and the islet of Spinalonga.
The small town of Plaka is an ideal jumping-off spot for boat tours to Spinalonga.
Accommodation: Where to Stay in Elounda
15. Explore the Lasithi Plateau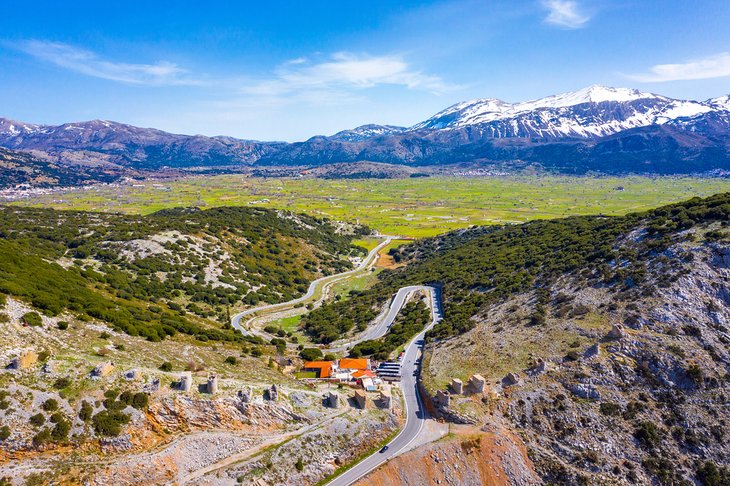 Away from the coast, land that is not too rocky and mountainous is mainly given over to agriculture. One of the most fertile areas on Crete is the Lasithi plateau, a plain rising some 840 meters above sea level directly behind Agios Nikolaos.
Dotted with rural villages, orchards, and fields growing potatoes and cereals, it is also known for its white-sailed windmills, used to pump underground water for irrigation.
16. Go Underground at the Diktean (Psychro) Cave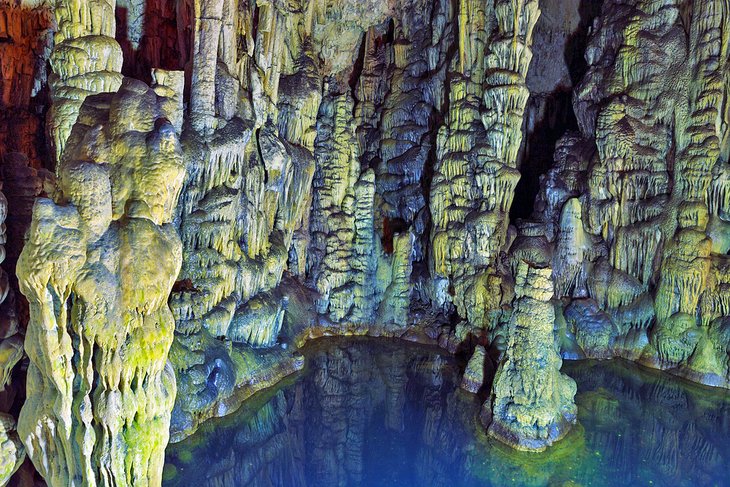 If the hot and intense Cretan sun has fried your skin, and you need a break, head underground at the Diktean Cave. This cool and damp underground wonderland is filled with stalagmites and stalactites and is supposedly the birthplace of the king of gods, Zeus. Also known as Psychro Cave, Diktean cave is just one of the 3,000 caves on Crete. Humans have been visiting this cave for over 6,000 years.
The cave has five antechambers, each of varying size and with its own special appeal. Like a true showman, the cave saves the best for last: an impressive lake at the very bottom. Huge stalagmites and stalactites encompass the lake area. At the far end of the lake is a small alcove, and it's said this is the actual place where Zeus was born.
A visit to this cave should be part of your Lasithi Plateau exploration.
17. Take a Day Trip to Vai (Palm Beach)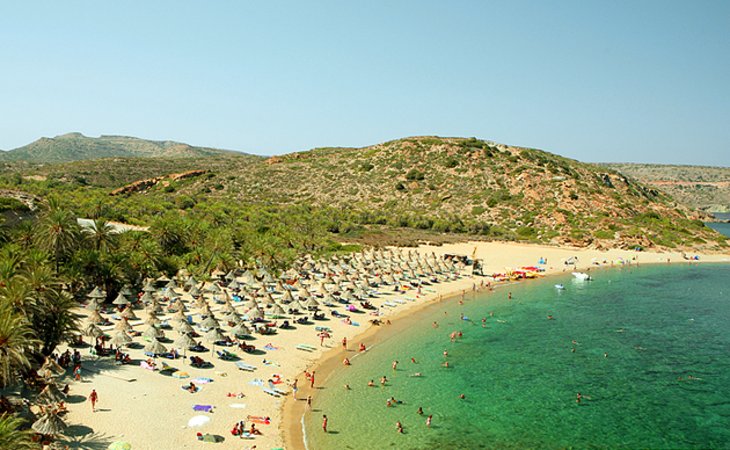 Possibly Crete's most exotic beach, Palm beach (Finikodasos) lies 96 kilometers east of Agios Nikolaos and makes a popular day trip.
A beautiful stretch of fine golden sand extending into a crystal clear turquoise sea, the beach is backed by a dense "jungle" of some 5,000 palm trees, forming one of the largest palm groves in Europe. The beach was unknown and undiscovered until a Bounty chocolate bar commercial was shot here in the 1970s.
The beach lies on Crete's remote east coast, in an area owned by a local monastery. Thankfully this land has never been developed, so there are no hotels or other tourist facilities nearby.
The drive from Agios Nikolaos takes more than two hours, as the road is narrow, twisty, and poorly surfaced in parts. It's at its best in June and September, outside peak season, when you don't get the excursion buses.
Where to Stay in Agios Nikolaos for Sightseeing
Luxury Hotels:
Mid-Range Hotels:
Budget Hotels:
More Related Articles on PlanetWare.com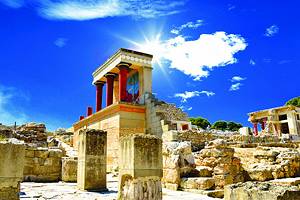 Towns and Cities to Visit on Crete: If you like what you found in Agios Nikolaos, chances are you'll enjoy exploring the sites of Rethymnon and Chania. For shopping, dining, and a little more excitement, head to the city of Heraklion. To get off the beaten path, head to the south coast and visit towns like Plakias or Matala.