14 Top-Rated Beaches on Mykonos Island
Mykonos is famous for its summertime beach scene, complete with trendy restaurants and beach clubs, where DJs spin electronic dance music all night long. To some, the beachfront nightlife is more important than daytime sunbathing at the island's golden-sand beaches.
Despite the island's party reputation, Mykonos offers a wide variety of beaches with something for everyone. Families appreciate the well-equipped, sheltered beaches with safe, shallow waters. Couples enjoy the romance of secluded beaches, and celebrities even have a go-to restaurant at the island's most fashionable beach.
The most popular beaches of Mykonos Island are on the southern coast. These lively beaches have great facilities and restaurants; they also tend to get very crowded during summertime. The northern coast of Mykonos has more remote beaches with fewer amenities.
Plan your time along the beautiful coastline with our list of the best beaches on Mykonos Island.
1. Platys Gialos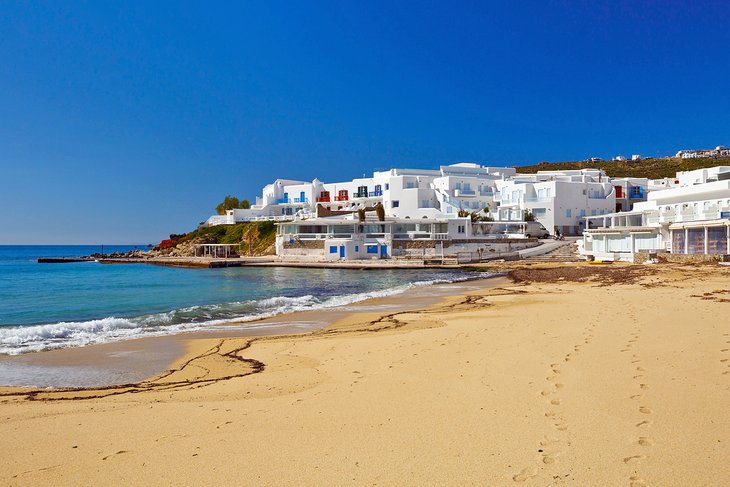 This beautiful beach draws crowds because of its expansive sandy shoreline, crystal-clear turquoise waters, and excellent facilities. Platys Gialos is surrounded by hotel restaurants with outdoor terraces, while rows of lounge chairs and umbrellas (available for rent) line the seashore.
Because the beach is tucked away in a sheltered cove, the waters are shallow and safe for children. Platys Gialos Beach is an ideal spot for swimming and water sports.
From Platys Gialos, tourists can take the caique (typical Greek fishing boat used as a shuttle service) to several other favorite beaches on Mykonos Island: Paradise, Super Paradise, and Elia.
Platys Gialos has plenty of beachfront accommodations. For a splurge, travelers should stay at the Myconian Ambassador Relais & Chateaux (a five-star resort with a yacht launch, swimming pool, and spa) or at the charming Cycladic-style Petinos Beach Hotel (a luxurious retreat with its own private beach).
2. Paradise Beach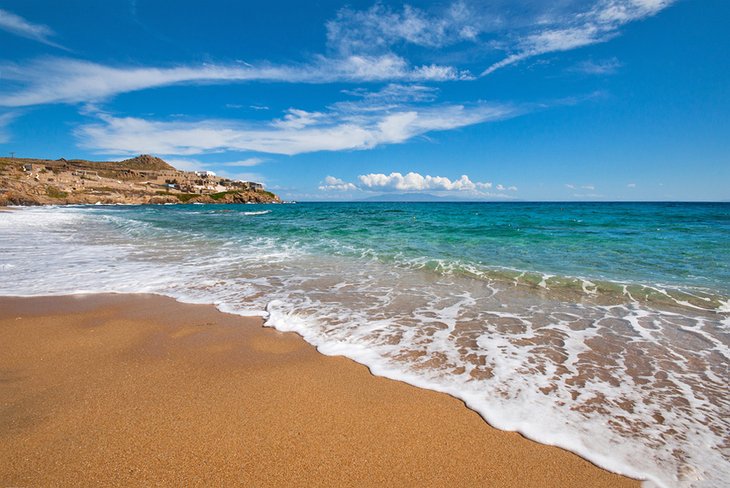 Paradise Beach is known for cool beach clubs and hopping nightlife. A young, trendy crowd flocks here in the summertime to have fun in the sun and to dance the nights away.
On a hillside above Paradise Beach, the famous Cavo Paradiso complex includes swimming pool, and restaurant.
During the day, this expansive stretch of sandy shoreline is a great place to visit and relax by the sea. In the high season, the beach is packed with lounge chairs and parasols (available for rent). Paradise Beach also offers opportunities for water sports such as boating and scuba diving.
Tourists can take the caique from Platys Gialos or even arrive by foot. There is a hiking trail from Platys Gialos to Paradise Beach.
3. Super Paradise Beach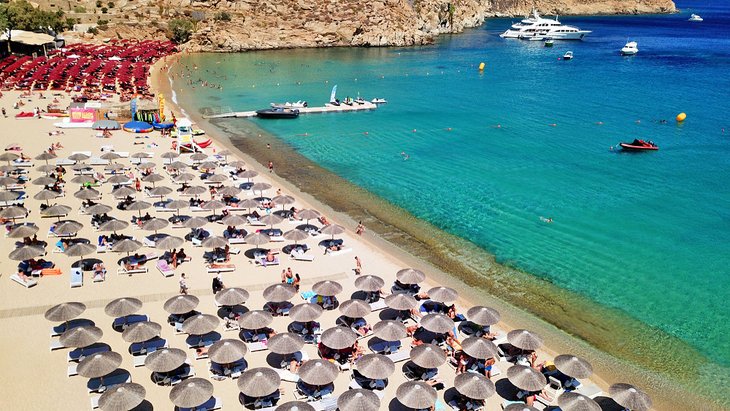 Another lively beach, Super Paradise has fewer facilities than Paradise Beach but still gets crowded. Considered one of Mykonos' most beautiful beaches, Super Paradise Beach has a golden shoreline of powdery sand lapped by crystal-clear turquoise waters.
During summertime, Super Paradise is packed with sunbathers making use of the beach's rental lounge chairs and umbrellas. Super Paradise Beach is also a good place to visit for swimming and water sports, including scuba diving.
There are several hotels within easy walking distance of Super Paradise Beach. The 70 Steps rental houses provide access to Super Paradise Beach by a private footpath. Next to Super Paradise, the My Aktis Hotel offers sleek minimalistic accommodations, a swimming pool, private beach, and dazzling sea views.
The shuttle boat service (caique) departs from Platys Gialos and stops at Super Paradise Beach. Another option is to take the local bus to Super Paradise Beach.
Elia Beach is the last stop on the caique boat shuttle service from Platys Gialos. For this reason, the beach tends to be less crowded than Paradise and Super Paradise beaches.
4. Elia Beach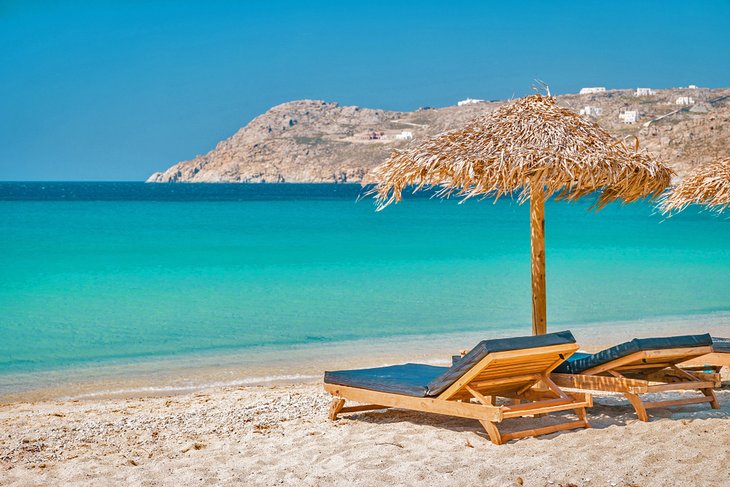 An alternative to Mykonos' bustling party beaches, Elia offers a relaxing seaside retreat. Gentle turquoise waters lap up against the shoreline, which is the longest sandy beach of Mykonos Island. Rows of lounge chairs and sun parasols (available for rent) line the seafront, waiting for visitors to relax to the soothing sound of the waves.
Gourmet food lovers come to Elia Beach to dine at the beachfront Elia Beach Restaurant, which specializes in Mediterranean cuisine, including traditional dishes of the Cyclades islands. The restaurant is part of the Elia Mykonos Resort, a stylish beachfront hotel featuring bright, simple decor characteristic of Cycladic houses.
Many travelers prefer to stay near Elia Beach because it's quieter than Platis Yialos or Super Paradise Beach. Perched on a hillside above Elia Beach, the romantic Myconian Utopia Relais & Châteaux Resort offers stunning sea views and a pampering five-star experience, complete with an upscale spa, infinity swimming pool, and sophisticated gourmet dining.
Elia Beach is the last stop on the caique boat shuttle service from Platys Gialos. For this reason, the beach tends to be less crowded than Paradise and Super Paradise beaches.
5. Ornos Beach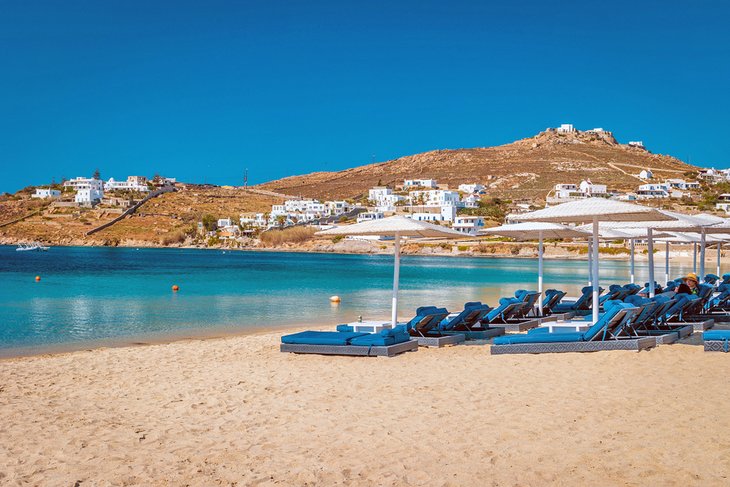 Next to a little fishing port, this family-friendly beach has a sandy shoreline nestled in a sheltered bay. The surrounding hillsides are dotted with little whitewashed Cycladic houses.
Because Ornos Beach has top-notch amenities and is near Mykonos Town, it can get crowded during summertime. Facilities at Ornos Beach include lounge chair and umbrella rentals, a scuba diving school, and windsurfing lessons. The beach also has many hotels, restaurants (including the chic Buddha Bar), cafés, and snack bars.
Water sports enthusiasts and swimmers appreciate the calm, crystal-clear waters at Ornos Beach. The sheltered bay protects Ornos Beach from gusty winds and ensures gentle waves.
6. Psarou Beach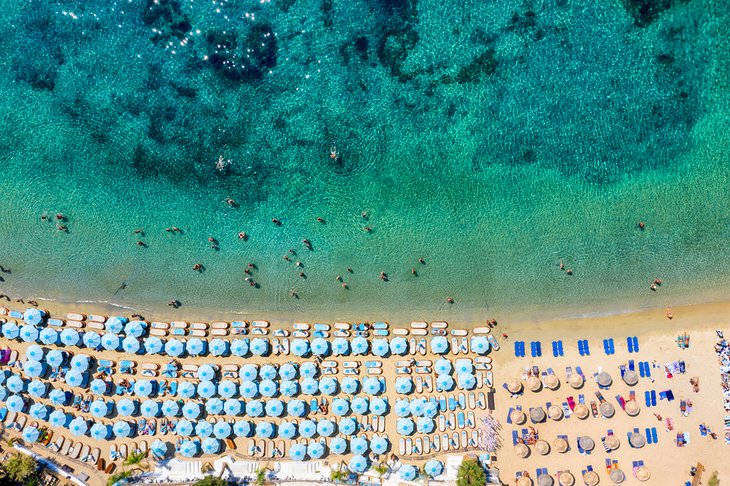 Mykonos' most glamorous beach, Psarou is known as a place where celebrities like to bask in the sun. The glitterati also dines at the fashionable beachside restaurant, Nammos, which specializes in contemporary Mediterranean cuisine with a focus on fresh seafood. For those who prefer to stay right next to the waves, the restaurant will deliver food and drinks to patrons at their lounge chairs.
Psarou Beach itself is a worthwhile destination. With its superb sandy shoreline and crystal-clear waters, the soothing environment of Psarou Beach has a blissful effect.
7. Agios Ioannis Beach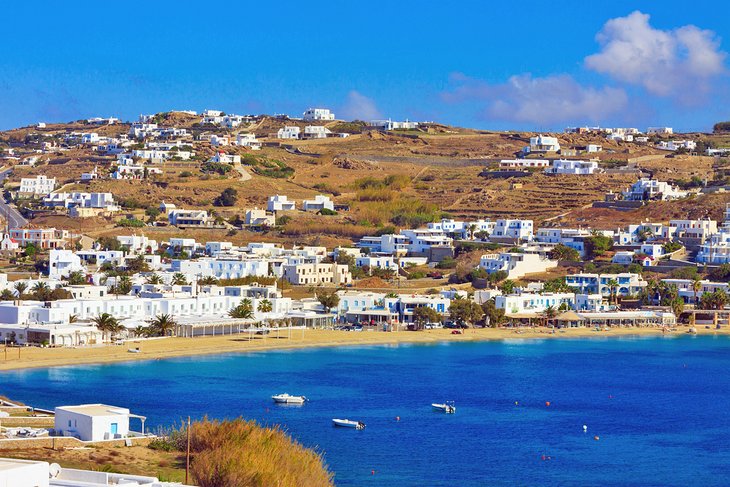 This gorgeous sandy beach is found on the southwest coast of Mykonos. Agios Ioannis Beach has a tranquil ambience and calm, crystal-clear waters that are ideal for swimming. A unique feature of this beach is the spectacular view of the Island of Delos some distance out in the Aegean Sea.
There are several beachfront hotels and restaurants that offer use of lounge chairs and sun umbrellas. In fact, this beach has several authentic Greek tavernas that serve excellent food. The Hippie Fish restaurant is known for its seasonal and organic Greek cuisine, as well as for the Shirley Valentine scenes that were filmed here.
Besides the romance associated with the Shirley Valentine movie scenes, Agios Ioannis also has spectacular sunsets.
Accommodation: Where to Stay in Agios Ioannis
8. Lia Beach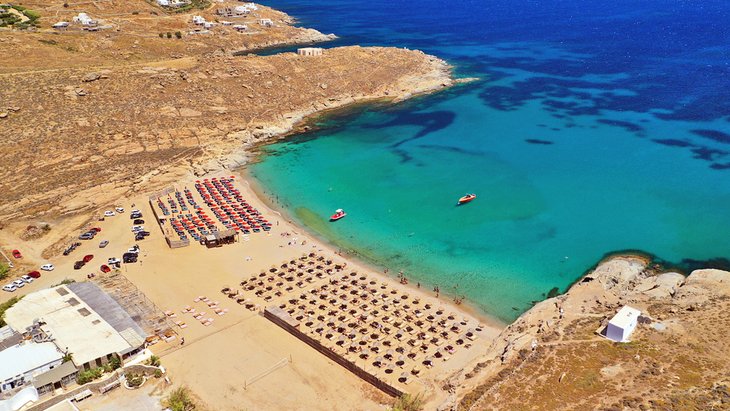 On the southeastern coast of Mykonos, Lia Beach is prized for its dreamy blue waters and superb white-sand shoreline. Lia Beach is very quiet compared to other Mykonos beaches. Visitors come to Lia Beach to sunbathe in a relaxing natural setting. Lounge chairs and sun parasols are available for rent.
This sheltered beach has calm and clear waters, ideal for swimming and snorkeling. Lia Beach is also a good place to embark on a scuba diving expedition.
Lia Beach also has a couple of beachfront restaurants, including the Lia Fish Taverna, which specializes in fresh seafood.
9. Agia Anna Beach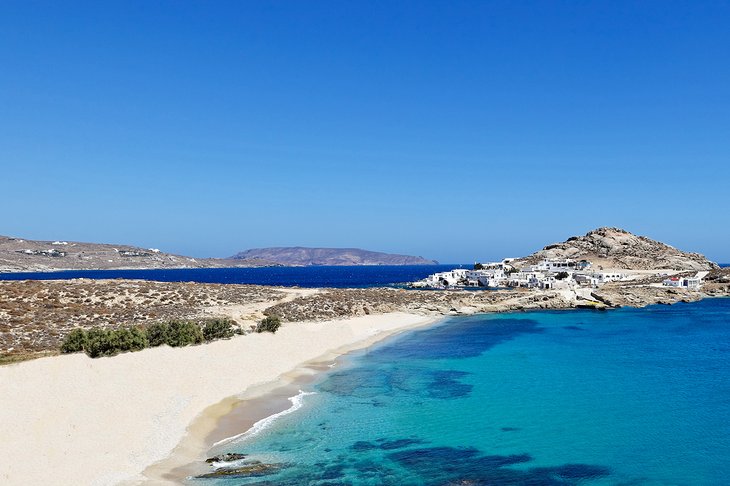 This small sandy beach appeals to those seeking a quiet, secluded spot for relaxation. It's also a great beach for swimming and windsurfing because of its tranquil, sheltered waters.
Lounge chairs and sun parasols are available for sunbathing and to enjoy refreshments from the Agia Anna Restaurant, a traditional Greek restaurant with a pleasant shaded outdoor patio and beachside service. The restaurant entertains guests with electronic DJ music and, on occasion, live music performances.
Another highlight of Agia Anna is the Spilia Restaurant, a romantic restaurant in a unique waterfront setting (it's actually built into a cave). The restaurant serves fresh seafood and Mediterranean cuisine on an outdoor terrace next to the soothing Aegean waves.
10. Kalo Livadi Beach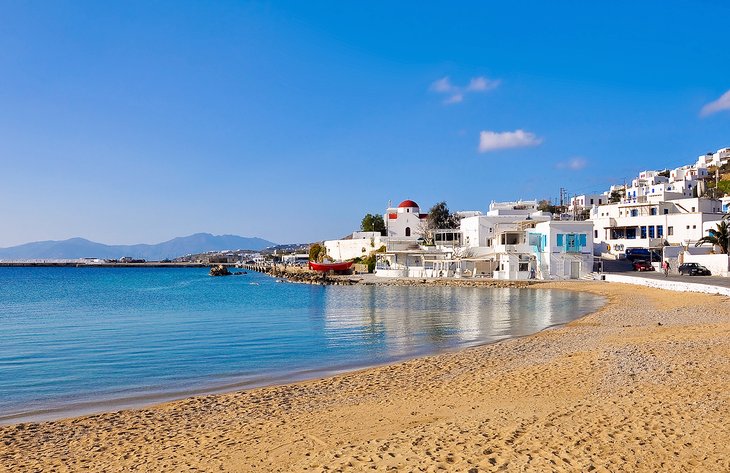 This long sandy beach is nestled in an idyllic setting, surrounded by rocky hillsides and lapped by waters that have an an almost tropical turquoise hue. The sheltered cove ensures gentle waves.
One of Mykonos' longest beaches, Kalo Livadi has plenty of space for sunbathers to lounge in peace and quiet. Sun beds and parasols are available for rent. There are also several beachfront restaurants with wonderful outdoor terraces overlooking the sea.
Families with children appreciate this beach because of its safe, shallow and clean waters. Kalo Livadi is ideal for swimming or just splashing around to cool off on hot summer days.
11. Agios Stefanos Beach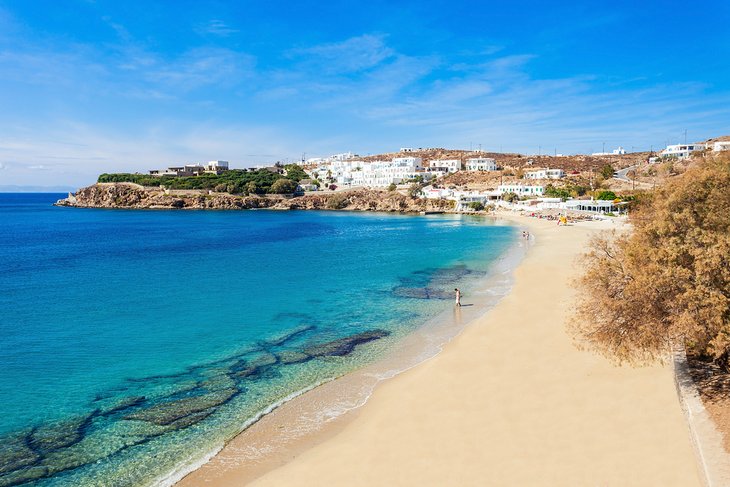 The abundance of restaurants, beachside amenities, and water sports facilities are the draw of Agios Stefanos Beach. This is also the closest beach to Chora Mykonos (the island's main town), and there are several nearby hotels.
Young kids love this beach because the waters are safe for swimming. Another selling point is the view of enormous cruise ships gliding by.
Romantics will appreciate the glorious sunsets at Agios Stefanos Beach, as well as the view of Delos Island in the distance.
12. Panormos Beach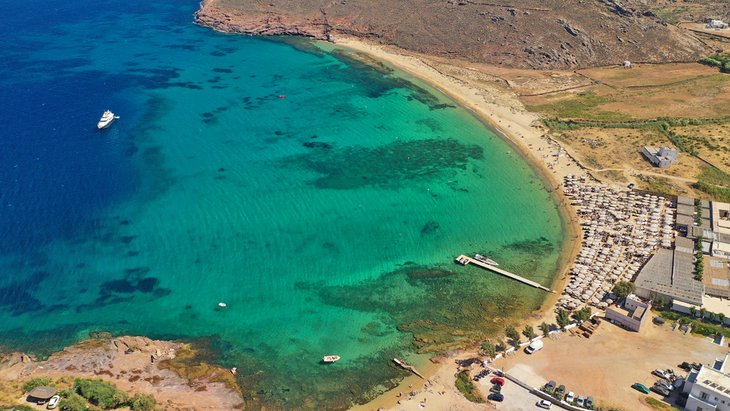 Panormos is a calm, picturesque beach on the northern coast of Mykonos. Tucked into a sheltered cove only accessible by car, Panormos has a remote and secluded feel. The lack of facilities adds to the impression of a hidden deserted-island spot.
The Principote Mykonos is an elegant beach club that offers concierge services and gastronomic dining in a delightful seaside setting. The beach club's restaurant specializes in Mediterranean cuisine prepared from fresh organic ingredients. The Principote Beach Club also has a stylish fashion boutique that sells glamorous island beachwear.
13. Kalafatis Beach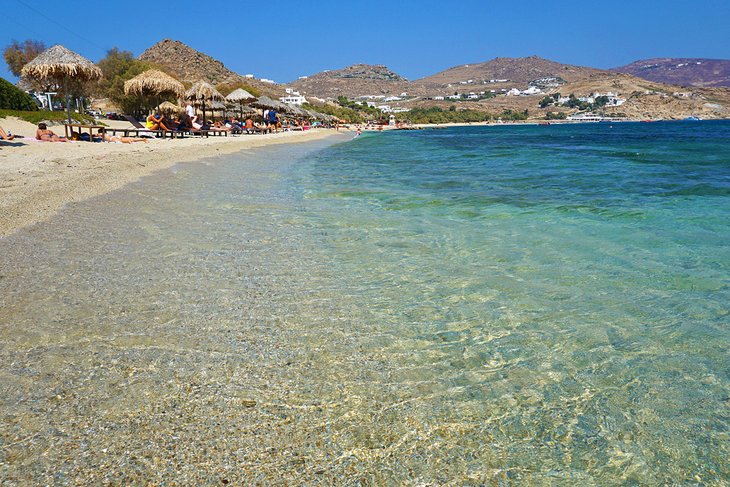 This family-friendly sandy beach is one of the best spots on Mykonos Island for water sports, especially windsurfing and water skiing. The crystal-clear waters are also ideal for snorkeling and scuba diving.
The beach offers rentals of windsurfing gear, water skis, and snorkeling equipment. A Diving Club provides scuba diving lessons and equipment.
14. Paraga Beach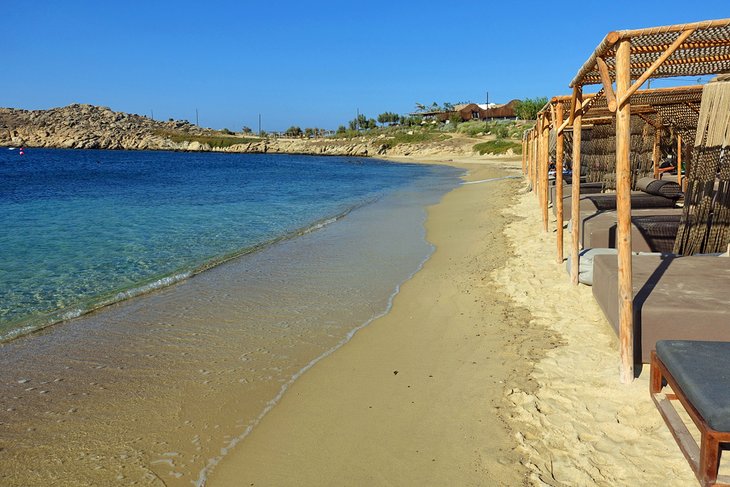 The idyllic natural setting of this small beach sets it apart from other beaches on Mykonos Island. Paraga Beach is ensconced within a tranquil bay overlooking the Cape Drapanos and the Island of Delos, which is just two kilometers offshore.
Despite its remote feel, Paraga Beach has two trendy dining options. The chic, upscale SantAnna Restaurant serves gourmet cuisine and refreshments at its pleasant outdoor terrace or at their beachside cabanas and lounge chairs. Kalua restaurant and beach club offers sushi and fusion cuisine, as well as a beachside menu served at cabanas and sun beds; Kalua also features live music performances and DJ music to entertain guests.
Paraga is within an easy (15 minutes) walking distance from Platys Gialos Beach.
More Related Articles on PlanetWare.com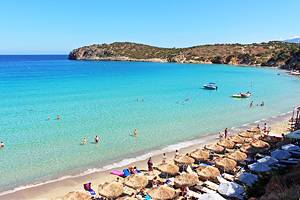 Other Greek Islands with Beautiful Beaches: The dreamy Greek Islands offer endless attractions for beach lovers. The island of Crete has an array of wonderful beaches, from pristine sandy shorelines to well-equipped touristy beaches. Corfu boasts glorious beaches with sparkling blue waters, sheltered in coves. Both secluded beaches and popular summertime beach resorts are found on the verdant island of Samos.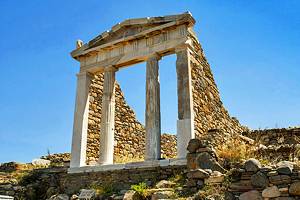 Excursion from Mykonos to Delos Island: While visiting Mykonos, a must-see nearby attraction is the archeological site of Delos Island. This UNESCO World Heritage Site is one of the most important archeological sites in Greece.
More on Greece