14 Top-Rated Attractions & Places to Visit on Crete
Rimmed by more than 1,000 kilometers of coastline, and with stunning beaches backed by mountains that rise more than 2,400 meters, Crete is unlike any other island in Greece. It is the largest of the Greek islands and the fifth biggest island in the Mediterranean.
The main attractions on Crete are the incredible golden-sand beaches and turquoise waters of the Mediterranean, but the island is also home to important Minoan archaeological sites, dramatic gorges, lovely cities with Venetian harbors and fortresses, and small coastal towns where you can escape to a leisurely pace of life.
On the north coast are the centuries-old harbor towns and cities of Chania, Rethymnon, Heraklion, and Agios Nikoloas, the most popular tourist destinations on the island. The best places to visit on Crete for shopping, nightlife, museums, and cultural attractions are all found along the north coast.
On the remote south coast, looking towards Africa across the Libyan Sea, are quaint seaside villages where you can escape from the main tourist scene. This is the best place for travelers looking for a quiet escape but still wanting to enjoy a beach vacation.
The scenic, mountainous interior is home to fertile soil and is where you'll find much of the country's agriculture, along with charming villages of whitewashed houses on narrow, twisting streets. Good roads and highways connect cities on the north coast with the towns on the south coast, and make for beautiful drives through the mountains.
Learn more about where to go and what to see with our list of the best places to visit on Crete.
1. The Beaches of Crete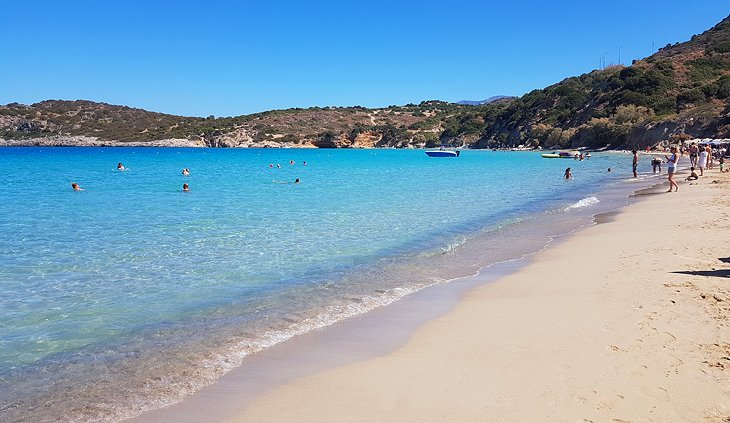 For most visitors coming to Crete between spring and fall, one of the top things to do is lounging on the island's beautiful beaches. Not all beaches here are created equal. Some of Crete's beaches are pebble, but some are among the most beautiful soft-sand beaches in the world, with crystal-clear water that glows a turquoise color under the Mediterranean sun.
The most famous beaches are Elafonissi, known for its white and pink sand, and Balos, or the Balos Lagoon as it's also frequently called. Both of these are within striking distance of Chania. And while these are must-see places, these are really just the tip of the iceberg when it comes to outstanding beaches on Crete.
For dramatic scenery, head to the remote south coast. Here, you'll find Matala, a lovely small town with a fantastic stretch of beach, lined at one end by caves. Preveli beach, set at the end of a gorge and backed by huge cliffs, yet still accessibly via a short hike, is another top attraction on this side of the island.
On the north coast, you may also want to set your sights on beaches around Agios Nikolaos, on picturesque Mirabello Bay. One of the top choices here is Voulisma beach, but if you have time to explore a little further afield, Vai Beach, also known as Palm Beach, is one of the top beaches on Crete.
2. The Palace of Knossos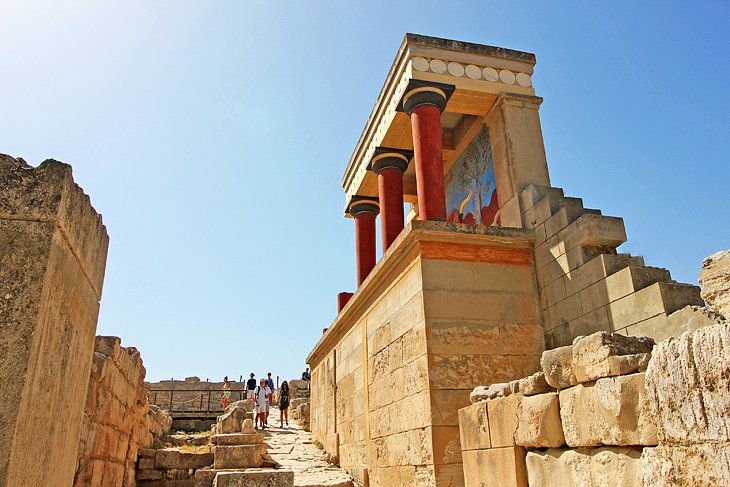 Knossos is the most important archeological site on Crete. A pre-Greek Bronze Age culture and the first maritime power in the Mediterranean, the Minoans were named after the legendary King Minos. Knossos, near the city of Heraklion, is believed to have been the palace of King Minos.
The Minoan palace is a monumental residential complex that centers on a vast courtyard, where it seems they staged "Bull-Leaping," an activity that involved running towards a bull, grabbing it by the horns, and somersaulting over it.
Knossos was abandoned around 1450 BC. Archaeologists are not sure why-it may have been a catastrophic earthquake following the volcanic explosion on Santorini, or perhaps Crete was ravaged by invaders. Whatever the cause, the Minoans completely disappeared.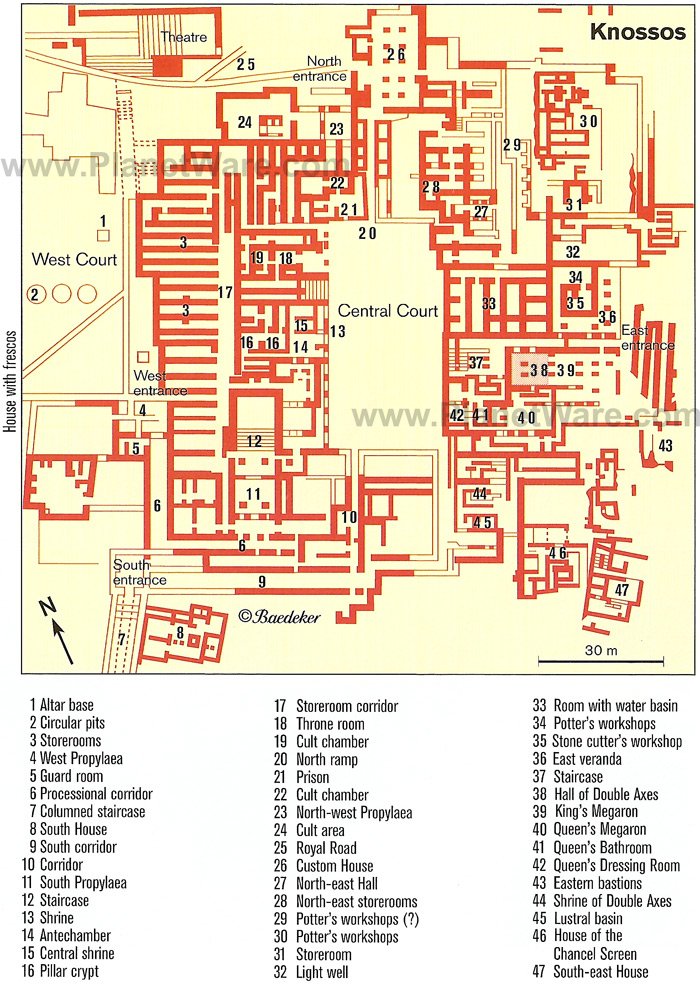 3. Agios Nikolaos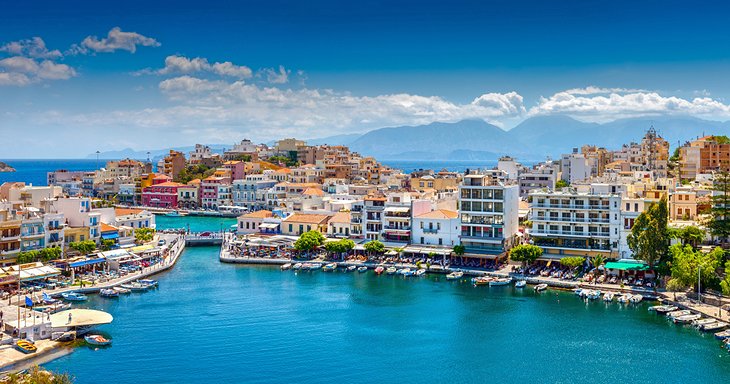 Rimmed by beautiful beaches and looking across scenic Mirabello Bay, Agios Nikolaos is a charming small city on the north coast of eastern Crete, about 65 kilometers east of Heraklion. Although it is definitely a tourist town, it feels much less touristy than places like Chania.
Highlights of a visit here include a stroll along Lake Voulismeni, with its many waterfront cafés and restaurants, and the nearby port area, looking out to sea. A walk around the point from the port to Kitroplatia beach takes you past two famous statues and provides stunning views out across Mirabello Bay to the towering mountains of eastern Crete.
Near Agios Nikolaos, you can also visit the Diktean Cave, with its stalactites and stalagmites, or venture into the mountains to the hillside village of Kritsa, where local artisans sell traditional crafts such as leather goods, ceramics, and hand-woven rugs. On the way to Kritsa, stop by the little 13th-century church of Panagia Kera (Our Lady of Kera) to admire the superb Byzantine frescoes.
Not far from Agios Nikolaos are the posh beach hotels and villas of Elounda. You can drive out here to see Elounda and look across the bay to the see the ruins on the island of Spinalonga, which was also once used as a leper colony. Most people take a boat tour to the island, which leaves from the harbor in Agios Nikolaos.
Accommodation: Where to Stay in Agios Nikolaos
4. Chania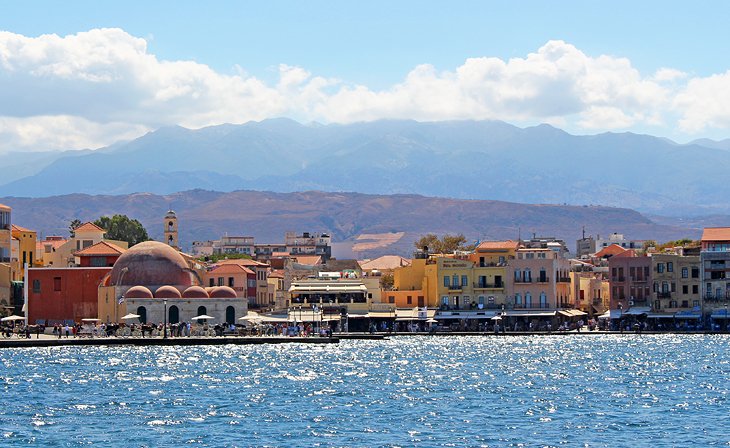 Chania is the main town in Western Crete, and was the capital of the island until 1971 when it moved to Heraklion. Overlooking the Aegean Sea and backed by the White Mountains, which are snow-capped in winter, the old town's appearance dates from the centuries spent under Venice (1204-1645). Chania is a lovely place to explore on foot.
A warren of romantic alleys with pastel-colored buildings enclosed within the remains of 16th-century defensive walls, the town extends to a pretty fishing harbor. The Municipal Market, built in 1911, is worth a look for its fresh seasonal produce and gifts such as Cretan cheese and honey.
Chania has an airport (12 kilometers northeast of town on Akrotíri peninsula) and is served by regular ferries from Athens' port, Piraeus. It makes a good base for visiting the beaches of Elafonissi and Balos, and hiking the Samaria Gorge.
Accommodation: Where to Stay in Chania
5. Samaria Gorge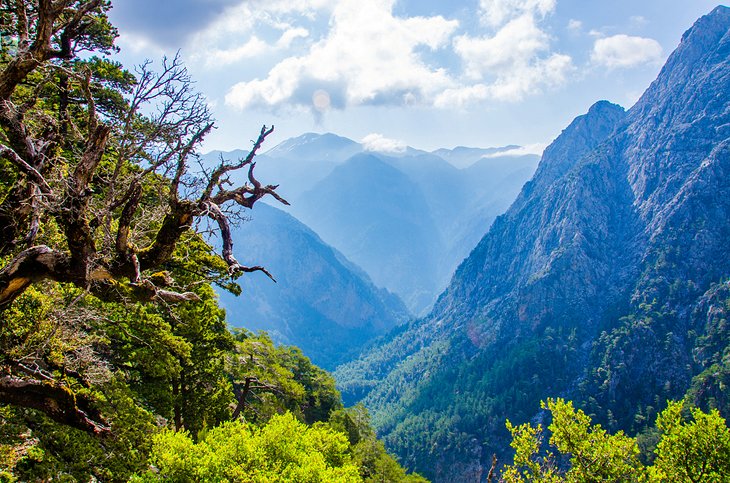 Crete is known for its outstanding gorges, but the most impressive is the Samaria Gorge. Contained within the Samaria National Park, it is a UNESCO Biosphere Reserve. Walking the popular 16-kilometer trail that runs through the gorge is one of the most popular things to do on Crete for tourists looking to get active.
From Xylóskalo, just outside the mountain village of Omalos, the gorge descends 1,250 meters to arrive at the Libyan Sea in Agia Roumeli on Crete's sunny south coast. The river Tarraios, which dries up in summer but floods in winter, runs the length of the gorge with high rocky cliffs to each side. The gorge is open to visitors from May through mid-October.
Although the hike is mostly downhill, with most of the elevation loss occuring in the first couple of kilometers, the stony path is a bit challenging and not recommended for people with knee problems. It's a must-do for hikers who don't mind a good day hike.
The walk can take four to six hours depending on how fit you are, but with transportation, plan on a 12-hour day at a minimum from the time you leave your hotel in Chania to the time you return. This is a one-way hike, with a ferry and bus shuttling visitors back to town.
Most people do the hike as part of an organized hiking day trip from Chania, which takes care of all your transport. You can also do the Samaria Gorge hike from Heraklion, but this makes for a very long day.
Accommodation: Where to Stay on Crete
6. Heraklion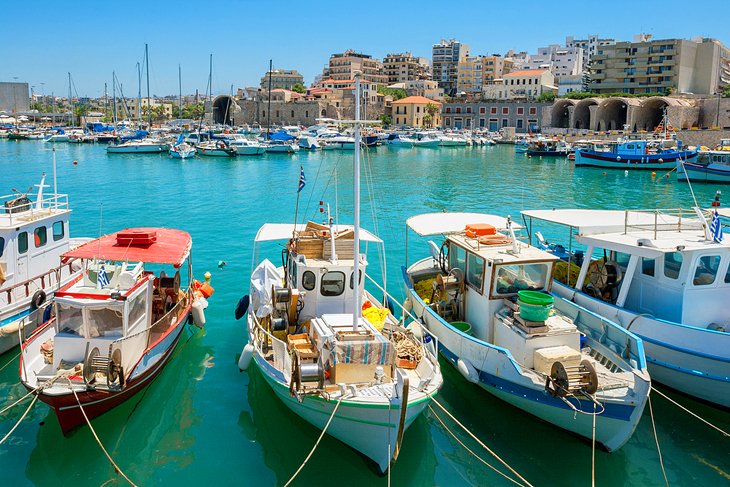 Heraklion is the island's capital and a pleasant surprise for first-time visitors. The Old Town is a maze of lovely pedestrian streets lined with shops and restaurants. Huge trees provide ample shade in the squares, where you can linger over a coffee for hours at an outdoor café.
Heraklion is also an obvious base for visiting Knossos and exploring central Crete. Like many of Crete's finest coastal towns, it gained its present layout under the Venetians, who ruled from 1204 to 1669, a period which saw a considerable cultural flowering on the island, producing artists such as El Greco, from Fódele, near Heraklion.
The noted 20th-century writer, Nikos Kazantzakis (author of Zorba the Greek, 1946) was also from Heraklion, and you can see his tomb within the old town walls.
Many tourists start their trip in Heraklion, which has an international airport (five kilometers east of town), and a ferry port with service to Athens' port, Piraeus, as well as several other Greek Islands. You can also visit Santorini on a day trip from Heraklion.
Accommodation: Where to Stay in Heraklion
7. Rethymnon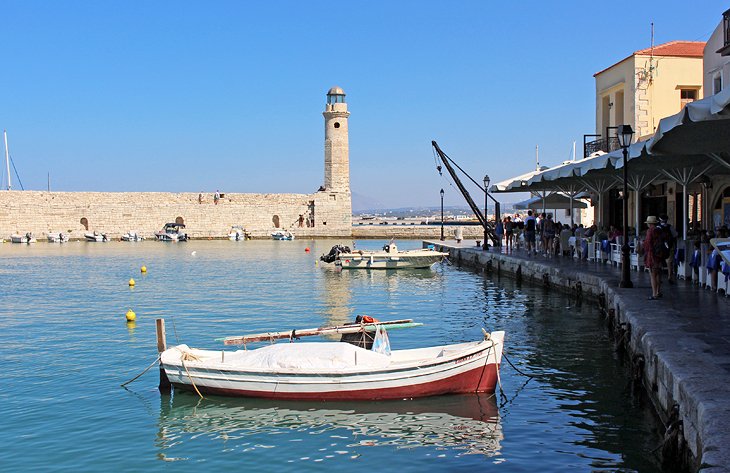 Midway between Chania and Heraklion, Rethymnon's lovely old town is made up largely of Venetian-era buildings, though there is some evidence of the year spent under Turkish rule (1669-1898) such as the towering minaret.
A perfect place to day trip from the resorts of the north coast, Rethymnon has everything you need to justify leaving the beach for a day.
Many historic buildings have been turned into small boutique hotels, shops, and restaurants. Wandering the shady, twisty streets and alleys in a quest to find the perfect photo followed by a long lunch on the ancient Venetian Harbour is a fine way to while away an afternoon.
The mountains behind Rethymnon are home to rural villages and some excellent agritourism centers. The area makes a good base for visiting nearby attractions such as the Samaria Gorge and Mount Psiloritis.
Accommodation: Where to Stay in Rethymnon
8. Heraklion Archaeological Museum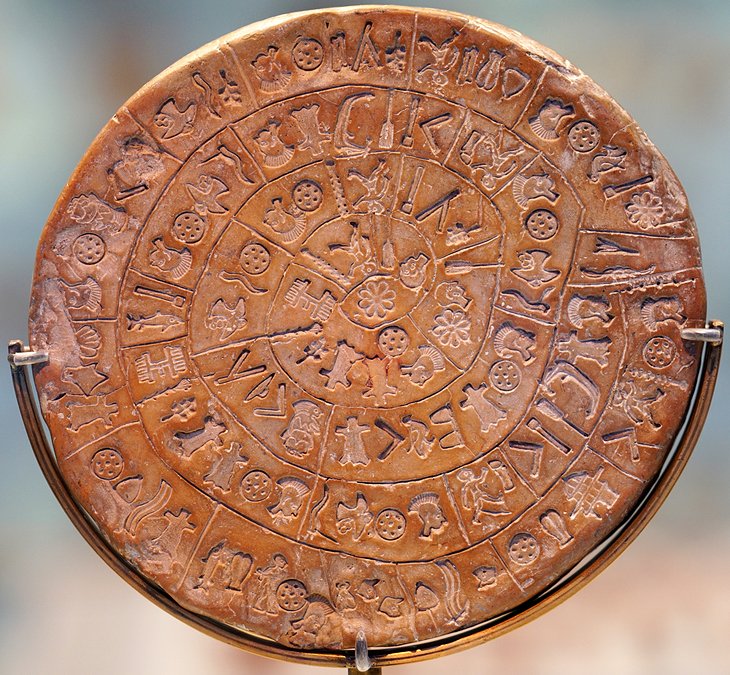 You'll be sure to get your fill of ancient Cretan history at the Heraklion Archaeological Museum. Artifacts spanning 550 years are displayed across 27 different halls. Things to keep an eye out for are beautiful 3,500-year-old frescoes from Knossos, and the glazed ceramic Snake Goddess dating from 1600 BC. Another item of note is the Phaistos Disc. Dating from 100 BC it is a clay disc bearing a curious spiral of symbols.
The pride of place goes to the Minoans, with their enchanting frescoes depicting proud and slender young men and women in vivid shades of terracotta-red, ochre yellow, and cobalt blue.
This world-class museum is Heraklion's principal tourist attraction and lies in the eastern part of the old town.
9. Preveli Monastery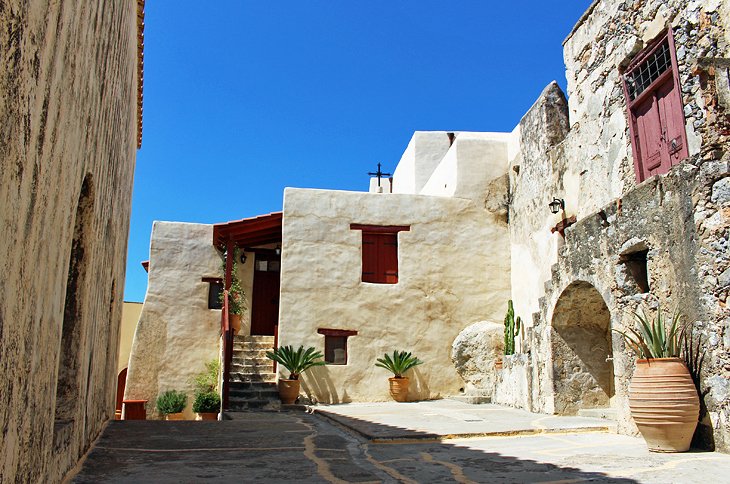 Set near the top of a mountain and offering extensive views over the Libyan Sea, the 17th-century Preveli Monastery makes a nice day trip from nearby towns and cities, like Rethymnon or Georgioupoli. Highlights include the courtyards and terraces, the mountain spring, and the small air-conditioned museum with a collection of religious artifacts. You'll also find a host of friendly cats here waiting to greet visitors.
A small fee is charged to enter the monastery, and modest dress is required. Skirts are provided for women if their clothing does not extend down past their knees.
The monastery is located just a short drive from the seaside village of Plakias, which makes a nice lunch stop. Not far from the monastery is Preveli Beach, another of Crete's popular tourist attractions. It's a bit of a walk down to the beach, but you can simply stop for a view over the beach and coast if you don't want to go right to the water's edge.
Official site: http://www.preveli.org/files/moni/enindex.htm
10. Preveli Beach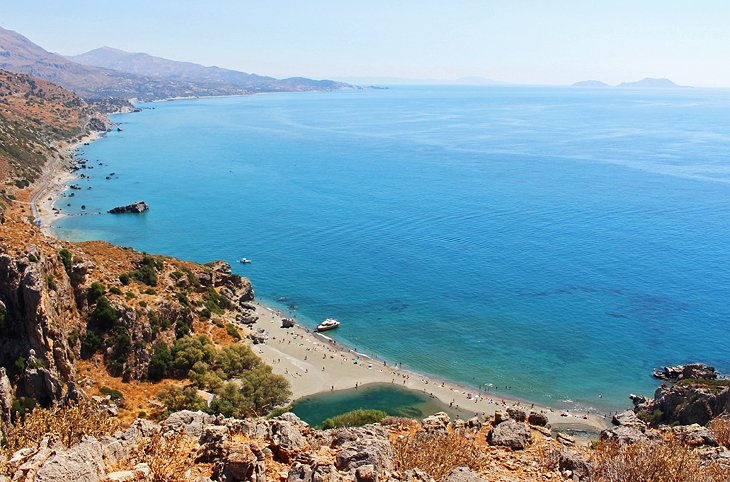 Preveli Beach is considered one of the most spectacular beaches on Crete. Located on the south coast, it is set at the mouth of a small river and hemmed in on both sides by towering cliffs, and looks out over the Libyan Sea.
Easily reached from the north coast across good roads, this beach makes for a great day trip. However, bear in mind that from the parking area, you will need to walk down 30 minutes along a rock pathway. This may not seem that difficult, however, coming back up in the blazing afternoon sun will definitely be more onerous, so bring good shoes and plan accordingly. You can also reach Preveli Beach by boat from nearby Plakias.
If you are out for a day of sightseeing, combine a trip here with a stop at nearby Preveli Monastery. Then, head over to Plakias for lunch and enjoy some traditional Greek food.
11. Plakias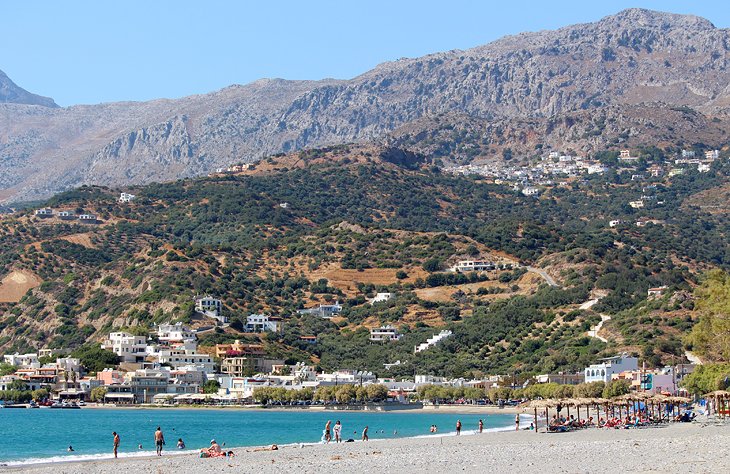 What once started as a humble fishing village has now changed into one of the most relaxed and enjoyable beach towns on the south coast. Unlike many of the northern beach areas, which are highly developed, Plakias retains a small-town feel and has some of the best dining in the surrounding area.
Here, you'll find a long crescent beach set in a very wide inlet. The beach close to the town center is a mix of pebbles and sand and is backed by tavernas and shops, but farther to the east, is quieter and has soft sand.
Plakias is a good place to base yourself for trips to Preveli Beach; Preveli Monastery; Souda Beach; and Rethymmon, which is 40 minutes away.
Accommodation: Where to Stay in Plakias
12. Matala Beach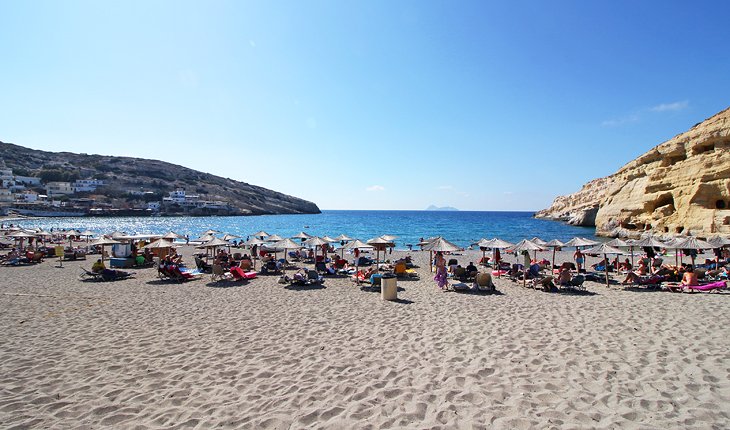 Matala Beach is one of the most interesting and most visited beaches on the south coast of Crete. The beach is a huge arc of sand with a rock wall on one side riddled with ancient caves that look down on impossibly blue waters.
Matala makes for a great day trip from destinations on the north coast, like Heraklion or Rethymnon. You can lounge in the sun, swim, explore the ancient caves, and have lunch at a seaside restaurant. Afterwards, do a bit of souvenir shopping at one of the shops along the pedestrian-only walkways behind the beach.
The caves were the haunt of hippies in the 1960s. Travelers of a certain age will recognize the name of the beach from the famous Joni Mitchell song called Carey.
Accommodation: Where to Stay in Matala
13. Frangokastello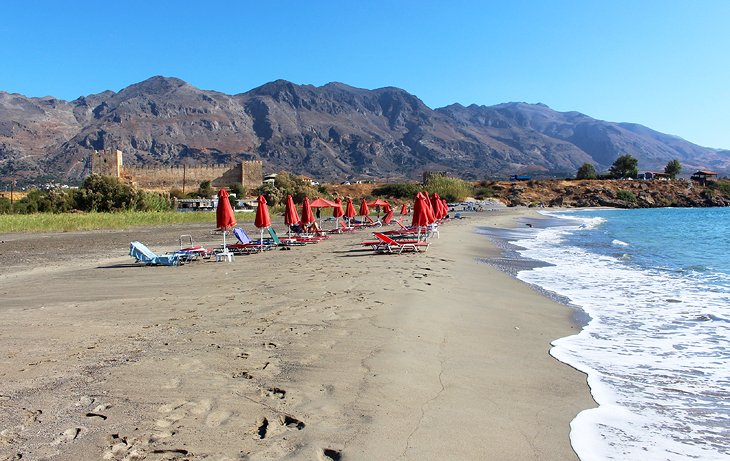 If you are searching for a friendly small town with not a whole lot going on, FrangoKastello may be just what you're looking for. This seaside town does not have tourist shops but does have good restaurants, an ancient fort, and some lovely beaches. It's one of Crete's true hidden gems.
Located on the south coast, about a 45-minute drive west of Plakias, Frangokastello is out of the way and off the usual tourist route. The drive here either takes you via Plakias, over a mountain pass with incredible views up and down the south coast, or down through the impressive Imbros Gorge and across the small plains, with the soaring mountains on one side and the sea on the other.
In Frangokastello, you can lie on the beach and gaze out at the blue waters of the Libyan Sea, or turn your chair towards the mountains behind and be staring at the town's imposing Venetian fortress. You can also walk a short distance from town and be on a completely undeveloped beach backed by sand dunes.
14. Diktaion (Psychro) Cave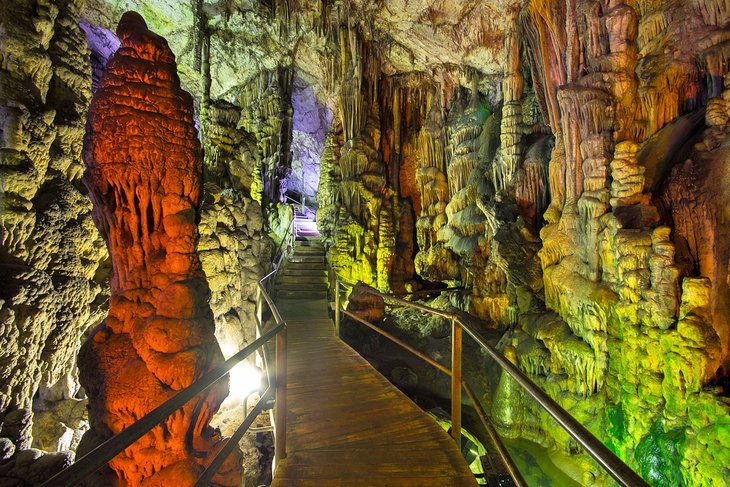 As you wander around Crete (and Greece for that matter), you'll no doubt come across tales of the ancient Gods, their duties, lives, and origins. Considered the most important Greek god, Zeus was the god of the sky, thunder, and the king of all other gods and men. It's in Diktaion Cave that this famous god was brought forth for all humanity.
Legends aside, the Diktaion Cave is considered one of the best of the 4,500 caves and sinkholes found throughout Crete. Its cool environs are a pleasant escape from the sun and heat of the Crete. You'll pass through five antechambers as you make your way down deep into the earth. At the bottom of the cave is a glass-calm lake surrounded by immense stalactites and stalagmites. Across the lake in a small chamber is the area where Zeus was apparently born.
Diktaion Cave is located up on the Lasithi plateau, an area quite unlike the rest of Crete. This high area is mostly flat and is the breadbasket of the island, with orchards and extensive farms. Stop in a small village and grab a lunch consisting of the fresh, local produce capped off with a cold beverage.
Best Time to Visit Crete - Historical Climate Averages
Average minimum and maximum temperatures for Island of Crete, Greece in °C
J
F
M
A
M
J
J
A
S
O
N
D

15

9

16

9

17

10

20

12

23

15

27

19

29

22

28

22

27

19

23

17

20

13

17

11

PlanetWare.com
Average monthly precipitation totals for Island of Crete, Greece in mm.

91

76

58

31

15

3

0

0

20

69

58

76
Average minimum and maximum temperatures for Island of Crete, Greece in °F
J
F
M
A
M
J
J
A
S
O
N
D

59

48

60

48

62

50

68

54

74

59

81

66

84

71

83

71

80

67

74

62

68

56

63

52

PlanetWare.com
Average monthly precipitation totals for Island of Crete, Greece in inches.

3.6

3.0

2.3

1.2

0.6

0.1

0

0

0.8

2.7

2.3

3.0