12 Top-Rated Things to Do in Ölüdeniz
Ölüdeniz sits in a prime position, fronting a curve of a bay fringed by sand and loomed over by the craggy mountain of Babadağ.
Having found fame early in Turkey's Turquoise Coast tourism boom, this slice of coast has long since given itself over to summer fun and sun, with plenty of things to do on and off the water.
Europeans beeline here every July and August for vacations centered wholly on the sand and sea, while Ölüdeniz's acclaim as one of the world's best places to visit for tandem paragliding brings added bundles of thrill seekers here to throw themselves off Babadağ.
Many travelers base themselves in Fethiye, just a short hop away, and head to Ölüdeniz as part of a sightseeing day trip.
If you do want to site yourself directly on the sand though, Ölüdeniz's central location along this stretch of coast makes it easy to explore the major tourist attractions beyond the beach.
Find out where to go and what to do during your stay with our low-down of the top things to do in Ölüdeniz.
1. Hang Out on Ölüdeniz Beach & Lagoon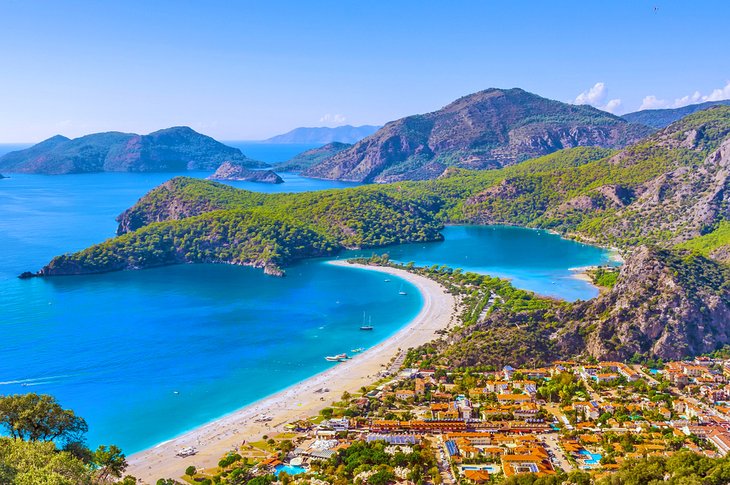 Most tourists are here to sunbathe and swim on Ölüdeniz's famed stretch of sand.
Backed by slopes of lush pine forest, the wide sweep of beach here trails along a jutting spit, creating a lagoon at its northern end that is one of Turkey's photography locations.
Ölüdeniz translates as "dead sea." The name derives from the water inside the lagoon area being saltier than the bay's sea water due to its sheltered position. This means you'll notice a slight extra buoyancy when you're swimming in the lagoon.
The main Ölüdeniz Beach area is a long, public strip of sand backed by a line of cafés and restaurants.
The coveted stretch of sand, though, stretches along the northern spit and overlooks both the Mediterranean and the lagoon bay. This beach has a small entrance charge, as it's officially part of Ölüdeniz National Park.
2. Tandem Paragliding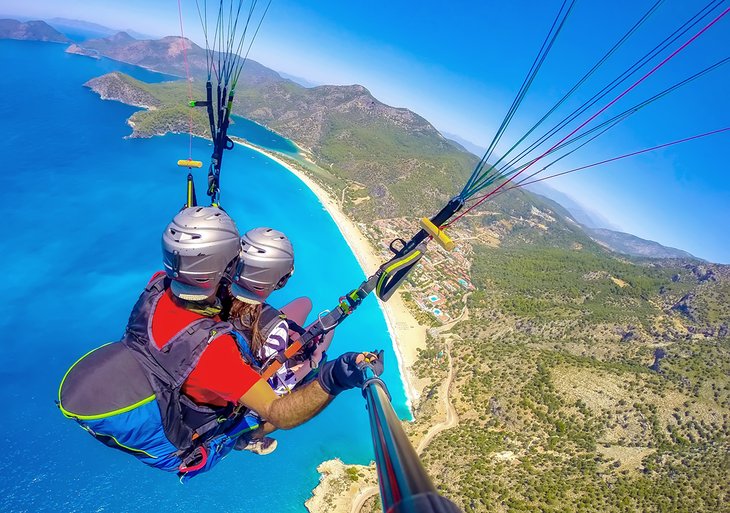 For an adrenaline rush with incredible Mediterranean aerial views, tandem paragliding in Ölüdeniz is one of Turkey's top things to do.
From May to October, tandem paragliding tours are organized twice daily (weather permitting) here.
Transport from Ölüdeniz, up the winding mountain road to the take-off point on Babadağ (Mount Baba), is included in the tour price.
After taking off, it's all about the views. During your descent, you soar over the thickly forested slopes and out above the sparkling blue sea, taking in a bird's-eye perspective of this slice of coastline.
If you're comfortable with being adventurous, your guide will do some tricks during the descent. Feel free to say no, if that's not for you and you're happy just gliding.
Paragliders land directly on Ölüdeniz Beach, so you can head off for a swim straight afterwards.
The Ölüdeniz Paragliding Tour allows you to book your tandem paragliding adventure in advance, before you arrive in town – which can be a good idea if you're planning your trip for the height of summer. The tour includes pick-up from your hotel and the tandem paragliding activity.
3. Visit Kayaköy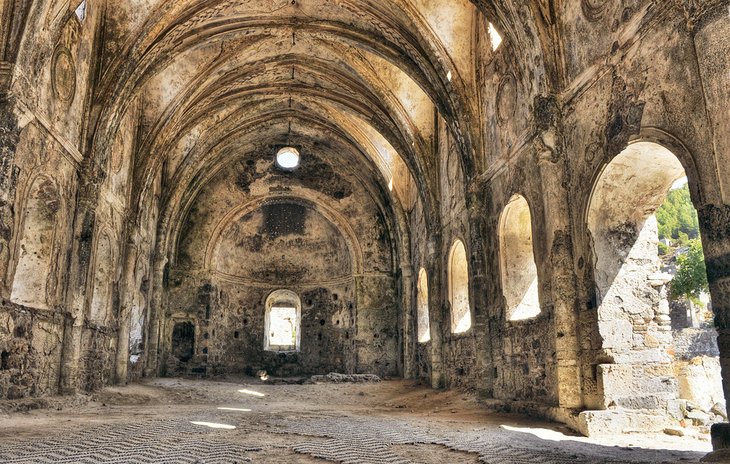 The village ruins of Kayaköy sit just nine kilometers to the west, over the hill from Ölüdeniz Beach, so visiting is an easy half-day trip.
Kayaköy's hillside is scattered with the stone houses and church remnants of the once thriving Ottoman Greek village of Levissi.
Like most Ottoman Greek villages in Turkey, the inhabitants were forced to move to Greece as part of the Greek-Turkish population exchange stipulation of the 1923 Treaty of Lausanne.
As much fewer ethnic Muslims from Greece were deported to Turkey than Ottoman Greeks transferred to Greece, this village, climbing up the hill, was completely abandoned and left to decay.
Kayaköy, though, gained fame as the inspiration behind the setting of Louis de Bernières' bestselling novel Birds Without Wings, which tells the story of this tumultuous era and the birth of modern Turkey.
Strolling the steep hillside trails, rimmed by roofless, dilapidated house ruins, up to the summit is an evocative experience of a long-gone world.
There are two churches amid the ruins that are in a better state of restoration than the house ruins. The Kataponagia Church is near the bottom of the hill, while the larger Taxiarkis Church is near the summit.
In the plain below the hill is the small, modern village of Kayaköy, surrounded by agricultural fields. It has a scatter of cafés, restaurants, and boutique hotels, most with views spanning the hillside ruins.
There is no direct public minibus transport to Kayaköy from Ölüdeniz beach; you have to transfer buses in Hisaronu (also called upper Ölüdeniz). Many people staying on the beach opt to take a taxi for the trip.
You can also hike over the hill from the lagoon to Kayaköy on a way-marked path through the forest. It's uphill all the way (with great views across the Mediterranean from some points), so you need proper walking shoes if you're going to do this.
4. Boat Ride to Butterfly Valley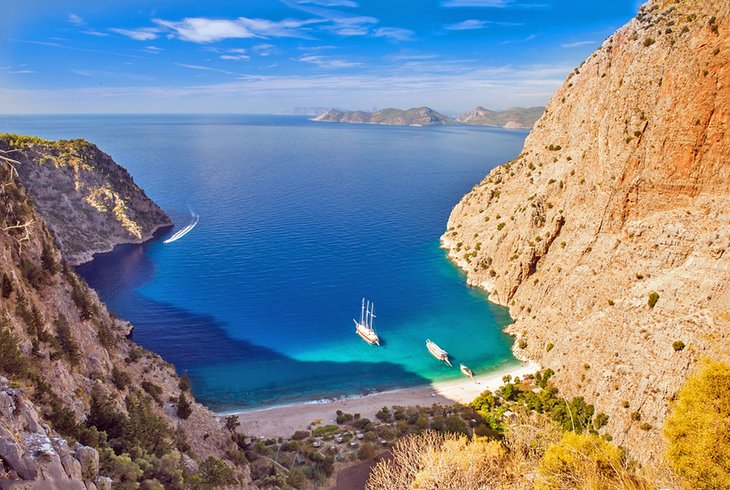 If you get bored of sunbathing on Ölüdeniz Beach, have a change of scenery on the sand at Butterfly Valley.
With its lush, narrow valley, petering out to a narrow slice of sand at the sea edge, all squeezed between the towering cliffs of the Yedi Burun (Seven Capes), Butterfly Valley is a dramatically photogenic attraction.
Unless you're an experienced hiker with a head for heights (the hike down the cliffs from the village of Faralya is very steep in parts and has ropes on some sections to help with stability) the only way to get here is by sea.
Although many people come here simply to loll on the sand, the valley beyond has trails if you want to go exploring.
One trail leads to a small waterfall, though the real interest of walking here is simply enjoying the lush scenery while keeping your eyes peeled to spot the Jersey Tiger butterflies that have given this valley its name.
Regular shuttle boats ply between Ölüdeniz Beach and Butterfly Valley from May to October.
5. Explore Tlos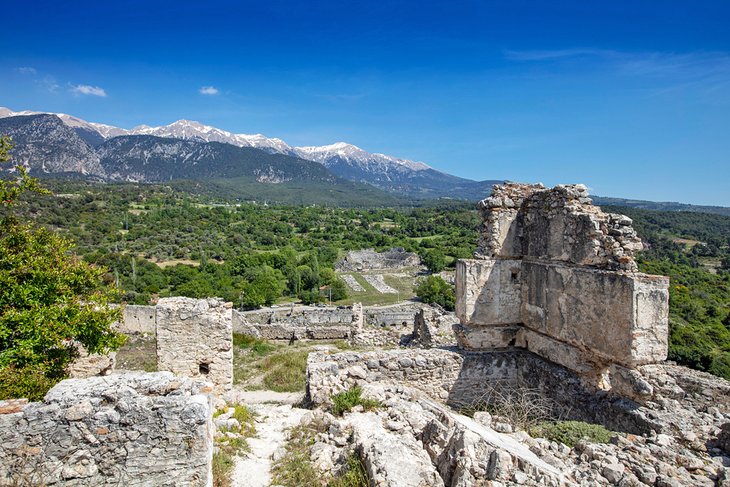 Once an important Lycian city, the ruins of Tlos sit high on a hilltop, 52 kilometers east inland from Ölüdeniz.
It was first settled over 4,000 years ago, and habitation continued here under Greek, Roman, Byzantine, and finally Ottoman rule. Unlike many other ancient city sites, Tlos was continually settled up to the late Ottoman era, only being completely abandoned in the 19th century.
Focus your visit first on the Acropolis area, which shows some of this ancient site's layers of settlement. The Acropolis is crowned by a small Ottoman fortress, while the rock face below is hollowed out with Lycian rock tombs, some of which have ornate facades.
The Roman Theater, which holds some fine bas reliefs and is well preserved, and the Roman Baths nearby, are also worthwhile exploring.
Address: Yakaköy village, Saklıkent Yolu, Muğla
6. Boat Tours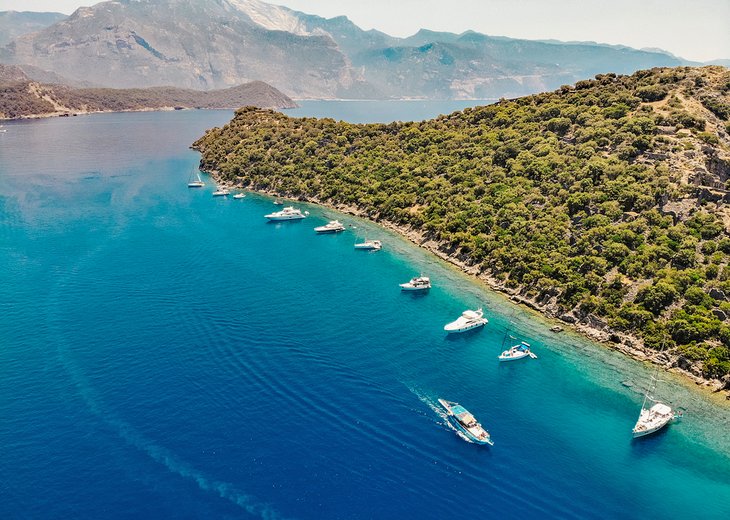 From May to around mid-October, tour boat operators offer full-day boat trips starting from the jetty at Ölüdeniz Beach.
This is sightseeing at its most easygoing. These trips are all about sunbathing on board, swim stops, and watching the coastal scenery as you cruise by.
On the downside, many group-tour boats blast pop music during the trip, so if you're looking for a quieter boat tour experience it can be a better idea to organize a private excursion.
The typical Ölüdeniz boat trip itinerary does a loop around the coast, with great views of the dramatic cliffs of the Yedi Burun (Seven Capes) along the way.
Nearly all boat trip itineraries stop at Butterfly Valley, Gemiler Island (also known as St. Nicholas Island), and Aquarium Bay for swimming and exploring.
Gemiler Island is famous for being the site where many archaeologists believe the original tomb of St. Nicholas (aka Santa Claus) was situated before being uninterred and moved to Myra (modern-day Demre) in the 7th century.
The island is home to the ruins of five Byzantine churches, as well as various ecclesiastical buildings and Christian tombs all built between the 4th and 6th centuries.
7. Discover Ancient Xanthos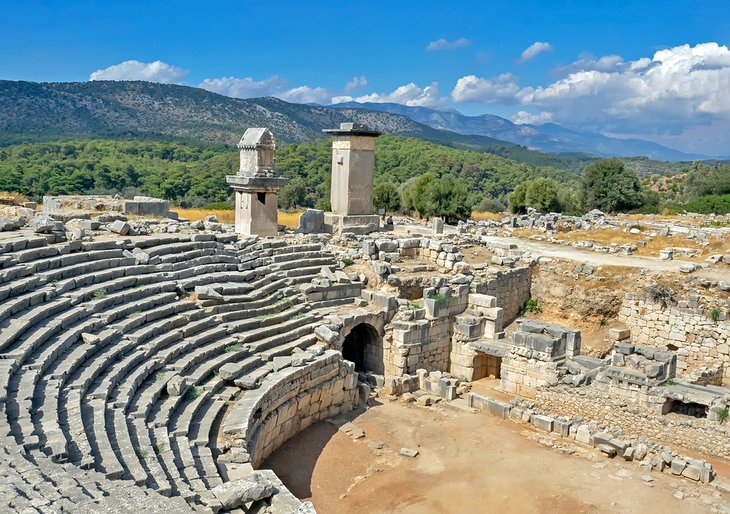 UNESCO World Heritage-listed Xanthos (56 kilometers southeast of Ölüdeniz) was one of Ancient Lycia's largest and most lavishly decorated cities and functioned as its capital.
The site is best known for its haul of statuary and ornate sculptures, the best of which were dismantled and carted off by British archaeologists to the British Museum in the 19th century (where they are still displayed today).
Xanthos' history is fiercely bloody, and during the classical era, the city was sacked and destroyed first by the Persians, then Alexander the Great, and finally the Romans.
The rambling area of ruins include a Roman Theater, Agora and colonnaded street, a vast area of Lycian rock tombs, and the original plinth that once held the Nereid Monument (one of the most famous monuments removed in the 19th century).
Address: Xantos Yolu, Kınık village, Muğla
8. Get Some City Time in Fethiye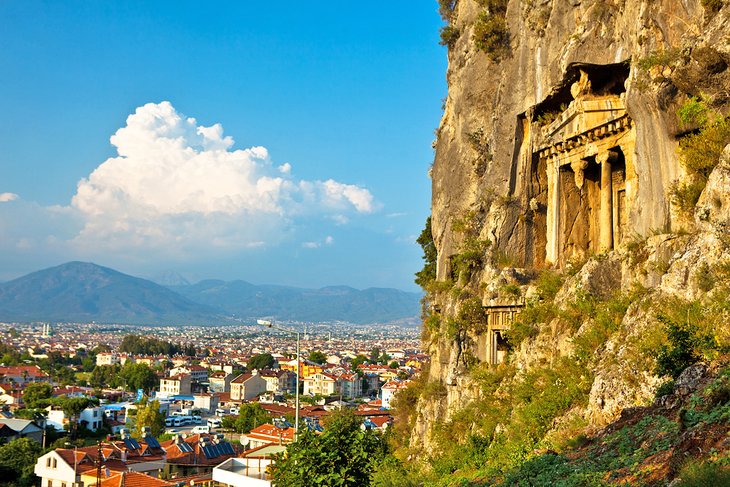 For a day off the beach, the easy choice is to head to Fethiye, 16 kilometers north, which is connected to Ölüdeniz by regular minibuses.
This small harbor-front city is backed by a cliff face of Lycian tombs. It's worth walking up the hill to the Tomb of Amyntos for the view across the town and out to the Mediterranean.
For a dose of history, head to Fethiye Museum. It may be small, but the collection inside does include some important finds from nearby Lycian city ruins, such as Letoön. If you're planning on heading out into the hills to further explore the ancient sites, it's worth a visit here first.
Other interesting places to visit include a small Roman Theater (currently being restored) and a fortress castle, though both can only be admired from outside.
Fethiye's Fish Market is a top stop for lunch, while the cafés and shops selling traditional Turkish crafts within the central old town area are good for lazy afternoon strolling and browsing.
9. Lycian Way Hiking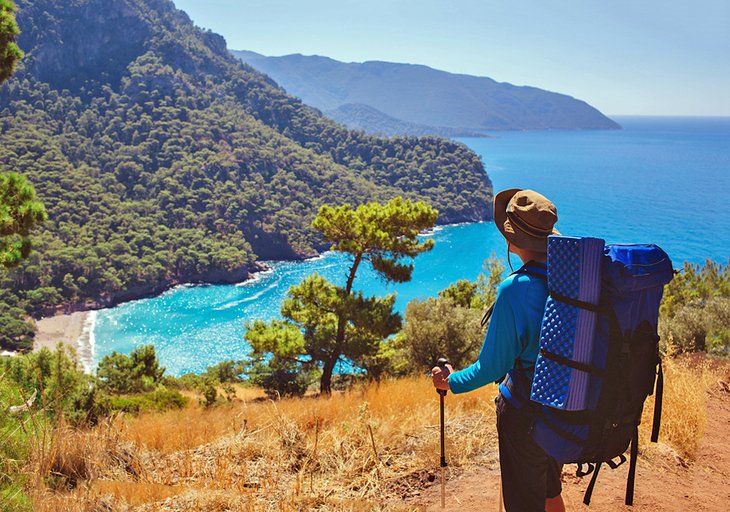 The Lycian Way, Turkey's most famous long-distance hiking path, has its western trailhead just north of Ölüdeniz.
This first section, heading along the Yedi Burun (Seven Capes) from Ölüdeniz to the tiny bay of Kabak, offers some of the best coastal views of the entire 500-kilometer trail.
There are also a couple of local trails that connect to the official Lycian Way trail, which make good day hike options for enthusiastic walkers.
The short half-day connecting trail from Ölüdeniz Beach, up through the pine-forested slope, and over the hill to Kayaköy is great if you want Mediterranean views. Although it only takes roughly two hours, it's uphill all the way, so you may want to walk it the other way around for less of a slog.
10. Seek Out Lycian Tombs in Pınara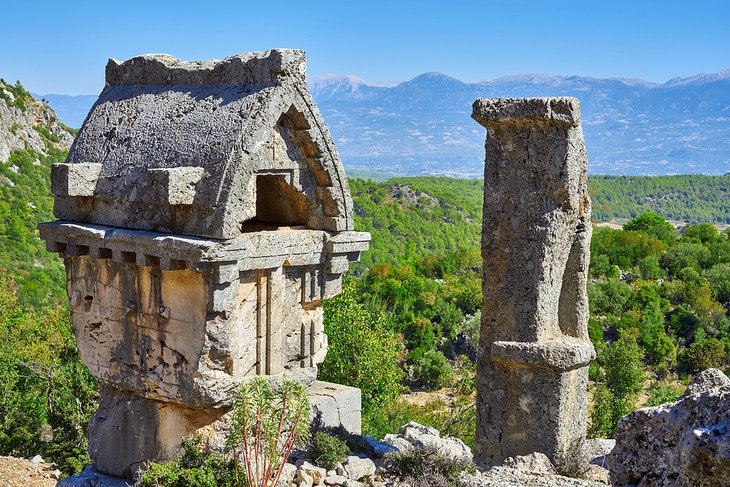 Pınara (42 kilometers southeast of Ölüdeniz Beach) may not have as many remaining monuments as other Lycian ruins in the region, but its lonely setting, surrounded by dense forest and with the dusky blue silhouettes of snowcapped mountains in the distance, can't be beaten.
As with most of the other Lycian cities along this stretch of coast, a roll-call of conquering empires passed through here, with control of Pınara passing from Greek to Roman to Byzantine command before the site was finally abandoned in the 9th century.
The main point of interest here is the large and well-preserved Roman Theater, and Pınara's high cliff face riddled with Lycian rock tombs, some boasting highly ornate facades. Much of the rest of the city monuments lie in scattered ruins, though it's worth hiking around the site to see the many standing Lycian tombs.
Address: Yakabağ village, Muğla
11. Splash About in Saklıkent Gorge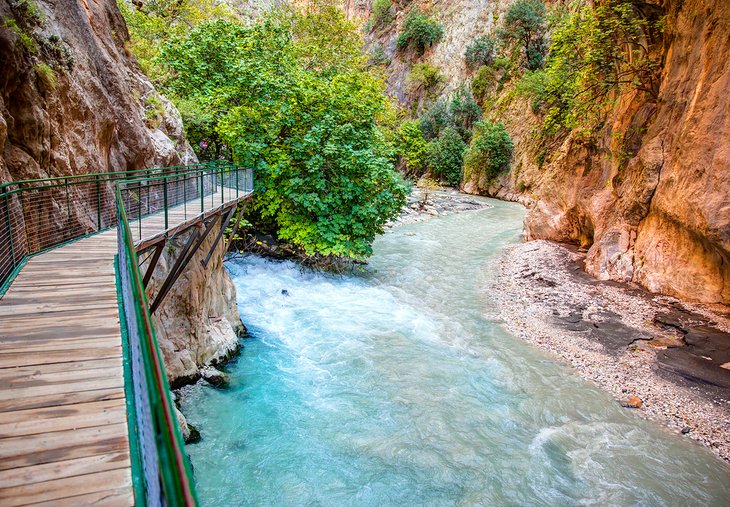 Saklıkent Gorge (53 kilometers southeast of Ölüdeniz) is one of the most popular day trips from Ölüdeniz during high summer.
Most Fethiye-based tour operators run day trips here, with many tours including a stop to explore the ruins of Tlos along the way.
These trips can usually be booked directly through Ölüdeniz's hotels, and include hotel pickup and drop-off.
Although the gorge isn't particularly dramatic, it's a delightfully shady respite from the summer heat, with the high canyon walls soaring up to 200 meters high.
A modern wooden boardwalk trailing along the gorge wall, high above an icy-blue-colored river, provides the entrance into the shaded depths. At the end of the boardwalk, those who want to explore deeper need to first ford the river to the other side to head farther in. If you're going to head on, prepare to get wet.
A small café at the point where the boardwalk ends provides snacks, cold drinks, and tea for those who are happy to just relax in the cool canyon climate.
Address: Saklıkent Milli Parkı, Muğla
12. Visit Letoön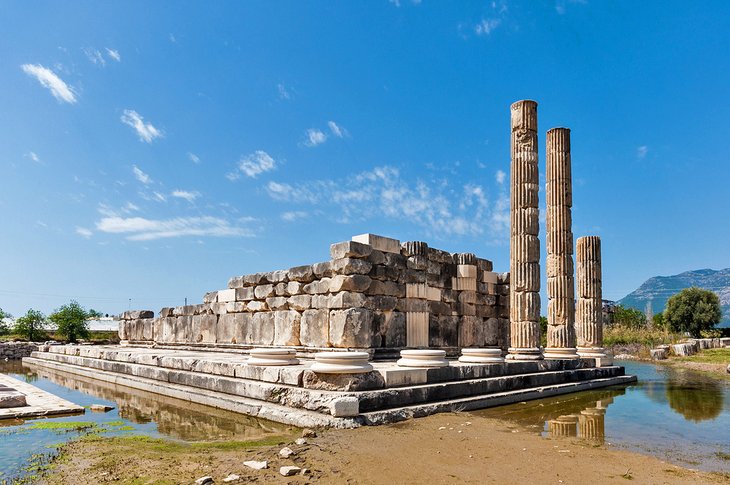 Letoön was the most important cult center of Ancient Lycia and shares its UNESCO World Heritage listing with Xanthos.
Unlike other Lycian sites in the region, Letoön wasn't a city. Rather, it was a religious site used by the inhabitants of Xanthos.
The religious sanctuary here is home to three temples, which have been partially reconstructed so that some of their pillars have been raised into place. They were dedicated to Lycia's most important deity, the Greek goddess Leto, and her children Artemis and Apollo.
Letoön lies just six kilometers south of Xanthos and is easily tagged onto a Xanthos drive trip if you're visiting independently (and is usually included on a Xanthos guided tour).
Address: Letoon Caddesi, Kumloava village, Muğla
Map of Things to Do in Ölüdeniz