11 Best Beaches in Antalya
Author Jess Lee has been writing about Antalya and Turkey's Mediterranean coast for over a decade. She lives in Turkey.
Antalya is one of the Mediterranean's summer vacation stars. From June through to September, international visitors decamp here in their thousands to lap up blue-sky days lazing on the many beaches that hug the coastline.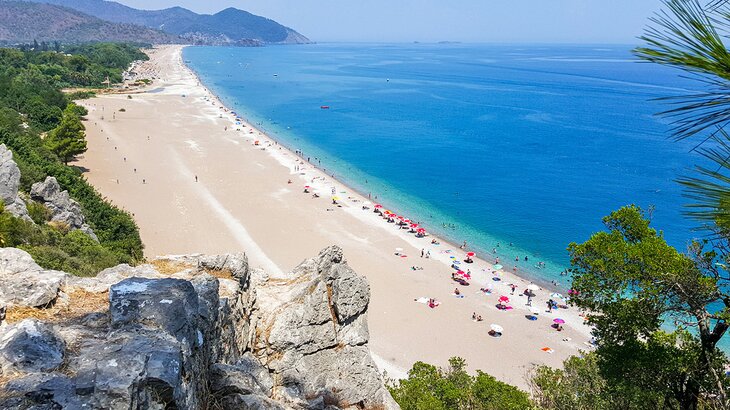 When people talk about Antalya's beaches, they're talking about the province, not just the region's main city, Antalya, with the beaches stretching along the coast from roughly Kaş in the north to Alanya in the south.
This means when you choose your beach, you should think about location and what sort of vacation you're looking for, as well as the choice of Antalya resorts and hotels.
Remember, the popular beaches do get crammed here during high summer (July and August), when European school holidays bring families flocking to Antalya's Mediterranean shores.
For a quieter beach experience, June and September are better choices, while May, at the beginning of the tourist season, and October, at the season's tail end, heralds plenty of warm, sunny weather but without the crowds.
Find your perfect patch of sand with our list of the best beaches in Antalya.
1. Tekirova Beach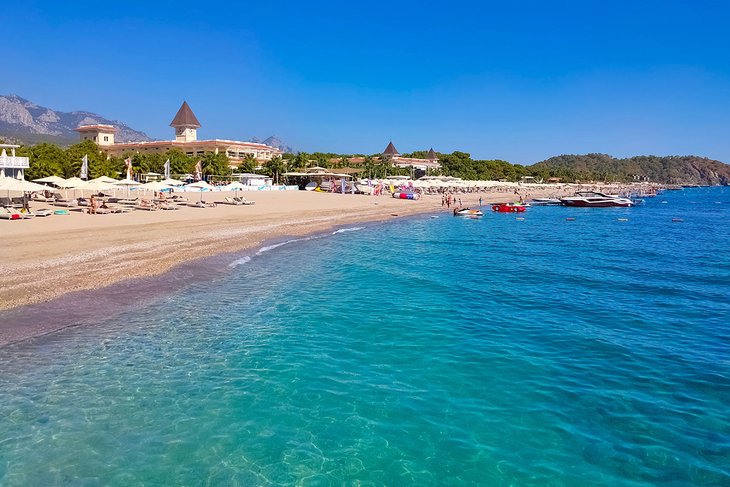 Highlights: Easygoing resort living with plenty of family-friendly facilities
Hemmed in by two rocky headlands, the long strip of shingle and sand of Tekirova Beach is one of the Kemer district's top beach destinations for vacationing families.
Resorts have claimed private patches of sand on both the northern and southern ends of the beach, while the central section, rimmed by Tekirova village, is a free public beach.
For families traveling with little ones, the calm waters in the bay here and the shallow depth at the shoreline, with a gradual descent into deeper water, make Tekirova a safe beach option.
Facilities here are excellent, which is a major drawcard for beachgoers looking for an easygoing day of sun and sand.
As well as plenty of shaded sun beds for rent and a wide variety of cafés providing snacks, refreshments, and meals, water sports operators dotted along the shore offer parasailing, jet skiing, and boating for those looking to break up the sunbathing and swimming with some activities.
For keen swimmers, there are several pontoons along the beach, allowing easy access to the bay's deeper water.
If it all gets too crowded for you (and Tekirova does get jam-packed in summer) the coastline to the south of Tekirova Beach and village is home to isolated small bays and coves that can be hiked to following the paths that lead over the hills (or accessed by boat, if it's too hot to think about hiking).
Tekirova is 58 kilometers southwest of central Antalya.
Accommodation: Best Beach Resorts in Turkey
2. Konyaaltı Beach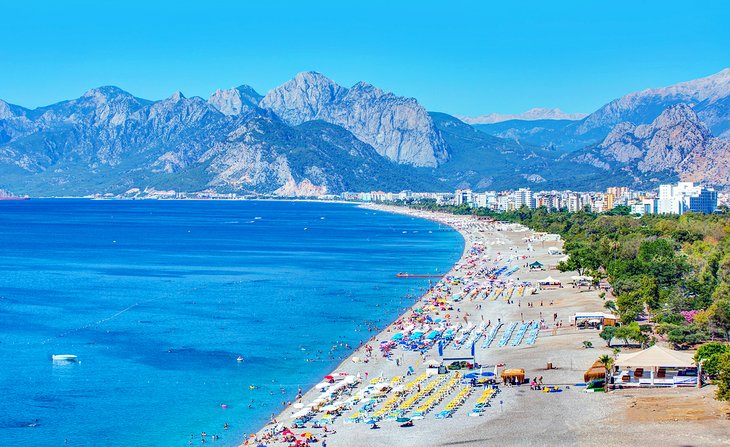 Highlight: A vast sweep of beach within easy reach of the central city
One of the most famous of Antalya's beaches, and the easiest option if you're staying in central Antalya, Konyaaltı Beach is right in the city, trailing for eight kilometers along the city's southwest edge.
This free public beach is mainly pebbles and shingle rather than sand, but that hasn't dented its popularity, with the scenic backdrop of dusky silhouettes of the Taurus Mountains in the distance, convenient location, and excellent swimming conditions here more than making up for it.
The waters here are mainly calm and, farther from the shore, very deep, making it perfect for enthusiastic swimmers.
The Konyaaltı district of Antalya city rims the shore with plenty of hotels, restaurants, and entertainment, including a water park and Antalya Aquarium at the shore's northern end, so there are plenty of things to do in this area of Antalya when the kids get bored of the beach.
There are also playground equipment areas dotted along the promenade, which threads behind the beach.
On the beach itself, there's a choice of cafés, plenty of sun loungers and shades for rent, bathrooms, freshwater showers, and water sports operators offering equipment rental.
3. Kleopatra Beach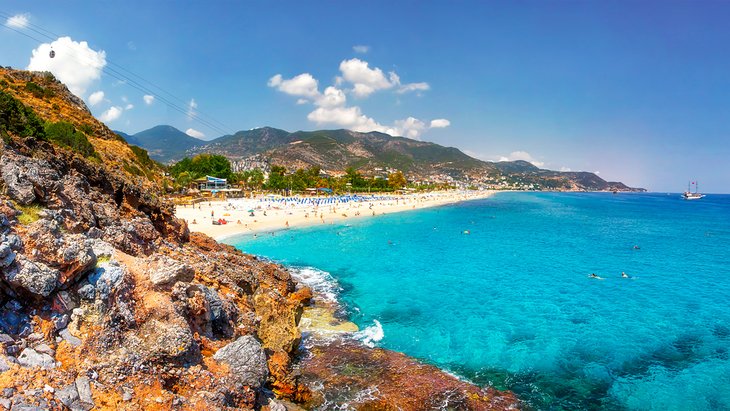 Highlight: The main beach scene for Alanya's resort guests
Kleopatra Beach is one of Turkey's most famous beach destinations, with the wide stretch of golden sand sweeping for two kilometers down to the coast, ending at the rocky headland that is home to Alanya Castle.
Patches of sand belong to various resorts and hotels and private pay-for-access beach clubs, but the vast stretch of the shore is free. Here, the public can access all the facilities a beachgoer could need, with multiple kiosks and cafés, bathrooms and changing rooms, and plentiful sun beds and shades for rent.
Water sports operators on the beach offer boating, parasailing, and jet skiing, as well as day-long boat trips that explore the surrounding coastline.
You can also ride the cable car from just behind the beach to the top of Alanya's headland for easy access to explore the ramparts of Alanya Castle; it's one of the top things to do in Alanya.
The sea here is crystal clear, making it hugely inviting for a dip, but less experienced seagoers, and those with children in tow, should note that currents are strong, and large waves are common when the weather is windy, so keep close to shore unless you're a strong swimmer.
Alanya is 131 kilometers southeast of central Antalya.
4. Beldibi Beach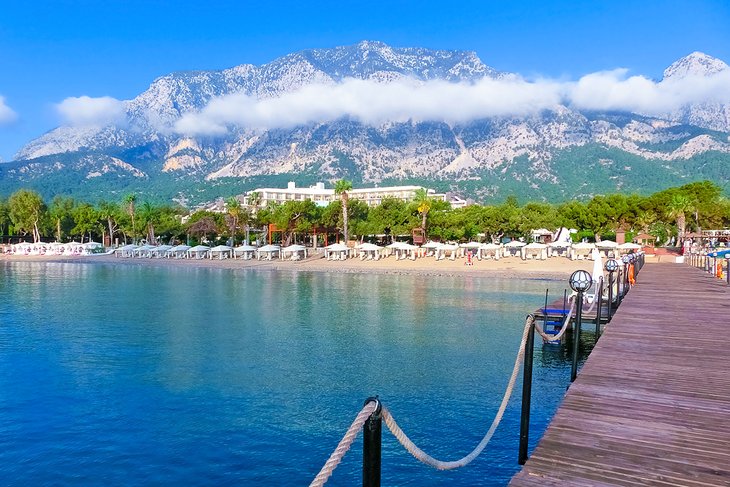 Highlight: Dramatic mountain vistas loom over this beach resort haven
Beldibi, 28 kilometers southwest of central Antalya, is renowned for its surrounding scenery of lush, pine-forested hills that slope down to the beachfront, backed by the jagged peaks of the Taurus Mountains.
Quite a lot of the sandier sections of the beach are the private property of resort hotels, while the public beach tends to be mostly pebbles.
Although the sea is shallow for a narrow stretch at the shorefront, the descent into deeper water is sudden rather than gradual, so a watchful eye should be kept on children while they're playing in the water.
For swimmers, various pontoons lead into the sea, so you can swim directly off them rather than wade in from the shore.
Facilities are excellent, with cafés and snack bars, sun loungers and shades for rent, changing rooms, freshwater showers, and bathrooms all on the beach.
5. Side Beach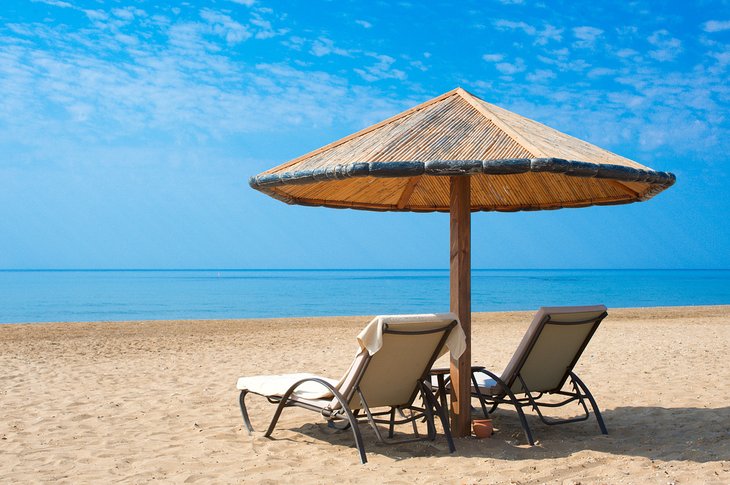 Highlight: Family-friendly resort hub for sun, sand, and sea vacations
The long stretch of golden sand on Side Beach runs northwest from the harbor-front town of Side, with its Roman ruins, seafront cafés, and cobblestone bazaar lanes.
This is a major resort area, with much of the sand owned by the individual resorts, which attract a steady stream of European sunseekers on their vacations every year.
The best public access section of the beach is in the center and offers sun beds for hire, as well as decent bathroom and freshwater shower facilities.
Side Beach is a particular favorite with families due to the shallow-water shorefront.
Many of the resorts here cater specifically to family fun and offer five-star on-site facilities that often mean vacationers rarely venture out of the hotel grounds.
The resorts all have water sports offices on-site, where more active family members can rent kayaks and Jet Skis, try parasailing, or book a boat trip.
Side is 73 kilometers east from central Antalya.
6. Lara Beach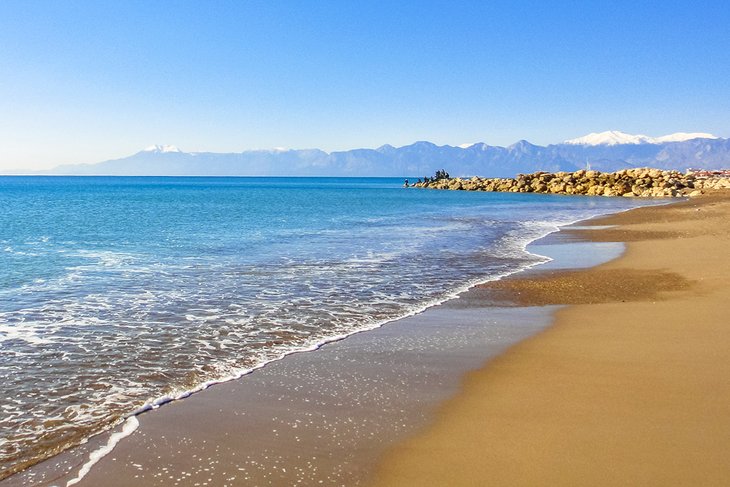 Highlight: Mix a beach break with some city life at this lengthy sandy shore
Just a short jump from central Antalya, 12 kilometers of golden sand trail along the shore at Lara Beach.
This beach is the top pick for vacationers who want to soak up the sun with full resort facilities but still have easy access to central Antalya and the historic attractions of its old city district, its dining options, and plentiful shopping opportunities, as Lara is only 15 kilometers to the east.
Most of the beachfront is free and fully accessible to the public, though there are private hotel-owned patches of sand dotted along the shore.
The water at the shoreline is shallow and the descent gentle, but note that the sea is less calm here with (mostly) small waves, so a close eye should be kept on small children playing in the water at all times.
Café and restaurant choice both on the beach and a short walk off the beach, is excellent, and amenities such as sun bed and umbrella hire, bathrooms, and changing rooms are all provided.
There are also plenty of water sports on offer at the beachfront, including stand up paddleboarding, parasailing, boating, and jet skiing, so there are plenty of activities beyond the sunbed.
7. Çıralı Beach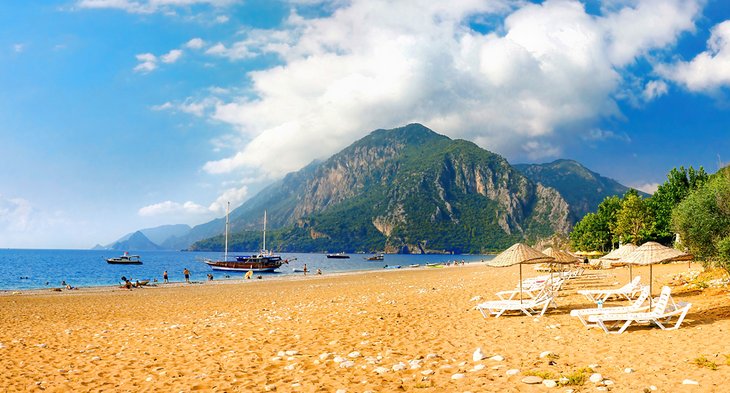 Highlight: Laid-back beach getaway destination for independent travelers
Çıralı Beach, 80 kilometers southwest of central Antalya, is one of the Antalya region's most tranquil beach towns.
Development here has been kept low-key, so instead of the beach being backed by large resorts, an assortment of guesthouses, beach camps, and small boutique hotels are set amid the orchards of the lush valley behind the sand, all backed by forested mountain slopes.
It's an alternative beach destination for independent travelers who don't like resorts, and even in midsummer, you won't find the beach crammed like at other beach towns.
Çıralı Beach is actually the long northern section of the wide shingle and sand beach that becomes Olympos Beach at its southern end.
8. Belek Beach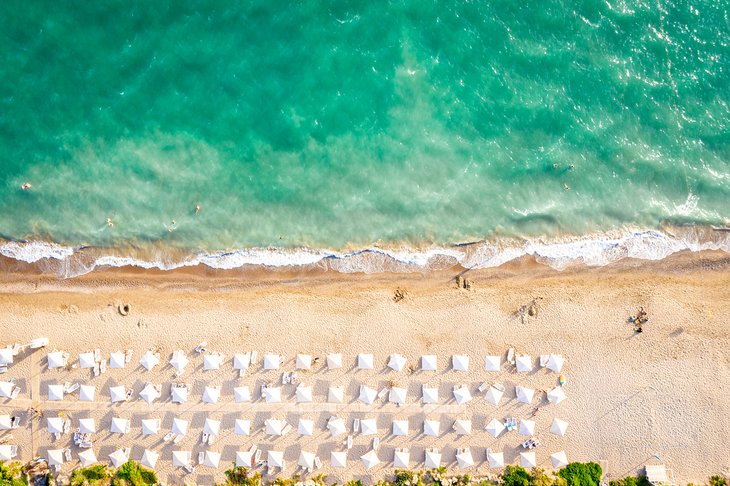 Highlight: Resort-focused shore favored by families and golf enthusiasts
The resort settlement of Belek, 43 kilometers east of Antalya, is a long and wide stretch of grey sand and shingle shore.
Large resorts backed by golf courses lie at both ends of the beach, with their own private sections of sand, while the large swoop of free public beach is entered from Belek Beach Park in the center of the settlement.
Belek Beach Park is great for traveling families, with plenty to keep the kids happy when they get bored of sun and sand. Cafés; snack shops; on-beach facilities such as bathrooms, showers, and changing rooms are all here, along with playground equipment areas for younger beachgoers and a go-karting ring.
The sea is shallow at the shorefront, and there's a gradual descent to the deeper depths, so it's a good choice for less confident swimmers.
9. Kemer Beach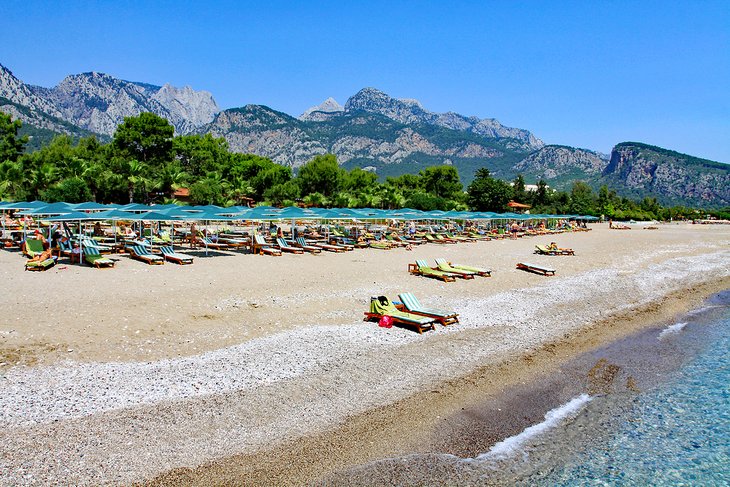 Highlight: Water sports are at your fingertips at this popular resort beach
The dedicated resort town of Kemer is fronted by the long, narrow swoop of Kemer Beach, where droves of Europeans decamp to for their summer vacation.
The beach is naturally mostly shingle here, though on the patches of private shore claimed by the hotels and resorts, which are dotted along the coastline, sand has been imported and laid down.
Offshore the sea is calm and super clear, and decently deep water is only a few meters from the shoreline, making this stretch of beach highly popular with swimmers and water sports fans.
You'll find a full caboodle of water sports on offer here, from parasailing and paddleboarding to yachting, jet-skiing, and scuba diving.
Kemer is 44 kilometers south of central Antalya.
10. Korsan Koyu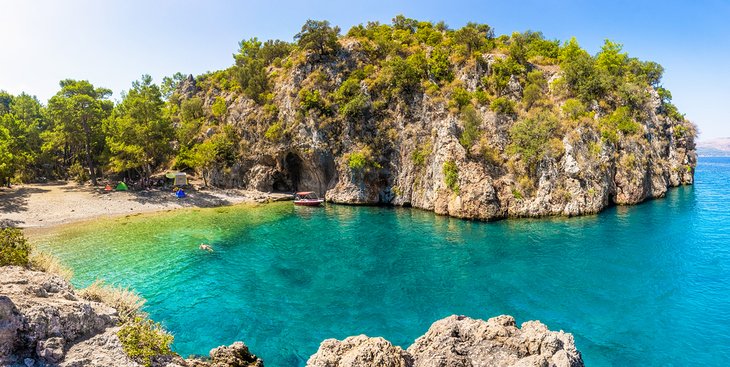 Highlight: Swimming off little hidden bays after hiking across the coast
There are plenty of tiny bays and secret coves dotted across the Antalya region's coastline, many that can only be reached on boat trips, and others that you'll need to don your hiking boots to get to.
Korsan Koyu (Pirate's Cove) is inside Beydağları National Park, which covers the swoop of forested coastal hills and mountains south from Kemer down to Finike. The cove is situated on the pine- and fir-forested rocky headland in the south of the park, reachable by road from the tiny village of Karaöz, four kilometers to the northwest.
Many people who come to the cove are hiking this section of the Lycian Way long-distance trail, as Karaöz is a popular overnight stop on the trail, and Korsan Koyu is on the trail's path as it crosses the headland between Karaöz and the village of Adrasan.
The tiny horseshoe-shaped cove is hemmed by steep cliffs and backed by fir trees behind the shingle and pebble shore, which is lapped by the shallow, crystal-clear turquoise waters.
There are organized camping areas, some with on-site cafés and other facilities only a short stroll from the beach.
11. Adrasan Beach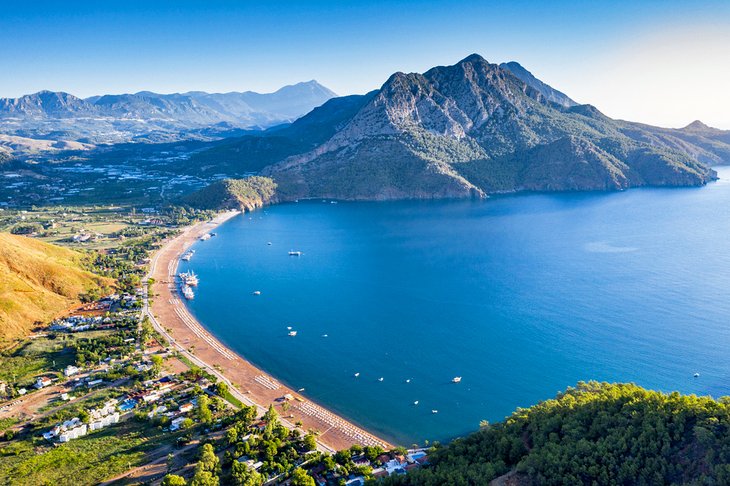 Highlight: Take a boat trip along this dramatic slice of coast from this popular day-trip beach
Squeezed between steep coastal mountain slopes, the triangular valley, home to Adrasan village, is rimmed by the wide, curving one-kilometer-long bay of Adrasan Beach.
Adrasan, 52 kilometers south from Kemer and 92 kilometers southwest from central Antalya, sits at the north of the headland that marks the southern point of Beydağları National Park. As it's a stopover on the Lycian Way long-distance trail, the accommodation is mostly guesthouses and camping sites, though there's also a handful of small, low-key resorts in the area.
Many people come here on day trips, and you'll find decent facilities along the beachfront, with a café selection, sun loungers with shades to rent, bathrooms, and freshwater showers.
Adrasan Beach is best known for its boat trips, which set off from here to explore the scenery of the headland and the island of Suluada just off the headland's eastern flank.
Antalya, Turkey - Climate Chart
Average minimum and maximum temperatures for Antalya, Turkey in °C
J
F
M
A
M
J
J
A
S
O
N
D

15

6

15

6

18

8

21

11

25

15

30

19

34

22

34

22

31

19

26

15

21

11

17

8

PlanetWare.com
Average monthly precipitation totals for Antalya, Turkey in mm.

239

191

102

48

28

8

5

3

13

71

150

224
Average minimum and maximum temperatures for Antalya, Turkey in °F
J
F
M
A
M
J
J
A
S
O
N
D

58

42

59

43

64

46

70

52

77

58

86

66

92

72

92

71

87

66

79

58

69

51

61

45

PlanetWare.com
Average monthly precipitation totals for Antalya, Turkey in inches.

9.4

7.5

4.0

1.9

1.1

0.3

0.2

0.1

0.5

2.8

5.9

8.8
The best time to visit Antalya for its beaches is from late Spring through Fall (the months of May, June, July, August, September, and October). Peak season is the summer months of July and August when it's hot, hot, hot with temperatures ranging between 2`1 and 34 degrees Celsius, high humidity, and endless blue skies. Water temperatures hover around 28 degrees during these months.
Visitors who want to mix up their beach break with sightseeing at many of the Antalya region's archaeological sites may want to choose the milder months of Antalya's beach tourism season for their trip. In May and June, the weather here is still mainly sunny and pleasant, but average daytime temperatures for these months tend to sit between 21 and 25 degrees, which can make traipsing around ruins a more appealing prospect.
If you do like the heat, though, but want to travel outside of the busy school holiday period, head here during fall. The hot weather continues into September and October when daytime temperatures average between 22 and 25 degrees, but can still reach up to 31.