14 Top-Rated Attractions & Things to Do in Safranbolu
If you're heading into the vast central Anatolia region of Turkey, put Safranbolu on your destination list. Though big-hitter tourist attractions and things to do are not as plentiful as other towns, this UNESCO-listed town is one of the best places to visit in Turkey to slow down your travels and simply soak up the atmosphere.
This once important trade route town is a daydream of the grand Ottoman days, and many perfectly preserved mansions from the era still grace the streets of the old town district.
There is shopping galore here, with the workshops of traditional artisans snuggled into the alleyways, while foodie tourists could spend their entire time gorging in the many sweet shops, where tempting displays of Turkish delicacies lure all but those with the most willpower.
Find out what to do while here using our list of the top attractions and things to do in Safranbolu.
1. Stroll the Old Town Neighborhood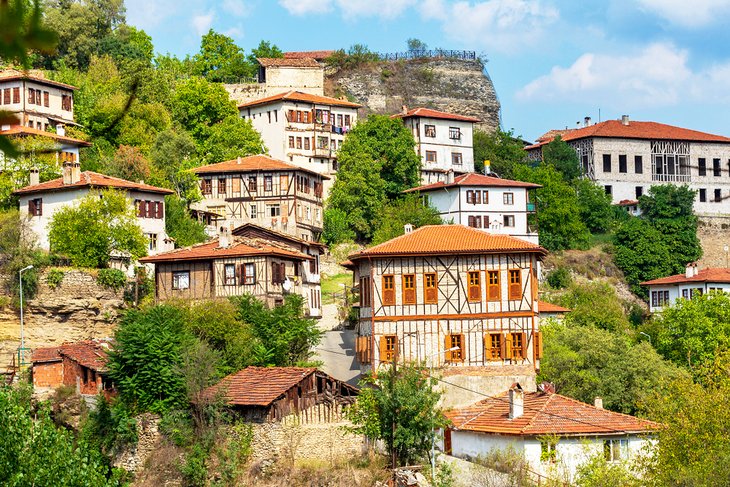 Safranbolu's old town district of Çarsı is a UNESCO-protected site, where narrow cobblestone alleyways wind up the hillside, lined by squeezed-together Ottoman timber-framed mansions.
This neighborhood is home to Turkey's best preserved Ottoman-era architecture, and the vast amount of Safranbolu's visitors are here simply to explore the twisty lanes and admire the lost-in-time ambience of this old trading city that rose to prominence in the 17th century.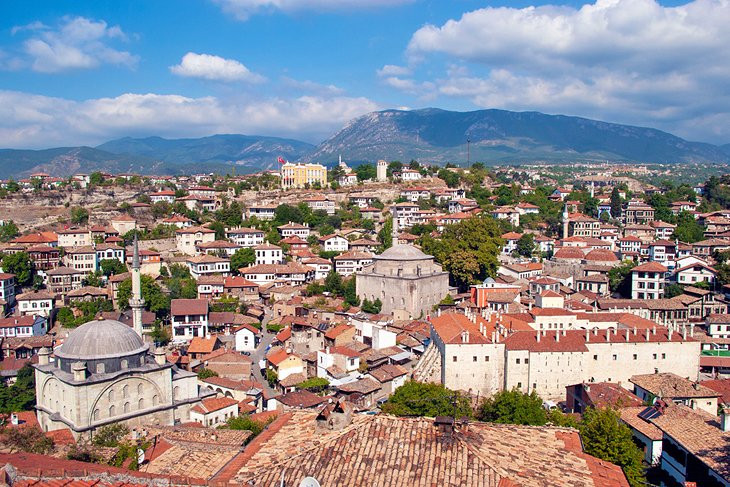 Many of the old houses that were once home to wealthy traders and merchants have been painstakingly restored and now function as boutique hotels and restaurants.
If you're interested in Ottoman life in Safranbolu, it's well worth visiting the Kaymaklamlar Evi. This traditional Safranbolu house is an ethnographical museum with all the rooms devoted to dioramas displaying typical scenes of daily life in that era.
2. Overnight in an Ottoman Mansion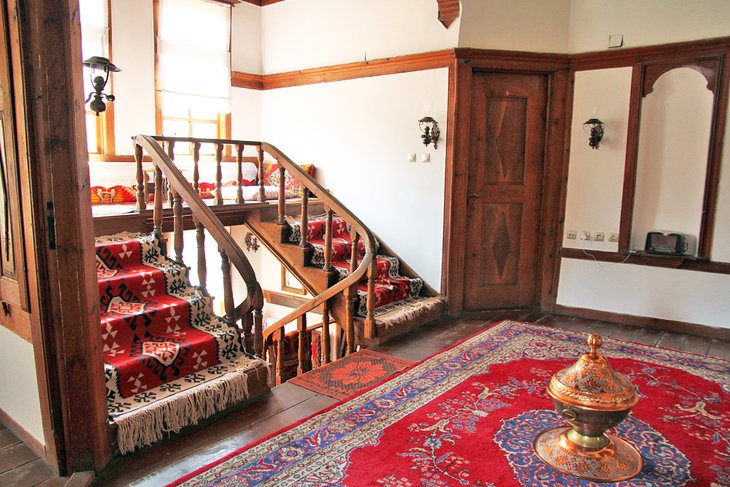 Although Safranbolu receives many day-trippers, and a lot of bus tours treat it just as a stop-off on the way to somewhere else, one of Safranbolu's best experiences is being able to sleep for the night in a konak (traditional Ottoman mansion).
Many of Safranbolu's accommodation options have been converted sympathetically, preserving as many original architectural features as possible and decorated in-keeping with the Ottoman character of the building.
This does mean that facilities such as en suite bathrooms can be tiny (in the most traditional konaks, bathrooms are hidden in cupboard spaces) so Safranbolu's boutique hotels are not for everyone, but for ambience and character they can't be beaten.
3. Scrub and Soak in the Historic Cinci Hamam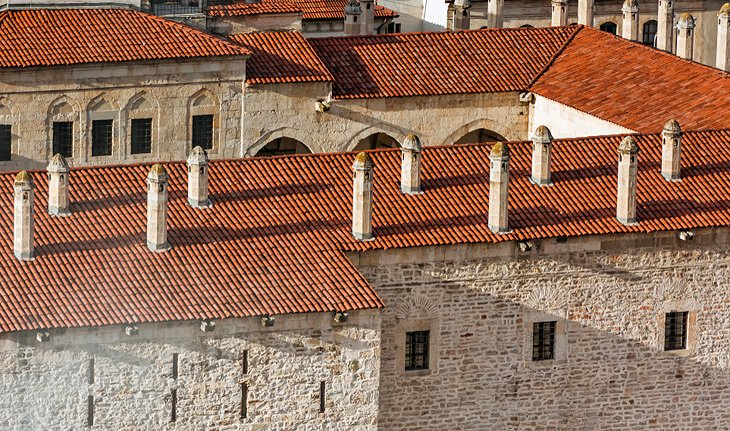 This famed hamam (Turkish bath) has been wonderfully restored and is one of the best hamams to experience the full traditional scrub, soak, and steam bathhouse treatment in the country outside of Istanbul.
Turkish bathhouses were an important community element during the Ottoman era before running water in houses became commonplace.
A trip to the hammam wasn't just about hygiene, though. This was the place where you came to catch up on all the gossip and even do business deals.
Today, the rejuvenating effects of the traditional scrub, leaving you squeaky clean and rosy pink, are a good enough reason to indulge.
Address: Kazdagliogulu Meydanı
4. Visit the Köprülü Mehmet Paşa Mosque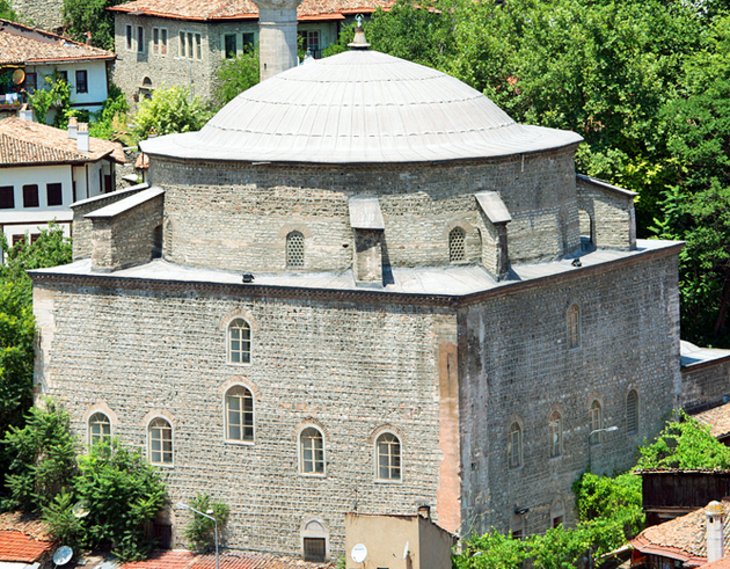 There are several good examples of mosque architecture in Safranbolu, but the Köprülü Mehmet Paşa Mosque is regarded as the most interesting.
Built in 1661 by Köprülü Mehmet Paşa who was the Grand Vizier of the Ottoman Empire, this squat mosque with its helmet-roof has a serene and recently restored interior, featuring a marble mihrab (niche indicating the direction of Mecca), which is well worth visiting during your exploration of Safranbolu's alleys.
In the courtyard, you'll see a metal sundial, which was added in the 19th century.
The mosque is on the main lane through the old town, right next door to the Shoemakers Bazaar, so it's easy to find.
Address: Izzet Paşa Sokak
5. Sample Safranbolu's Sweet Treats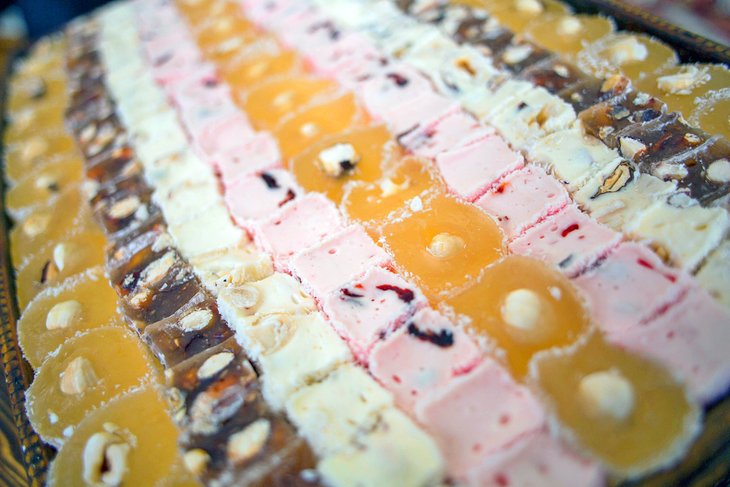 Safranbolu is known for its locally produced sweets, particularly the many varieties of lokum (Turkish delight).
The main alleys of the old town neighborhood are packed with sweet shops where you can sample and buy lokum in a huge range of flavors, from the standard rose water to saffron and chocolate and lokum stuffed with pistachios and walnuts.
It's a rare visitor who completely resists entering one of Safranbolu's sweet shops during their time in town.
As well as lokum, there are many varieties of helva (sweets made from tahini paste) to sample, and plenty of baklava, stuffed with either pistachios or walnuts.
6. Photograph Old Town Rooftops from the Cinci Hanı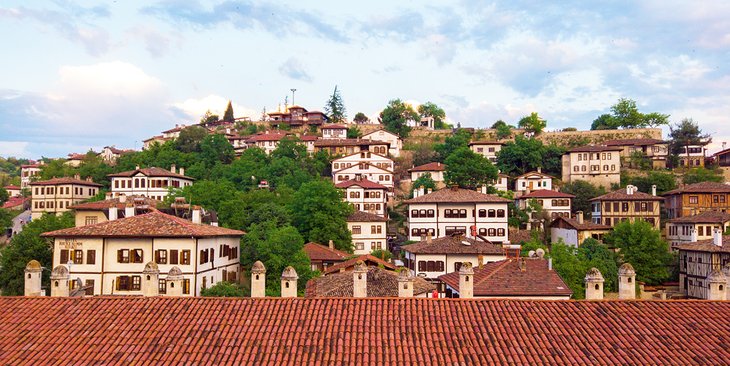 In the center of the old town district, Safranbolu's Cinci Hanı was once the main caravanserai where traveling traders and merchants slept as they passed through town on their journeys east to west along the trade routes.
Built in the 17th century, the han has been well-preserved. The rooms on the second floor were originally used as the inn rooms where the traders bedded down, while the interior courtyard downstairs is now a café and restaurant.
The main reason to come here, though, is to clamber up the stairs to the building's roof for the panoramic views across the old town district's tile roofs.
Address: Cinci Han Sokak
7. Shop for Handicrafts at Safranbolu's Bazaars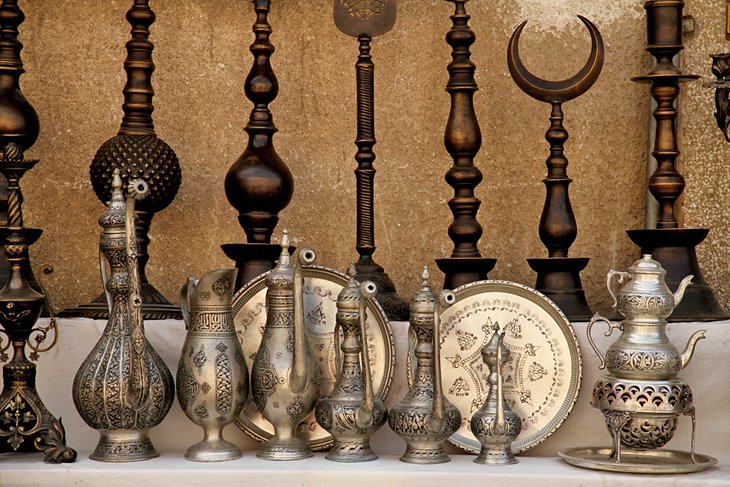 The great days of trade may have ended, but Safranbolu's bazaars are still jam-packed with wonderful locally made craftwork.
The Shoemakers Bazaar (Yemeniciler Arastası) is the most popular place to hunt for crafts, with its small shops, set around a cobblestone courtyard, selling a range of traditional leather products and lacework, as well as more contemporary felt craft products.
The bazaar is near the center of the old town district on Arasta Arkasi Sokak.
For engraved metalwork, old and new, head all the way down Izzet Paşa Sokak and take the bridge over the creek to the Metalworkers Bazaar (Demirciler Arastası).
The small shops and workshops here offer a huge range of products, from finely engraved coffee sets and copper plates to farming implements.
8. See the Kent Museum's Collection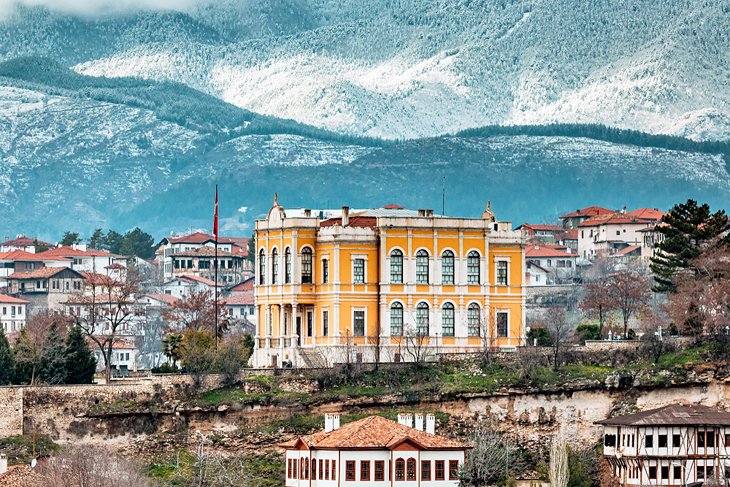 Huff your way up the steep hill to visit this old yellow government building, which has been turned into Safranbolu's city museum.
The small collection here traces the history of Safranbolu and the culture of the town.
There are some excellent, well-laid out exhibits, with displays of typical household objects, jewelry, costumes, and textiles of the Ottoman era, as well as an ethnographic section downstairs with a mock-up of traditional craft workshops.
The hill summit plaza the museum sits in also offers panoramic views of the old town's rooftops below. In the plaza there's also a clock tower dating to the 18th century.
Address: Çesme Mahallesi Hükümet Sokak
9. Explore the Village of Yörük Köyü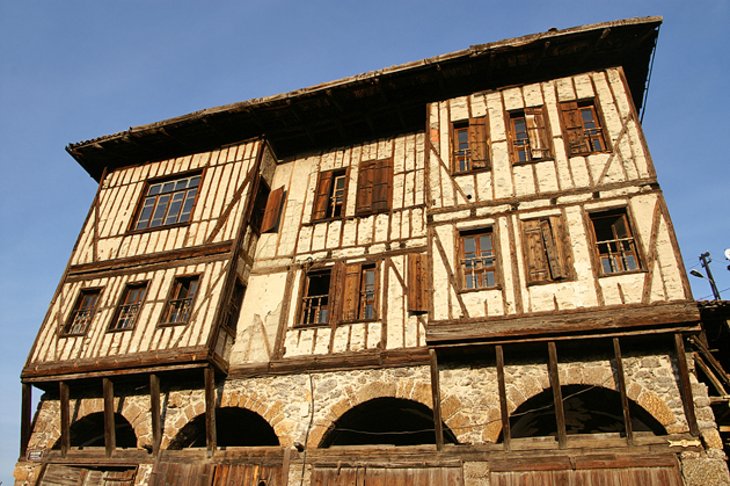 Yörük Köyü (Nomad Village), 14 kilometers east of Safranbolu, is a tumbledown village packed full of character.
Like Safranbolu, it is home to row upon row of gorgeous Ottoman mansion remnants, though many of them are falling into a severe state of dilapidation.
The village was created when the government forced nomads to settle here (hence the name) and once settled, the new village became a prosperous center.
Today (except on sunny weekends, when it's packed to the brim with visitors from Ankara and other nearby cities taking a break from big town bustle), it's a quiet backwater, with the cobblestone alleyways only overrun with chickens.
It's a charming, higgledy-piggledy kind of place that allows you to get a sense of rural life.
10. Explore the Bulak Caves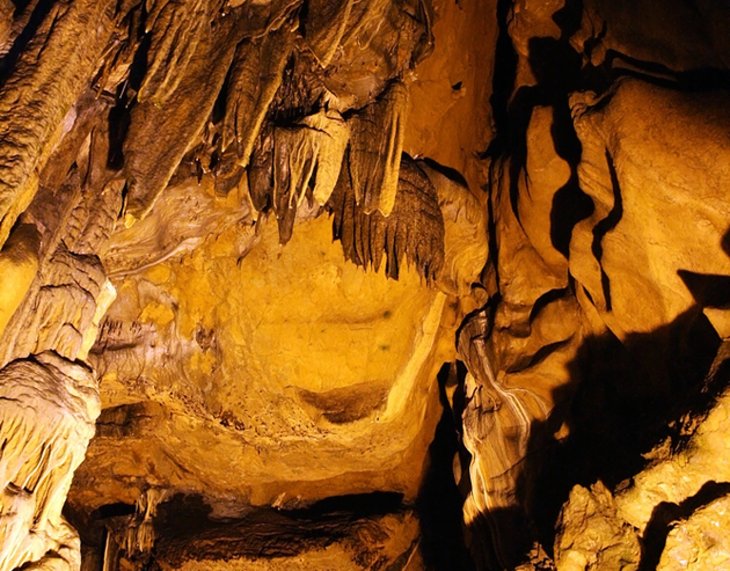 About 10 kilometers north of Safranbolu, this cave system runs for six kilometers into the Gurleyik Hills though you can only explore 500 meters of it.
Stalactites and stalagmites are all along the way, and a trip here is an interesting diversion from looking at Ottoman architecture.
The caves can get very busy with local school groups from May to September. If you're traveling during this period, try to get here early in the day, as the first coach loads don't tend to arrive until after 10.30am.
Whenever you go (even in the height of summer), remember to throw a sweater over your shoulders before you enter. It gets chilly very quickly once you head underground.
11. Day Trip to the Incekaya Aqueduct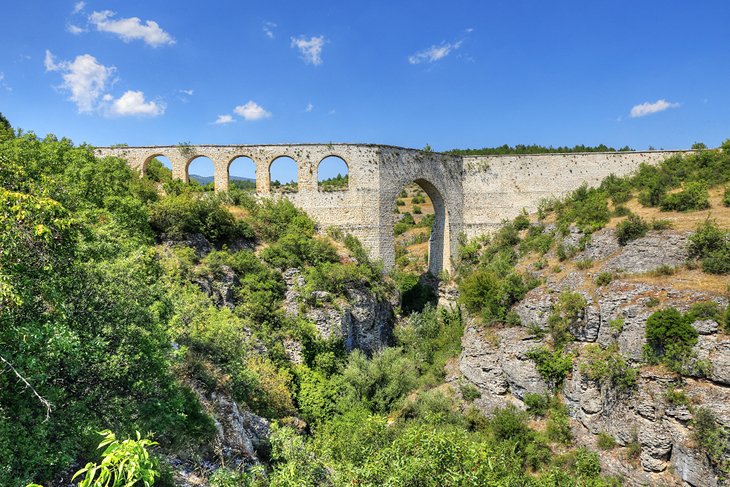 This aqueduct was first built by the Byzantines and later extensively restored during the 18th century. It sits seven kilometers north of Safranbolu, spanning the breadth of the Tokatlı Gorge.
Unfortunately, due to safety considerations, you're no longer allowed to walk across the aqueduct itself, but you can get great photos of it from the entry point into the gorge.
When you've finished with your snaps, take the walkway down into the gorge for an easy two-kilometer walk amid the lush canyon scenery.
For more panoramic gorge vistas, head to the Crystal Terrace, a glass balcony suspended over the gorge with an attached café.
12. Add Kastamonu onto Your Safranbolu Trip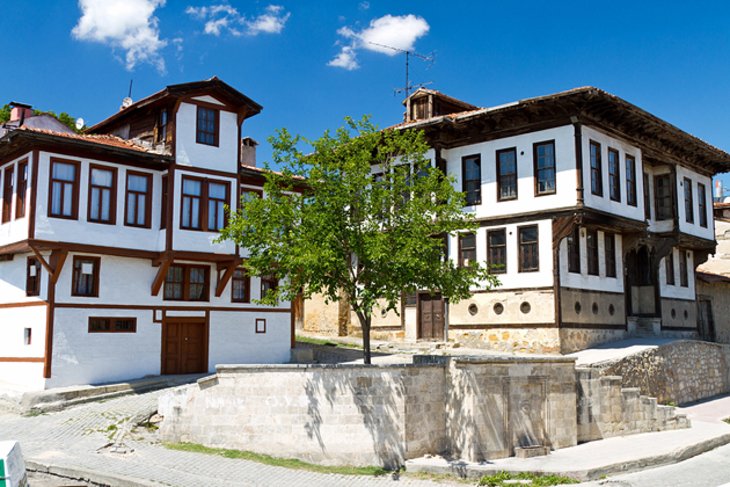 If you want to experience a slice of Turkish provincial life, head to the city of Kastamonu, 109 kilometers east of Safranbolu.
Well off the tourist trail, Kastamonu has a bustling center with a vibrant traditional bazaar area full of workshops and Ottoman-era monuments and buildings.
Just off the main street are lanes lined with crumbling Ottoman mansions in various states of disrepair.
The Kastamonu Archaeological Museum is rather brilliant, with a small but beautifully laid-out collection of finds from local excavations, while the recently restored castle, which dates back to the Byzantine era and sits atop the ridge overlooking town, has sweeping views of the city below.
13. Hike in the Küre Mountains (Küre Daglari)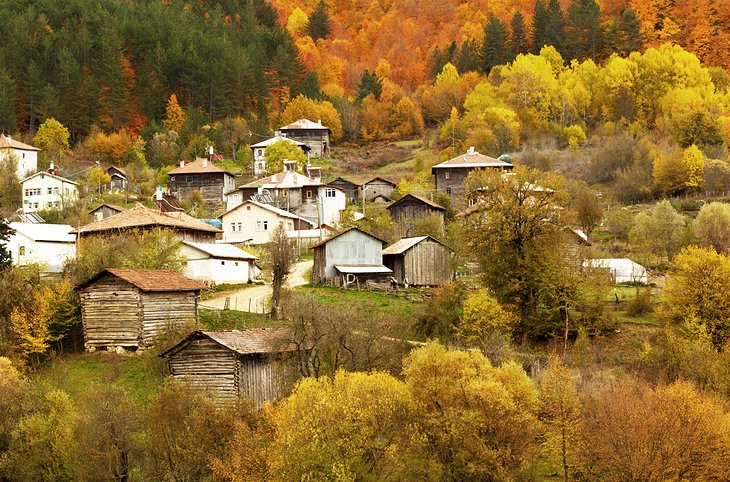 For hiking and outdoor enthusiasts, the Küre Mountains, near Pinarbası, are one of Turkey's untouched wilderness areas, far off the tourism trail.
The densely forested hills hide waterfalls, lakes, and thermal springs and have bags of potential for trekking and hiking.
It is quite undeveloped, and although there is a network of hiking trails, regular maintenance is lacking, so this is not the place for beginner hikers. If you're an experienced outdoors person though, this spot could be right up your alley.
The most famous sight in the Küre Mountains area is the Horma Canyon which leads to the Ilica waterfall. Here, a wooden walkway leading above the river has recently been built to aid access into the area though construction of the path is ongoing.
14. Visit Kasaba Mosque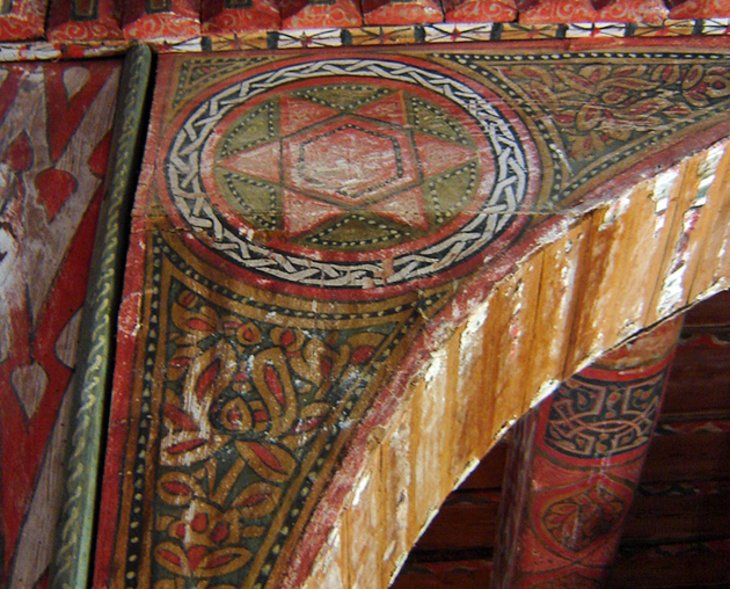 The tiny hamlet of Kasaba, 111 kilometers east from Safranbolu, is home to one of Turkey's best examples of wooden mosques.
The Mahmud Bey Mosque (Mahmud Bey Cami) may be tiny, but walk through the main door and you'll discover a finely restored wooden interior, which has been richly decorated with floral motifs. To get a better look at the painted designs on the ceiling rafters, you can climb up the creaky stairs to the gallery above.
The trip out here, with both sides of the road lined with agricultural fields and rolling hills beyond, is a slice of Turkish rural life.
Kasaba is 17 kilometers northwest from Kastamonu and is easily combined with a visit to the city.
More Related Articles on PlanetWare.com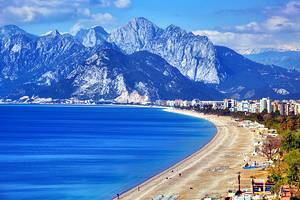 More Historic Towns: Istanbul is Turkey's ultimate historic town with its wonderful mix of Byzantine and Ottoman heritage buildings, mosques, and churches. For more Ottoman mansions like Safranbolu's, head to Antalya, which is a beautifully preserved Old Town district.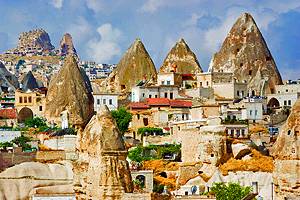 Heading Further Inland: From Safranbolu, it's an easy drive to Turkey's capital, Ankara, where you can visit the Atatürk Mausoleum, which commemorates the founder of modern Turkey. Head south from Ankara to visit Konya, home to the famous whirling dervishes. Then drive east to Cappadocia, with its bizarre landscape of rock valleys sculpted by wind and rain and Byzantine era cave churches carved out of the rock.