From Istanbul to Bodrum: 5 Best Ways to Get There
For an itinerary combining both Istanbul's wealth of monuments and mosques with some beach time and sensational coastal scenery, add Bodrum to your Turkish travel list.
As Bodrum is one of Turkey's most popular vacation destinations, you'll find plenty of transport choices from Istanbul, whether you want to meander your way there, making the journey as much as part of the trip as the destination, or need the quickest route to make the most of your time at the beach.
Plan your journey by finding out the best ways to get from Istanbul to Bodrum.
1. From Istanbul to Bodrum by Airplane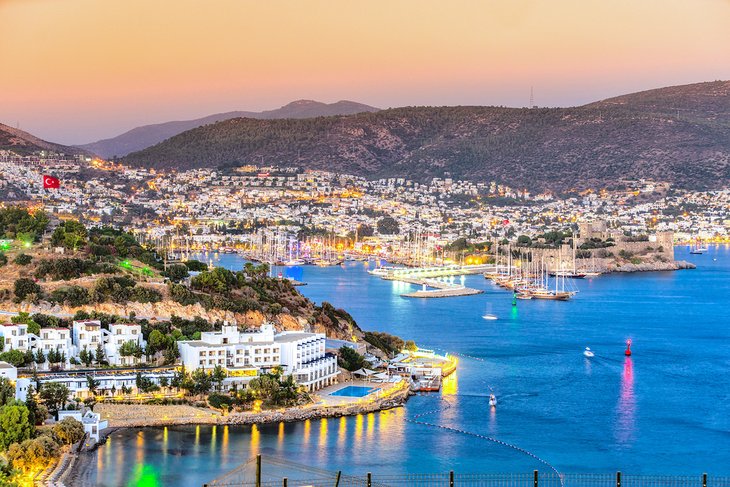 If you're heading from Istanbul to Bodrum, you'll find plenty of flight choice to whizz directly from Istanbul's historic grandeur to Aegean Coast scenery.
The nearest airport to the Bodrum Peninsula is Milas-Bodrum Airport, 37 kilometers northwest of Bodrum Town.
Turkish Airlines (and their subsidiary Anadolu Jet) offer between five and nine flights daily between Istanbul and Bodrum, depending on the time of year. Departures are divided between Istanbul International Airport and Sabiha Gökçen Airport. Pegasus Airlines run seven daily flights, all departing from Sabiha Gökçen. Flight time is just over one hour.
Fare prices can yo-yo more on this route than on other Turkish domestic services, so your choice of flight may be just as much about cost than departure airport and time.
Both Istanbul International and Sabiha Gökçen Airports are lengthy drives outside of the center but are connected to the central city by regular airport buses.
From Milas-Bodrum Airport, Havaş airport buses are scheduled to connect with every flight and head to Bodrum Town, taking around 45 minutes for the journey. There are also taxis at Milas-Bodrum Airport.
Many passengers heading to a resort outside of town, on the peninsula, pre-organize private door-to-door airport transfers with their hotel.
2. From Istanbul to Bodrum by Flight & Bus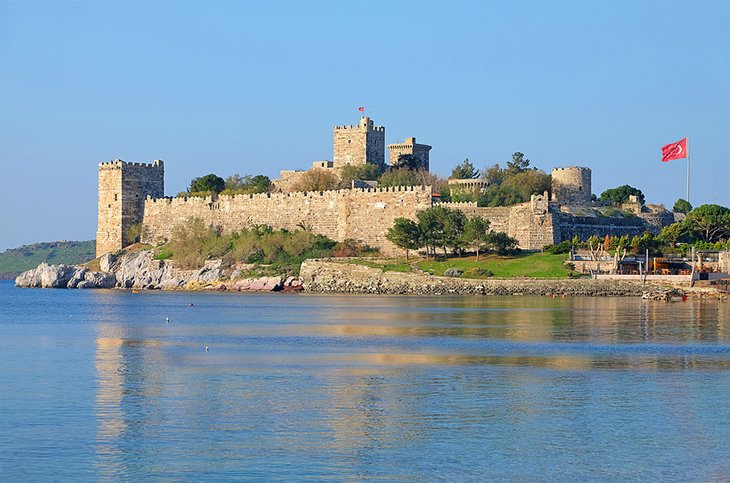 If you want to add some of the Aegean's most famous tourist attractions into your journey but are a tad short of time, flying to Izmir, instead of directly to Bodrum, is a good idea.
Izmir is the gateway to some of Turkey's premier sights. The Roman ruins of Ephesus (79 kilometers south) and Pergamum (110 kilometers north) are both only around a one-hour drive from town. While Pamukkale's calcite terraces, with the Roman ruins of Hierapolis above, are 224 kilometers to the east.
You could fly into Izmir, spend a couple of days exploring the surrounding region's wealth of historic attractions, and then continue on to Bodrum by bus.
Both Turkish Airlines and Pegasus Airlines offer plenty of flight choice from Istanbul to Izmir Adnan Menderes Airport.
When you've finished your Izmir side-trip, there are hourly buses to Bodrum from Izmir Otogar (bus station), taking three hours for the trip.
3. From Istanbul to Bodrum by Bus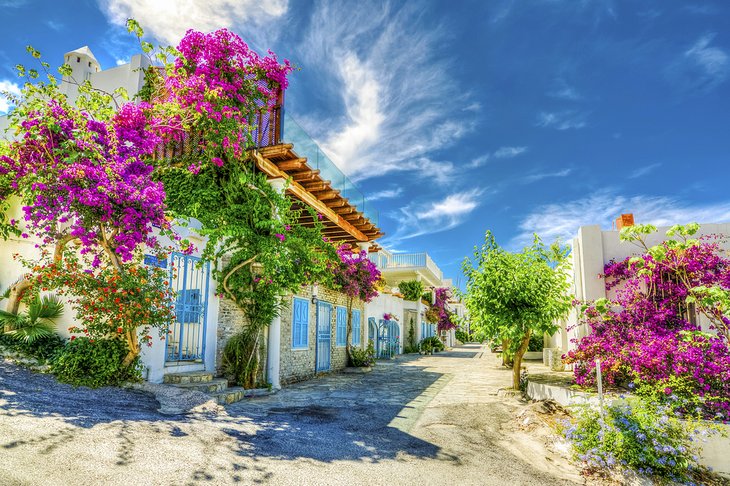 With a journey time of between 11 and 13 hours, there are more evening than day departures on the direct intercity bus route from Istanbul to Bodrum Town.
Pamukkale Turizm and Metro Turizm bus companies run the most services, with Ulusoy and Kamil Koç also offering some good departure times.
If you want to travel by day bus, choose a departure time between 6am and 7am, so you don't arrive in Bodrum Town late at night. For overnight services, a departure time of 8pm deposits you in Bodrum Town at around 8am.
Many of the buses on this route use 2+1 seating configuration with one-seat rows on the left-hand side of the bus - a major bonus for solo travelers.
All intercity buses are fitted out with comfortable, airline-style seating that comes with individual entertainment systems and phone-charging points.
Complimentary hot and cold drinks and small snacks are handed out at intervals by the bus's conductor, and buses stop every three to four hours for bathroom and dining breaks. Buses also normally offer complimentary Wi-Fi.
Buses from Istanbul to Bodrum depart from two stations. Istanbul's Esenler Otogar is the city's main bus station and has the most departures. If heading there by public transport, the station is the "Otogar" stop on the metro line.
Istanbul's Alibeyköy Otogar is in the city's northern suburbs. It can be reached by pubic transport using Istanbul's new T5 Tram line, which runs along the Golden Horn and direct up to the bus station.
All buses to Bodrum arrive at Bodrum's new bus station (called the Yeni Bodrum Otogar), which is located in Torba, five kilometers north of town.
From the bus station there are minibuses into central Bodrum every 30 minutes. You have to buy a city bus card to use the minibuses. There are automatic ticket dispenser machines where you can buy cards and top up your city bus card credit at the Yeni Bodrum Otogar.
The minibuses deposit you at a small minibus station right in the center of Bodrum Town. Some in-town accommodation is within easy walking distance of the station, though note that Bodrum is hilly, so if you have a lot of luggage, a taxi may be a better option.
If you're staying out of town, there are regular minibus services along the coast to the peninsula villages from the minibus station in central Bodrum.
4. From Istanbul to Bodrum by Car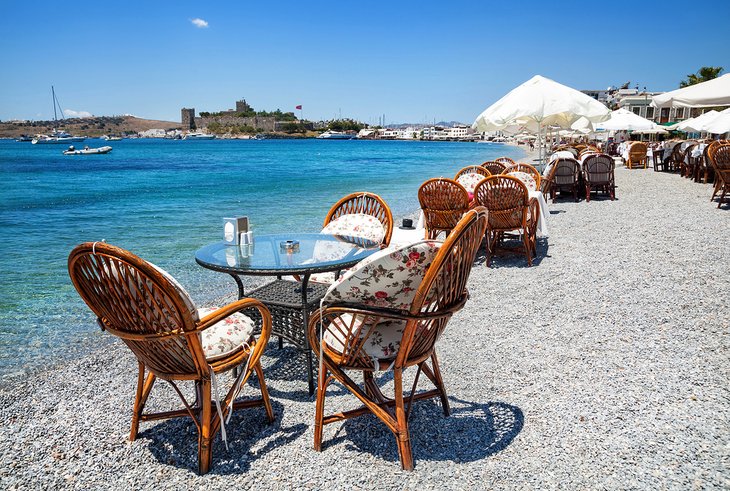 If you're going to hire a car for the journey between Istanbul and Bodrum, it makes sense to turn the road trip into a central part of your Turkish travels and spend a few days seeing the sights along the way.
The quickest route between Istanbul is inland, via Bursa, (697 kilometers). With slight detours, both Pergamum and Ephesus are easily visited along this route. You could take two days for the drive, overnighting in Bergama (Pergamum's modern town) along the way.
With more time for the drive, meandering down the Aegean coast road, via Çanakkale (for the Gallipoli Peninsula and Troy), Ayvalık or Bergama (for Pergamum), the Çeşme Peninsula, and Selçuk (for Ephesus) makes for a fantastically scenic journey, packed full of major historic tourist attractions.
You'd need to set aside four days at the minimum for this, though five days would allow you to explore more and spend more time at sights.
5. From Istanbul to Bodrum by Train & Bus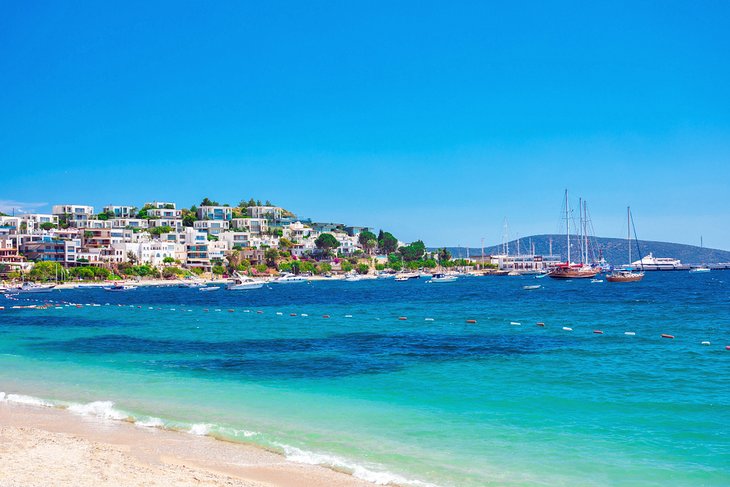 Although you can't travel directly by train to Bodrum, you can get all the way to either Denizli (the gateway to Pamukkale) or Izmir using the train, and then catch a bus to Bodrum onward from either.
Definitely a more roundabout route than others, this option suits travelers with time on their hands and who enjoy the journey being part of the experience.
The most interesting route to choose is via Denizli, as the Pamukkale Ekspresi train is a day journey, making the most of the scenic train component of the trip.
From Istanbul, you first need to catch one of the 11 daily high-speed trains from Istanbul to Eskişehir. The journey takes three hours as it zips inland. As there is only one train daily to Denizli from Eskişehir, and it leaves in the morning, you'll need to overnight in town.
Eskişehir is a vibrant university city with some interesting museums, a great art gallery, and a preserved old town area, so it's an interesting diversion along the way.
The Pamukkale Ekspresi train is an eight-hour journey between Eskişehir Gar (train station) and Denizli Gar. Once in Denizli, the bus station is opposite the train station, so it's a quick hop over the road to catch one of the regular minibuses that trundle for 20 minutes north up to Pamukkale village.
In keeping with the slow-travel ethos of this itinerary, it makes sense to spend the entire next day in Pamukkale, visiting Hierapolis and the white travertine terraces below it in the morning, and the nearby ruins of Laodicea (also known as Laodikeia) later on in the day.
When you're ready to move on, there are regular buses departing Denizli Otogar (bus station) for Bodrum, with most services leaving in the morning. The journey takes four hours.