15 Top-Rated Tourist Attractions in Mardin
Mardin's history reads like a "who's who" of conquest.
The Assyrians, Arabs, Seljuk Dynasties, Kurdish, Persian, Mongols, and Ottomans have all fought for control over this town.
Today, this town of old stone houses that spread out below a cliff ridge in a tumble of labyrinthine alleyways provides bucket loads of old-world ambience and things to do.
With its wealth of historic buildings – some now converted into boutique hotels – Mardin's timeless allure is its main attraction, bringing a brand new batch of visitors here to soak up the cultural heritage rather than invade and conquer. It's one of the best places to visit in Turkey's southeast to experience the rich history of this region.
Note: Due to security and safety concerns, please check travel advisories before visiting this region.
Check out what to do while here with our list of the top attractions and things to do in Mardin.
1. View the Mesopotamian Plains from the Zinciriye Medresesi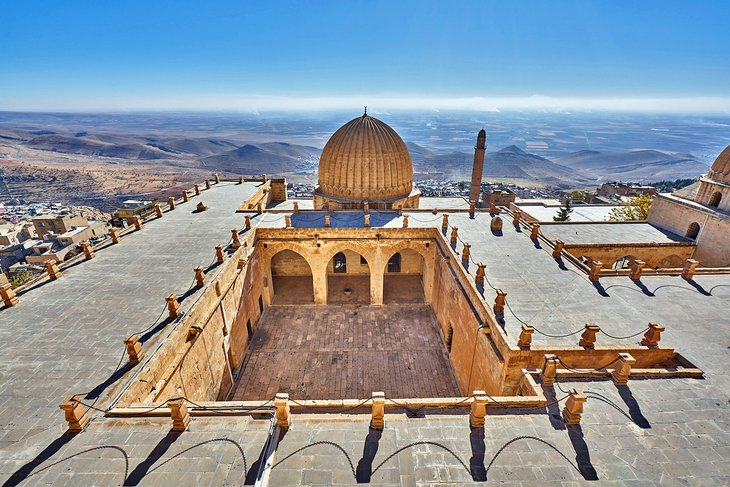 This old medrese (theological college) was founded in 1385 by Isa Bey.
As well as being one of Mardin's best preserved buildings, it's noted for the stunning views from its rooftop that swoop over the entire town and out to the Mesopotamian Plains below.
The complex is comprised of a domed mosque, a mausoleum, and two tranquil inner courtyards.
The architectural highlight of the building is the intricately decorated and imposing doorway, which is a beautiful example of Islamic artistry.
Don't miss the tiny mosque's grand mihrab (prayer niche).
2. Meander Mardin's Alleyways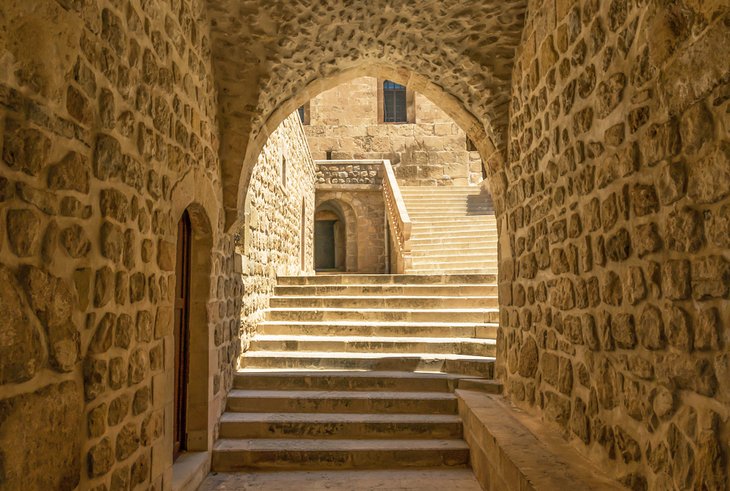 Although Mardin is home to several landmark historic buildings, most visitors' favorite thing to do in town is to simply wander the town's cobblestone lanes, seeking out small details in the finely preserved stone facades of the buildings and discovering the skinny back alleys.
Because Mardin sprawls across a hillslope, expect plenty of up and down on an aimless stroll, with steep staircases connecting some lanes. Wear good walking shoes.
Much of the old town district is car-free, which makes exploring here a pleasure. There are expansive views across the Mesopotamian Plains below at several points.
Plenty of cafés, many in restored stone-cut houses, are dotted around Mardin and make for great stops while walking.
3. Admire Medrese Architecture inside Kasımiye Medresesi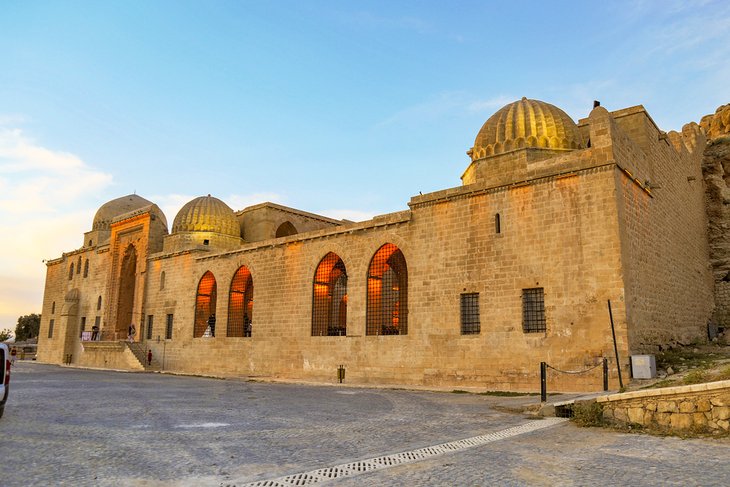 This 15th-century medrese complex consists of a theological college and domed mosque.
The entire complex has a peaceful atmosphere, with its buildings set around graceful courtyards.
Upstairs, you can explore the rooms where students once studied and lived while learning the Qur'an.
Culture-vulture tourists shouldn't miss a visit here, as this is the best medrese attraction in town, where you can understand and appreciate how these buildings would have originally functioned.
As with the Zinciriye Medresesi, there is some astonishingly elaborate stone carving work on the doorway and another gorgeous vista to admire from the rooftop – an excellent spot for photographers.
4. Explore Mardin's Christian Heritage inside Forty Martyrs Church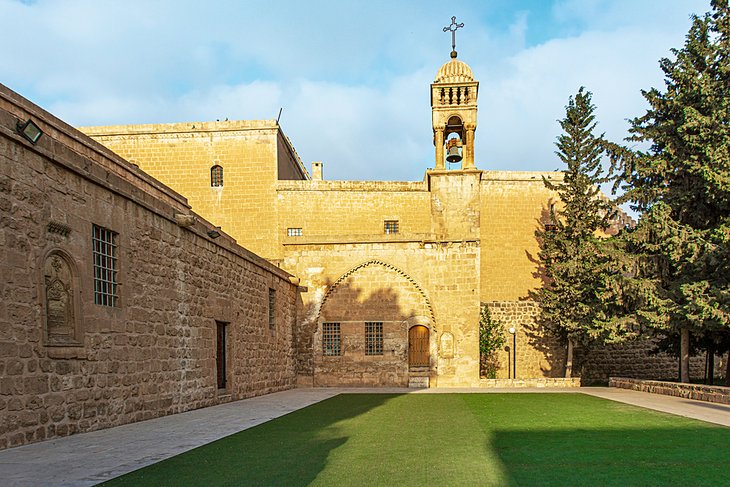 This 4th-century church still holds services every Sunday, which tourists are welcome to attend.
If you're not here on Sunday, the church is open daily for visits (the current opening times are posted on the gate).
Although small, the interior holds some beautiful icons and paintings that are definitely worth a peek.
In particular, above the entrance are some intricate carvings commemorating the Christian martyrs of Cappadocia, which the church was renamed in honor of in the 15th century.
5. Dig into the Region's Rich History at Mardin Museum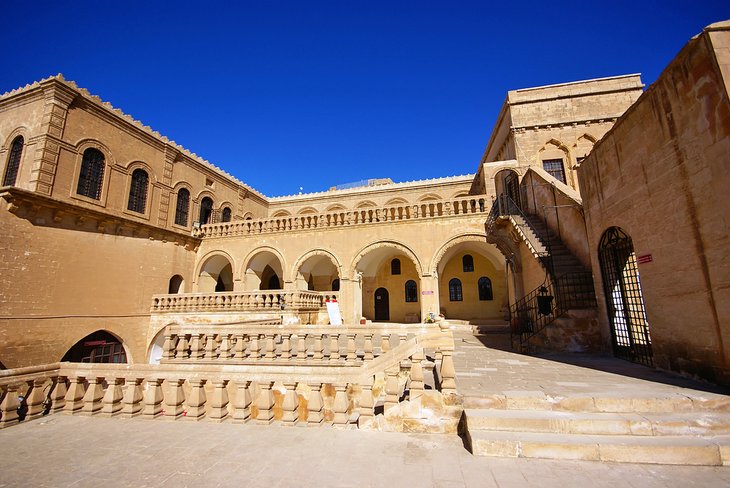 Mardin's museum is set in one of the town's grandest 19th-century villas, which was once headquarters of the Syriac Catholic Patriarchate.
The well-curated collection inside may be small but it highlights the vast history of Anatolia's southeast region. In particular, the displays of Assyrian and Bronze Age pottery are excellent.
Even if you're not a museum fan, the building is worth a visit simply to walk through its ornate courtyard and up to its terraces with their regal colonnades.
It has been restored to an impressive standard, and walking through the rooms gives you a good idea of the fine style in which local merchants and others high up in the echelons of Mardin society back then would have lived.
6. Admire the Ulu Cami's Minaret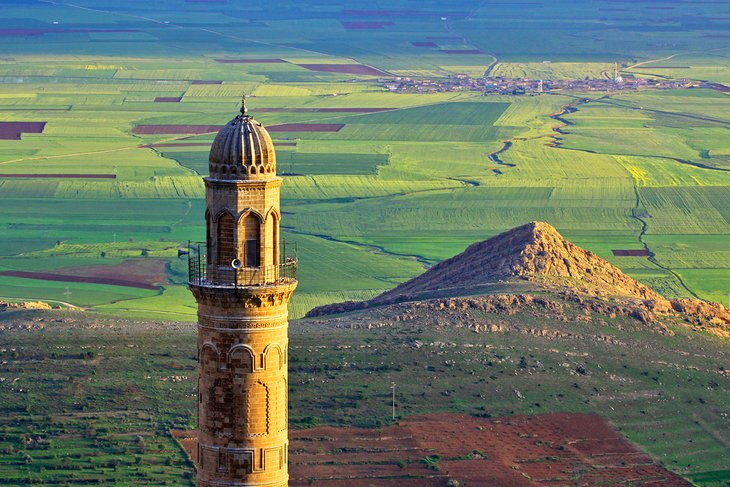 Tucked into the eastern edge of the bazaar neighborhood is the Ulu Cami (Grand Mosque), built in the 11th century by the Artuqid Dynasty.
The minaret, with its unique stone carvings, is one of Mardin's most recognizable and photographed landmarks, and along with the vast interior courtyard, is the highlight of a visit here.
The building suffered badly during a Kurdish uprising in 1832, and today the interior prayer room, divided into three sections, is rather plain.
If you're interested in mosque architecture, there are plenty more mosques in town to explore, and most of them are strung out along, or just off, Cumhuriyet Caddesi.
The 14th-century Şehidiye Mosque has a needle-like minaret that boasts fine carvings.
Heading east along the road from here for about 200 meters, you'll arrive at the bulky, golden-stoned Melik Mahmut Mosque, which also dates from the 14th century.
7. Shop at Mardin Bazaar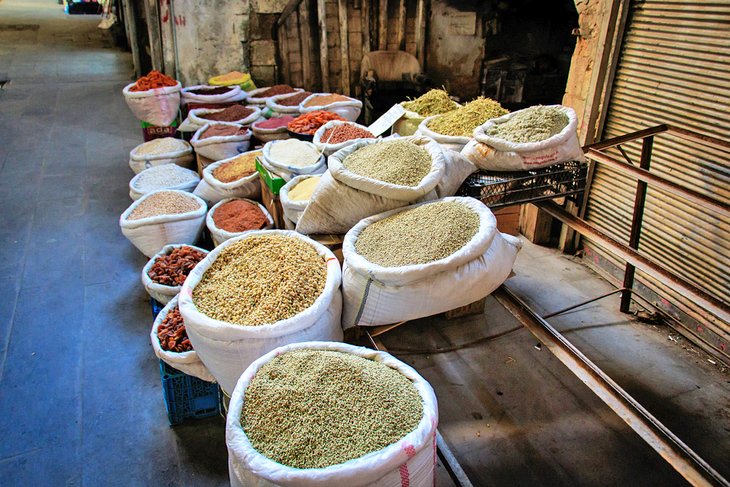 Mardin's bazaar area spills down the slope, off the main street of Cumhuriyet Caddesi.
This neighborhood of narrow cobblestone alleys linked by staircases is where you come to soak up the bustling heart of this ancient town.
As many of the lanes can't be accessed by cars, donkeys are still used for transport by some traders here, and you'll spy them (often touting tasseled harnesses) pulling carts to haul goods.
Although some stalls have now devoted themselves to tourist souvenirs, this is still a thriving local bazaar, with vegetable and fresh produce sellers; shops selling everything from bed frames to kitchenware; and traditional craft workshops with woodworkers, metal workers, and other artisans.
It's a fascinating place for a stroll and among Mardin's top places to visit.
8. Delve into the Roman Ruins of Dara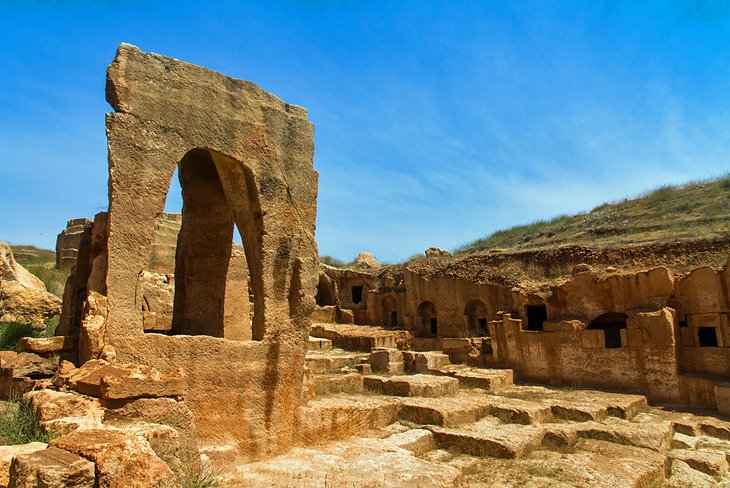 The ancient Roman city of Dara, 40 kilometers southeast of Mardin, is one of southeast Turkey's hidden attractions.
While tourists flock to Turkey's famed archaeological sites of Ephesus and Pergamum, Dara receives only a handful of visitors, allowing you the feeling that you've stumbled onto your own secret ruin.
Dara was prominent for its position guarding the Roman Empire's eastern border, which rubbed up against the territory of Persia's Sassanid Empire.
Archaeological work here is still continuing. There are several different sections of ruins that can be visited, with the main highlights of the site being the extensive necropolis area of rock-cut tombs and two separate underground cisterns that were part of Dara's extensive irrigation and aqueduct system.
9. Tour the Deyrulzafaran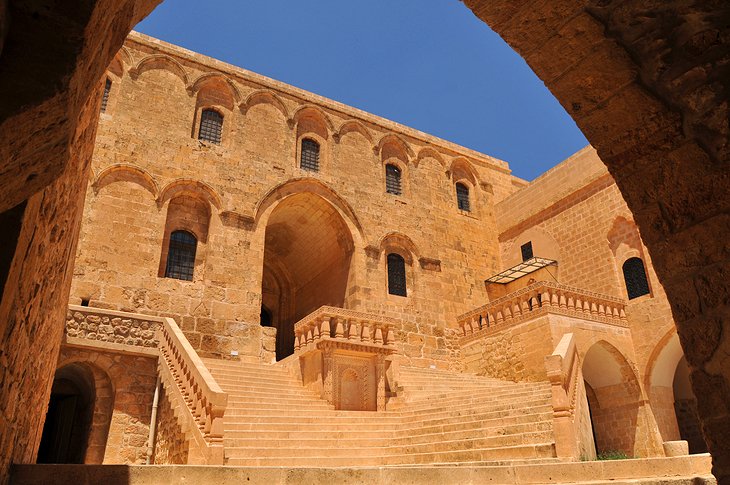 This Syriac-Orthodox Christian monastery is well worth a short sightseeing road trip out of Mardin.
The Patriarch of the Syriac-Orthodox Church moved his residence here in 1160, when he and his followers were driven out of Antioch (modern Antakya).
Dedicated to Ananias, the monastery complex contains three churches which adjoin the rear facade of the arcaded courtyard, all surrounded by high fortress-like walls.
The building originally dates from the 5th century but has been destroyed twice, first by the Persians and then by Tamerlane.
Don't miss the underground Sanctuary chamber and the chapel side-room with its 300-year-old wooden throne and floor mosaics.
You can only enter the building by guided tour, which takes place when enough people have arrived. Solo travelers may have to wait half an hour or so on arrival.
The monastery lies about seven kilometers east of Mardin.
10. Stroll up to the Terraces of Mardin Post Office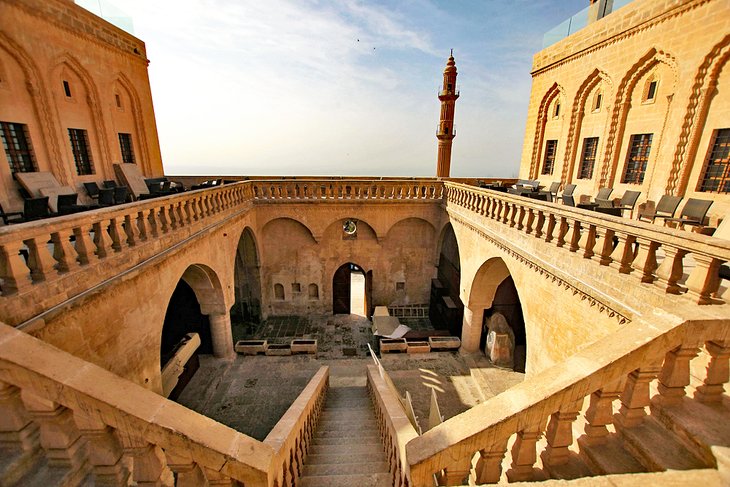 Mardin Post Office is one of the town's finest examples of its 19th century villa architecture, and probably one of the most ornate post office buildings you'll ever see.
First built in 1890, the building functioned as a family home until the 1950s, when it became the post office.
Today, the main section of the building has been beautifully restored and opened to the public as a historical site, with the actual post office only taking up a small space on the ground floor.
For most people, the main staircase that leads from the ground floor up to the first-floor terraces, and the views from those terraces, are the main reason to visit.
This is an extremely popular place to visit as a photographic location, so don't be surprised if you pass by a local bride getting her wedding photos taken on the stairs here.
From the terraces, a small staircase leads to the rooftop, where there's a café with excellent views.
11. Climb up to Mardin Castle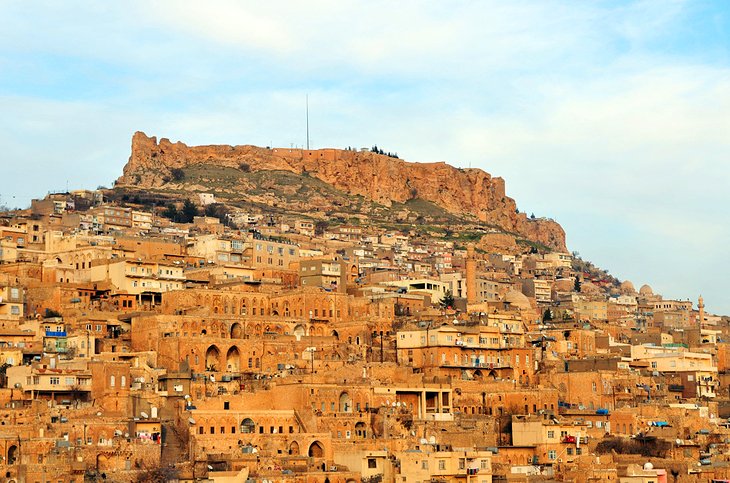 Mardin Castle towers above town on a rocky crag. You can't actually enter the castle area currently, but you can climb towards it using the steep path that leads up to the fortress starting from the Zinciriye Medresesi.
If you do want to hike up the path as far as possible, time your visit after the worst of the day's heat has dissipated, as walking up under the midday blazing sun is quite exhausting.
Dating from the Roman era, the castle was extended in the 15th century, so that all the inhabitants of Mardın would be able to seek refuge inside in the event of an impending attack.
A relief carving of two magnificent lions can still be seen on the gateway.
12. Day Trip to Midyat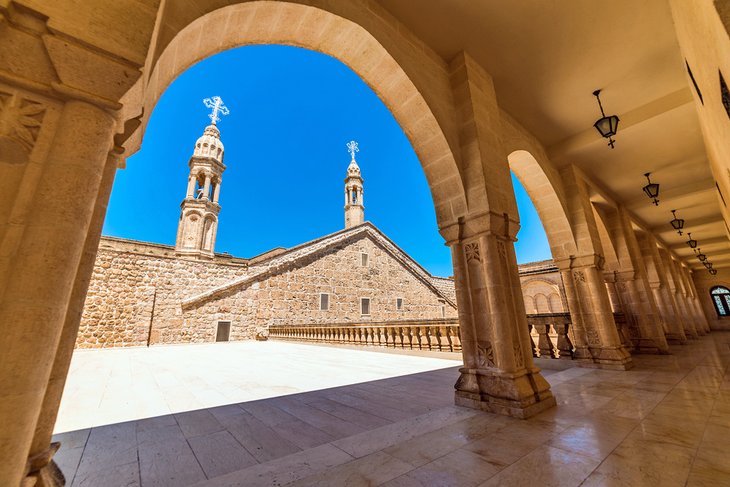 About 60 kilometers east of Mardin, Midyat has an atmospheric old town district that is ripe for exploring.
The maze of alleyways is packed to the brim with lovely old stone houses, some completely crumbling, but others finely restored, and many with elaborately carved facade details.
There are five Syriac Christian (Assyrian) churches in town, including Mar Aznoyo and Mar Barsaume, although none can be entered by tourists.
Midyat's once thriving majority Syriac Christian community mostly emigrated to Europe during the mid to late 20th century due to inter-communal conflict, fears of further repression, and economic worries.
Midyat is also a silversmith center, and small family-run jewelry workshops can be found throughout the town.
Just outside town (16 kilometers to the south) is Mor Gabriel Monastery, a 5th-century monastery complex that consists of several churches and memorial chambers.
The Empress Theodora is thought to have endowed the monastery with its rectangular dome. Tours are conducted daily here by highly enthusiastic guides.
13. Road Trip around the Tür Abdin Monasteries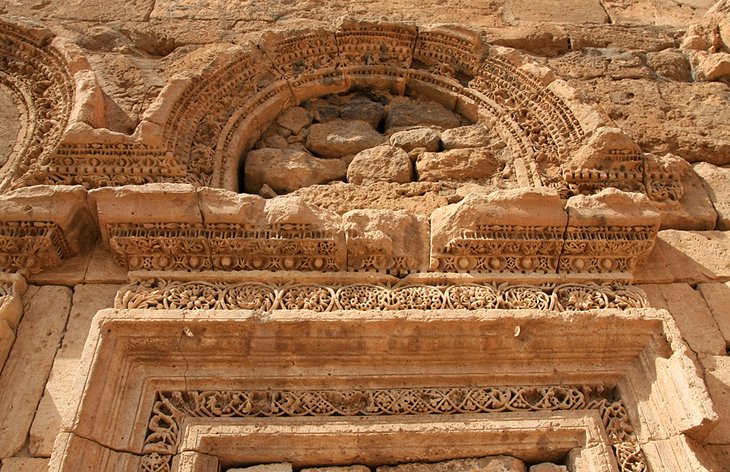 Tür Abdin (Mountain of the Servants of God) is a highland region east of Mardin where there are several Syriac Christian (Assyrian) churches and monasteries.
In the Byzantine era, countless monasteries were established here, and by the medieval period, the area was divided into four bishoprics, with more than 80 monasteries.
The decline of Tür Abdin's religious communities began with the pillaging raids of the Crusades.
After WWI, most of the Christian minorities who lived here were expelled from Turkey after siding with the French, who were trying to set themselves up as their protectors. Due to persecution, more Christians emigrated during the 1970s.
Today, the region is still an Assyrian homeland, with several churches and monasteries that can be visited.
Two of the most interesting churches are Mor Yakop in the village of Bariştepe and Mor Kyriakos in the village of Bağlarbaşı.
Visitors should be aware, though, that there are no official opening times for the churches here and so gaining entrance isn't guaranteed. If the church guardians aren't at the churches when you knock, you unfortunately won't be able to visit.
The Tür Abdin area is approximately 10 kilometers east of Midyat.
14. Sakıp Sabancı City Museum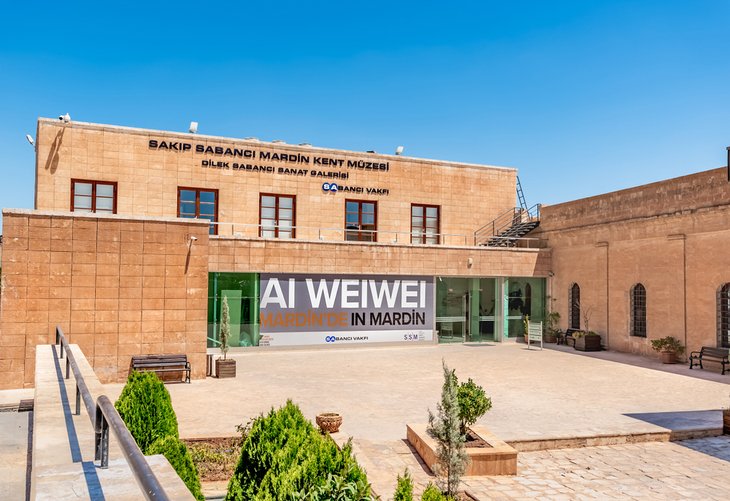 Mardin's former army barracks is now home to this extremely interesting museum, which traces the staggering and convoluted history of the town.
All the exhibits have informative explanation panels, and many use multi-media displays to bring the history alive.
This is the best place in town to gain a deeper understanding of Mardin's role down through the centuries and the town's cultural and religious mix of Muslim, Assyrian Christians, and Kurds.
After you've browsed the main exhibits, pop into the attached art gallery which hosts a changing program of exhibitions. Also, don't forget to check out the museum's cultural events program to see if there's anything on while you're in town.
15. Visit the Village of Savur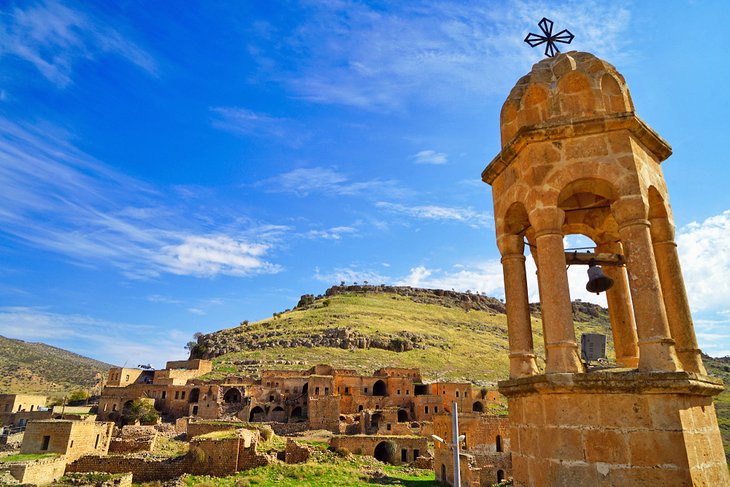 Savur is all about wandering the backstreets and admiring this small town's glut of gorgeous stone houses.
About 45 kilometers southeast of Mardin, the town is a smaller version of it, with its houses spilling around a little citadel, and interesting facades at every turn.
Time seems to have stood still here, and there's an easygoing feel, which manages to charm nearly everyone who visits.
There are not actually many things to do. Instead, Savur is about soaking up the atmosphere and exploring the squiggling alleyways.
Afterwards, head seven kilometers east to the village of Kıllıt, with its abandoned stone houses climbing up a hill slope.
Savur makes a great day trip from Mardin if combined with the archaeological site of Dara.
Map of Tourist Attractions in Mardin