From Galway to the Cliffs of Moher: 5 Best Ways to Get There
The magnificent west coast city of Galway is the perfect base from which to explore some of Ireland's most magnificent scenery. From here, connections via road, rail, and air link the west coast to the nation's capital of Dublin some 200 kilometers away to the east.
One of Ireland's most popular day trips can be enjoyed here, and entails making the journey from Galway to the Cliffs of Moher. Just over 90 minutes' drive away by car from the city center (and only a little longer by public transit), this must-see Irish tourist attraction occupies a 13-kilometer stretch of stunning Irish coastline, much of it easily accessible by well-marked footpaths.
The return journey from the Cliffs of Moher to Galway can be a lot of fun, too, and, with proper planning, can be equally rewarding in terms of sightseeing opportunities. To help you find the best way to travel to (and from) this beautiful corner of the world, be sure to read our list of the top ways to get from Galway to the Cliffs of Moher.
1. From Galway to the Cliffs of Moher by Tour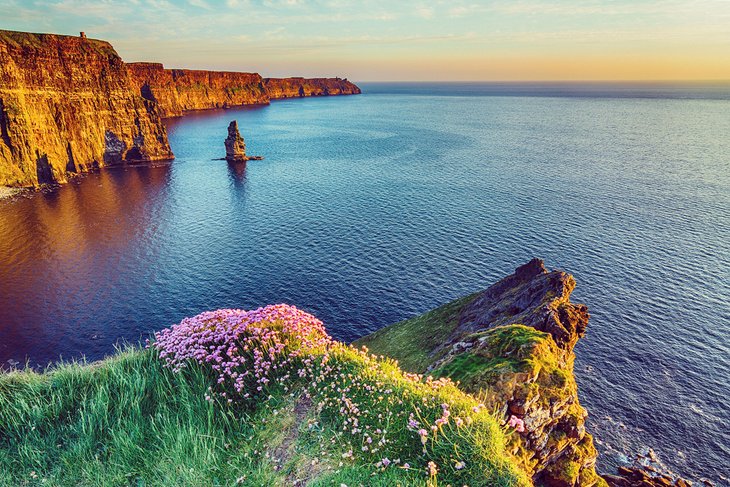 For those happy to let someone else take care of the details (and the driving), you may want to consider joining an organized tour to get you to the Cliffs of Moher. If that sounds like you, a good option is a Cliffs of Moher day trip from Galway accompanied by a professional guide and traveling aboard a luxurious air-conditioned coach that offers plenty of sightseeing potential along the way.
This full-day excursion departs from the Kinlay Hostel in Eyre Square, a handy city center location that's easy to get to from all points and is only a short walk from the best downtown hotels and B&Bs. The tour operator has an office within the hostel where travelers should check-in prior to the 10am departure time.
The first stop on your Cliffs of Moher tour is the picturesque fishing village of Kinarva. Here you'll have time to wander around Dunguaire Castle, a fantastic spot for taking photos as it overlooks beautiful Galway Bay. Next is the dramatic scenery of Burren National Park, noted for its moon-like limestone landscape. From here, you'll pass through the village of Kilfenora before making a lunch stop in picturesque Doolin.
Once at the Cliffs of Moher, you'll have up to two hours to explore this area of outstanding natural beauty at your own pace. In addition to the remarkable views, be sure to spend at least a little time in the visitor center. Highlights of a visit include its fascinating interactive displays and exhibits on the history of this part of Ireland. Admission to the cliffs and the visitor center is included in this highly recommended tour.
2. From Galway to the Cliffs of Moher by Boat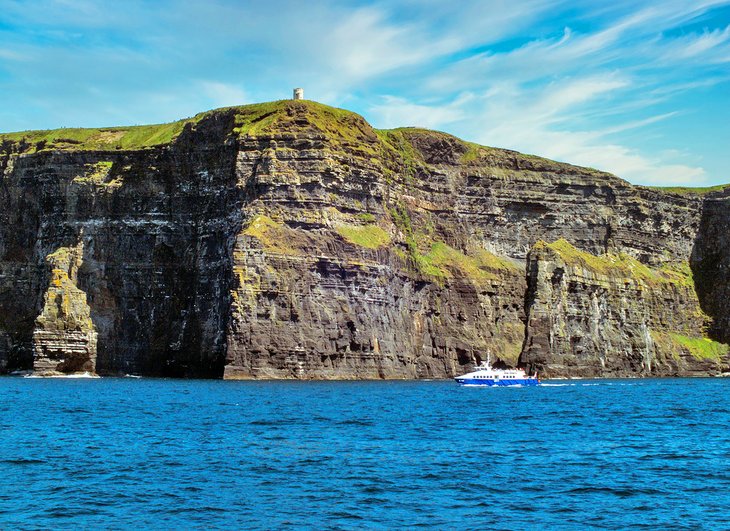 For those wanting to see this remarkable tourist attraction by sea, consider booking the full day Aran Islands and Cliffs of Moher Tour and Cruise. With pickup at the centrally located Kinlay Hostel, your driver-guide will then share stories along the route to the fishing village of Doolin. From here, you'll catch a ferry for the 15-minute ride to Inisheer Island, part of the spectacular Aran Islands.
After exploring the island at your leisure (the two hours allocated is ample), it's time to catch the return ferry back to Doolin. While aboard, you'll be offered up amazing views of the Cliffs of Moher from the water, so be sure to have your camera ready!
From Doolin, you'll be bussed to the top of the cliffs. Here, you'll see equally impressive views over the Aran Islands. Homeward bound, you'll pass through Burren National Park and a number of pretty Irish villages, including Lisdoonvarna, known for its traditional Irish music. This full-day adventure includes admission fees and transportation.
For those making their own travel arrangements, you can book the ferry trip from Doolin to the islands yourself. Doolin2Aran Ferries also offer a variety of other excursions that can be easily accomplished in a day, including visiting the island of Inis Oirr for a couple of hours, as well as seeing the Cliffs of Moher by boat. Note: Ferries to the Isle of Aran and scenic cruises are seasonal and only available between late March and the end of October.
3. From Galway to the Cliffs of Moher by Car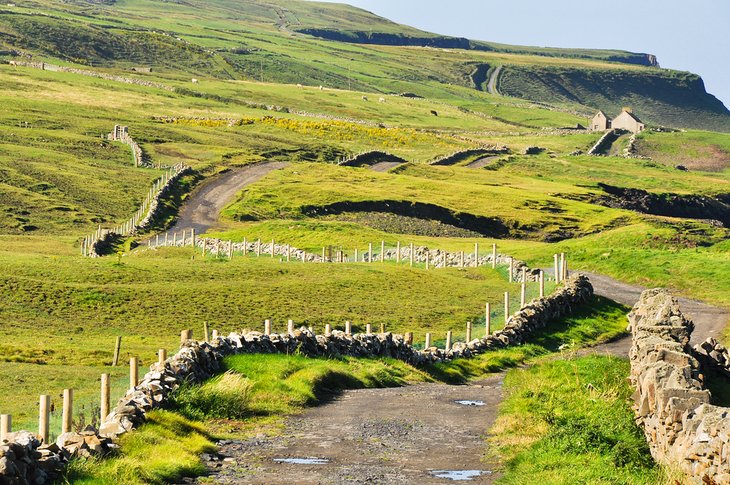 A great option for those who like doing things their own way - and at their own speed - is to arrange a car rental from Galway and drive to the Cliffs of Moher. Just 78 kilometers by road, it's a relatively easy journey that could, if you went direct, take just 90 minutes.
But why rush? The scenery along the coast from Galway to the cliffs, part of the Wild Atlantic Way, is extremely pretty. There are plenty of places to visit along the way, including the attractive fishing village of Doolin and Burren National Park.
While the most direct route is along the N67, taking the longer, windier - and narrower - R477 will let you enjoy even more great views over the Atlantic. When you do arrive at the Cliffs of Moher, you'll find plenty of parking at the visitor center (included with the price of admission).
4. From Galway to the Cliffs of Moher by Train and Bus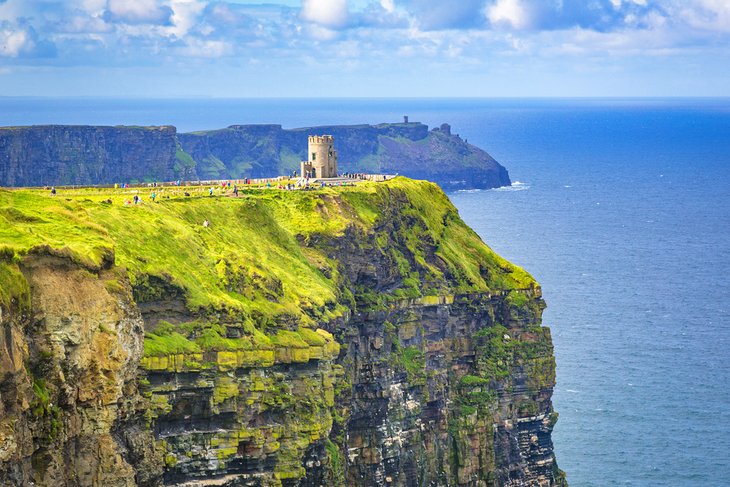 Given its relative proximity to Galway, using public transit to get to the Cliffs of Moher and back in a day is doable. Options include using Irish Rail to Ennis, a trip of 30 minutes, and then catching a bus to the Cliffs of Moher, an additional hour's journey time.
Alternatively, you could take the bus from Galway to the Cliffs of Moher Visitor Center. Be aware, though, that's it not fast: expect to spend up to three hours each way, with frequent stops and a few connections along the way.
5. From Galway to the Cliffs of Moher by Bike and on Foot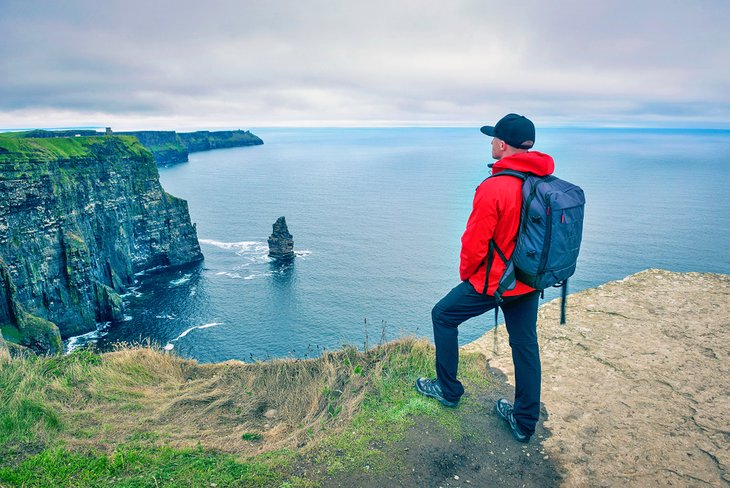 If you're an outdoor adventurer and have time on your hands, why not do something a little different and travel from Galway to the Cliffs of Moher by bike? Rated as one of the world's top cycling routes, the Wild Atlantic Way is so scenic, you may want to take your time and break the trip up over a day or two. Not that you'd need to; you could actually make the round trip in a day, but why rush?
If you've not brought your own bike, rentals can be secured in Galway. If you only wish to cycle a short section of the route to the cliffs, bike rental companies are also located in Doolin and Kilfenora, with some even offering e-bikes to help with the hills. Bike parking is available at the visitor center, along with free bag storage.
This same route can, of course, be enjoyed on foot. If you're not able to commit to the whole route from Galway (it would take a couple of days to complete), a popular section is from Doolin to the cliffs. Expect to take around 1.5 hours each way to complete the seven-kilometer walk to the visitor center - longer if you carry on farther along the cliff trails. (And carry a rain coat, as the weather can be a little unpredictable.)