17 Top-Rated Beaches in Ireland
When most people think of an Irish holiday, they've got medieval castles, lush pastoral vistas, and roaming sheep on their minds. Beach blankets and bikinis? Not so much. But seeing as Ireland is, in fact, an island, it just happens to be ringed by spectacular beaches.
Lined by sandy shores of all shapes and sizes, the Emerald Isle is home to some pretty impressive beaches that are primed for fun activities like surfing, swimming, and kayaking.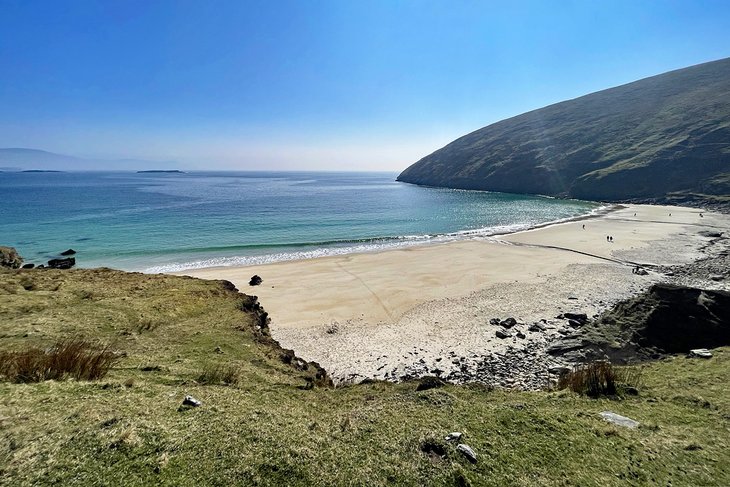 While not known for having the warmest or sunniest weather, Ireland's best beaches are so lovely, you won't mind spending a day frolicking on the shore – even when it's wet. And when you happen to be hit with a bright, sunny day, you'll find the windswept beaches take on a whole different energy.
From soft tan sand to rugged coral bases, the top beaches in Ireland have a lot to offer beach lovers of all types, even if you have to don a wetsuit to enjoy the waves. Speaking of wetsuits, Ireland is even a top destination for surfing. Surfers of all skill levels travel from around the world to test their skills on the many beach breaks that can be found along the Atlantic coast.
Whether you plan to stay in one of the island's beach cottages or rest your head at a fancy beach resort, you'll be rewarded with sparkling views, cool waters, and plenty of fun in the sun (when it decides to appear).
Plan your visit with our list of the best beaches in Ireland.
1. Inchydoney Beach, County Cork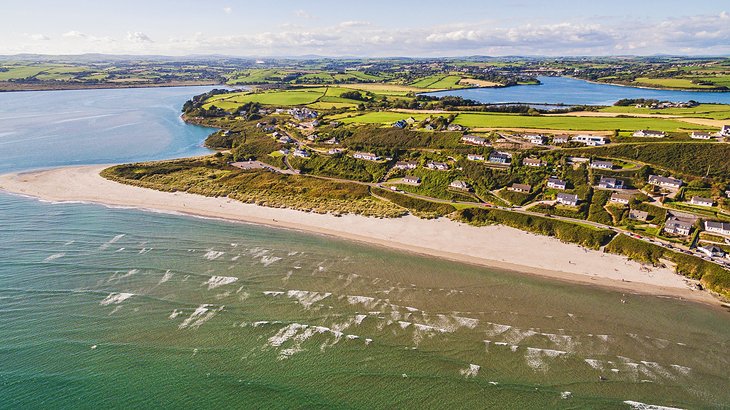 This southern Ireland beach is one of the island's best attributes. Free from stones and litter, the soft, white sand is perfect for a long, barefoot walk. Time your stroll for low tide, when you can venture even farther from shore into the crystal-clear water.
It's deemed one of Ireland's Blue Flag beaches, which means it's been certified by the Foundation for Environmental Education for promoting environmental awareness and sustainable development. This also means it's an area of natural beauty, where both the water and beach are clean and safe.
A surfer at heart? The waves at this fantastic beach in Cork make it ideal for beginners and more experienced surfers. During high season, there are plenty of lifeguards to ensure your safety, which means this is a good beach for families in Ireland.
Inchydoney beach is a short distance (about 6.4 kilometers) from Clonakilty, a picturesque town (and past winner of the Tidy Towns Competition) bursting with restaurants, shops, and plenty of music. Not planning to stay in one of the nearby beach hotels? Clonakilty is an ideal spot to rest your weary feet after a day well spent.
2. Inch Beach, County Kerry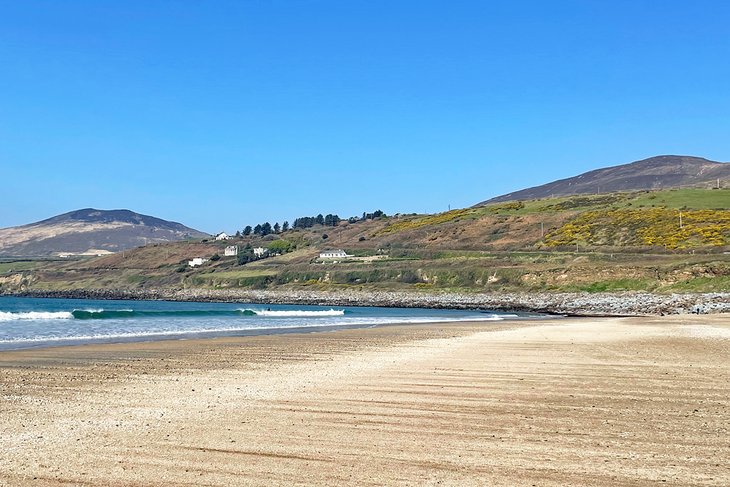 Located on the Dingle Peninsula in southwest Ireland, Inch beach is a must-visit on your tour of the best beaches in Ireland. Crashing waves caress the golden sand of this finger-shaped peninsula as they bring avid surfers back to shore. Swimming here is a treat (albeit a cold one). Where else can you kick your way toward lush rolling hills?
The current is strong, as are the tides, so keep hold of little ones. It's also super windy, so you might want to leave that beach umbrella in the car. It, too, is a Blue Flag beach. About 50 minutes from the attractions in Killarney, Inch Beach is often considered a Killarney beach.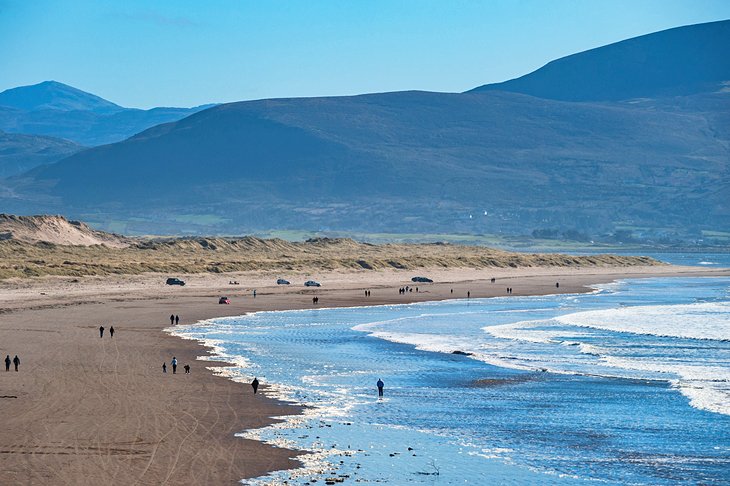 Made famous by David Lean's film, Ryan's Daughter, its name wrongly implies a small piece of beach. This more than four-kilometer-wide expanse juts into the sea between Dingle and Castlemaine harbors, offering up views of the Slieve Mish and MacGillicuddy Reeks.
Be sure to visit during low tide for an unbeatable view. If you're lucky, you'll be able to see the sky mirrored on the newly uncovered sand below.
Insider's tip: While you can park your car on the sand, be sure to keep track of the tide – you don't want your ride to float away later.
3. Banna Strand, County Kerry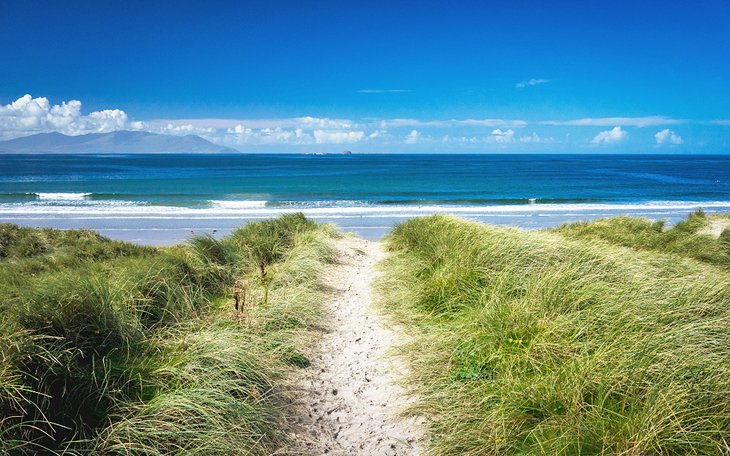 Another Blue Flag beach, Banna Strand is backed by sand dunes rising to 40 feet. It's a great area for surfing and windsurfing, and the shallow waters make it a popular vacation spot for families. Surrounded by rolling hills, you'll be able to walk for miles when the tide is out. A paved path running behind the beach is ideal for bikes or strollers.
This is a perfect spot to take a break while touring the Wild Atlantic Way (more than 2,500 kilometers of spectacular coastline on the island's west side, winding from the Inishowen Peninsula in the north to Kinsale in the south). You won't find loads of shops or amenities, so be sure to pack a picnic.
Tralee is only 11 kilometers away. The largest town in the county, it boasts comfortable hotels and a bevy of shops and restaurants. Don't miss the photo-worthy Blennerville Windmill. Insider's tip: If you're lucky, you might spot people riding horseback along the soft, golden sand.
4. Dog's Bay, County Galway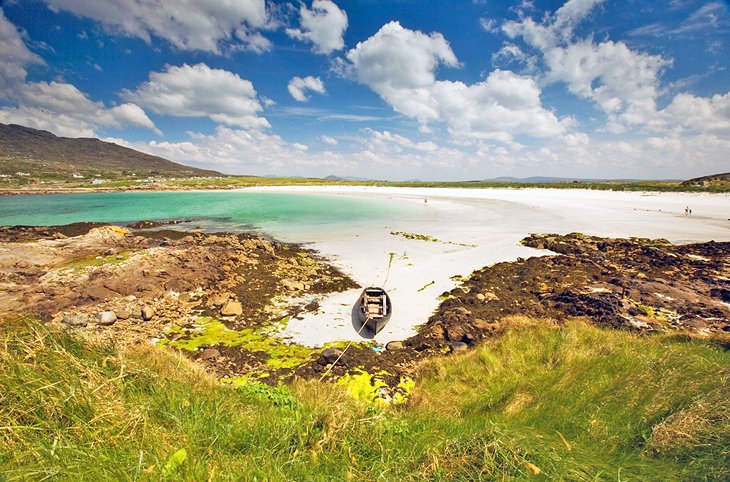 Shaped like a horseshoe, this Galway beach is a must-see for beach lovers. Dog's Bay sits back to back with Guerteen Bay, a similarly beautiful beach just off the road to Clifden. Both are within a few minutes' drive, or an easy walk, from Roundstone village.
Being well sheltered makes Dog's Bay one of the island's best spots for safe swimming and water sports, like kitesurfing or windsurfing. Another bonus: the water along this clean 1.6-kilometer stretch of beach is exceptionally clear.
Look closely at the sand. Instead of being formed by rocks, as you'll find on other beaches on this list of the best beaches in Ireland, the sand at Dog's Bay consists of tiny shells from foraminifera (a type of sea creature), making it serenely soft and white. In the summer, you'll find wildflowers sprouting amid the grass. Also known as machair vegetation, this greenery is considered rare and can only be found on Ireland's west coast.
Insider's tip: You won't find concessions nearby, so come prepared, or plan a visit to O'Dowd's of Roundstone restaurant.
5. Strandhill, County Sligo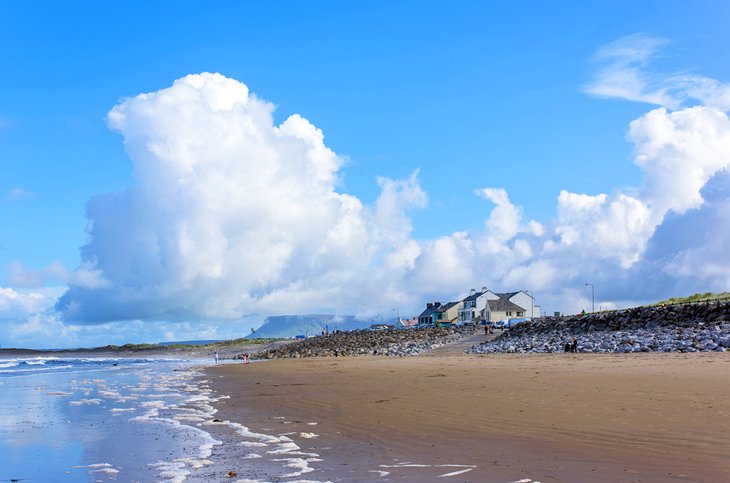 A popular beach destination for locals and tourists alike, Strandhill is a wonderful place to take lessons in everything from bodyboarding to surfing. It's located only about eight kilometers from Sligo and its many things to do outdoors.
Want to get farther out on the water? Rent a kayak and tour famous landmarks and unbeatable scenery.
Surfers come from all over the world to ride the waves at Strandhill. It happens to be one of the best beaches in Ireland for surfing. Sick of the sand? Try your hand at a round of golf at the Strandhill Golf Club.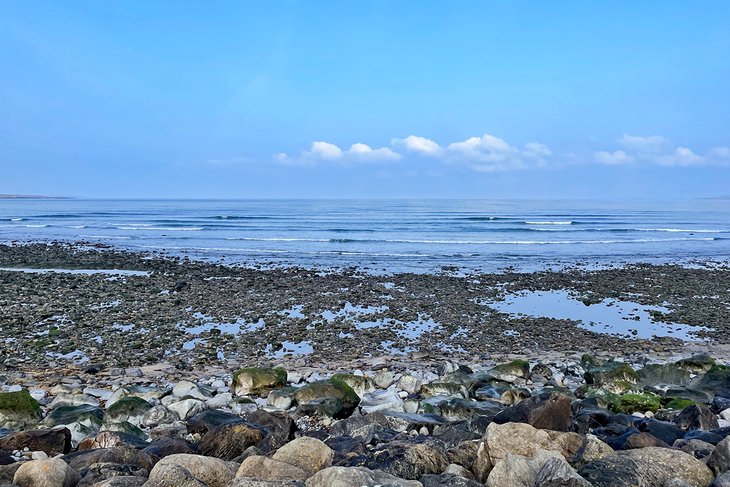 Or, settle down in a relaxing seaweed bath, an Irish tradition spanning hundreds of years. In the early 20th century, there were nine seaweed bath houses in Strandhill, the last of which was destroyed by hurricane Debbie in 1961. VOYA has reinstituted a bath just for this purpose.
Every Sunday (from 11am to 4pm), you'll find the Strandhill People's Market in Hangar 1 of the Sligo Airport. Looking for handmade jewelry? You'll find it here, along with baked goods, fresh produce, live music, and a ton of crafts. Strandhill is a very charming village, with plenty of restaurants, inns, and shops. So close to Sligo, and yet worlds away, Strandhill is certainly worth an overnight or two.
The currents are strong here, so swimming is best left to those who are big and strong enough to fight them.
6. Silver Strand Beach, County Donegal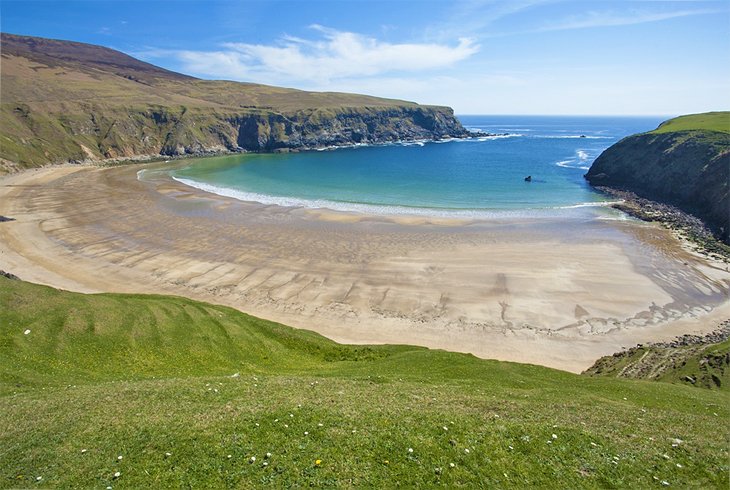 Who would have thought they'd find paradise on a Donegal beach? This crescent-shaped marvel opens to crystal-clear turquoise water that begs you to jump in. On both sides are dramatic cliffs and graceful waterfalls that help reset your inner stress button.
Safe and shallow, Silver Strand is a big hit with families. An added bonus for those with little ones: lifeguards supervise the area during the summer months.
Located in the tiny village of Malin Beg, Silver Strand can be pretty empty in the off-season. So, if you're hoping for an idyllic, romantic beach vacation, try visiting in April or May. It may be chilly, but you're more likely to have this pristine oasis to yourselves.
Insider's tip: Low tide is the time to visit Silver Strand. You'll have much more beach to walk, run, or lounge on, as high tide covers most of the impeccable sand.
7. Rossbeigh, County Kerry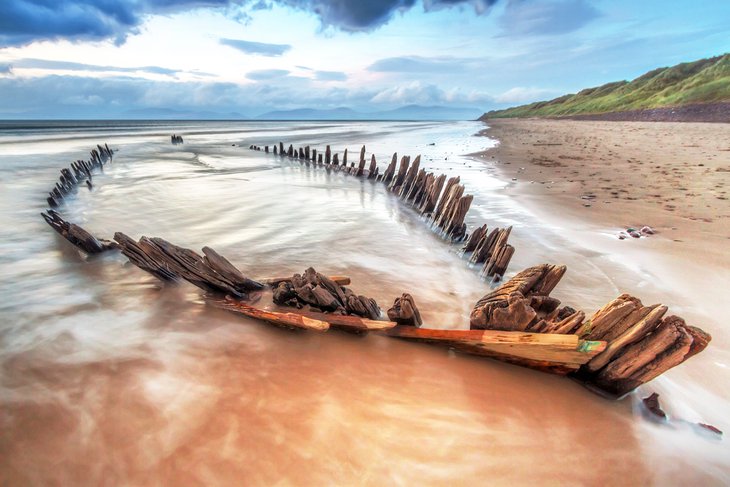 Touring Ireland without visiting the Ring of Kerry is like leaving Wimbledon before the tennis matches begin. Its giant hills, flourishing countryside, and verdant mountains leave travelers in awe of the natural beauty this lush country has to offer.
Rossbeigh beach is another unmissable spot located on the Ring of Kerry, a mere two miles from a small village named Glenbeigh.
Located on the Iveragh Peninsula (just opposite the Dingle Peninsula, which houses Inch Beach), Rossbeigh is often referred to as a Killarney beach. The reason: Killarney is only 35 kilometers away, which makes it a fantastic place to stay the night (or two or three).
Another Blue Flag beach, Rossbeigh boasts a children's playground, pristine sand, and impeccable mountain and sea views. The surf isn't overpowering, and lifeguards are on duty throughout the summer, making this a good beach for families.
Insider tip: Time your visit for the end of August, when you can glimpse the annual Glenbeigh Horse and Pony Races, which take place on Rossbeigh Strand.
8. Coumeenoole, County Kerry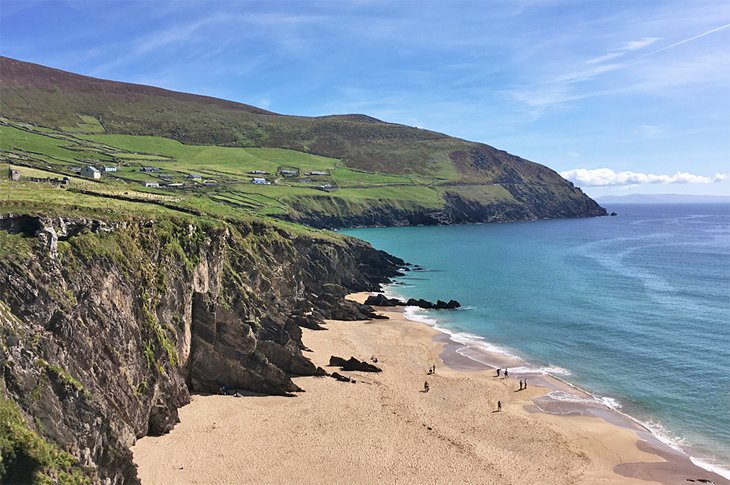 The Dingle peninsula is filled with fabulous beaches (we're looking at you, Inch Beach). Coumeenoole, on Slea Head Drive near Dingle, is one of them. On a sunny day, the turquoise water appears tropical as it crashes into the golden shore. Low tide is the best time to visit, as you'll have more sand to explore and an ability to get up close and personal with the imposing jagged cliffs.
Kitesurfers and windsurfers favor this spot, so while you won't have to fight massive crowds at this more secluded beach, you won't be alone. That said, being secluded with only the cliffs above offers a very safe and serene beach-going experience. Being sheltered also makes this beach a safe spot to visit with kids. Many travelers say they can stay here for hours.
Nearby, you'll find the Fahan Beehive Huts (at the south side of Mount Eagle and west of Dingle). These five huts were likely single-family dwellings, made of corbeled stone, that remain attached to each other.
9. Portmarnock Beach, County Dublin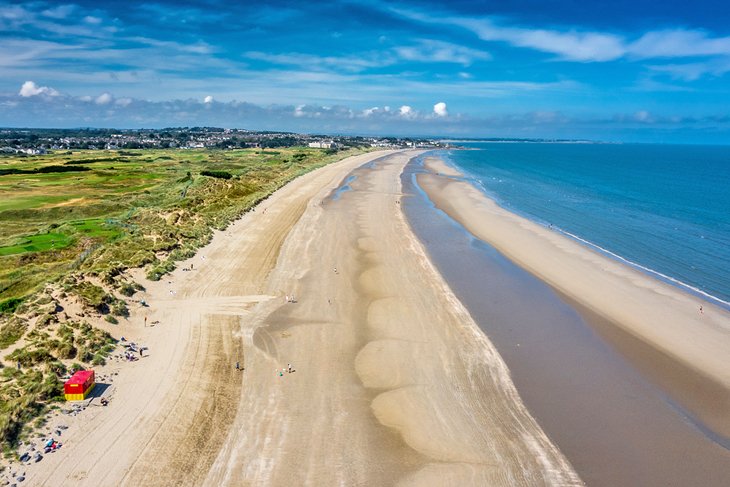 Searching for the best beaches near Dublin? Look no further than the Velvet Strand, a name given to multiple beaches within a stone's throw of the giant city. Portmarnock Beach, in the town of Portmarnock, is one of the best.
Less than half an hour from the nation's capital, this sandy spot offers 4.8 kilometers of shoreline to explore. Your reward: a lovely view of Howth Head and Ireland's Eye.

Behind Portmarnock Beach lies a long, paved path (a.k.a. coastal walkway) and miles of impressive sand dunes set for little (or big) kids and dogs to climb. Yes, you read that correctly, dogs are allowed on this beach, and you'll be hard-pressed to find a time when you won't find a four-legged friend enjoying a nice walk by the ocean.

Avid explorers can enjoy a walk to the Martello Tower, situated at the start of the walkway leading to Malahide.
Insider's tip: Park in the much less crowded South Beach car park and walk along the path through the dunes.
10. Derrynane, County Kerry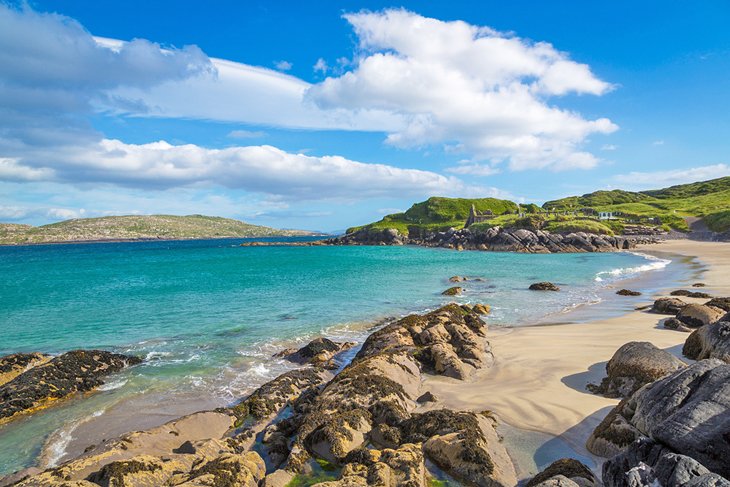 Sheltered beaches seem to be a thing in Ireland – luckily for us! Derrynane Beach, another must-visit on your tour of the Ring of Kerry, is surrounded by large hills and grassy cliffs. The water is a dreamy azure, while the clean, white sand is ideal for sandcastle building.
The beach is peppered with large rocks; it's nature's way of enticing kids to play. Another plus for families: the ocean is relatively calm, making swimming more accessible to kids. This is easily one of the best beaches for families in Ireland.
Insider's tip: Many choose to couple a visit to the beach with a tour of Derrynane House (once home to Daniel O'Connell, an Irish hero known as "The Liberator"). The house is now a National Monument and part of a 320-acre national historic park. The grounds here are absolutely beautiful. Be sure to leave time to wander the many paths and gardens that surround the estate. Inside the house, visitors will find relics from O'Connell's life.
11. Keem Bay, County Mayo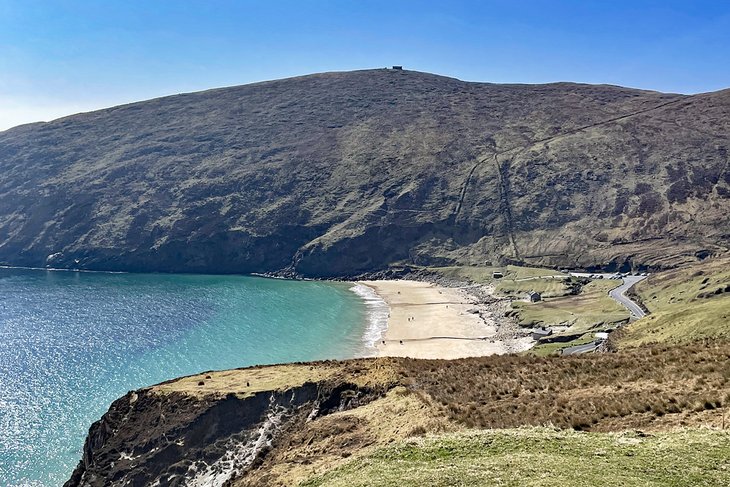 This secret treasure is one many don't want you to know about. So, shhh. You'll have to keep this between us. Located on Achill Island, the largest of the Irish Isles, Keem Bay lies off Ireland's northwest coast. To get here, you'll have to cross the Michael Davitt Bridge, which runs between the villages of Gob an Choire and Poll Raithní.
The scenery is what entices people to visit and what makes it hard for them to leave. With views of the Croaqhaun and Slievemore mountains, Achill is a veritable wonderland that will literally cause your jaw to drop. It's also home to five Blue Flag beaches (Keem, Dugort, Golden Strand, Dooega, and Keel).
Keem Bay, one of the island's most beautiful beaches, is unspoiled and rewards visitors with an unparalleled view. It's bordered by dramatic cliffs (of Croaghaun mountain to the east and the Moyteoge spar to the west).
Keem Bay is also a hot spot for water sports. Tourists flock here to swim, kayak, surf, and windsurf. Once a haven for shark fishing, the bay is now an incredible (and protected) place to snorkel.
Hikers won't want to miss the mile-long trail that begins here and makes its way along the cliffs of Benmore towards Achill Head.
The best part of the Keem Bay experience, though, might be the drive to get here. Meandering along a clifftop route, with the Croaghuan mountain on one side, your first glimpse will be from high above as you make your way down a winding road, with sparkling Atlantic views as far as the eye can see.
Insider tip: Snacks and amenities are hard to come by here, so come prepared.
12. The Beach at Ballymastocker Bay, County Donegal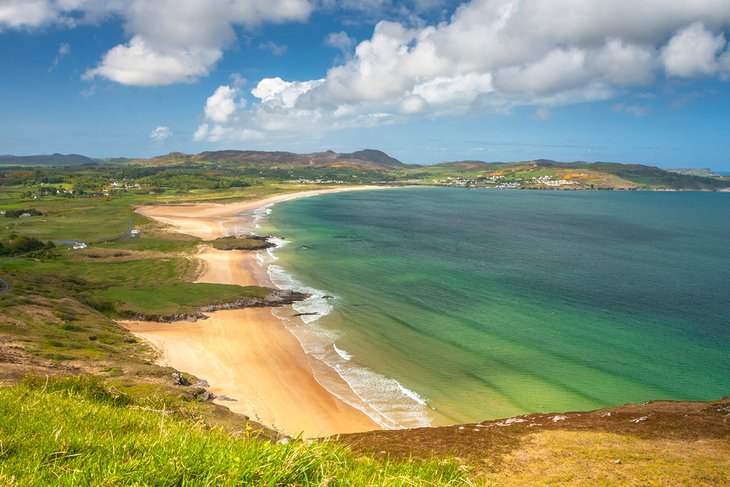 The beach at Ballymastocker Bay is set on the sparkling bay of the same name. Gracing the west shore of Lough Swilly, on the Fanad Peninsula, this wide tan beach has won awards for its beauty.
Surrounded by lush, green hills and fronted by stunning azure waves, the scenery is magnificent. The soft sand is another plus, making it easy to spend a day beachin' at the shore.
Also known as Portsalon Beach (due to its position near the small village of Portsalon), it's easy to see why this is one of the best beaches in Ireland. At this Blue Flag beach, you can expect pristine conditions and lifeguards on duty during the summer months.
If you're hoping for the best view, you'll find it atop the Knockalla Hills. Not up to climbing? No worries. Pull over at the scenic overlook on the R268 Knockalla coastal drive.
13. Streedagh Strand, County Sligo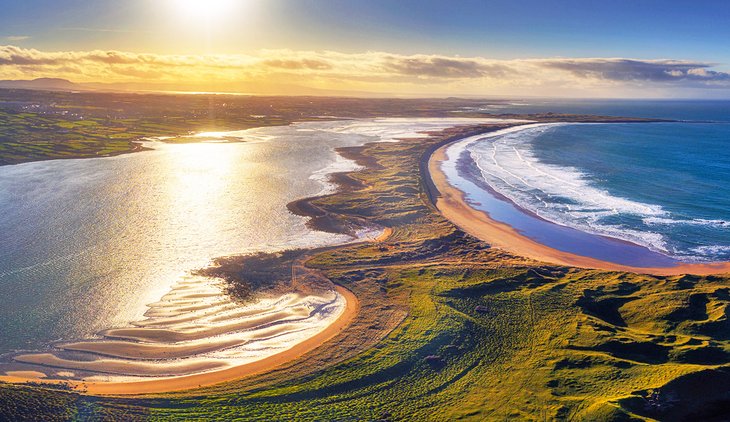 Over three kilometers of silky, soft golden sand greet visitors to Streedagh Strand in County Sligo. A horseshoe-shaped beauty, this is one of the best beaches for couples and families in Ireland. It is backed by sand dunes, which offer impeccable views, and is set in a sheltered locale, which makes this an ideal spot for swimming.
While some still find enough waves for a surf, the calm bay is an enticing place to let little ones splash about safely.
In 1588, three ships from the Spanish Armada sank on this beach while attempting to shield themselves from a storm. Today, parts of their remains can be seen at low tide.
For the best view of Streedagh Strand, stand atop the sand dunes. If the day is clear, you'll be able to see all the way to the towering mountains of Donegal.
Insider's tip: Keep your eyes peeled to the ground while enjoying this top beach in Ireland. The limestone rocks are home to multiple species of fossil coral, some that date to over 400 million years ago.
14. Lahinch Beach, County Clare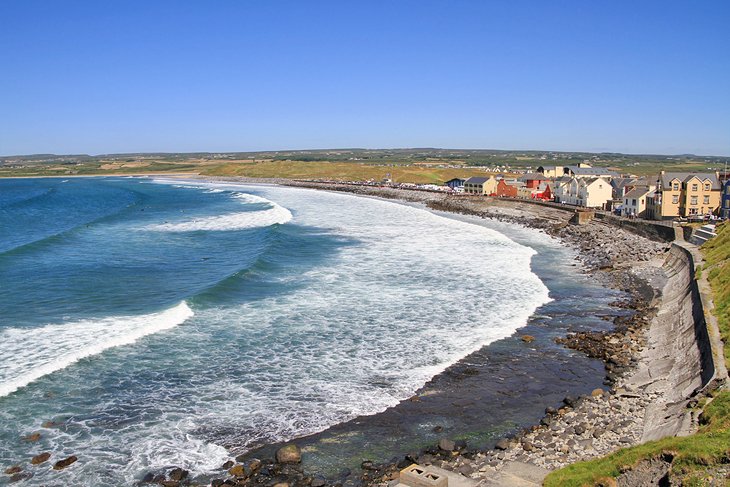 A true resort town, the small village of Lahinch caters to those in full holiday mode. Located at the head of Liscannor Bay, the town's beach occupies about one mile of golden sand. The reason most people flock here, though, has more to do with the epic waves.
The bay's horseshoe shape creates a break in the Atlantic that results in the most ideal waves for surfing enthusiasts. While surfing has become the number one sport at this beach, surfers aren't the only ones who love this popular vacation spot-canoers, sailors, swimmers, and divers are only too happy to jump in.
There's plenty to do when you're bored of lazing on the sand. Love to fish? Rent a boat and take your rod and tackle to the great wide open. Want to golf? Book a tee time at one of the town's two championship golf courses (Lahinch Golf Course and Lahinch Castle Golf Course).
Insider tip: Stick around for sunset and keep your camera at the ready. You'll be happy you did. Also, wear beach shoes-there are lots of rocks around.
15. Trà an Doilin Beach, County Galway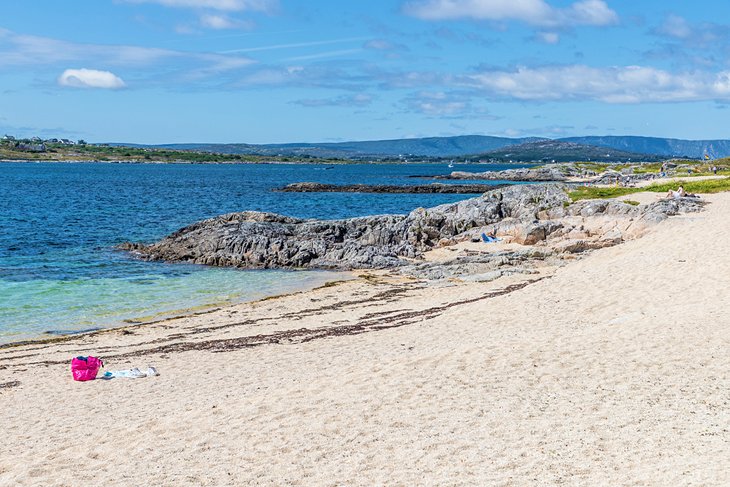 Trà an Doilin beach will take your breath away. An hour from Galway, the Connemara coastline dramatically unfolds as soon as you leave the historic port city. Trà an Doilin will take you to another world, known for its pale pink sands and water so clear, you may mistake it for the Caribbean – except for the temperatures, of course!
Translated from Irish to "Coral Strand," Trà an Doilin beach is best known for being a coral beach. Its fine, white sand is made of coral (coraline algae, to be precise), and it's one of only two beaches on Ireland's west coast to boast this unique feature.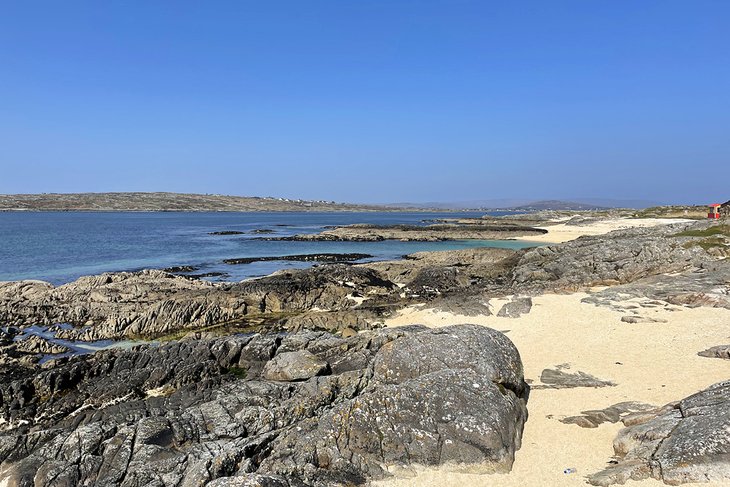 Those with inquisitive minds and a love of nature could while away hours scouring the small rock pools. Others may prefer to get right in on the action by scuba diving in the uber clear water just off the coast. Being a Blue Flag beach, Trà an Doilin is extremely clean and safe, with lifeguards on duty during high season.
The closest village is Carraroe, which is located in the Irish speaking section of Connemara. It's most famous for its fishing boats, known as Galway Hookers.
16. Fanore Beach, County Clare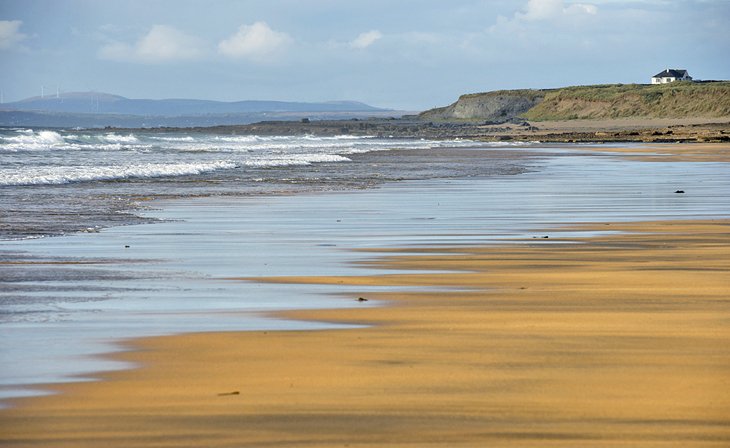 Fanore Beach is located by the Burren, an isolated area comprised of impressive limestone that lies along the Wild Atlantic Way. In stark contrast to the vibrant greens we're used to seeing on the Emerald Isle, the Burren makes us appreciate a more stark, yet remarkably beautiful image of Ireland. The Burren is also famed for its numerous ring forts, caves, and castles.
Fanore Beach provides tourists with an escape from this dry, grey landscape. Bursting with hues of gold and black, the beach is perfect for long, relaxing walks through the sand. Surfing lessons abound, as the waves are ample enough to provide beginners with a fun, yet not too challenging, ride.
This beach is also famed for being one of the "nine sites of geological importance that form the basis of the Burren and Cliffs of Moher Global Geopark." No wonder there are so many rocks to climb.
17. Tramore Beach, Tramore County, Waterford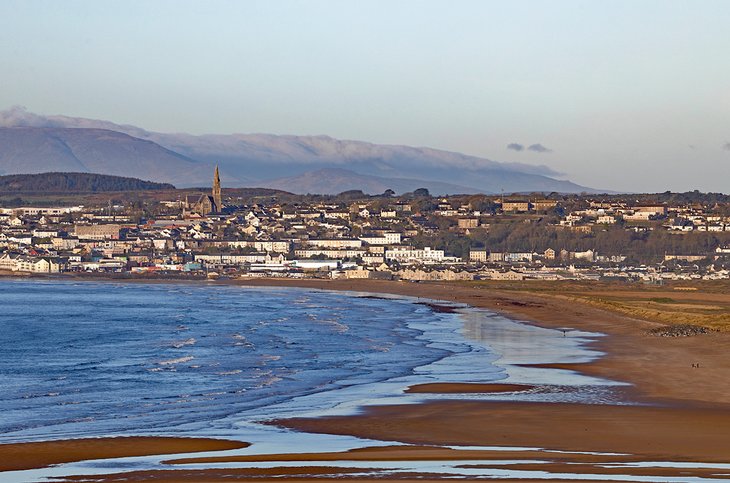 Perched atop steep hills, the lovely resort town of Tramore slopes dramatically towards its most popular, dune-backed attraction, Tramore Beach.
Winner of multiple Blue Flag Beach awards, this pretty, five-kilometer stretch of sand is incredibly popular, especially during the warmer summer months. Be prepared to fight for a spot on the sand if you visit on a particularly lovely day.
Swimming, fishing, sailing, kayaking, and surfing are prominent activities, as is kite surfing on windy days. During high season, lifeguards are on hand to keep watch over the beach.
Rugged cliffs provide remarkable views of Tramore Bay at this picturesque spot on Ireland's southeast coast.
18. Glenbeg Beach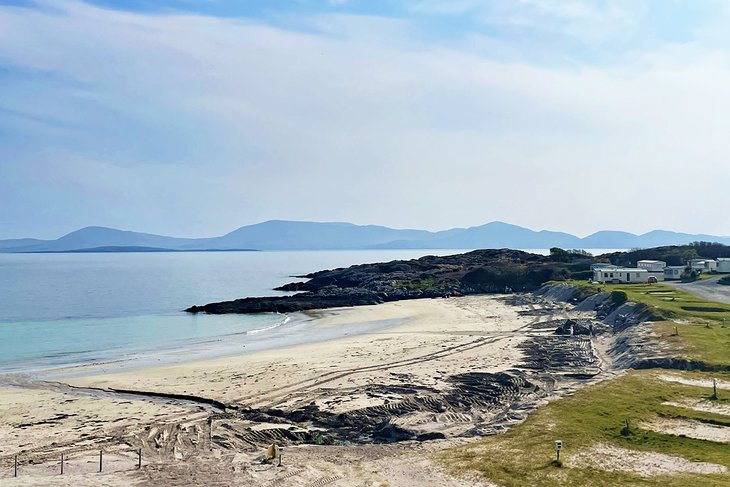 While cruising the Ring of Kerry, specifically between the towns of Westcove and Caherdaniel, you will pass by a small crescent of powdery soft, white sand that overlooks a shimmering cove of clear, turquoise water. This is Gleneg Beach, otherwise known as O'Carrol's Cove.
The calm, quiet, tranquil beach is sheltered by the cove, which is in Kenmare Bay, making it perfect for swimming. But many travelers come by this beach for camping or parking their RV. Located right on the beach is the Glenbeg Caravan and Camping Park, which is equipped with caravan pitches, tent pitches, showers, laundry, and a restaurant nearby.
In addition to swimming, travelers come here for water sports, hiking, and exploring the nearby Derrynane House and National Park.
Frequently Asked Questions
When is the best time to visit Ireland's beaches?
Summer is the best time to visit Ireland's beaches. While they are beautiful year-round, those hoping to get the most out of Ireland's best beaches should visit when the air is warmer and the sun is more likely to shine. That means June, July, and August are your best bets for a more ideal climate.
When is the best time to swim at Ireland's beaches?
Summer is the best time to swim at Ireland's beaches. Be warned, though, the Irish version of "warm seas" won't likely align with the tropical beach vacay you may have in mind.
Ireland's water temperatures range from an average of 7 degrees Celsius (in January) to 15 degrees Celsius (in August), making summer the warmest time to swim at an Irish beach. That said, 15 degrees isn't warm enough to ward off goose bumps, so you may want to pack a wet suit for your trip.
What is the closest beach to Dublin?
Dollymount Strand is the closest beach to Dublin. Known as Dollyer by locals, this pretty beach stretches 5 kilometers along Bull Island, on Dublin Bay. Visitors who cross the causeway to reach this beach, which lies just over nine kilometers north east of the city, are rewarded not only by its soft sand and beautiful dunes, but also by inspiring vistas of the Dublin itself. This beach is often windy, making its a haven for kite surfers.
More Related Articles on PlanetWare.com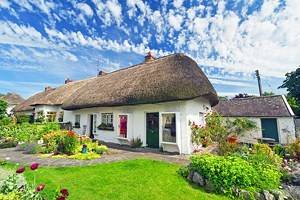 Ireland Travel Ideas: If you want to do more than just see the major cities, consider visiting some of Ireland's small towns to get a taste of rural life. Anglers might want to plan a day or two of fishing. For ideas on where to go and what you can expect to catch, see our guide to fishing in Ireland. For a little history, consider a visit to some of Ireland's best castles.