11 Top-Rated Tourist Attractions in Kilkenny, Ireland
History seeps from every corner of lovely Kilkenny. Located about an hour and a half from busy Dublin, this sleepy town lies serenely on the banks of the River Nore in southeast Ireland. The slew of tourist attractions in Kilkenny is worthy of a visit at all times of the year, especially during summer.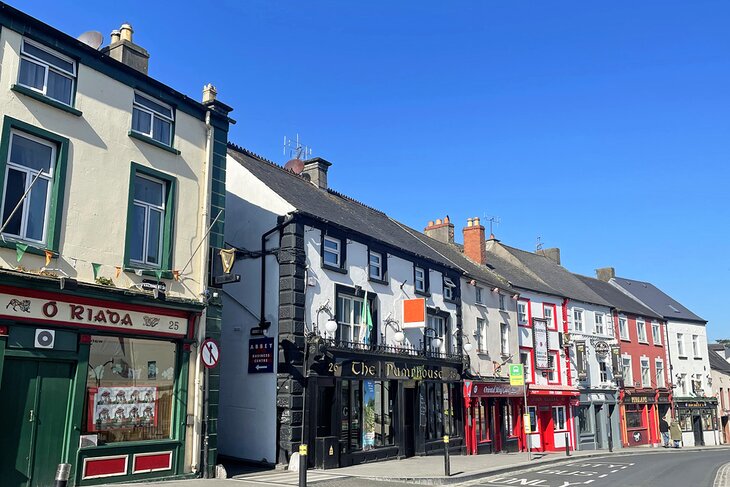 Kilkenny's narrow, winding streets lend it an atmosphere of old-world charm, while handsome Georgian houses flanked by romantic terraces bestow elegance. Despite its antique charm, Kilkenny remains a bustling modern town dotted with unique shops and excellent restaurants. It also serves as the market center for a fertile agricultural area.
One of the most popular things to do in Kilkenny is walk along the Medieval Mile, a scenic discovery trail linking many of the top sights of the city via charismatic narrow, winding roads. Purchase a pass for a money-saving entry to locations along the way.
Not a fan of driving on Irish roads? Regular bus and train links from Dublin (Heuston Station for the train or Busáras - Central Bus Station) make this an easy place to reach.
Find the best places to visit with our list of the top tourist attractions in Kilkenny, Ireland.
1. Kilkenny Castle, Rose Garden, and Park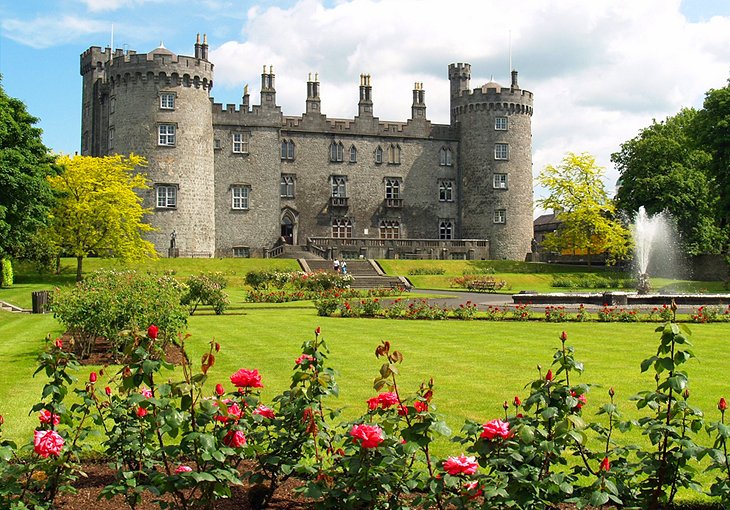 Perched dramatically at a strategic height and commanding a crossing on the River Nore, Kilkenny Castle dominates the "High Town" of Kilkenny City. After many facelifts over the centuries, Kilkenny Castle today exhibits a blend of architectural styles. It is one of the best tourist attractions in Kilkenny.
In the early 13th century, the original Anglo-Norman stone castle was constructed for the 4th Earl of Pembroke before becoming the main Irish residence of the powerful Butler family for almost 600 years.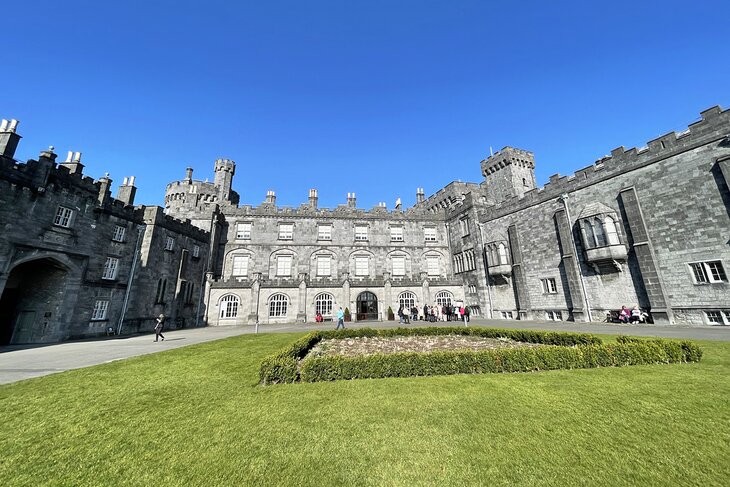 Visitors can see the depth of the original walls close up in the Undercroft at the base of the West Tower. In the Chinese Withdrawing Room, they'll be treated to a taste of early 19th-century décor.
In 1967, Arthur Butler, 6th Marquess of Ormonde, presented the castle to the people of Kilkenny. There's a long-established rose garden together with 20 hectares of charming grounds to stroll through.
Address: The Parade, Kilkenny
2. National Design & Craft Gallery and Kilkenny Design Centre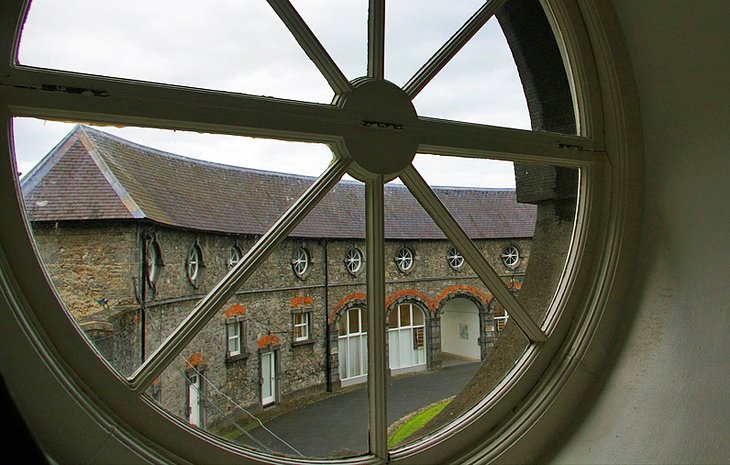 Opposite Kilkenny Castle, in the former castle stables, Kilkenny Design showcases the best of contemporary Irish craft including, among others, textiles, knitwear, pottery, and jewelry.
There's an impressive selection of original Irish handcrafted products of the highest quality and an excellent restaurant, Anocht, which is open daily and in the evenings from Thursday to Saturday.
Adjacent is the National Design & Craft Gallery. Established in 2000, it is Ireland's foremost center for contemporary craft and design. The Gallery features Irish and cutting-edge international designers, artists, and artisans across a variety of disciplines and hosts an ever-evolving and eclectic range of exhibitions.
3. Saint Mary's Cathedral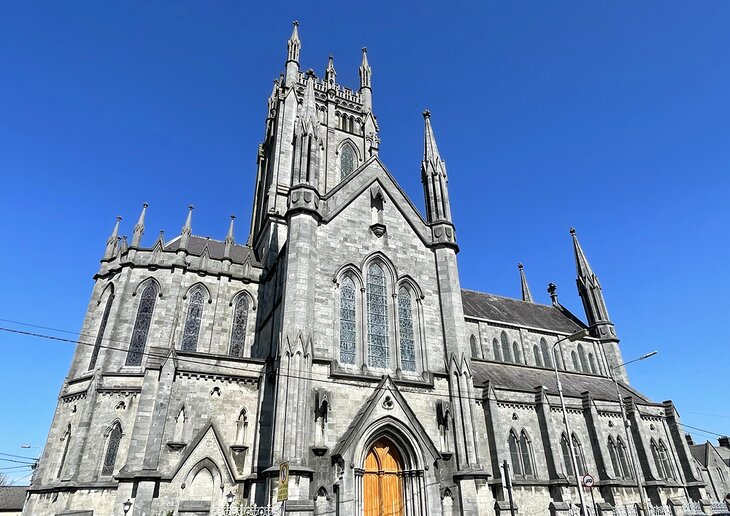 A leisurely 10-minute stroll from Castle Yard will take visitors to the imposing Neo-gothic St. Mary's Cathedral. The Kilkenny Tourist Office (Rose Inn Street) is a small detour and three minutes from Kilkenny Castle. Set in the Shee Alms House, this is a great place to visit to learn more about the city, grab a map, and gab with the friendly staff.
The cathedral, designed by William Deane Butler, dates from 1843. Its impressive landmark tower rises to a height of 56 meters and is visible across the city.
The altar is one of the cathedral's most impressive attractions. It is made of Italian marble, and relics of Saints Cosmas, Damian, Clement, and Victoria are found here.
After wandering around the grounds, satisfy your hunger craving at the on-site tearoom, a pleasant space serving coffee, tea, cakes, and snacks.
Address: James's Street, Kilkenny
4. Medieval Mile Museum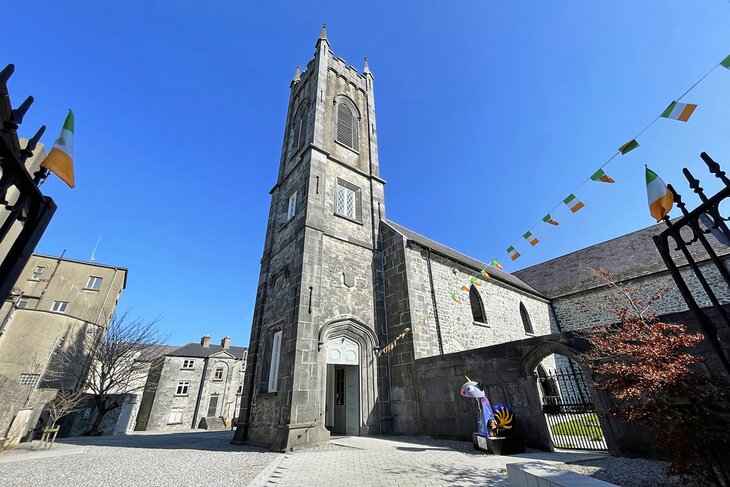 The Medieval Mile discovery trail winds its way past the city's most historic museums, making it easy for visitors to guide themselves from one beautiful Kilkenny tourist attraction to the next.
Inside St. Mary's Cathedral lies the new(ish) Medieval Mile Museum — it opened in 2017. A bright and airy museum dedicated to divulging the town's deepest, darkest secrets, the museum also serves as a venue for exciting events and changing exhibits. These are designed to help boost the city's cultural element.
Treasures on display include replicas of Medieval Ossory High Crosses. Modern technology such as giant television screens; a long, interactive table; and projected images help bring the past to life in a magical way.
Audio guides are available to complement your tour, and interactive audio tours take place every 10 minutes from 11am to 5:20pm on Wednesdays through Sundays.
Address: 2 St. Mary's Lane, High Street
5. Rothe House and Gardens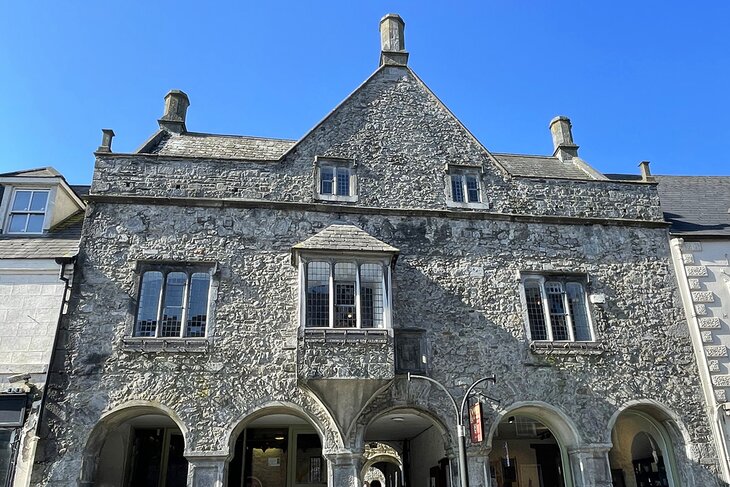 Tudor Rothe House (1594) lies about a five-minute walk from St. Mary's. Once a merchant's house, this historic building was created around two courtyards. Restored in 1966, it has been a major tourist draw ever since, and a visit here is one of the top things to do in Kilkenny.
The house now serves as the headquarters of the Kilkenny Archaeological Society, with their library and museum. Inside, visitors will find museum exhibits that include a well-worn Viking sword, period costume collection, and genealogical study center.
A highlight for visitors lies just outside the house. Here, visitors are treated to a quaint respite in the form of a walled garden. Open since 2008, this peaceful space is a reconstruction of an early 17th-century urban garden. On the opposite side of the street is the Courthouse (1794).
Address: Parliament Street, Kilkenny
6. St. Canice's Cathedral and Round Tower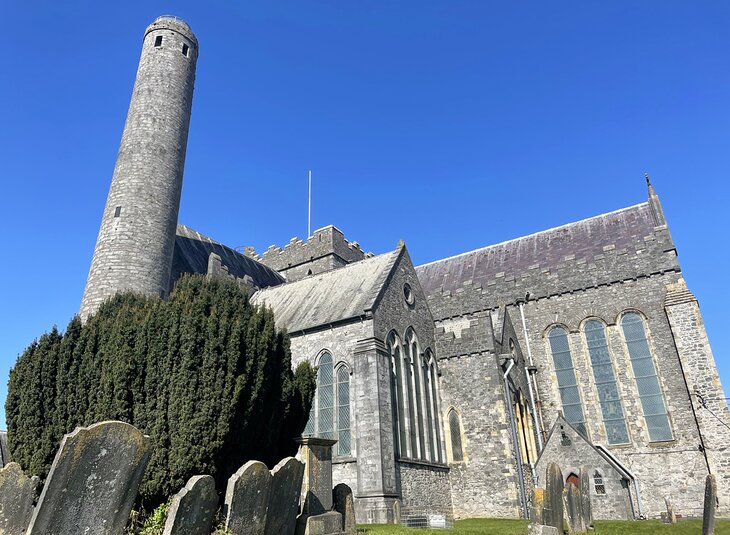 The entrancingly Gothic St. Canice's Cathedral lies just off Vicar Street at the north end of town. A mere five-minute walk from Rothe House, this is one of the most popular visitor and heritage sites in Ireland.
The building of this prominent cathedral took years — from about 1251 to 1820, to be exact. Interestingly, it was erected on the site of an earlier church.
The massive 14th-century squat tower and the walls of the aisles, transepts, and clerestory are all topped by crenellations. In spite of much restoration (most recently in 1863-1864) the interior has preserved its spacious character.
The Round Tower, one of only two in Ireland with public access, is the oldest standing structure in Kilkenny City. Visitors can climb up for fantastic views of the city.
Address: The Close, Coach Road, Kilkenny
Official site: www.stcanicescathedral.com
7. The Black Abbey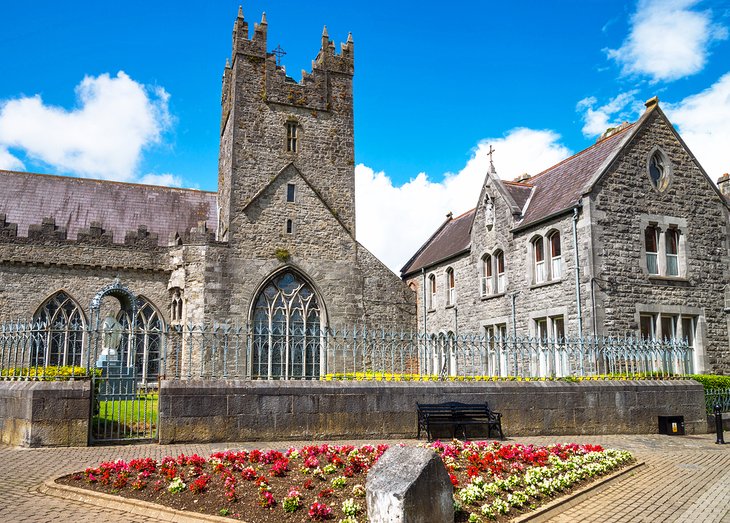 The medieval Black Abbey is found just beyond Black Freren Gate (one of the old town gates) on the aptly named, Abbey Street.
Established in 1225, this church was once a place of worship for Christians of the Dominican Order (a.k.a. Blackfriars) whose black cloaks inspired the church's moniker.
Of the original church, only the nave, 14th-century south transept, and 15th-century tower remain. All are more than worthy of a visit. Notable features of the interior are a medieval alabaster carving of the Trinity and a crudely carved oak figure of St. Dominic. The large, almost floor-to-ceiling stained-glass windows are breathtaking.
To get to the Abbey, follow Parliament Street, which runs south from the cathedral and crosses the little River Bregagh. It serves as the boundary between Kilkenny's Irishtown and High Town. Abbey Street lies just steps beyond.
Address: Abbey Street, Kilkenny
8. Dunmore Cave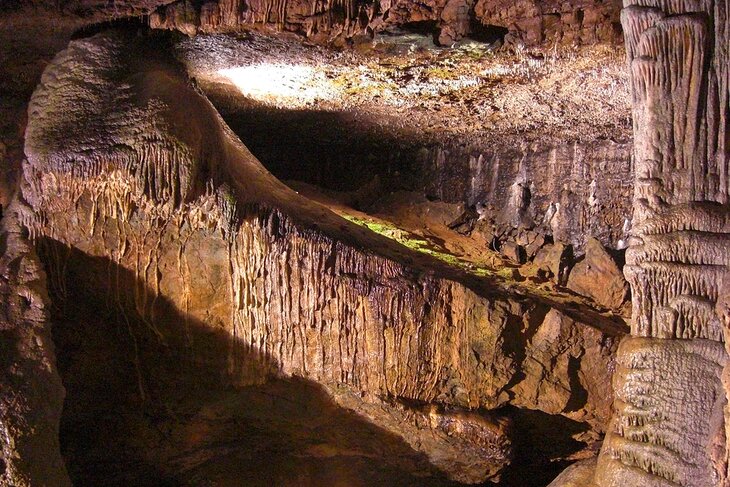 Kilkenny may be steeped in medieval history, but its roots go much, much deeper. For a glimpse into Kilkenny's prehistoric past, take a trip out to Dunmore Cave, which is not far from Kilkenny town.
Head outside the city, following the N78 for about 15 minutes, to find an ancient cave so captivating, you'll wish you could stay longer. Known as Dunmore Cave, this spectacular natural wonder consists of a series of limestone chambers formed over millions of years. Inside lie some of the finest calcite formations in Ireland.
The Market Cross is particularly impressive. A stalagmite of immense proportions, it reaches more than six meters high. This famous cave was first mentioned in the ninth-century Irish Triads.
Today visitors can explore the cave with guided tours that take them inside the cave and back in time through the millennia of history.
The visitor center contains excavated items such as bones, coins, and simple tools, many of which date from the 10th century.
Address: Ballyfoyle, Castlecomer Road, Kilkenny

9. Jerpoint Abbey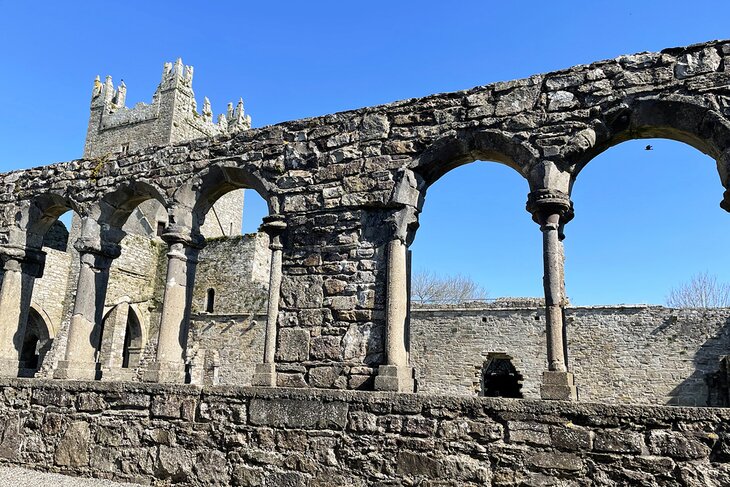 Though not technically in Kilkenny, a quick 25-minute drive along the N10 (Thomastown direction) takes visitors to the beautiful monastic ruin of Jerpoint Abbey (National Monument).
Founded in 1158, it was occupied by the Cistercians from 1180 until its forced dissolution in 1540. Only the sacristy, chapter house, and day rooms on the east side of the structure have been preserved, but they are well worth the trip.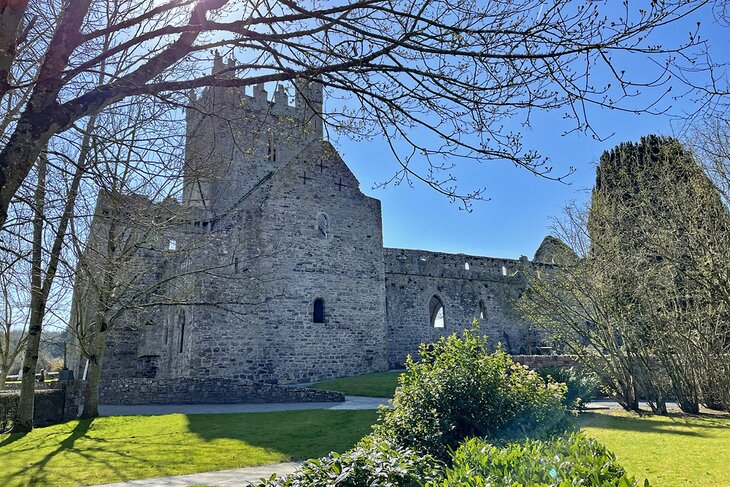 Also on site is a handsome 15th-century tower rewarding stair climbers with fine views from the top. The nave is divided into two parts: the monks' choir and the lay brothers' choir.
The church has many fine monuments and tombs including those of 13th-century knights, and in the cloister are a fine series of carved figures.
Address: Thomastown, Co. Kilkenny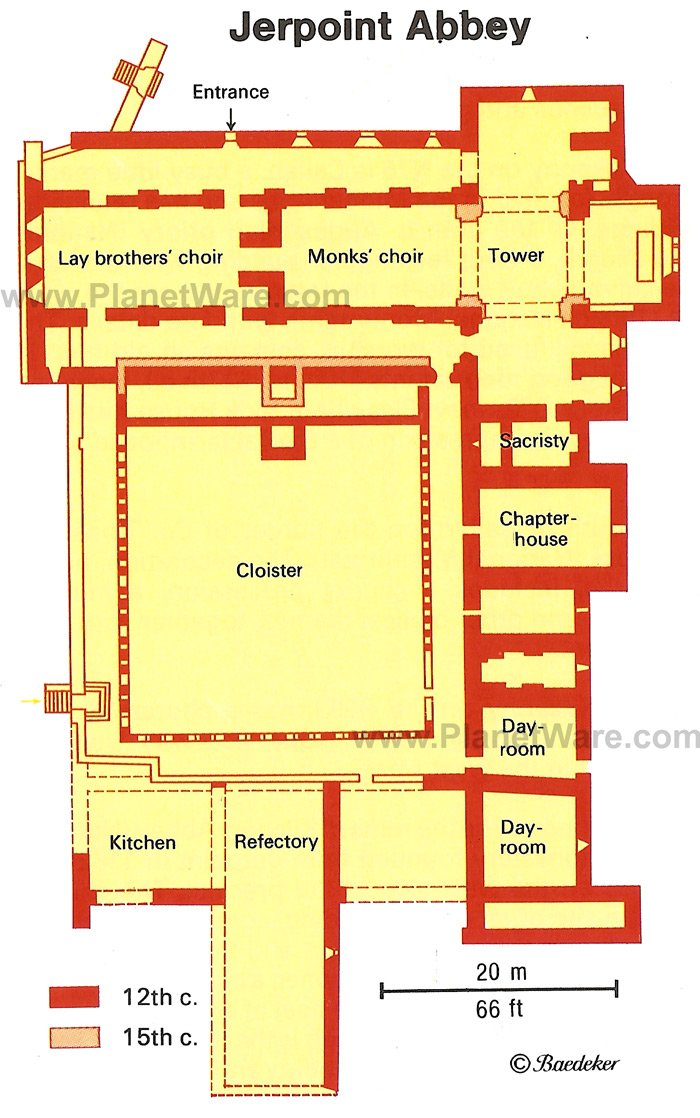 10. Kilfane Glen & Waterfall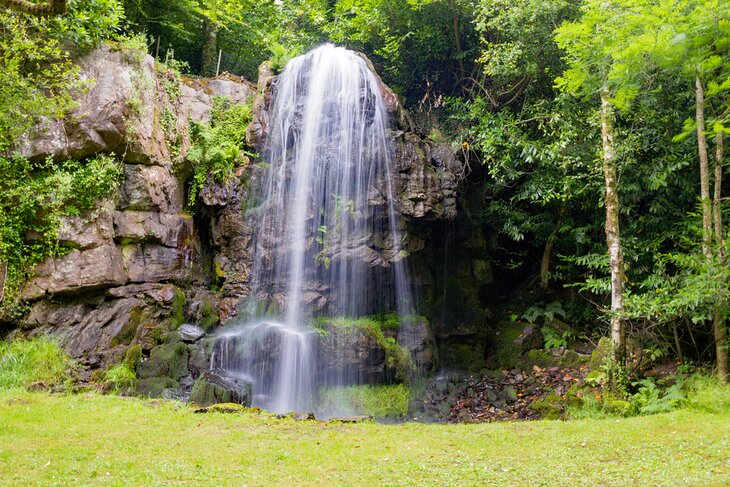 Speaking of trips through time, Kilfane Glen & Waterfall is a gorgeous oasis of a Romantic-era garden that dates back to the late 18th century. The gardens themselves were influenced by the philosopher Jean-Jacques Rousseau and his Romantic movement. It was originally owned and designed by the prominent Power family.
In fact, the gardens have remained intact and preserved for two centuries, allowing visitors to walk along paths of history and enjoy a beautiful glimpse into Kilkenny's past. Within the garden is a plunging waterfall, babbling stream, and meandering paths that wind their way through lush, green forests. The 15-acre garden is listed as an Irish Heritage garden, as well.
Address: Stoneen, Kilfane, Co. Kilkenny, Ireland
11. Woodstock Estate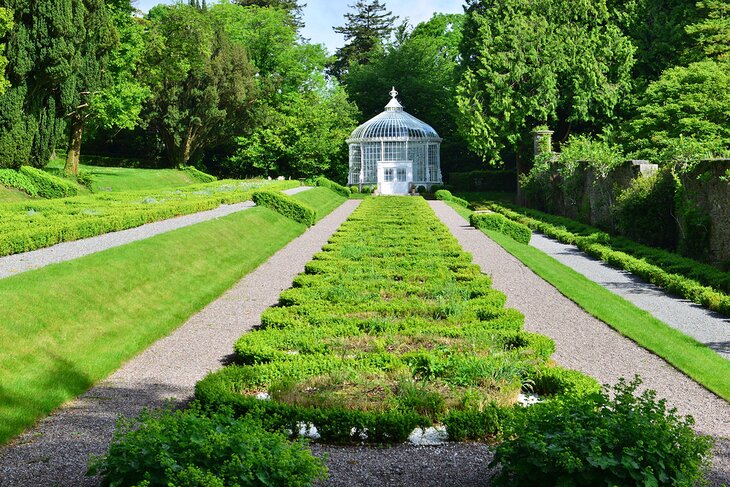 Kilkenny's history spans the ages, so here is another opportunity to get to know Irish history a little bit better. Not far from the town, near the village of Inistioge, is the skeleton of an 18th-century home that was destroyed during the 1922 Irish Civil War.
The original house was built for Sir William Fownes in the 18th century, constructed of limestone and marble. While the house remains in ruins, the reason to visit this spot is to see the gorgeous gardens that remained.
The gardens here overlook the River Nore Valley and date back to as early as 1840. Among the beautiful features of Woodstock Estate are the arboretum, the rose garden, and a lovely fountain.
The original owners of the house were William Tighe and Lady Louisa Lennox. The couple is credited with bringing a variety of foreign flora species to Ireland, like the noble fir and a coastal redwood.
Address: Inistioge, Co. Kilkenny, Ireland
Official site: https://www.woodstock.ie/
Kilkenny, Ireland - Climate Chart
Average minimum and maximum temperatures for Kilkenny, Ireland in °C
J
F
M
A
M
J
J
A
S
O
N
D

8

2

8

2

10

2

12

3

15

6

18

8

20

11

19

10

17

8

14

6

10

3

8

2

PlanetWare.com
Average monthly precipitation totals for Kilkenny, Ireland in mm.

86

66

64

51

61

51

53

71

71

84

74

89
Map of Kilkenny - Best Tourist Attractions
More Related Articles on PlanetWare.com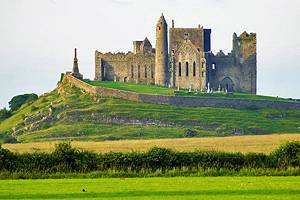 More of Ireland: No trip to Ireland can be considered complete without a visit to one of the top tourist destinations: The Ring of Kerry. This scenic drive is filled with the raw beauty for which the country is known. Wexford, with its famous Opera House, and Waterford, home to the famous crystal, are two additional locations with interesting sightseeing close by.