8 Top-Rated Tourist Attractions in Kilkenny, Ireland
Roughly one-and-a-half hour's drive from Dublin, on the banks of the River Nore, the town of Kilkenny, in southeast Ireland, is considered by many to be second only to the capital in its attractions for visitors. The narrow, winding streets lend it an atmosphere of Old World charm; its terraces of handsome Georgian houses give it elegance; and with all this, it remains a bustling modern town and market center for a fertile agricultural area. For those who don't wish to drive, there are regular bus and train links from Dublin (Heuston Station for the train or Busáras - Central Bus Station).
1 Kilkenny Castle, Rose Garden, and Park
Perched dramatically at a strategic height and commanding a crossing on the River Nore, Kilkenny Castle dominates the 'High Town' of Kilkenny City. After many facelifts over the centuries, today Kilkenny Castle exhibits a blend of architectural styles. In the early thirteenth century, the original Anglo-Norman stone castle was constructed for the 4th Earl of Pembroke before becoming the main Irish residence of the powerful Butler family for almost 600 years. In 1967, Arthur Butler, 6th Marquess of Ormonde, presented it to the people of Kilkenny. There's a long-established rose garden together with 20 hectares of charming grounds to stroll through.
Hours: Open year round, June-August, 9.am-5.30pm, off-season 9.30am-5.30pm (closed 4.30pm October-February)
Admission: Adult €6, seniors €4, students & children €2.50, under 6 yrs free
Address: The Parade, Kilkenny
2 National Craft Gallery and Kilkenny Design Centre
Opposite Kilkenny Castle, in the former castle stables, Kilkenny Design showcases the best of contemporary Irish craft including, amongst others, textiles, knitwear, pottery, and jewelry. There's an impressive selection of original Irish handcrafted products of the highest quality and an excellent restaurant, open daily and in the evenings from Thursday to Saturday. Adjacent is the National Craft Gallery. Established in 2000, it's Ireland's foremost center for contemporary craft and design. The Gallery features Irish and cutting-edge international designers, artists, and artisans across a variety of disciplines and hosts an ever-evolving and eclectic range of exhibitions.
National Craft Gallery
Hours: Open Tuesday-Saturday 10am-5.30pm, Sunday 11am- 5.30pm, closed Monday
Admission: Free
Address: Castle Yard, Kilkenny
Kilkenny Design Centre
Hours: Open 7 days from 10am
Admission: Free
Address: Castle Yard, Kilkenny
3 Saint Mary's Cathedral
A leisurely 10-minute stroll from Castle Yard will take visitors to imposing Neo-gothic St. Mary's Cathedral. The Kilkenny Tourist Office (Rose Inn Street) is a small detour and three minutes from Kilkenny Castle. The Cathedral, designed by William Deane Butler, dates from 1843 and the impressive landmark tower, visible across the city, rises to a height of 56 meters. The altar is of Italian marble and relics of Saints Cosmas, Damian, Clement, and Victoria are to be found here. There's a pleasant tea room serving coffee, tea, cakes, and snacks.
Hours: Open daily
Admission: Free
Address: James's Street, Kilkenny
4 Rothe House and Gardens
About a five-minute walk from St. Mary's is Tudor Rothe House (1594). This merchant's house, built around two courtyards, was restored in 1966 and has been a major tourist draw ever since. It's now the headquarters of the Kilkenny Archaeological Society, with their library and museum. The house consists of museum exhibits including a well-worn Viking sword, a period costume collection, and a genealogical study center. The quaint walled garden, open since 2008, is a reconstruction of an early 17th-century urban garden, and is very popular with visitors. On the opposite side of the street is the Courthouse (1794).
Hours: Open April-October 10.30am-5pm (Mon to Sat), 3pm-5pm (Sunday)
November-March 10.30am-4.30pm (Mon to Sat)
Admission: Adults €5, seniors & students €4
Address: Parliament Street, Kilkenny
5 St. Canice's Cathedral and Round Tower
At the north end of town, just off Vicar Street, around a five-minute walk from Rothe House, stands gothic St. Canice's Cathedral, one of Ireland's most popular visitor and heritage sites. Built on the site of an earlier church, it was begun about 1251 and finally became what we see today in 1820. The massive 14th-century squat tower and the walls of the aisles, transepts, and clerestory are all topped by crenellations. In spite of much restoration (most recently in 1863-1864) the interior has preserved its spacious character. The Round Tower, one of only two in Ireland with public access, is the oldest standing structure in Kilkenny City. Visitors can climb up for fantastic views of the city.
Hours: Open June-August, Monday-Saturday 9am-6pm, Sunday 1pm-6pm, off-season variations
Admission: Adults €6, concession €5.50, family ticket €15 (under 12 yrs not permitted into tower - alternative rates for either cathedral or tower)
Address: The Close, Coach Road, Kilkenny
6 The Black Abbey
Parliament Street, running south from the cathedral, crosses the little River Bregagh, the boundary between Kilkenny's Irishtown and High Town. On the right, in Abbey Street, are the Black Freren Gate (one of the old town gates) and beyond this, Black Abbey Church, once the church of a Dominican friary, Black Abbey (c.1230). Of the original church, only the nave, 14th-century south transept, and 15th-century tower remain. Notable features of the interior are a medieval alabaster carving of the Trinity and a crudely carved oak figure of St. Dominic.
Address: Abbey Street, Kilkenny
7 Dunmore Cave
About a 15-minute drive outside the city along the N78 brings visitors to this ancient cave. Consisting of a series of chambers formed over millions of years, it contains some of the finest calcite formations found in Ireland, among the most impressive being a stalagmite more than six-meters high, known as the Market Cross. This famous cave was first mentioned in the 9th-century Irish Triads. The Visitor Centre contains excavated items such as bones, coins, and simple tools, many of which date from the 10th century.
Hours: Open daily 9.30am-6.30pm (last tour 5pm - seasonal variations off-peak)
Admission: Adult €3, seniors €2, children & students €1
Address: Ballyfoyle, Castlecomer Road, Kilkenny

Dunmore Cave Map
Want to use this map on your web site?
Copy and Paste the code below:
8
Editor's Choice

Jerpoint Abbey

A 25-minute drive along the N10 (Thomastown direction) takes visitors to the beautiful monastic ruin of Jerpoint Abbey (National Monument). Founded in 1158, it was occupied by the Cistercians from 1180 until its forced dissolution in 1540. Only the sacristy, chapter house, and day rooms on the east side of the structure have been preserved. There's a handsome 15th-century tower with fine views from the top. The nave is divided into two parts: the monks' choir and the lay brothers' choir. The church has many fine monuments and tombs including those of 13th-century knights, and in the cloister are a fine series of carved figures.

Hours: Open daily March-September 9am-5.30pm (slight seasonal variations)

Admission: Adults €3, seniors & groups €2, children & students €1

Address: Thomastown, Co. Kilkenny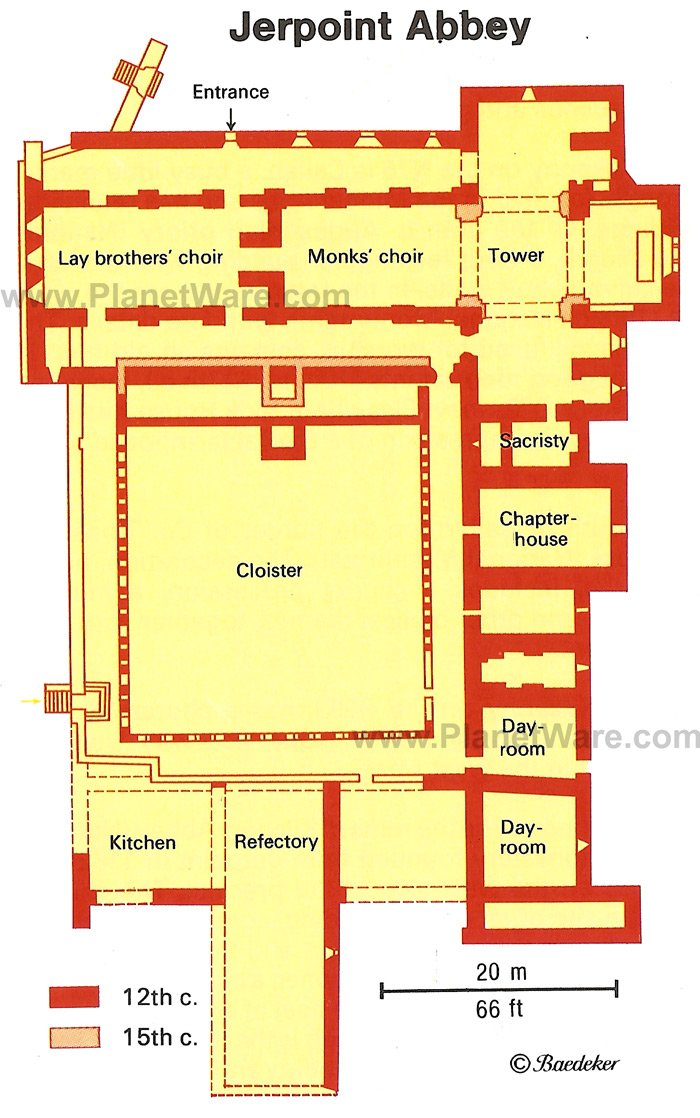 Jerpoint Abbey Map
Want to use this map on your web site?
Copy and Paste the code below:
Where to Stay in Kilkenny for Sightseeing
We recommend these wonderful hotels in Kilkenny, near top attractions like Kilkenny Castle: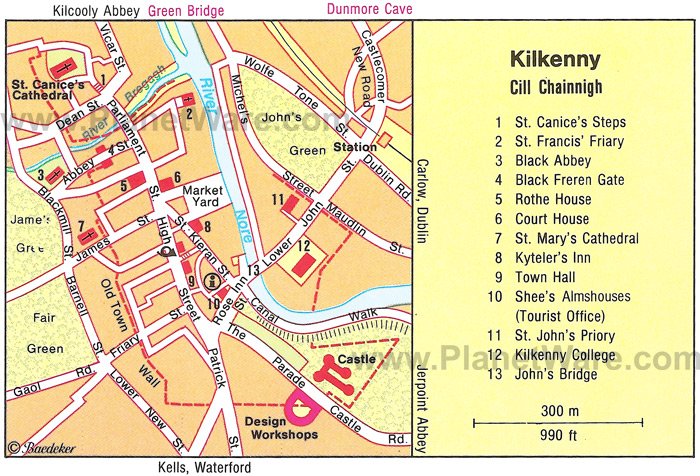 Kilkenny Map - Attractions
Want to use this map on your web site?
Copy and Paste the code below:
More on Ireland