11 Top-Rated Attractions & Things to Do in Waterford
The port of Waterford, located in the southeast corner of Ireland, is an excellent travel destination for those wanting to learn more about Ireland's rich history and culture. And given the fact that the drive from Dublin to Waterford takes only two hours by car, this picturesque city can be easily visited as part of a fun day trip from the Irish capital.
Better still, why not consider spending a few days really getting to know Waterford? You won't be disappointed if you do, as it's also a wonderful place to visit in order to experience a slice of traditional Irish life, with a wide variety of excellent accommodation options.
Founded by the Vikings in AD 914, and as such the oldest city in Ireland, Waterford offers plenty of interesting things to do. Topping the list are spending time exploring the Waterford Treasures. This group of three excellent museums - the Medieval Museum, Reginald's Tower, and the Bishop's Palace - are located in what has come to be known as the "Viking Triangle," and offer fascinating insight into the city's long history.
Waterford is also known worldwide for its exquisite handmade crystal, with tours of the Waterford Crystal factory being a must-do here. Be sure to also spend time exploring the many historic points of interest preserved here, most notably the old town's walls and six surviving towers. There were 17 of them originally, with the best surviving examples being Reginald's Tower, home to the Viking Museum, and the Beach Tower.
Located on the River Suir, midway between Dublin and Cork, Waterford is easy to get to from across Ireland. It's also easy to get to from Britain and Europe thanks to a reliable ferry service, making it one of the top destinations in Ireland.
Discover the best places to visit in this beautiful corner of Ireland with our list of the top tourist attractions in Waterford.
1. See How Waterford Crystal is Made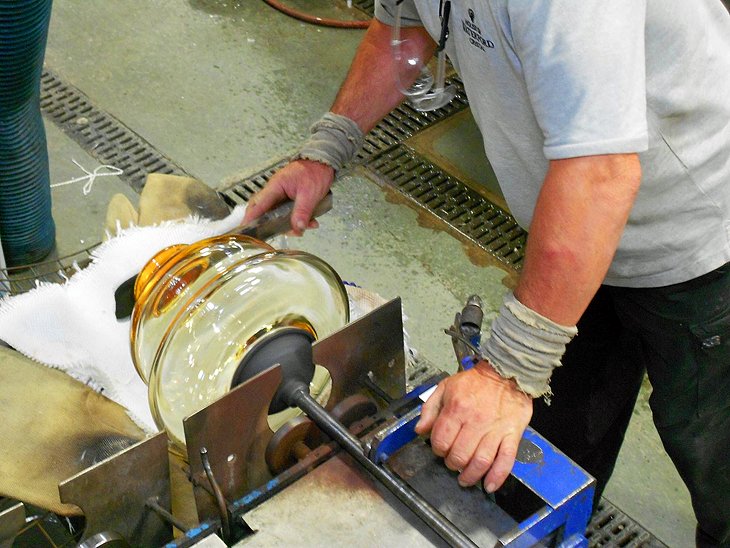 Located in the Mall in the heart of Waterford, the House of Waterford Crystal provides a fascinating glimpse into the workings behind the famed glassworks that put the city on the manufacturing map. Consisting of a manufacturing facility and visitor center, it's now one of the top attractions in Waterford, and is simply a must-do on your Waterford itinerary.
All told, the factory melts some 826 tons of crystal per year and uses it to create the items of exquisite beauty still cherished around the world today. If you want to buy some Waterford Crystal, a retail outlet is also available for purchases, along with a good café.
To make the mosts of your visit, the attraction's best viewed as part of a guided tour that provides a close-up view of the process behind the finished pieces of cut glass. One of the best ways to guarantee a great experience (and to avoid disappointment - it's a popular place!) is to book a fun House of Waterford Crystal Guided Factory Tour prior to your arrival.
This fascinating one-hour tour takes you behind the scenes to see the crystal-making process, and provides a unique opportunity to meet and chat to the crystal makers and glassblowers themselves. You'll also get to see see the historic furnaces used to heat the crystal.
Address: 28 The Mall, Waterford, Ireland
Official site: www.waterfordvisitorcentre.com
2. Visit Historic Christ Church Cathedral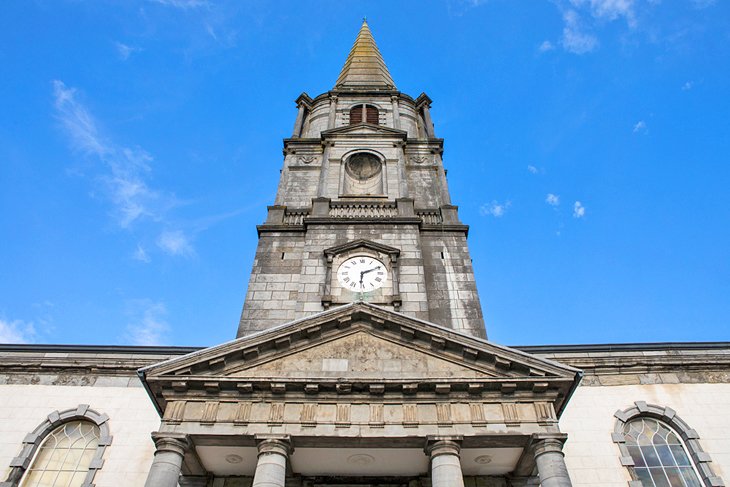 Christ Church Cathedral, also referred to as the Cathedral of The Holy Trinity, Christ Church, is Waterford's principal Protestant place of worship. Built in 1779 on a site known to have had a cathedral on it as far back as 1096, the present day structure continues to be of importance to the Irish. It was on this very spot where, in 1170, the legendary Norman warrior, Strongbow, married Aoife, daughter of Diarmait Mac Murchada, King of Leinster, thereby cementing its place in history.
The present day cathedral has a spacious and elegant interior and two particularly fine tombs: the Rice monument, dating from 1469, and the more recent Fitzgerald monument, made of Carrara marble. Other notable interior highlights include its historic organ, a spectacular original Waterford Crystal chandelier, and one of the country's few surviving consistorial courts. A free audio guide is available and can be downloaded from the cathedral's website prior to your arrival.
Address: 1 Cathedral Square, Waterford, Ireland
Official site: http://christchurchwaterford.com
3. Editor's Pick Curraghmore House & Gardens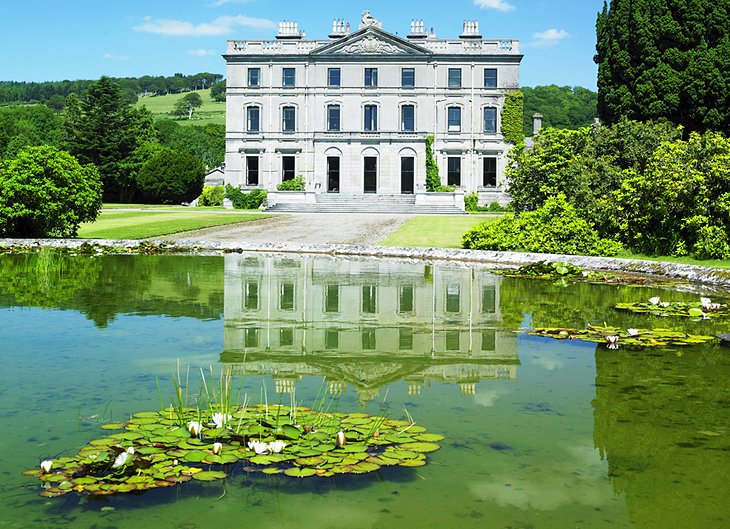 Just 30 minutes' drive from Waterford's city center is elegant Curraghmore House & Gardens. This beautiful country estate comprises over 2,500 acres of formal gardens, pastures, and woodlands. Home of the 8th Marquis of Waterford whose ancestors came to Ireland from Normandy in the 12th century, this historic property and its grounds are fun to explore.
Of particular note as you walk the paths and trails is the stone-arched King John's Bridge. Built in 1205, it's the oldest bridge in Ireland, and is where you'll find the country's tallest tree, a huge stika spruce dating from the 1830s. The Shell House, a folly constructed for the Countess of Tyrone in 1754, is also fascinating. In order to execute her plan, the countess apparently instructed ship captains sailing from Waterford port to bring her back shells from around the world for use in the project.
Other features of interest include 12 miles of boundary walls with an entrance of four strong wrought-iron gates, and a long, tree-lined drive. Group tours of a few of the main rooms of the old manor house are available, but be sure to check their website for contact details and advance booking to avoid disappointment. A good time to visit is during the annual Waterford Country Fair held each June. There's also a great tearoom located here.
Address: Curraghmore Estate, Curraghmore, Portlaw, Co. Waterford, Ireland
Official site: http://curraghmorehouse.ie/
4. The Rock of Cashel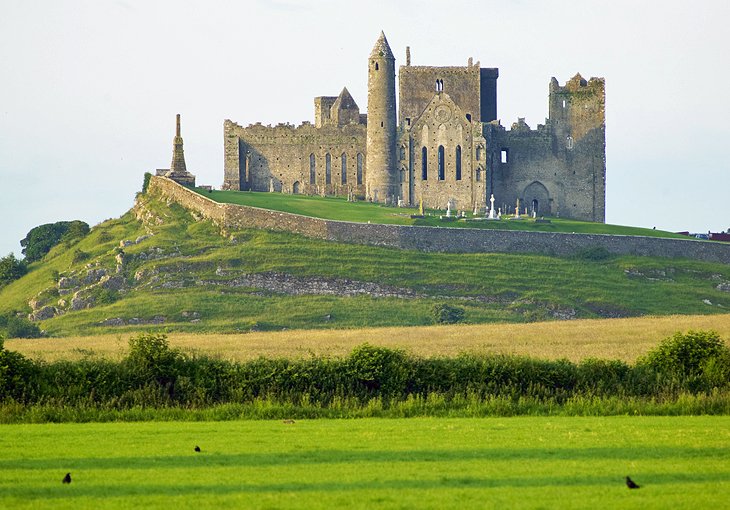 About 70 minutes' drive from Waterford, The Rock of Cashel is Ireland's most visited heritage site. Also known as St. Patrick's Rock and "Cashel of the Kings," this sacred medieval site's buildings, while now mostly ruins, date from the 12th and 13th centuries, when it became church land. Prior to that, it's said that this was the seat of the High Kings of Munster and the place where St. Patrick converted King Aengus of Munster to Christianity in the 5th century.
Often shrouded in mist and rising dramatically out of the landscape, the castle certainly raises goosebumps when you first see it. This is especially true if you're visiting at night; when lit up, it takes on an otherworldly dimension.
There's now a visitor center, which provides an informative audio-visual show and various displays relating to the site's rich history. Guided tours are also available.
Address: Moor, Cashel, County, Tipperary, Ireland
Official site: www.cashel.ie/rock-of-cashel/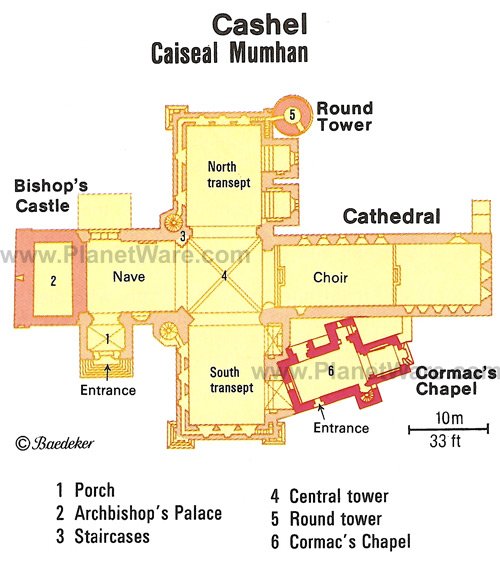 5. Waterford Treasures: The Medieval Museum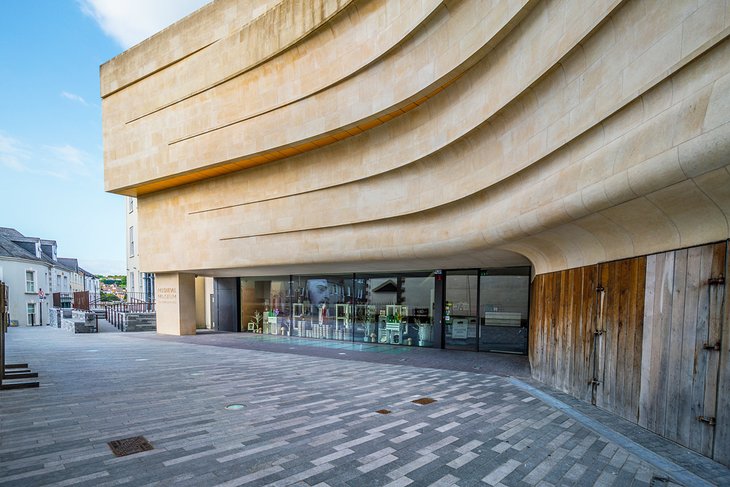 Located in the vicinity of Christ Church Cathedral, the spectacularly designed Medieval Museum (aka, The Treasures of Medieval Waterford) focuses on city life during medieval times. The cloister hall is particularly eye-catching. Among the historic artifacts housed here are an array of vestments, a medieval depiction of King Edward III, and a hat once belonging to the notorious King Henry VIII.
Also of interest are the old 15th-century vaults, along with antiquities that include period artwork and relics, a well-preserved collection of embroidery, including Waterford's cloth-of-gold 15th-century vestments. Guided tours are available and are led by costumed re-enactors.
Address: Cathedral Square, Waterford, Ireland
Official site: www.waterfordtreasures.com/medieval-museum
6. Explore the Bishop's Palace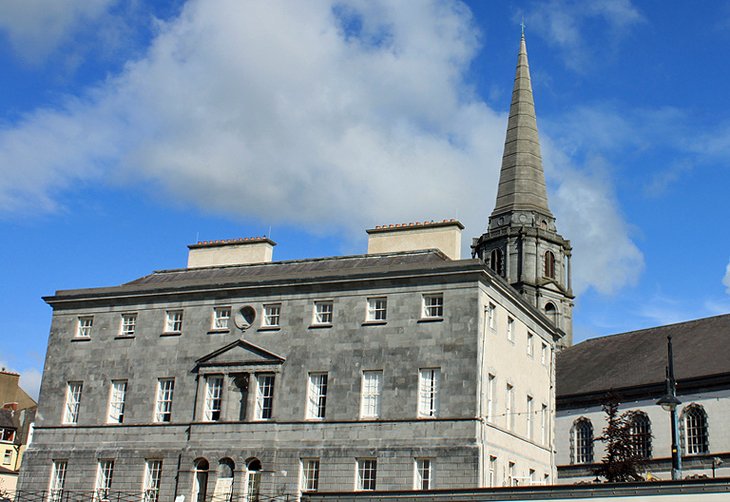 Waterford, once one of Ireland's most important cities, was historically a place of considerable wealth due to its role as a port and place of trade. Much of this wealth was pumped back into the city's often grand buildings built in the 18th and 19th centuries. One of the most attractive and opulent of these is the Bishop's Palace.
Located just a stone's throw from Christ Church Cathedral, the palace was built in 1741 to a design by renowned architect Richard Castles. Now a museum (it's part of the Waterford Treasures group of museums), there's much to see here, including the oldest surviving piece of Waterford crystal in the world, a cut-glass decanter dating from the 1780s. Also notable is its mourning cross, the last remaining of 12 created to commemorate the death of Napoleon.
The museum not only focuses on Georgian times, but also takes visitors on a fascinating journey from the Ireland of the early 1700s all the way to the 1970s, with exhibits focusing on the city's population through the ages. There's also a café located on-site.
Another interesting museum, this time one that deals with a specific period of Waterford's history, is the Edmund Rice Heritage Centre. This location shares the fascinating story of Edmund Rice, an 18th-century Roman Catholic missionary who devoted his life educating and caring for the poor. A highlight is the multi-media tour showing what life was like in the Waterford of the mid-1700s.
Address: The Mall, Waterford, Ireland
Official site: www.waterfordtreasures.com/bishops-palace
7. Visit the Viking Museum at Reginald's Tower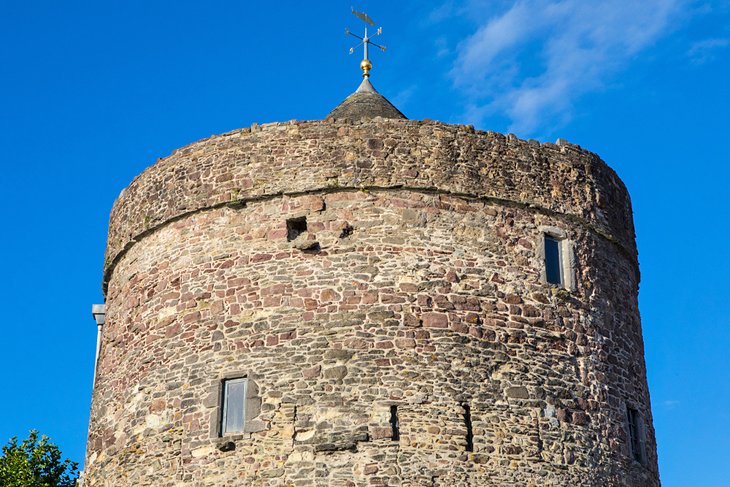 Situated at the far end of Waterford's Parade Quay, The Mall is an attractive street with a number of elegant Georgian houses that branch off on the right at a sharp angle. Here, on the corner, is an imposing, squat, round structure known as Reginald's Tower.
Boasting walls three meters thick, the tower is said to be over 900 years old and is the oldest civic urban structure in Ireland. Though reputedly once a part of the defenses used against the Vikings, much of what you see today, though, was built in Norman times and served at various times as a prison, a mint, and a military store.
Now home to the Viking Museum and part of the Waterford Treasures collection of museums, it's one of the top attractions in the city and is well worth taking the time to explore. Highlights include historical and archaeological artifacts that trace Waterford's Viking heritage, a tight spiral staircase known as "stumble steps," plus a model of what the town would have looked like at the time. Also of note is the replica Viking long ship located next to the tower.
Address: The Quay, Waterford, Ireland
Official site: www.waterfordtreasures.com/reginalds-tower
8. Take a Ride aboard the Waterford Suir Valley Railway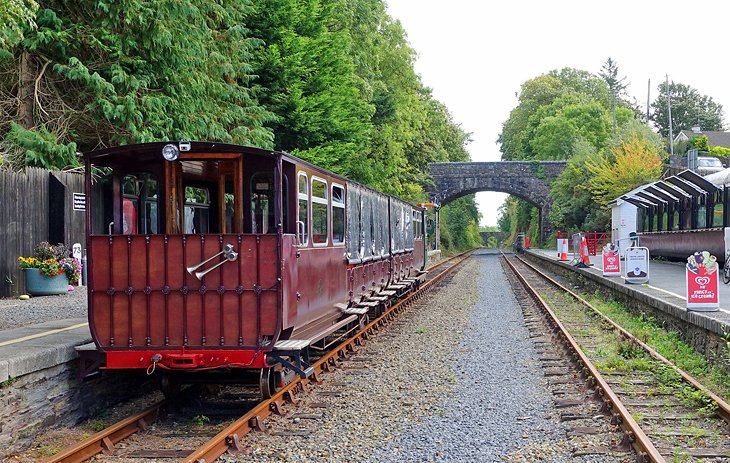 The Waterford Suir Valley Railway in nearby Kilmeaden is a popular attraction and a fun thing to do for those traveling with kids, and for train enthusiasts of all ages. The old workhorse of an engine used to pull guests in open carriages across this beautiful landscape. It's had quite a history, having worked for industry across England and Scotland, and even for a spell hauling dirt excavated during the construction of the Channel Tunnel.
The return journey lasts just under an hour and follows the River Suir along the picturesque Suir Valley, past landmarks including Mount Congreve Gardens.
In addition to its regular tourist schedule, a number of fun special rail excursions are also available. These include educational nature outings involving a birds of prey experience, and a sunset service that includes fresh strawberries and beverages. There are also a number of adventures aimed at families, including teddy bear picnics. A word of warning: these popular excursions do book early, so plan accordingly.
Address: Train Station, Kilmeadan, Kilmeaden, Co. Waterford, Ireland
Official site: www.wsvrailway.ie
9. Mount Congreve House and Gardens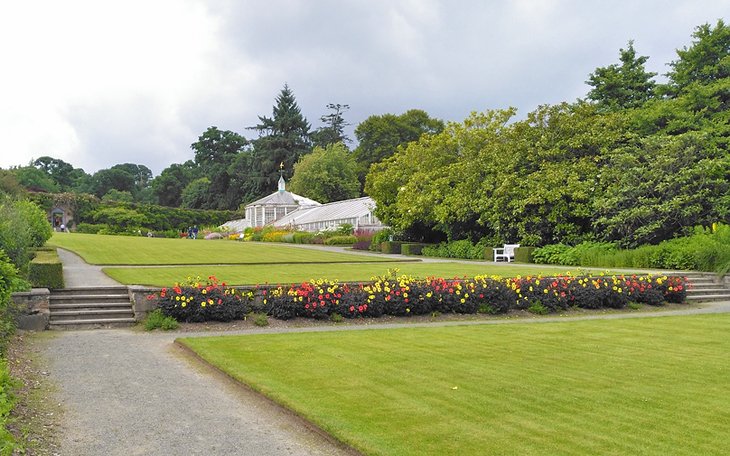 When planning your adventure aboard the Waterford & Suir Valley Railway, be sure to allow a few hours to explore the magnificent grounds of Mount Congreve House and Gardens. Built in 1760 and home to the same family ever since, the property encompasses some 75 or so acres, including huge woodlands and the property's crown jewel: a beautiful four-acre walled garden.
In addition to its many flowerbeds and displays, you'll enjoy exploring the Chinese Pagoda, an attractive classical temple. There's also a Georgian-era glasshouse built in 1840, and a delightful rock waterfall and cascades.
If you enjoy a good stroll, you may want to linger a little and explore the 16 kilometers of paths that crisscross the property. Highlights include seeing examples of the more than 3,000 shrubs and trees spread across the property, including over 1,000 rhododendrons. Guided tours of the gardens are available, along with organized woodland walks, including one that introduces visitors to woodland edibles.
Address: Mountcongreve, Kilmeaden, Co. Waterford, Ireland
Official site: http://mountcongreve.com
10. Take a Day Trip to Lismore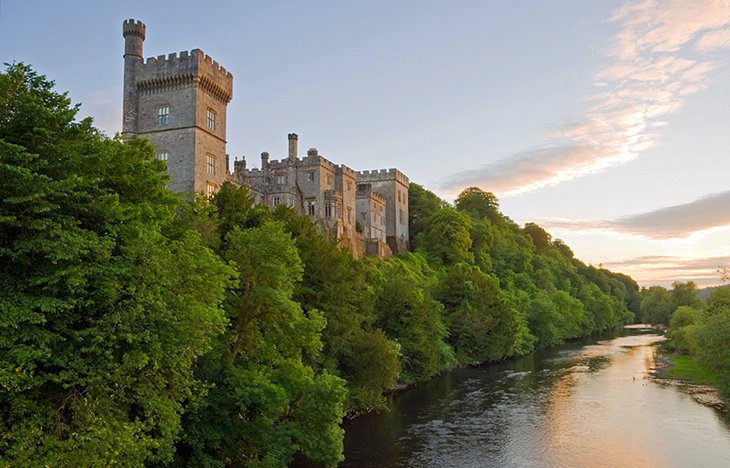 Perched beside the River Blackwater, approximately 70 kilometers from Waterford, the scenic heritage town of Lismore makes for a great day trip from Waterford. Highlights of a visit include seeing stunning Lismore Castle, which towers majestically over the gently flowing waters below. Visitors should drop by the Heritage Centre located on-site for more information, or to join one of the twice daily walking tours, which include a visit to the stunning castle gardens.
Other must-dos in Lismore include paying a visit to St. Carthage's Cathedral and afterwards simply wandering the charming streets with their many quaint cafés and restaurants. Also worth exploring is the Towers Woodland Trail. Located just five kilometers outside of town, it's a great opportunity to experience the area's charming countryside.
Address: Lismore, Co. Waterford, Ireland
11. Dunmore East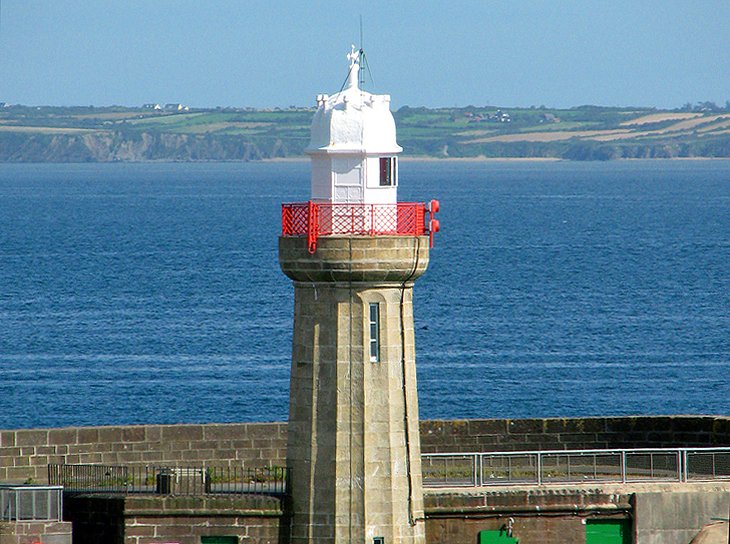 Just over 20 minutes' drive from the heart of Waterford is the idyllic fishing village of Dunmore East. Described as one of the county's hidden gems, it's a popular place for tourists and day trippers to visit, particularly during the summer months.
Highlights of a visit include taking a stroll around the quaint harbor and the adjacent beach area, and afterwards grabbing a bite to eat at any one of the village's excellent seafood restaurants. Whether staying in a holiday rental or quaint, old bed-and-breakfast, visitors find much to do here, including sailing, golf, tennis, walking, and water sports.
Address: Dunmore East, Co. Waterford, Ireland
Map of Attractions & Things to Do in Waterford
Waterford, Ireland - Climate Chart
Average minimum and maximum temperatures for Waterford, Ireland in °C
J
F
M
A
M
J
J
A
S
O
N
D

8

2

8

2

10

2

12

3

15

6

18

8

20

11

19

10

17

8

14

6

10

3

8

2

PlanetWare.com
Average monthly precipitation totals for Waterford, Ireland in mm.

86

66

64

51

61

51

53

71

71

84

74

89
More Related Articles on PlanetWare.com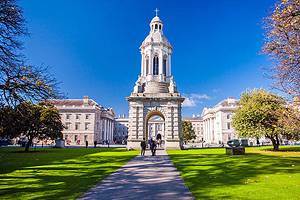 Ireland Vacation Ideas: There are no end of wonderful vacation ideas for those planning a trip to Ireland. One of the best places to visit is Dublin. Notable attractions here include the picturesque Trinity College and College Green, the Kildare Street Museums and Houses of Parliament, and the shopping and sightseeing along Grafton Street. Other great Ireland destinations include its second largest city, Cork, notable for its famous English Market and cathedral; and the charming city of Galway, popular for its wide public square and excellent market.