14 Best Fishing Destinations in Ireland
We may earn a commission from affiliate links ()
While Ireland is known for its brilliant green landscapes, historic castles, and seaside cliffs, it is also a scenic and impressive fishing destination. Mild temperatures throughout the year make the climate and waters consistent, meaning that almost any time of the year is ideal for fishing.
Since the island is surrounded by coastline, it is no surprise that sea fishing is popular for trout, salmon, and Atlantic blue shark. There are also opportunities for fishing in the pristine lakes and rivers throughout the country, and stocked fisheries.
While there is plenty of free fishing in Ireland, licenses or permits are required for some areas and some species, and it is important to check before fishing. If you are not sure where to fish, it is best to hire a regional guide who knows the best locations near you, and they generally include any permit fees in the price. For reputable guide recommendations, permits and licenses, and general information about fishing conditions, refer to Inland Fisheries Ireland, which is the agency that oversees conservation and management of inland fisheries and sea angling in Ireland.
Discover the top places to cast your line with our list of the best fishing destinations in Ireland.
Note: Some businesses may be temporarily closed due to recent global health and safety issues.
1. The Great Western Lakes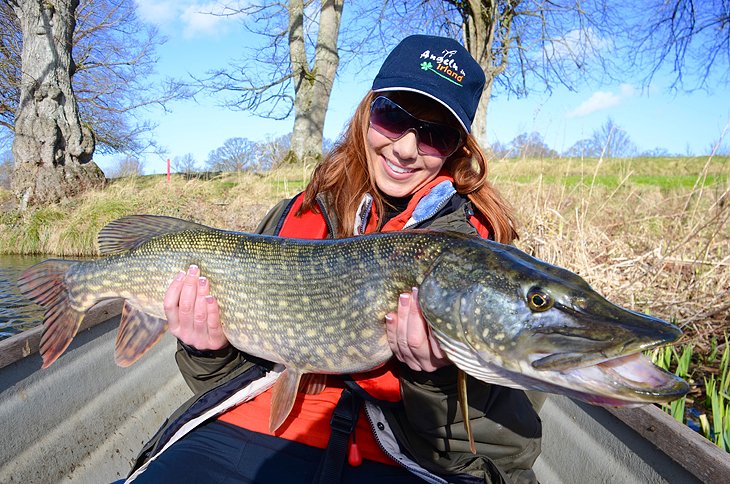 The Great Western Lakes (or Lough, the Irish word for lake) are some of the last remaining wild trout limestone lakes in Europe. They are recognized for the quality of trout fishing. These lakes include Lough Corrib, Mask, Carra, Conn, and Cullin. The lakes are limestone based, making them highly productive due to their alkaline nature.
These lakes have excellent populations of wild trout, averaging one to two pounds and many over five pounds. The king of these lakes is the ferox trout, fast-growing fish that can easily top 20 pounds. Salmon fishing is popular in Corrib and Conn. Pike are found in almost all of the lakes.
Galway is the closest major city to these lakes for food and accommodations. Fishing is free, except for salmon license requirements, and guides are readily available on all the lakes.
Accommodation: Where to Stay in Galway: Best Areas & Hotels
2. Cork Harbour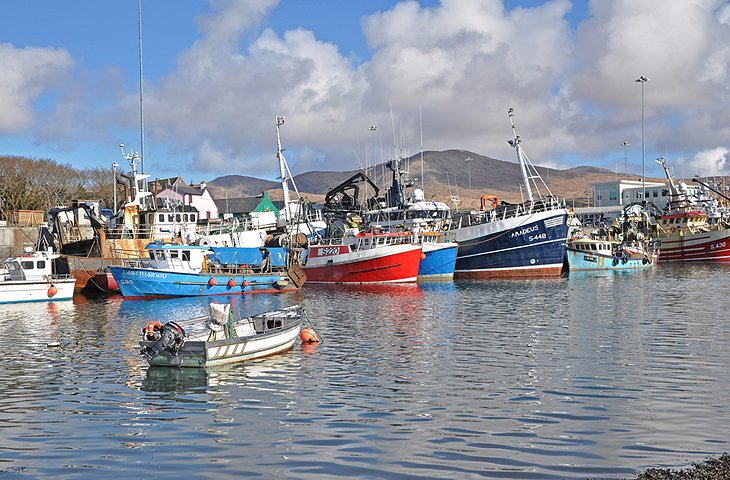 When you arrive in Cork Harbour, it is evident that fishing is a way of life here, which is why it is one of the best places for visiting anglers to target. This is one of the largest natural harbours in the world. Its unique characteristics, like a sheltered bay, indented shoreline, shallow mudflats, sandy beaches, and waterways that go from deep shipping channels to quiet creeks, make it an angler's paradise. Cork Harbour in Cobh is a popular departure point for sea angling charters.
Fly fishing anglers enjoy sport fishing for sea bass and mullet, which are the most common catch. Other species include the blonde ray, cod, pollack, conger eel, and blue shark, which can be found offshore from the mouth of the harbor.
Cobh is the main hub in the area, with a number of deep-sea charter boats offering day trips with guided fishing and all gear provided. You can also find small guided trips for one to three people on smaller boats targeting mostly sea bass.
The Bella Vista Hotel in Cobh has its own tackle shop and offers self-drive or guided fishing on its own fleet of boats.
3. Lakeland Fishery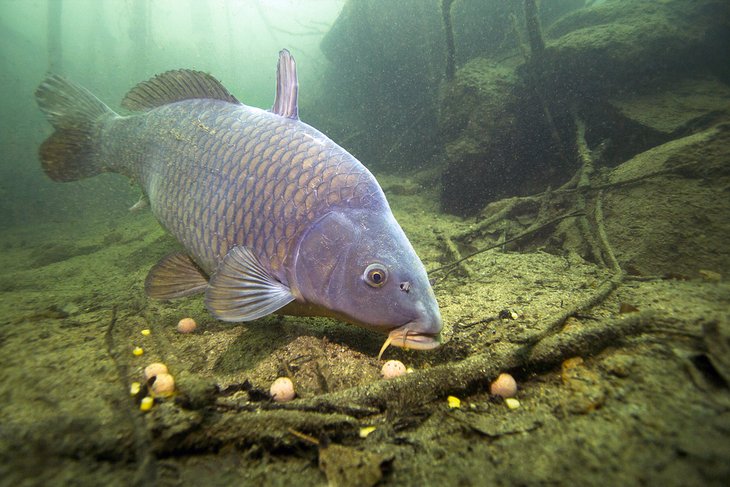 Carp fishing is popular in Ireland, and one of the best locations to target them is the Lakeland Fishery in Ireland's north-central region known as the Lakelands. It is a quiet 15-acre complex with three lakes that anglers can use with a day ticket. The largest lake, Swan Lake, is the most popular for carp; some catches have weighed up to 40 pounds.
The lakes are stocked, and the natural setting is pristine for a day on the water. For multi-day trips, you can rent a yurt on the property and package lodging and fishing. Carp fishing is considered a type of coarse fishing in Ireland, so you can find other lakes around the country that offer this angling niche.
4. Lough Currane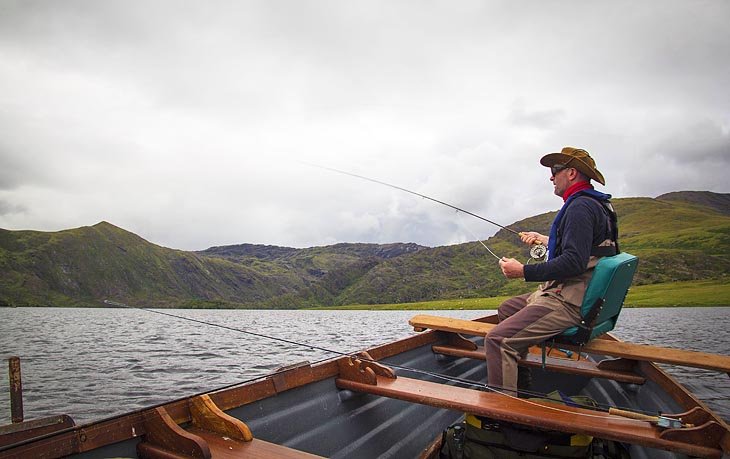 The Lough Currane is often referred to as the jewel in the crown of Irish sea trout fishing. Lough Currane, in Waterville, Co. Kerry, is a large lake covering more than 2,500 acres set in the spectacular mountain surroundings on the Iveragh peninsula. White-tailed sea eagles have been reintroduced here, so they are a regular sight while fishing.
The lake is just upstream from the sea, giving easy access to the large numbers of salmon and sea trout that return every year. There are also populations of wild brown trout. Lough Currane is known for its large sea trout that average four to six pounds. Fly fishing is the most common method on this lake, but trolling and spinning are also used.
5. The River Moy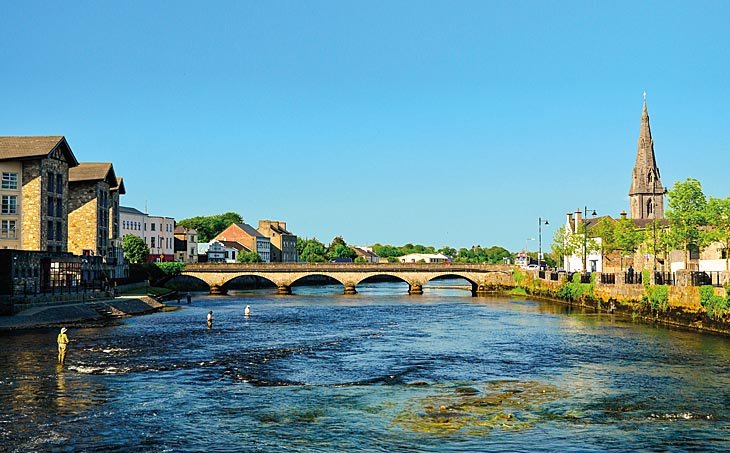 The Moy is Ireland's most famous and productive salmon river, with anglers hauling in more than 6,000 salmon a year. Spring salmon come into the river April through June, averaging nine to 10 pounds. July is the peak time for the salmon run on the River Moy, but smaller summer salmon, called grilse, return in large numbers beginning in June.
The most common methods for fishing on this river are fly fishing, spinning, and bait fishing with worms. There are certain stretches of water that are more suitable for each method than others. Out-of-towners can usually get advice from a local bait shop and from Inland Fisheries Ireland. You will find a number of private and club-owned stretches along the river, but most offer permits at a reasonable price.
Nearby accommodations in Ballina or Foxford range from bed-and-breakfasts to five-star hotels. Mount Falcon Estate is a luxury accommodation surrounded by natural parkland, with private fishing on the river right from the property.
6. The River Boyne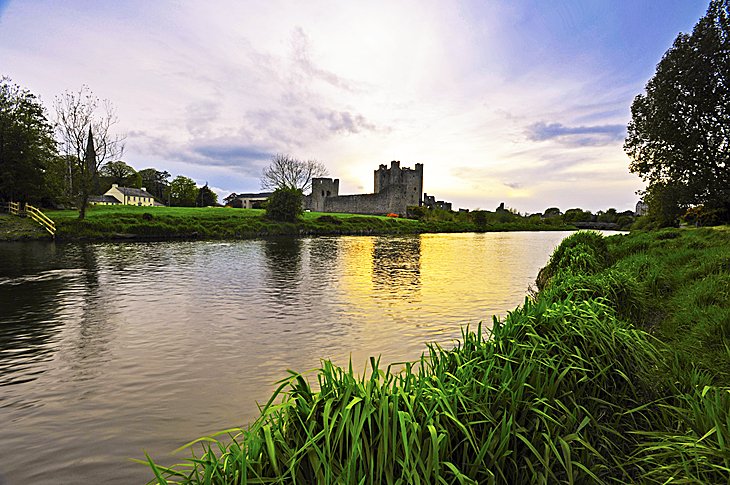 The River Boyne is one of the most productive wild trout rivers in Ireland, providing exciting fly fishing and an abundance of fly hatches. The river sits in the Boyne Valley surrounded by rolling farmland and marshy meadows. Some of the tributaries are renowned trout fisheries, especially the Kells Blackwater.
The wild trout average one to two pounds, with many that are three pounds or more. More impressive than the size of the trout is the quantity of fish in this river, which is why it is so popular with anglers. Salmon also run the river and provide good sport fishing starting in June.
Fishing clubs and private owners control sections of the river, but permits are available for most stretches of the waterway. Some of the closest towns to the River Boyne are Drogheda, Slane, and Donore, where you can find lodging, supplies, and food.
7. Galway Bay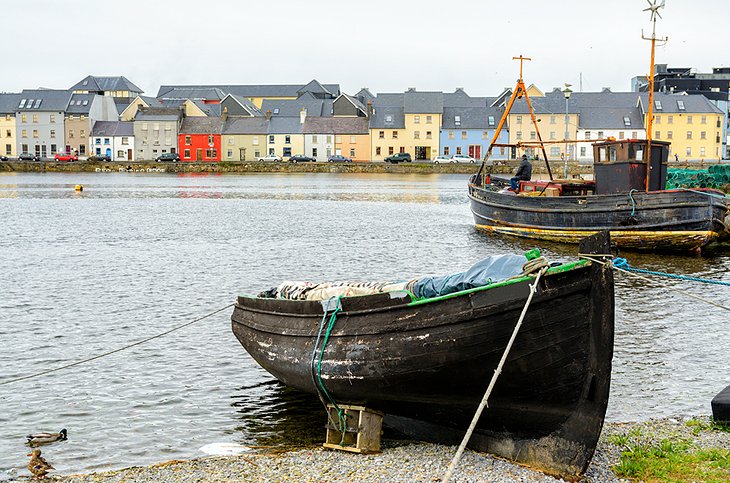 Sea fishing in Galway Bay is as fantastic for the fishing as it is for the stunning Irish scenery. Charter boats operate out of Rossaveal and Spiddal for easy access to the outer bay. The best spots are the Aran Islands with their stone wall fields, and further south along the rocky Burren coastline beneath the majestic Cliffs of Moher.
Blue and porbeagle shark are regular catches, with a variety of other species available. If it fits into your schedule, plan some extra time to stop for lunch on one of the Aran Islands to soak in the view. This area invites some of the best shark fishing in Ireland.
8. Upper Lough Erne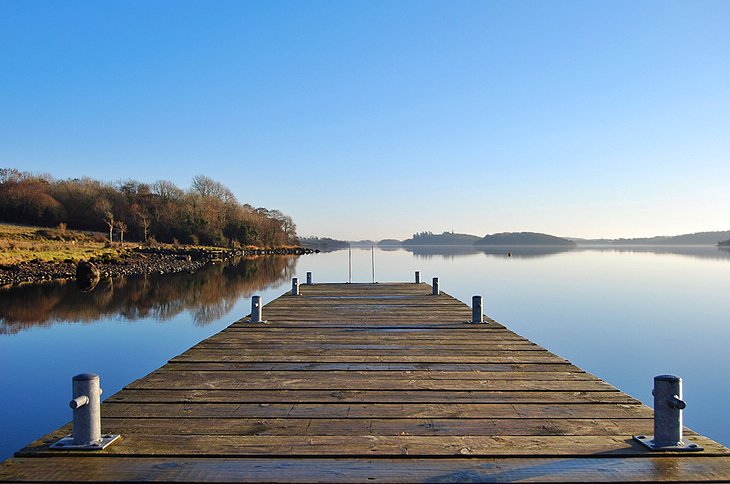 Some of the best pike fishing in Ireland is on Upper Lough Erne, which borders the Republic and Northern Ireland. The rolling countryside is a stunning backdrop for the fertile lake that regularly produces pike in the 20 to 30 pound range. Other species include sea trout and brown trout, perch, and salmon.
You do not need to worry about passport or customs checks on the border, but you will notice different color road signs. Fly fishing, lure fishing, and trolling are successful methods on Upper Lough Erne. There are lodges in the area of Kilmore Quay, which is a small fishing village. Some of them, like the Watermill Fishing Lodge, cater to anglers by providing fishing equipment on-site and a fleet of boats and guides.
9. Ireland's Lakelands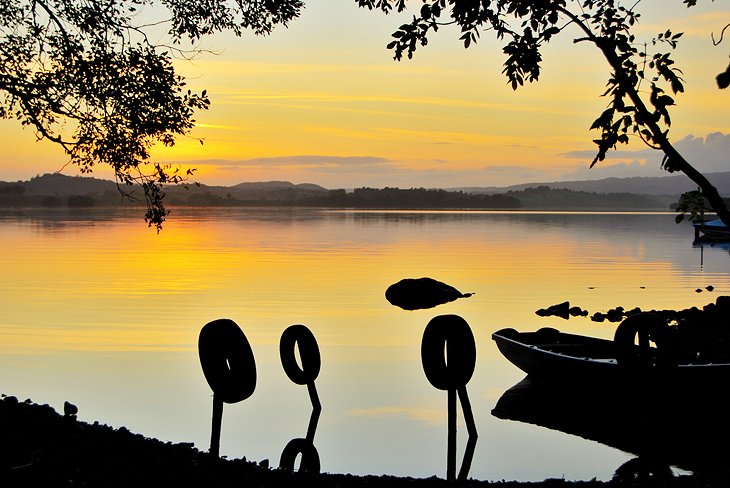 While the Lakeland Fishery is often targeted for carp, the broader Lakelands region is where anglers going after many species can find a honey hole. There are hundreds of large and small lakes that provide a wide variety of fishing for coarse fish and pike.
Two of the largest rivers in Ireland, the Rivers Shannon and Erne, are located in the central plain of the country. Together, they cover a large region, from County Cavan in the north midlands to Limerick in the Midwest. Both rivers include a large number of lakes, which are referred to as the Lakelands.
Bait anglers come here for the big schools of bream, roach, tench, and rudd, which provide an ample food source for the large pike that are caught here. The vast stretch of waterway on the Shannon is the Lough Derg that covers 29,000 acres. It is easy to hire a reputable guide in this area because it is known for excellent pike and coarse fishing.
10. West Cork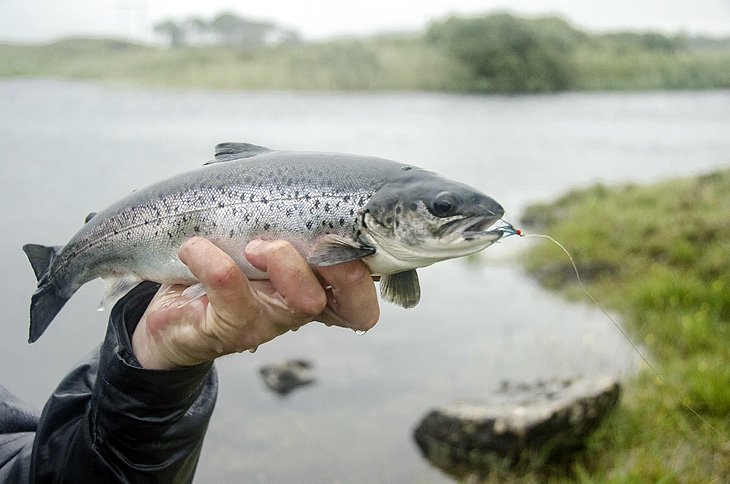 West Cork is a scenic region along Ireland's Wild Atlantic Way tourism trail, with beaches, bays, and estuaries that are all prime spots for fishing for sea bass and other species. Kinsale is a delightful town renowned for its many restaurants overlooking the harbor, where deep sea charter boats can take you to fish for monster coalfish, cod, and pollack.
There are many shipwrecks in the area that provide excellent habitats for various species. Fishing along the coastline is popular for sea bass by spinning, bait fishing, and fly fishing. The River Ilen is popular for salmon (February-September) and sea trout (February-October). A great place to stop for seasonal fishing information from the locals is at the Halfway Angling tackle shop, on the road between Cork and Clonakilty.
11. The Dingle Peninsula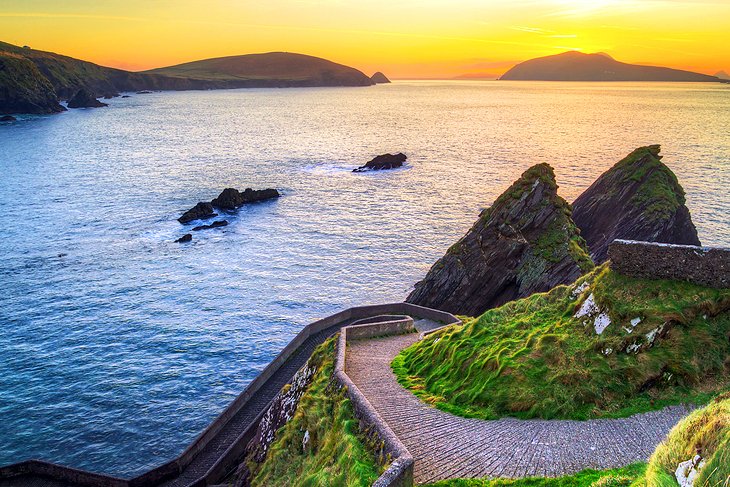 The Dingle peninsula is one of the most spectacular locations along Ireland's Wild Atlantic Way. It is located in the far southwest region of Ireland. The coastline is varied, ranging from long stretches of golden sand on the Atlantic surf beaches intermixed with rocky shoreline and towering cliffs.
The Dingle Peninsula has some of the greatest variety of species that you will find in Irish coastal waters. These include sea bass, blue shark, and several species of ray, including sting ray that grow to more than 50 pounds.
12. Connemara Region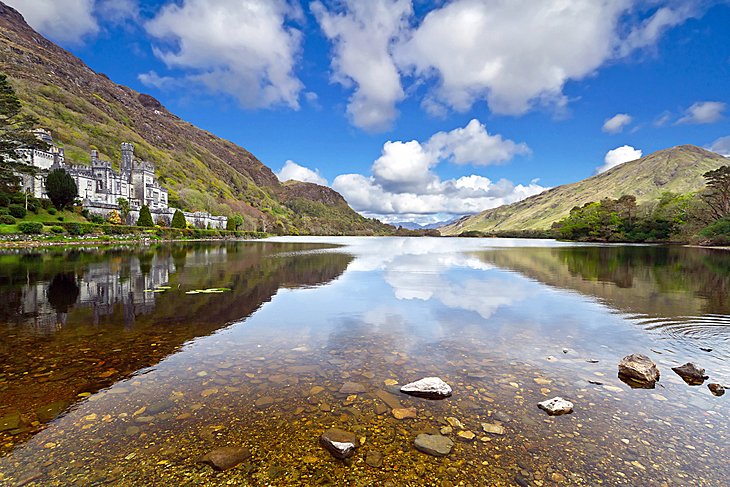 Connemara is a mountain region west of Galway with an abundance of lakes. This spot is a salmon angler's dream. Spend an hour or two in Galway looking over the Salmon Weir Bridge, where polarized glasses will let you see the schools of salmon in the swift flowing River Corrib below.
If you go an hour west by car in the rugged mountains, you will find deep glacial lakes that are home to hearty salmon and sea trout that return every summer. The fisheries of Delphi, Erriff, Kylemore, and Inagh, produce good catches of both species every year. These are mostly fly fishing locations.
13. Lakes of Killarney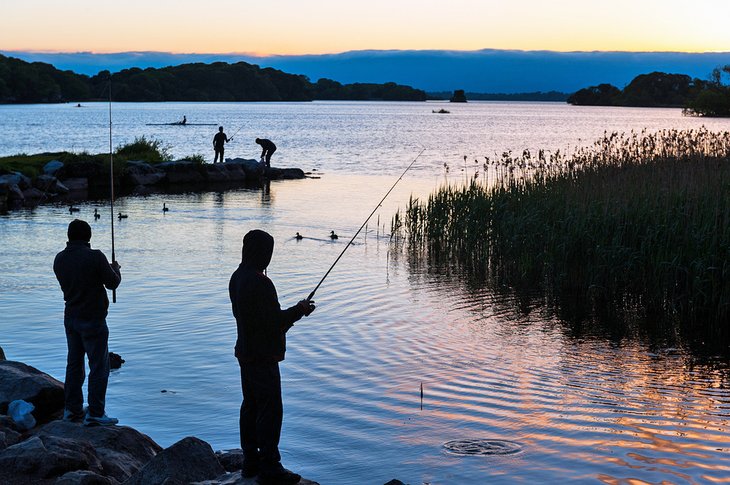 The Lakes of Killarney are not only great for fishing, but the scenery near Killarney National Park is unforgettable and representative of some of the most natural landscapes in Ireland. There are three lakes in this system in southwest Ireland that are part of the River Laune catchment providing another great fishing opportunity.
The River Laune is especially popular for fly fishing for salmon, brown trout, and sea trout. There are some regulations for sea trout and salmon on the river, so you should review these before going out on the water. Fishing is free for anglers on the following lakes: Lough Leane, Upper Lake, and Muckross Lake.
The closest towns for food and lodging to the Lakes of Killarney are Killarney, Beaufort and Killorglin.
14. River Drowes
The River Drowes in northwest Ireland is important to mention because it is where some of the first salmon arrive each year in Ireland. It is one of the only rivers that opens for fishing on January 1, and where the spring run of salmon usually arrive early and last through April.
The early salmon makes the River Drowes a popular spot for anglers in January, so much so that it has become an event for the locals. There are 81 pools along the river, so there is plenty of room for anglers who want to join in the fun. While there are brown trout in the river system, most anglers come for the spectacular salmon.
More Related Articles on PlanetWare.com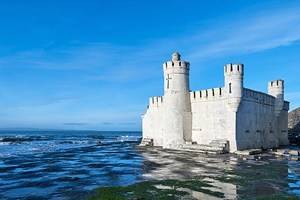 Other Places to Visit in Ireland:During your angling trip to Ireland, be sure to carve out time to enjoy some of the top attractions and areas like the Cliffs of Moher and the Ring of Kerry. You will want to review some of the best places to visit in Ireland and some of the charming small towns with winding streets and rewarding cultural experiences.