From Dublin to the Giant's Causeway: 4 Best Ways to Get There
The best known of Northern Ireland's tourist attractions, the Giant's Causeway makes for an excellent day trip from Dublin. And getting there can be half the fun.
While traveling from Dublin to the Giant's Causeway now involves leaving Europe behind and entering the UK, you'll already have cleared customs and passport controls when entering Ireland, so you should face few, if any, delays en route. That said, you'll need to allow at least three hours travel time each way to cover the 265-kilometer journey, depending on your means of travel.
However you get there, you'll be rewarded with the chance to explore one of the most remarkable natural phenomena on the planet. Formed after a massive volcanic eruption over 60 million years ago, this UNESCO World Heritage Site consists of some 40,000 unusual polygon columns of basalt that seem to form stairs leading into the sea. It makes for a stunning backdrop for photos and selfies, especially on a clear day, when you can see as far into the distance as Scotland.
To help you cram the most into your travel itinerary, be sure to read our list of the best ways to get from Dublin to the Giant's Causeway.
1. From Dublin to the Giant's Causeway by Tour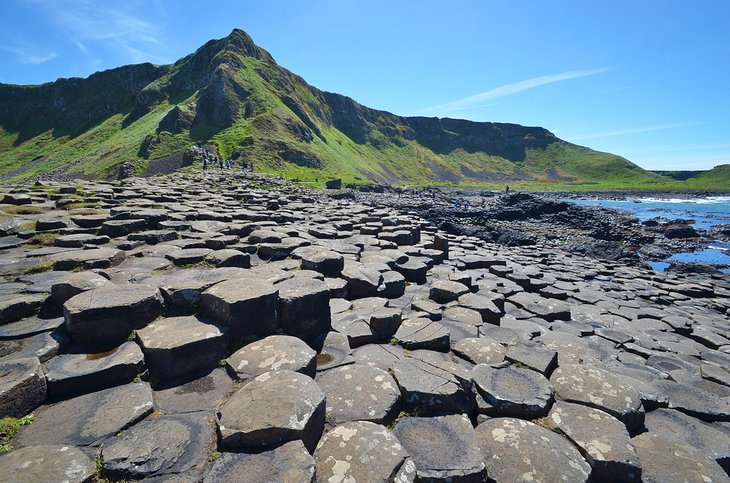 The rise in popularity of organized tours has made it extremely easy (and affordable) to travel from Dublin to the Giant's Causeway. If you're looking to cross off a few items on your things to do list, consider booking a Northern Ireland and Giant's Causeway day trip from Dublin that includes a few fun extras.
This popular excursion leaves Dublin's centrally located Temple Bar neighborhood bright and early (7am) and heads straight to Belfast, Northern Ireland's capital. Here, you'll enjoy a fun black taxi cab tour of the city, taking in such Belfast sights as the politically-inspired murals of its neighborhoods, and the Belfast Docks.
Back on your luxury coach, you'll drive along the stunningly beautiful Antrim Coast to the Giant's Causeway's Visitor Heritage Centre. Here, you'll have two hours to explore this wonder of nature, with the option of joining a free walking tour to learn more from a professional guide. The trip also includes a 90-minute stop at the Carrick-a-Rede Rope Bridge, a breathtaking experience that takes you 24 meters above some of the most dramatic coastline you'll see anywhere.
This top tour from Dublin to the Giant's Causeway includes all travel (including the Belfast black cab ride), attraction admissions, and the services of a professional guide.
If you want to maximize your time in Northern Ireland by hitting a few of the other top sites, this Titanic Belfast Experience includes some of Northern Ireland's most popular attractions.
In addition to Giant's Causeway, this full-day tour is a cultural heritage immersion that includes a visit to the Titanic Belfast Visitor Experience, as well as Giant's Causeway. A local guide will lead the charge to the engaging Titanic museum before hitting the road via luxury coach to the Giant's Causeway.
This tour includes a professional guide and a luxury coach that has free Wi-Fi on board.
2. From Dublin to the Giant's Causeway by Game of Thrones Tour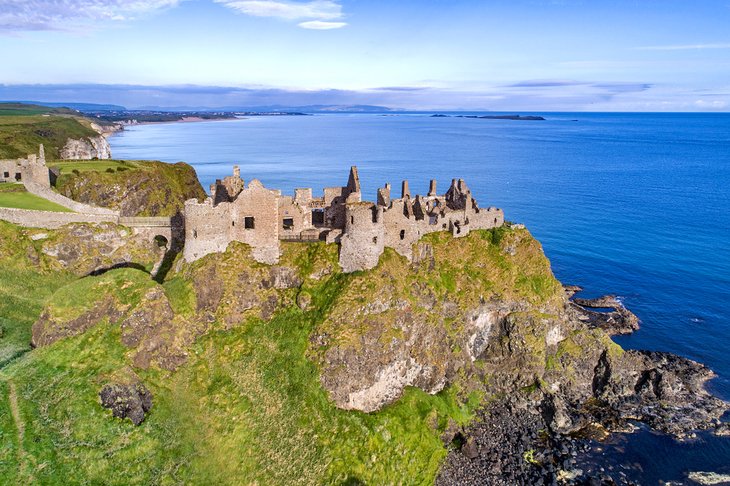 Fans of the hit TV series Game of Thrones will find no shortage of excuses to add Northern Ireland to their list of top places to visit in Northern Ireland. If this sounds like you, be sure to book the first-rate Game of Thrones location tour from Dublin, which includes a stop at the Giant's Causeway.
In addition to spending time exploring this unique area of outstanding natural beauty, you'll see well-known film locations from the show, including Dark Hedges, a dramatic treelined laneway, which you'll have 20 minutes to explore.
Another highlight of this top tour is the 90 minutes you'll spend in Ballintoy Harbour, which featured in a variety of scenes related to the Iron Islands. A 25-minute stop at Larrybane Quarry is included, as is a five-minute photo-stop at the romantic old ruins of Dunluce Castle, a stand-in for the show's House of Greyjoy.
Your day's adventure concludes with an hour's stop in central Belfast. In addition to transportation and attraction admissions, you'll enjoy behind-the-scenes commentary relating to the film locations you'll see along the way from a professional guide. This tour does leave early (6:45am), so get a good night's rest!
3. From Dublin to the Giant's Causeway by Car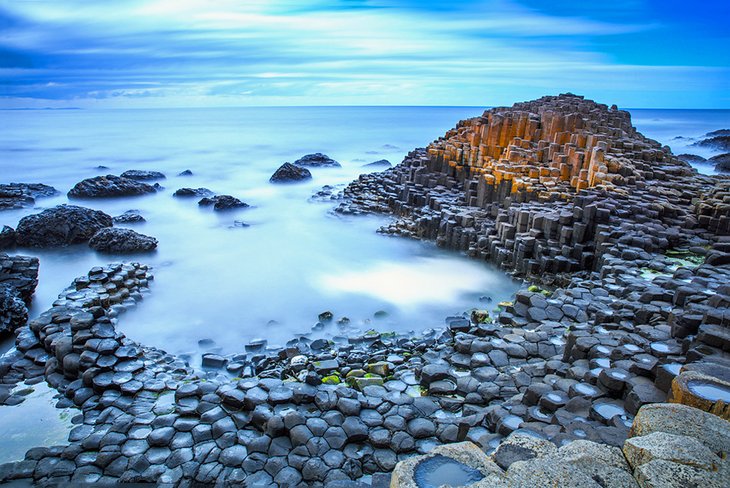 The road network connecting Dublin to Giant's Causeway is a good one, consisting mostly of motorways and "A" roads. You can choose to break up your journey with a stop in Belfast or simply bypass this large city to the west. If doing the latter, you could make the 265-kilometer journey in around three to 3.5 hours, without stops.
Adding film locations along the Antrim coast roads – parts of which are known as the Causeway Coastal Route connecting Londonderry with Belfast – will add additional time, but if you're in no big hurry, it's worth the effort.
The Giant's Causeway itself is accessed via the attraction's visitor center, located on the B147 near the attractive village of Bushmills. While on-site parking is plentiful (and free) in the off seasons, be prepared to wait for a spot to free up during peak travel times (and the local roads can get quite congested).
A good alternative is to make use of the attraction's park and ride program, available March to October. You can leave your car in the dedicated parking lot in Bushmills and hop aboard the handy shuttle (you'll also receive a discount off the price of admission).
4. From Dublin to the Giant's Causeway by Train and Bus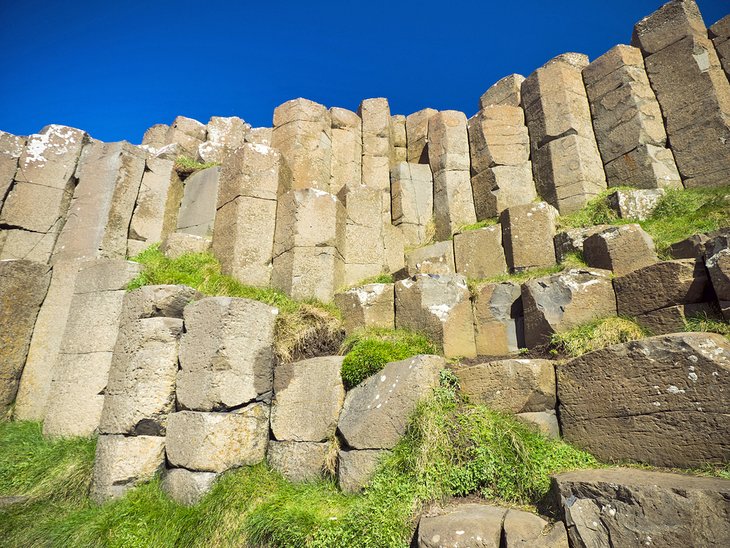 Enjoy doing things yourself? Then it's perfectly feasible to make the journey from Dublin to the Giant's Causeway by using public transit. Irish Rail operates trains regularly between Dublin and Belfast, which take two hours. Once in Belfast, change to a train to the attractive coastal town of Portrush, where you'll then have to take a connecting bus for the final leg of the journey to the Giant's Causeway Visitor Centre.
All trains and buses depart frequently, but you can expect to spend up to three hours for this second leg of your journey, for a total travel time of around five hours each way. Though relatively long, this method is popular for those who want to walk the excellent coastal paths from Portrush to the causeway.
Fun Fact about the Giant's Causeway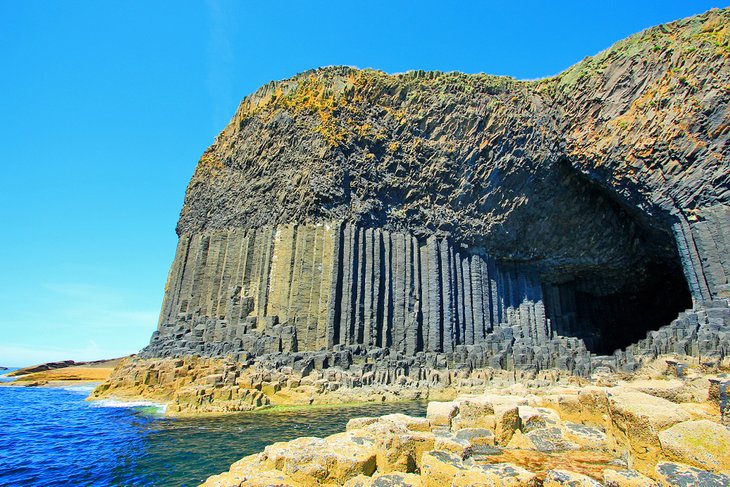 If you head directly across the sea to Scotland, to the Isle of Staffa, you'll find Fingal's Cave. Fingal's Cave is also formed with these basalt columns, identical to the ones that form Giant's Causeway. In fact, it is this link that makes up the legend of the causeway.
It is said that the two spots are actually the endpoints of a bridge that was built by the giant Fionn mac Cumhaill who was looking to construct a pathway towards Scotland from the coast of Ireland. Whether you believe the legend or not, it is still fascinating that these columns exist on either side of the sea.