From Dublin to the Cliffs of Moher: 4 Best Ways to Get There
Ireland boasts some of the most dramatic — and some might say, romantic — scenery in all of Europe. And much of it, thanks to the country's small size, is relatively easy to explore. This is especially true if you're based in Dublin during your stay.
One of the top places to visit in Ireland, the Cliffs of Moher are approximately 260 kilometers west of Dublin and within easy day-trip distance. Rising over 214 meters above the Atlantic Ocean and stretching for eight kilometers, this beautiful, rugged stretch of coastline is one of Ireland's most visited points of interest and is well worth crossing the country to see.
For those based in Ireland's capital city, the following useful list of the top ways to travel from Dublin to the Cliffs of Moher will help ensure you get the most out of your visit.
1. From Dublin to the Cliffs of Moher by Tour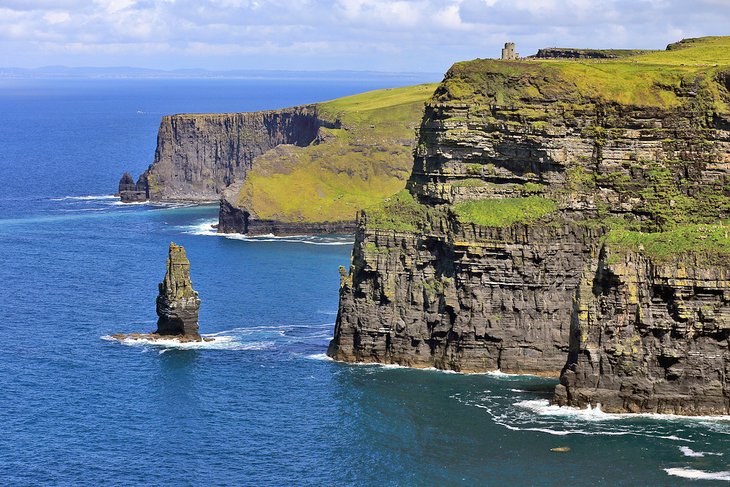 One of the best ways to visit the Cliffs of Moher from Dublin is by joining an organized tour. If a professionally led tour is an option you're considering, see the Cliffs of Moher day trip from Dublin. Having someone else deal with the planning and execution — as well as the driving — of your excursion is a real treat.
That said, while it does make for a long day, it's one that'll certainly help you cross some of Ireland's most popular attractions off your bucket list. Your air-conditioned coach leaves at 6:50am from the centrally located (and famous) Molly Malone statue on Suffolk Street in downtown Dublin, so set your alarm early and be sure to arrive at least 15 minutes prior to departure.
While a long drive (expect a travel time of around three or so hours each way), the view from your coach of the pretty Irish countryside is certainly pleasing, as is the commentary from your friendly driver/guide. Upon arrival, it's an easy stroll along a coastal path to the cliff tops, with plenty of great photo (and selfie) ops along the way. The views over the ocean across to the Aran Islands are breathtaking.
All told, you'll have 1.5 hours to spend at the cliffs, which includes a stop at the picturesque village of Doolin. Here, you'll enjoy a lunch break before heading to Burren National Park. Time is allocated for some exploring of this rugged, otherworldly-region, along with Galway's popular Latin Quarter.
If you're looking to squeeze a few more places into your day trip from Dublin, then here's something to consider: a Cliffs of Moher tour including the Wild Atlantic Way and Galway. Offering an early start with pickup at the centrally located Gresham hotel (it leaves at 6:55am, but arrive at least 15 minutes early), this fun full-day excursion includes commentary from a professional guide as you travel the spectacular Wild Atlantic Way to the cliffs. Along the way, you'll pass points of interest such as Bunratty Castle and the village of Lahinch.
Your Cliffs of Moher experience begins at the attraction's world-class visitor center. Here, you can grab a snack while polishing up on your knowledge of this incredible natural phenomenon, as well as enjoy interactive displays and exhibits.
Two hours are allocated for you to explore the cliffs at your own pace. Additional places to visit include Burren National Park and the city of Galway, where you can enjoy an informative walking tour that includes the city's attractive harbor.
2. From Dublin to the Cliffs of Moher by Train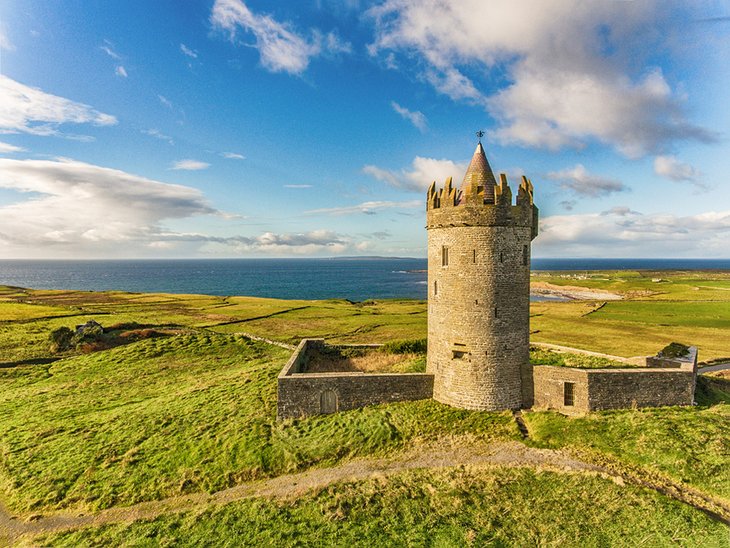 Another option for those wanting to include the Cliffs of Moher in their Ireland travel itinerary is to hop on a train. Given the potential complexity of traveling from Dublin to the Cliffs of Moher by public transit, however, you may want to consider letting a tour company make all the arrangements for you.
The popular Limerick, Cliffs of Moher, Burren, and Galway Bay Rail Tour from Dublin does just that. This full-day trip departs Dublin Heuston Station at 7am (check-in is at 6:40am), and you'll be met aboard the train by a host (look for the folks in the bright yellow jackets) who will show you to your reserved seats. They'll also provide a useful info pack outlining your day and the attractions you'll see on your tour (breakfast can be purchased on the train).
Upon arrival in Limerick, you'll get a tour of this former Viking settlement before taking a coach to Bunratty Castle and the interesting Folk Park, which you can explore on your own. After a lunch of fish and chips or seafood chowder in Doolin (at your expense), you can walk off your meal along the path atop the Cliffs of Moher as you soak in the incredible views over the Atlantic.
After a lovely drive along the coast, it's to Galway you go to catch your train home to Dublin, but not before having a chance to explore a little of this charming city. Dinner is available aboard the train for those who want it (also at your own expense).
Prefer to make the arrangements yourself? From Dublin Heuston Station, Irish Rail can get you to the city of Galway, a journey of 2.5 hours. From here, you can either take a connecting train to Ennis and then hop on a bus to the Cliffs of Moher, or get a bus direct from Galway station. That said, if time is of the essence, be aware the bus from Galway to the visitor center at the cliffs can take up to three hours, adding substantially to your travel time. Buses from Dublin to Galway are also available, but tend to make frequent stops.
3. From Dublin to the Cliffs of Moher by Car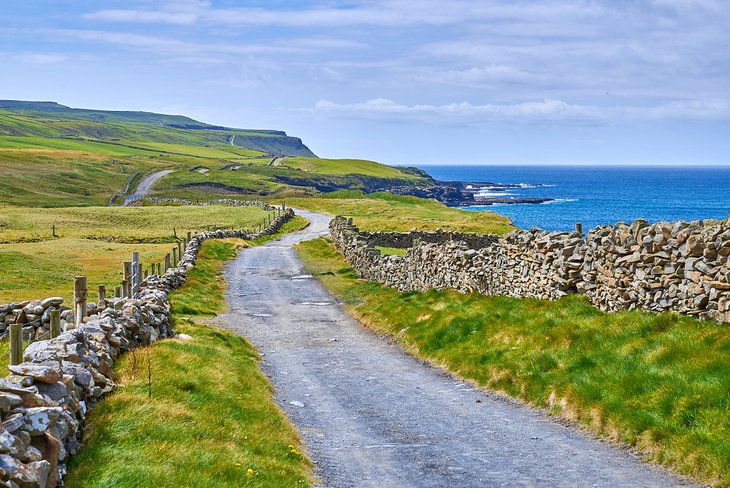 If you don't have your own car, car rentals are certainly a good option for those wanting to travel between Dublin and the Cliffs of Moher. While a round trip can take around six hours depending on your chosen route and stops along the way (it is after all a pretty and scenic drive).
If you've got the time in your itinerary to explore other points of interest such as Galway, you may even wish to consider making an overnight stay of it. Not only does Galway feature numerous great attractions, there are also plenty of good accommodation options here, too.
Fortunately for those in a hurry, it's pretty much motorway all the way, apart from the last section along the A460 and A476 from Gort to the cliffs. Parking is plentiful at the visitor center, and is free with admission.
4. From Dublin to the Cliffs of Moher by Plane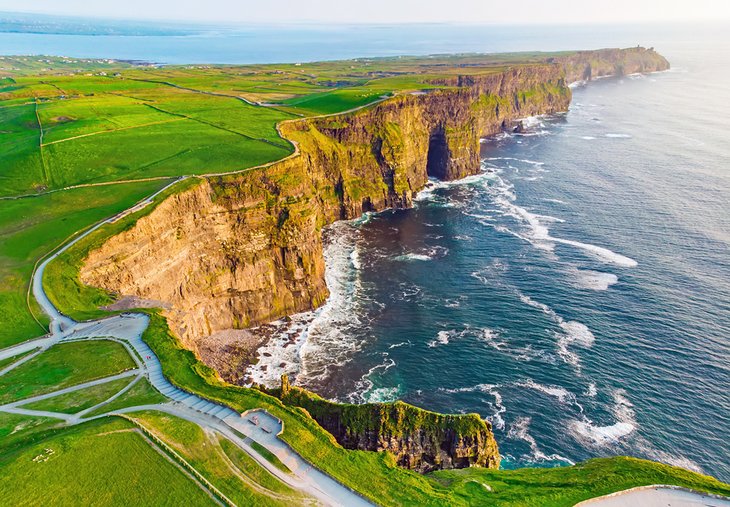 For those in a hurry, why not take a plane? Aer Arann offer services along the route from Dublin to Connemara Regional Airport in Inverin in County Galway.
While the flights are relatively short (around 30 minutes), it's still a two-hour drive to the Cliffs of Moher. That said, it's certainly faster than public transit and is a very pretty drive that takes in Galway City and the spectacular Atlantic coast.