14 Top-Rated Things to Do in Winter in Ireland
While most prefer their Irish vacation with a side of warm sun, there's something quite magical about visiting the Emerald Isle in the height of winter. Yes, things will look a bit drab, but let's be honest, you're in for rainy days no matter when you visit Ireland.
If you're hoping for the driest weather, choose to arrive in February, when you'll see slightly less rain than you would from November through January. Depending on where you visit, you can expect temperatures in the high 40 degrees Fahrenheit and lows in the 30s. Plus, that precipitation we mentioned may turn into snow. Told you it was magical.
During winter, you'll also have the benefit of cheaper airfare and hotel rates, as well as plenty of room at the country's top attractions. Whether you're hoping to traipse through the winding streets of Dublin, climb the Cliffs of Moher, or tour the Ring of Kerry, there are a slew of fun ways to enjoy winter in Ireland. You may even want to visit a beach or two.
Decide which activities to try first with our list of the best things to do in winter in Ireland.
1. Tour the Ring of Kerry
You'll be hard-pressed to find a more awe-inspiring spot than Ireland's outstanding Ring of Kerry. Spanning 179 kilometers on the Iveragh Peninsula, this natural wonderland is a must-see during every season. It includes multiple unmissable tourist attractions like Killarney National Park, which we'll talk about below, as well as the 120-hectare Derrynane National Park and the charming town of Killarney.
You'll be forgiven for thinking you stepped into a postcard when you first spy the impeccable Gap of Dunloe, a glacier-carved marvel sandwiched between the towering McGillycuddy Reek mountain range and the Tomie and Purple mountains. Visiting the Ring of Kerry is one of the most memorable things to do in winter in Ireland.
Be prepared for mist, rain, fog, and a bone-chilling wind during the winter months. As long as you pack layers and sturdy, waterproof footwear, you'll be comfy. Plus, there's nothing quite as enjoyable as warming yourself by a fire in a tiny, local Irish restaurant along the route.
2. Take a City Break in Belfast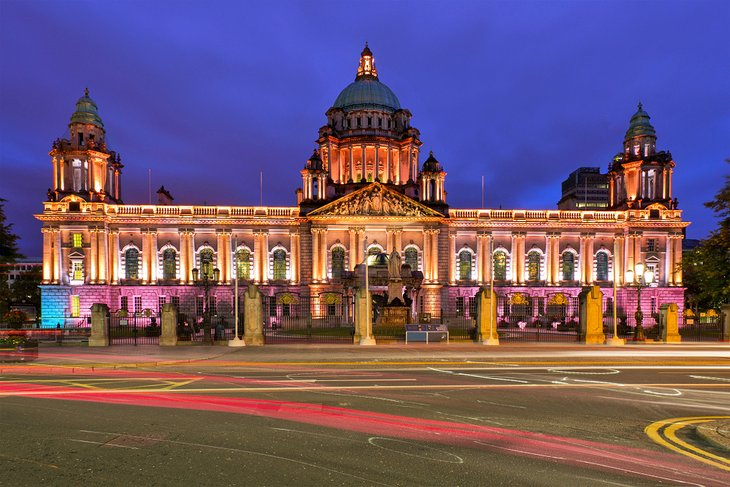 It's best to layer up during your winter visit to the bustling capital of Northern Ireland. There are so many fabulous attractions that you'll want to explore them all, even when the temperature doesn't work in your favor.
The Botanic Gardens are beautiful at all times of year. Tropical plants can be enjoyed in the Palm House and Tropical Ravine, while other horticultural wonders line the walking paths.
Book a Game of Thrones Tour for a fun take on the popular show. Buses will take you to the Iron Islands and Rope Bridge, or guides can lead you by the six large stained-glass windows commemorating the show that are peppered throughout the city.
Warm up with indoor exhibits at the Ulster Museum or the impressive Titanic Belfast museum, a building as unique on the inside as it is externally. Waterford Concert Hall is an optimal place to spend a cozy evening being entertained by acts playing music as varied as pop, rock, classical, and opera.
3. Get Back to Nature in Killarney National Park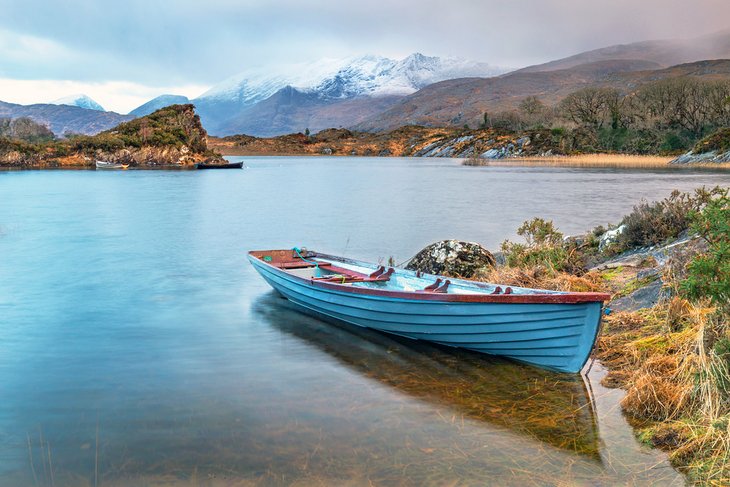 Killarney National Park is gorgeous in every season, but there's something about winter that makes it especially captivating. Devoid of the droves of tourists that bombard this natural nirvana during spring and summer, winter presents an opportunity to enjoy some solitude within an enchanted landscape.
Sparkling lakes shimmer their welcome, while snowcapped mountains loom splendidly in the distance. While you won't want to jump in for a swim, feel free to enjoy the many hiking trails, take a break in Muckross House, or visit the Killarney House & Gardens Visitor Centre.
While you're here, don't miss a chance to ogle the remarkable Torc Waterfall, which is a real winner at this time of year. It rushes more dramatically with all the cold rain. See, there are perks to winter weather. No wonder visiting Killarney National Park is deemed one of the best things to do in Killarney.
4. Enjoy the Christmas Market in Galway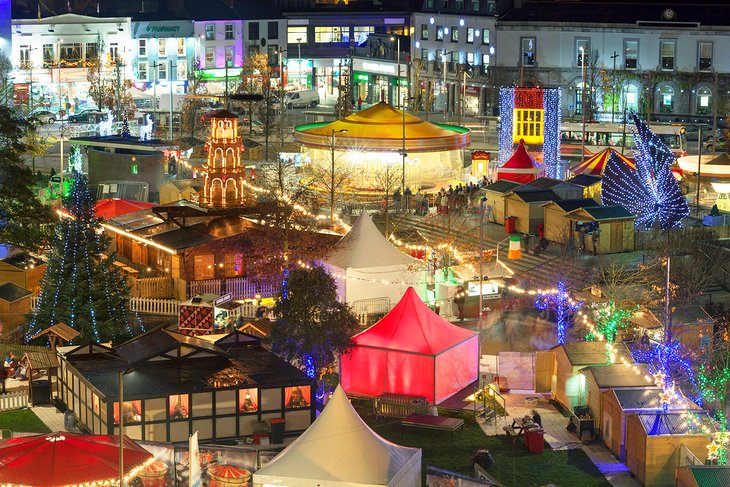 There's nothing that says winter quite like a holiday market. If that market is the vast Christmas Market in Galway's historic Eyre Square, you're in for a super festive treat. It's lined with twinkling lights and booths selling everything from ornaments to T-shirts, and you'll also find children's rides, tasty treats, and a warm beverage to make you feel cozy as you wander.
It runs from mid-November through late December, ending just before Christmas and is one of the best free things to do in the area during winter. Free, that is, until you're tempted to buy a few of the tasty or beautiful wares on offer.
Not going to be in town during that time? No worries. Galway has a bevy of fun attractions to entice winter travelers. Fill your bellies with gastronomical delights served in its multitude of fine restaurants, catch a concert, visit a gallery, or spend time touring the magnificent St. Nicholas's Church and Galway Cathedral.
Even though it's winter, you can also enjoy a cruise along the River Corrib, a perfect way to see the area's lovely bridges. Be sure to pack a hat and mitts.
5. Go Sightseeing in Dublin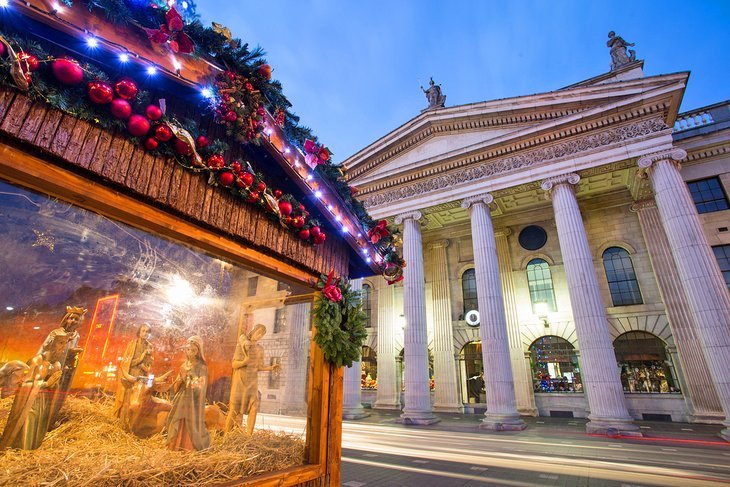 There's no shortage of interesting things to do in Dublin, no matter what time of year you choose to visit. Some of the highlights include wandering around the 40-acre Trinity College, touring the Little Museum of Dublin, and exploring the National Library, Leinster House, and National Museum of Ireland.
A bonus: These are indoor attractions, perfect for a particularly wet and blustery day. Plus, they'll be devoid of the massive crowds you'll find at more popular times of the year.
A stroll along the city's famed Grafton Street is a must, especially if you're a fan of music. Impromptu concerts happen on this storied street all the time, even in winter. U2 is just one of the biggest names to have performed here.
Practicing a little retail therapy is made easy in the eclectic boutiques and department stores that line the area. While a trip to Brown Thomas may put a dent in your pocketbook, there are plenty of charming shops that will be gentler on your savings yet are still fun places to visit.
When hunger pangs hit, grab a bite at Bewley's Oriental Café. Beware: You won't be alone, as this is one of the most popular shopping districts in Dublin, especially in the lead up to the holidays.
Read More: Best Places to Visit in Ireland
6. Witness the Northern Lights in County Donegal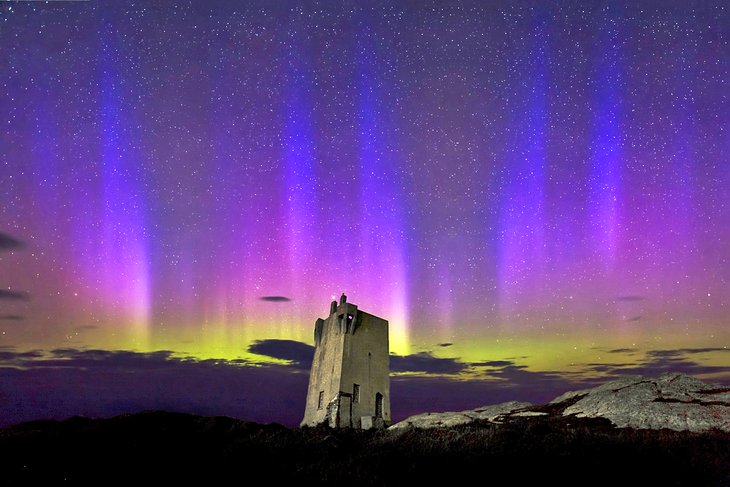 While Ireland may not be the first spot you'd think to visit in search of the best places to see the northern lights, it's certainly one to add to your must-go list. Head to the northern edge of the Emerald Isle if you're hoping for the best views, and be sure you're there between October and April for the optimal chance at spotting the Aurora Borealis. That said, be warned: There's no guarantee you'll see the lights during your trip.
County Donegal is the best place to search for the northern lights. Malin Head in the Inishowen Peninsula holds the top spot in terms of spectacular viewing. The northernmost point in Ireland, this pretty area is low in latitude and has little light pollution, making it an ideal place to spy the northern lights.
If you plan to travel near the holidays, don't miss a visit to Donegal's Lapland, especially if you have kids in tow. They'll see elves, hear the Christmas story, see a live show, and spot the big man himself–Santa, in Santa's village.
Other popular northern light viewing areas include Mullaghmore in Sligo, Dunree in Donegal, and Belmullet in Mayo.
7. Walk along the Cliffs of Moher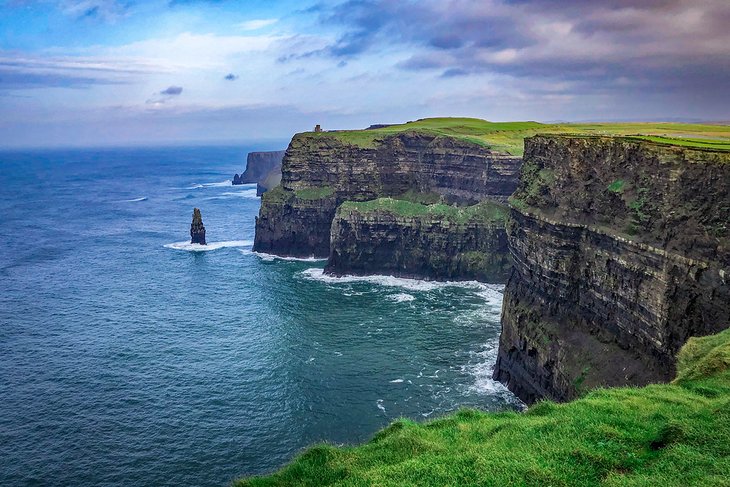 It's easy to see why the Cliffs of Moher are considered one of the most famous tourist attractions in Ireland. One of the most recognizable natural wonders in the country, the dramatically rugged cliffs are romantic, eerie, magical, and overall extraordinary.
You're sure to have seen them featured on millions of postcards, in magazines, and on touristy kitsch available throughout the country. Their stunning views and wild, rocky landscapes are unsurpassable.
The cliffs are extraordinarily beautiful and so unique, you'll want to witness them up close, so pack comfy gear with appropriate footwear for wet and rocky hiking. Choose the day wisely, as you won't want to explore this area in high winds or drenching rain.
The trails get more slippery the wetter they get, and the winds could push you off the top of a cliff if they were severe enough. Also remember that the sun sets earlier here during winter, so you'll want to plan for a morning or early afternoon trip.
8. Hit the Beach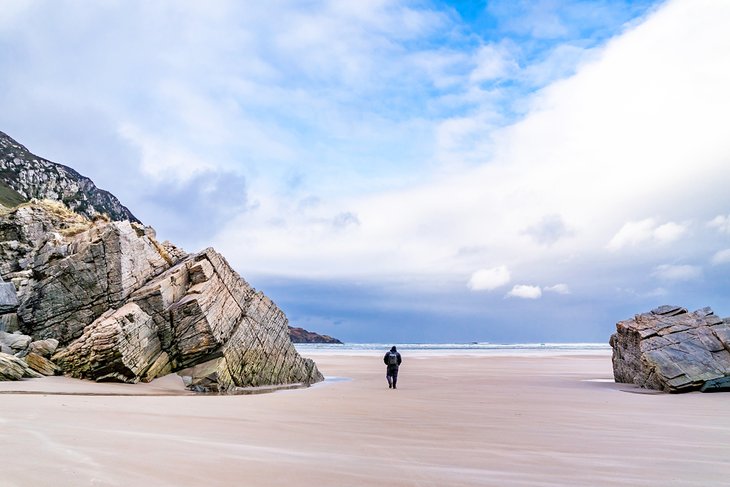 If you didn't think about planning a beach day during a winter visit to the Emerald Isle, you're not alone. That said, missing a beachside moment would be a real shame, even when the weather's a bit chillier than normal. That makes beachin' one of the best things to do in winter in Ireland.
Ireland is home to some spectacular beaches, and you'll likely have to share them with outdoor sports enthusiasts at all times of year. Even when the weather is at its most miserable, you'll spy hard-core surfers zipping themselves into wetsuits to hang ten in the gnarly waves.
Strandhill Beach in Sligo is a wonderful spot for a sandy winter walk, and the nearby town features relaxing seaweed baths to help you relax and rejuvenate after a chilled day by the sea. The Blue Flag Inchydoney Beach is another winner, this time based in County Cork.
9. Look for Wild Ponies in Connemara National Park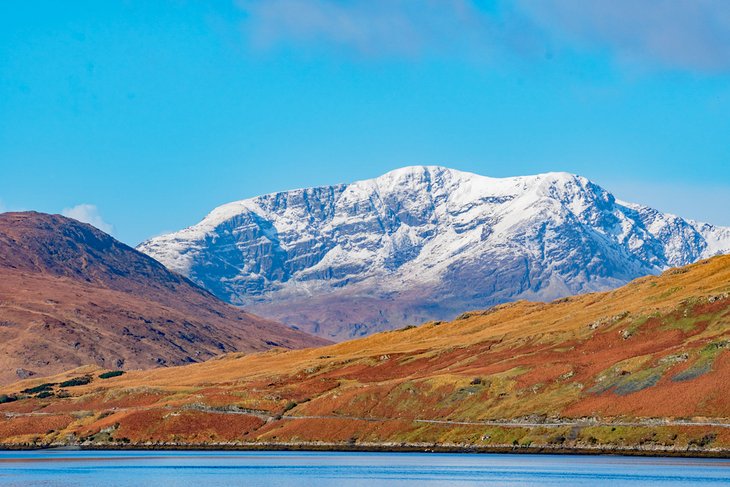 A 5,000-acre winter wonderland greets visitors to Connemara National Park in County Galway. The varied terrain includes bogs, grasslands, forests, and heaths, not to mention the towering mountains so breathtaking, you'll feel awed by their magnificence.
In addition to the Twelve Bens, over 50 mountains pepper the backdrop in this nirvana. These beauties are particularly spectacular when viewed on a cool, sunny day. If you're planning a climb, be sure to pack the proper gear and be mindful of the weather. Winter can make a challenging climb even more risky. That said, the views from the top are inspiring.
Diamond Hill is one of the most popular hikes, offering views of the quaint Letterfrack village, as well as ocean, mountain, and island vistas. Be sure to charge your camera before heading out.
While you're walking, keep your eyes peeled for the area's wildlife. Wild ponies, sheep, and goats are known to roam this vast landscape.
While it may be a bit chilly for overnight camping at this time of year, winter visitors can still enjoy the winding nature trails, children's playground, and picnic areas.
10. Visit Malahide Castle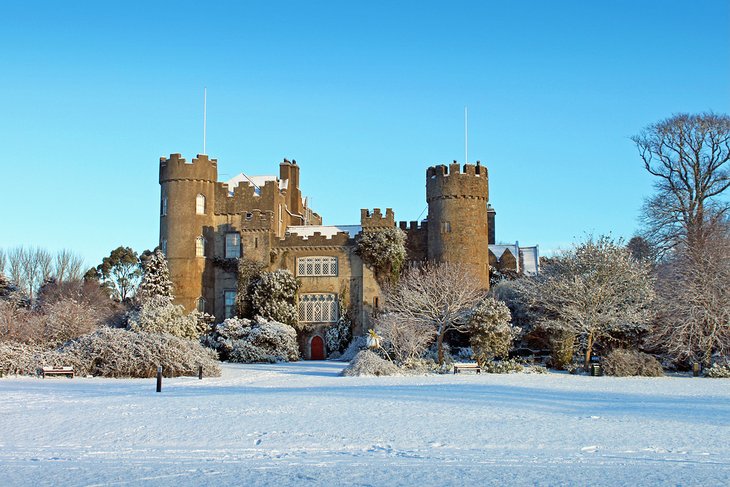 Over 800 years of history seep from the stoic walls of Malahide Castle, located a mere 25 minutes from the center of Dublin. Home to multiple generations of the Talbot family, this intricate castle is a perfect place to spend a morning or early afternoon during a winter trip to Ireland.
Feeling romantic? If you're lucky, you'll encounter snow when visiting this County Dublin gem. Castles are romantic at the best of times. Imagine how amorous you'll feel while trudging through soft, white powder blanketing historic grounds.
The Fairy Trail is a hit with little ones, while guests of all ages enjoy the expansive gardens and the enchanting Butterfly House. If visiting in late November or through December, be sure to stop by the Malahide Castle Christmas Experience.
If you have extra time, spend it in the neighboring Malahide village. One of the best small towns in Ireland, Malahide boasts a beach, as well as shops and restaurants that will help warm you from the inside out.
11. Celebrate the Winter Solstice at Brú Na Bóinne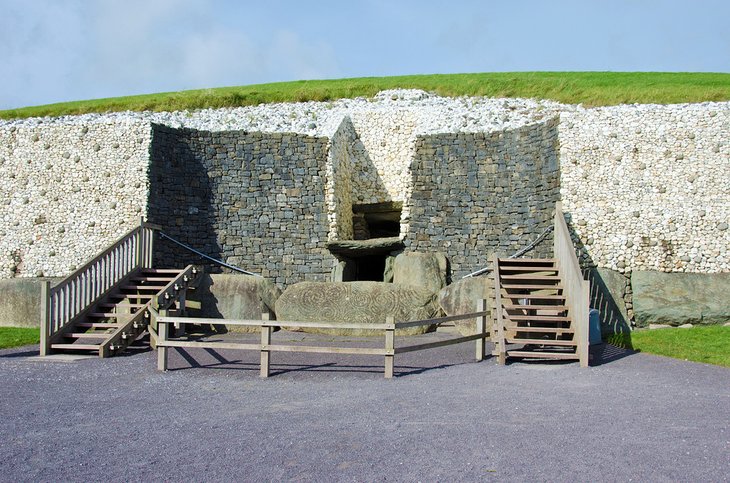 There are many ways to celebrate the Winter Solstice in Ireland. The shortest day of the year, this occasion is marked at many places throughout the Emerald Isle. One of the most iconic places to visit is the megalithic tomb, Brú Na Bóinne, in Newgrange. This County Meath wonder hosts a celebration at dawn over five days.
If the sun shines during this time, the light splices its way through the inner chamber of the tomb. You'll have to book far in advance to secure a ticket for one of these days, but there's no guarantee you'll witness the thousands-of-years-old light show. If you get lucky, though, this will be a trip to remember, and it's a fabulous sightseeing adventure for the family.
Other winter solstice celebratory spots include the Knockroe Passage Tomb in Kilkenny, Carrowkeel in County Sligo, Slieve Guillon in County Armagh, and Loughcrew in County Meath.
12. Wander the Gardens at Powerscourt Estate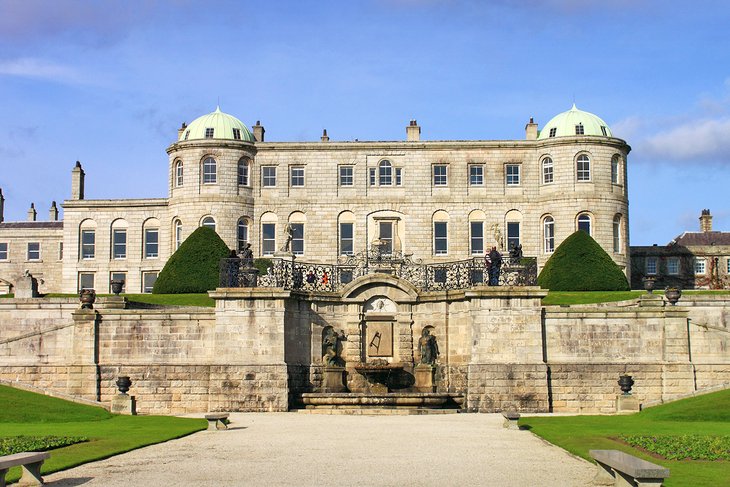 The Powerscourt Estate is a lovely place to visit no matter the season. While winter won't present you with the best opportunities to ogle the vibrant spring and summer greens of its gardens, you're sure to be captivated by a trip to this 47-acre wonderland in County Wicklow.
Located an easy 20 minutes south of Dublin, Powerscourt is best known for its spectacular Japanese and Italian gardens. This vast estate is best visited on a dry day if you're hoping to explore the expansive (and perfectly manicured) grounds.
Before you leave, check out Powerscourt House. This massive and wow-worthy 68-room, 18th-century mansion is hard to miss. Inside, you'll find boutique Avoca Stores offering unique Irish gifts and luxurious clothes, furniture, crafts, and jewelry.
The Avoca Terrace Café is also found here. This is a lovely place to enjoy a snack or lunch and warm your freezing fingers on a cuppa. The garden views from the café are marvelous, with Sugarloaf Mountain the highlight.
On your way out, be sure to stop at the Waterfall, which lies about six kilometers away. You'll need a separate entrance ticket for this unmissable attraction.
Official site: https://powerscourt.com/
13. Check Out the Lights at the Glow Festival in Cork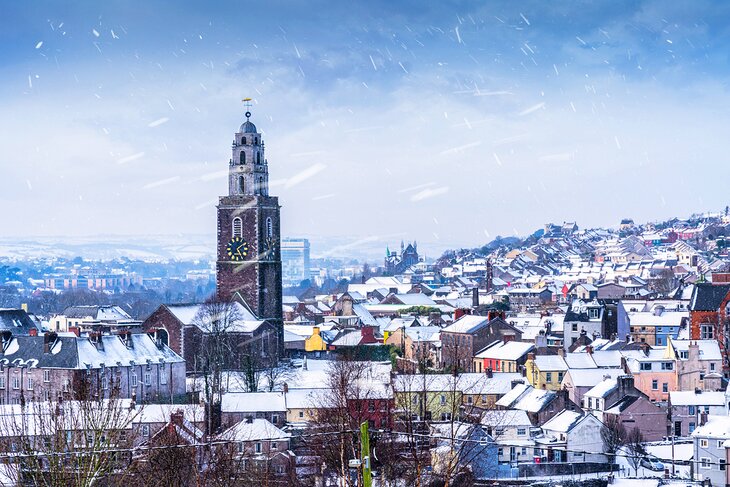 Bishop Lucey Park is the place to be if you're looking for winter fun in Cork. The heart of the city's annual Glow festival, this popular green space is transformed into a magical winter wonderland from mid-November through early January.
Here, guests are treated to over seven kilometers of festive lights, an expansive Christmas market filled with crafty and tasty treats, and a giant Ferris wheel. There are also live musicians, dancers, and other entertainers on hand to pique your interest. Bring the kids along for a day filled with fun things to do, including visiting Santa's workshop.
When you aren't partaking in the festivities, Cork has plenty of things to do to keep tourists busy. It is the second largest city in the Republic of Ireland, after all. Visit the covered English Market, window shop along St. Patrick's Street, or take a wander around the stunning St. Fin Barre's Cathedral.
14. Head to the Races in Limerick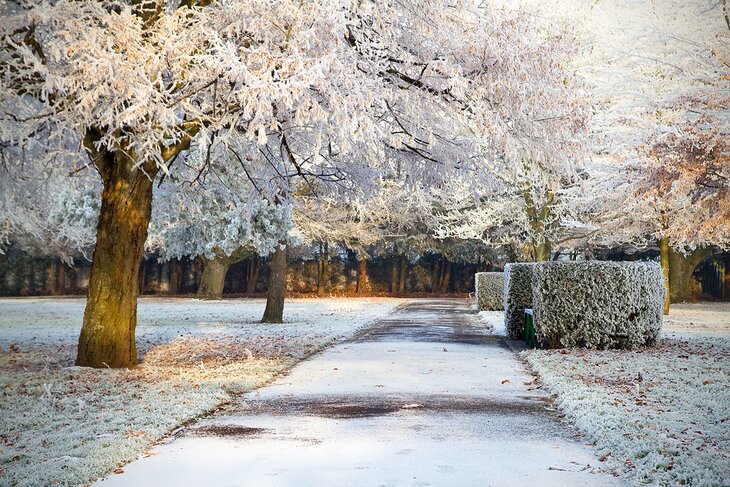 Limerick offers winter travelers a different kind of holiday celebration. Visitors who arrive in December will find the festive fun you'd expect from a major city—like Christmas markets, funny pantomimes, fab concerts, and delicious food. Those who stay between Christmas and New Year are in for a unique treat known as the Limerick Christmas Festival.
Hosted over four days after Christmas, this popular festival is one of the best things to do in winter with the family. It includes horse races, live music, gastronomical delights, and a bevy of exciting activities at Greenmount Park. Admission for children is free. Pack nice clothes as it's customary to dress up for the races. A fascinator will never be out of place here.
If you can't make it during that busy holiday week, don't worry. Limerick has plenty of other sightseeing adventures primed for winter visitors. Top attractions like King John's Castle, St. Mary's Cathedral, and the Limerick City Gallery of Art are particularly worthwhile diversions from the cold.
Map of Ireland - Best Things to Do in Winter