19 Best Places to Visit in Ireland
We may earn a commission from affiliate links ()
For a relatively small island, Ireland certainly packs in its visitors. This happening holiday destination attracts close to 11 million tourists each year.
Finding the best place to visit it Ireland is usually they're top priority. And boy does the Emerald Isle have some impressive attractions to please its visitors. We're talking verdant landscapes; rolling hills; medieval castles; vibrant music; and folk so congenial, you'll strike up a lifelong friendship.
Ireland is also admired for its charming villages and bustling cities that are bursting with interesting things to do, see, and eat. From unbeatable tourist attractions like Dublin's Kilmainham Gaol to the breathtaking sight of Giant's Causeway and Killarney National Park, Ireland is one of the world's best vacation spots, with a ton of stellar places to visit.
With so many towns and cities to tour, it can be difficult to choose which stunning places should top your itinerary. We've chosen 17 of the best Irish destinations to help whittle down your list. Plan your sightseeing with our list of the best places to visit in Ireland.
1. Dublin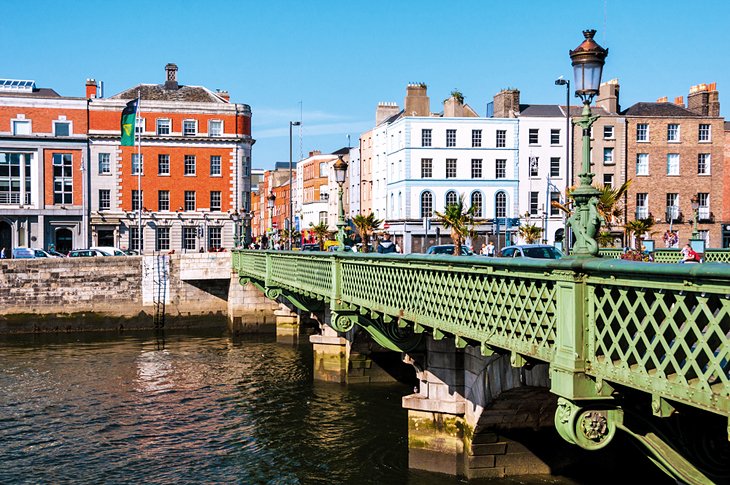 No trip to Ireland is complete without a stop in its lively capital. The biggest city in Ireland, Dublin is actually small when compared with other capitals. What it lacks in size and population, however, it makes up for with a large (and long) history, and an intimacy you won't find in other metropolitan cities.
Dublin isn't the most beautiful city, but what it lacks in cleanliness, it makes up for in effervescence. The laid-back vibe and cobblestone streets at the heart of this vibrant spot make it a truly magical place. The locals (and if you're uber lucky, Bono) will be happy to chat you up if you stop for a "convo."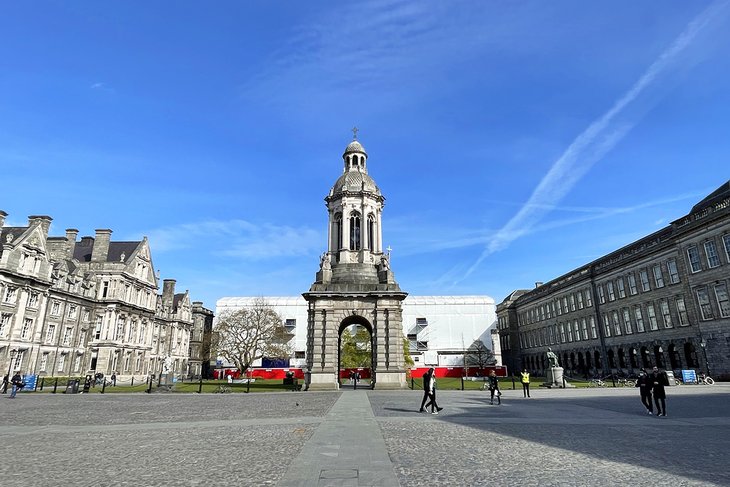 Then they'll direct you to learn more about the city's expansive history in its stellar museums (like the unique and unforgettable Kilmainham Gaol, EPIC The Irish Emigration Museum, and The Little Museum of Dublin). Don't miss the breathtaking Christ Church Cathedral or iconic Dublin Castle.
One of the best aspects of Dublin's diversity and multiculturalism can be found in its tasty fare. Luckily for us foodies, the list of restaurants is even more extensive. Looking for a great curry? You'll find hundreds. How about sushi? They've got that, too. Fish and Chips? Obviously!
Accommodation: Where to Stay in Dublin: Best Areas & Hotels
2. Cork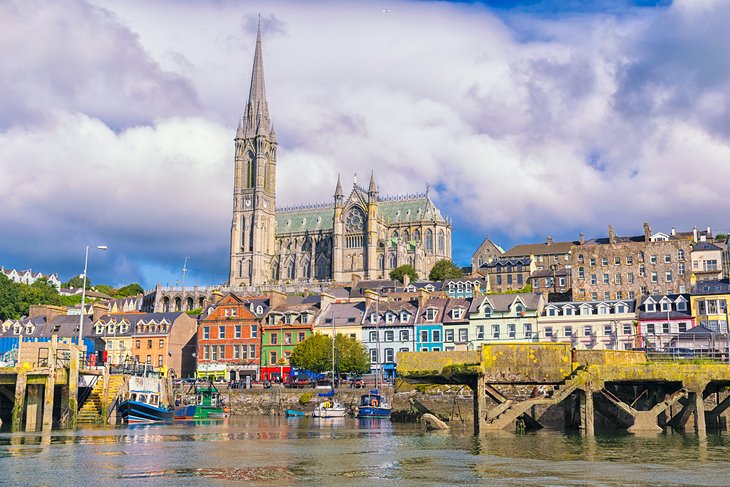 One of the best places to visit in southern Ireland, Cork follows Dublin as the Republic of Ireland's second largest city. It's also on par with the capital for being highly cosmopolitan. Wander the historic streets to soak up cool vibes emanating from small cafés, eccentric shops, unique museums (that means you, Cork Butter Museum), and lurid art galleries.
Once again, we arrive back to food. The city is jammed with phenomenal restaurants. Think of a food you'd like to eat, then take your pick! That said, the covered English Market set in the heart of the city is a must-visit. You'll be hard-pressed to find fresher, more delicious treats (think, artisan cheeses, local fish, and scrumptious cakes). They've been in business since 1788, so they know how to do a market right.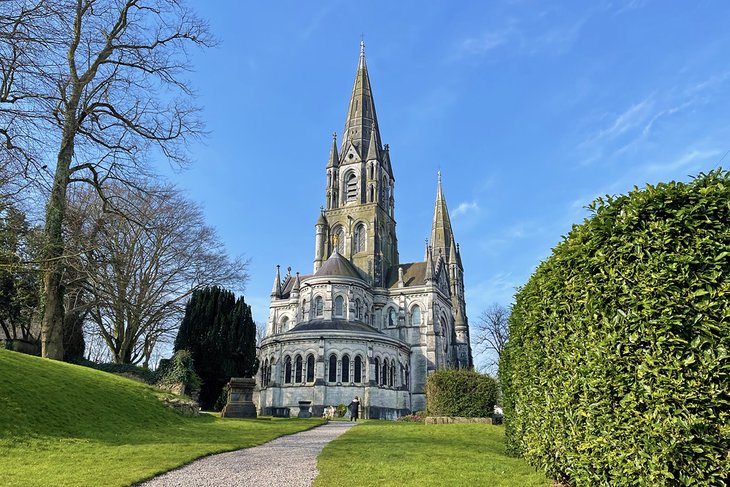 While you're in Cork, set aside time for a day trip to Blarney Castle. One of the most popular attractions in Ireland, this relic was built almost 600 years ago. It is home to the infamous Blarney Stone, a.k.a. the Stone of Eloquence. If you kiss it while hanging upside down, you'll be gifted with eloquence - a better ability to communicate and speak.
Accommodation: Where to Stay in Cork
3. Belfast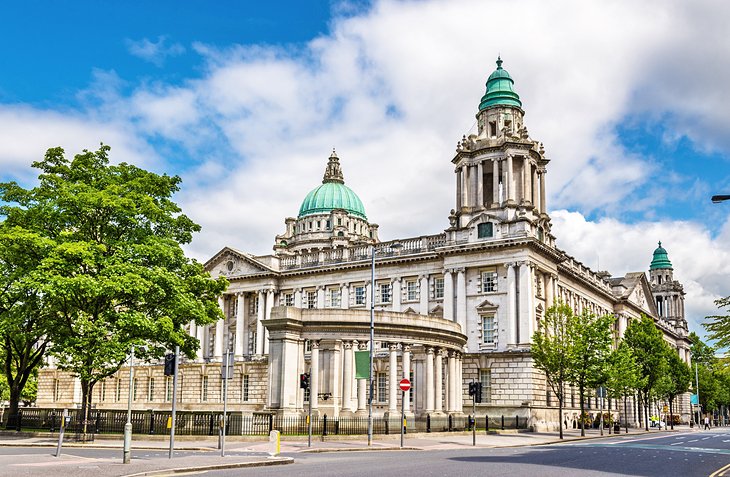 In times of old, Belfast was a location non grata. Once an industrial powerhouse (its shipyard produced the doomed Titanic), this capital of Northern Ireland became feared. Today, Belfast has become a big tourist draw.
In addition to the Titanic Belfast museum (the most popular tourist destination, designed to commemorate the sinking of the infamous ship), the city boasts an opera house, botanic gardens, and a zoo, as well as many other attractions.
The Ulster Museum is a wonderful spot to while away a few hours. The largest museum in Northern Ireland, this unique building houses artifacts, specimens, and art that outlines the "human history" of Ireland. It occupies about 90,000 square feet within the Botanic Gardens.
A fun place to spend a few days, Belfast offers a rich cultural scene-from visual arts displayed on the streets to impromptu concerts. The shopping is on par with any European metropolis and there are too many good restaurants to choose from.
Plan your trip to coincide with the city's annual Cathedral Quarter Arts Festival in the first week of May. It spans about 11 days and brings culture (in the form of drama, poetry, music, art, and street theater) to the neighborhood.
Accommodation: Where to Stay in Belfast
4. Aran Islands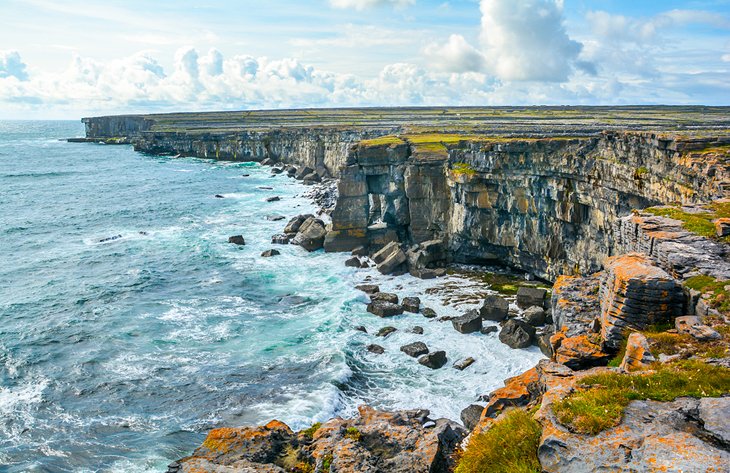 Want a truly Irish experience? Immerse yourself in life on the Aran Islands. A popular spot for day-trippers from County Galway (a ferry leaves from Rossaveal) and County Clare (ferries depart from Doolin), those who want to thoroughly explore these three unique islands opt to stay longer. Visitors with deeper pockets can opt for a 10-minute flight to the area.
Inis Mór is the largest island, Inis Meain is the most rural, and Inis Oirr is the smallest. All three are located in the middle of the Wild Atlantic Way – 2,574 kilometers of Ireland's most beautiful Western coastline stretching from Derry in the north to Kinsale in the south.
The scenery here is harsher and more desolate than that found in the verdant fields and mountains on the rest of the island. Jagged cliffs rise from the Atlantic to meet grazing sheep and cows. You'll also find ancient forts and impressive archeological remains – some of the oldest in Ireland.
Kilronan is the only village between the three islands. It's tiny and sits on Inis Mór. Locals speak Irish and English, which helps enhance the authentic Celtic charm. With a few bed and breakfasts and a smattering of restaurants, you won't be overwhelmed by the modern choices afforded by big cities like Dublin and Cork. Instead, you'll be able to sit back, relax, and soak up the Gaelic lifestyle along with unbeatable scenery.
5. Killarney National Park and Killarney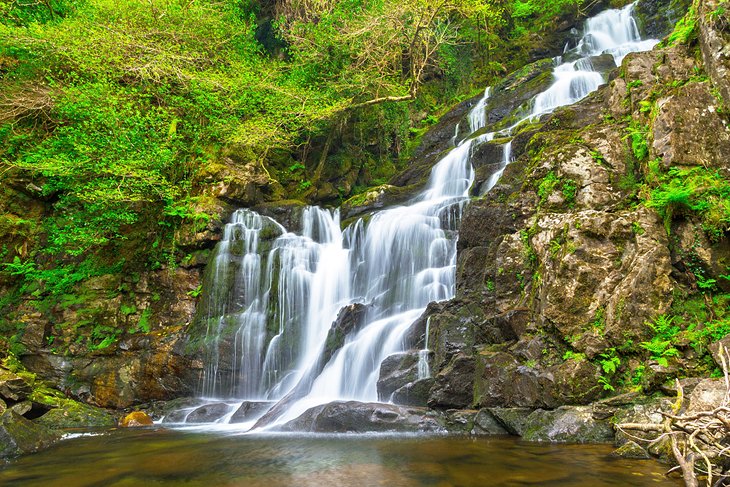 County Kerry (on the southwest corner of Ireland) is home to the much-visited Killarney. Those who come here are in search of something a metropolitan high street doesn't have on offer: serenity.
Take a look around, and you'll be graced by lakes, waterfalls, and mountains. Miles of trails are calling, and only comfortable sneakers (or hiking boots) will get you to your destination.
With more hotel rooms per capita than any Irish city, town, or village (Dublin excluded), Killarney knows how to accommodate its endless supply of visitors. Rest here while touring the spectacular Ring of Kerry or use it as a place to refuel after spending a full day exploring Killarney National Park. Don't miss the city's main attraction, Ross Castle.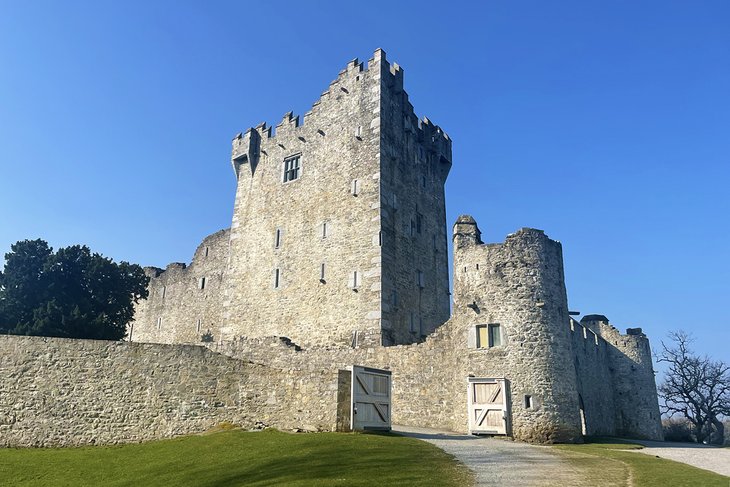 Whether you choose to tour the park by foot, bike, boat, or jaunting car (picture a horse and buggy, and you're getting close), an active day in the park will leave you famished and exhausted. Killarney's restaurants value locally sourced food, and many offer lively music to help keep you moving.
After a good night's sleep (and perhaps a massage from a local spa), you'll have the energy to hike the Gap of Dunloe, head out fishing, or visit the Torc Waterfall.
Accommodation: Where to Stay in Killarney
6. The Ring of Kerry and the Iveragh Peninsula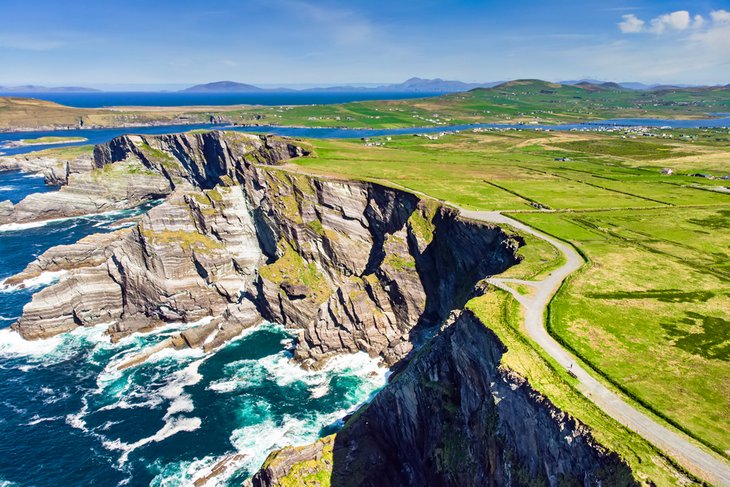 When it comes to breathtaking scenery, the Ring of Kerry has it all. Dramatic seascapes, majestic mountains, sparkling lakes, mysterious woodlands, and colorful homes pepper this captivating 179-kilometer route circling the Iveragh Peninsula.
Along the way, visitors will pass the Ring of Kerry's most famous (and spectacular) attractions, including the Gap of Dunloe, Torc Waterfall, Muckross House, Molls Gap, Ladies View, and Derrynane House. Charge your camera and be ready to get finger cramps from clicking; it's impossible to visit this magical landscape without taking a zillion photos.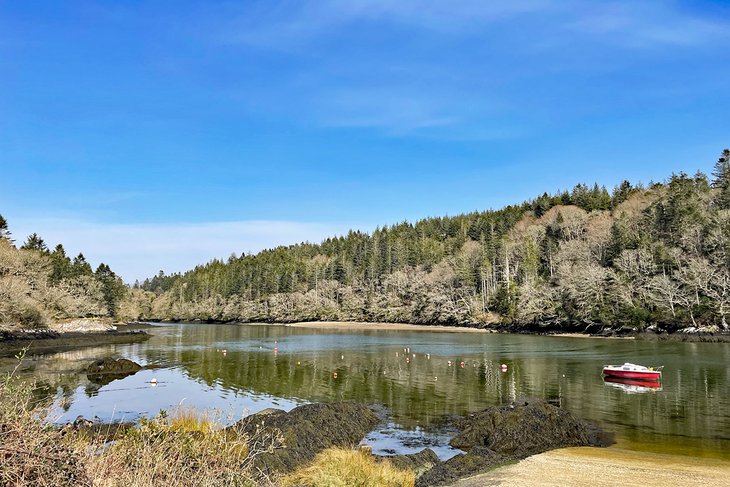 Also passed en route are the adorable small towns of Beaufort, Killorglin, Glenbeigh, Caherdaniel, Sneem, Kenmare, Cahersiveen, and, of course, Killarney. You'll want to schedule extra time for a few nights' stay in these sweet villages to soak up their history and ambience.
Visit between April and October to add the Skellig Ring to your trip. A car ferry is available at that time from Renard Point, taking visitors to this scenic 18-kilometer route that passes Portmagee, Waterville, and Valenita Island.
7. Galway City
The artsy vibe found in Galway City is second to no other on the Emerald Isle. An eclectic mix of old world versus contemporary metropolis, you'll find ruins of the town's medieval walls strewn around unique tourist shops and restaurants teeming with life.
Dull is not a word you'll ever find associated with Galway City. Listen closely and you'll hear a bagpipe (or two). You'll probably see people dancing in the street. Speaking of the street, that's where you'll find buskers and theater performers strutting their stuff.
Walk along one of the stone bridges stretching across the River Corrib, and find your way along the promenade to Galway Bay, which is lined with quaint and colorful houses.
Like Killarney, Galway is also a jumping-off point for other, more organic destinations. Connemara National Park, a 5,000-acre wonderland filled with bogs, mountains, forests, and grasslands offers four main walking trails that will keep travelers busy for hours.
Accommodation: Where to Stay in Galway: Best Areas & Hotels
8. The Cliffs of Moher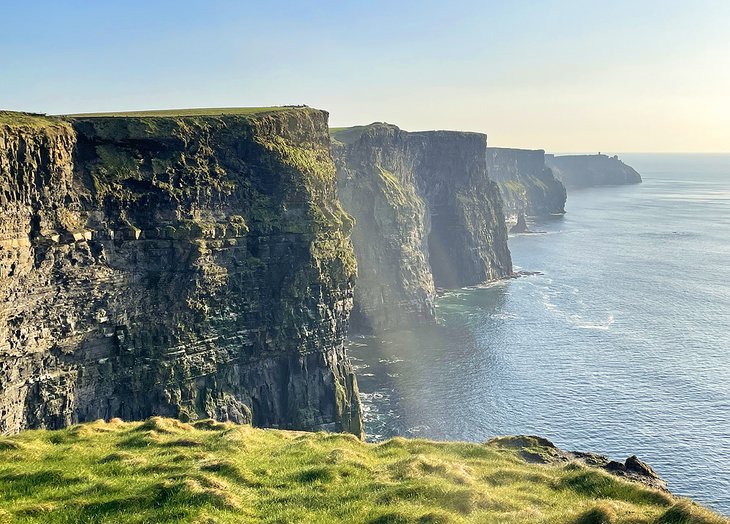 There are few natural Irish landmarks as impressive as the beguiling Cliffs of Moher. Rising high (214 meters at some spots) above County Clare's west coast in all their rugged glory, it's easy to see why these enthralling sea cliffs have become one of the best places to visit in Ireland.
From atop the cliffs, which stretch south to Kerry and beyond, visitors are treated to unbeatable vistas of the Atlantic Ocean waves crashing upon the rocky shore below, with the lovely Aran Islands looming in the distance. Walking along them is by far one of the best things to do in Ireland.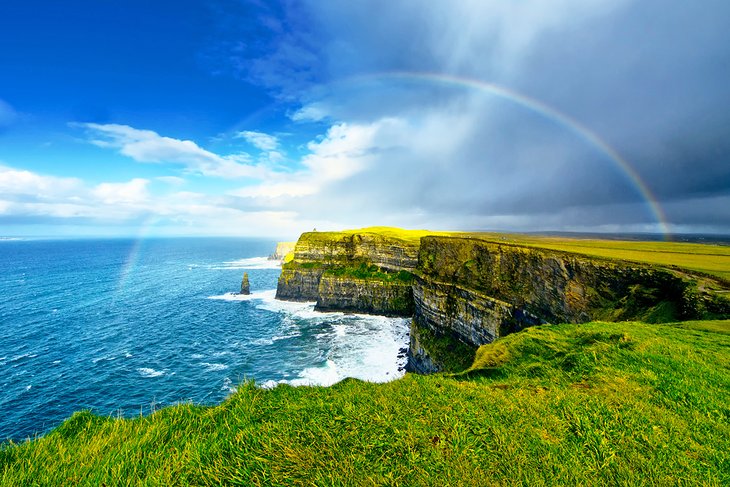 So beloved by tourists, the area has adapted to its fame by adding a visitor center, on-site theater, gift shop, two cafés, and facilities. To get here, follow the Doolin Cliff Walk. The 19th-century O'Brien's Tower offers phenomenal views. It was restored in 2019 and is open to visitors through guided tours.
Protected since 1979, this spectacular area is a part of the Burren and Cliffs of Moher UNESCO Global Geopark and as such, plays host to a variety of Ireland's beautiful creatures, including over 35 types of birds.
9. Giant's Causeway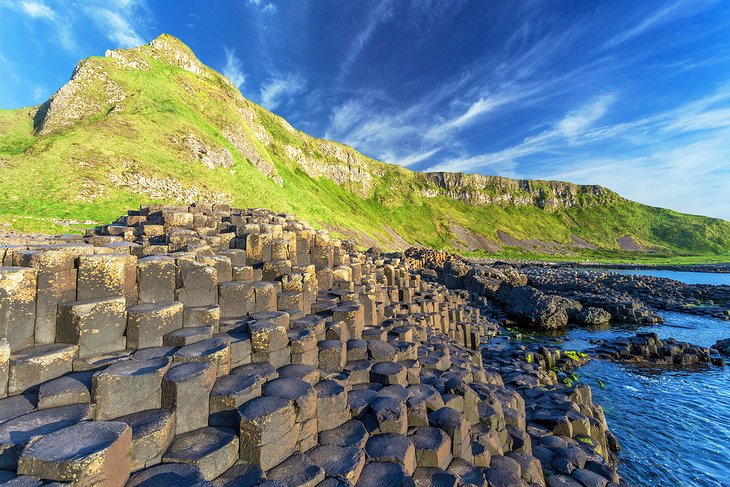 Giant's Causeway is a captivating place where nature leaves you gob-smacked. Situated at the base of giant basalt cliffs, the Causeway consists of more than 40,000 massive, hexagonal-shapred black columns sticking out of the sea. In a nod to this attraction's unique name, these majestic forms look as if they were, indeed, placed there by giants.
Actually created through multiple volcanic eruptions, moving tectonic plates, and erosion over 60 million years, this UNESCO World Heritage Site is a geological marvel. It's visited by tourists looking to soak up historic legends, enjoy breathtaking views, and feel small for a while. A less-than-one-kilometer walk will get you to its base, where you can explore this wonder up close, jumping over the stones, and measuring their girth first-hand.
The Giant's Causeway Visitor Center is the place to go if you're looking to unearth the legend of Fionn mac Cumhaill (a.k.a. Finn McCool), a giant who built a stepping-stone path (the Causeway) to Scotland in order to fight his equally large enemy, the Scottish Benandonner.
10. Dingle & The Dingle Peninsula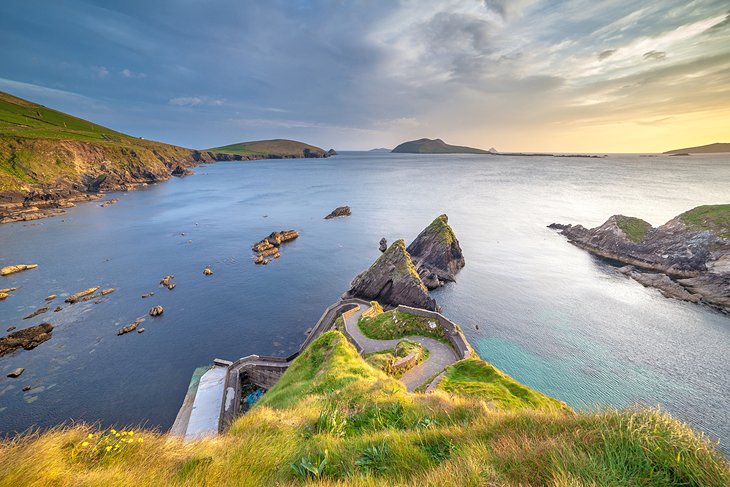 This quaint, hilly city is the capital of the Dingle Peninsula. A highlight on any tour of the Wild Atlantic Way, this famed peninsula boasts things you've likely never seen (like beehive huts) and beauty you'll be hard-pressed to surpass (that point where the azure waves crash against jagged cliffs to reveal secret sandy coves).
It's no surprise, then, that so many tourists choose to rest their weary heads (and feet) in this charming spot, especially on weekends and during the summer.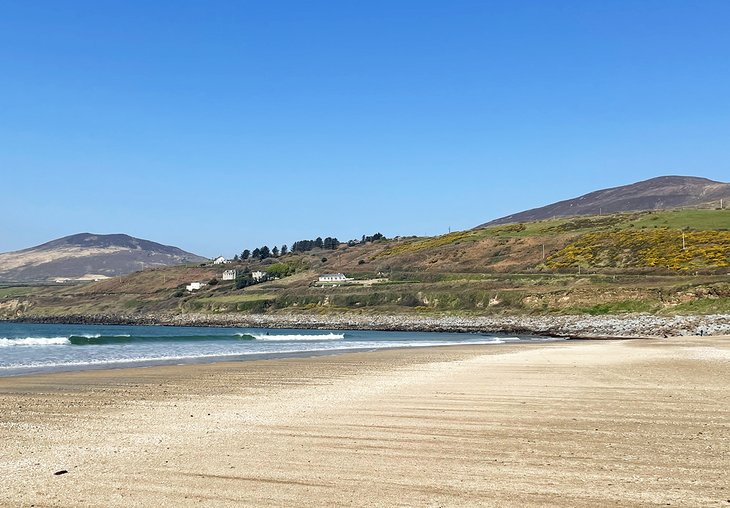 Perched above Dingle Bay, the Irish-speaking town faces the Blasket Islands. If you look closely enough, you might be able to spot Fungi, the town's unofficial mascot. Most head here to enjoy all that the coast has to offer (i.e. lounging, walking, and surfing). Cumeenoole Beach shouldn't be skipped!
Non beachgoers can hike uphill to the ancient Eask Tower. Their reward: unparalleled 360-degree views of dramatic and unforgettable scenery. Shoppers will enjoy eclectic stores selling everything from clothes to jewelry to hardware.
11. Derry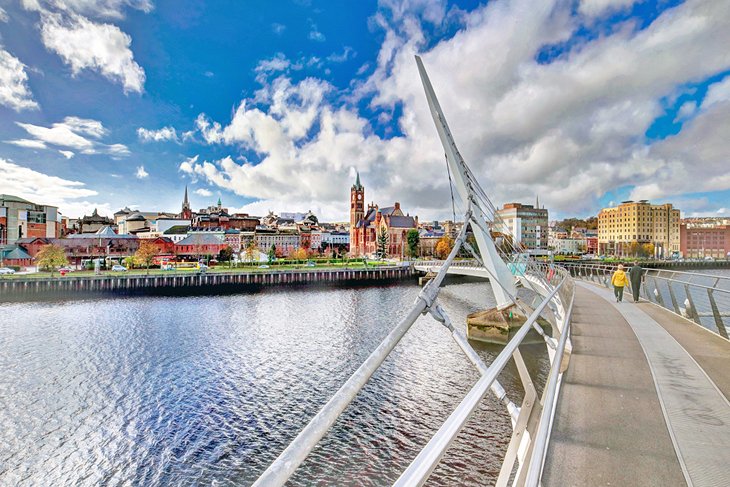 Officially known as Londonderry, Derry is the second largest city in Northern Ireland. It's most well-known for its stunning Atlantic coast and well-preserved ancient walls (dating back to the 17th century, they surround the old city and are worth a tour). Derry also has significant ties to the Bloody Sunday massacre of 1972, which took place in its Bogside section.
Recently, the historic city had a major makeover, taking it from "ok" to "wow." One of the upgrades included Peace Bridge, a pedestrian and cycle bridge, which crosses the River Foyle. It opened in 2011. Since then, the bridge has become an icon used as a backdrop for concerts, New Year's celebrations, and more.
The city also worked hard to redevelop its waterfront. Wander the busy streets, pop into the unique shops, or grab a bite in one of the city's highly rated restaurants. You can't miss the modern buzz emanating from this bustling town.
Be sure to enjoy the Causeway Coast Route (by car or train) while you're in the area. Little can beat the magnificence of the impressive scenery, adorable villages, and unspoiled beaches.
Accommodation: Where to Stay in Derry
12. Limerick City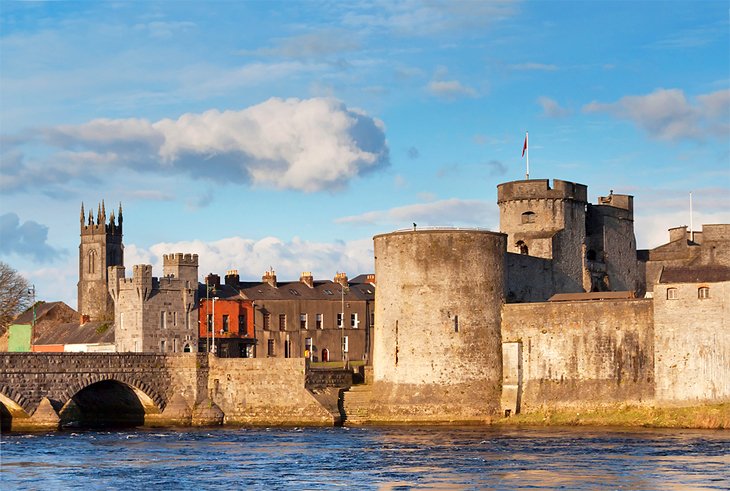 Limerick is about to hit the big time, trust us! After a historic economic downturn, the city suffered for years. Lately, however, this vibrant town that hugs the River Shannon where it meets the Atlantic has been given a second, more upscale and glitzy chance.
Named Ireland's first City of Culture, Limerick received a much-needed revamp. New and improved quays, riverside walks, and public bicycles helped boost this quirky city towards a bright and shiny future. Lovely Georgian buildings hobnob with eccentric art galleries and the stunningly restored Milk Market, where food and fun combine in the form of pop-up restaurants, art exhibits, and concerts.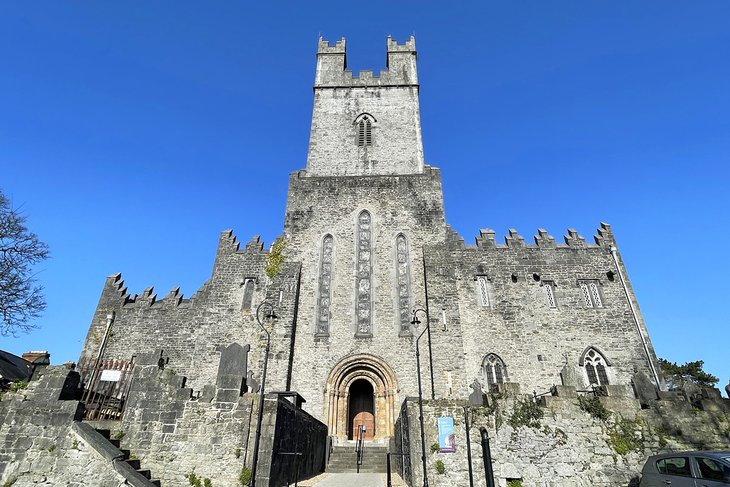 Of course, rugby still reigns as the sport of choice (for playing, watching, and loudly arguing about). You can avoid all that at King John's Castle, the 800-year-old heart of the city that received an extensive refurbishment to make it the most interesting, interactive, and fun castle you'll visit.
Accommodation: Where to Stay in Limerick
13. Kilkenny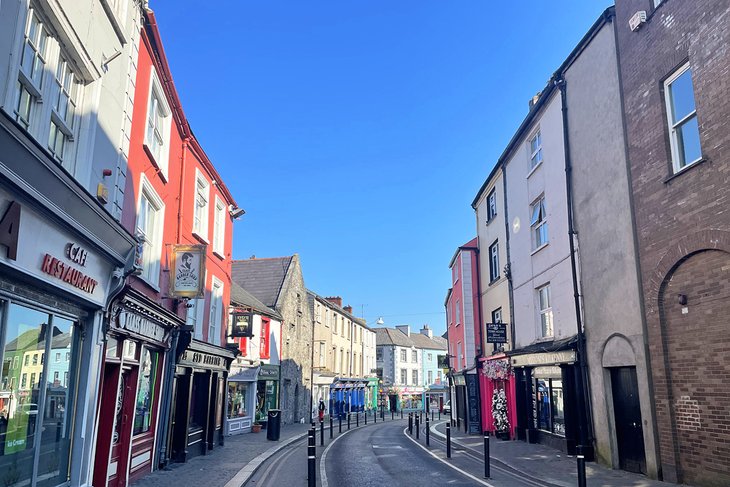 An hour and a half from Dublin, Kilkenny spans both banks of the River Nore. Like, Derry, Kilkenny's medieval ties link closely with the new and exciting advances of today. Also known as the "marble city," this picturesque town is as delightful as it gets. It boasts a wide array of inviting restaurants and quaint cafés, along with shops to please those in need of a little retail therapy.
Kilkenny offers a slew of attractions, the most popular of which is the Medieval Mile, a scenic trail of narrow lanes that links many of the historic buildings (including Saint Mary's Cathedral and Kilkenny Castle, Rose Garden, and Park).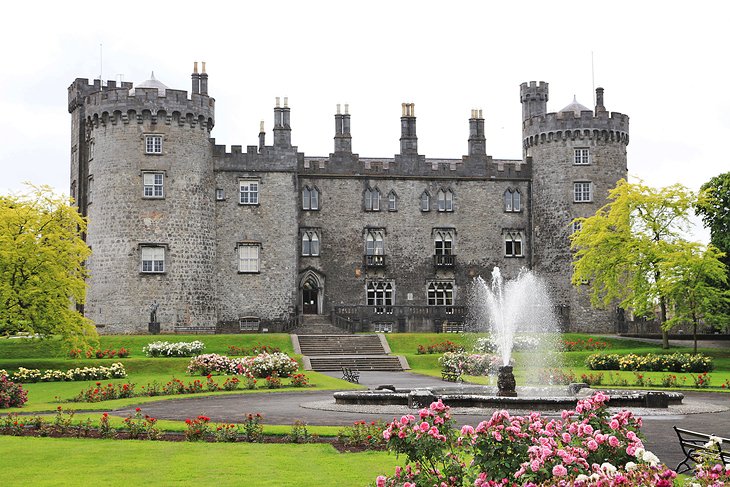 Wander through the secret passageways, soak up the culture at one of the city's many festivals, or get lost in the maze created by Norman alleyways. Feeling creative? Unleash your inner artist by painting the castle grounds or capturing the juxtaposition of modern-day Ireland mixed with the crumbling, yet essential walls of yore.
Accommodation: Where to Stay in Kilkenny
14. Westport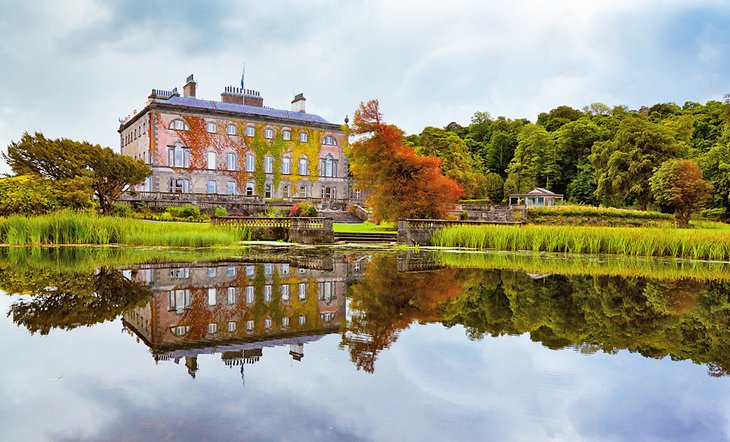 No one gets bored in Westport. Located in County Mayo on Ireland's west coast, Westport is a charming city often used as a base for adventurers. Play a round of golf, cycle the winding scenic trails, hike through the fields, or take the kids to Pirate Adventure Park at Westport House. Not enough adventure for you? Set out on a fishing trip, go sailing, or take a cool dip off the beach.
An hour and a half from Galway, this remote city is sometimes referred to as the Riviera of the Wild Atlantic Way. Surrounded by rugged countryside, the town also boasts 50 miles of pristine beachfront overlooking the magnificent Clew Bay. Head to Oyster Beach (near Murrisk) for a relaxing horseback ride along the sand, or jump off the pier at Old Head (20 minutes away from town) while gazing up at the impressive Croagh Patrick.
Once you brush off the sand, head into town. Peruse the shops along the mall or take a romantic stroll across the stone bridge crossing the tree-lined bank of the Carrowbeg River. You won't be lacking in restaurant choices, so choose one that suits your taste.
15. Sligo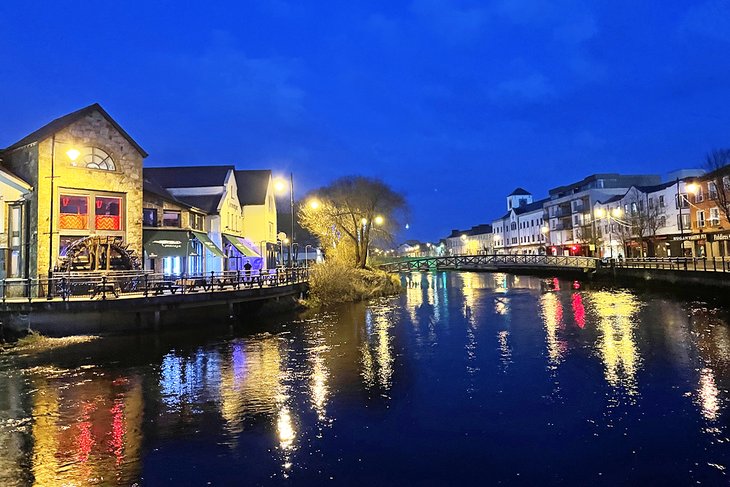 An adored rest stop for adventurers, Sligo is a friendly and picturesque coastal seaport. Located in the northwest of the island, near the border with Northern Ireland, Sligo is comfortably nestled between Donegal and Galway. That makes it an ideal place to rest your legs while touring the Wild Atlantic Way.
Like many of the captivating towns on this list, Sligo exists in the sweet, magical spot where the land meets the sea. The result is an oasis of mountain peaks, salty ocean spray, and sandy dunes that inspire even the least artistic of us to get creative.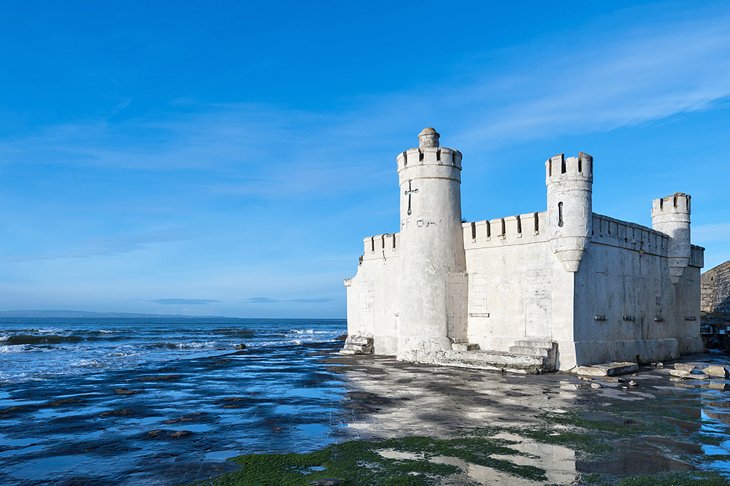 Staying here is a treat. Where else can you ride the waves at the beach in the morning and visit an ancient castle backed by the most dramatic, craggy cliffs in the afternoon? Did we mention the adorable shops and plentiful restaurants?
Accommodation: Where to Stay in Sligo
16. Coleraine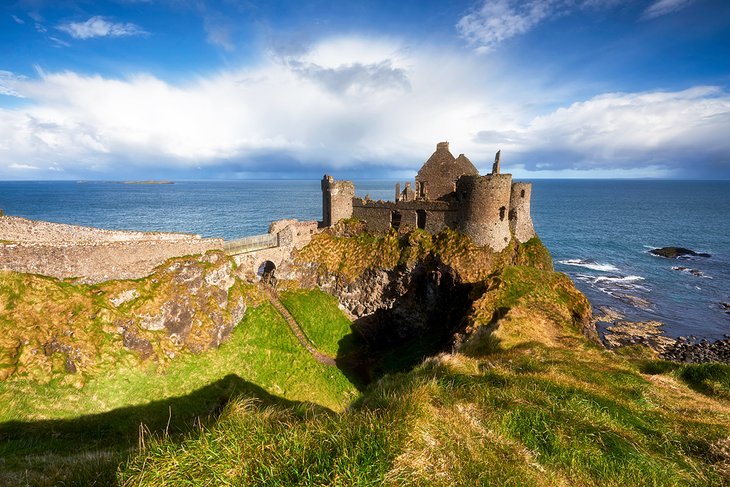 You'd be amiss not to visit this delightful town on the Irish north coast, also known as the "capital of the Causeway Coast." A prior winner of prestigious awards like "Best Kept Town," "Ulster in Bloom," and "Best Kept Large Town in Northern Ireland," you're in for a treat while staying in this lovely spot.
While many are impressed by its new shopping center, Coleraine's charm oozes from its perfectly tended gardens and pretty town square (a.k.a. "the Diamond"). Local golf courses abound-with 14 golf clubs and courses located just outside the city. Most, however, come to walk, hike, or bike to appreciate the breathtaking views along the River Bann.
Carve out a couple of hours for a hike to Mountsandel Wood, a Mesolithic site dating back over 10,000 years. It's the earliest known settlement in the country and is thought to be Ireland's oldest archaeological site.
When your legs are sore from all that walking, make a pit stop at the Wee Cottage, a small, unique restaurant decorated with everything from trolls to teapots. Order a scone-you'll thank us! It's located right near Dunluce Castle, making it a perfect place for afternoon tea.
Another reason to visit Coleraine: it's only 12 miles from the Giant's Causeway.
17. Kinsale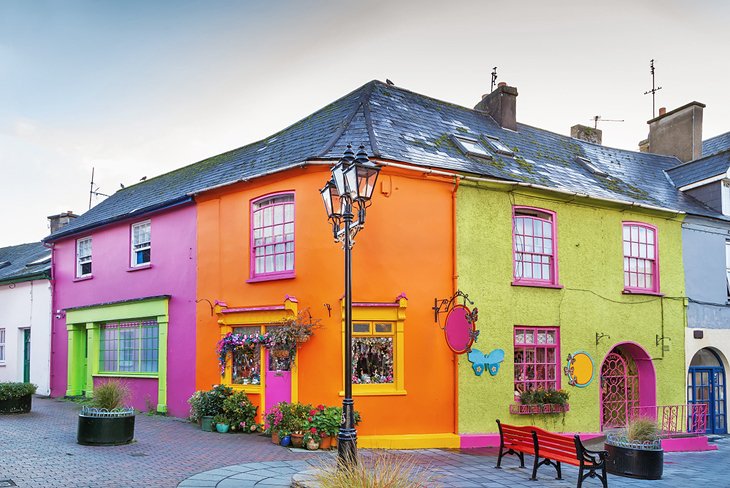 It may be small, but this colorful seaside town is bursting with charm. A mere 40 minutes from Cork, Kinsale was once a medieval fishing port. Today, its impressive marina plays host to boats that are larger than your first apartment. Ogle the yachts before making your way along the Scilly Walk (a nice coastal walk) to Charles Fort, a star-shaped, 17th-century artillery fort originally built to guard Kinsale Harbour.
Desmond Castle sits in the center of town. Built in the early 16th century, this three-story tower house is hard to miss. Used to contain mainly French prisoners of war, it's known by locals as the "French Prison."
While roaming the charming streets, you'll notice a bevy of fun shops and other points of interest peppered throughout. Perhaps our favorite part about the town center, however, is its vast array of restaurants serving delectable food. Once dubbed the "Gourmet Capital of Ireland," you can't leave Kinsale without enjoying a meal (or 10).
Accommodation: Where to Stay in Kinsale
Read More: Top-Rated Things to do in Kinsale, Ireland
18. Connemara Loop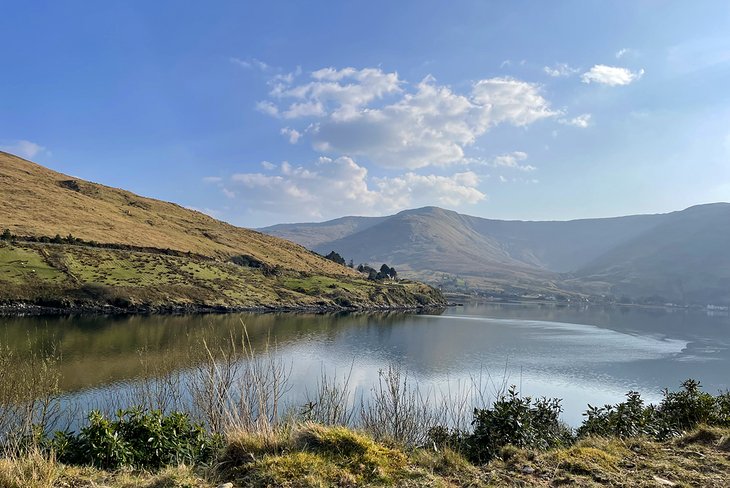 Of all the drives in all the world, Ireland's Wild Atlantic Way is one that will stay with you forever. This 2,600-kilometer route is one of the longest defined coastal highways in the world, along which are many of the best places to see in Ireland.
Among the scenic drives that can be done off the Wild Atlantic Way, the Connemara Loop is likely one of the most beautiful, cultural, and historic. Connemara is a section of County Galway – one of its most remote, wild, and rugged. The loop takes travelers on an ever-changing scenic journey around mountains, across bogs, past lakes, beaches, and forest. Along the way, you will pass through charming villages and coastal towns, as well as through one of the largest Irish-speaking communities in Ireland.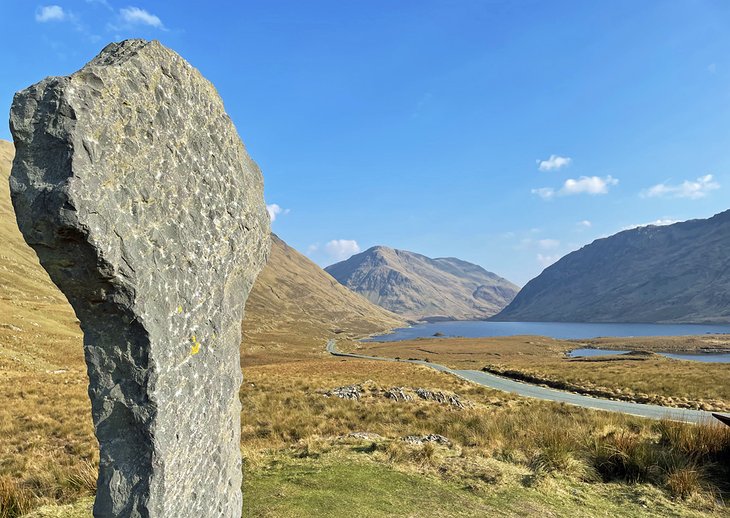 The loop will take travelers through towns like Maam Cross, Lettergesh, Tully Cross, Letterfrack, the Inagh Valley, and beyond. The entire loop is 85 kilometers and is considered part of the Wild Atlantic Way. Be sure to visit Connemara National Park, Diamond Mountain, Kylemore Abbey, and many other epically beautiful and historic attractions.
19. Donegal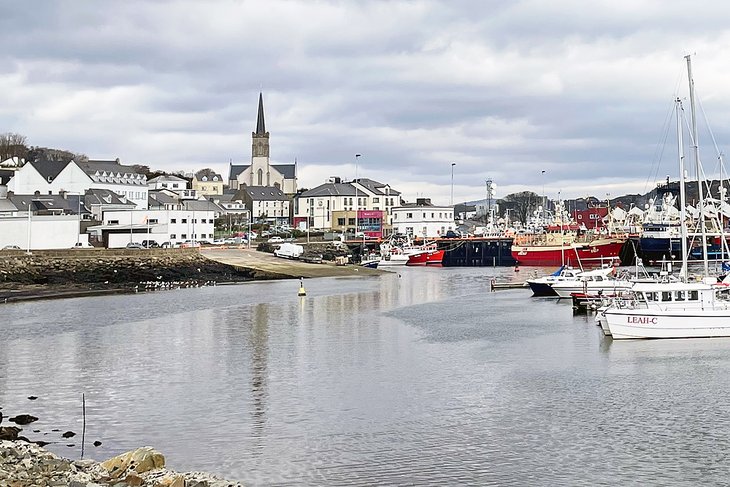 Tucked all the way up in the northernmost corner of Ireland, County Donegal is a spectacular spot that is often skipped over for places in the south. But Donegal is stunningly beautiful, raw, wind-swept, and packed with history, making it one of the true undercover gems of Ireland.
The Wild Atlantic Way begins (or ends) here in Donegal. Throughout the county, visitors will be spoiled with views of rivers, lakes, beaches, and mountains. Because tourism numbers are much lower here than in other parts of Ireland, this is one of the best places in the country to absorb its local history and ancient traditions.
Donegal is where you can find one of Ireland's largest Gaeltachts (Irish-speaking areas). It is truly steeped in centuries-old traditions and culture. It also is a strikingly beautiful place, marked by salty fishing villages like Killybegs, rolling green fields, and ancient heritage.
Worth a visit is Malin Head, the most northern point in all of Ireland. It is webbed with coastal walks that offer jaw-dropping views over the Atlantic. You'll also find the Stone Fort of Grianan of Aileach, which is a stone fort that dates back more than 3,500 years. Another fantastic stop in Donegals are the Slieve League Cliffs, which are said to be even more incredible than the Cliffs of Moher – and far less crowded.
Accommodation: Where to Stay in Donegal
Frequently Asked Questions
When is the best time to visit Ireland?
Ireland is fairly mild (in comparison to other European countries) and quite rainy year-round. If you're hoping to enjoy more outdoor time, the best time to visit Ireland is in the summer.
While you'll still need to pack a brolly (umbrella) and wellies (rainboots), traveling during the summer - a.k.a. June to September - means less of the wet stuff, more sunshine, and higher temperatures. Highs range in the low to mid 60s with lows hovering around the high 50-degree mark in July and August, so you'll want to pack a sweater.
June offers visitors up to 17 hours of sunlight, plenty of time to enjoy the bevy of outdoor activities on offer. In summer, you'll have to pony up higher fees, as this is the most popular time to visit Ireland.
What is the best way to get around Ireland?
The Emerald Isle's most captivating attractions lie far outside city boundaries, which makes traveling by car the best way to get around Ireland.
While taking a bus can save you money, you won't have the advantage of being able to pull over at incredible scenic spots along the route, and will be at the mercy of the bus's route and schedule.
Trains are also available to transport visitors across the country, but their stops are limited and again, leave you without the option of veering off your route to admire spectacular sights.
Feeling extra energetic? Ireland's twisty roads are well traversed by bicycles, and there are plenty of cycle paths to be found in the countryside.
What is a good itinerary for first-time visitors to Ireland?
First-time visitors to Ireland should plan a round-trip adventure starting (and ending) in Dublin, and taking in some of the country's best places to visit in between.
In terms of where to travel, here's the best itinerary for first-time visitors to Ireland: Dublin, Cork, Kinsale, Killarney, Dingle, Cliffs of Moher, Galway, Dublin. The entire trip will involve about 13.5 hours of driving, broken up over multiple days.
First stop: Dublin. You'll want to spend at least two days here before moving on to Cork. One day will do here before you drive to Kinsale, which is so adorable, you'll have to spend the night. Next, head to Killarney, where you can visit Killarney National Park and tour the spectacular Ring of Kerry. You should plan at least one night or, better yet, two, to get the most out of this destination. Next up is Dingle and the breathtaking Dingle Peninsula. Charge your camera! A night or two will do. The Cliffs of Moher is your next stop and again, you'll want to take a ton of photos. On to Galway for a day or two and then back to Dublin.
Schedule two weeks to get the most from your trip. The added time means you won't have to rush through any of the spots you'll fall in love with at first sight. And be sure to rent a car, as this is the easiest way to travel in Ireland. Stay in B&Bs for the most comfortable and authentic Irish experience.
More Related Articles on PlanetWare.com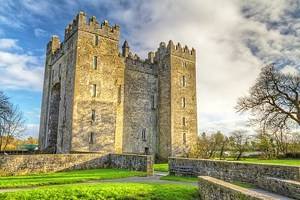 Ireland Highlights: Some of the best places to visit in Ireland for people who want to get off the beaten path are the small towns. For ideas on where to go, check out the top-rated small towns in Ireland. Another highlight of the country are the castles. If you have your heart set on visiting some of these historic structures, see our guide to the top castles in Ireland. And if you happen to be looking for the best places to go fishing in Ireland, we've got that covered as well.