16 Top-Rated Things to Do in Kinsale, Ireland
There's no shortage of charm in colorful Kinsale, a picturesque seaside village in County Cork.
Once a medieval fishing port, this adorable town is now home to vibrant shopping, tasty restaurants, and galleries galore. A 30-minute trip from Cork, Kinsale is a perfect place to spend a weekend away.
One of the best places to visit in Ireland, Kinsale is a haven for gastronomes. It's also been dubbed the "Gourmet Capital of Ireland" due to its phenomenal eateries, so arrive hungry!
Whether you're a history buff hoping to examine the town's 17th-century artillery fort, a foodie looking to tour the area's best dinner spots, or an angler aiming to reel in a big one on the River Brandon, you'll find plenty of fun activities in Kinsale.
No matter what you hope to get from your trip, be sure to plan it with help from our list of the top things to do in Kinsale, Ireland.
1. Wander the Colorful Cobblestone Streets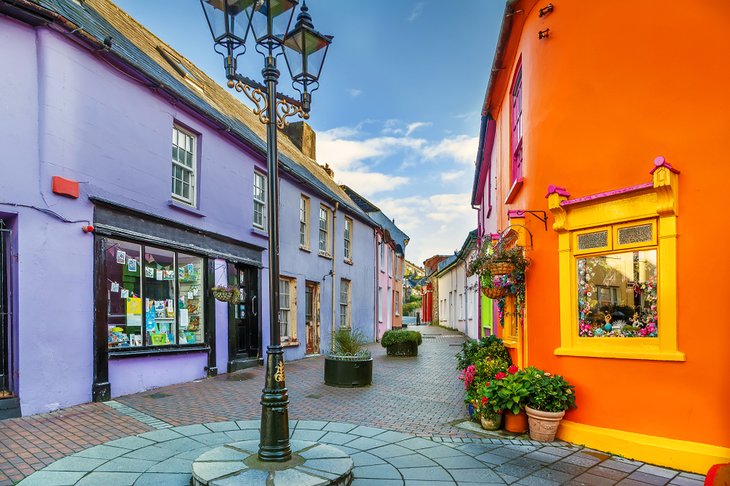 Kinsale's brilliant streets are literally the highlight of this village. Vibrant hues of red, orange, green, blue, and purple pop against an often-dull sky, luring visitors to wander in their colorful embrace. Their innate charm helps to make this one of the prettiest small towns in Ireland.
The cobblestone streets wind their way through town, lined with eclectic shops and award-winning restaurants (Kinsale is well known for its incredible eateries). "Oohs" and "ahhs," are guaranteed to escape your lips as you turn each beautiful corner.
It's impossible to walk these picturesque streets without stopping to take a zillion photos, so be sure there's lots of space on your SD card and in the cloud. Also, wander on an empty stomach. You'll be hard-pressed to avoid overindulging at the cute cafés and restaurants.
2. Step Back in Time at Charles Fort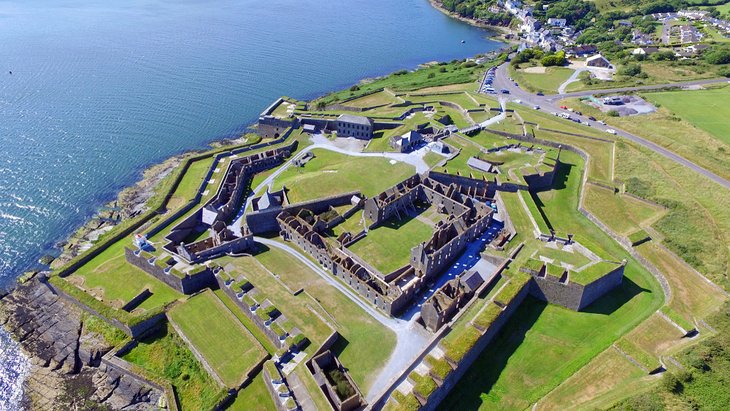 Charles Fort is the top historic attraction in Kinsale. A star-shaped artillery fort built during the late 17th century, this unique stronghold is impeccably preserved. It is located in a tiny village named Summer Cove, which lies a mile and a half southwest of Kinsale, hugging the Kinsale Harbor.
Charles Fort played a role in some of Ireland's largest battles, including the Williamite War of 1689 and the Irish Civil War of 1922. Overlooking the Old Head of Kinsale, the fort also offers unbeatable views of the village.
Declared a National Monument in 1973, this is a popular place for day visitors from Cork, especially during summer. Head out early to avoid long queues. Also, wear comfy walking shoes and be careful–the terrain here can be a bit uneven and there are 20 acres to explore.
Insider's tip: The tearoom is a lovely spot to take a load off and refuel. It's open daily from May through September and on weekends from April through October.
3. Wander the Grounds at James Fort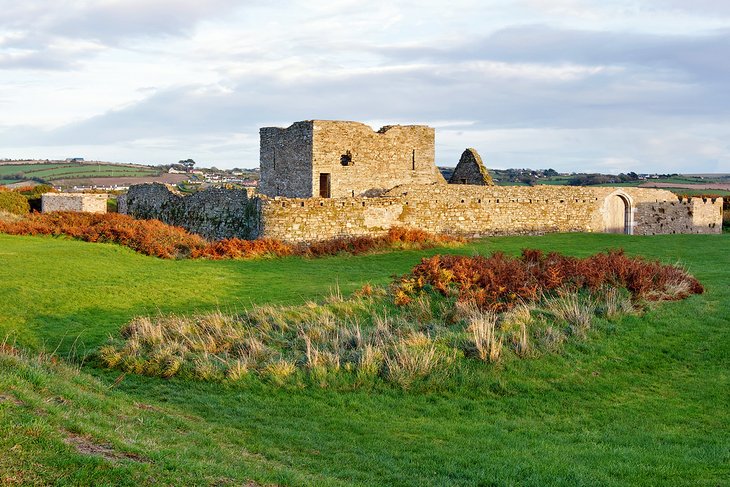 Another 17th-century stronghold, the impressive James Fort is pentagonal in shape.
A smaller fortress than Charles Fort, this historic bastion structure also lines the shores of the River Brandon and sits directly across from its larger cousin. Together, they guarded the narrow entrance to Kinsale's busy harbor.
Construction on this fortress, also known as the "Old Fort," a nickname given after its neighbor was erected in 1682, began in 1602. James Fort was the center of many a conflict, the final being the Williamite War. In 1690, it was besieged by Williamite forces.
It is situated on the Castlepark peninsula and offers phenomenal vistas of Charles Fort and Kinsale Harbour. Visitors are welcome to wander through stone tunnels that lie beneath the fort's grassy grounds and around the outer walls at any time.
Insider's tip: If you're up for a bit of exercise, you can reach James Fort via an easy and beautiful 45-minute walk from Kinsale.
4. Take a Historic Stroll with Local Guides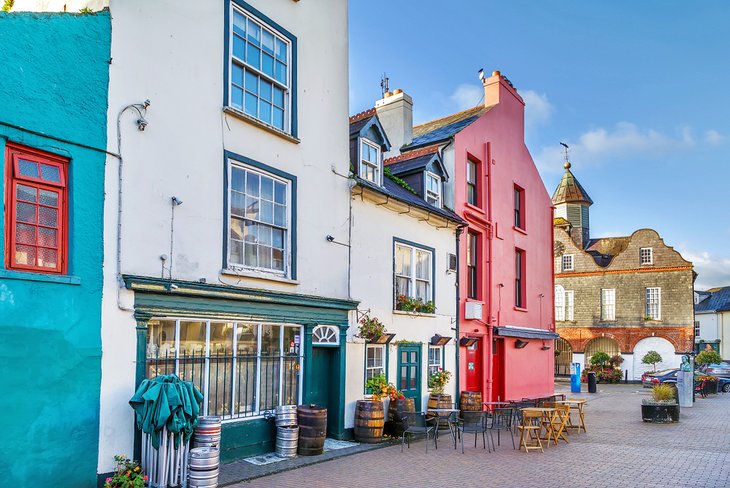 No one knows a town better than its locals, which is why booking a sightseeing tour with Kinsale Heritage Town Walks is one of the best things to do in Kinsale. Dermot Ryan heads up this fun adventure, bringing an Irish flare to each tour that you won't find elsewhere.
Voted the "best guide in Ireland," Dermot really knows his stuff. He's been guiding tourists around the city since 1966, after all. An archeologist and historian, this lively chap brings photographs, maps, and a wealth of interesting knowledge to his tours, which meet daily at the Kinsale Tourist Office at 10:30.
Don Moloney and Barry Herlihy are two other fab guides bringing lore to life on the streets of Kinsale. In business for over 22 years, their walking tours include in-depth stories about the town's medieval history and the sinking of the Lusitania.
Don & Barry's Historic Stroll, which also leaves from the tourist office, won the CIE Tours National Award for the best walking tour in Ireland. Be sure to book an appointment if traveling between November and mid-March, otherwise, you can just show up at 11:15am.
5. Appreciate the View from Old Head Signal Tower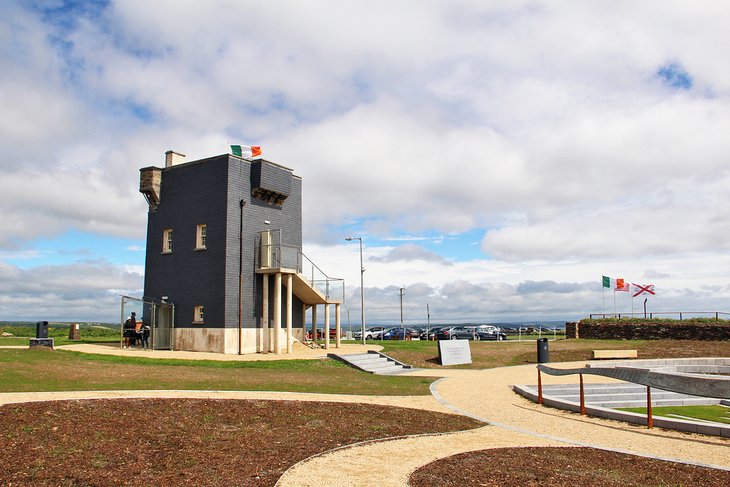 Way back during the Napoleonic era, more than 200 years ago, the French threatened to invade Ireland. Kinsale decided to boost its protection by building The Old Head Signal Tower. The 25th of 81 towers built within sight of each other, it was created to warn of an approaching attack.
The tower is located on a vast headland, called Old Head, that juts into the Atlantic Ocean and offers tremendous vistas, especially when viewed from the top of the tower. It gets super windy at this wide-open space, so pack a warm sweater and keep your feet well planted.
This headland was the closest point of land to the Lusitania, a ship that was torpedoed in the ocean in 1915. The Old Head Signal Tower devotes its first floor to the Lusitania Museum in tribute to the tragedy.
6. Get Inspired in Main Street's Galleries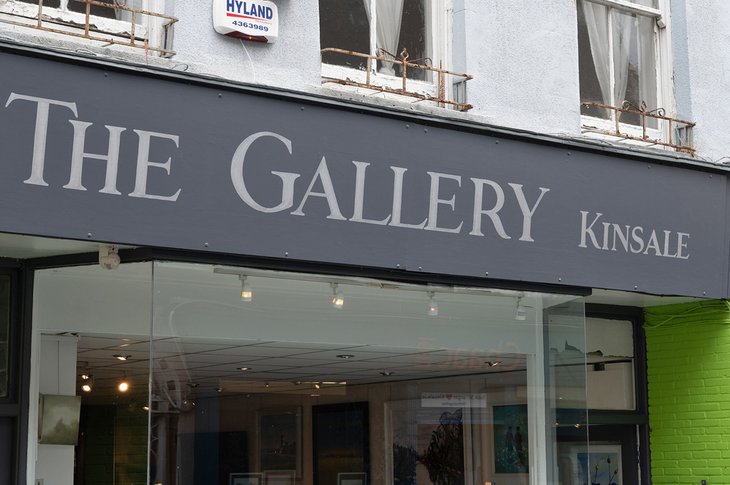 A haven for artists, Kinsale is the place to be if you're looking for inspiration or just want to appreciate a few eclectic pieces. From crafts to paintings to photographs, you'll find a slew of interesting creations, and if you're lucky, one or two might accompany you home.
The Boathouse Gallery was established as a Steam Bakery in 1906. From the early 1960s through the 80s, it was used as a boathouse, and in 2010, the unique venue became the lovely gallery it is today. You'll find works (including ceramics) by local and national artists on display here.
The Giles Norman Gallery celebrated its 30th anniversary in 2018. Inside, you'll find a vast array of the celebrated photographer's phenomenal works, many of which were inspired by his love of Ireland's beautiful landscapes.
Almost next door, you'll find the Rohan Reilly Fine Art Photography Gallery. Breathtaking works created in Ireland, Italy, and Japan pepper the walls of this pretty space. All have been taken by the award-winning photographer, Rohan Reilly.
7. Dive into a Good Book at Poet's Corner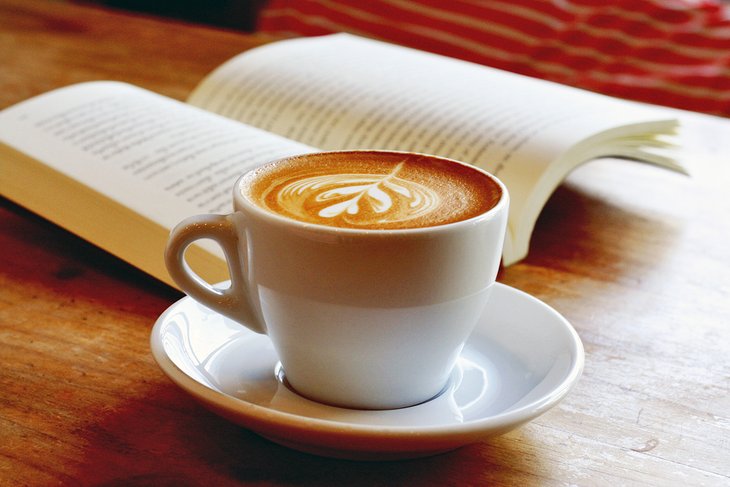 A visit to Poet's Corner is a real treat–literally.
This adorable bookstore is about as charming as they come. Fresh-cut flowers adorn its gleaming white wooden tables, presenting a perfect place to enjoy a good read while munching on one of the café's delectable treats.
Before buying a book, chat with one of the friendly staff members. They're more than willing to offer a few great selections. Also, take advantage of the book exchange. Turn in two books to get one, or one book for 25 percent off a book of your choice.
Offering much more than a quaint shopping experience, the café at this locale is something your taste buds will adore. The Literary Poet breakfast (two boiled eggs, toast, jam, cheese, and coffee or tea) comes with a free book (as long as you bring two of your own to exchange).
Other meals, like the giant Chicken Guacamole Sammy and Poet's Sandwich, are divine, which is partly due to the handmade bread. Toasties and the vegan sandwich are other big hits. Even the kids will tuck into the tasty fare without complaint.
Address: 44 Main Street, Kinsale, Co. Cork
8. Hit the Waves on a Harbor Cruise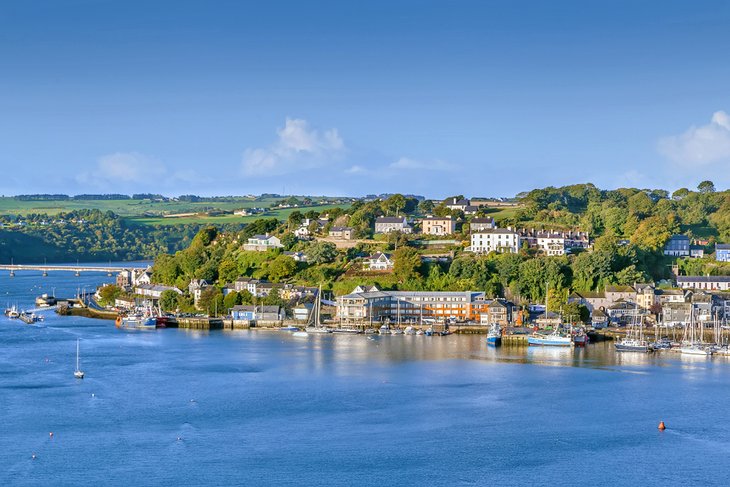 There's no better way to see a coastal town than from the water. If that town is guarded by large medieval forts, bobbing along the river is an even more rewarding experience. Hop aboard a Kinsale Harbour Cruise for a lovely day out you'll never forget.
Their boat, the Spirit of Kinsale, is captained by Jerome, an avid fisherman, historical author, and owner of the vessel. Visitors are in for a treat–and a whole lot of historical knowledge about the area. You can't beat the view of Charles Fort.
Insider's tip: If you'd like to enjoy the best views from up top, arrive early and head there first. Also, keep your eyes peeled, as seals are often spotted during these nautical journeys.
Love being at sea? Why not jump into a kayak and tour the waterways? It's one of the more popular things to do in this area.
Kinsale Surf Adventures offers guided tours, as well as classes to improve your kayaking skills. Located in nearby Garretstown Beach, this fun team of enthusiastic teachers bring the history of Kinsale to life–on the water.
Location: Kinsale Quay (between the Actons and Trident hotels), Kinsale, Co. Cork
9. Spot a Giant at the Kinsale Regional Museum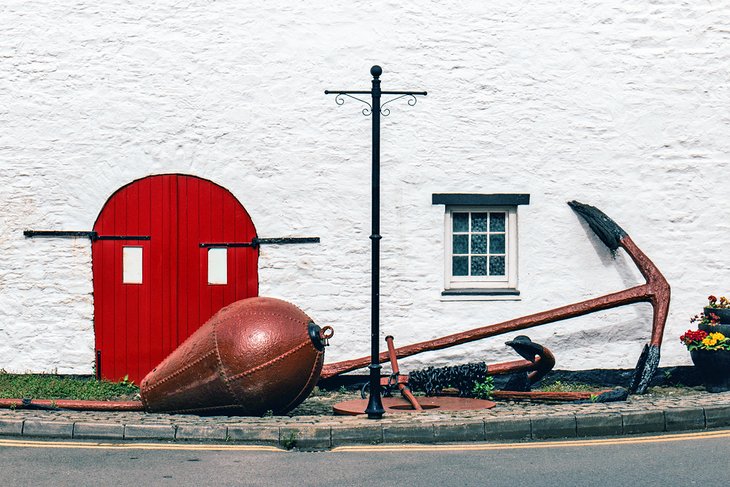 You wouldn't expect to find a museum set up inside what was once the town's courthouse. The building, which dates back to the 1590s, boasts impressive additions (including its elegant exterior), which was created in a Northern European style in 1703.
Free to enter, this unique building now houses the Kinsale Regional Museum, which is bursting with interesting exhibits. Although there are only two main rooms to tour, they take visitors through the town's maritime history to the Battle of Kinsale, the sinking of the Lusitania, and the 1915 Inquest.
You'll find items recovered from the Lusitania, as well as letters and newspaper clippings from that time. Big tourist draws include shoes that belonged to the "Kinsale Giant," the eight-foot-tall Patrick Cotter O'Brien (who lived from 1760 to 1806), and a hurling stick (a.k.a. hurley) owned by Michael Collins.
Address: Market Square, Kinsale, Co. Cork
10. Get Historical at Desmond Castle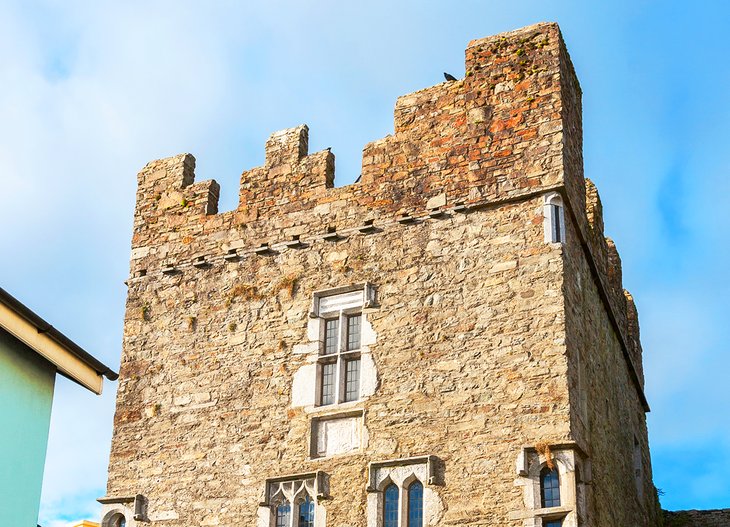 Originally created to serve as a customs house (in 1500), Desmond Castle was used as a prison during the 17th and 18th centuries. Its main residents were French, Spanish, and Dutch prisoners, leading locals to dub this small building the French Prison.
Through the years, this three-story stone tower has also served as a workhouse during the Great Famine. And, during the 1601 Battle of Kinsale, Desmond Castle became home to an ordnance store. Today, you'll find an interesting museum on-site.
A lovely addition to the village, Desmond Castle is currently undergoing conservation work, so check their website before visiting to be sure it's open. Otherwise, it's still worthy of a visit to enjoy the exterior.
Address: Cork Street, Kinsale, Co. Cork
Official site: https://heritageireland.ie/places-to-visit/desmond-castle-kinsale/
11. Pay Your Respects at Ringfinnan Garden of Remembrance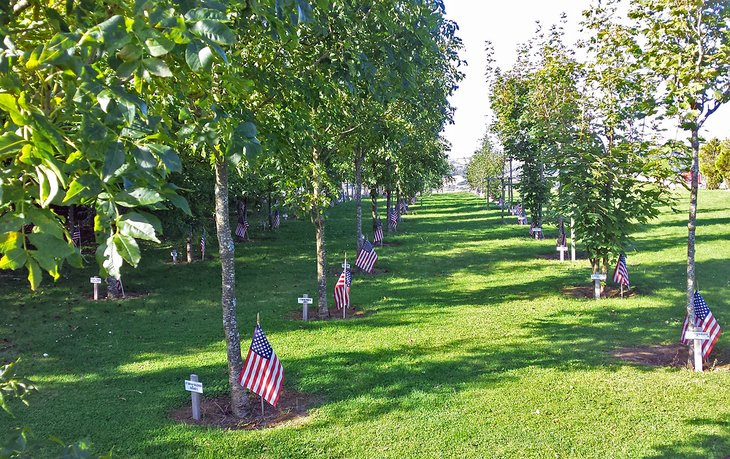 The Ringfinnan Garden of Remembrance is dedicated to Father Mychal Judge (former Chaplain of the New York Fire Department) and the 343 firefighters who lost their lives in the September 11th, 2001 terrorist attack on New York's Twin Towers.
This verdant garden contains rows of trees planted in honor of each of these victims around a stone memorial overlooking the surrounding countryside. A fire-truck-red fence serves as its entrance, and multiple benches are provided for those who would like to sit while paying their respects.
Ringfinnan Garden was created by Kathleen Murphy, a prior resident of Ringfinnan who moved to New York to work as a nurse. Kathleen wanted to create this garden to memorialize the men (many of whom were Irish) whose courage she so greatly admired.
Address: Acres, Kinsale, Co. Cork
12. Wander along the Scilly Walk Loop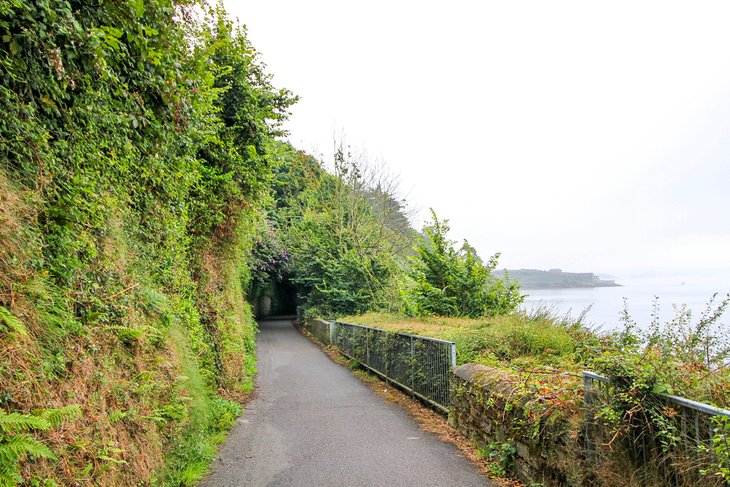 Tighten your laces and get ready to be wowed by impressive Irish scenery.
Scilly Walk, one of the best attractions in Kinsale, winds its way along the coast for about six kilometers (there and back) to Charles Fort. It's said that if you haven't completed this walk, you haven't really seen Kinsale.
On the way back, follow High Road, which is just as it sounds–high. Considered the "Golden Mile" or sometimes "Millionaire's Row" of Kinsale, this path takes you above the Scilly trail you arrived on, boasting the best elevated views in Kinsale.
This portion of the loop is also where you'll be left speechless, and not by the winds. Stunning holiday homes pepper this path, owned by the elite and featuring phenomenal harbor vistas.
To start your journey on the Scilly Walk, head to Lower Road in town. This will lead you to the bottom of a hill that steers you towards Man Friday. It boasts breathtaking views of James and Charles Forts as well as the harbor.
13. Have a Laugh (and a Wee Little Scare) on a Kinsale Ghost Tour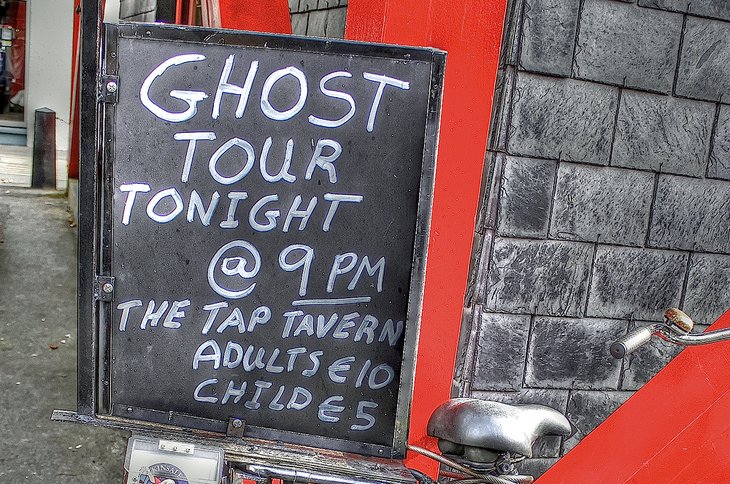 With history seeping through the walls of Kinsale, it's easy to get spooked.
Not a fan of jump scares? Don't worry–the Kinsale Ghost Tour is more comedy than fright. As is the case with any walking tour, guests are imparted with historical wisdom about the town they are exploring.
Two guides (actually, it's better to call them actors) lead their group through the winding Kinsale streets when things are dark enough to feel bewitched–between 9pm and 10:15pm. Since the tour is not actually very scary, kids are more than welcome and, in fact, encouraged to attend.
Along the route, you'll be treated to humorous stunts, theatrical tale-telling, and exciting facts about the town's storied past. History has never been so fun!
Address: The Tap Tavern, 9 Guardwell, Sleveen, Kinsale, Co. Cork
14. Overindulge on a Food Tour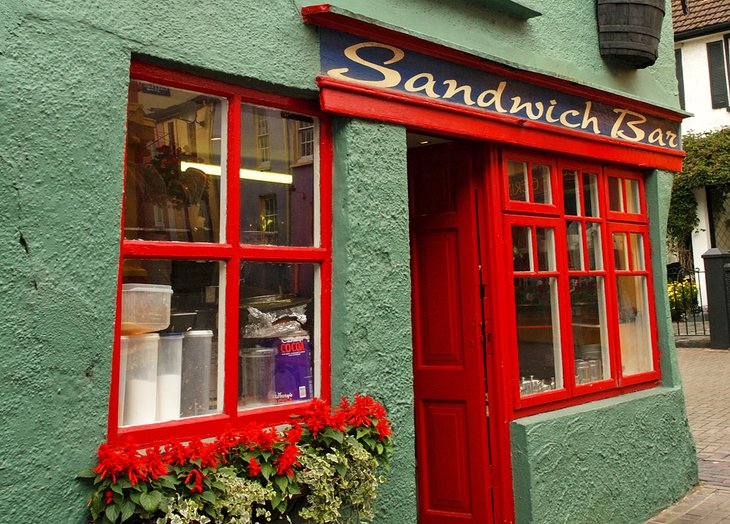 It's essential to arrive hungry when embarking on a Kinsale Food Tour. Lead by Suzanne Burns, a zoologist turned guide and foodie, these fun walking excursions are a perfect way to see the town and taste some of its best assets: delectable food.
You'll stop at four local restaurants in your two-and-a-half-hour trip and will gain a ton of great knowledge about both the area and the tasty treats you consume. Looking for more? Book the foraging and picnic tour, which involves scavenging for edible plants, seaweed, and other delicacies along the coast.
Have allergies? Not to worry–as long as you give the company a heads up 48 hours in advance, they can tailor the tour to accommodate restrictive diets, including, vegetarian, vegan, Halal, and celiac.
15. Play a Round of Golf at Old Head Golf Links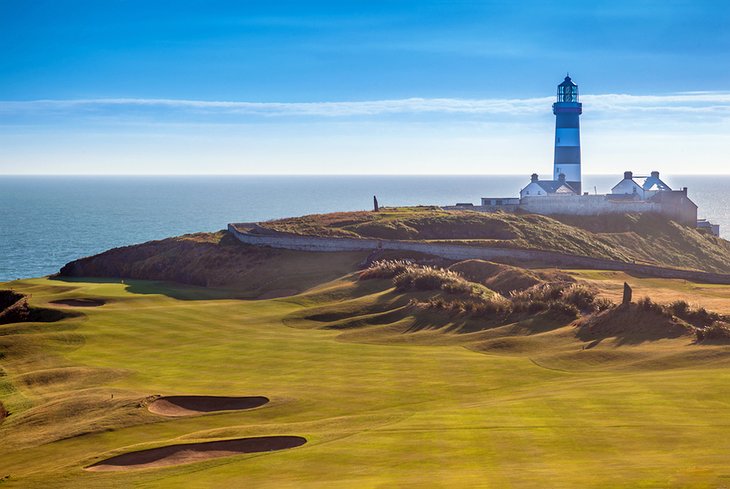 Ireland is known for its fantastic and challenging golf courses set within the most picturesque scenery. One of its loveliest and most exclusive courses is Old Head Golf Links, which lies on the breathtaking headland of the same name.
Those with flush bank accounts may want to hire a helicopter to transport them to the links, and a caddie to carry their bags around the 18-hole, 72-par course. No matter how you travel, you'll be gobsmacked by this wonderful spot.
A word of warning: you'll have to account for heady winds and possibly some drizzle during each shot, but the added challenge makes this course an even more enjoyable one to play. Other reasons to flub a shot include being distracted by the incredible vistas.
When you've finished your game, head to one of the luxury Seaview Suites in the on-site hotel, or better yet, enjoy a therapeutic or "Golfer's Tonic" massage in the lavish Spa at Old Head.
Address: Downmacpatrick, Kinsale, Co. Cork
Official site: https://www.oldhead.com/
16. Play in the Sand at The Dock Beach
The Dock Beach may be small, but what it lacks in size, it more than makes up for in beauty. The best-known beach in Kinsale, this sandy gem is beloved for its sheltered location, walkable distance to town center, and fab views of Charles Fort and the inner harbor.
Although technically not in Kinsale, this beach is easily reachable by crossing the bridge to the Castlepark peninsula or cruising in via a boat.
A perfect beach for families, The Dock Beach offers rentals of kayaks and SUPs (during peak times) and boasts shallow water that makes it easy for little ones to wade in. It's also located right near James Fort, which is a fun attraction for kids to traipse around.
Map of Things to Do in Kinsale, Ireland
More Related Articles on PlanetWare.com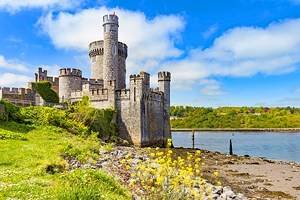 Other Great Irish Weekend Getaways: While most tourists come to Ireland to visit its big cities (we're looking at you Dublin, Belfast, and Cork), you'd be amiss to ignore the scenic countryside. From the adorable town of Kilkenny to the impressive Giant's Causeway in Northern Ireland, there are a slew of fun places to see. That's not to say cities aren't worth your while. They, too, are fantastic, and many appear on this list of the top weekend breaks in Ireland.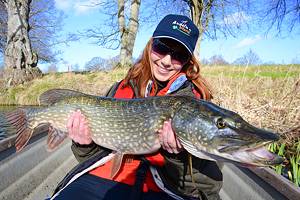 Other Things to Do in Ireland: Fancy yourself an angler? Check out these best fishing destinations and see what you reel in. Can't get enough history? Head to these fantastic Irish castles, which are peppered throughout the Emerald Isle, or better yet, spend a few nights in one of Ireland's gorgeous castle hotels.