15 Top-Rated Attractions & Things to Do in Tralee, Ireland
It's hard to beat Tralee's location, set deep in the foothills of the sprawling Slieve Mish Mountains in Ireland's southwest. You'll be spoiled for choice when it comes to finding a fun way to spend your time. It's packed with fun things to do (like hit one of Ireland's best beaches, traipse through a wetlands center, and visit a world-class museum).
A charming town set on the Dingle Peninsula, Tralee is often used as a base for exploring the spectacular countryside beyond its borders. The Ring of Kerry, Killarney National Park, and Iveragh Peninsula are all easy places to visit from this central locale.
The "old" section of town, parts of which date back to its Norman roots in 1216, are lined with elegant Georgian buildings that transport visitors back to the 18th century. The more modern "Square" lies in juxtaposition, featuring a large open space and shops that lend a cosmopolitan feel.
Plan your sightseeing with our list of the top attractions and things to do in Tralee.
1. Step Back in Time at the Kerry County Museum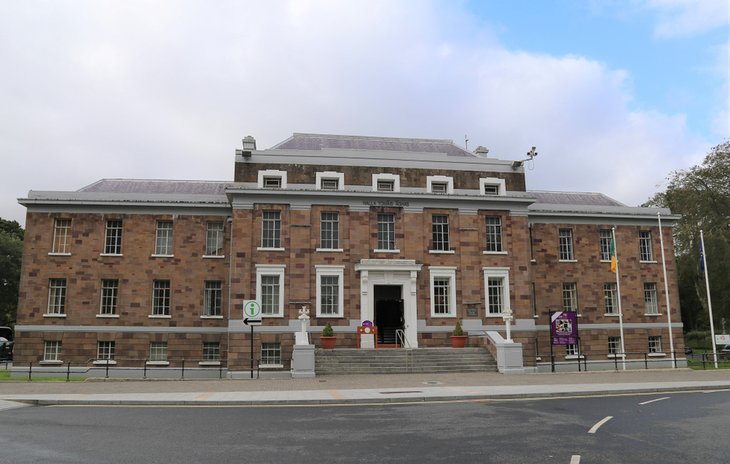 A relatively new museum (the first stage was opened in 1991), Kerry County Museum is the most popular tourist attraction in Tralee for good reason. The 1,750-square-meter space is filled with interesting exhibits highlighting the history and culture of County Kerry.
It's here that you'll find life-sized dioramas intricately depicting the life of those who lived in Kerry from its beginnings right up to the 20th century. Archaeology Hall is a treat for our inner detective. This unique and fascinating area uses medieval artifacts (found during the excavation of Tralee's Dominican Priory) to show visitors how modern-day tools and technology are used to reveal secrets of the past.
The award-winning museum offers plenty of kid-friendly activities to get even the fussiest of little ones interested. Dress up as a famous explorer in the Antarctica Exhibit or wear a historic costume while strolling the reconstructed streets and houses in the Medieval Experience. The museum has made this exhibit so realistic, you'll even experience the sounds and smells of that era.
Address: Ashe Memorial Hall, Denny Street, Tralee
Official site: http://kerrymuseum.ie/
2. Get Back to Nature at the Tralee Bay Wetlands Centre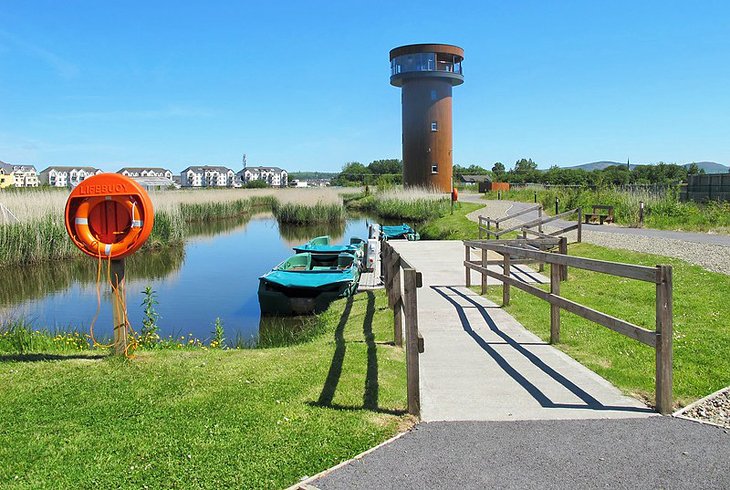 Tralee Bay Wetlands Centre isn't your typical wetlands center. It boats an impressive nature reserve with plenty of paths to wander (or cycle) while looking at the Irish wildlife and natural plant species you've come to see. These paths even have a few pieces of outdoor exercise equipment.
In addition to these, the center also boasts a café, a 20-meter-high viewing and observation tower with spectacular scenic views, and numerous hides to hole up in while bird spotting.
What puts this wetlands center above and beyond its competition are the added perks, like guided nature boat tours and fun water activities (pedalo and rowing boats, water zorbing, and a climbing wall) available to guests on the weekends. No wonder it's been deemed one of the best things to do in Tralee.
This refreshing attraction balances tranquility and activity perfectly, while teaching guests invaluable lessons about the environment and surrounding natural habitat. Those traveling with kids will have a tough time tearing them away.
Insider's tip: Enjoy a meal in the Ballyseedy Café, where you can enjoy tempting treats and a stunning view.
Address: Ballyard, Tralee
Official site: https://www.traleebaywetlands.org/
3. Have a Picnic in the Tralee Town Park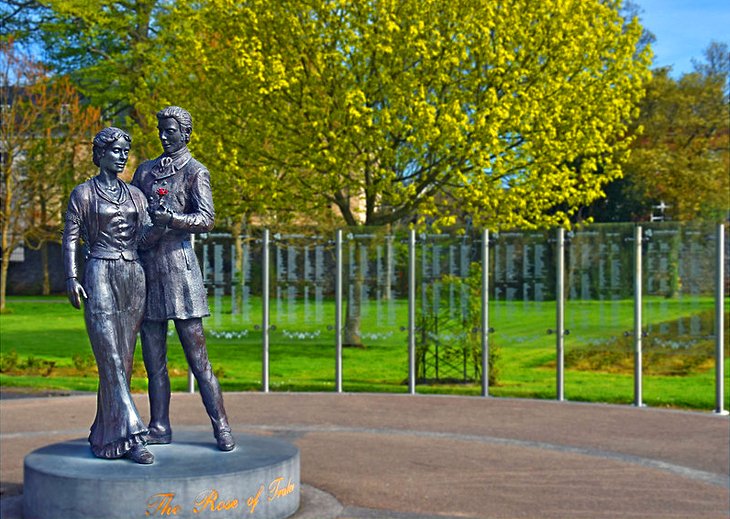 Located in the heart of Tralee, the town park is a welcome respite for locals and visitors alike. As you'd expect in a town called Tralee, its park boasts an impressive and vast rose garden, which is home to 35 varieties of the flower covering three acres of land.
The rose garden also houses the Rose Wall, which consists of large glass plaques honoring each contestant in the Rose of Tralee International Festival since its beginnings in 1959.
With bike and walking paths, a sensory garden, a stone sculpture (of Mary O'Connor, the original Rose of Tralee), well-manicured lawns, and a kids' play area, there are plenty of entertaining things to do in Tralee's 35-acre gem. A picnic should be one of them!
Each year, the park hosts the Tralee Garden Festival, usually in mid-June. This three-day event includes everything from a Teddy Bear picnic for kids to gardening demonstrations, garden tours, and concerts.
Address: Town Park, Denny Street, Tralee
4. View the Stained-Glass Windows at St. John's Church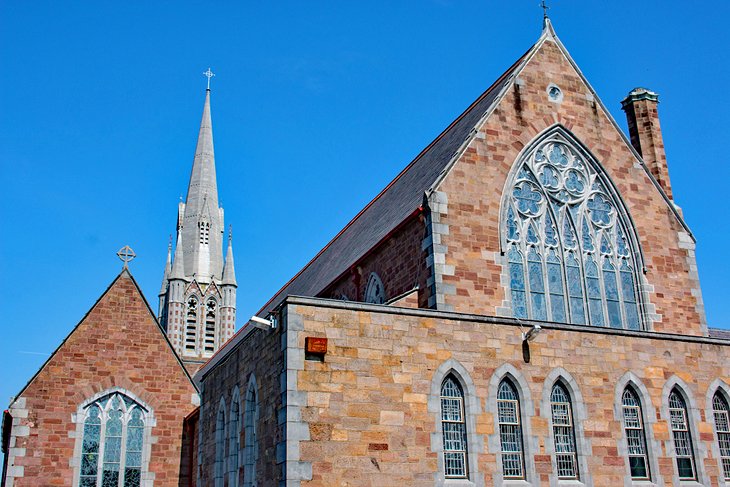 Built on the site of a chapel dating back to 1780, the beautiful Gothic revival St. John's Church was renovated over 10 years and reopened in 1960. The somewhat recent revamp resulted in a more updated, modern take on stained-glass windows. The most famous of which dates back to the church's beginnings in 1861. Known as the Great Sanctuary Window, it features Christ, St. John the Baptist and the Twelve Apostles.
Today, the church's tall, elegant spire reaches high above its bustling streets, a beacon guiding Tralee's residents to its well-groomed grounds in the center of town.
Two large marble angels welcome visitors to this iconic cathedral, and the community inside is both welcoming and kind.
Insider's tip: The church has released a new visitor's guide booklet filled with a detailed history of the building from the mid-19th century to today. It's worth a look.
Address: St. John's Church, Lower Castle Street, Tralee
Official site: http://stjohns.ie/
5. Photograph the Iconic Blennerville Windmill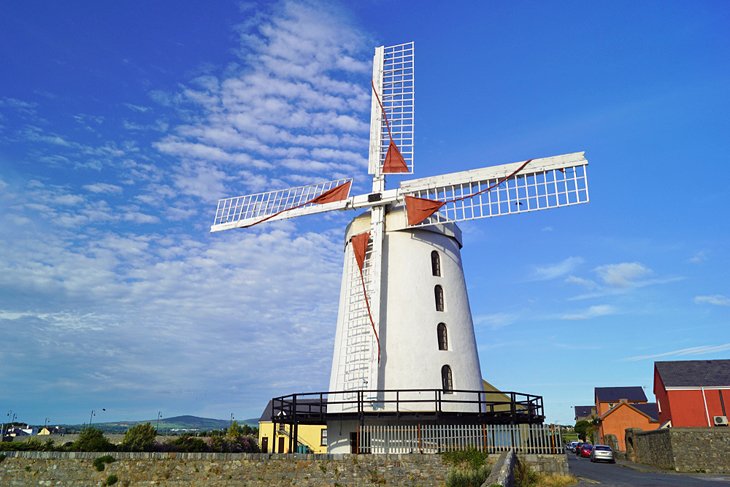 Charge your camera and have your phone at the ready-the Blennerville Windmill offers views you won't want to forget. Ireland's largest working windmill, this distinctive building is captivating. Located a mere five minutes southwest of Tralee, its bright white cone and giant blades move slowly against a backdrop of lush rolling hills, lulling passersby into a sense of calm.
For the best photo, stand farther away, on the bank of Tralee Bay. This is where the town officially meets the Dingle peninsula, and it offers the most picturesque view of a grandiose stone bridge, the windmill, and its astounding natural background.
Although the windmill itself is a worthwhile attraction, there's more on display at this pretty site. The Kerry Model Railway, a miniature replica of the Tralee Dingle narrow-gauge, will delight the kid in all of us. Also, the visitor center houses an informative Emigration Display, outlining the migration of citizens from Blennerville (County Kerry's main port of emigration) during the Great Famine.
History buffs will enjoy the center's display of unique equipment (agricultural, trade, and transport-related) from the 19th and early 20th centuries.
Insider's tip: Be sure to climb to the top when you visit. In addition to a fantastic vista, you'll be rewarded with a fascinating look into the complex machinery used to make the sails turn.
Address: Windmill Lane, Blennerville
Official site: www.blennerville-windmill.ie/
6. Catch a Show at Siamsa Tíre
The official National Folk Theatre of Ireland resides in Tralee and has been entertaining locals and residents alike for over 30 years. Called Siamsa Tíre, this bespoke spot aims to keep the art of folklore alive.
Through various art forms (storytelling, musical performances, and dance shows are all performed here), this beloved theater and arts center boasts a packed calendar of events from May to September.
If you visit between October and April, you'll be able to attend a variety of events at this popular venue, including comedy acts, operas, poetry readings, art exhibits, plays, and concerts. The performers are local, hailing from either from Tralee or the surrounding towns in County Kerry, and they've all been trained in the style of Siamsa Tíre through the National Folk Theatre Training Academy.
Inside the sandstone walls are seats for 350.
Location: Town Park
Official site: https://www.siamsatire.com/
7. Explore the Ruins of Ardfert Cathedral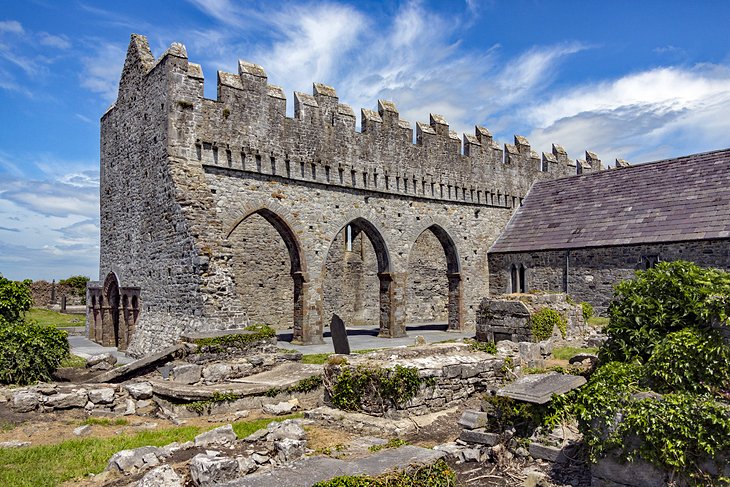 The ruins of Ardfert Cathedral lie nine kilometers northwest of Tralee, originally erected on a site where St. Brendan the Navigator constructed a 6th-century monastery. Dubbed a 13th-century wonder, sections of the walls were built up to a century earlier. Today, the cathedral is home to three medieval churches, including battlements, which were added sometime around the 15th century.
Ardfert's most impressive features include the grandiose Romanesque doorway in its western wall and multiple lancet windows, all of which are in impeccable condition considering their age.
Other items have been moved into the only part of the cathedral to be updated and maintained-the south transept, which is being used as the main entrance and houses the visitor center. On display here are intricately carved grave slabs, stone carvings, and a gargoyle.
Address: Ballyheigue Road, Ardfert
8. Lounge on the Sand at Banna Strand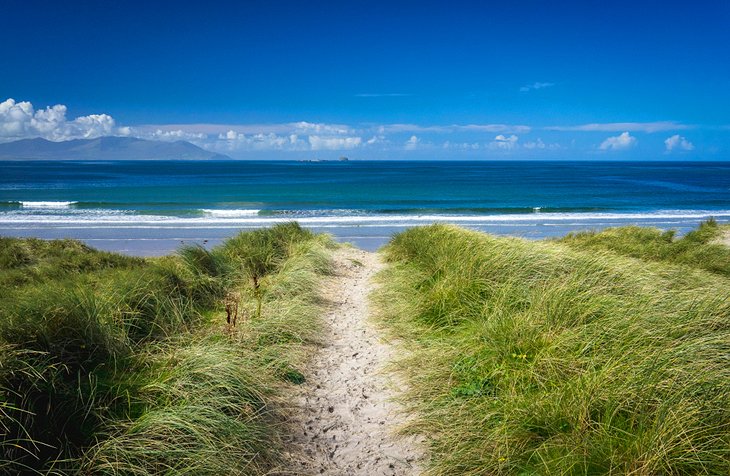 A visit to Banna Strand will heal what ails you. Well, it will at least combat the stress and strains of everyday life. This sandy beauty has been recognized by the Foundation for Environmental Education as a Blue Flag beach for its cleanliness, safety, and enhanced efforts in the fields of environmental awareness and sustainable development. Basically, that means you're ensured a top-rated beach experience at this luxurious spot.
Technically not in Tralee, which sits 11 kilometers away, Banna Strand is a popular place to visit to surf, body board, and windsurf. Families also love its shallow waters and the sand dunes, which rise up to 40 feet from the soft shore.
During low tide, more beach is exposed, allowing walkers to traverse even farther towards the sparkling (yet chilly) azure waters.
Insider's tip: Grab a takeaway from one of Tralee's local restaurants and enjoy a picnic on the beach. There aren't many shops or amenities nearby.
9. Hike the Slieve Mish Mountains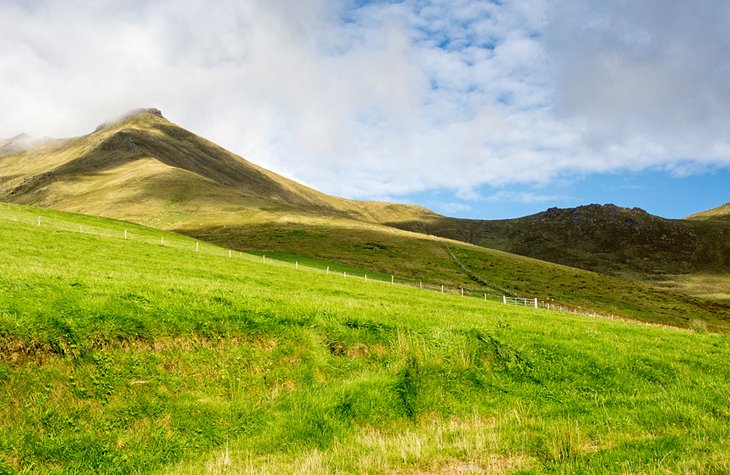 A highlight of the Dingle Peninsula, the Slieve Mish Mountains are a captivating sight. One of the larger peaks, Barnanageehy rises nearly 561 meters above nearby Tralee. This area is a hiker's paradise, filled with moderate to challenging treks and supreme vistas from the summit of these spectacular mountains.
The range consists of mostly sandstone and runs 19 kilometres from east to west through County Kerry. On its northern side, hikers can see straight across Tralee Bay, while those who trek on the southern side will be captivated by the vibrant blue waters of Dingle Bay.
While some of the Slieve Mish mountains extend up to 600 meters high, the farther west you go, the smaller they become, looking more like hills and lowlands as you get closer to Dingle.
For those who don't care for heights or aren't fans of a vigorous hike, the dark, craggy indents of this stellar range can be well viewed from the road and various fields within the area.
10. Play All Day at the Aqua Dome
If you want your kids to love you forever, take them to Aqua Dome. Under its glass canopy lies everything you'll need for an unforgettably fun day out.
Looking for a wave pool? They've got one. Craving a surfing experience? You can do that, too. Want to relax in a lazy river? Yep, there's one of those as well. And that's not all.
The amazing Aqua Dome also features indoor river rapids, a sky-high flume, a water fall to plunge down, a children's pool, and whirlpool spas.
Not a fan of getting wet? There's an 18-hole mini putt course to help while away the time. Or you can head to the gym to get fit while the kids splash about.
When you've had enough of hearing the happy screams of children, head to the Vitality Spa for the ultimate pampering experience. It's an adults-only venue, so rest assured that tranquility will be found here.
Insider's tip: Expect to be waterlogged, as the kids won't ever want to leave.
Address: Dan Spring Road, Tralee
Official site: https://aquadome.ie/
11. Get Inspired in Ballyseedy Wood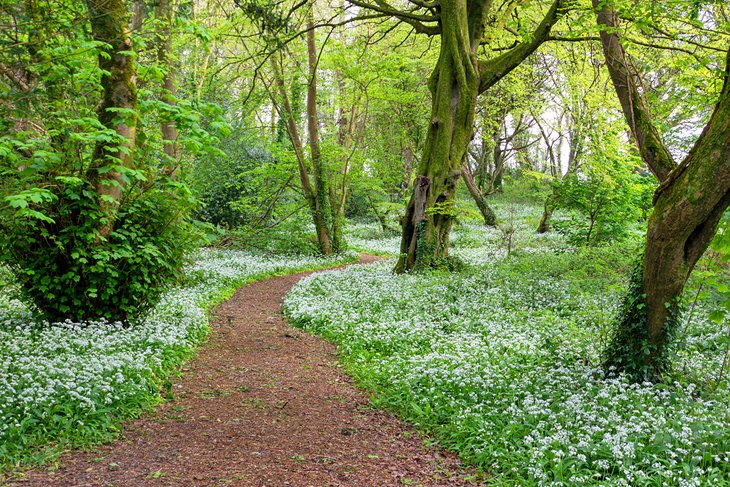 Deep in the heart of the tiny village of Ballyseedy lies an impressively tranquil and magical spot. A mere three kilometers southeast of Tralee, Ballyseedy Woods is a place where imaginations bloom.
The ancient Ballyseedy Wood Walk trail was created for Sir Edward Denny in the 16th century. Today, it leads modern day walkers through a historic woodland peppered with 22 varieties of native species.
Surrounded by magnificent trees featuring warped trunks, giant knots, and overarching branches, it's easy to get lost in a reverie in this wonderland. This is a place where you'd expect the trees to break into song or a Hobbit to pop into view. It's charming, beautiful, and a little bit eerie on a dark and blustery day.
Insider's tip: If you look closely, you'll see remnants of stone buildings from the 19th century.
12. Attend the Rose of Tralee International Festival
Each August, Tralee is packed with visitors clamoring to witness the infamous Rose of Tralee International Festival. It's become so large since its meager beginnings in 1959 that it's now second to St. Patrick's Day in terms of its flair, enthusiasm, and popularity. Named after a beloved 19th-century Irish ballad about Mary, a woman so beautiful she was referred to as the Rose of Tralee, the festival was essentially a beauty pageant.
Today, the entertainment extends far beyond the pageant itself. Contestants come from each county in Ireland, as well as those of Irish descent from all over the globe. The excitement lasts for five days, with plenty of festivities to experience within town including, a circus, fun fair, marching band, fireworks, dancing, fashion show, and plenty of Irish jigs. The parade, during which the contestants are presented to the public while rolling through the streets upon floats, is not to be missed.
Official site: https://www.roseoftralee.ie/
13. Visit the Rattoo Round Tower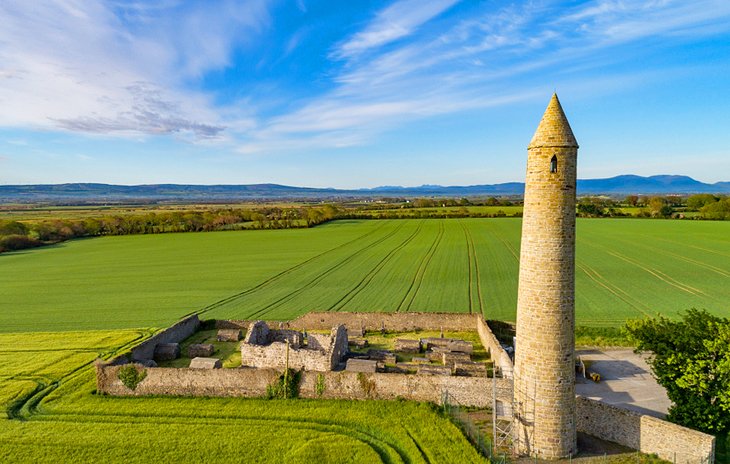 About 22 kilometers north of Tralee, near the village of Ballyduff, sits the unmissable Rattoo Round Tower. The word "rattoo" translates to northern ring fort.
A tall stone tower topped by a dramatic, pointed cone roof, this iconic structure dates back to 1100. Although not much is known about its origins, the building is thought to have been built as a monastery and founded by Bishop Lughach (one of the first Christian evangelists in the area). Considering its age, the tower is remarkably preserved, with only the roof having been restored.
Surrounded by the impressive stone walls native to this region, the tower is neighbored by the ruins of a small church. It's thought to date back to the 15th century and was built in part using stones from an ancient church that lay in the same area.
While you're here, visit Rattoo Abbey. Originally founded as a hospital in 1200, this now ruined spot was later used as a monastery.
Insider's tip: Search for the intricate carving of the sheela-na-gig. This unattractive figure of a female can be found on the north window and faces the inner tower. These symbols were often used as a form of protection in places like churches and castles. This one remains the only example in an Irish round tower.
14. See the Ogham Stone at Ratass Church
Back in its heyday, which is thought to be sometime in the 10th century, the sandstone Ratass Church was the place of choice for Sunday worshippers in Tralee. In the early 1100s, worshippers moved to Ardfert.
Despite its attraction as a historic religious site, this national monument became more famous in 1975, when a cleanup uncovered a phenomenal ogham stone, carved with letters. Dating back to a much earlier time (perhaps as early as the late 500s or early 600s), this unique monument was found built into the north side of the nave, in a burial vault that dates to the 19th century.
15. Hit the Beach in Fenit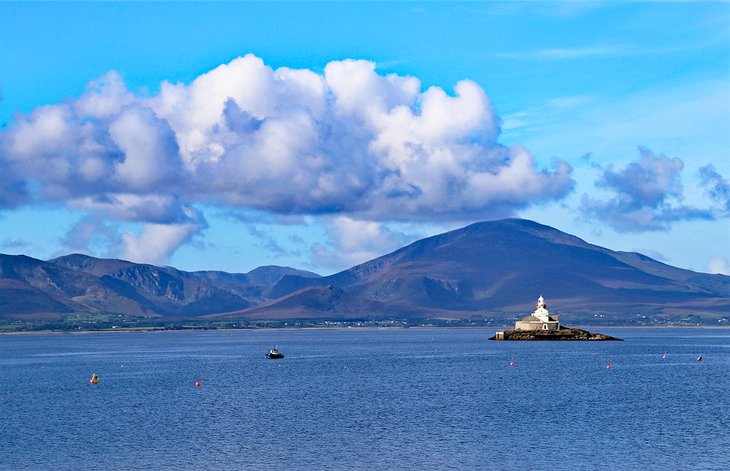 Although not technically in Tralee, Fenit lies just 10 miles west and features a beach and calm harbor popular with visitors willing to brave the chill for a refreshing dip. If you're not busy swimming, sailing, training for a triathlon (annual races take place here), or basking in the fleeting rays of Irish sun, be sure to carve out time to soak up the remarkable view.
The Fenit Lighthouse (a.k.a. Little Samphire Lighthouse) is visible on nearby Samphire Island, a small isle that lies just off Fenit Pier. To reach it, you'll need to board a shuttle bus for a short ride. Once here, visitors are rewarded with an interesting exhibit that unveils the secrets of life as a lighthouse keeper in the late 19th century.
The Brendan Way Trail is also found in Fenit. A well traversed heritage trail also known as Slí Bhreanainn, it passes multiple historic sites in the area and runs from Fenit to Lerrig Cross.
Where to Stay in Tralee for Sightseeing
Tralee is large enough to provide a bevy of hotel options to suit every budget. With only a handful of luxury options, you'll have a ton of places to choose from in the mid-range and budget categories. We recommend you consider a few of these delightful places, all of which are close to the best tourist attractions and things to do in Tralee.
Luxury Hotels:
The warm, elegant rooms of the Ballygarry House Hotel &

Spa

are designed to calm even the most stressed of visitors. Located in a pristine mountain setting, the luxurious hotel also boasts the impressive Nádúr Spa.
Ever wanted to stay in a castle? Here's your chance. Ballyseede

Castle

hotel offers guests a chance to lap up that royal feeling while staying on their sprawling, 30-acre estate. From climbing a grand staircase to horseback riding through a sprawling garden, there's nothing like it.
Mid-Range Hotels:
Close to St. John's church, The Rose

Hotel

is beautiful inside. It also boasts two restaurants and a spa, sauna, and fitness center.
The Ashe

Hotel

adds contemporary charm to the historic downtown. Its restaurant is so popular, locals come to enjoy everything from coffee to a hearty dinner.
Traveling with kids? You'll all love Manor West

Hotel

. In addition to gorgeous rooms, they offer a playroom, bunkbeds, and supervised movie nights.
Budget Hotels:
Perfectly positioned in the center of Tralee, The Grand

Hotel

is a town staple. Clean yet basic, the historic rooms are both comfortable and modern.
Seán

Óg's

bed and breakfast is small but welcoming.
A family-run B&B with plenty of charm, Manor

Lodge

won't break the bank.
More Related Articles on PlanetWare.com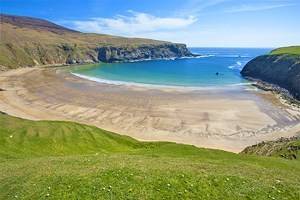 Explore the Beaches of Ireland: If your dream vacation involves lounging seaside, you've come to the right place. In addition to boasting some of the world's most amazing scenery (we're talking about you, Ring of Kerry), Ireland has come to be known for its dramatic coastlines and soft, sandy beaches. Not sure where to start? Check out these top-rated beaches in Ireland.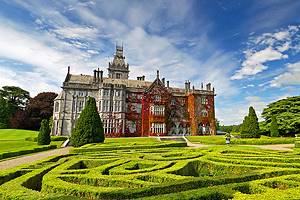 Get to Know Ireland: Once you've stepped foot on the stunning Emerald Isle, you'll never want to leave. Whether you're looking to explore its postcard-worthy landscapes from a top-rated small town or hope to soak up the history from one of the top-rated castles, there's plenty to occupy every type of traveler. Those who love to explore won't want to miss these top-rated tourist attractions, while fans of big cities would be amiss to leave Dublin, Cork, Galway, and Limerick off their lists.