11 Top-Rated Tourist Attractions in Wexford
Situated in what's known as Ireland's "sunny southeast," County Wexford is a hot spot for Dubliners, day-trippers, and visiting tourists wishing to escape the city and spend time on the many beaches dotting the coastline. (It was on these beaches that the dramatic opening scenes of Saving Private Ryan were filmed in the 1990s.)
Indeed, despite a lengthy drive of almost two hours to the capital, some choose to live in Wexford and commute daily to the big city - a trade-off they're prepared to make for the region's stunning scenery and quality of life. And with its close proximity to Rosslare ferry port (it's about 20 minutes by car), as well as its easy connections to Europe and Britain, Wexford gets its fair share of visitors from overseas.
Established by the Vikings around AD 800, Wexford town itself is relatively small. As a result, many of the best attractions lie in the surrounding countryside and along the coastline. That said, it's a delightful town to explore, especially around the waterfront and the Wexford Harbour area. While much smaller than it once was due to drainage and reclamation efforts in the late 1800s, the harbor still functions well for local boat cruises and pleasure craft operators.
To learn more about the many great things to do in the area, be sure to check out our list of the top attractions in Wexford.
1. Climb the Hook Lighthouse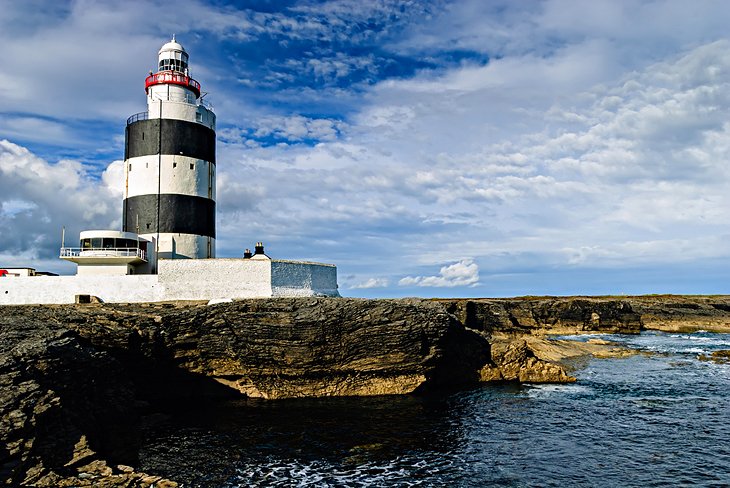 Just under 40 minutes' drive from Wexford town, Hook Lighthouse is one of the oldest still-operating lighthouses in the world that is still in use. The present structure has graced these shores for nearly 850 years and is regularly voted one of the top tourist attractions in Wexford.
Besides the tower itself, there's a visitor center located in what was once the lighthouse keeper's home, a café, as well as a gift shop, and guided tours are available year-round. Visitors can climb the 115 steps to the balcony for beautiful views.
Address: Churchtown, Hook Head, Co. Wexford, Ireland
Official site: http://hookheritage.ie/
2. Take a Trip Back in Time at the Irish National Heritage Park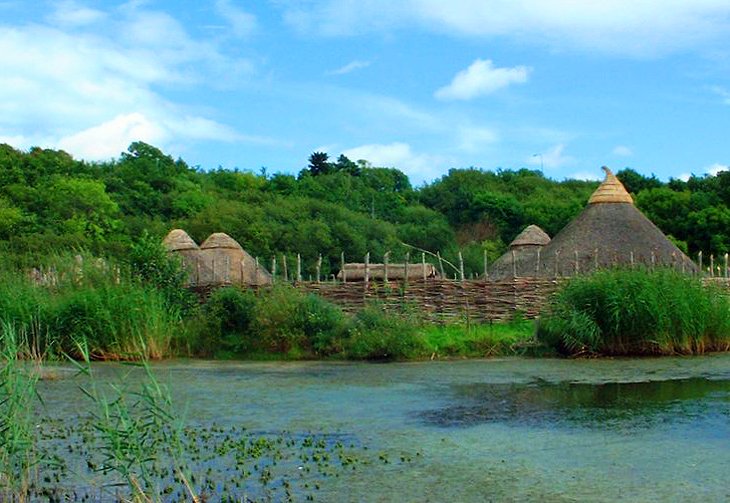 Near Ferrycarrig, about five kilometers northwest of Wexford town along the N11 road to Dublin, is the Irish National Heritage Park. Encompassing 35 acres of woodland, wetland, uplands, and estuaries, this open-air museum has to-scale replicas of places and buildings illustrative of some 9,000 years of Irish history, including dolmens, a ring fort, and early Christian monasteries.
Sightseers can take a tour with a guide in period costume or stroll around in their own time. Children's activities include panning for gold, wattling a house, and creating rock art. Other fun things to do here include participating in educational opportunities, such as learning traditional crafts and skills like wood carving and masonry, or joining in one of the regular themed events throughout the year, including music performances and birds of prey experiences.
Also interesting is the new archaeological excavation of the Norman town that was also built here, which survived here up until the 1300s. Guided tours by costumed guides are highly recommended.
Address: Ferrycarrig, Co. Wexford, Ireland
Official site: www.inhp.com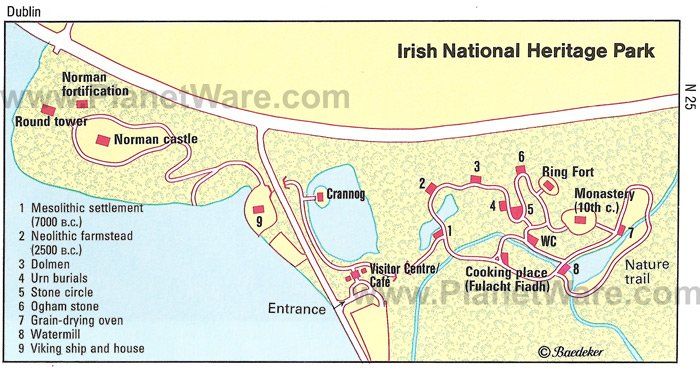 3. Visit Johnstown Castle Estate, Museum & Gardens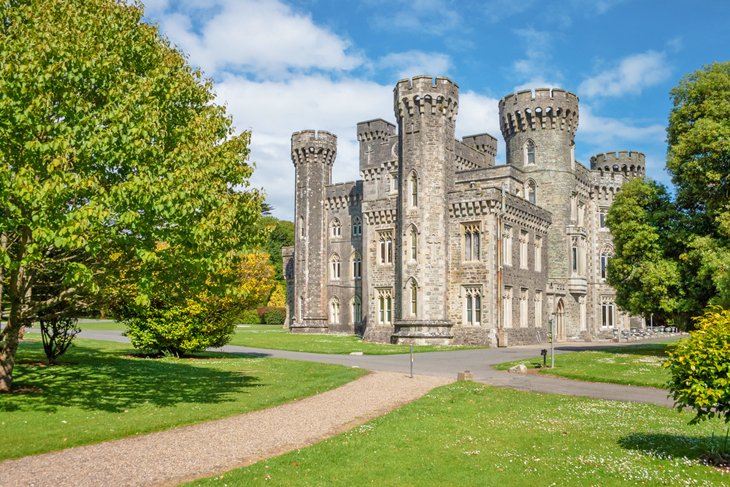 Leaving Wexford on the Rosslare road (N25), a signpost on the right leads to Johnstown Castle Estate, Museum & Gardens. This neo-Gothic structure incorporates the remains of a Norman fortress and only recently re-opened to the public. The large park is well worth a visit for its artistically situated ponds and more than 200 different flowers and shrubs.
The attractive ornamental gardens were designed by Daniel Robertson who is famed for the magnificent gardens at Powerscourt House in Co. Wicklow. Getting there by car takes about 11 minutes from Wexford town. Take a picnic or, better still, enjoy a great meal or afternoon repast in the on-site tearoom. Also located on the castle grounds is the fascinating Irish Agricultural Museum (see below for further details).
Address: Johnstown Castle Estate, Oldtown Ln, Johnstown, Murrintown, Co. Wexford, Ireland
Official site: https://johnstowncastle.ie
4. Board the Dunbrody Famine Ship, New Ross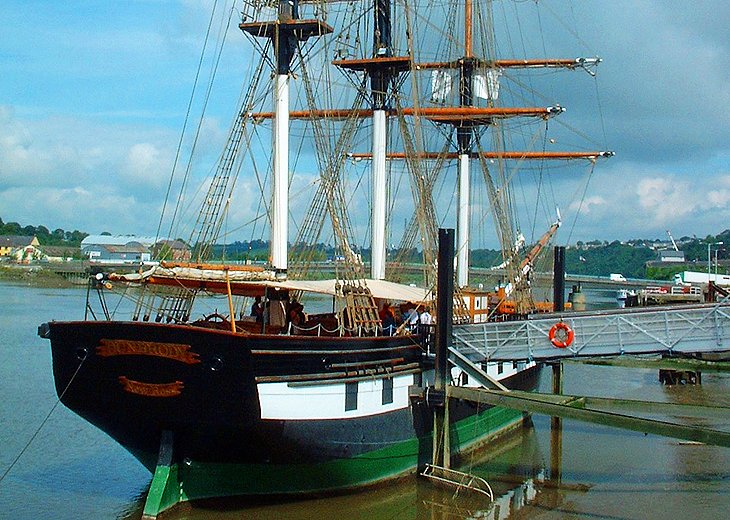 Berthed at New Ross Quay, half an hour's drive inland from Wexford along the N25, the Dunbrody Famine Ship should be high on any visitor's agenda and is one of the foremost attractions in this part of Ireland. The ship is a reproduction of an 1840s cargo ship that was later modified as an emigrant vessel.
Highlights of a visit include themed exhibitions and performers in costume. This fascinating attraction is designed to instill appreciation of the hardship suffered by the more than one million Irish who found themselves having to emigrate during the mid 1880s.
Guided tours are available. A visitor center with a café houses the Irish American Hall of Fame. The center is well worth worth visiting for its excellent displays and exhibits relating to famous Irish-Americans such as president John F Kennedy, whose great grandfather left aboard a vessel from New Ross, and Henry Ford.
Address: N. Quay, New Ross, Co. Wexford, Ireland
Official site: www.dunbrody.com
5. Explore the Irish Agricultural Museum
Located on the grounds of Johnstown Castle, the Irish Agricultural Museum is a must-visit attraction for those enjoying a family vacation in this part of Ireland. Situated in the castle's former farm buildings, the museum's many excellent exhibits focus on the country's rich history as a farming nation, with a great deal of attention on rural life. In addition to exploring displays and photos, visitors can enjoy a large collection of machinery, as well as traditional farming tools.
Also fun are the workshops demonstrating traditional skills such as blacksmithing. Other highlights include an in-depth look at rural life through the country's devastating famine of the late 1800s and a large collection of furniture. While admission to the museum is separate, make the most of your day, pack a picnic, and explore the large grounds and trails of Johnstown Castle.
Address: Johnstown Castle Estate, Oldtown Ln, Johnstown, Murrintown, Co. Wexford, Ireland
6. See the Ruins of Selskar Abbey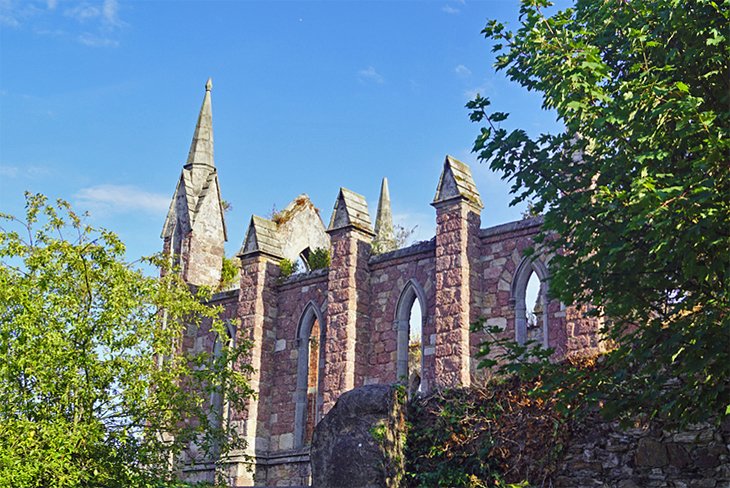 Founded in the 12th century, the ruins of St. Selskar Abbey are located close to another popular tourist attraction, the Westgate Heritage Tower (see below for more on the tower). The Abbey boasts an impressive history. Here, the first of many Anglo-Irish treaties was signed, and in 1172, Henry II did penance here during Lent for purportedly ordering the killing of Thomas Becket.
Surviving are a battlement tower and the remains of St. Selskar's Church, a National Monument. The abbey was left in ruins by Cromwell's troops in 1649 during the notorious massacre and pillaging that took place. The Protestant church that stands here today dates from 1818.
Address: Tower Ct, Ferrybank South, Wexford, Ireland
7. Visit the Kennedy Homestead near New Ross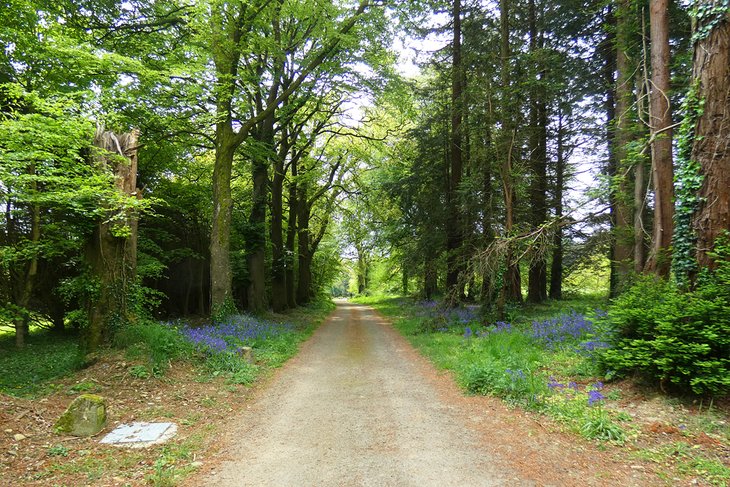 A 10-minute drive from New Ross brings visitors to the Kennedy Homestead, the ancestral home of the Kennedy family where John F. Kennedy visited in 1963. This is the birthplace of Patrick Kennedy, John F. Kennedy's great-grandfather, and an interpretative exhibition explores Patrick's possible reasons for leaving Ireland and his journey to America in 1848. There's also a timeline of the family's progress in the USA through subsequent generations.
Recently, the site has been upgraded, and members of the US Kennedy family were in attendance when it was reopened. A gift shop and picnic area are also located on-site. If you fancy a stroll afterwards, head to the pleasant John F. Kennedy Arboretum, also in New Ross. Set on over 25 hectares, it's a popular picnic spot for its many tree species.
Address: Dunganstown, New Ross, Co. Wexford, Ireland
Official site: www.kennedyhomestead.ie
8. Enjoy a Day Trip to Kilmore Quay & the Saltee Islands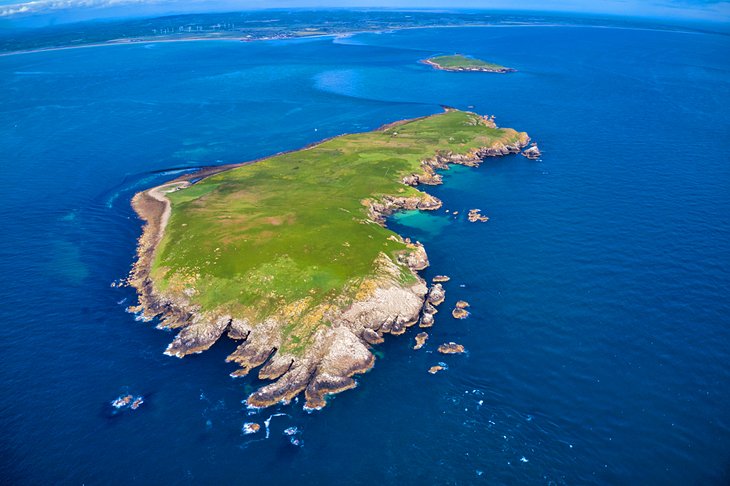 Around 30-minutes' southerly drive from Wexford town brings you to Kilmore Quay, a remote and picturesque fishing village. An old lightship moored at the quay houses a maritime museum. The village hosts a seafood festival each year, and is a popular place to visit for sightseeing, sailing, and fishing.
From here, you can take a boat to the rocky uninhabited Saltee Islands (Little Saltee and Great Saltee). The islands are very popular with day-trippers and birders, although they are privately owned. While permission for day visits to Great Saltee isn't needed, visitors can't dock at Little Saltee due to the hazardous landing conditions. These unspoilt outcrops are Ireland's largest bird reserve, the nesting place of some 30 species, including cormorants, puffins, razorbills, and fulmars.
9. The National Opera House & Wexford Festival Opera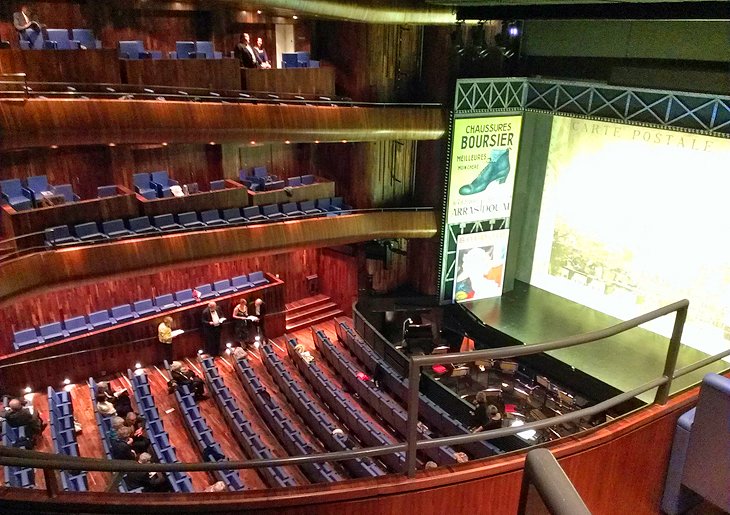 On Wexford High Street stands the modern National Opera House, where the Wexford Festival Opera is held annually at the end of October. This three-week event not only includes opera, but also theater, classical concerts, and fringe events that take place at various times of the day... and late into the night. The site in fact consists of two stages offering a variety of programs year-round, and was designated the country's official opera house in 2014. A cafe is located onsite.
To the left of the Opera House, along Henrietta Street, is Crescent Quay, a semi-circular square on which stands a statue of Commodore John Barry (1745-1803). The statue was erected by the United States Government in honor of the father of the American Navy.
Address: High Street, Ferrybank South, Wexford, Ireland
Official site: www.wexfordoperahouse.ie
10. Explore Wexford's Medieval Past: Westgate Heritage Tower and City Walls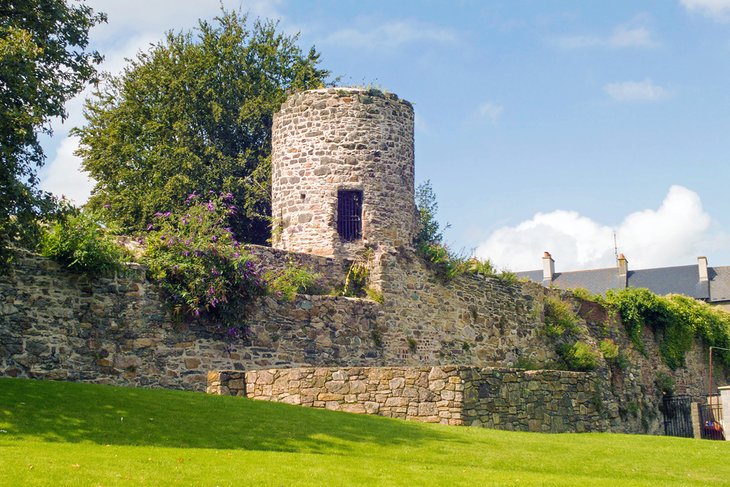 While you're enjoying your stroll around Wexford, you'll more than likely stumble across the Westgate Heritage Tower (it's located adjacent to the ruins of Selskar Abbey). This medieval-era structure was erected at the same time as the town's protective walls and was one of seven such gates added. Thought to have been constructed not for the public but for clergy accessing the abbey (and thus avoiding tolls), this is the only gate to have survived and, after restoration, now houses the town's Heritage Centre.
Here, you'll find a number of great exhibits relating to Wexford's history, along with a chance to see close-up the interior walls of this formidable Norman structure, along with its old prison cells and guard rooms. Guided tours of the tower and the town are available. The town has a number of other relatively well-preserved medieval structures, including the old city walls (some remnants of other towers can also be seen), so be sure to take a look.
Address: Spawell Road, Wexford, Co. Wexford, Ireland
11. Wexford Wildfowl Reserve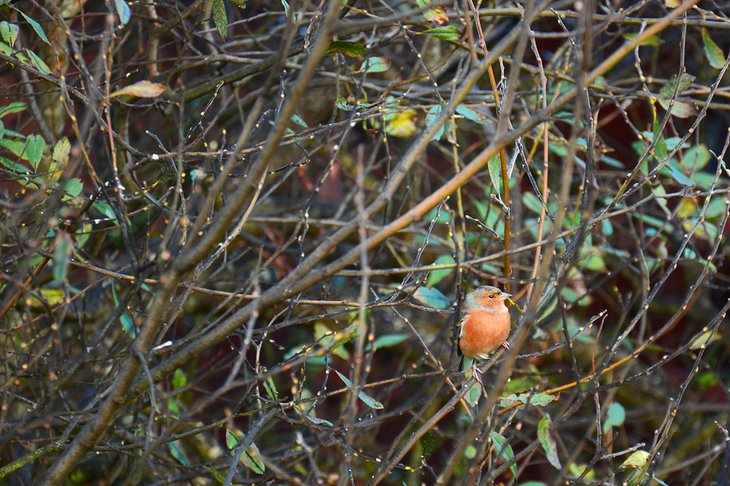 If you're a nature lover, you may also wish to visit the Wexford Wildfowl Reserve. Located across the harbor in North West Slob, this large and important sanctuary is home to some 250 different species of birds that winter here from as far as Canada and Russia.
A great visitor center offers plenty of useful information. For those wanting to do a little bird-watching for themselves, a tower hide is accessible.
Address: North West Slob, Co. Wexford, Ireland
Official site: www.wexfordwildfowlreserve.ie
Map of Attractions & Things to Do in Wexford
Wexford, Ireland - Climate Chart
Average minimum and maximum temperatures for Wexford, Ireland in °C
J
F
M
A
M
J
J
A
S
O
N
D

10

0

10

1

11

2

12

4

15

6

18

8

20

11

20

10

18

9

16

6

12

4

11

2

PlanetWare.com
Average monthly precipitation totals for Wexford, Ireland in mm.

94

71

66

56

56

51

51

71

71

94

99

99
More Related Articles on PlanetWare.com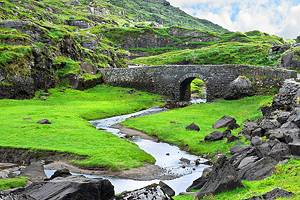 Ireland's Best Views: Almost everywhere in Ireland is pretty. Some favorite spots for tourists to visit in order to enjoy great views are along the Ring of Kerry, a spectacular 179-kilometer road trip that takes in such sights as the Skellig Islands and Glenbigh, to name but a few (and there are plenty more along the way). A visit to historic Galway provides great river views (take a cruise) and the rugged shoreline of the nearby Aran Islands, while the magnificent Killarney National Park and lakes in Killarney offer some of the country's best hiking, with superb views from the trails.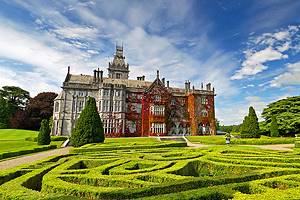 Ireland Vacation Ideas: While it's easy to spend a number of days in the capital city of Dublin (you won't want to miss magnificent Trinity College and College Green), there's no shortage of other great Irish cities. A favorite is Cork, Ireland's second largest city, where you'll find the English Market, one of the oldest such public markets in Europe, as well as numerous pleasant parks and museums. The city of Limerick, too, makes for a good Ireland vacation, with King John's Castle and pretty St. Mary's Cathedral being among the country's must-see tourist attractions.