19 Top-Rated Beaches in Spain
Author Michael Law spent 10 weeks in 2022 exploring the beaches of Spain.
Spain provides everything you need for the perfect beach vacation: beautiful weather, a culture that loves to enjoy life, and a seemingly endless array of beach environments.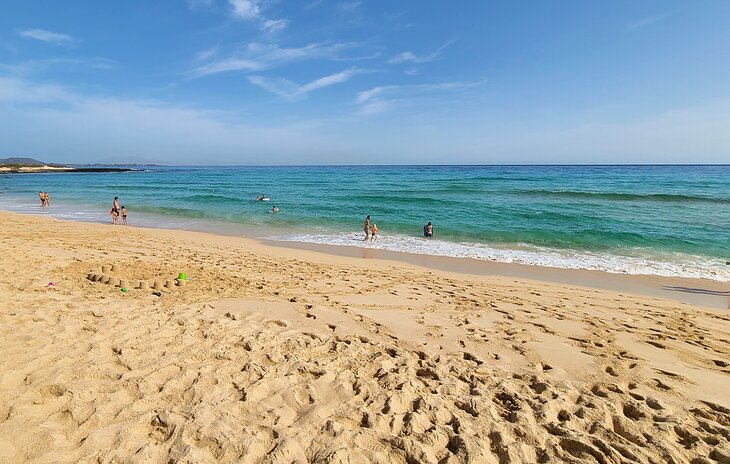 Its peninsular location in Europe gives it two coastlines: one along the Atlantic and one along the Mediterranean. Beyond those two coastlines, and beyond continental Spain, the beaches of the Balearic Islands (especially those on Ibiza and Mallorca) and places like Gran Canaria in the Canary Islands are some of the world's best. These island archipelagos are also part of Spain.
Spanish beaches come in all shapes and sizes, from secluded coves surrounded by pine-covered cliffs to wide, crowded spaces lined with plenty of restaurants and resorts. Some are tropical beaches, lined with trees set against fine white sand leading to crystal-clear, aqua-blue water.
Find the country's best stretches of coast with our list of the best beaches in Spain.
1. Tossa de Mar, Costa Brava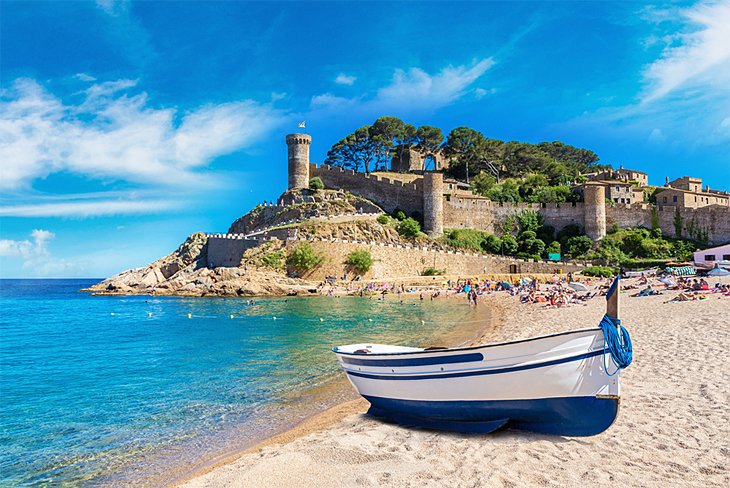 Located on the Catalonian coast in northeastern Spain, the Costa Brava area delivers rugged beauty (the name literally means "rough coast"), with many serene beaches surrounded by high cliffs. Aside from the beaches, it's a great part of Spain for sightseeing, as it's filled with a long history and rich culture.
Tossa de Mar is an ancient town, midway between Barcelona and the French border. It has a beautiful, curved beach with a bonus: there's a large castle on the hill beyond the beach. The sand here is coarse and dark golden brown, with a large area of the bay roped off for swimming.
Beyond the beautiful beach, attractions in the area include Roman ruins, as well as several nature preserves.
2. Es Pujols, Formentera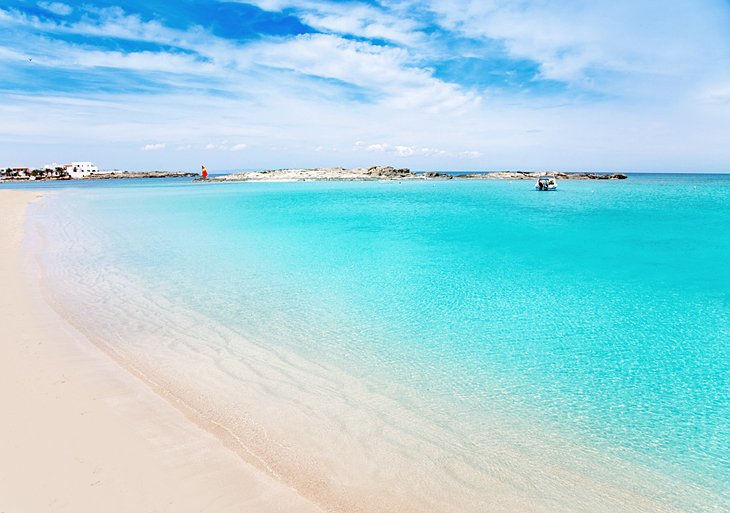 Formentera, Ibiza's neighboring island in Spain's Balearic Islands territory, is far more beautiful and peaceful than fun-loving Ibiza. You can go back and forth between the islands via ferry — the ride takes about 30 minutes.
Beaches like Es Pujols offer both bright, white sands and dreamy blue-green water. It's no deserted island — the beach is fronted by a pathway lined with cafés and restaurants, and beyond the beach there's a vibrant little town.
3. Playa del Ingles, Canary Islands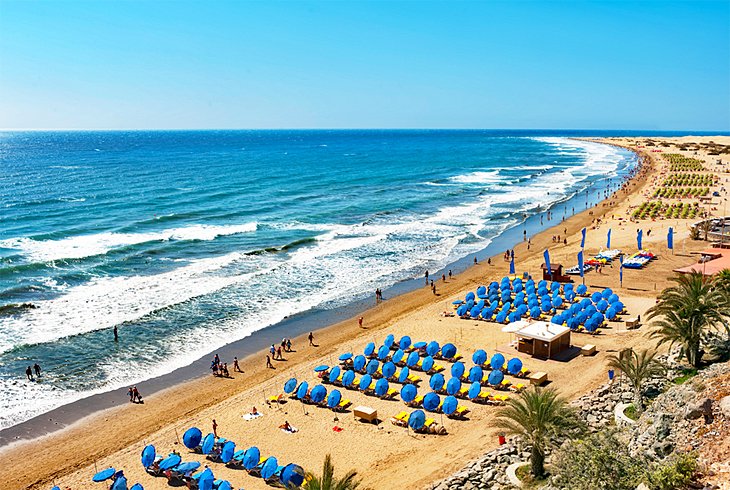 No list of Spanish beaches is complete without a mention of those found on the Canary Islands. Another Spanish territory, these islands are almost 60 miles (95 kilometers) off the coast of Africa, in the Atlantic Ocean. The two main islands are Tenerife and Gran Canaria.
Playa del Ingles, on Gran Canaria, is nearly seven miles (11 kilometers) of wide, sandy beach, gradually transforming into beautiful dunes. Once a popular hippy hangout in the 1960s, it's now filled with luxury boutique hotels and foodie restaurants.
The beach is golden brown with a gentle slope towards the sea. There are many beach clubs that rent beach chairs and umbrellas and have their own little fenced-off areas.
4. Bogatell, Barcelona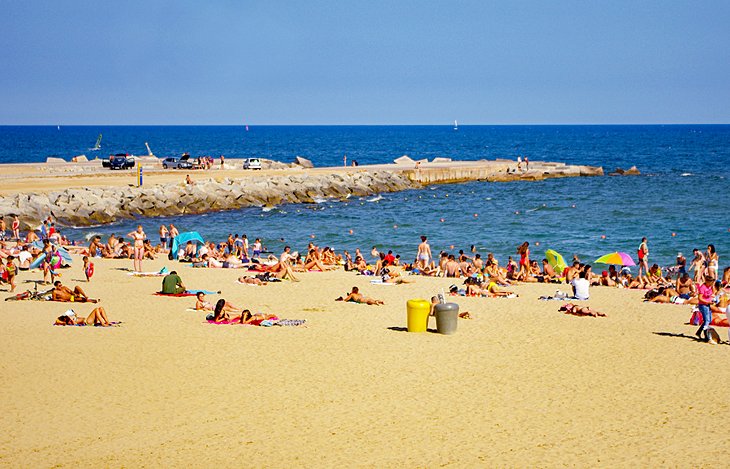 Spain's second-largest city sits right on the Mediterranean coast, and the coastline in and around Barcelona is lined with beaches.
Bogatell is within the city limits but less crazy than the city's main Barceloneta beach. Bogatell, a man-made beach, was created for the 1992 Olympics, so it's well-designed and clean. There are lifeguards on duty and basic facilities (bathrooms and showers) every few hundred yards along the beach. It's a wide, flat beach with coarse, brown sand.
Locals also enjoy the beachfront neighborhood of Castelldefels.
This beach is 20 minutes by train from downtown Barcelona and right across from a train station. It has miles of wild beach, but still plenty of tapas places and beach shacks for food. It's popular for swimming, as well as windsurfing and kitesurfing.
Accommodation: Best Resorts in Barcelona
5. Cala Mesquida, Mallorca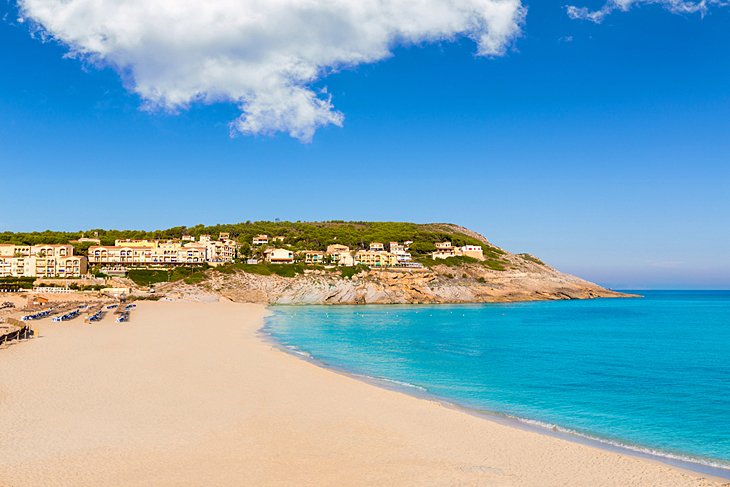 Another of the Balearic Islands (like Ibiza), Mallorca is the largest and most developed. Despite its popularity and development, it's still possible to find some hidden beach gems.
Cala Mesquida is on the northeast coast and just starting to be discovered by international tourists. The small bay has a quarter-mile-long beach with fine sand. There are chair and umbrella rentals but only one restaurant and one snack stand. Showers and bathrooms are also available, but no changing areas. Beyond the beach, there's a small town.
Accommodation: Best Resorts in Mallorca
6. Almunecar, Costa Tropical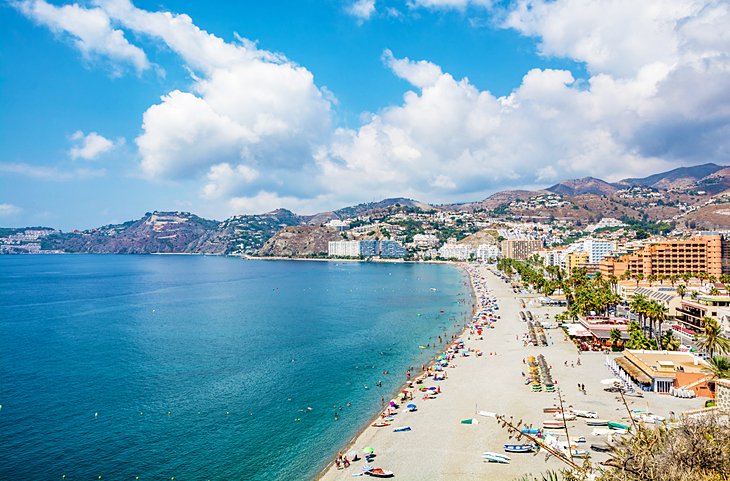 Pass up the resorts on the crowded Costa del Sol and head to the next part of the coastline, the Costa Tropical. There's a much better mix of development and preservation of natural beauty.
The primary resort is Almunecar, which feels like a seaside town in the South of France. There's a long, curving beach fronted by a promenade and a street lined with shops, restaurants, and hotels. There is also a row of restaurants along the beach itself.
The beach has soft white sand, and the water, especially in the summer, is quite warm. There are many places to rent beach chairs and umbrellas with private beach club areas fenced off.
It's a good beach for families and for those who want to enjoy the water. Swimming areas are roped off, and lifeguards are on duty during the summer months.
Beyond the beach, attractions in the Andalusia region include beautiful and historic Spanish cities like Seville and Granada.
7. Laredo, Cantabria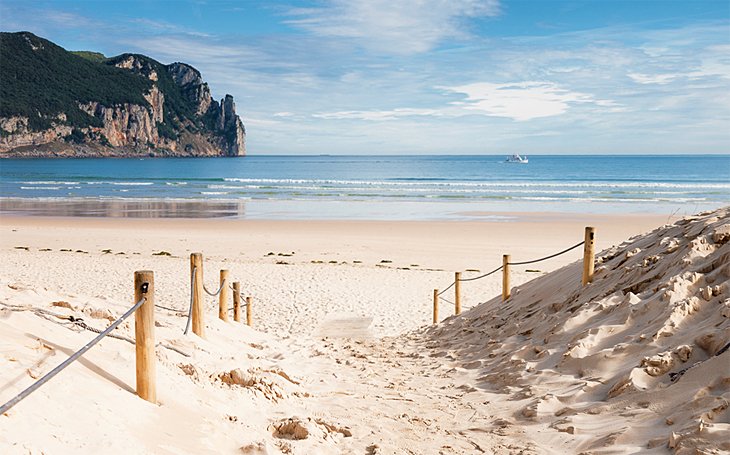 On Spain's north coast, near the French border, the Cantabria region has more than 60 beaches along its beautiful Atlantic Ocean coastline.
Laredo is Spain's outdoor water sports capital, popular with surfers, windsurfers, kitesurfers, and jet skiers. The beach is about five kilometers long, curving along a picturesque bay. The beach area itself is wide, with very fine, soft white sand.
It's all about fun on the beach and in the water: there are many places to rent all kinds of water sports equipment. You can also take lessons and try something new. The region is also popular with foodies due to its Basque cuisine. Attractions inside the town include some Roman ruins.
8. Playa de Torimbia, Asturias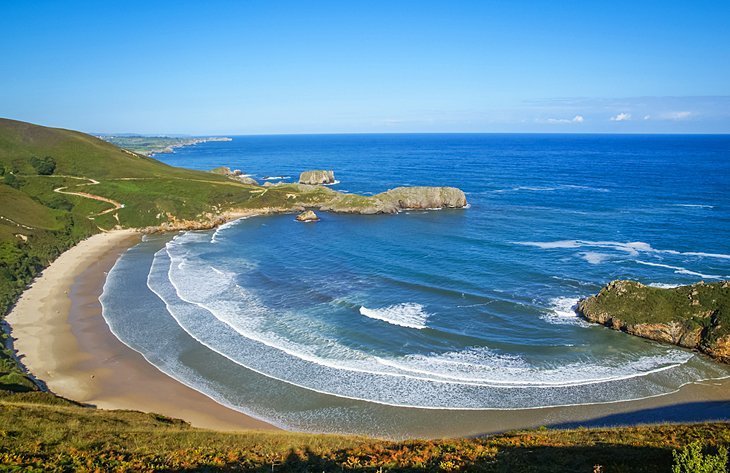 Asturias is a region in northern Spain, also on the Atlantic coast. Most beaches here are white, sandy, and wild, surrounded by rocky cliffs.
Playa de Torimbia is a stunning, secluded beach, close to the port of Llanes, west of Bilbao. It's a raw, wild beach, with no shops or food, but it does have lifeguards on weekends during the summer season, and showers are available.
This Spanish beach is accessible by car, although parking can be difficult during the summer. You can walk here from the village of Niembro (park here). Aside from the beaches, Asturias is a great region for sightseeing, as it was an important part of both medieval and Moorish Spain.
9. Carboneras, Almeria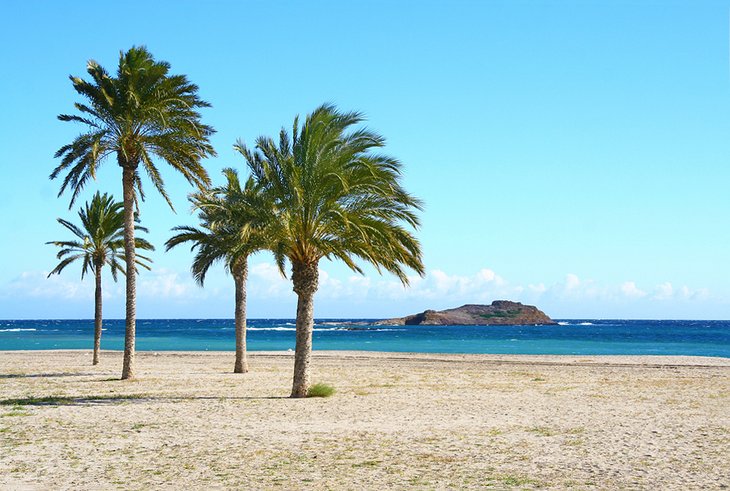 Almeria is in southeast Spain on the Mediterranean Sea. The city is dominated by a Moorish castle looming on a hilltop. Close to Almeria, the resort town of Carboneras is known for its beautiful beaches, which are surrounded by a huge nature preserve.
The area is also known for its food, mainly fresh seafood. There are a few beach areas around the bay, which extends quite far into the land. Beaches in front of the hotel have beach chair and umbrella rentals, but a more natural experience can be found just by walking a few minutes down the sand.
The water is warm, and the sand here is tan and slopes down towards the waterline. The beach is bordered by palm trees and raised dunes, topped with a beachfront walkway.
10. Benicassim, Costa del Azahar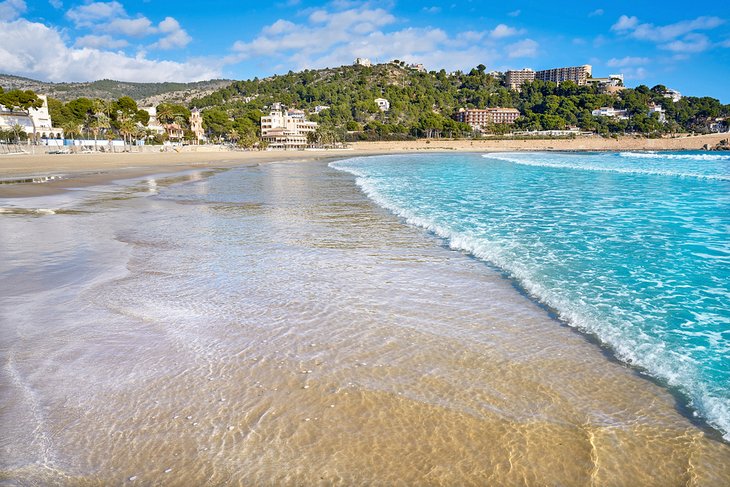 Benicassim is known as Spain's music beach and deserves a mention if only for its huge, annual music festival. The multi-day concert, held on the beach, attracts several hundred thousand people each July, along with the top names in the music business.
The city itself is a modern, Mediterranean resort, with wide, sweeping beaches and a highly developed beachfront promenade. Torreon Beach is a peaceful, laid-back section, perfect for relaxing in the sun. All the beaches in Benicassim are very wide, stretching several hundred yards to the waterline at low tide. They're also very flat.
11. La Playa de la Victoria, Cadiz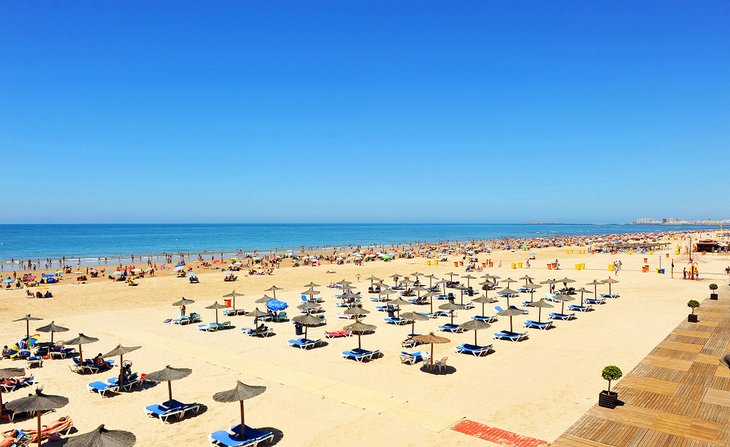 Cadiz is an ancient city in southwestern Spain, once a key port city during the 16th and 17th centuries when the country was the world's maritime power. One of the most historic cities in Spain, Cadiz offers amazing sightseeing, along with miles of wide beaches. The beach region in Andalusia including Cadiz is referred to as the Costa de la Luz (the "coast of light").
La Playa de la Victoria is the city's most popular beach. It's about a mile (2.5 kilometers) long and a few hundred yards wide. The surf is calm, and the beach and sea are not rocky, so it's good for swimming and wading.
There's a small street that separates the beach from a row of stores and places to eat. The popular beach can be quite crowded during the summer months but has a vibrant energy that makes it a fun place to visit.
The Hotel Playa Victoria is a resort hotel right on the sand. All the rooms and suites have private balconies, and the hotel even has its own small private beach area.
12. Playa de As Catedrais, Galicia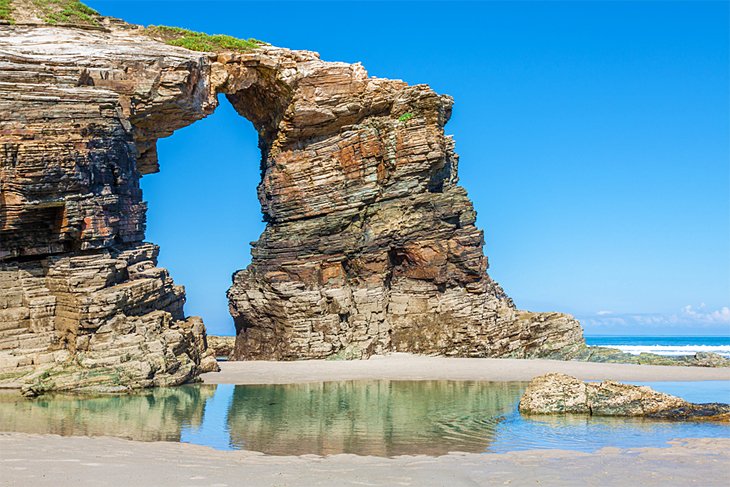 While some beaches may have a beautiful sandy shoreline or stunning ocean vistas, Playa de As Catedrais in Ribadeo has some of the most stunning rock formations anywhere in the world. The beach is about eight kilometers from the town of Ribadeo, in Galicia, on the northwest tip of Spain.
The beach is wide and flat, but there are giant rock arches forming the skeleton of a natural cathedral. The name Playa de As Catedrais means "beach of the cathedrals." They're best viewed during low tide, as you can stand right under and next to the giant structures.
13. Playa de Silencio, Asturias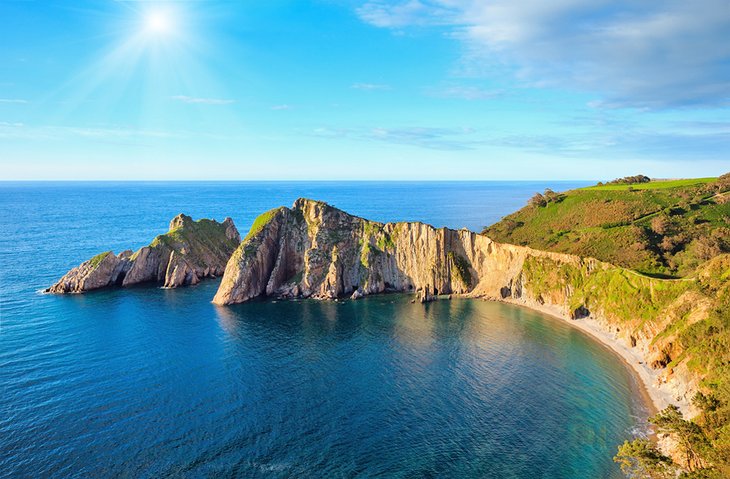 As its name implies (the "beach of silence") the Playa de Silencio provides a quiet, wild, unspoiled beach experience. It's in the Asturias region, near the town of Cudillero.
The beach gets its name from the natural rock amphitheater that surrounds the entire beachfront area. The rock formation blocks almost all the wind and makes the beach very peaceful, quiet, and serene. The beach is a long, gently curving cove of silver-colored sand.
Underwater rocks make the area unsafe for swimming, but you can wade into the water and relax on the sand. This is a raw, natural beach with no facilities of any kind. The beach is reached via a rather steep path, keeping the crowds small most of the year.
14. Playa de Ses Illetes, Formentera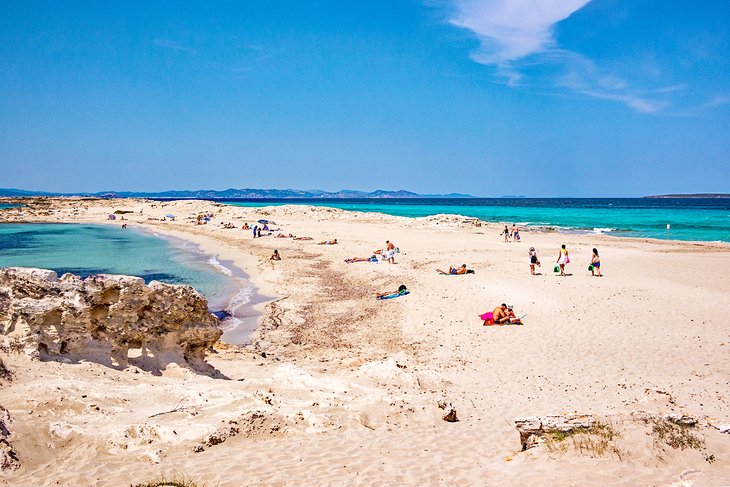 Spain's only pink-sand beach is Playa de Ses Illetes on the Balearic island of Formentera (which is next to Ibiza). The sand here is fine, with a light pink hue caused by tiny pieces of coral washed in by the tide.
The name means "beach of the small islands," and there are several small islands in the bay across from the beach. The bay is almost completely encircled by land, so it turns into a giant swimming pool. The water is shallow, and you can walk quite far out into the bay.
Getting here is easy; they have a parking lot for cars and scooters, or you can take a taxi. You can also take the public bus that stops nearby. To protect the beach's beauty and environment, access is limited, and there are guards who monitor the number of beachgoers. On popular summer days, there can be a line to get in, so arrive very early.
Beyond the beach, Formentera is considered the most bohemian of the Balearic Islands, a culture that is constantly being replaced by luxury resorts and vacation properties. It's well worth a visit and has kind of a laid-back Caribbean vibe.
Bring your own food, as the two restaurants at the beach are quite expensive.
15. Las Arenas, Valencia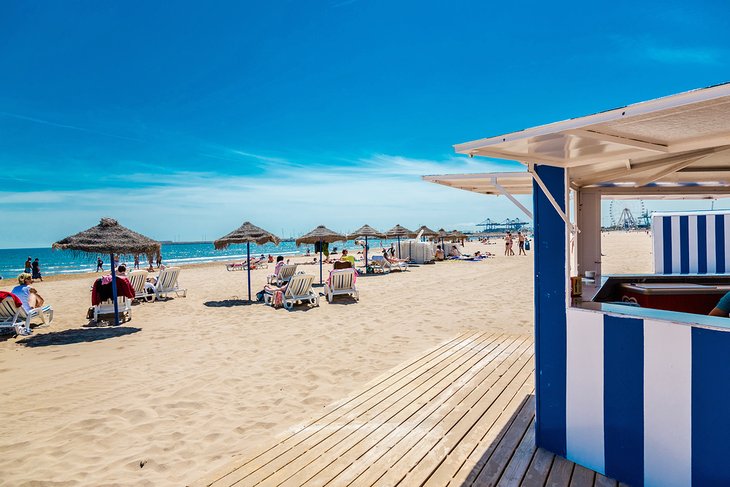 With the launch of Spain's AVE bullet train service between Madrid and Valencia in 2010, day trips to the beach from Madrid became a reality. You can leave Madrid's Atocha station and be on Las Arenas beach in Valencia within two hours (you need to take a taxi or bus from the train station to the beach).
Las Arenas is Valencia's main public beach, located about a mile from the city center. It's a huge, wide beach that mainly sees locals rather than tourists. You can rent umbrellas and sun loungers. The beach has lifeguards, volleyball courts, and basic services (restrooms and outdoor showers).
The large and luxurious Las Arenas Balneario Resort overlooks the beach should you want to spend the night in style. There are also a lot of budget hotels close to the beach. The beach is lined by a busy promenade, with hotels, restaurants, live music venues, dance clubs, shops, and other tourist-focused businesses.
16. Calo Des Mort, Formentera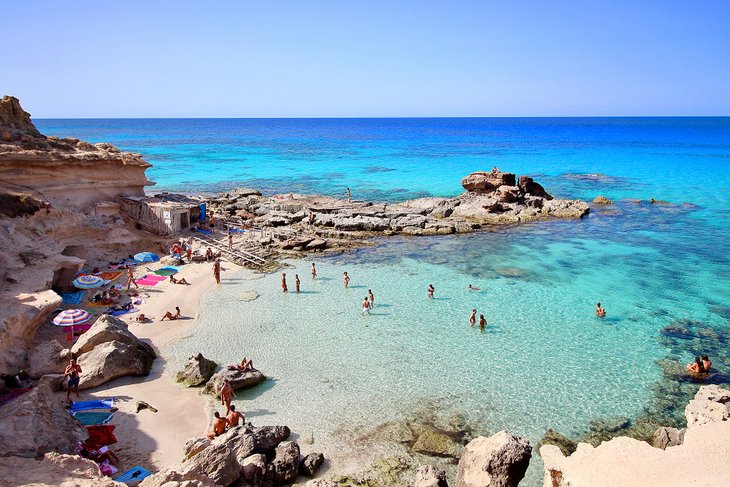 One of the most beautiful beaches in Spain, located on the island of Formentera, is cursed by its small size. The sheer beauty of Calo des Mort, despite being accessible only via a crumbling rock staircase with a rope handrail, means it can be crowded.
Calo Des Mort is primal, with no services or amenities, but the physical beauty of the spot is worth the trouble to get here. The varying colors of the water, from deep dark blue to light aqua green and turquoise are stunning. This beach also becomes a big swimming pool, as the bay is shallow and it's almost completely protected by rocks from the ocean.
17. Playa del Real de Zaragoza, Marbella, Costa del Sol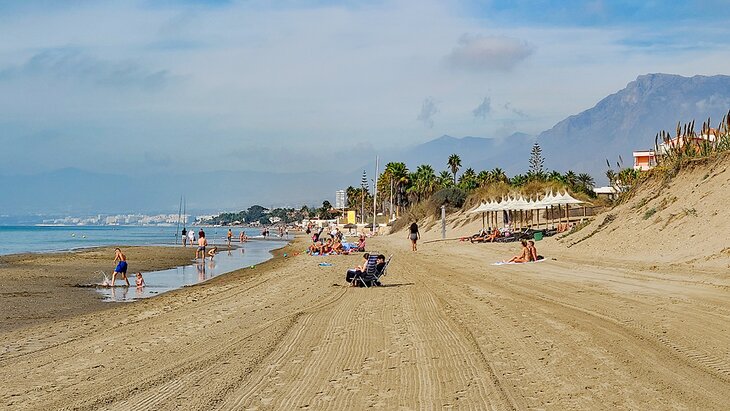 No list of top Spanish beaches would be complete without mentioning the beaches of the Costa del Sol. This long stretch of sun-kissed shoreline has been a top destination for sunseekers from northern Europe for decades.
Of all the beaches along this coastline, many consider the beaches in and around Marbella to be the best. Golden sands, generally calm waters, and a vibrant off-beach scene make a trip here high on most people's holiday agendas.
The city's top beach is Playa del Real de Zaragoza, a mix of natural shoreline and a developed waterfront, all lapped by clear waters. Spread your towel on the sand or rent a lounger with a parasol and have cold drinks and food delivered to you as you bask in the sun.
A unique feature of this beach is the tidal pools that develop behind the shoreline. These small pools warm up in the hot sun and are ideal for small children to play in.
18. Playa de Valdevaqueros, Tarifa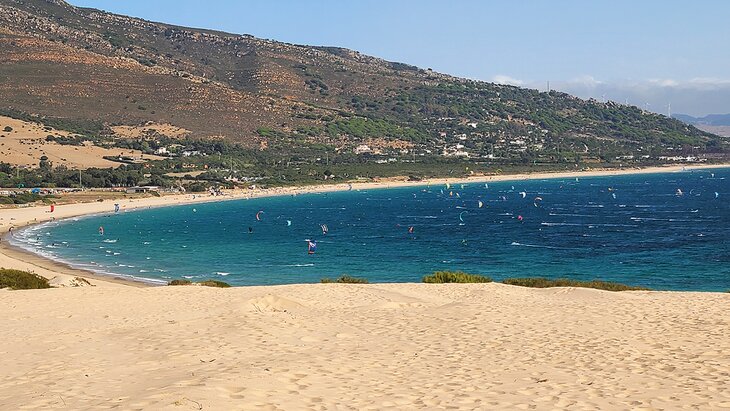 One of the most popular beaches around Tarifa, and certainly the most beautiful, Playa de Valdevaqueros has it all: a long, golden stretch of sand; crystal-clear waters; an undeveloped shoreline; and a giant sand dune at one end. Layer on consistent winds that draw kiteboarders, windsurfers, and wingers from around the world, and it's a combination that can't be beat.
This spectacular beach is located near Tarifa in southwest Spain and is easily reached from Seville in just over two hours.
Laze on the sand if you want, or if you've always wanted to try a wind sport, sign up for lessons. Prefer something less intense? Walk down the beach and climb up to the top of the massive dune at the northwestern end; the views back down the coast are spectacular.
No matter what you end up doing, be sure to stop in at the funky and fun Chiringuito Tangana for a snack and a cold drink, and soak up the scene.
Read More: Best Campsites in Tarifa
19. Playa Larga, Fuerteventura, Canary Islands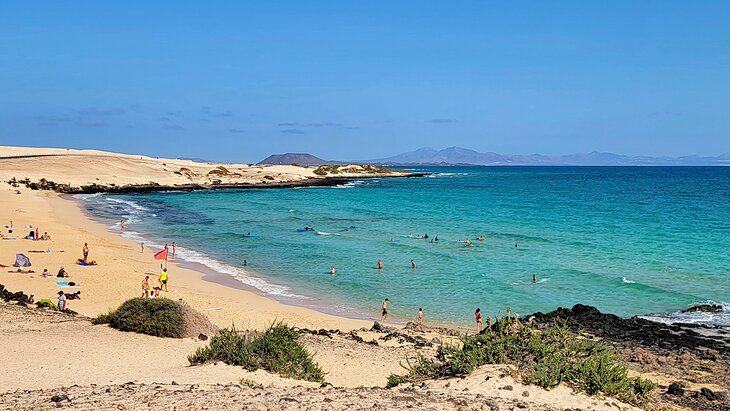 Giant sand dunes created from the sands of Africa, wide-open spaces, and unbelievably clear water await you at Playa Larga. Located in the Parque Natural de Corralejo and protected from development, this incredible beach is one of the best in all of Spain.
Park your car and make your way across the sand dunes to where they meet the ocean and find your own piece of paradise. You won't find any buildings, beach restaurants, or chair rental places out here, just sand, sand, and more sand — and ocean as far as you can see.
The soft African sand is a delight to walk on. Take a stroll down the beach southwards, and revel in the views across the dunes to the ancient volcanic peaks shimmering in the distance. Or, lie out on the sand with a good book, dip your toes in the water, play in the waves, or find your way through the dunes. No matter what you choose to do, you can't help but end up with a big smile on your face.
Read More:
Map of Beaches in Spain