7 Best Campsites in Tarifa
Author Michael Law visited Tarifa to do some kiteboarding as part of an extensive trip through southern Spain in the fall of 2022.
Tarifa's beautiful windswept coastline strings together incredible beaches stretching as far as the eye can see. Along here, tucked into green and protected places are wonderful campsites. Whether you're traveling on your own, with the family, or as a couple, this is a special place to go for a camping getaway in southern Spain.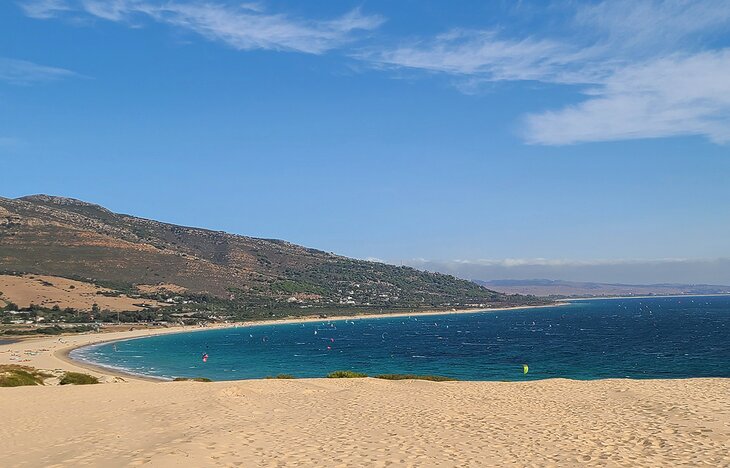 Camping in Tarifa is affordable, even in the high season. You'll be able to secure a plot for under €15 a night or less; add on a bit for electricity or a dog.
You don't need to be a fully equipped camper with a caravan or a car full of gear to enjoy the campgrounds in Tarifa. Many of the places mentioned below offer fully outfitted bungalows and Kampoah camping options.
Bungalows are fully equipped wood frame cottages complete with bedrooms, a kitchen, a living room, a porch, and a bathroom. They range from rustic to semi-luxurious and are ideal for families with young children or for those looking for a bit more privacy.
Kampoah camping units are fully self-contained canvas tents in various shapes and sizes. Some are traditional tents; others have wooden support beams and porches. The basic versions have beds, linens, and tables; others have coat racks, electricity, kitchens, chairs, and fridges. Some even have their own bathrooms and showers. Outside the units are additional tables and chairs for outdoor living.
Tarifa is known the world over as a place for wind sports, especially kiteboarding and to a lesser extent windsurfing. The campsites are, for the most part, just back from the beach and offer private access. Some even have kite schools right on the premises. That said, be prepared for wind! It can blow non-stop day and night for weeks on end.
If you need a night out, drive the short distance into Tarifa. The Old Town area is full of great restaurants that stay open late.
1. Camping Tarifa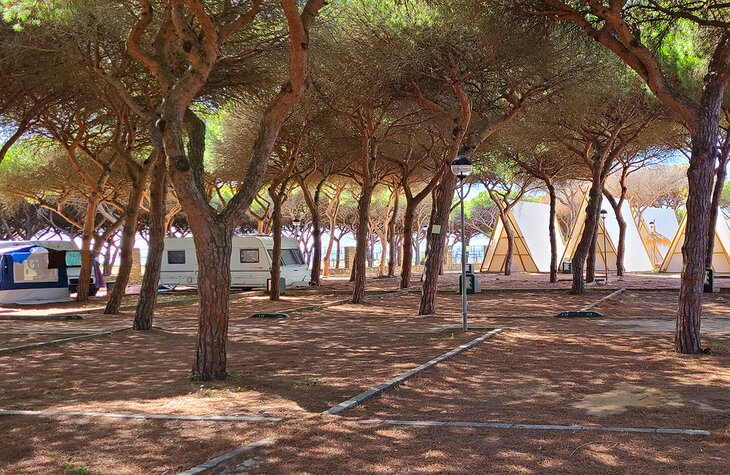 Camping Tarifa is a delightful campground located in El Estrecho Natural Park. Set among mature trees, this large campsite is one of the best along this stretch of coast. The campground has a mix of plots, bungalows, and Kampaoh canvas accommodations.
Plots are pretty close together, so you'll definitely get to know your neighbor if you are tenting or caravanning. Bungalows and Kampaoh units are more spread out and enjoy a higher degree of privacy.
Each accommodation style has its own exclusive place in the park. Electricity is provided at an additional charge for the tenting and caravan areas. The sites close to the highway can be a bit noisy; try for a spot closer to the beach if possible.
Camping Tarifa is located midway along Playa Los Lances. A private walkway leads out to the beach where you'll have lots of room to set up your beach gear. Multiday kitesurfing and windsurfing lessons are available from La Duna Watersports, which include your accommodation at Camping Tarifa.
Other amenities on-site include the El Ronkio Restaurant, a common room, a pool table, dart boards, and a playground. Wi-Fi is available for free in the restaurant and common room. A small but very pleasant pool is surrounded by lush greenery and will be popular with kids and those who don't enjoy the beach.
Camping Tarifa closes for the season in mid-October.
2. Camping Rio Jara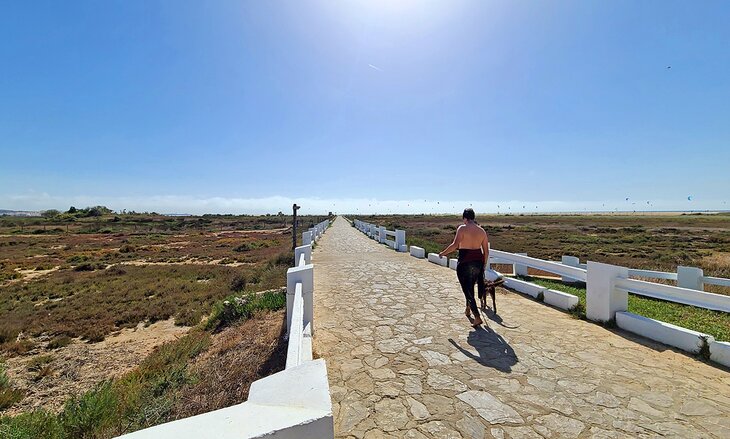 The closest campsite to town, Camping Rio Jara is set off on its own in the middle of a wide-open space inside the El Estrecho Natural Park. The facility has nice tree cover and is completely walled on all sides, which provides protection from the wind.
It's a short stroll down their private walkway to Playa Los Lances. Along the way, you'll pass over a bridge spanning an arm of the Rio de la Jara. It's easy to haul all your beach toys, chairs, and kitesurfing or windsurfing gear along the concrete surface of the trail to the water's edge.
Individual plots are relatively large and depending on the site, provide varying levels of privacy. Electrical points are spread throughout the park. Be sure to bring a long extension cord. The maximum caravan size is 18 meters. The campsite has 263 camping options available.
Comfort stations with separate toilets for men and women, showers, and a laundry area are all available and are kept very clean.
If you don't feel like cooking, a restaurant on site provides decent fare, and a mini market has the basic supplies you may have forgotten or have run out of. In the evening, walk over to the large common area and shoot a game of pool or chat with other guests.
Camping Rio Jara is open all year.
3. Camping Valdevaqueros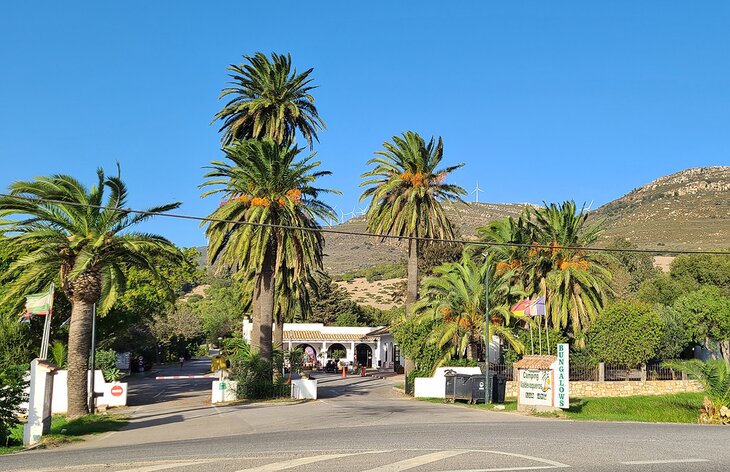 If you are into kiting, winging, or windsurfing, this is the campground for you. The reason for this is that the campsite is right across the road from the famous Valdevaqueros beach; all you need to do is just stroll across the highway to soak up the scene.
Unlike the other campgrounds, Camping Valdevaqueros has more things going on around it. Beach restaurants, shops, and a bit of a fun vibe are all part of the scene out here, so it's more than just a campground off on its own in a national park like Camping Tarifa or Camping Rio Jara.
The campground rises up on the hill from the highway and is set out in terraces. Caravan plots have good privacy, with large hedges in between campers. Also on-site, set on the highest terrace are Kampaoh units and bungalows. The campsite has 118 caravan/tent sites, 31 Kampoah spots, and 14 bungalows. Electrical service is readily available for all sites, and certain locations have water hookups as well.
Camping Valdevaqueros has a large pool surrounded by grass and sunshades. A small playground for the kids is located near the office. Pack your tennis racket — a court is available for use by guests. Barbecues are not allowed at the sites; however, a central BBQ area is available near the carwash. A small coffee shop and mini market are open all day, and it's in this area that you'll find the free Wi-Fi.
Each morning or afternoon, depending on the wind, grab your gear and walk through the tunnel under the road to the beach.
If you aren't into wind sports, the beach is truly beautiful, and an area is set aside for beachgoers only ensuring that a kite doesn't drop on your head.
A fun family outing is to climb the giant sand dune located at the far end of the beach. The view from the top back towards the beach with Tarifa in the distance is spectacular.
Don't feel like driving your caravan back home? Long-term and short-term storage is available in a secured lot on the property.
4. Camping Paloma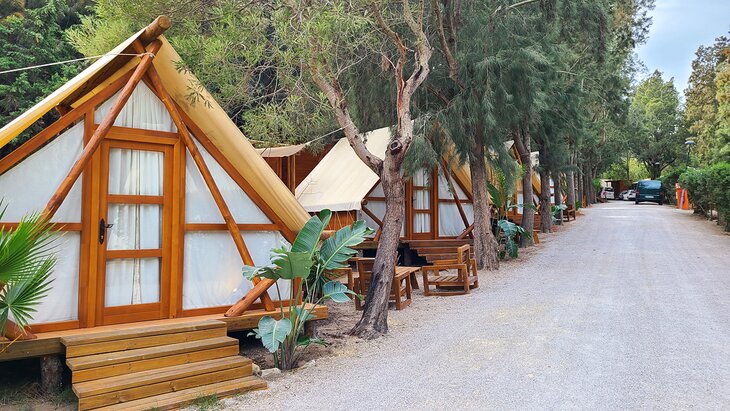 When you check into Camping Paloma, you feel a bit like you've wandered into a botanical garden. Incredible palm trees, flowering bushes, a small waterfall, and all manner of other greenery make you ask yourself whether you are actually in one of the driest parts of Spain. Set off on its own back in a small valley of sorts, Camping Paloma is protected from the winds that blow most days here.
Sites are a mix of caravan and tent sites, bungalows, and Kampoah units. All spots are under a canopy of large trees that provide much needed protection from the sun. Caravan sites are quite open, with limited privacy. Bungalows and Kampoah units are much more secluded and private. In total, the campsite has 350 plots (including Kampoah units) and 40 bungalows.
Camping Paloma has a huge pool, complete with a waterfall surrounded by bushes, lawns, and sun shelters.
Children will love the mini golf, soccer/basketball court, and large playground. Wander over to the store each morning for fresh-baked bread. Snacks and light meals are available at the restaurant throughout the day. One unique feature of Camping Paloma is that during peak season, evening entertainment is provided.
It's a 400-meter walk to the southern end of Valdevaqueros beach from the campground. If you continue up the road past the campsite, you can get to the top of the dune and enjoy the views without having to slog all the way up from the bottom.
5. Camping Torre de la Peña de Tarifa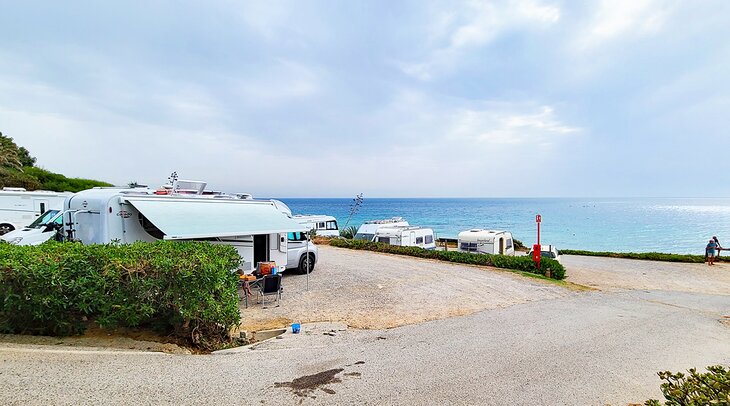 Set on a steep hill about halfway between Playa Los Lances and Playa Valdevaqueros, Camping Torre de la Peña de Tarifa offers the best views of all the campgrounds in Tarifa.
One of the first campgrounds in the Tarifa area, Torre de la Pena de Tarifa has been operating here for over 50 years.
Camping here is a split personality kind of thing. The upper area above CN-340 highway is all about big views back from the water; the lower area below the highway is all about being close to the ocean.
The upper area is more treed and offers better privacy between sites, and this is where you'll find the bungalows. Caravan and tent plots are also up here and are the ones with the best views. For those looking for quiet and not to be disturbed, head up as high as you can go.
The lower area is much tighter, with less tree cover, and is exposed to the winds off the ocean; however, you'll be lulled to sleep at night by the waves crashing ashore. The shoreline below is rocky and not suitable for swimming. A concrete launch pad is available for those confident enough to start and finish their watersport session here.
Facilities here include a pool, laundry (a special washing machine is set aside for pet gear!), and a mini market. But perhaps the best feature is the waterfront El Chozo Restaurant. Settle in with a snack or meal and catch the sunset over the Straight of Gibraltar.
Bungalows come in different sizes and are fully equipped with all the things you need for a week (or longer) at the beach. If you've brought all your kitesurfing or windsurfing gear with you, a free storage area is available.
6. Camping el Jardin de Las Dunas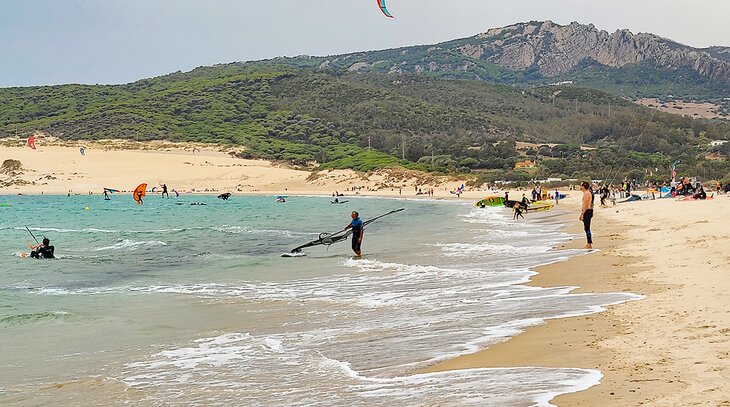 Just up the road and closer to the beach than Camping Paloma is Camping el Jardin de Las Dunas. The campsite has an enviable location — you can walk the 100 meters to the beach in just a few minutes. Beside the campsite is the famous Valdevaqueros sand dune.
Plots here are well spaced, with hedges of greenery providing a good level of privacy. Electricity is available, and pets are allowed.
In addition to caravan and tent plots, fully outfitted chalets are available for rent and are a favorite for families.
Facilities include a restaurant with a terrace, a mini market, laundry facilities, and a playground. There is no pool. The campground has a reasonable amount of tree cover; however, the location is windy so plan accordingly.
If you are a kiteboarder or windsurfer, the proximity to the beach is fantastic. The only drawback is that the "cleanest" wind is located about a kilometer up the beach.
7. Central Tarifa
If you want to be in the center of town and walk to all the local sights, you'll find a parking lot close to the Old Town of Tarifa. It's a bit uninspiring — it's basically a fenced-in parking lot with streetlights lit at night; however, you can drain your greywater here and fill up your freshwater tank. A nightly fee is charged.
Alternatively, you can park on the street or in other parking lots around town for free (another good one is by the soccer stadium). The caravan lifestyle is tolerated in Tarifa.
Map of Campsites in Tarifa
Tarifa, Spain - Climate Chart
Average minimum and maximum temperatures for Tarifa, Spain in °C
J
F
M
A
M
J
J
A
S
O
N
D

16

11

17

11

18

12

19

13

22

16

24

18

27

20

28

21

26

20

22

17

19

14

17

12

PlanetWare.com
Average monthly precipitation totals for Tarifa, Spain in mm.

122

107

107

66

38

10

0

3

25

76

150

132