10 Top-Rated Tourist Attractions in Tetouan
We may earn a commission from affiliate links ()
A favorite with traditional architecture fans and culture lovers, Tetouan is an atmospheric city with a pretty medina that is its prime sightseeing attraction. Snugly located amid the beginning of Morocco's beautiful Rif Mountain region, Tetouan is also an excellent base for avid nature lovers wanting to set out and explore the unspoiled surrounding hill country.
An easy day trip while staying in Tetouan is to the Rif town of Chefchaouen, where the old town buildings are all painted in shades of blue. Incredibly photogenic, the colorful streets here should be high on your list of things to do while in the area. For more ideas, see our list of the top attractions in Tetouan.
See also: Where to Stay in Tetouan
Note: Some businesses may be temporarily closed due to recent global health and safety issues.
1. Medina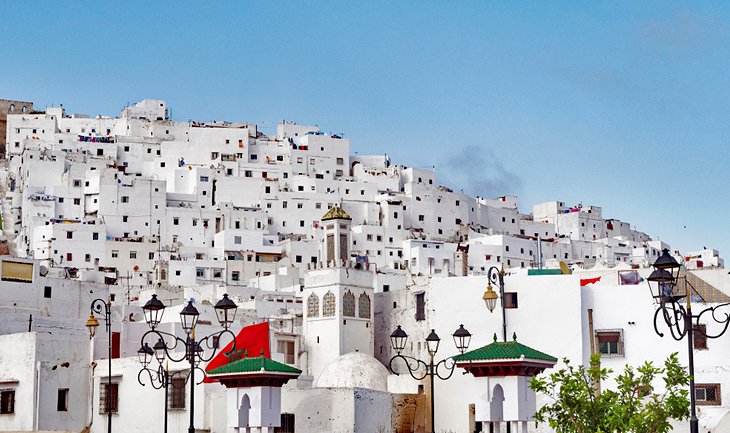 Tetouan's medina (Old Town) has retained its authentic Andalusian soul, which makes this town the most Hispano-Moorish influenced of Moroccan cities. This is a thoroughly atmospheric place to explore, and architectural historians regard it as the country's finest preserved medina.
Every twist and turn down an alleyway brings you to a new picture-perfect local scene, with lots of lovely, slightly crumbling buildings lining the narrow lanes. There's no particular attractions as such; sightseeing here is more about simply soaking up the atmosphere.
Location: Main entry off Place Hassan II, Tetouan
2. Archaeological Museum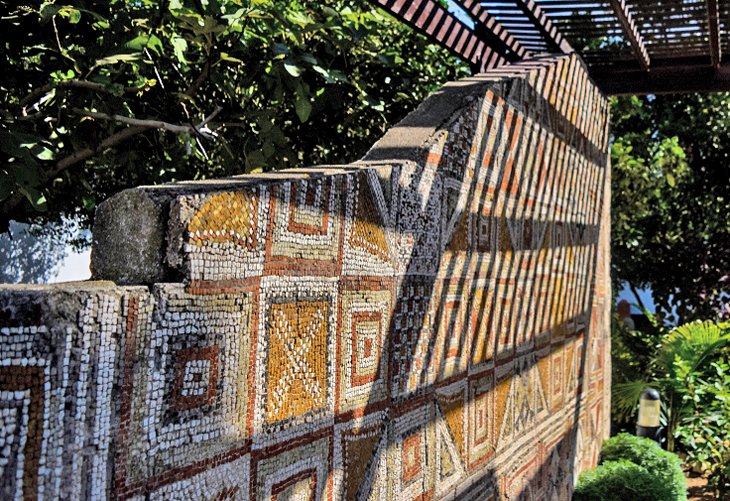 This museum's exhibits include the superb Roman mosaic of "The Three Graces," unearthed at the Lixus archaeological site. There are also displays of artifacts from sites across northern Morocco, including prehistoric tools, coins, bronzes, and pottery. The museum also houses an excellent library, with more than 60,000 volumes dedicated to the preservation of North African literature.
For anyone interested in history, a visit here is well worth it; particularly if you are later visiting, or have already visited, Lixus on your travels. Unfortunately, the museum's exhibits do not have labels in English.
Address: Avenue al Jazaar, Tetouan
3. Souk District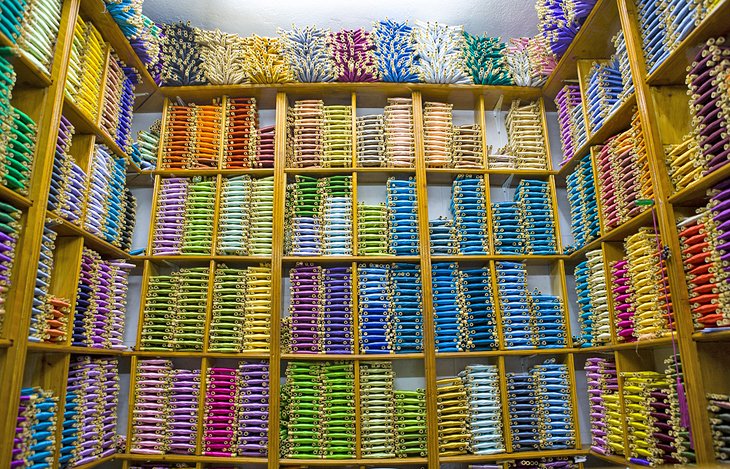 The medina's souk district is a fun place to barter for goods, snack to your heart's content from the many stalls, and get involved in the bustling local action. El Fouki Market is where Tetouan locals go to buy their bread. You'll find loaves of all shapes and sizes fresh from the oven on sale here, including the traditional flat, round loaves.
Guersa El Kebira is where the clothing and textile traders set up shop, with wonderful local textiles to buy. The El Hot Market is where you'll find beautiful ceramic work and goldsmith-handcrafted jewelry. For shoppers looking for a special gift, the souk district is not to be missed. You'll find prices here are cheaper than in the more tourist-orientated markets of Fes and Marrakesh.
4. Ville Nouvelle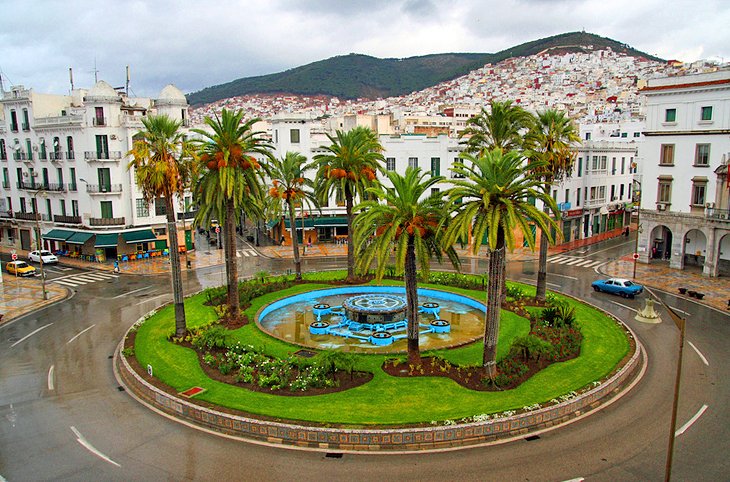 Tetouan's Ville Nouvelle (New City) is centered along Avenue Mohammed V, which begins at the wide plaza of Place Hassan II, sided by The Royal Palace and the Pasha Mosque. All along the road are cafés where locals come to meet up with friends in the evenings. Do as they do and pull up a seat, grab a coffee or mint tea, and people watch for a while. Walk from the plaza, up Avenue Mohamed V, to the lovely old Spanish cathedral of Iglesia de Bacturia, which is still fully functioning.
Address: Avenue Mohammed V, Tetouan
5. Ethnography Museum
Inside the fortress walls of Sultan Moulay Abderrahman, in Bab el Okla, is Tetouan's interesting Ethnography Museum, established here in 1948. If you're curious about Moroccan traditional culture, it's a great place to while away an hour or two, with excellently organized displays of local customs, from marriage ceremonies to daily life. The museum is housed inside the actual gate of the ramparts, and you can climb up to the roof for photos of the town after you've viewed the exhibits.
Address: Bab el Okla, Medina, Tetouan
6. Chefchaouen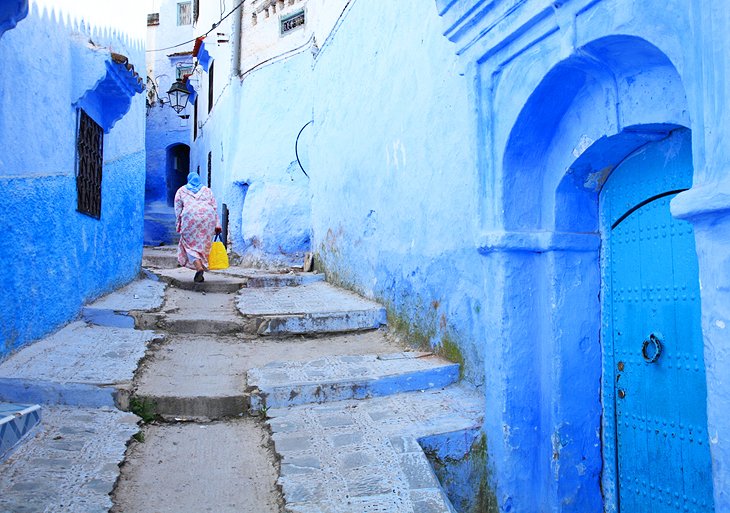 If you're going to take just one day trip from Tetouan, make it to Chefchaouen, noted for being one of Morocco's most picturesque towns. This is a holy city, 66 kilometers south of Tetouan, with some 20 mosques and sanctuaries, where thousands of the faithful participate in an annual pilgrimage.
For other visitors though, Chefchaouen's chief appeal is in its incredibly photogenic streets. The white-and-blue-washed houses here within the medina are dreamlike in their sheer beauty, and even the floods of tourists exploring them can't break this town's magical spell.
Get good views over the entire medina area by taking a walk out of town along the Ras el-Maa river.
7. Rif Mountains
Lying just southeast of Tangier and Tetouan, the Rif Mountains are a paradise for hikers, trekkers, and mountain bikers. Walking here is full of lush, green panoramas of rolling hills and excellent bird-watching potential. Some of the best trekking options begin from Chefchaouen, which is also a good place to organize all Rif Mountains outdoor activities. Of particular note are good walks in both the Talassemtane National Park and Bouhachem Nature Reserve, which are both in the Rif Mountains region.
Much of the Rif is isolated, with villages few and far between, so hiring a guide is a good idea.
8. Cabo Negro Beach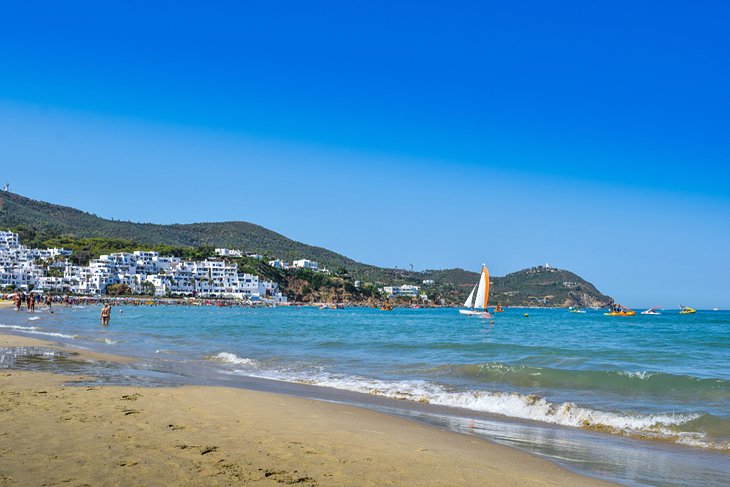 Cabo Negro Beach, 13 kilometers northeast of Tetouan, is one of north Morocco's best strips of sand. The lovely, wide shoreline here is quite often empty outside of the summer months, adding to its appeal. This is the place to break out your beach towel and lie back, soaking up the sun and knowing that you'll rarely be bothered by other beach-goers. It's a welcome change from the more crowded resorts of Morocco's Atlantic Coast, such as Agadir.
Obviously, if you arrive in July and August prepare for a completely different scene, as the beach is highly popular with local Moroccan tourists.
9. Martil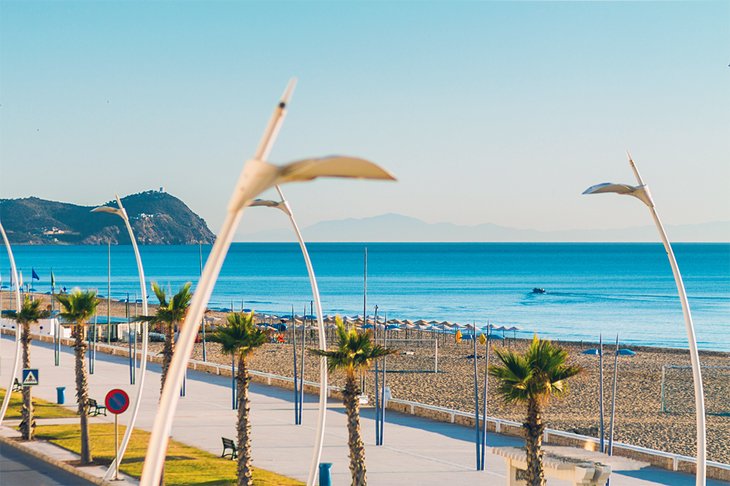 About 10 kilometers east of Tetouan, this easygoing fishing port is also a popular coastal resort, particularly during July and August, when Moroccans flock here for their summer beach holiday. Plenty of shoreside restaurants dish up the catch of the day, and the nice strip of sand gets very busy on weekends. The entire shorefront area is scrubbed up and modern, so don't expect any traditional atmosphere, but a visit here makes an interesting contrast to the old-world charm of Tetouan.
10. Northeast Coastline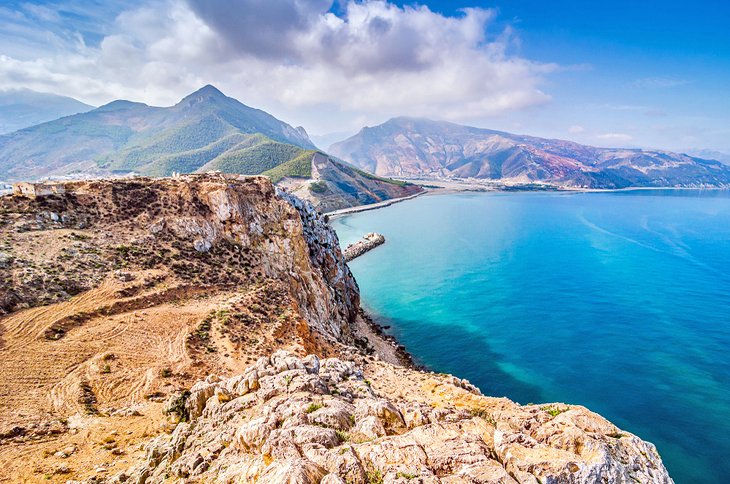 The northeast coastline of Morocco is home to breathtaking scenery and is prime country for hiring a car for the day and taking a road trip. The winding highway hugs the shore, taking you past petite villages and lovely beaches at every twist and turn. It's a slice of rural, coastal Moroccan life that's hard to beat, plus you're likely to spot a patch of sand along the way that is completely empty, great for impromptu picnicking and a quick swim.
Head southeast from Tetouan, following the coastal highway down to El Jebha village, for the best of the panoramic views on offer.
History
A white Andalusian city set upon the Mediterranean Sea near Tangier, Tetouan traces its origins back to the 3rd century BC, when it was a settlement called Tamouda, which existed until AD 42 when it was destroyed by Roman armies.
When the Merenid sultan Abu Thabit constructed a kasbah at Tetouan in 1307, the Muslim city began to find its form. But as a refuge for Barbary pirates, Tetouan drew the wrath of the Castilian King Henry III, whose forces overran the city and sacked it in 1399. For a century thereafter, Tetouan went into a period of decline until coming under the Andalusian influence of refugees from Granada.
From 1484, the city took on some of the rich architectural and cultural character of Muslim Spain, traces of which can still be seen today. In 1913, Tetouan became the capital of Spain's protectorate until independence in 1956.
Located in an agricultural area, Tetouan today is a market center, where grain, livestock, citrus fruit, and handicrafts are traded.
Where to Stay in Tetouan for Sightseeing
Most accommodations in Tetouan are guesthouses and small hotels in the mid-range and budget brackets.
Luxury & Mid-Range Hotels: If you don't mind visiting Tetouan as a day trip, Club Med

Yasmina

on the coast, near Cabo Negro beach, is a friendly, luxurious resort with bags of activities (from golf to flying trapeze circus skills), a huge pool area, and a recommended kids' club. It's a great choice for easygoing family holidays.

Right in Tetouan medina, Blanco Riad Hotel &

Restaurant

offers rooms with gorgeously restored original tiling and traditional plasterwork and an included breakfast that guests rave about, while Riad El

Reducto

is popular for its friendly staff, ornate traditional decor, and lovely roof terrace.

For a more contemporary stay, Hotel Al

Mandari

is within easy walking distance to the medina and has light-filled, bright modern rooms with mountain views.
Budget Hotels: Cozy Hotel Dar

Rehla

in the medina is excellent value for money, with friendly staff; an included breakfast; and well-kept, small rooms. Also in the medina, with panoramic views from the terrace, Riad Dalia

Tetouan

has colorful rooms, some with original arched doorway features, and an included breakfast.
More Related Articles in PlanetWare.com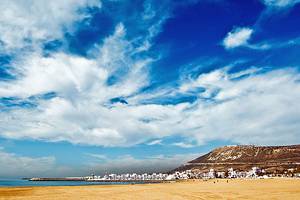 Along the Coast: After Tetouan, head west to Tangier to sample Morocco's main Mediterranean city and then south to dive into the past imperial splendor of Rabat. Venturing farther south down the Atlantic coast, you'll find busy and modern Casablanca, home to the Hassan II Mosque and Morocco's favorite beach resort Agadir.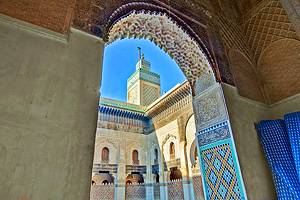 More Medinas: Tetouan's medina is a relaxed place to wander. For the full-on bustling and chaotic medina experience, head to Fes then balance the frenetic energy out with a side-trip to quieter Meknes. Finish up in the most photogenic of all of Morocco's medinas, at Marrakesh, with its maze of wriggling blush-toned alleyways.