9 Top-Rated Tourist Attractions in Meknes
We may earn a commission from affiliate links ()
Most people stop over in Meknes simply to make a trip to Volubilis, Morocco's most famous Roman site. But those who decide to linger on in the city will be rewarded. Sightseeing in Meknes has a charm all of its own, with a bustling medina of locals and a more easygoing approach than Marrakesh or Fes. The grandiose gateway of Bab el-Mansour is another chief attraction.
As well as touring the Volubilis ruins, one of the other popular things to do here is a day trip to the hilltop pilgrimage town of Moulay Idriss. For more ideas on the best places to visit, see our list of the top attractions in Meknes.
See also: Where to Stay in Meknes
Note: Some businesses may be temporarily closed due to recent global health and safety issues.
1. Volubilis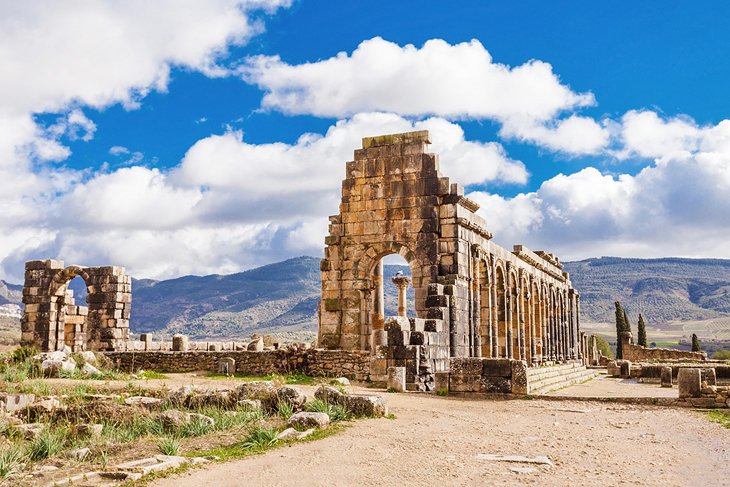 The ancient Roman ruins of Volubilis, about 29 kilometers from Meknes, are the main tourist attraction for Meknes. This is Morocco's most famous Roman remnant and for good reason. Sitting atop a hill, with the countryside rolling out below, the surviving columns and temple fragments of Volubilis are an impressive and powerfully atmospheric site.
Although much that has been unearthed here is now on display in Rabat's Archaeology Museum, many of the gorgeous and intricate floor mosaics in Volubilis' grand Roman villas have been left in-situ, giving you a taste of the grandeur of wealthy Roman life.
The city's heyday was AD 24-285, when it served as capital for the Roman province, and most of the ruins date from this period of prosperity. Of particular interest are the House of Orpheus, the House of the Athlete, and the House of the Labors of Hercules, with their particularly well-preserved mosaics.
2. Moulay Idriss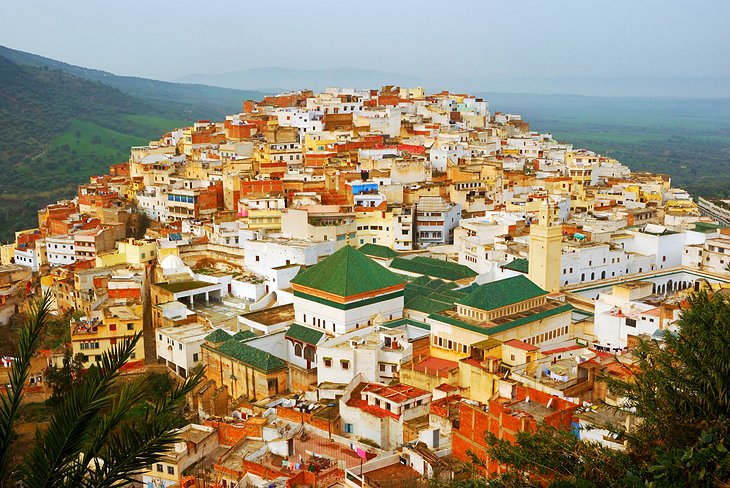 Established in AD 788, the holy city of Moulay Idriss is named after the country's most venerated saint and the Prophet Muhammed's great-great grandson, who founded the first Moroccan state. The city is built upon the rocky spurs of the Khyber and Tazga hills, about 27 kilometers from Meknes, with the buildings tumbling down the slopes dramatically. For the faithful, this is an important pilgrimage center, and an annual religious festival in August attracts thousands who pitch their tents around the town.
Although non-Muslims cannot enter the shrines of the town, you can wander up through the medina (old town) to the hillside paths above and get amazing rooftop views of the entire settlement. Moulay Idriss can easily be visited either on the way to or from Volubilis.
3. Bab al-Mansour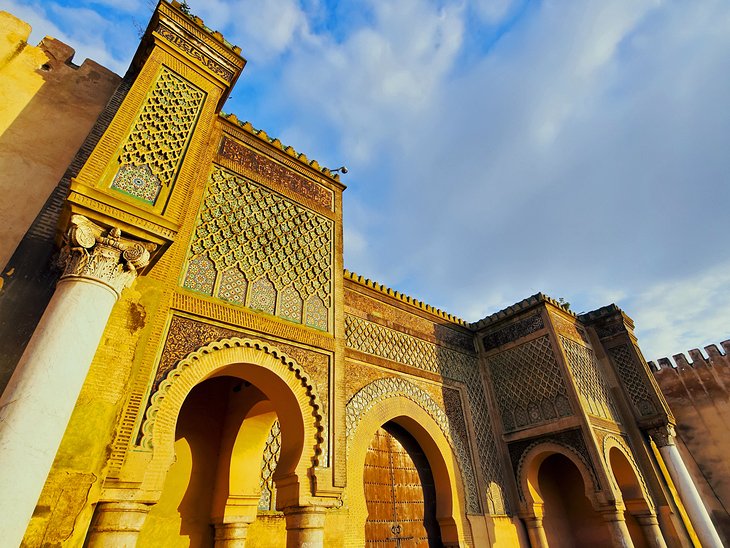 Bab al-Mansour is the main gate between Meknes' Medina and Imperial City districts. It's an immense and highly photogenic structure that many experts proclaim as one of North Africa's finest examples of surviving gateways. Finished in 1732, it was built by Sultan Moulay Ismail (though completed after his reign). The intricate architectural detail on the gateway includes lavish use of zellige tiling and carving work.
Today, the gate isn't actually open, instead you enter and exit through a neighboring, much smaller side gate. This allows you to fully admire the gate's artistry unheeded by traffic.
Address: Place el-Hedim, Meknes
4. Mausoleum of Moulay Ismail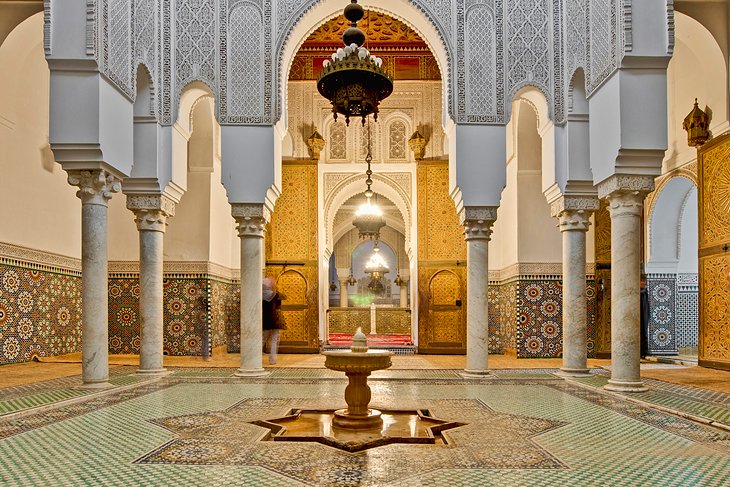 This sumptuously decorated mausoleum is home to the tomb of Sultan Moulay Ismail, who made Meknes his imperial capital in the 17th century. The interiors here are truly breathtaking and with their recent restoration, they fully showcase the glorious exuberance of Moroccan religious decoration.
The actual mosque is not open to non-Muslims, but you can enter the outer parts of the complex and enter the tomb hall itself, with its exuberantly decorated interior. Take your shoes off on entering, wear modest clothing, and don't forget to tip the guardian.
Location: Imperial City district, Meknes
5. Meknes Medina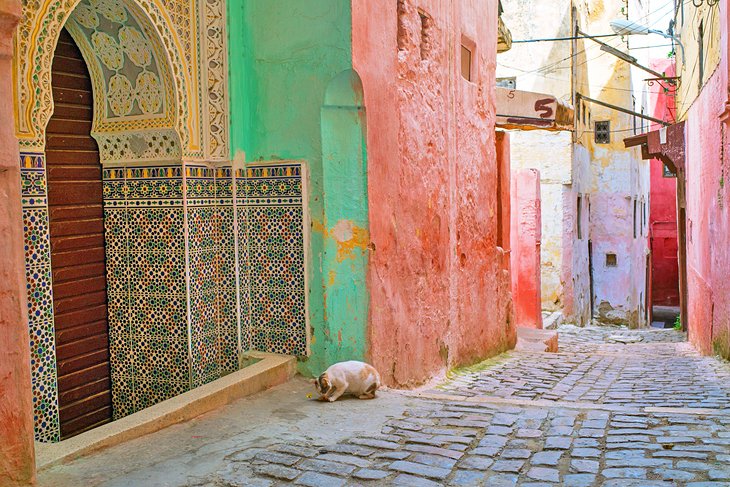 Meknes Medina (Old Town) is a vibrant, bustling place full of local shopping souks and twisty lanes. For avid shoppers, this is prime hunting ground, with Souk Nejarine offering plenty of textile stalls and Souk Sebbat home to many traditional Moroccan craft shops, as well as clothing and Morocco's famous slippers. You should be able to get better prices here for handicrafts than in Marrakesh.
The 12th-century Grand Mosque, with its distinctive green-tiled roof, sits right in the medina's core, making navigation easy. The medina is still encased by its crumbling walls, which in some sections are still fully standing. They were built during the reign of Sultan Moulay Ismail, when he made Meknes his capital.
Location: Main entry off Place el-Hedim, Meknes
6. Imperial City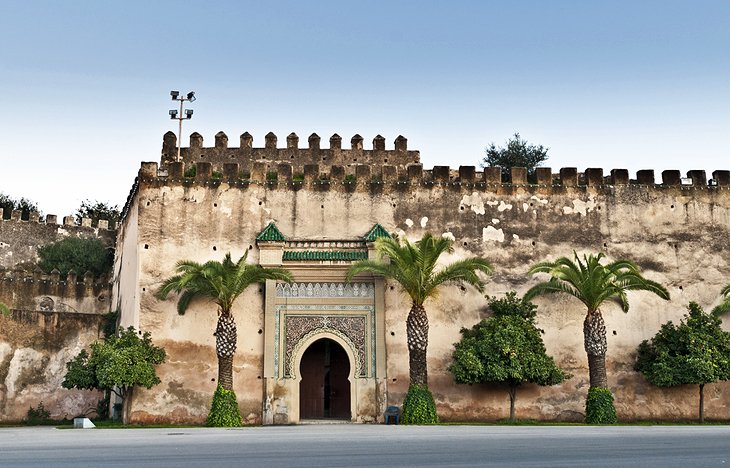 The Imperial City district has plenty of interesting old ruins to explore, most dating from the reign of Sultan Moulay Ismail, when Meknes enjoyed its heyday as capital of Morocco. The Koubat Al Khayatine is the city's old ambassador building and today, part of the building is open to the public, with a small photography exhibit on Meknes.
Next door to the Moulay Ismail Mausoleum is the ruined 17th-century palace of Moulay Ismail known as Dar el-Kebir.
Location: Main entry off Place el-Hedim, Meknes
7. Museum of Moroccan Art (Dar Jamai)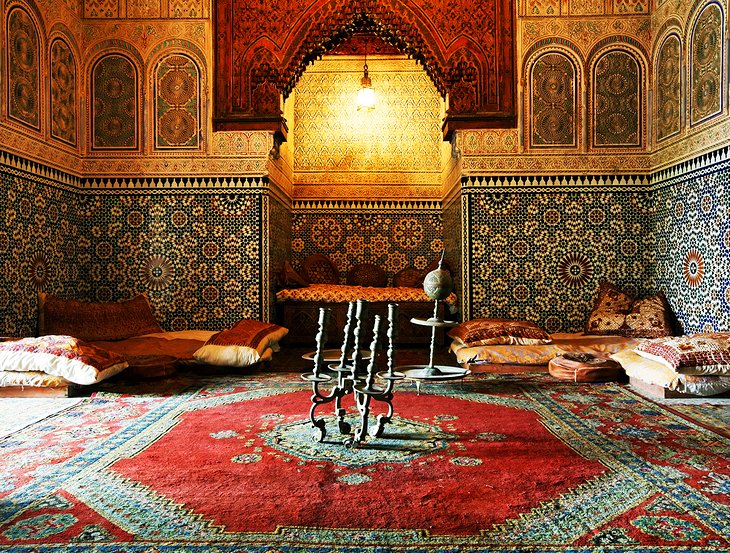 The Dar Jamai was built in 1882 as the residence of the illustrious Jamai family and was converted into the Museum of Moroccan Art in 1920. The museum retains the rich traditional decor of painted wood and sculpted plaster that were popular interior flourishes for the 19th-century Moroccan higher-classes. There is also an exquisite Andalusian-style garden outside.
The museum is devoted to arts and crafts of the region, and there are wonderful examples of wrought ironwork and wood carving. One of the rooms is set out as a typical example of a Moroccan reception room from the late 19th century, which will give you some idea how the rich of Meknes lived during this period.
Address: Place el-Hedim, Meknes
8. Bou Inania Medersa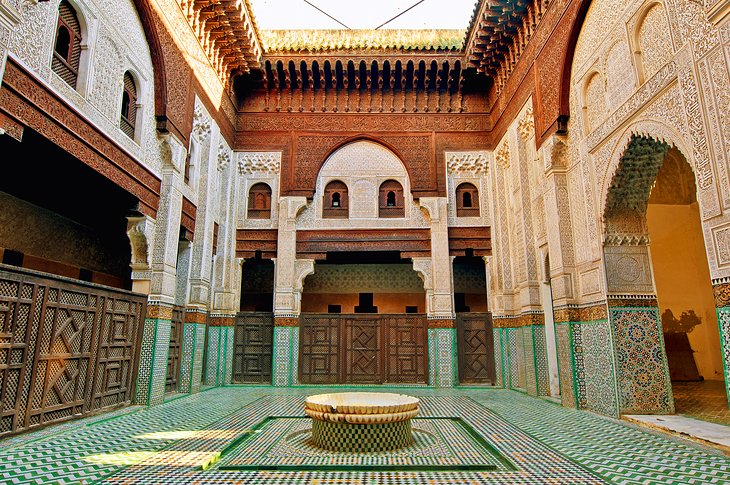 This beautiful medersa (Islamic school of learning), hidden within the loops of Meknes' souk streets, was founded in the 14th century and has been beautifully preserved, with much of its rich zellige tile decoration still in place. The tiny, austere cells that surround the central courtyard were once home to the students who studied theology here. You can climb up to the green tiled rooftop for excellent views across the entire Meknes Medina district and the Ville Nouvelle (new town) beyond.
Address: Souk Sebbat, Medina
9. Heri es-Souani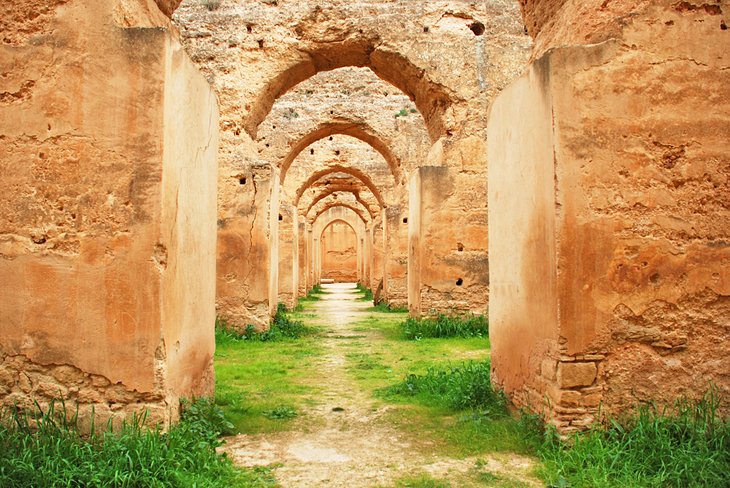 A rather long and dusty walk from Meknes' Imperial City district brings you to the mammoth Heri es-Souani buildings, which once served as the Imperial City's storage granaries and horse stables. They have been partially restored.
Today, the massive roofless complex with its arched doorways still intact is an atmospheric place to stroll around and imagine what it was like when up to 12,000 horses were stabled here.
History
This imperial city (the Moroccan Versailles) was built as the Moroccan capital on a fertile plain north of the Middle Atlas, near Fez, by Sultan Moulay Ismail, one of the first rulers of the Alawite dynasty that governed Morocco.
Moulay Ismail came to power in 1672 at age 26 and reigned for 55 years. When a French princess refused his hand in marriage, the young Sultan swore that he would build a palace town that would rival Versailles in splendor. He pressed 50,000 workers into service, building a series of palaces, mile after mile of walls, battlements and ramparts, and a vast marketplace.
The imperial city was completed by Moulay Ismail's son Moulay Abdallah (1727-1757) and his grandson Sidi Mohamed ben Abdallah (1757-1790). When, in the early 19th century, Meknes ceased to be an imperial capital, it became neglected. It was not until the reign of Moulay Hassan at the end of the century that Meknes was restored and revived.
Where to Stay in Meknes for Sightseeing
Meknes doesn't have a huge amount of hotels, and most of its accommodation is in the mid-range bracket. The most interesting accommodation options are the riads (guesthouses in traditional Moroccan houses) found within the medina.
Luxury & Mid-Range Hotels: In the medina, Riad

D'Or

is a lavishly restored riad with dazzling tile work upon its walls, and painted wood ceilings. There is a plunge pool outside, and breakfast is included.

Also in the medina, Riad el

Ma

is great value for money, with plenty of riad style. For when you want to relax, there is a lovely courtyard with a plunge pool plus a rooftop terrace. The owner is welcoming, and breakfast is included.

On the edge of the medina, Riad

Lahboul

offers plenty of traditional Moroccan touches in the rooms. Breakfast is included, and the rooftop and courtyard are both great spaces for socializing or relaxing. Family rooms are available.

For more modern accommodation, Ibis Meknes

Hotel

is a three-star hotel within walking distance to the medina. The rooms have modern decor and there is an outdoor pool.

Budget Hotels: Riad

Yacout

has a great location in the medina, and the staff are known for their warm hospitality. A great plunge pool and excellent views from the rooftop make this place popular. Breakfast is included.

Another great budget option is Ryad

Bahia,

with an easy-to-find location in the medina. The house has beautiful architectural details, the owners are known for their helpful and friendly service, and there's an excellent included breakfast.
More Related Articles on PlanetWare.com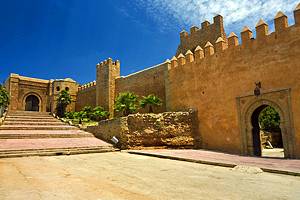 Imperial Cities: After exploring Meknes, check out Morocco's other three famed Imperial Cities. Hop on the train east to nearby Fes for a full-on labyrinth medina experience, then head west to the capital Rabat for a medina by the sea. Lastly, don't miss Marrakesh with its souks and monuments hidden within the medina's pink-toned walls.
For a complete look at places to visit in the country, see our article on the top attractions in Morocco.