15 Top-Rated Things to Do in Morocco
Morocco has plenty of things to do for all styles of traveler. While some of the main tourist attractions for fans of swish city breaks are the glammed-up riad hotels, shopping opportunities, and hammam (traditional bathhouse) soak-and-scrub experiences in Marrakesh and Fes, for adventure seekers, the best places to visit are the trails of the Atlas Mountains and the Sahara's desert dunes.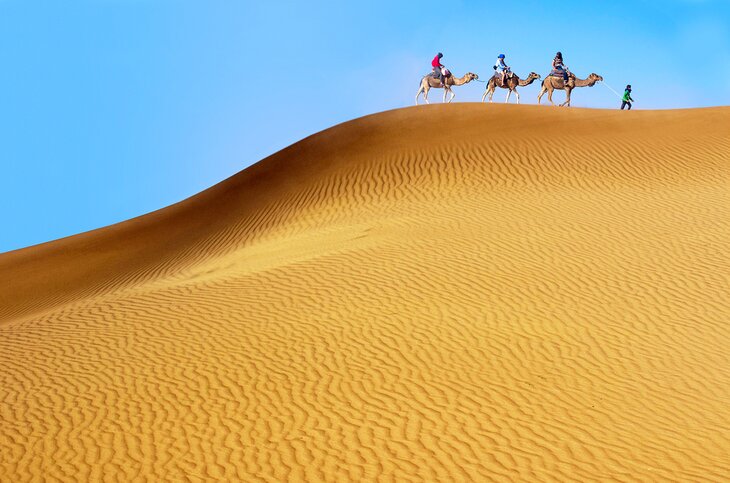 Because Morocco is only a quick hop from Europe, many visitors head here on a short trip, focusing their attention on one or two destinations and activities.
Extending a stay allows you to combine city sightseeing with the beach, the mountain landscapes, or an overnight stay amid the dunes.
Find out what not to miss on your visit with our list of the top things to do in Morocco.
1. Take a City Break in Style in a Marrakesh Riad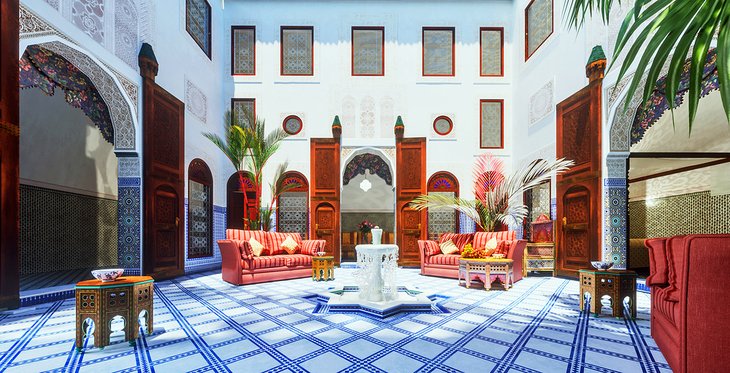 Marrakesh's accommodation is an attraction in itself, and for many travelers, one of the top things to do on a city break here is to stay in one of the medina's (old town's) riad hotels.
A riad is a traditional Moroccan medina mansion, with a courtyard garden in the middle. Many have been restored to finery and opened as hideaway small hotels that have swags of traditional Moroccan artisan expertise on display, with wood ceilings, tadelakt (polished lime plaster) walls, traditional zellij (ceramic tile) details, and brass swinging lamps.
Most riads are priced at the luxury end of the city's accommodation market though there are a decent number of mid-range options as well. For many of the smaller riads, the personalized service they offer is as much a part of the riad experience as the ambience of sleeping within a historic building itself.
Hidden within the medina alleys, and with rooftop terraces and internal courtyards (sometimes with plunge pools) to relax in, Marrakesh's riad hotels make for a soft landing in the city and are good bases for exploring the medina.
Read More: Top-Rated Tourist Attractions in Marrakesh
2. Photograph the Famed Blue Alleys of Chefchaouen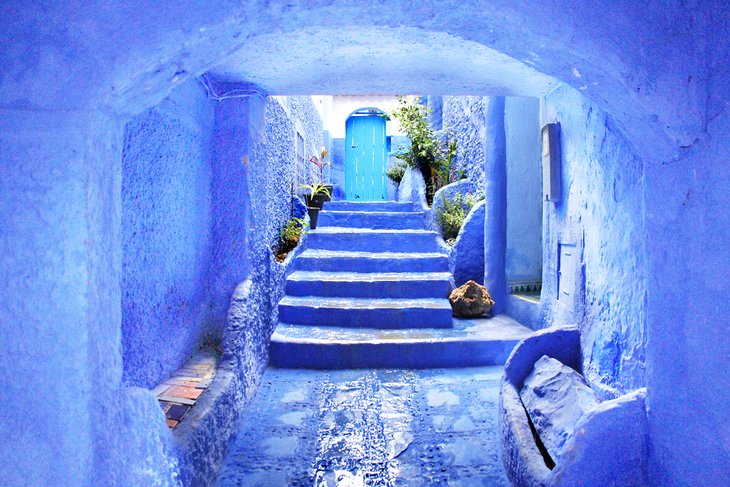 Chefchaouen is the most famous village of Morocco's Rif Mountains, with the alleys and walls of its small medina all washed in blue tones, making it one of Morocco's most photographed spots.
The town is near Tetouan, 197 kilometers northwest of Fes, and 112 kilometers southeast of Tangier, making it an easy stop-off on a journey through Morocco's northern region.
The main activity in town is simply wandering the skinny lanes and soaking up the atmosphere, though once you've marveled at the colorful streets, there's plenty of hikes in the Rif Mountains to head off on.
Chefchaouen's distinctive architecture, which features Spanish-style balconies and ceramic-tiled roofs, is due to the Muslim and Jewish refugees who were evicted from Spain in the 15th century and settled here. The blue color of the buildings, though, only began in the 1930s.
Accommodation: Where to Stay in Chefchaouen
3. Sleep Under the Stars at Erg Chebbi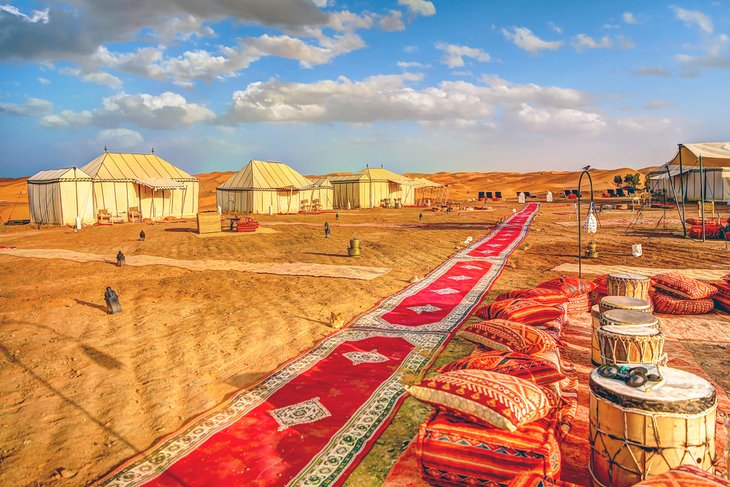 For a desert excursion with no roughing-it necessary, head to Erg Chebbi, where glamping-style desert camps offer an overnight stay within the Sahara dunes.
Merzouga (559 kilometers east of Marrakesh and 467 kilometers southeast of Fes) is Morocco's most popular desert activity base, situated on the edge of the dune sand sea of Erg Chebbi. From here, people launch out into the Sahara scenery on sunset or sunrise camel treks, and sleep within the undulating dunes at glammed-up desert camps.
A normal Erg Chebbi desert camp package includes dinner and breakfast and a camel trek. There's usually plenty of time at camp for those who want to explore the nearest dunes by scrambling up them. Four-wheel-drive tours reaching farther into the sand sea (which stretches for around 28 kilometers) are offered as additional extras.
4. Hike Jebel Toubkal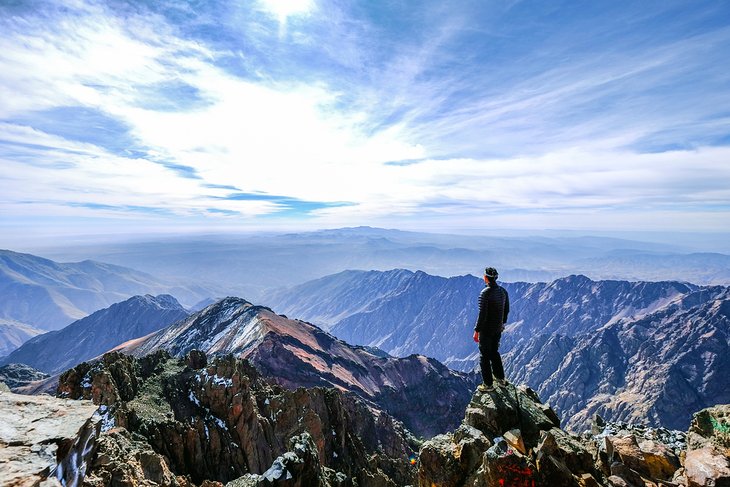 Jebel Toubkal is the highest mountain in north Africa, with its summit at 4,167 meters. The two-day return trek to its summit is the most popular walk in the High Atlas, and one of the most popular activities in Morocco.
It's a non-technical trek (no climbing), but as the upper reaches are steep, it involves trekking up scree slopes. It also takes place at altitude, and the trek can be difficult, so a decent level of fitness is required. The stunning views all along the trail, as well as on the summit, are worth all the sweat, though.
Enthusiastic hikers can opt to trek the Toubkal Circuit instead of just make the two-day ascent. The Toubkal Circuit is a seven-day trek, which takes in much of the surrounding High Atlas countryside before ascending Jebel Toubkal's summit.
Jebel Toubkal sits in Toubkal National Park, and the main center of activity for arranging treks and other activities in the area is the village of Imlil, 67 kilometers south of Marrakesh.
5. Shop amid the Medina in Fes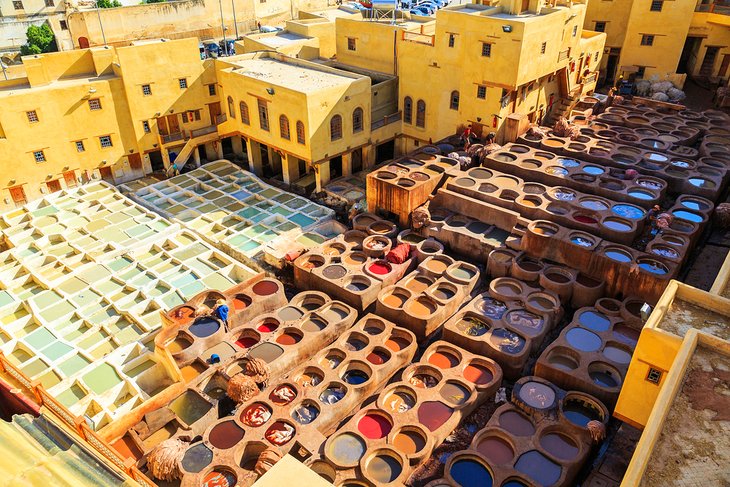 Although Marrakesh remains the favorite Moroccan city-break destination and attracts many visitors solely for its shopping, Fes is the country's undisputed artisanal capital.
Within the maze-like confines of Fes' high-walled medina (called Fes el-Bali), you'll find artisan workshops making traditional copperware and carpentry, dying leatherware (the tanneries of Fes are one of the most photographed sights within the medina), and the famous blue and white Fassi ceramics.
While shopping in Fes medina, it's a good idea to steer away from the well-trodden tourist streets, where shops and stalls mostly sell trinkets or overpriced handicrafts. The workshops of the artisans, hidden down in the back alleys, are where you'll discover the best shopping.
Accommodation: Where to Stay in Fes
Read More: Top-Rated Tourist Attractions in Fes
6. Treat Yourself to a Traditional Spa Break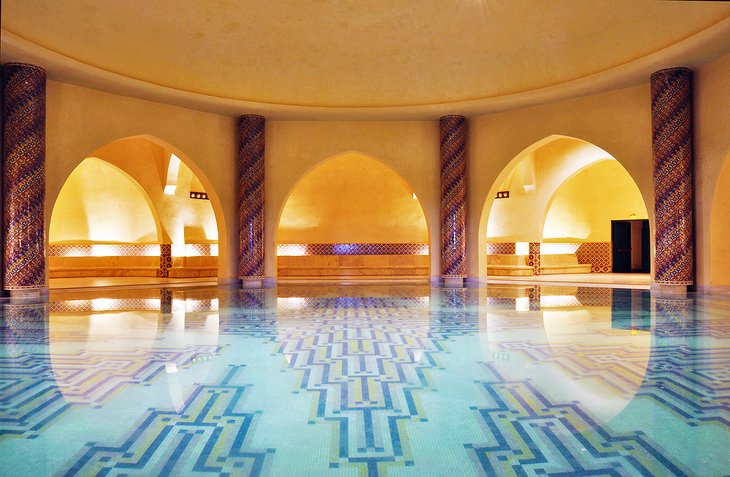 For many Morocco visitors, one of the must-do activities while here is to experience a hammam. A hammam is a traditional bath with separate areas where guests soak and steam before attendants scrub you down (usually with Morocco's local rhassoul clay).
Hammams traditionally played an important role in life, as many houses didn't have their own bathrooms. Today, the historic traditional hammams you'll find in the medinas of Fes and Marrakesh, with their domed ceiling architecture, offer a distinctly Moroccan-style spa experience.
Some have also branched out to offer contemporary spa therapies with a menu of different massage and beauty treatment options, as well as the traditional soak, steam, and scrub.
You'll find hammams in towns and cities across Morocco, though Marrakesh and Fes are home to the most famous ones and are the best places to experience one if you want to bathe in a historic hammam. Many luxury hotels also have their own hammam as well.
7. Relax on the Beach at Agadir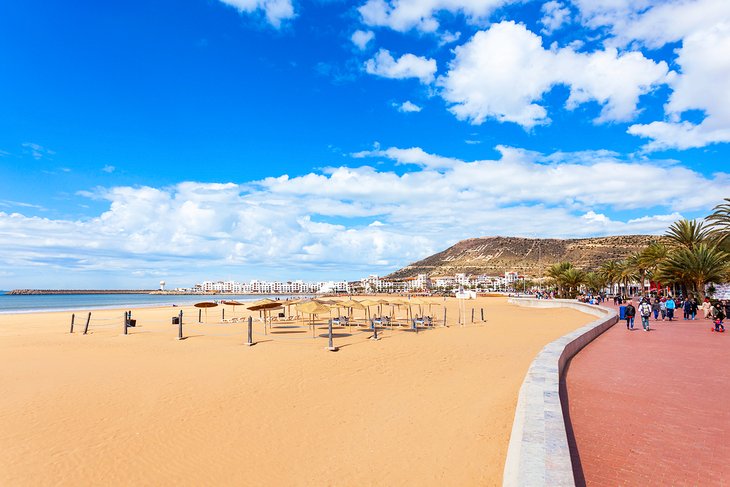 Agadir is Morocco's main beach resort, and most people heading here rarely move from their sun lounger. A visit here is all about sun, sea, and sand, and the vast amount of Agadir's tourists have booked a one- or two-week package holiday.
The city is rimmed by a fine sweep of beach, some of it public access, while other sections have entrance fees. The larger beachfront hotels all have their own private patch of sand for guests.
The main tourist season is summer, though Agadir is also a popular spring break for European families during the Easter holidays and during the European mid-winter school holidays, when there are still plenty of blue skies in the day.
Accommodation: Where to Stay in Agadir
Read More: Top Attractions & Things to Do in Agadir
8. Book a Camel Trek to the Dunes of Erg Chigaga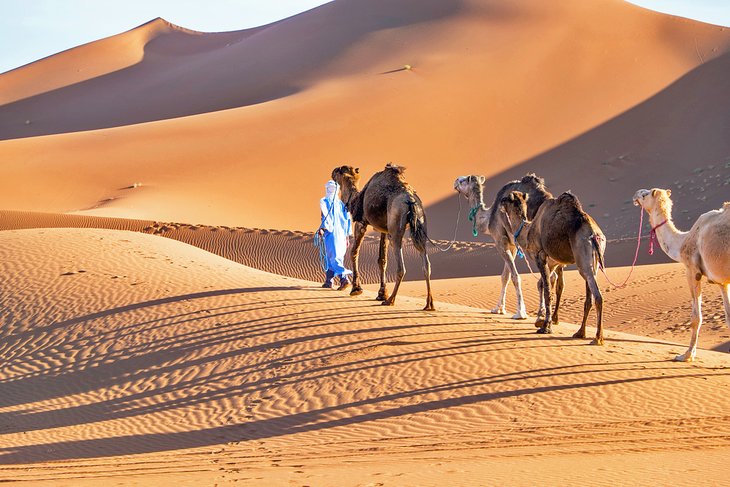 While Erg Chebbi offers an easy desert escape, the sand sea of Erg Chigaga is a more adventurous option.
This 40-kilometer-long stretch of massive desert dunes is Morocco's largest sand sea, and a visit here provides a much less crowded desert experience.
The base for desert activities is the oasis town of M'Hamid (448 kilometers southeast from Marrakesh), which is around 50 kilometers from the Erg Chigaga dune area. From M'Hamid, travelers set out on multi-day camel treks to the dunes or (if you have less time at your disposal) 4WD trips.
The permanent desert camps within the Erg Chigaga dunes are more spread out amid the area, so overnighting in the desert here is a more isolated experience than at Erg Chebbi, great for nature lovers and star-watchers.
Just as at Erg Chebbi, some of the camps are set up luxuriously with guest comfort in mind, so you don't have to rough it even if you're escaping the crowds.
9. Explore the Colorful Alleyways of Moulay Idriss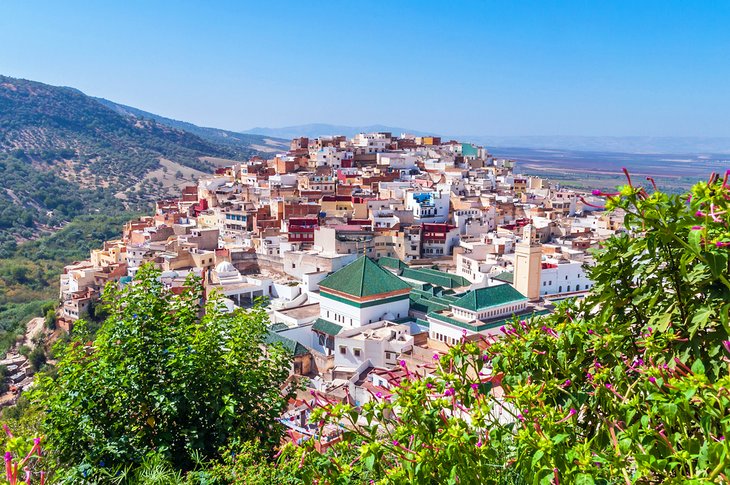 One of Morocco's prettiest villages and also an important Muslim pilgrimage site, the pastel-painted alleys of Moulay Idriss climb up the hillside surrounded by lush forest.
It's a relaxed escape after exploring Fes (65 kilometers to the east) or Meknes (31 kilometers to the south) and a great base for a trip to the Roman ruins of Volubilis, which are only 4.5 kilometers to the northwest of the village.
Moulay Idriss (the great-grandson of the Prophet Muhammad) died here, and pilgrims from across Morocco come to visit his tomb. For non-Muslim visitors (who can't enter his tomb) the main attraction of the village is the beautiful views, and wandering the skinny lanes.
As with Chefchaouen, this is a great place for photography, with the winding alleys in various shades of green, blue, and pink providing plenty of opportunities for colorful, scenic shots.
Accommodation: Where to Stay in Moulay Idriss
10. Shop the Souqs in Marrakesh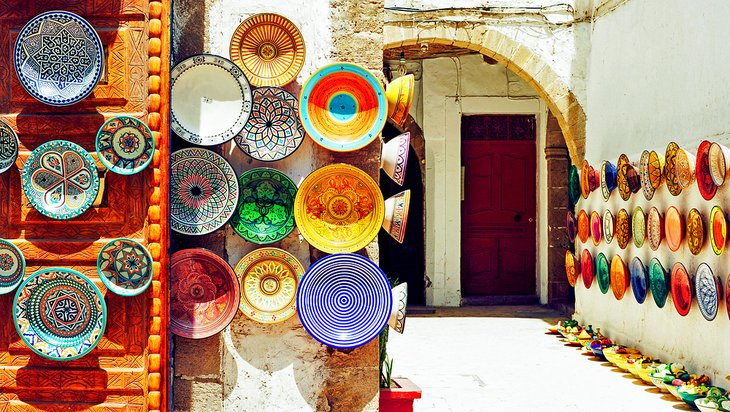 Marrakesh medina is famous for its souqs (market streets), with stalls displaying handicrafts from throughout Morocco and artisan workshops making metalware and wooden goods.
Marrakesh's medina has become a popular sourcing location for boutique owners from across Europe and North America looking for goods. Also, a number of Moroccan homeware and fashion designers, as well as local skincare brands specializing in products using the local argan oil, have boutiques inside the medina.
This fusing of contemporary and traditional, has made the city an excellent shopping destination, where you can find everything from traditional zellij tile work to contemporary Moroccan fashion and argan oil facial serums to carpets and copper bowls.
The main thoroughfares that all the tour groups head through, such as Souq Semmarine, are dedicated to tourist trinkets. You need to wander off the main souq roads to find the best shopping.
11. Road Trip the Tizi n' Test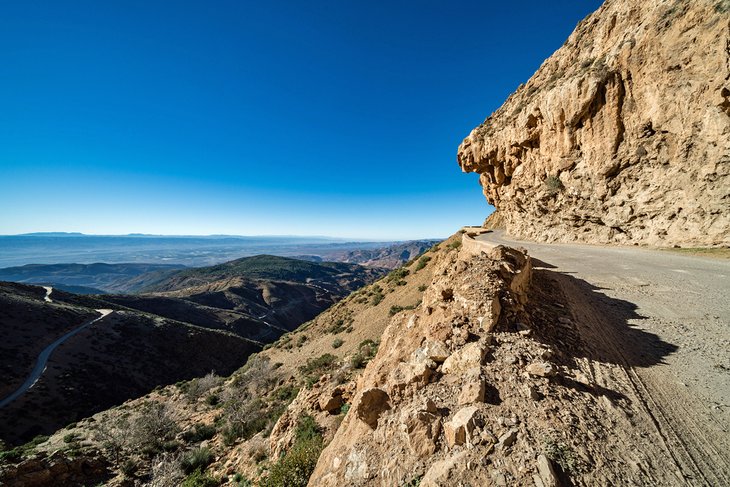 The Tizi n' Test is Morocco's most famous mountain pass road, built in the 1920s to link Marrakesh with Taroudant (also spelt Taroudannt), 226 kilometers to the southwest. For self-drivers in Morocco, it's the country's must-do drive trip.
If the weather is good, it's a very scenic journey with stunning mountain scenery along the way, as the pass creeps up via hairpin bends to 2,029 meters and then winds down again via more hairpin bends. Be aware, though, that sometimes, due to the high altitude, the pass is blanketed in clouds.
There are viewpoints with cafés at a couple of points along the way, for much-needed coffee and a rest after the white-knuckle drive.
Taraudant is the bustling medina town of The Souss region and the gateway from where to head farther south into the Anti-Atlas.
12. Trek the Anti-Atlas from Tafraoute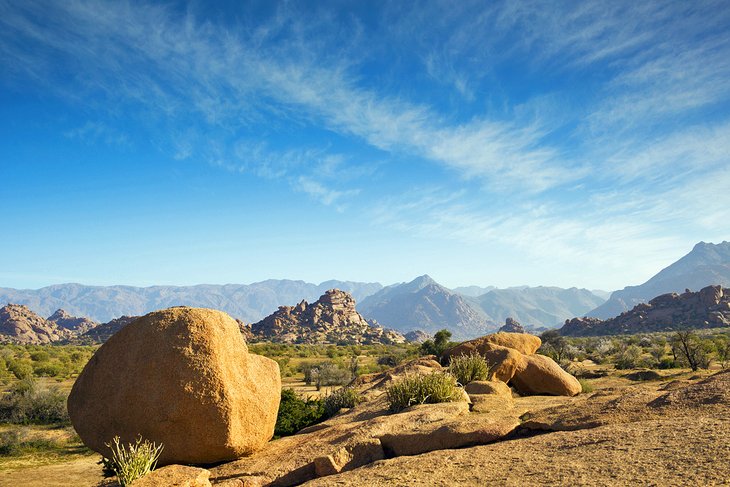 Tafraoute, in the Ameln Valley, is an excellent base for hiking and cycling in the surrounding valleys and mountains of the Anti-Atlas.
There are ancient rock engravings and interesting rock formations that can be reached on day hikes or cycles, while hiking through the fertile orchards, farmland, and villages of the Ameln Valley before ascending the summit of Jebel L'Kest makes for a highly photogenic week-long trek that offers a glimpse at Moroccan rural life, as well as stunning vistas.
Further afield into the Anti-Atlas from Tafraoute, Jebel Siroua and Jebel Aklim both offer multi-day trails heading through terraced hillsides between remote villages and vast mountain panoramas.
Accommodation: Where to Stay in Tafraoute
13. Windsurf at Sidi Kaouki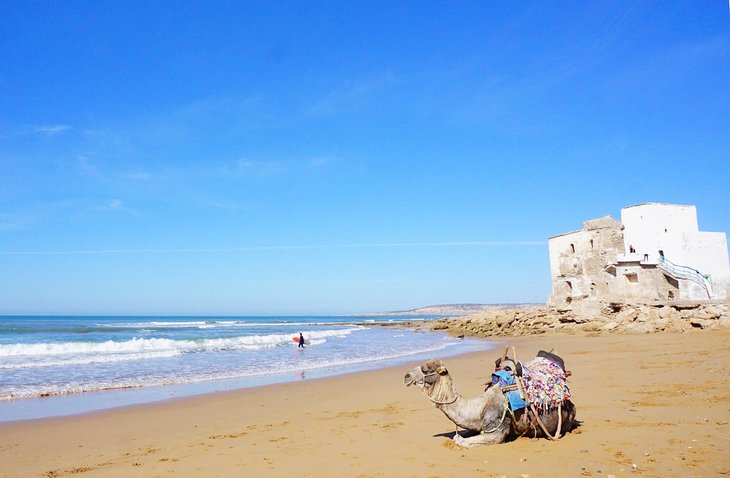 Essaouira, on Morocco's Atlantic Coast (191 kilometers west of Marrakesh), is known as the windy city, and although many visitors head here simply to enjoy the sea breezes and explore the medina, Essaouira's prevailing winds have made it a top windsurfing, kitesurfing, and surfing destination.
In particular, the small beachfront hamlet of Sidi Kaouki, 25 kilometers to the south of town, is dedicated to windsurfing, kitesurfing and surfing holidays, with plenty of lessons and packages on offer, as well as equipment hire.
For a vacation not centered around water sports, Essaouira has a fine beach, with plenty of blustery winds, and there are surf shops right on the sand.
Accommodation: Where to Stay in Essaouira
14. Mountain Bike or Hike the Ounilla Valley Area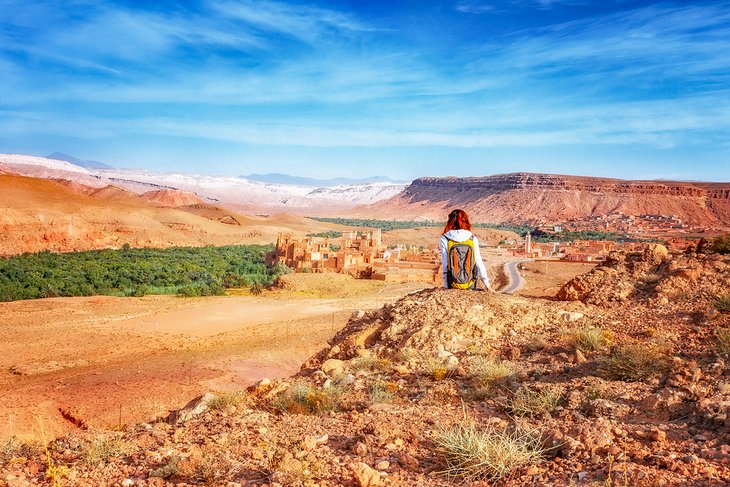 Mountain bikers, hikers, and off-road drivers will love the trails here. They wind through this fertile valley of orchards and farmlands, speckled with isolated settlements and crumbling mudbrick kasbahs (forts) and ksar (fortified villages).
This High Atlas valley stretches from Telouet (127 kilometers southeast of Marrakesh) to the UNESCO-listed ksar of Ait Benhaddou, which is the main historic highlight and gets plenty of day trippers, but the valley itself is a peaceful slice of rural life where you're unlikely to see any other visitors.
Multi-day treks or bike rides can be arranged, or it's easy to use Telouet or Ait Benhaddou as bases for exploring the wider area with day hikes and bike rides.
15. Hot Air Balloon over Marrakesh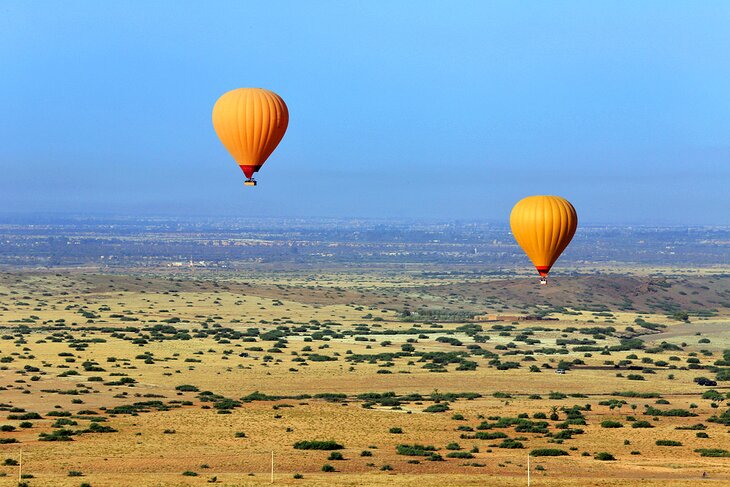 Marrakesh has become a popular hot air ballooning destination in recent years. This is the best opportunity to experience aerial views of the Marrakesh countryside, with the stark beige- and rust-colored plains bordered by the dramatic spine of the Atlas Mountains in the distance.
Due to wind and thermal conditions, hot air ballooning is an early morning activity, with take off timed to either see sunrise as you ascend or just after sunrise.
Flights are normally one hour long with trips afterwards, including a traditional Moroccan breakfast in Marrakesh's palm groves area. There are also hot air balloon trip options that include a short camel ride or ATV tour, both amid the palm groves, in the price.
Alternatively, Agadir is another destination offering hot air balloon flights.