14 Best Riads in Morocco
For many travelers, staying in a riad (a grand medina house set round a central courtyard) is one of the highlights of a Morocco journey.
Marrakech and Fes are the most famous destinations to sample a riad stay, and have the most riad choice for visitors, with many of these traditional old residences now converted into boutique hotels.
You'll find riad hotels, though, in many other Moroccan cities with medina (old walled city) districts, from Tangier in the north to Taraudant in the south.
Many riads, particularly in Marrakech and Fes, are luxury experiences, though you'll find a good choice of mid-range riad hotels as well.
Whichever riad you choose to stay in, expect a more personalized experience than in a standard hotel, and although you'll find fewer facilities than in larger hotels, the characterful ambience more than makes up for it.
Choose a great place to stay with our list of the best riads in Morocco.
1. Riad Laaroussa Hotel & Spa, Fes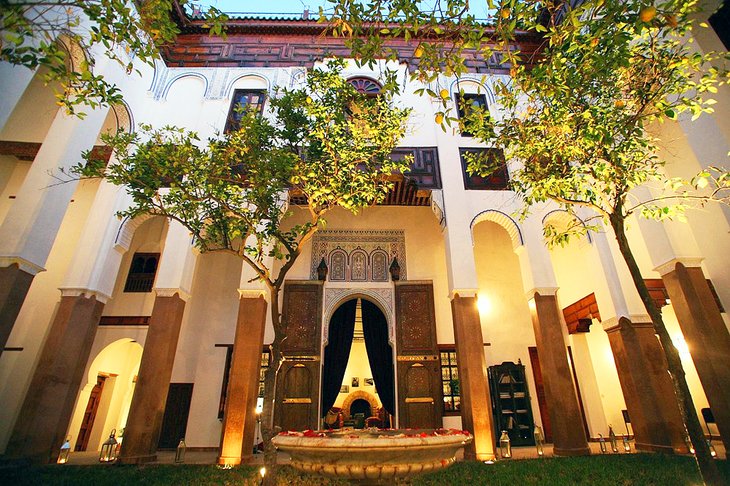 Riad Laaroussa is a stylish hideaway in a riad dating back to the 17th century, slap in the center of Fes medina.
The lush, high-walled garden area, with its sundeck and an actual heated swimming pool (rather than a plunge-pool) is what sets this riad apart and is a major drawcard during the hot summer months.
If you need further relaxation than simply sunbathing beside the pool, head to the bijou marble-clad hammam inside the Laarousssa Spa for a steam, soak, and scrub.
On the rooftop, Bistro Laaroussa (open to non-guests) serves a menu that fuses Moroccan classics with other Mediterranean cuisines, and offers views across the medina for diners.
The eight rooms and suites here effortlessly merge modern elegance with traditional splendor. Exposed brick accents and classic mid-century style furniture sit comfortably beside original preserved and restored interior features of zellige tile work floors, hand-painted window shutters, and carved wood ceilings.
If you're traveling with kids in tow, the orange suite with its exposed brick fireplace in the lounge area, cinnamon-toned tadelakt (smooth lime plaster) walled bathroom, and mezzanine level leading up to a twin bed room for the kids is a great choice for families.
Address: 3 Derb Bechara, Fes Medina, Fes
2. Riad l'Orangeraie, Marrakech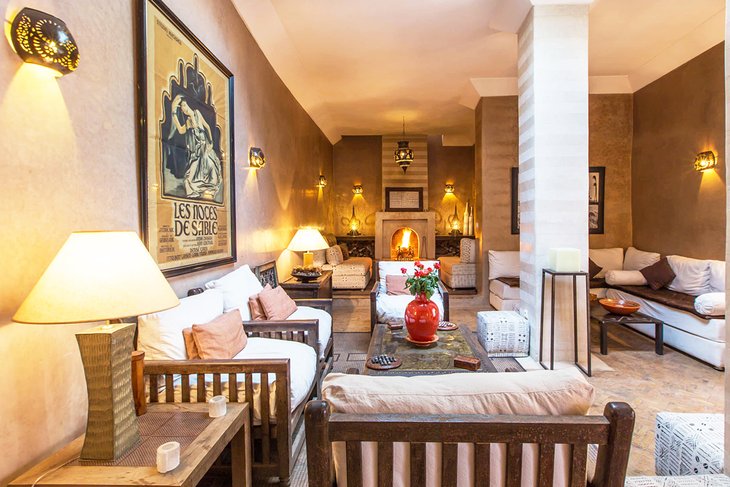 One of Marrakech's finest riad experiences, Riad l'Orangeraie is a luxurious escape, in the heart of the medina district of Moussinine.
It's all about careful attention to detail and personal service here, with a concierge service that can arrange Marrakech activities and help with any query, which makes for a soft landing in the medina. Because of this, it's a particularly good choice for first-time visitors to Marrakech.
There is plenty of space reserved for relaxation, with a tranquil rooftop garden and a courtyard holding a good-sized plunge pool.
There are 10 rooms (including three suites) all decorated using tadelakt in soft grey, lavender, and rose hues.
Breakfast is complimentary, and dining at the riad for lunch and dinner can be arranged.
For more Marrakech top riad picks, see our list of the best riads in Marrakech.
Address: 61 Rue Sidi el Yamani, Marrakech medina, Marrakech
3. Riad Fes Maya Suites & Spa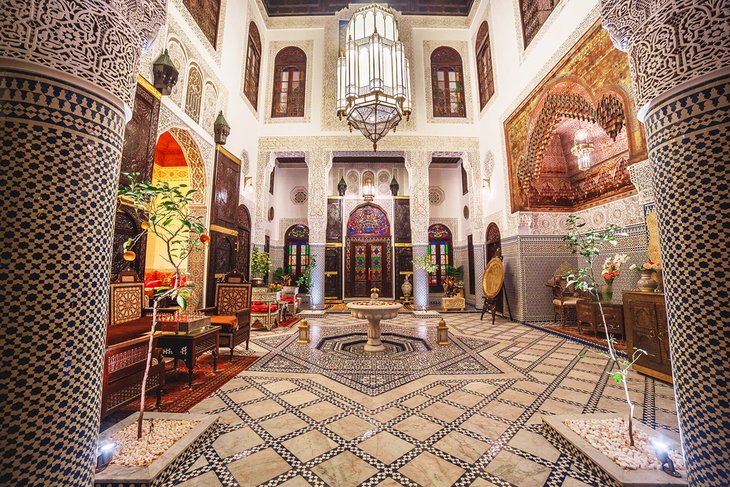 This palatial riad is an opulent haven near Bab Jdid, the southern gate into the medina in Fes.
Interiors here revel in top-to-toe Moroccan craftwork — from its courtyard, resplendent with intricate detailed plasterwork and zellige (mosaic) tile work running along walls, to its grand cedar wood doorways carved with muqarnas (ornamental vaulting).
The regal atmosphere continues in the spacious nine rooms and suites, which are all home to oodles of grand style, with more dazzling zellige, stained glass, carved and painted wood ceilings, and elegant inlaid furnishings.
From the rooftop terrace there are incredible panoramic views across the Fes medina. The riad's restaurant (open to non-guests), also on the terrace, is known for its traditional Moroccan feasts.
For relaxing, after a day of getting lost amid the medina's twisty alleys, Riad Fes Maya's spa offers hammam (Turkish bath) experiences using local products made from argan oil, black eucalyptus, and olive oil.
Address: Derb Debbagh Bourjouaa, Fes Medina, Fes
4. Blanco Riad Hotel & Restaurant, Tetouan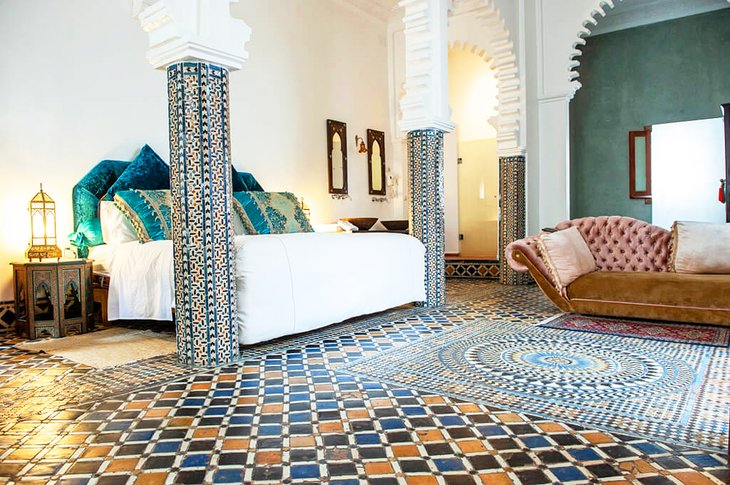 Once used as home to the Spanish consulate in the 19th century, Blanco Riad Hotel is the most stylish place to stay in Tetouan.
White-on-white design (as befits the riad's name) highlights the ornate mashrabiya wood-panel windows; keyhole-design archways; and zellige tile work decoration, which flows from the colonnaded central courtyard and through the communal areas.
The five suites and three rooms are replete with traditional Moroccan craftsmanship set against more of that white, giving them an airy and chic modern-glam atmosphere. All are named after significant women from Arab history.
Choose the large Aisha Suite for its statement archways and dazzling zellige tile work floor.
The restaurant here, with seating that extends out into the garden is open to non-guests and serves a menu of modern-Moroccan cuisine that cherry-picks influences from across the Mediterranean to incorporate with traditional flavors.
Address: Rue Zaouia Kadiria, Tetouan
5. La Maison Arabe, Marrakech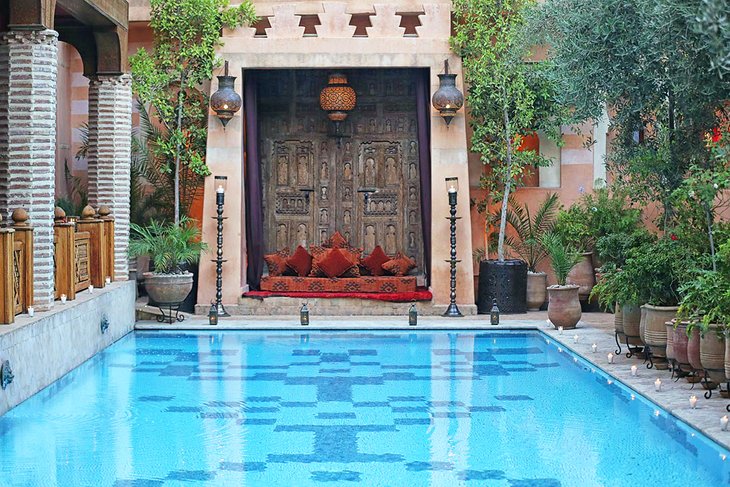 One of Marrakech medina's grandest addresses, La Maison Arabe is a palatial place to stay, replete with Moroccan artistry at every turn.
For foodies, this riad is also famous for its dining. Le Restaurant (open to non-guests) is one of the medina's most renowned restaurants, known for its high-class traditional Moroccan cuisine.
The 37 rooms and suites are home to a host of Moroccan craftwork, with accents of ornate hand-carved and inlaid wood furnishings and doorways, and alcove wall features set against classic grand-European style. Some rooms come with fireplaces and private balconies.
There are multiple courtyards, one with a large plunge pool, and terrace areas, as well as a spa that offers a traditional hammam experience alongside contemporary beauty and body treatments.
Address: Derb Assehbi, Marrakech Medina, Marrakech
6. Hotel & Spa Riad Dar Bensouda, Fes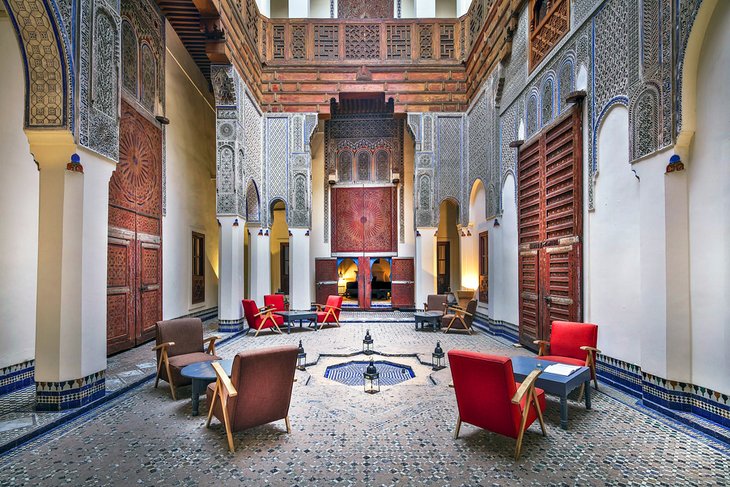 This 16th-century mansion-riad, slap in the heart of Fes medina, has been restored to finery and sensitively updated with contemporary luxuries.
The central courtyard is a masterclass in traditional design, with its carved wood-panel doors and stucco-detailed columns. A separate lounging courtyard, complete with sun loungers, a large plunge pool, and modern zellige tile floor leading to a casual dining patio, is a nod towards Morocco's chic modern craftwork style.
This is a spacious riad with multiple salons, a traditional tadelakt (polished lime plaster) walled hammam, and a rooftop terrace with views across the medina.
The 18 high-ceilinged rooms and suites themselves, all individually styled, exude pared-down elegance, mixing ornate interior features of zellige tiles and carved wood with minimalist modern design.
Address: 14 Derb Zkak El Bghel, Fes Medina, Fes
7. Riad Chbanate, Essaouira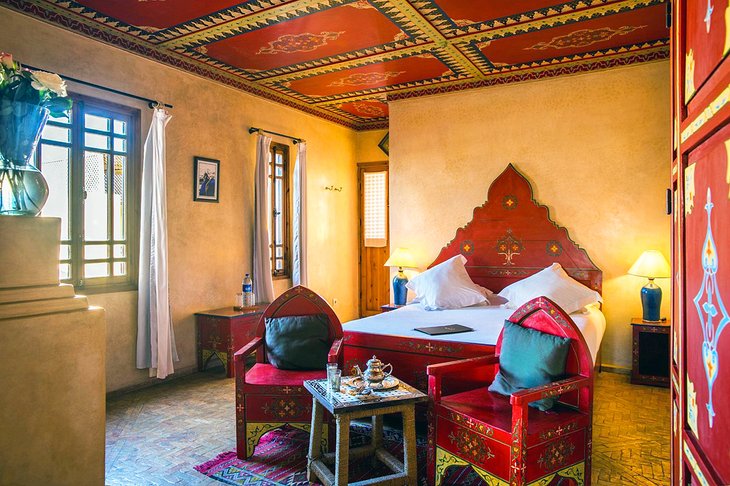 On the southeast edge of Essaouira's medina, this 18th-century riad was once home to the Caïd (local ruler).
Today it's one of Essaouira's chicest addresses, with a stay here all about low-key luxury.
The eight suites, set around a palm-draped central courtyard, are all individually designed. They all have statement piece fireplaces, and make ample use of buttery-hued tadelakt on the walls.
We like the Tyfina Suite for its effortless mix of modern-glam with traditional elements: all cool neutrals, tadelakt alcoves, and featuring a hammock hanging from its tataoui (crossed-wood pattern) ceiling.
As well as the complimentary breakfast, served on the rooftop terrace in warmer months, lunch and dinner here can be arranged.
Address: 179 Rue Chbanat, Essaouira
8. La Maison Blanche, Tangier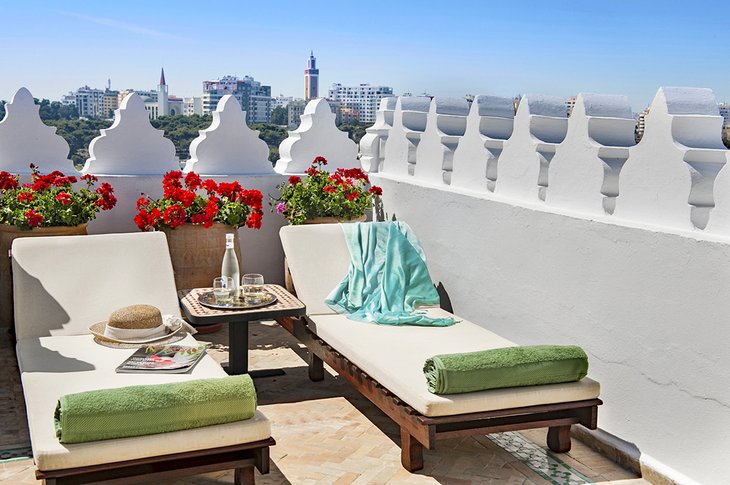 Very near Bab Kasbah (the main gate) in the Kasbah (walled fortress district) of Tangier's medina, this riad dates back to the 14th century.
Restored to glory, with interiors by French interior designer Regis Milcent, the riad fuses elements of Morocco's rich artisan heritage with swish classic-luxury style.
Perched on the Kasbah hilltop, the highlight here is the panoramic views from the roof terraces, which sweep across the city and out to the beach and sea below. Breakfast, served here, is a feast of Moroccan favorites.
The nine rooms and suites, named after figures who have a connection to Tangier, all have their own character. Choose the large and classically styled Ibn Batouta room, with its antique studded door and its rooftop position.
Address: 2 Rue Ahmed Ben Ajiba, Tangier
9. Riad Cherifa, Chefchaouen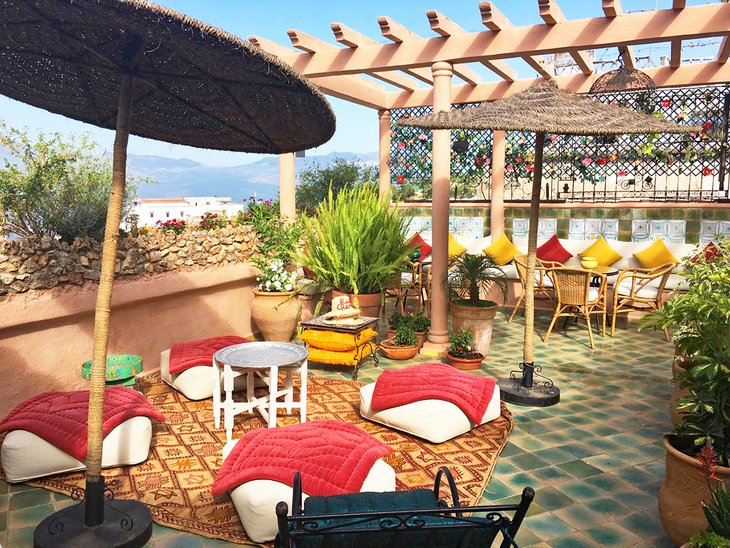 This intimate, mid-range riad is the top place to stay in the famed blue-hued town of Chefchaouen.
Riad Cherifa abounds with original features, and is particularly notable for its intricate hand-painted and carved ceilings, hung with chandeliers.
There are nine rooms and three suites, all decorated in a classic European style but with accents provided by contemporary Moroccan textiles and hand-painted wooden furnishings. Some rooms have hand-carved wood panel features, grand archway details, and tadelakt wall features.
There's a tranquil garden area with a plunge pool and sundeck, and the Riad Cherifa spa next door offers traditional hammam rituals and massage treatments.
Address: 6 Derb Hmed Laaroussi, Chefchaouen
10. Ryad Watier, Essaouira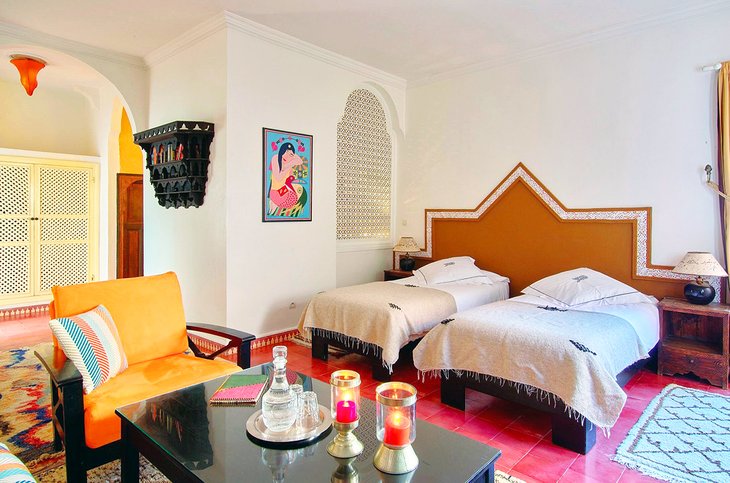 Imbued with plenty of easy-breezy seaside style, Ryad Watier is in a prime position in Essaouira's medina, just a short hop from the sea walls. This means its two large terraces have views that stretch across the medina rooftops to the Atlantic Ocean beyond.
The riad bursts with quirky character with plenty of artistic flourishes, splashes of bright color, and homely features such as the well-stocked library room set against painted wood beams, stained glass, and vibrant Moroccan carpets.
All the rooms and suites here are airy and filled with light, and are home to bold color accents set against zellige tile floors and tadelakt wall features.
This is a particularly good choice for traveling families as the family suites, which can sleep up to five people, are extra roomy and come with an additional mezzanine level.
Address: 16 Rue Ceuta, Essaouira
11. Riad Zyo, Rabat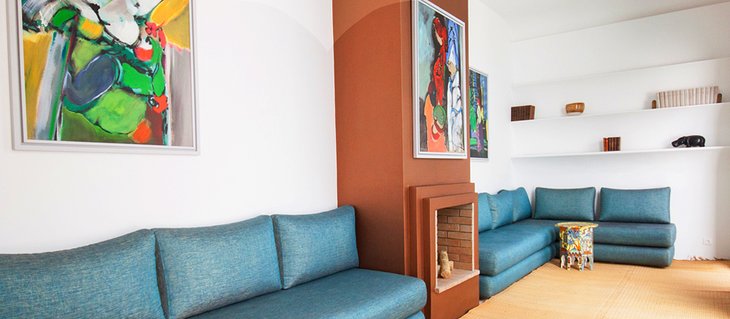 Near Bab Laalou (the main historic gate) in the west of Rabat's small medina, Riad Zyo is a highly contemporary riad refit in the building that once served as the local post office.
Lashings of white are used throughout, complimented by striking modern art and palm gardens, and accented by the preserved zellige tile work floors and ornately carved, grand wood doors.
The seven rooms are decorated in a classic-contemporary style, kept fuss-free and simple, with more whites and soft neutrals set against a pop of copper orange or sky-blue. Statement artistic flourishes of intricately embossed Moroccan silver serving platters hung on walls, or original detailed plasterwork ceilings add character.
The good-sized plunge pool takes center stage in the courtyard, while the lush garden-style rooftop terrace is prime territory for relaxing.
Address: 5 Rue Moreno, Rabat
12. Riad El Ma, Meknes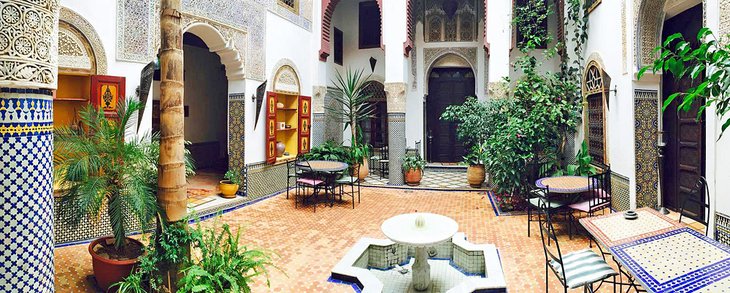 With its sun-dappled colonnaded courtyard, centered round a trickling fountain, and its rooftop terrace, Riad El Ma is the top riad to base yourself inside Meknes medina.
This is a mid-range riad with four rooms and two suites, all simply but comfortably decorated with beautiful pieces of hand-painted or carved furniture and colorful local textiles.
The rooftop terrace, with its lush garden ambience and a plunge pool, is a tranquil space to relax and kick back after sightseeing in Meknes, or after visiting the Roman ruins of Volubilis nearby.
It's an intimate home-away-from-home, with friendly, welcoming service; a complimentary breakfast bursting with fresh, local flavors; and a more authentic feel than the luxury riad pads you find in Fes and Marrakech.
Address: 4 Derb Sidi Besri, Meknes Medina, Meknes
13. Dar Chams Tanja, Tangier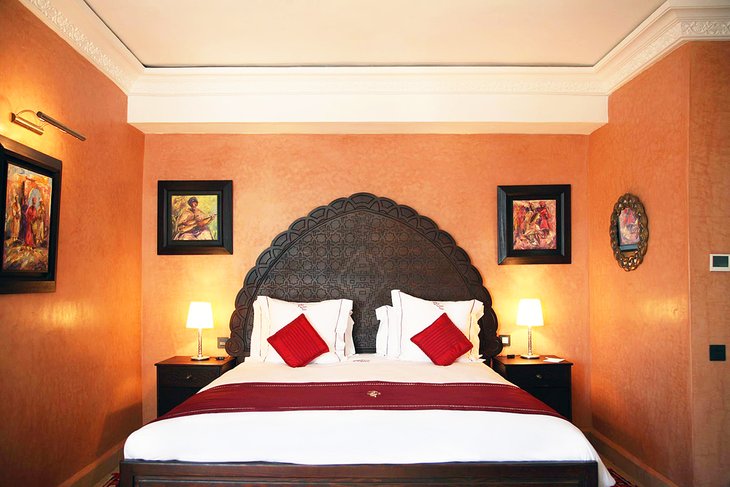 This dar (a traditional medina house, centered round a small patio rather than a courtyard) is set deep in Tangier's medina. The rooftop terrace here has great views across the medina and out to Tangier Bay.
Moroccan-Andalusian features, such as grand keyhole-design archways and zellige tile work floors, are tempered by furnishings in warm wood and natural fibers and lashings of white.
The large and high-ceilinged five suites and two rooms are decorated in a classic European design with nods to Moroccan artistry provided by a carved headboard or hand-painted furniture and accented by a warm palette of soft corals, buttery yellows, or powdery blues.
Breakfast is complimentary, and dinner can be arranged on the terrace, on request. There's also a bijou traditional hammam here for a steam, soak, and scrub and a massage after a long day of traveling or sightseeing in Tangier.
Address: 2-4 Rue Jnan Kabtan, Bab el-Assa, Tangier
14. Riad Tafilag, Taroudant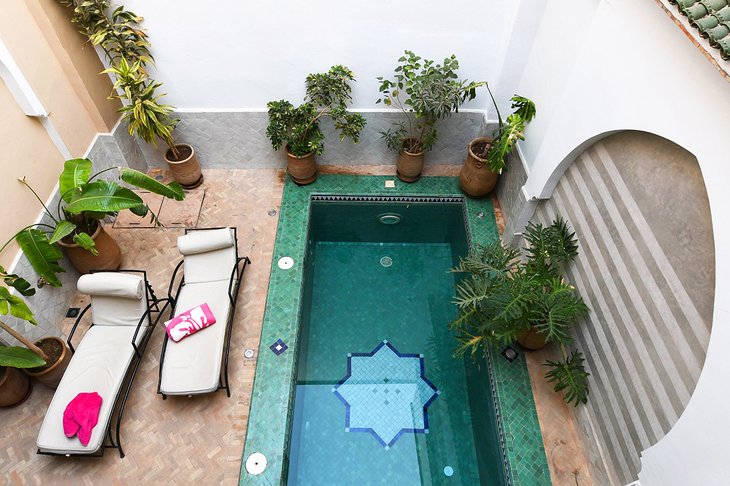 This large characterful riad in Taroudant's medina is by far the most atmospheric place to stay amid the high, mudbrick-walled old city of this Souss Valley town.
With its multiple courtyards (one with a plunge pool) and low cushioned alcoves, there's plenty of space for taking a timeout from the sights of the medina, while the riad's own hammam provides more relaxation options.
There are seven rooms and two suites here, decked out in a comfortable homely style, with neutral palettes featuring tile work on walls offset by bright traditional Moroccan textiles.
Breakfast is complimentary, and the restaurant serves a menu of classic Moroccan cuisine.
Address: Avenue Brahim Roudani, Taroudant
Map of Riads in Morocco