17 Best Riads in Marrakech
The accommodation you choose for a stay in Marrakech is as much a part of the experience as the city itself, and in Marrakech's medina (old city), the best places to stay are the riads.
A riad is a grand medina house (once home to the upper classes) centered round a courtyard.
Riads are one of North Africa's distinctive vernacular architectural styles, found in many old city districts across Morocco and in the wider region.
They're particularly famous in Marrakech, as many have been restored, fully modernized for contemporary needs, and reopened as boutique hotels, providing visitors with a distinctive accommodation experience that is as much a highlight of a visit as the tourist attractions in Marrakech.
Most riads are small, with four to 10 guest rooms, and offer stays that combine personalized service with oodles of style that ranges from regal grandeur to contemporary chic, cherry-picking interior influences from across the Mediterranean to fuse with Moroccan craftwork.
Some have added extras, such as plunge pools and hammams (Turkish baths), and all offer meals on request, even if they don't have an actual restaurant.
There are hundreds of restored riad hotels inside the medina. To help you choose where you're going to stay, use our list of the best riads in Marrakech.
1. Riad l'Orangeraie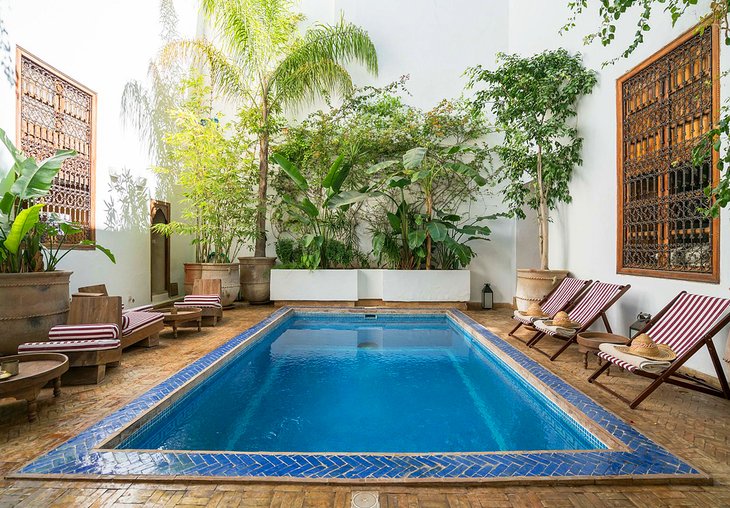 Riad l'Orangeraie is the ultimate luxury riad escape.
With just seven rooms and three suites, all named after the spices that give Moroccan cuisine its distinctive flavors, you're guaranteed highly personalized service.
The rooms themselves are designed in a palette of soft powder grays, lavender, pale rose, and ivory, providing a serene respite from the color and noise of the medina's souks just outside the door.
They all utilize Morocco's distinctive smooth tadelakt (polished lime plaster) architectural style in abundance on the walls, floors, and bathrooms.
With its palm-shaded courtyard with mosaic-tiled swimming pool, and sun loungers set up amid the rooftop terrace garden, this riad is a luxurious and relaxing hideaway amid the medina hubbub.
Attention to detail here is key, from the complimentary breakfast being a feast of local, baked-in-house Marrakchi specialties to the riad's concierge service, available to help with all queries, medina tips, and travel planning, and private chef who can cook lunch and dinner for guests on request.
Riad l'Orangeraie is on one of the main thoroughfares running through the medina district of Moussinine.
Address: 61 Rue Sidi el Yamani, Marrakech medina
2. La Maison Arabe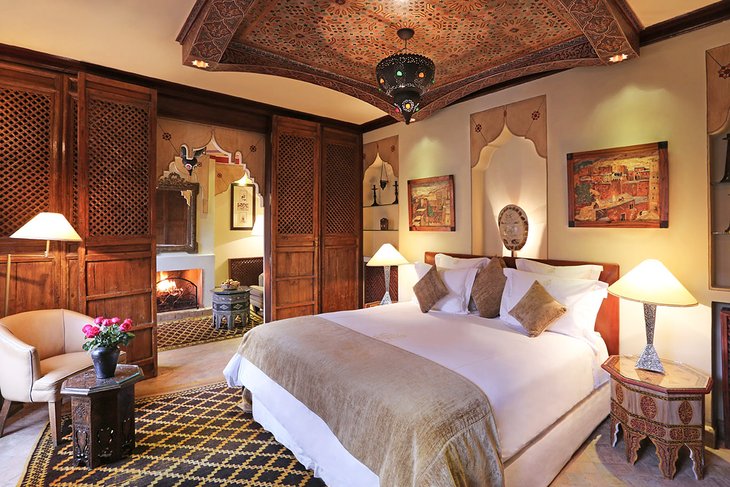 La Maison Arabe is an opulent hideaway in one of the most historic riads in Marrakech medina.
La Maison Arabe opened the old city district's first tourist restaurant, and eminent diners who have passed through the doors here include Ernest Hemingway, Rita Hayworth, and Jackie Kennedy.
The riad's restaurants are still among the medina's most famous places to eat, particularly the Moroccan fine dining experience amid the grand salon of their signature Le Restaurant.
For guests, this mansion riad offers 37 rooms and suites, with their design grounded in a classic European style but featuring Moroccan craftwork of ornately detailed doors, intricate inlaid wood furniture, wall alcoves, and stained glass throughout.
Opt for a patio view deluxe suite for the fireplace in the separate sitting room, wood ceiling, and private balcony.
The La Maison Arabe spa is a relaxing haven dedicated to rejuvenation, with two hammams for a traditional steam, soak, and scrub experience and a large list of other treatments on offer, from pedicures to massage.
Further relaxation beckons guests amid the lounging spaces of the multiple courtyards and outdoor terraces, or beside the large (for the medina) plunge pool.
La Maison Arabe is tucked down a derb (alley) just off a main thoroughfare through the Bab Doukkala district, just south of the major landmark of the Bab Doukkala Mosque, which makes navigation for guests easy.
Address: Derb Assehbi, Marrakech Medina
3. Riad Tizwa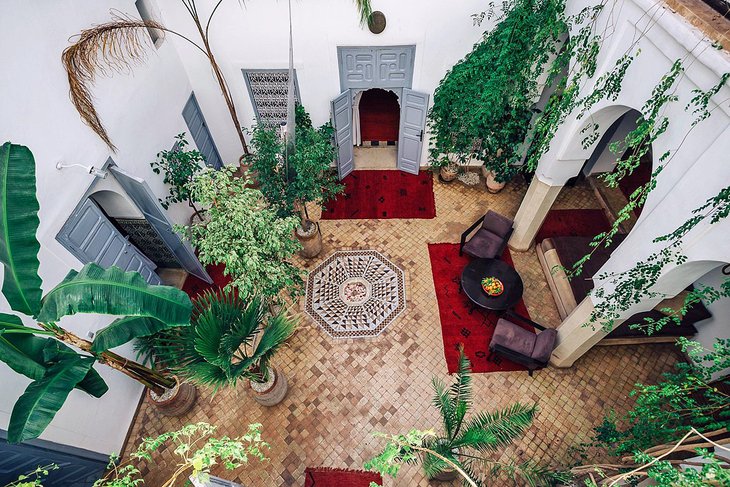 This long-running and environmentally conscious riad (which has Green Key status) is a lush haven, set around a vine-draped courtyard.
It's located in the Dar El Bacha medina neighborhood, close to both the main Bab Doukkala gate in the medina's western wall and the central medina district.
Riad Tizwa is all about casual luxury, effortlessly mixing Moroccan craftsmanship – original stained-glass and stucco work, as well as Moroccan tiles and decorative wrought iron panel work feature throughout the riad – with a laid-back contemporary style.
The six rooms are all individually designed. Grab room six for its wall feature of original intricate traditional plasterwork or room one (a suite) for the high wooden ceiling and eclectic modern-minimalism furnishing style.
Particularly known for its staff, who go out of the way to help, Riad Tizwa offers homely touches such as pre-breakfast coffee delivered to your door every morning, and the complimentary breakfast feast of local flavors served on the rooftop terrace mean this riad receives many repeat guests.
Address: 26 Derb Gueraba, Marrakech Medina
4. Riad Azoulay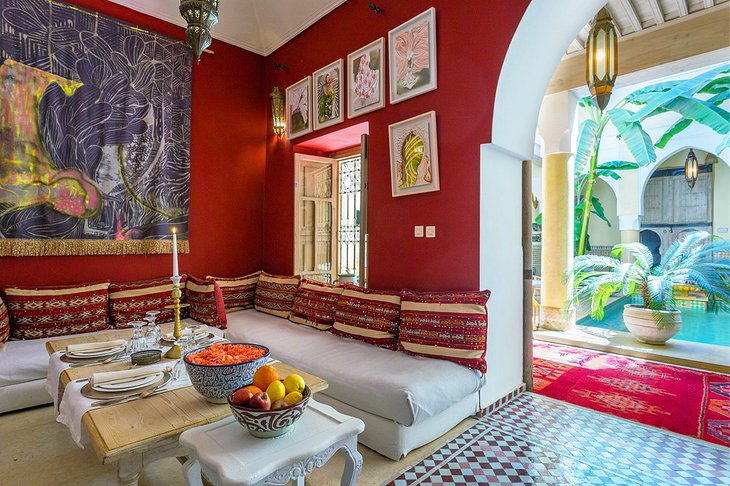 Exuding modern glamour amid the mellah (Marrakech medina's old Jewish district), Riad Azoulay is an effortless merging of Moroccan heritage with chic, contemporary luxury living.
The riad itself dates back to the 16th century and was once owned by the prominent Azoulay family.
Both the spacious column-rimmed internal courtyard, draped with palms and featuring a Moroccan tiled plunge pool, and the large rooftop terrace for dining and sunbathing, provide plenty of space for relaxing.
The five rooms and four suites are styled individually, with modern art and soft color accents sitting comfortably beside more traditional design elements such as antique tile work, carved cedar wood ceilings, hand-carved plaster decorative elements, and hand-painted Moroccan furniture.
Guests can experience a traditional steam, scrub, and soak, or a relaxing massage, in the riad's own bijou marble-clad hammam.
Dining is a particular pleasure here, with the complimentary breakfast featuring a fusion of Moroccan baked specialties and European-style continental dishes, while snacks are available throughout the day.
Dinner can be prepared in-house, on request, and mixes Moroccan with Italian for a distinct dining experience.
Address: 3 Derb El Kheir, Marrakech Medina
5. Riad Dar Mo'da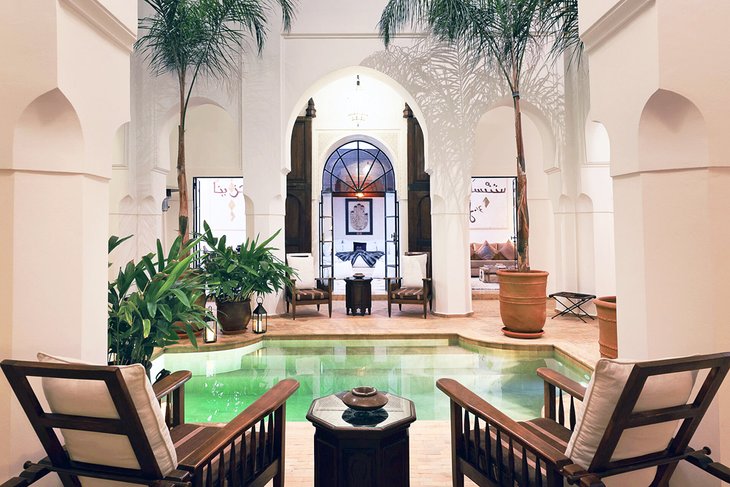 This intimate luxury riad is on one of the main thoroughfares through the Mouassine district of the medina.
There are just five light-filled rooms and suites here, all imbued with an ambience of casual elegance, thanks to the use of lashings of white set against accents of rattan, leather, and dark wood, with touches of grandeur and antique pieces set against mid-century modern furniture.
The small downstairs courtyard is nearly completely taken over by the large plunge pool, which becomes the central focus of the riad, while the rooms that open onto the courtyard provide plenty of shaded relaxation space, with lounging and dining areas.
Out on the rooftop terrace, with its sundeck and dining area, there are excellent panoramic views across the Mouassine district's rooftops.
The riad's own marble-clad hammam (Turkish bath) is set off the courtyard, providing guests with a traditional steam, soak, and scrub experience, as well as massages and beauty treatments using local ingredients such as argon oil and rhassoul clay.
Full concierge service is on hand for all guests; personal yoga, tai-chi, and pilates classes can be arranged; and lunch and dinner at the riad can be cooked for you.
The riad can be booked in entirety for your private group as well as by room, so it's a fabulous choice for large groups traveling together.
Address: 182 Rue Mouassine, Marrakech Medina
6. Riad Tchaikana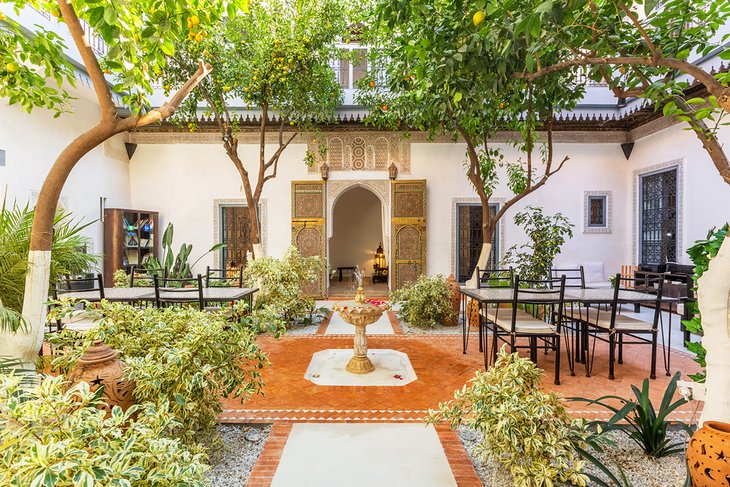 Squiggled down a skinny derb (alley) in the depths of the medina is one of Marrakech's most distinctively designed riads.
Riad Tchaikana contrasts contemporary minimalism with art and craftwork sourced from Morocco's Sahara region, and the countries of West Africa beyond, creating effortlessly chic interiors that are the epitome of individual boutique style.
With just five huge rooms (two of them suites), a stay here is all about personalized service with a home-away-from-home ambience that can't be beaten.
The large courtyard is shaded and scented by orange trees, while the rooms themselves, with their tadelakt floors and bathrooms, are large, airy, and bright, with soft natural hues providing the neutral template for statement piece artwork, furniture, antiques, and objets de art.
Address: 25 Derb El Feranne Azbetz, Marrakech Medina
7. Riad Hayati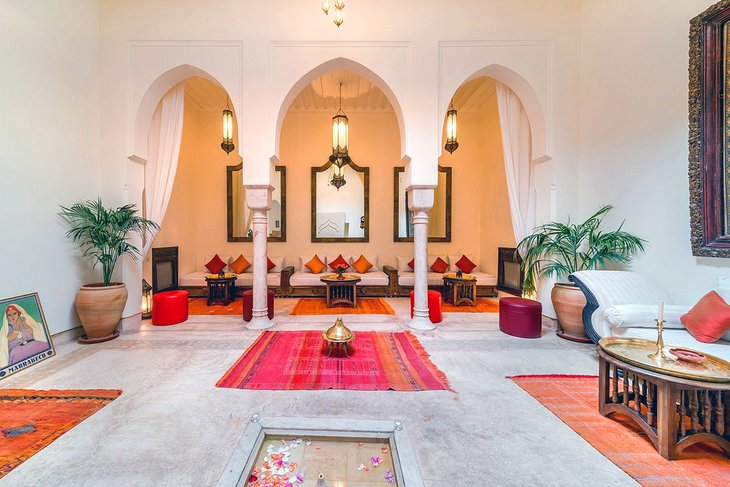 Just a hop from Bahia Palace, Riad Hayati is an elegant and intimate hideaway of just four rooms, renowned for its friendly, welcoming staff and immaculate service.
From the colonnaded courtyard, featuring an antique Damascene fountain at its center, and lit by candles after dark, to the lush garden-style rooftop terrace, this finely restored 18th-century riad is highly romantic.
The rooms are all about refined, pared-back style, with statement pieces (an antique kilim or colorful painted Berber chest) sitting amid subdued creamy hues. Pick the Desiree Room on the rooftop, which has its own private terrace, or the Gisele Room for its cinnamon-toned tadelakt fireplace.
Full concierge service is on offer to every guest, from cooking traditional Moroccan tagine feasts for dinner on request to booking trips and making reservations at hammams and restaurants.
Address: 27 Derb Bouderba, Marrakech Medina
8. Riad Houdou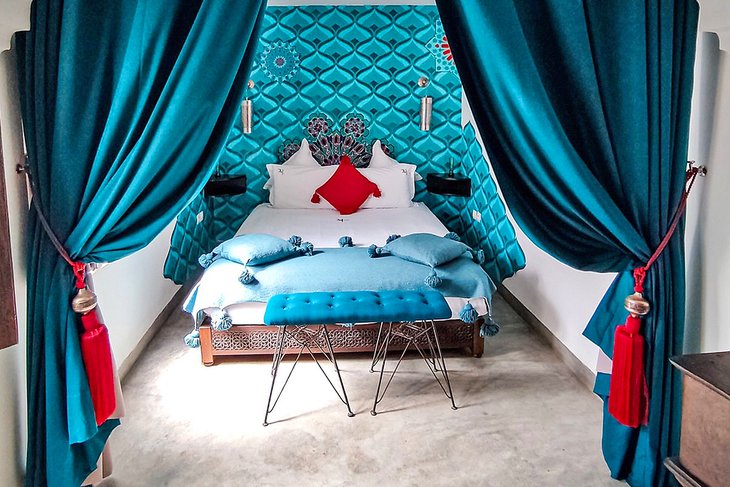 With a large, heated rooftop plunge pool; leafy garden courtyard; and an on-site spa with a marble-clad hammam, where treatments and massages use eucalyptus, black soap, rhassoul clay, and rose water; a stay in this 17th-century riad is a treat.
Tucked into an alley on the eastern edge of the central medina area, Riad Houdou has 10 rooms, ranging from standard doubles through to a choice of suites.
All rooms have tadelakt bathrooms and are decorated in a modern, eclectic style that uses Moroccan daily objects as statement art. Tajine pots, babouches (leather slippers), and teapots become wall features, while bright accents of lime green, royal blue, and hot pink are set against a backdrop of white for a quirky, pop-art take on riad interiors.
For your own private outdoor area grab the Superior Junior Suite, which has its own little courtyard with a small plunge pool, or the Junior Suite on the rooftop, which has its own private terrace.
Breakfast is complimentary and dinner can be arranged.
Address: 54 Derb Lhammam, Marrakech Medina
9. Riad Alili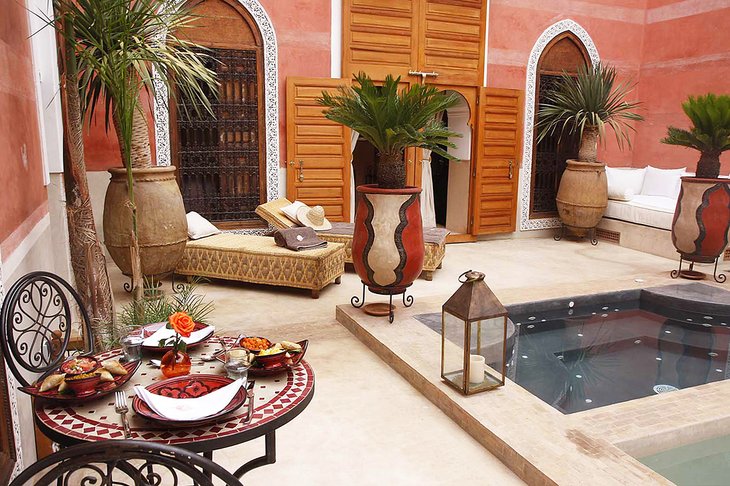 With five suites and two rooms, Riad Alili is a friendly home-away-from-home, near Bab Doukkala (the main west gate into the medina), which prides itself on personalized service.
There's plenty of modern Moroccan interior style to revel in here. Rooms make good use of traditional design with abundant tadelakt in hues of salmon pink, aubergine, chocolate, and natural grey and beige adorning walls and used to add sculptural elements, fireplaces, and decorative niches.
Our pick is the airy and large Strelitzia suite, with its statement piece garnet red tadelakt fireplace and seating area.
A good-sized plunge pool and neighboring Jacuzzi are the focal point of the courtyard, while a small hammam is also on-site for guests who want to experience the traditional Moroccan bathing experience or book a massage.
There are two rooftop terraces for sunbathing, dining, or simply relaxing, while lounge and dining salons off the internal courtyard provide communal areas during the colder months.
Address: Derb Sidi Ahmed ou Moussa, Marrakech Medina
10. Riad Kheirredine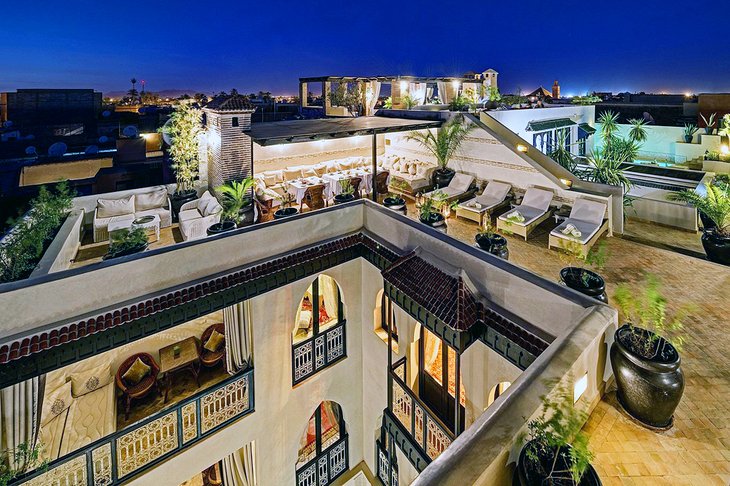 Hidden down a squiggling derb (alley) in the north of the medina, Riad Kheirredine has 14 individually styled rooms and suites merging Italian design with traditional Moroccan craftwork.
Ornately carved woodwork and a palette of soft pastels feature throughout, while some suites are decorated in a grand European style with four-poster beds and blousy drapes.
The riad's restaurant, with dining on the terrace, offers Mediterranean fine dining that fuses influences from Spain, Italy, and France, as well as Morocco.
If you're looking for some pampering after a day bargaining in the souks, the riad's spa offers a traditional hammam (Turkish bath) experience and beauty treatments that use local ingredients such as argon oil, black soap, and orange blossom water.
The shaded lounging areas on the rooftop terrace are where you come to relax and take in the views, while the plunge pool in the courtyard is the perfect spot for cooling off.
Address: 2 Derb Chelligui, Marrakech Medina
11. Riad El Zohar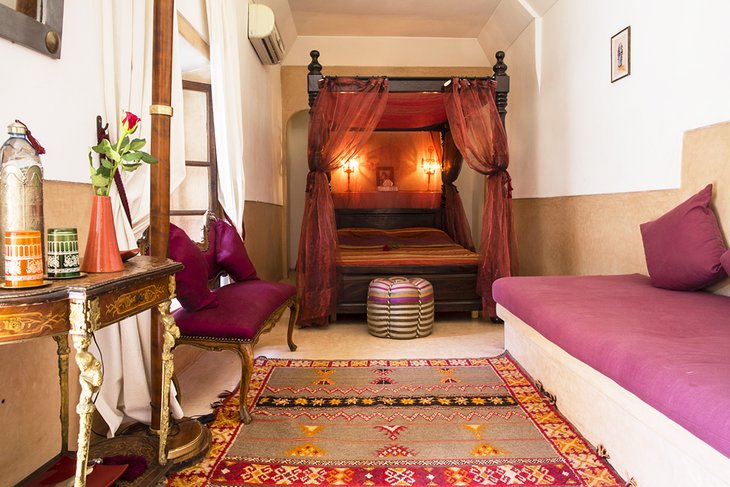 Secreted in the central medina's Mouassine district, Riad El Zohar provides a sophisticated ambience of subdued elegance and is a highly romantic base for your Marrakech escape.
You'll find just five rooms, all individually decorated with tadelakt walls in soothing neutral hues offset by richly toned textiles. Expect personal service completely individualized to your own interests and needs.
The rooftop area, with both sun-lounging and shaded areas, and the intimate internal salon with its original painted ceiling feature provide plenty of relaxation areas for when you want to take a time-out from the medina.
The good-sized plunge pool in the courtyard is perfect for cooling off at the end of a hot summer's day.
Guests can arrange evening dining at the riad, either communally beside the courtyard pool or private romantic dinners on the rooftop terrace, on demand.
Address: 56 Derb El Hammam, Marrakech Medina
12. Riad Chamali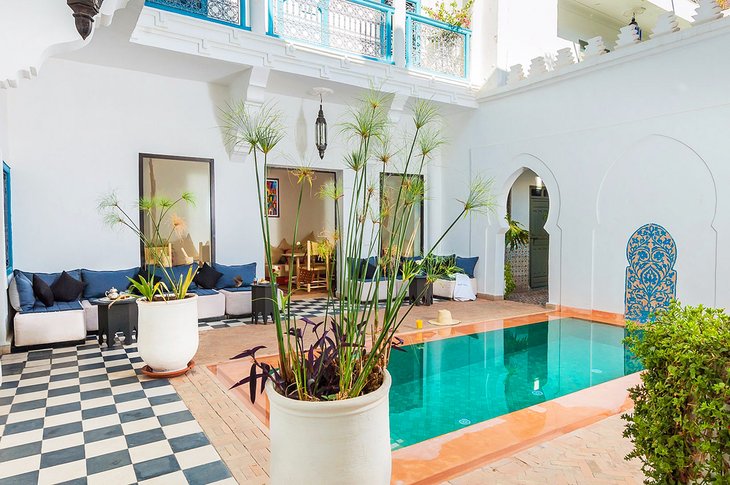 Riad Chamali is a great mid-range riad choice, in the Berrima district of the medina, so close to some of the medina's top tourist attractions, such as Bahia Palace, Badi Palace, and the Saadian Tombs.
Interiors are infused with a fresh, contemporary take on Moroccan design.
The 15 rooms are bright and light-filled, with white backdrops accented by pops of aquamarine blue, pastel pink, and sage green on wooden doors, window shutters, and soft furnishings, while decorative wall niches, hand-painted furniture, and colorful Moroccan rugs add touches of traditional style.
This is a great riad choice for traveling families, as all the superior double rooms can hold an extra single bed if necessary and the plunge pool has its own separate area off the orange-tree-shaded central courtyard, making it a safer option for parents with a little one in tow.
The riad's restaurant (actually located in an attached, separate riad) Mama Beldi, specializes in traditional Moroccan feasts featuring dishes of mezze, tagine, and couscous and also arranges cooking classes.
Address: Derb Zemrane, Marrakech Medina
13. Riad Les Nuits de Marrakech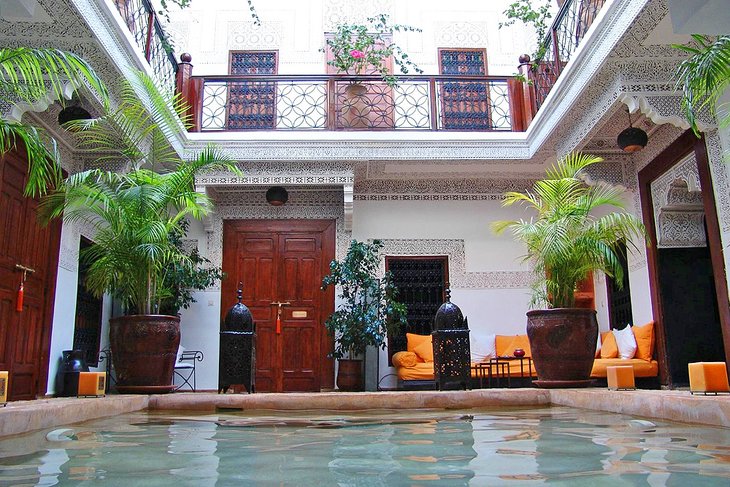 Right in the heart of the medina, Riad Les Nuits de Marrakech has been restored in keeping with the 17th-century glory of the original residence, for a stay infused with the authentic charm of these medina houses, yet updated for contemporary comforts.
All the five suites here are regally outfitted in traditional riad design, featuring ornate hand-crafted plasterwork ceilings and jewel-toned tadelakt in abundance.
The courtyard, with its frenzy of plasterwork decorating lintels, walls, and archways, is dominated by a good-sized plunge pool and separate Jacuzzi and rimmed by cosy lounging alcoves.
If you want to have a time-out from the medina hubbub, the terrace, with its dining area for breakfast (and dinners, on request) and sun loungers, is a leafy rooftop haven.
Address: 134, Derb Gach Gach, Marrakech Medina
14. Riad Helen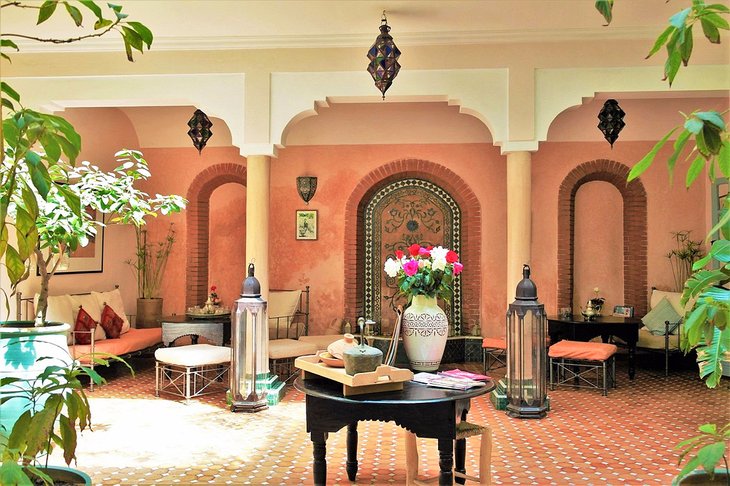 Riad Helen, in the Bab Doukkala district of the medina, offers a distinctly contemporary take on riad interior design, creating a fun and casual modern vibe.
From its terra-cotta-tiled central courtyard and book-lined lounging alcove up to the shaded rooftop, made for lounging, lashings of white are used throughout, offset by accents (colonnade wooden ceilings and window shutter and wrought iron decorative panels) washed in a jaunty sea-green.
The six rooms themselves are havens of chic minimalist design, with quirky art and pops of hot pink, royal blue, or lemon yellow on textiles set against more white backdrops, as well as natural-hued tile and stone.
Breakfast is included, and dinners of traditional Moroccan flavors can be arranged on demand.
Address: 138 Derb Arset Aouzal, Marrakech Medina
15. Riad O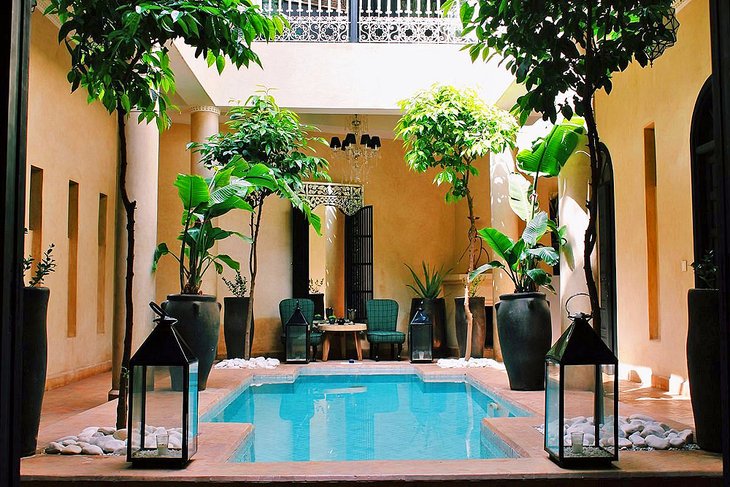 Just down a side alley opposite the Bab Doukkala Mosque (very easy to navigate to, thanks to the prominent landmark), Riad O is an intimate luxury escape.
Service is exemplary here, and the riad is a foodie favorite due to its dedicated restaurant serving a menu of traditional Moroccan cuisine (many guests elect to take half or full board here because the food is so good).
The 10 rooms and suites exude a suave, sophisticated style of soft muted shades, utilizing natural wood or rattan, smooth tadelakt, or jewel-toned tiles in an understated, subtle way.
For chilling out, the central courtyard is dominated by a good-sized plunge pool, while for further relaxation, there is a hammam on-site, so there's no need to leave the riad when you want to experience Morocco's traditional steam, soak, and scrub.
Address: 10 Derb Sidi Ahmed Oumoussa, Marrakech Medina
16. Andalla Riad & Spa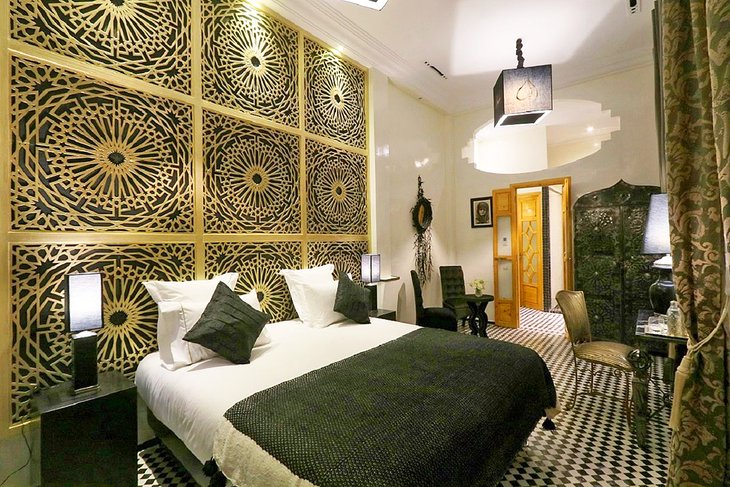 This mid-range riad is just a hop from Djemma Al-Fna and (unlike many riads) has parking available nearby, so it's a great choice for travelers self-driving in Morocco.
There's a fresh mid-century modern feel here in some of the spaces and rooms that sets it apart from some of the more traditionally styled riads, with design influences from different eras and countries, comfortably sitting next to each other.
The courtyard with its small plunge pool and extra-large bhou (room that opens out to the courtyard) is the heart of the hotel, while there are multiple patio and terrace spaces and the rooftop for relaxing, reading a book, or sunbathing.
The 15 rooms and suites are individually styled, all with a fresh, contemporary vibe that sets features such as stained glass, local modern tile work, and quirky wooden décor against a modernist palette of whites, ivories, and creams.
The riad's spa is known for its traditional hammam experience and its argon oil massages.
Address: Rue Tihzrit, Marrakech Medina
17. Riad Dar Tiflet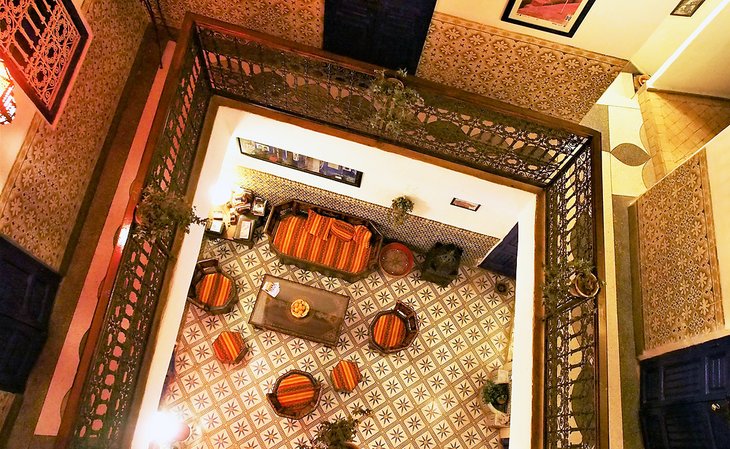 Not all riads have to be luxury experiences. If you don't have the cash to splash on the pricier riads, there's an entire plethora of cheaper options.
This colorful budget riad is a steal, snuggled in the heart of the medina, just a hop from Marrakech sightseeing highlights, such as the Museum of Marrakech.
Authentic Moroccan interiors feature traditional zellige tile work running along the walls and floors, while the rooftop provides extra communal space for lounging.
Actually a dar rather than a riad (a dar is a medina house built around a small central patio rather than a larger courtyard, so it's more modest in size than a riad), Riad Dar Tiflit has five rooms, all with plenty of quirky character, such as walls featuring traditional zellige tile work, hand-painted furniture, and tadelakt bathrooms.
Breakfast is an optional extra here, and evening dining on the rooftop terrace can also be arranged.
Address: Derb Gnaoua, Marrakech Medina
Map of Riads in Marrakech