12 Top-Rated Tourist Attractions in Marbella
We may earn a commission from affiliate links ()
Marbella's picture-postcard beauty is almost too polished to be true. This tidy and fashionable town stands out among the seaside resorts of the Costa del Sol. Palm-trimmed promenades, posh beach clubs, and exclusive golf courses cater to an upscale clientele. Tourists come not only for the beaches but also the quaint historic center, the Old Town (Casco Antiguo).
Historic Marbella is an enchanting old Moorish town full of charming whitewashed houses, cobblestone streets, and shady trees. Many of the old buildings are adorned with ironwork balconies and dripping with vibrant bougainvillea. The Plaza de los Naranjos blossoms with fragrant orange trees in springtime, reminiscent of the Moors' homeland in North Africa. Tourists will enjoy exploring Marbella's town squares, historic landmarks, art museums, and boutiques, to balance time spent sunbathing and relaxing at the beach.
For more ideas on the best places to visit in this seaside city, read our list of the top tourist attractions in Marbella.
See also: Where to Stay in Marbella
Note: Some businesses may be temporarily closed due to recent global health and safety issues.
1. Plaza de los Naranjos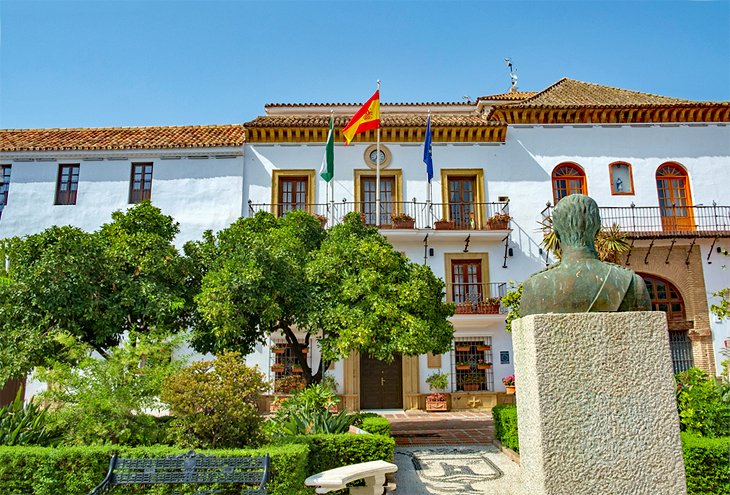 In Marbella's charming Old Town (Casco Antiguo), the Plaza de los Naranjos was built after the Christian Reconquest in the area that was a center of urban life. This beautiful town square has become the heart of Marbella, where locals and tourists socialize and relax. A group of orange trees is planted in the middle of the square, like a small orchard, and during springtime, the fragrance is heavenly.
The plaza is lined with restaurants that have outdoor seating arranged in the middle of the square under the shady trees. Two important historic landmarks are found on the Plaza de los Naranjos. The town hall, also called the Consistorial House, was built in 1572 and enhanced in the 17th century. With its balconied facade, the building exemplifies Spanish style architecture.
The oldest parish church in Marbella, the 16th-century Ermita de Santiago (Santiago Hermitage) also stands on the Plaza de los Naranjos. This small, simple whitewashed church possesses a noteworthy contemporary sculpture of Saint James the Apostle. A nearby attraction for gourmands is the Michelin-starred Skina Restaurant, a few blocks away from Plaza de los Naranjos at 12 Calle Aduar.
2. Paseo del Alameda: An Elegant 18th-Century Park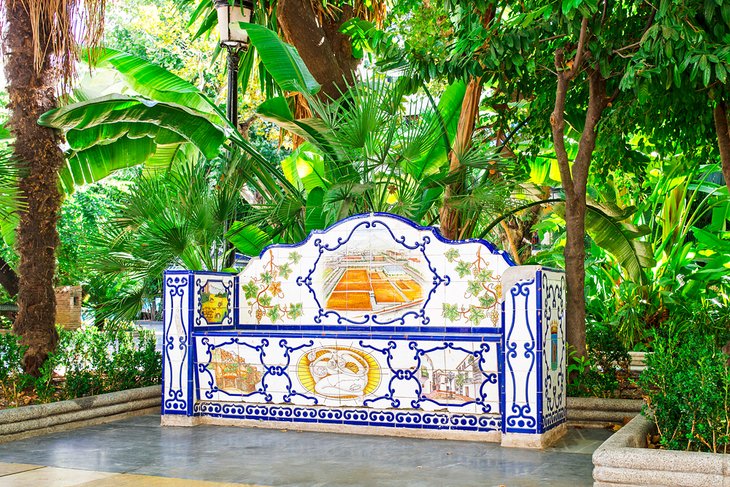 Filled with lush vegetation, leafy palms, and shady pine trees, Alameda Park is a popular public space in the Old Town that joins the Alameda del Mar and the Paseo Marítimo along the seafront. This lovely 18th-century park features a main promenade with marble walkways; decorative benches shaded beneath banana palms; and fountains, like the lovely Fuente Virgen del Rocio, which was made in 1762.
The park is also home to public botanical gardens, and it was the city's first designated green space. Locals and tourists alike enjoy this refreshing oasis on warm sunny days, and it's a wonderful area for a leisurely stroll.
3. Stylish Beaches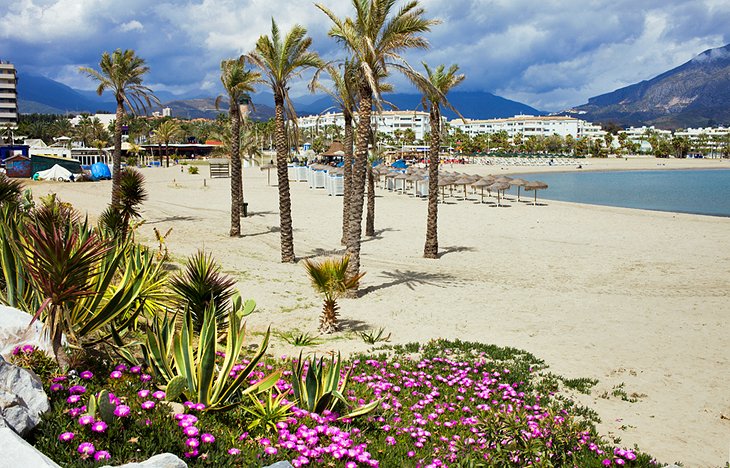 Marbella's name means "Beautiful Sea," and the town lives up to this moniker with fine sandy beaches. Several excellent choices are within a short walk of the historic center of Marbella. All the public beaches have restroom facilities and lifeguards on duty during summer.
The Playa Fontanilla is the closest beach to the city center of Marbella, just a short walk from the Old Town. This popular beach extends for 1,000 meters and has a promenade with restaurants and shops.
The Playa Real de Zaragoza is a favorite beach known for its chiringuito (snack bars) and trendy restaurants. Close to Puerto Banús, the Playa de Alicante is a long stretch of sandy shore with beachside restaurants; beach chair and parasol rentals are also available.
The beaches of Marbella continue past Puerto Banús for several kilometers; in this area, the Guadalmina beach, Linda Vista beach, and San Pedro Alcántara are ideal for families. These sandy beaches are rated as "Blue Flag" beaches because of their calm, safe waters, ideal for wading and swimming.
4. Puerto Banús and its Waterfront Restaurants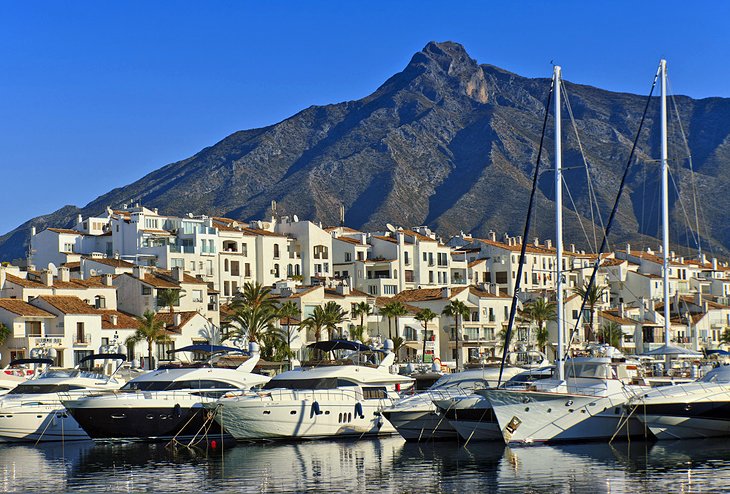 About 10 kilometers from the Old Town, Puerto Banús is the most famous and fashionable marina in Marbella. This glitzy scene is where the jet-setting crowd comes to see and be seen. Stylish restaurants and upscale boutiques line the waterfront. The restaurants have outdoor terraces for the perfect seaside ambience; diners savor the delicious cuisine while watching luxury yachts bob up and down in the harbor.
With 915 berths for yachts and other boats, Puerto Banús is considered the best yacht marina in Spain. The marina also offers nautical services and water sports facilities. The beaches around Puerto Banús are equally chic, with beach clubs, sunbathing rentals, and seafront restaurants.
Address: Puerto José Banús, Muelle de Honor, Marbella
5. Avenida del Mar and the Dali Statues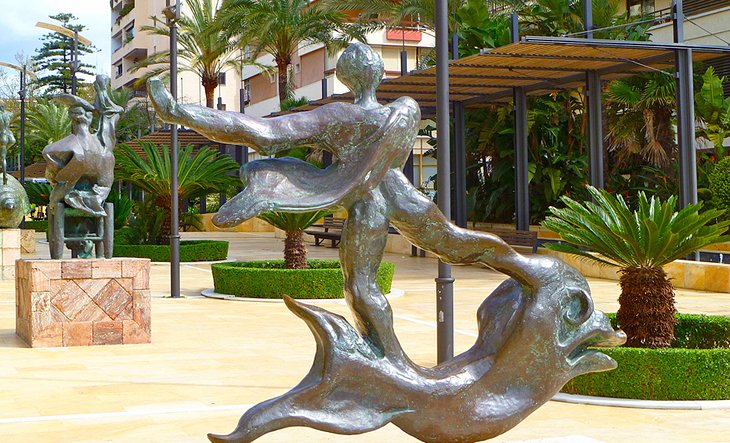 Art-lovers will want to make time for a stroll down the Avenida del Mar, a lovely pedestrian way that stretches from the Paseo Maritimo to Parque Alameda. It serves as an outdoor showcase, with a permanent exhibition of Salvador Dali's imaginative bronze statues, with 10 Dali works total, as well as two additional sculptures by artist Eduardo Soriano.
The pedestrian avenue is in an area where prominent residents once came to show off their decorated carriages. In the 1990s, the space was converted into a modern promenade but is still a popular gathering place for locals and visitors.
6. Iglesia de Nuestra Señora de la Encarnación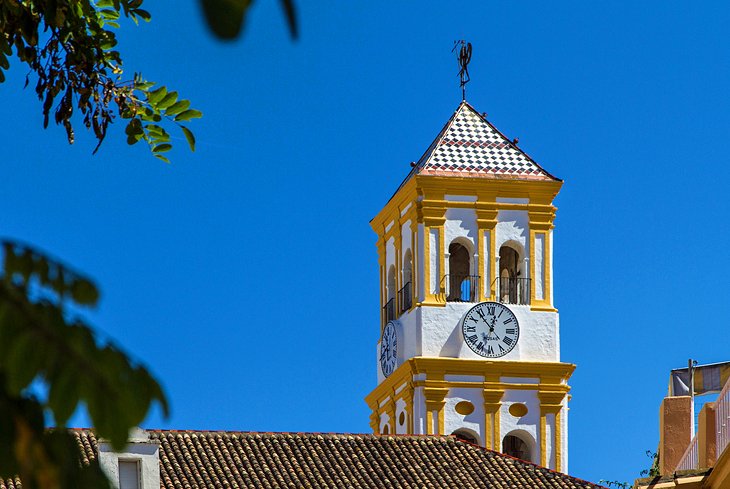 The Iglesia de Nuestra Señora de la Encarnación (Church of the Incarnation) is the most important church in Marbella's Old Town. Built in the 16th-century by the Catholic Monarchs, the church stands on the site of the former Mosque of Marbella. It was common practice in 16th-century Andalusia to replace the mosques with new churches.
The building features a spacious basilica plan with a barrel-vaulted central nave and a semicircular apse with Corinthian columns. A distinguishing feature of the facade, the main door is exquisitely carved from ochre stone in Rococo style, an 18th-century enhancement. The sanctuary boasts a Sol Mayor Organ, considered the finest type of modern organ built in Spain.
Address: Plaza de la Iglesia, Marbella
7. Alcazaba: Ruins of a Moorish Castle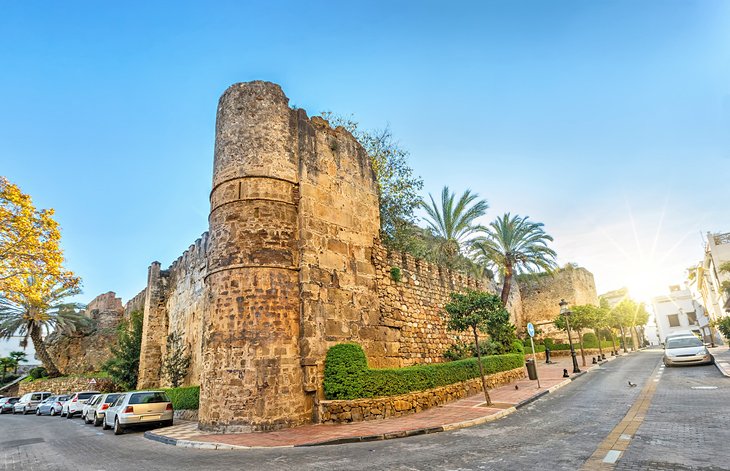 The Alcazaba, also known as the Muralla del Castillo, stands as the last remains of Marbella's old Moorish castle and its impressive fortifications, which once surrounded the town. This castle fortress is an important relic of the Muslim civilization of Marbella, and two defensive towers still stand. Within the building are embedded Roman capitals repurposed from ancient buildings.
The defense walls date to the 10th and 11th centuries. The towers and other remnants of the building are also from the Moorish Caliphal period (from the 10th to the 11th centuries). Tourists can also attend outdoor concerts and cultural events held here during summer.
Address: Calles de Portada, Marbella
8. Museo Ralli
Between Puerto Banús and Marbella's old town, the Museo Ralli is a worthwhile excursion (about a 10-minute drive away). The Ralli Museum, which opened in 2000, is housed in a completely renovated building with 10 spacious exhibition rooms. This museum is part of the Ralli Museums, a group with other branches in Punta del Este, Uruguay; Santiago, Chile; and Caesarea near Haifa in Israel.
The Ralli Museums boast one of the world's best collections of Latin American art. At the Marbella Museo Ralli, visitors will discover an extensive collection of works by contemporary artists from a variety of Latin American countries. The paintings on display reflect the influence of the great European masters.
Address: Urb. Coral Beach, Marbella
Official site: http://www.rallimuseums.com/en/Marbella
9. Spanish Contemporary Engravings Museum
This renowned art museum is another top attraction in Marbella's Old Town. The museum occupies the Bazán Hospital, an elegant Renaissance Gothic-Mudéjar building founded in the 16th century and registered as a protected historic monument. The only museum of its kind in Spain, the Spanish Contemporary Engravings Museum is devoted to the preservation and exhibition of contemporary engravings and Spanish graphic artwork from the 20th and 21st century.
The museum has an extensive collection of more than 4,000 art works. Artists represented in the permanent collection include Goya, Picasso, Miró, and Dalí. Temporary exhibitions, organized in coordination with other major museums in Spain, are held frequently at the museum.
Address: Calle Hospital Bazán
10. Mezquita del Rey Abdul Aziz al Saud (Marbella Mosque)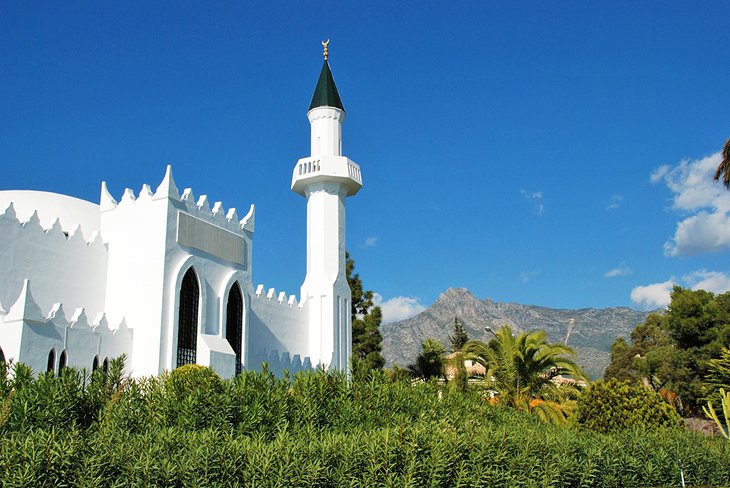 The Marbella Mosque was the first Mosque built since the Christian Reconquest of Spain in the 15th century. It was built by Prince Salman of Saudi Arabia in 1981, and is a splendid example of contemporary Andalusian architecture inspired by the Moorish heritage.
The mosque is surrounded by well-maintained Mediterranean gardens and contains a library collection of 30,000 volumes, which focus on Koranic studies. It is located just off the "Golden Mile," about 10 minutes west of Marbella's Old Town.
Address: Las Lomas de Marbella, Marbella
11. The Franciscan Convent Church of Santo Cristo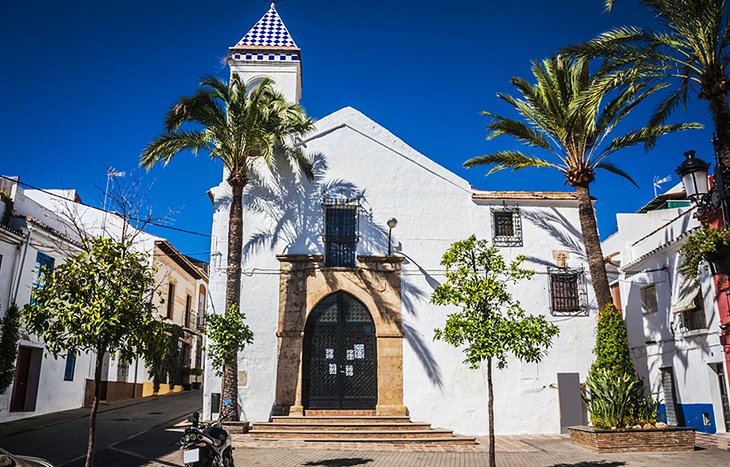 A historic church in the Old Town near Muralla del Castillo, the Iglesia del Santo Cristo was built in the 16th century as part of a Franciscan convent. The church facade features stone details and an octagonal glazed-ceramic tile roof. The interior is a humble space with a single nave and Andalusian-style decor.
Nearby is another historic church, the Capilla de San Juan de Dios on Calle Caridad. This Mudéjar (Moorish Christian style) chapel was part of a hospital built by the Spanish Monarchs in the 16th century. This is a small and somewhat unassuming church, but the iconography within is impressive and moving.
Address: Plaza del Santo Cristo (Calle Ancha)
12. Plaza de Altamirano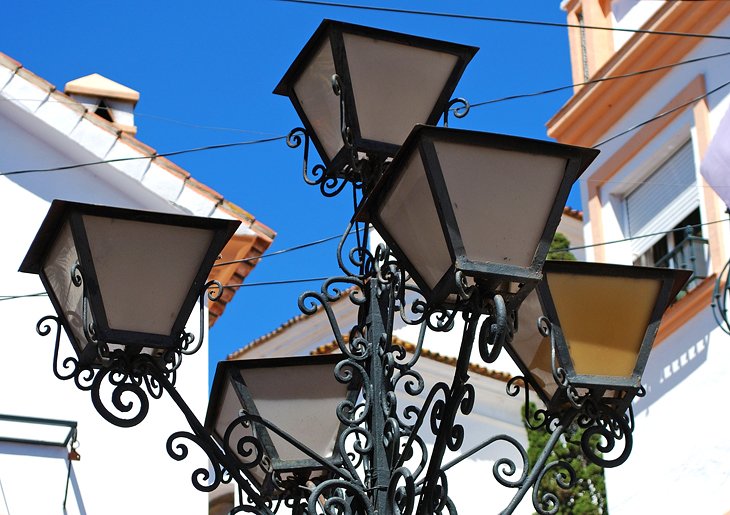 Tucked away in a quiet corner of the Casco Antiguo, the Plaza de Altamirano captures the historic ambience of the Old Town. This lovely cobblestone square is filled with leafy palm trees and old-fashioned street lamps. The quaint old buildings feature classic ironwork balconies and are trimmed with climbing plants and blossoming purple bougainvillea.
Tourists will enjoy a meal at one of the restaurants with courtyard or outdoor terrace seating. An interesting tourist attraction on the square is the Archeological Collection housed in the Department of Culture's central office, a renovated 16th-century building. The collection includes archeological discoveries found in the Marbella city center and its surroundings such as at the Alcazaba, Roman Baths, Río Verde's Roman Villa, and the Vega del Mar Paleochristian Basilica.
Where to Stay in Marbella for Sightseeing
Luxury Hotels: Tourists looking for a historic luxury hotel convenient to Marbella's Old Town sights will enjoy Hotel Claude

Marbella

, a 17th-century house that was once the summer home of none other than Napoleon III's wife. Here, you will find nothing but luxury suites, each with its own flavor of contemporary décor that makes the most of the building's rustic features. Complimentary breakfast is served on the rooftop patio, and guests can enjoy the on-site spa. Those who are looking for a five-star beach resort will want to stay at the Don Carlos Leisure Resort &

Spa

, an oceanfront resort located just 10 minutes from Marbella's Old Town. This family-friendly spot has everything you could want, from fantastic dining with outdoor seating, and a garden terrace with private cabanas, to multiple pools and a private beach club. Services include an enormous spa and babysitting, and there is also a fitness center and tennis courts.
Mid-Range Hotels: An excellent mid-range hotel centrally located near Marbella's historic center is La Villa Marbella- Old

Town

, a quirky all-suite boutique hotel that provides modern amenities in a historic home. Wi-Fi and breakfast are included, and there is an outdoor pool; suites are a tasteful balance between contemporary and rustic, featuring exposed stone walls and other features. An excellent mid-range beach hotel is the Iberostar Marbella Coral

Beach

, located only five minutes from the center of historic Marbella. This environmentally conscious hotel has a wide selection of rooms and suites, and an impressive list of amenities. In addition to the VIP beach zone, guests can enjoy two pools, on-site seaside dining, and a spa; all-inclusive options are also available.
Budget Hotels: Situated between the Old Town and the beach, Hostal

Berlin

is arguably one of the best-located places to stay in Marbella. Although it may not offer all the bells and whistles, this dependable hotel provides clean, well-appointed private rooms and family rooms, within walking distance of everything Marbella has to offer. Hostal

Paco

is another great alternative, offering low rates while providing private rooms with all the basics, as well as a restaurant downstairs. The location is ideal for sightseeing in the Old Town, only a one-minute walk to Plaza de Los Naranjas and surrounded by restaurants.
Tips and Tours: How to Make the Most of Your Visit to Marbella
Caminito del Rey Private Half-Day Trip: Tourists can enjoy a private walking/hiking tour of the beautiful Caminito del

Rey

, led by an experienced guide who provides details about the area's history and natural surroundings. The tour includes not only a stroll on the wooden boardwalk but also visits to the cliffs of los Gaitanes and los Gaitanejos and the Hoyo Valley, with a trek across a hanging bridge.
Alhambra Day Trip: Tourists can get up close to the UNESCO-listed Alhambra Palace on this half-day trip from

Marbella

. The tour includes transportation and entrance fees, as well as a private tour guide who will share the rich history of this significant landmark, so that you can truly appreciate its history, architecture, and grandeur.
More Related Articles on PlanetWare.com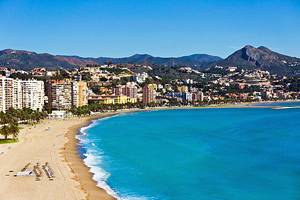 Málaga's Historic Resorts: One of the first towns on the Mediterranean to grow as a center for beach resorts, Málaga is one of the loveliest of the Costa del Sol vacation spots. History-lovers will enjoy this town just as much, thanks to numerous significant sites like the Roman amphitheater, a 10th-century Moorish Castle, and the 13th-century Alcazaba.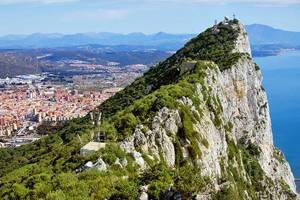 Little Britain: Connected to the mainland by a thin strip of land, tourists can literally step across the border from Spain to the tiny British territory of Gibraltar. In addition to authentic "fish & chips" and afternoon tea, there is stunning scenery and incredible wildlife at the nature reserve. The reserve has a cable car to provide the best views, and is home to Europe's only wild monkeys, the Gibraltar apes.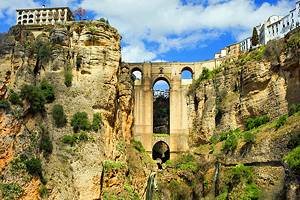 Historic Ronda: Located just about an hour inland, Ronda is full of historic buildings, sites, and museums. Visitors will find numerous Moorish sites, including the Baños Árabes (Moorish Baths) and the Moorish Old Town, and Ronda is well-known for its many annual cultural festivals, including the Andalusian May Fair, which has been held here for well over 500 years.