14 Best Beaches in Barcelona
Barcelona is much more than a Catalonian hub of delicious food, unique gardens, and funky architecture. This seaside wonderland is also a lovely place to unwind while soaking up the Mediterranean sun. Deep azure waters dazzle beachgoers as they sink their toes into golden sand, particularly during the busy summer. And though you may not think of Barcelona as having beaches worthy of an entire day of fun, this funky Spanish city has a lot to offer on its shoreline.
Prior to the 90s, much of Barcelona's coast was an industrial wasteland. Thanks to the city's role as host of the 1992 Summer Olympic Games, the country devoted time (and a whole lotta money) to reinvigorating the shore. We're talking sand imported from Egypt kind of upgrades. Barcelona even boasts a manmade beach and three pools bordered by concrete in the heart of the city.
Whether beachgoers hope to bask under the Mediterranean rays, play a game of volleyball, or enjoy fresh tapas on the sand, there's no end of fun to be had on Barcelona's best beaches.
1. Bogatell Beach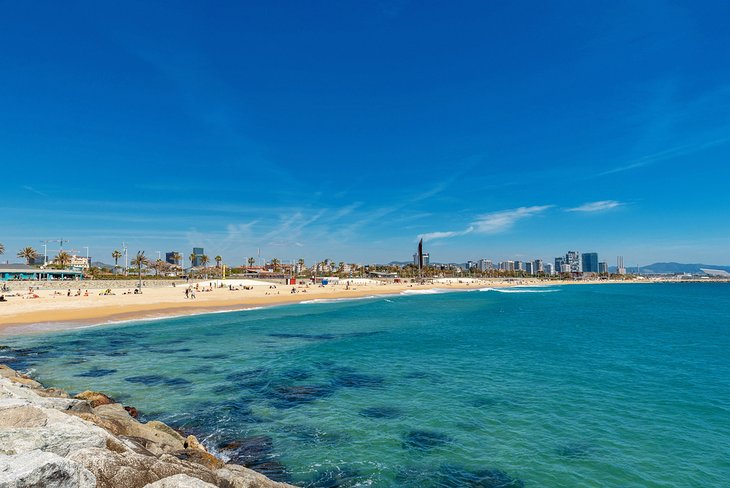 Beautiful Bogatell is one of the best beaches in Spain and a designated Blue Flag Beach. Set between Mar Bella and Nova Icària, this pretty beach attracts an older crowd - the average age of beachgoers is 38. Locals flock here for its wide, tranquil shoreline, ping-pong tables, and volleyball courts.
Coarse, clean sand blankets the 600-meter-long stretch, which was developed to help reinvigorate Barcelona's shoreline prior to the 1992 Olympic Games. Play a game of pickup volleyball, take a windsurfing or kitesurfing lesson, or kayak in the open sea. There are a ton of fun things to do on Bogatell.
Lifeguards dot the beach, and restrooms and showers are available, as are kiosks selling food and ice cream. If those don't satisfy your cravings, head to one of the nearby restaurants. Insider's tip: the farther you walk from Frank Gehry's giant Golden Fish statue (which stands near Barceloneta Beach), the more open sand you'll find.
2. Barceloneta Beach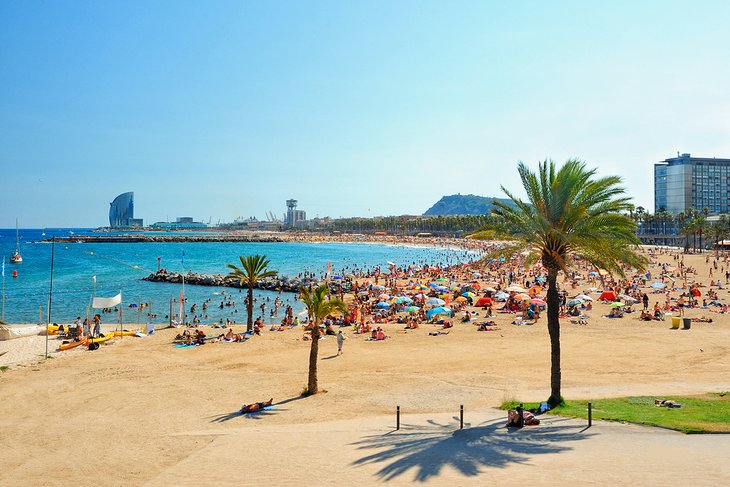 Barceloneta is the Miami Beach of Spain: crowded, boisterous, and endlessly entertaining. The most popular beach in Barcelona, this is where people go to see and be seen. Fans of people-watching won't be disappointed, but those searching for a quiet place to unwind will want to look elsewhere.
Named after the ancient fisherman's neighborhood that links to its shore, this best beach in Barcelona is close to some of the city's finest food, including the freshest tapas. If you'd rather not don a shirt and shoes, seaside huts offer delectable paella, as well as chair and umbrella rentals.
Lifeguards are on duty, and amenities include showers, restrooms, a playground, and plenty of opportunities to participate in water sports. Insider's tip: Bring your own sunblock and towel as the upcharge in this area is enormous.
When it comes time to rinse the sand from your swimsuit, treat yourself to a stay at the luxurious Hotel Arts Barcelona. One of the best beach resorts in Spain, this Ritz-Carlton property features unbeatable views and a phenomenally relaxing spa.
3. Nova Icària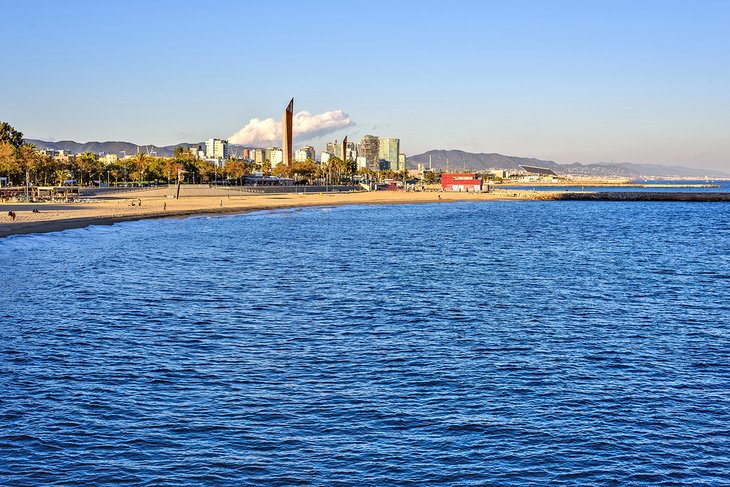 Another notable Barcelona beach, Nova Icària is a Blue Flag beach popular with tourists and locals alike. A family-friendly favorite, this well-placed beach stretches 415 meters and lies about halfway along the city's shoreline.
In addition to being one of the quietest beaches in Barcelona, Nova Icària is also the calmest, making it a perfect place for little ones to swim in the Med. Despite its more tranquil appeal, kids won't get bored here.
With ping pong, a playground, and volleyball courts on offer, there's always something to keep kids' attention. Other amenities include lifeguards, restrooms, showers, and water fountains. Plus, the beach is located right near Port Olímpic, which boasts even more water-based activities.
If you're hoping for something more substantial (and delicious) than a concession meal, head to the Passeig Marítim de la Barceloneta, where you'll find a bevy of delicious restaurants within walking distance of this top beach in Barcelona.
4. Mar Bella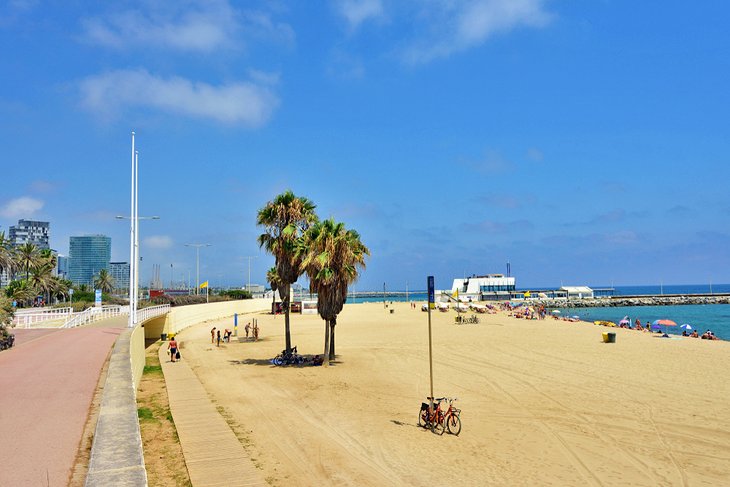 Mar Bella, a long (about 512 meters) sandy stretch of land north of town center, welcomes visitors looking to bask in the sun without the masses and bothersome vendors found on Barceloneta and Sant Sebastià. Popular activities include volleyball, kayaking, skateboarding, rollerblading on the promenade, swimming, windsurfing, and paddleboarding. With so many ways to stay entertained, it's easy to see why this is dubbed one of the best beaches for families and couples in Barcelona.
Revamped as part of the Olympic Games beautification project, this lovely beach has also been awarded the Blue Flag, meaning it's both clean and environmentally conscious. A beach of contrasts, one section is clothing optional (and separated by a man-made hill), while the other end boasts a children's playground.
The crowd here is young and diverse and includes many locals from the nearby neighborhood, Sant Martí. Amenities include showers, restrooms, umbrella rentals, concessions, and lockers. Lifeguards are also on duty.
5. Sant Sebastià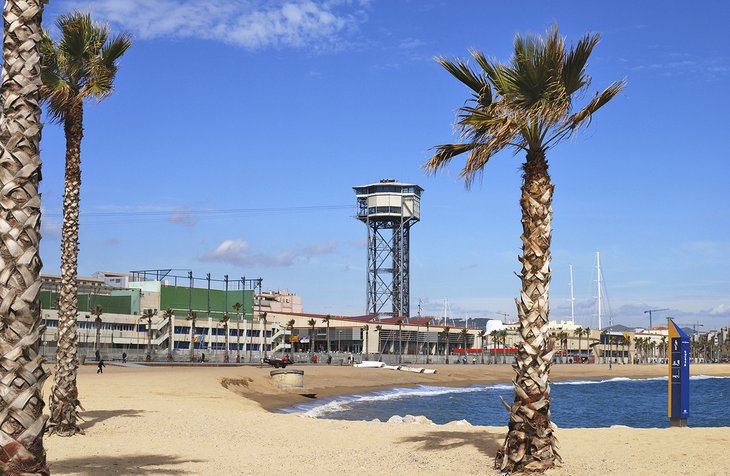 At 1,100 meters, Sant Sebastià is one of the longest beaches in Barcelona. It's also one of the city's oldest beaches. Popular with locals, Sant Sebastià is only slightly less crowded than Barceloneta. If you're visiting during the summer, arrive early to score a good spot at this top Barcelona beach.
This bustling beach was one of the first to boast amenities like restrooms, showers, and on-duty lifeguards. It was also the first beach in Barcelona to allow men and women to swim together.
Surfers, sailors, paddleboarders, and swimmers dot the sea, while the sand is packed with sun worshippers from May through August. It's within easy walking distance of the town center, making it easy to find sustenance. That said, there are plenty of food vendors on hand for those who'd rather stay put.
Insider's tip: If you or your travel companions have mobility issues, this is the beach for you. There's a dedicated area complete with amphibious chairs. It's staffed by volunteers to help those with disabilities enjoy a dip in the sea.
6. Nova Mar Bella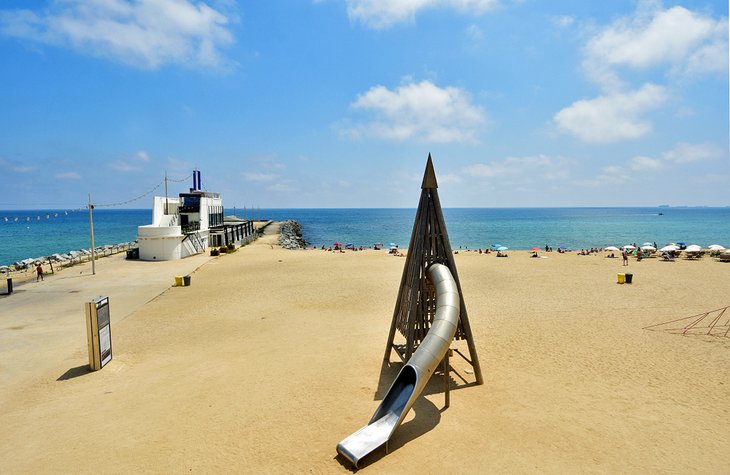 Nova Mar Bella hugs the coast north of Mar Bella. It, too, has been granted the esteemed Blue Flag Beach award for its pristine sand and water conditions. This tranquil beach measures about 420 meters in length and stretches from Bac de Roda breakwater to the Selva de Mar breakwater.
Nova Mar Bella has been deemed one of the most peaceful beaches in Barcelona, and it's frequented by locals looking for a quieter day spent frolicking on the sand. Visitors will find all the amenities they need, including lifeguards, concession stands, restrooms, showers, and sun lounge and beach umbrella rentals.
This is another product of the 1992 Olympic Games rejuvenation project, and beachgoers won't be disappointed by a visit to this fun and expansive slice of serenity.
7. Somorrostro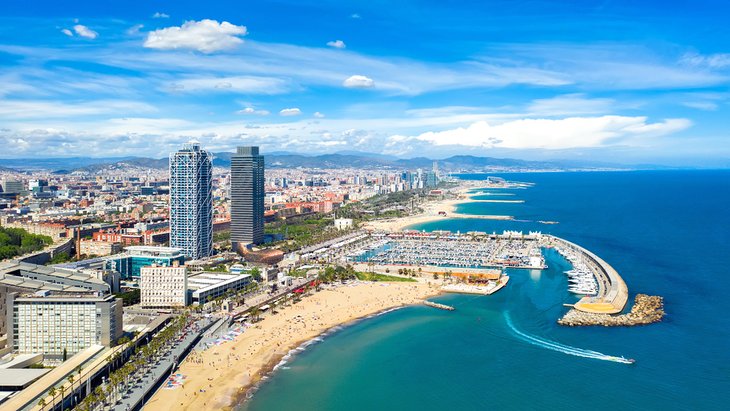 Once home to nearly 15,000 people living in a decrepit shantytown, Somorrostro is now one of the prettiest beaches in Barcelona. In stark contrast to its previous existence, this high-end beach is positioned close to some of the city's most luxurious shops and restaurants.
Located near Gehry's Golden Fish statue, Somorrostro spans 520 meters between the Gas breakwater and Moll de Marina Pier. Techincally a part of Barceloneta, this section of the beach was renamed to pay homage to the historic settlement.
You'll also find exercise equipment, lifeguards, showers, a playground, changing rooms, concessions, and restrooms on-site.
At the center of the beach lies the Centre de la Platja, an educational facility that hosts multiple fun activities including workshops, games for kids and grownups alike, environmental talks, and storytelling.
8. Llevant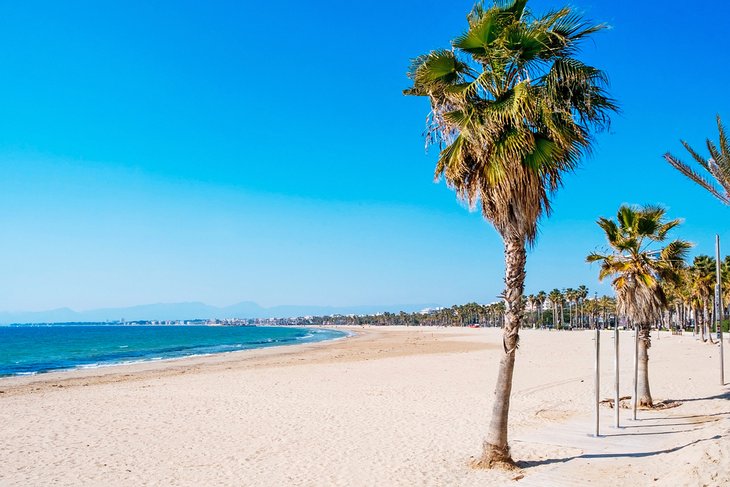 The youngest of Barcelona's beaches, Llevant was created in 2006 in the Sant Martí neighborhood. At 375 meters, this Nova Mar Bella neighbor isn't the largest in the area, but it is one of the quietest and most open beaches in Barcelona.
You won't find a ton of waterfront shacks or restaurants at this newly minted wonder, but it's got the basics that make it easy to stay all day. We're talking restrooms and showers, as well as lifeguards. There's also a volleyball court on-site and beach chair and umbrella rentals.
A high wall separates Llevant from the massive amount of parking on the other side - a nice change from the other local beaches where leaving your car is a considerable challenge.
Dog owners flock here for the 1,250-square-meter dog beach that's fenced off from the rest of the beach. It features a doggie drinking trough, pet showers, and "urban-dog urinals." Over 60 pups can hang out here from 10:30am to 9pm during the summer.
9. Sant Miguel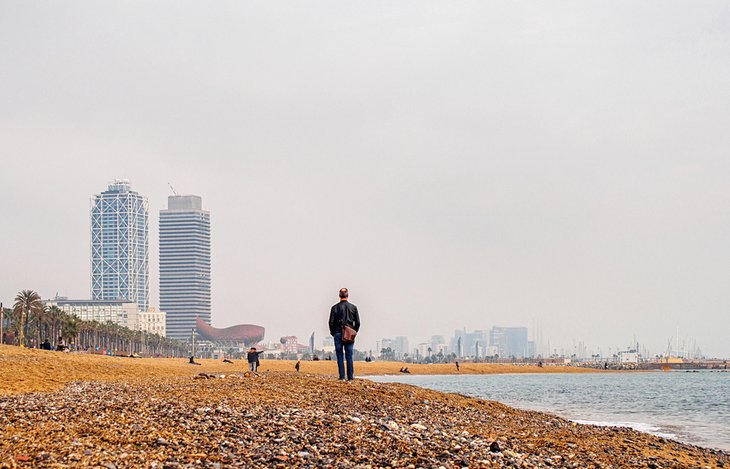 Sant Miguel lies between the larger and more popular beaches of Sant Sebastià and Barceloneta. Essentially an extension of these busy beaches, Sant Miguel features sunburned tourists flittering around its fine, sandy shore and cooling off in the clear, deep blue waves of the Mediterranean Sea.
Measuring about 420 meters long, this Blue Flag beach (one of the oldest in Barcelona) is both pristine and centrally located. Its close proximity to the bustling Plaça del Mar makes it easy for visitors to escape the sand for a bit of shade and sustenance.
This beach was named after the 1755 church, Sant Miguel de Port, and features every amenity you would expect in a stellar beach, including restaurants, restrooms, lifeguards, showers, and equipment rentals.
10. Zona de Banys del Fòrum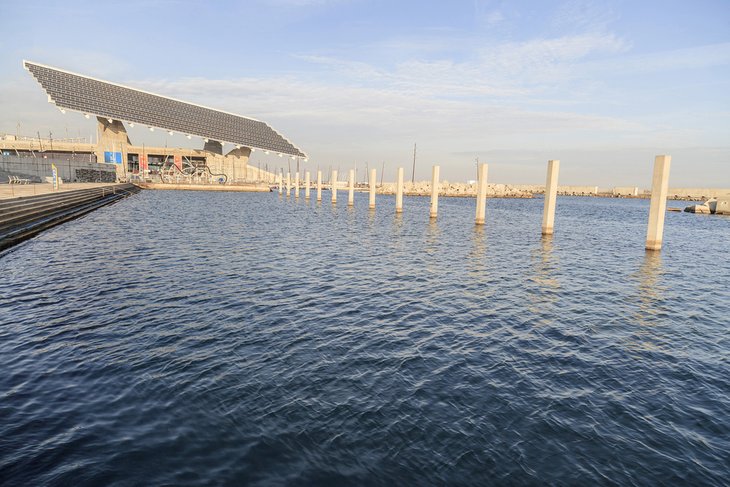 While most head to the beach in search of sun, sand, and surf, there are multiple people who would prefer a beach experience without the accompanying grit that makes its way into every crevice. Zona de Banys del Fòrum presents a perfect solution.
A sandless beach, this unique Barcelona attraction offers summer visitors a chance to swim, sunbathe, and wakeboard without a worry of getting sand in the car on the way back to the hotel.
With a 375-meter-long and 30-meter-wide bathing area, the Forum (as it's called by locals), offers plenty of space for "beach" goers to enjoy a refreshing day in (and near) the water.
The Forum is open weekends during June and the first two weeks of September, and daily in July and August. The area, which is bounded by floats and large rocks, is presided over by lifeguards during these times. There are restrooms, changing rooms, and showers on-site, as well as a water ski area.
Tip: Wear sandals, as you'll be walking on pavement, which can get hot. Also, there's a family of hedgehogs that live nearby, so you'll want to avoid stepping on their spiky quills.
11. Jardines de la Torre de les Aigües
Blink, and you'll miss the tiny, inner-city, Jardines de la Torre de les Aigües "beach." Set in the Eixample neighborhood of Barcelona, on what was once a water tower, this water park is a beloved local respite for families looking to escape the heat without having to leave the city.
Despite its name, this isn't really a garden. It's a cement-walled area peppered with a couple of trees, featuring two shallow pools and a manmade "beach" (it's more of a small section of ground with a smattering of sand.) You won't want to set up shop for a whole day here, and you'll eventually bemoan the lack of actual sea, but this is a fun and very unique place to spend an hour or two, especially if you have kids in tow.
A bit of a challenge to find, this parkette/beach lies a short walk from the bustling Passeig de Gràcia. It boasts shady areas and benches.
Beaches Just Outside Barcelona
12. Castelldefels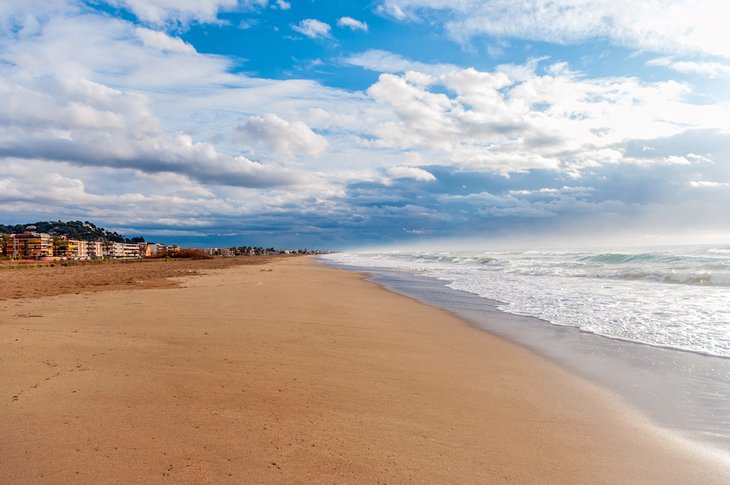 Five kilometers of sand run along the shore of Castelldefels, a remarkable beach near Barcelona. It's located a 20-minute train ride south of the city. When you arrive, you'll be greeted by a winding crescent of golden sand peppered with beach umbrellas and a rainbow of kitesurfers riding the bright cerulean waves.
Deemed by locals to be one of Barcelona's best beaches (despite the fact that it's not located within the city limits), this natural beauty compels even the most high-strung of visitors to relax. Sailing and windsurfing schools offer lessons nearby, while multiple beach shacks and restaurants will tempt your palate.
The promenade offers a non-sandy spot for walking and biking, as well as an unimpeded view of nearby Parc Natural del Garraf.
13. Ocata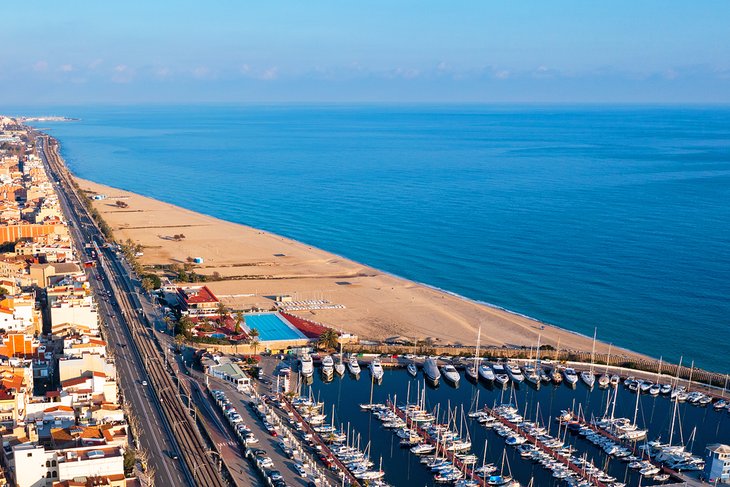 Another Catalonian gem, Ocata lies about 12 miles north of Barcelona and offers the type of idyllic beach experience that can't be had in a big city. Even during the summer, there's no need to stake your claim on a towel-worthy spot at this pretty beach near Barcelona.
Set in the small town of El Masnou, Ocata's fine golden sand is remarkably flat, making it an ideal spot to play rugby, soccer, or volleyball. It's not uncommon to see anglers attempting to reel in a big one off this shore.
Despite being a half-hour train ride from Barcelona, Ocata isn't devoid of access to fabulous food. It's perfectly positioned near waterfront restaurants, with plenty of tapas (and a welcome shade break) to be had, especially if you head a bit further into town.
14. Sitges' Beaches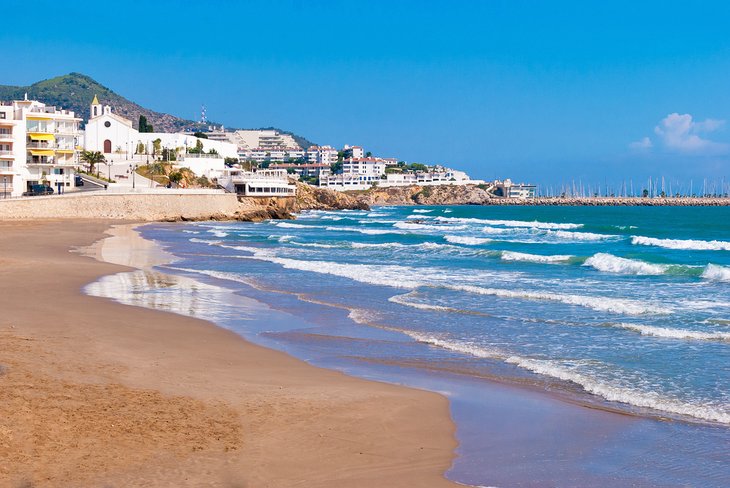 Sometimes one beach just isn't enough. That's when you head to Sitges. A vibrant resort town 35 kilometers southwest of Barcelona, this vibrant locale is home to 17 sandy beaches that are easy to adore. With so many great options to choose from, Sitges is a haven for beach lovers.
Whether you're looking for an LGBTQ-friendly, clothing-optional, or family-friendly beach, you'll find it, and so much more, on the soft shores of Sitges. Want to get in on the action? Head to one of the beaches closest to the city center. Platja de la Ribera is particularly popular.
Want to enjoy a bit of peace? Travel a bit farther out, and you'll find wide expanses of sand with few lounge chairs to mar your view of the horizon. Platja de Barra is set in a cove-like environment and receives fewer crowds.
Traveling with kids? Platja de la Fragata is the beach for you. It boasts volleyball nets and a bike rental in addition to clean sand and calm waves.
Map of Beaches in Barcelona
More Related Articles on PlanetWare.com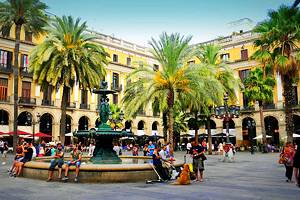 More to Discover in Barcelona: Once you've had your fill of the beaches, you'll find plenty of things to do in Barcelona, by day and night. See the architectural creations of Antoni Gaudi, wander along La Rambla, or head up to the hilltop neighborhood of Montjuic.