17 Top-Rated Tourist Attractions in Andorra
Located high in the eastern Pyrenees mountains between France and Spain, Andorra is a small country, boasting lovely mountain scenery, which is often overlooked on travel itineraries. But despite its size, Andorra is well-known as a winter destination in Europe for its superb ski hills, while popular things to do in summer include hiking and mountain biking.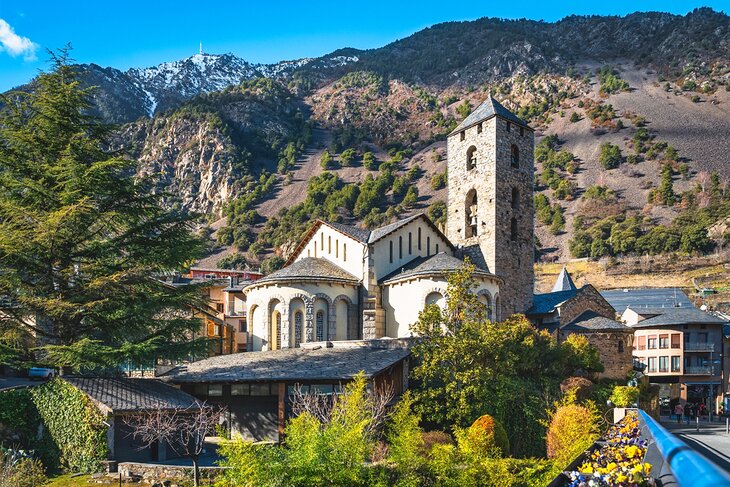 Made up of several small towns and villages tucked between tall mountain peaks, Andorra lies just three hour's drive from Barcelona to the south and Toulouse in France to the north, making it an ideal day trip if you're pressed for time.
For most visitors, the main attraction is the capital, Andorra La Vella. Small enough to traverse on foot, this delightful city offers a bustling main street boasting many shops and dining opportunities. It's also a nation of superb medieval churches, many of them untouched by time.
Skiers and snowboarders tend to flock to the small town of Encamp, a base for the Pas de la Casa and the Grau Roig Ski Area. Another popular ski area is Grandvalira, between Andorra la Vella and Les Escaldes. Other places of interest for sightseers are the picturesque villages of El Serrat, set high in the mountains, and La Cortinada, home to the church of Marti de la Cortinada. Both of these charming villages are found in the Valira del Nord Valley, northwest of the capital city.
Find out more about the best places to visit in this tiny country with our list of the top attractions in Andorra.
1. The Capital City: Andorra la Vella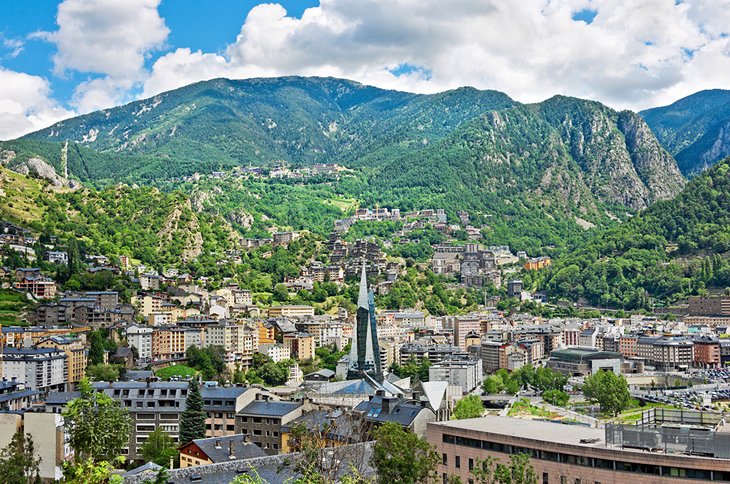 Perched high in the eastern Pyrenees, Andorra la Vella, the capital of Andorra, is this small nation's busiest tourist attraction. At an altitude of 1,029 meters, it's one of the world's highest capital cities. It's also one of the smallest, too, with a population of fewer than 23,000 people.
Overlooking the Gran Valira River under the east side of the 2,317-meter Pic d'Enclar mountain, the city's main street is lined with shops selling everything from souvenirs to local arts and crafts and luxury goods. The street also boasts many fine galleries, cafés, and restaurants, as well as a number of excellent hotels.
Other fun things to do in Andorra la Vella include strolling through Plaça del Poble, a public square on the roof of the city's administrative complex, which offers great views of the surrounding scenery. Be sure to also visit the 12th-century Sant Esteve Church, with its fine carved woodwork.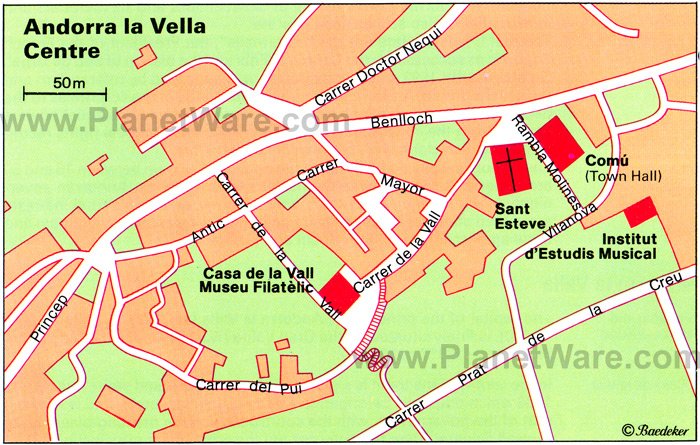 2. La Casa de la Vall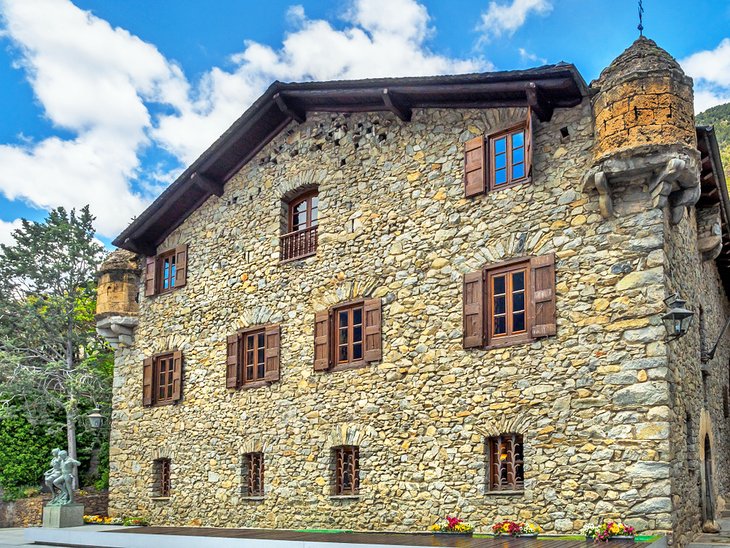 La Casa de la Vall is one of the top places to visit in Andorra la Vella. Originally built in 1580 as a manor house and fortification, it's now the seat of Andorra's government. Pay attention to the small turrets on either wing, which were designed to defend the building against possible attackers.
Other notable features include its ornate coat of arms and other historical emblems of the country's former rulers. You'll see these and other highlights of this historic building on a fun 30-minute-long guided tour that includes the reception room with its 16th-century wall paintings and the Council Chamber (Sala de Sessions).
Here, you'll also find the historic Cupboard of the Seven Keys, to which each of the country's seven communes has a key. This historic artifact also contains the country's oldest and most important archives, including documents dating from the time of Charlemagne.
Address: AD500 Andorra la Vella, Andorra
3. Winter Wonderland: Vallnord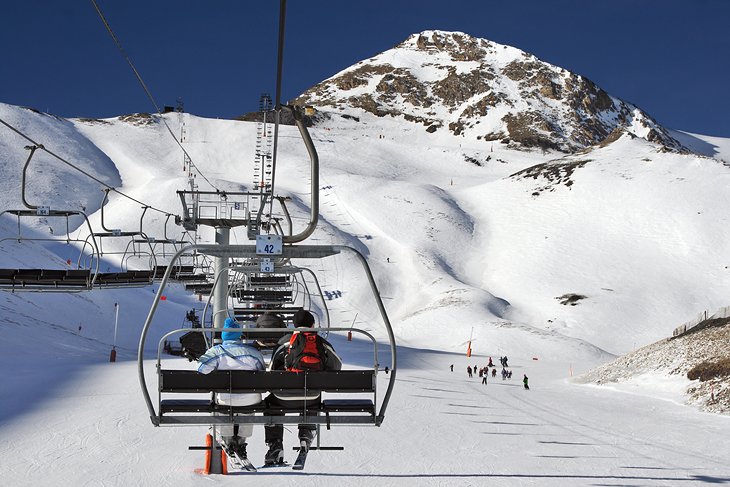 One of the most popular winter sports destinations in the Pyrenees, Vallnord draws skiers and snowboarders from across Europe to its many fine slopes. Located in the northern part of Andorra and boasting a peak altitude of 2,625 meters, Vallnord is really three unique ski resorts in one: Arcalis, Pal, and Arinsal. Together these three resorts provide a vast amount of terrain to explore.
Skiers and boarders of all levels are well catered to, with more experienced downhillers usually heading for the north-facing alpine slopes of Arcalis with its long-lasting snows. Beginners and seasoned enthusiasts alike tend to head to Arinsal and Pal. Most slopes are connected to one another by cable car, while gondolas from the village of La Massana serve Pal.
Vallnord is particularly popular for family ski vacations due to its first-rate ski schools and fun activities such as snowshoeing and sledding. Snowmobiling is also available, as well as paintball and laser tag. For the truly adventurous, activities such as speed riding, an adrenalin-inducing mix of skiing and hang-gliding, as well as heli-skiing and ski-biking are available.
The arrival of warmer weather draws adventure seekers with the opening of the Vallnord Bikepark, a massive network of mountain biking trails. Vallnord is also well-served when it comes to accommodations, and offers a variety of hotel options from budget hostels to luxury hotels.
Address: Av Través, 2 - Edf Casa Casa Ferré, Carretera de la Caubella, 1, AD400 La Massana
4. Sant Joan de Caselles Church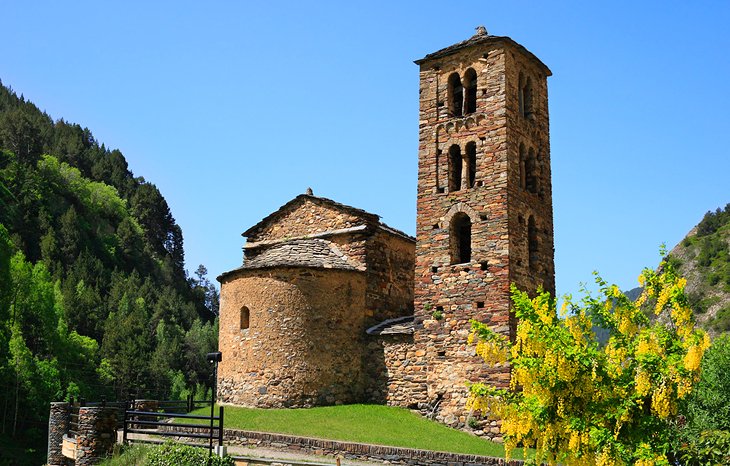 A little way north of the picturesque village of Canillo is the chapel of Sant Joan de Caselles (Església de Sant Joan de Caselles). Considered one of the country's finest Romanesque churches, this splendid old stone building dates from the 11th century and contains many interesting features.
Most notable among them is its fine interior decorated with excellent frescoes, as well as a fine devotional painting, or retablo, named St. John and the Apocalypse, dating from 1525. Other highlights of this well-preserved Catholic church are the choir grille with its Romanesque stucco figure of Christ on the Cross, and the unique polychrome painting that surrounds it.
Address: Av. Sant Joan de Caselles, S/n, 08784, Andorra
5. Caldea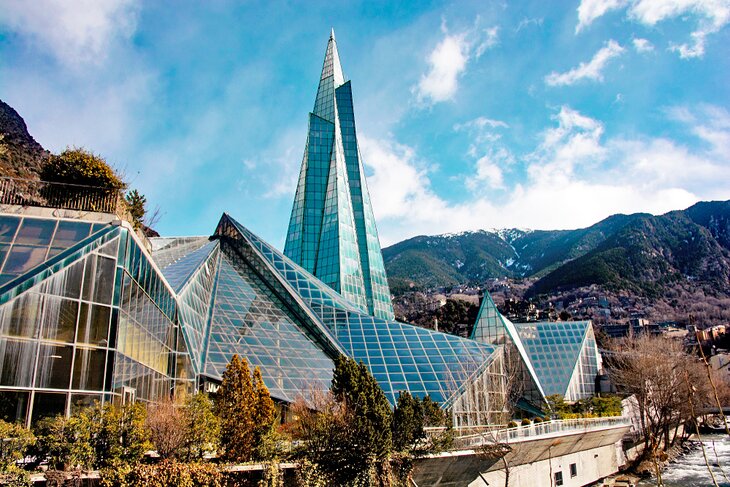 Found in the heart of Andorra la Vella, the huge Caldea spa complex, one of Europe's largest such developments, dominates the capital's skyline with its magnificent glass pyramid tower. This sprawling facility features more than 6,000 square meters of watery fun and treatment areas.
Why visit? Well, for starters, you'll have unlimited access to the facility's numerous lagoons, both indoor and outdoor. You'll also be able to make use of its many saunas and Jacuzzis. Caldea also boasts many specialized spa areas featuring Indo-Roman baths, cascades, warm marble slates, and even a grapefruit pool.
Due to its use of the mineral-rich warm waters that emerge from the city's thermal source, a visit to this uniquely designed spa complex is one of those once-in-a-lifetime experiences that's not soon forgotten. For those seeking an adults-only experience, be sure to visit the spa's Inúu facility.
Address: Parc de la Mola, 10, AD700, Escaldes-Engordany, Andorra
6. Mirador Roc del Quer viewpoint, Ordino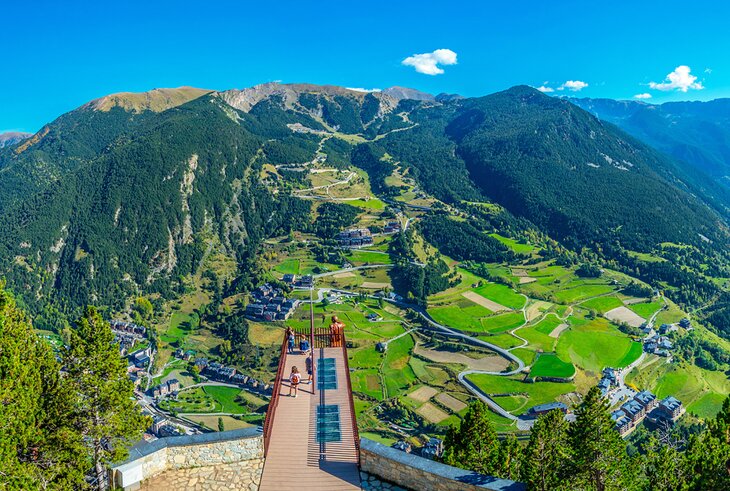 If you enjoy superb views but mountain climbing's not your thing, you're in luck. Andorra's Mirador Roc del Quer viewpoint boasts spectacular views over the Pyrenees, and while it's not for the faint of heart when it comes to heights, it's a safe, fun way to enjoy some of Europe's most impressive mountain scenery from up high.
Jutting over a steep precipice, the viewpoint consists of a 20-meter-long walkway that literally seems to be suspended in mid-air. In fact, it's the last 12 meters that jut out, making you feel like you're literally walking on air. Opened in 2016, the attraction also features a number of interesting outdoor sculptures that make for great photos.
Address: Ctra. de Montaup, AD300 Ordino, Andorra
7. Ordino and Casa d'Areny-Plandolit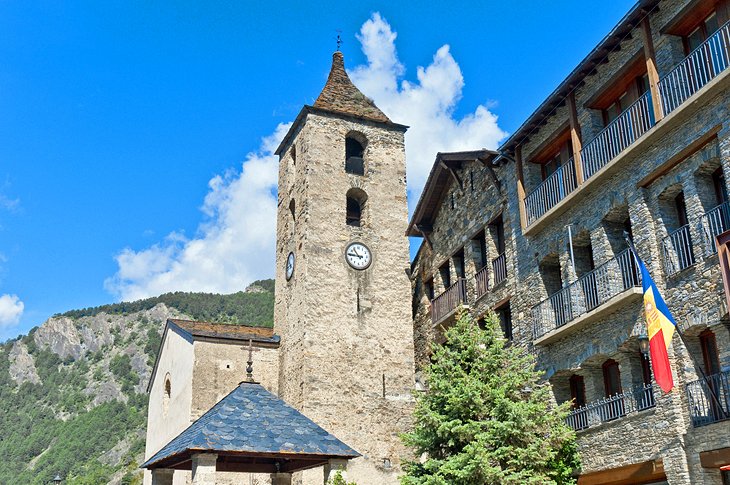 The chief destination in Andorra's picturesque Valira del Nord Valley, the small town of Ordino is idyllically located at the base of the 2,740-meter-tall Casamanya mountain. Shutterbugs will find it's one of the most beautiful places to photograph in Andorra.
In addition to its quiet streets, quaint shops, elegant hotels, and old churches, the town is home to Casa d'Areny-Plandolit. This important historic structure was built in 1633 and later rebuilt in the mid-19th century by Baron de Senaller, a man famous for instigating reforms in 1866 that gave heads of households voting rights.
Now open to the public, this splendid old house boasts a magnificent wrought-iron balcony from 1843 along with a reproduction of the country's original Cupboard of the Seven Keys. On the ground floor are storerooms and a blacksmith's shop, while on the upper level is the old armory with its large barrel-organ.
Also here is the dining room in which the Baron's Limoges and Sèvres dinner services, the latter a gift from the Austrian Emperor, are displayed.
Other interesting rooms are the library with its coats of arms of related families, and the music room with a copy of the original version of the Andorran national anthem. Also worth a visit are the private chapel and a bakery.
Address: AD300 Ordino, Andorra
8. Postal Museum, Ordino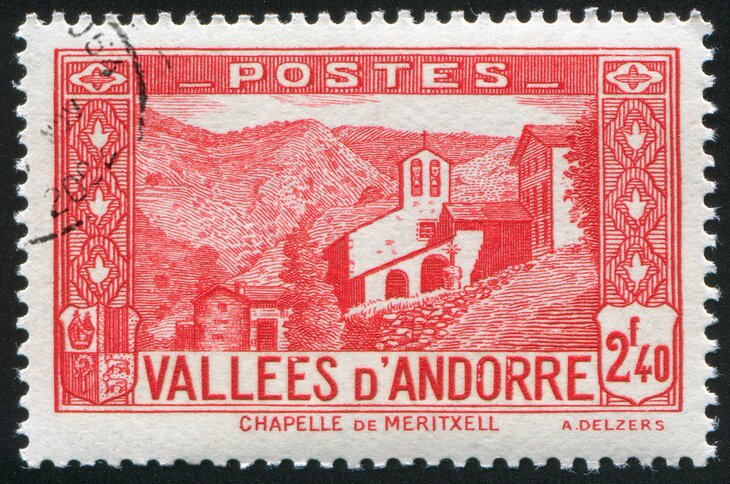 Also worth visiting while in Ordino is the Postal Museum (Museo Postal de Andorra). Highlights of a visit include audio-visual displays outlining the growth and development of the country's postal service, including the delivery by mail of the country's first pair of skis.
Other exhibits deal with how stamps are made. There's also a rare collection of more than 50,000 Andorran stamps. English language tours are available, and last 30 minutes.
Address: AD300 Ordino, Andorra
9. La Cortinada and the Church of Sant Martí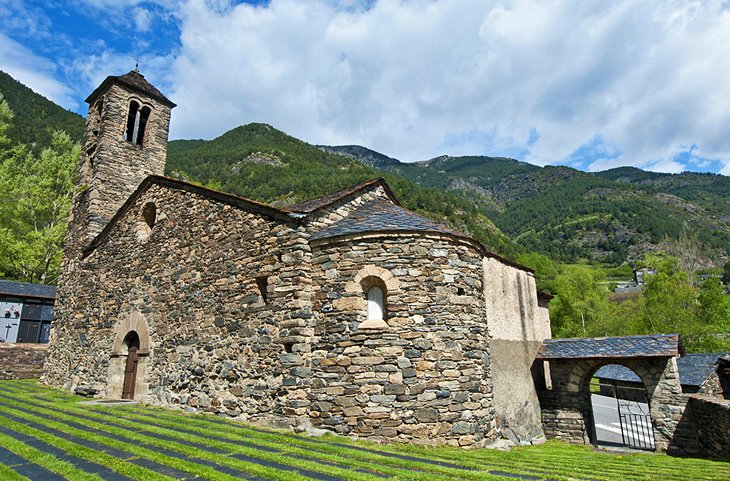 The village of La Cortinada is one of the most attractive smaller communities in Andorra. Surrounded by meadows and rugged mountains, this picturesque village is home to the lovely 12th-century Church of Sant Martí de la Cortinada (Església de Sant Martí de la Cortinada).
This well-preserved medieval place of worship is notable for its Romanesque frescoes, its charnel house holding numerous human skeletal remains, and a beautiful old dovecote bird shelter. Later additions from the 17th and 18th centuries include locally made fine wrought-iron railings, a brightly painted wooden altarpiece, numerous fine pieces of elaborate furniture, and a confessional.
Address: AD300 La Cortinada, Andorra
10. El Serrat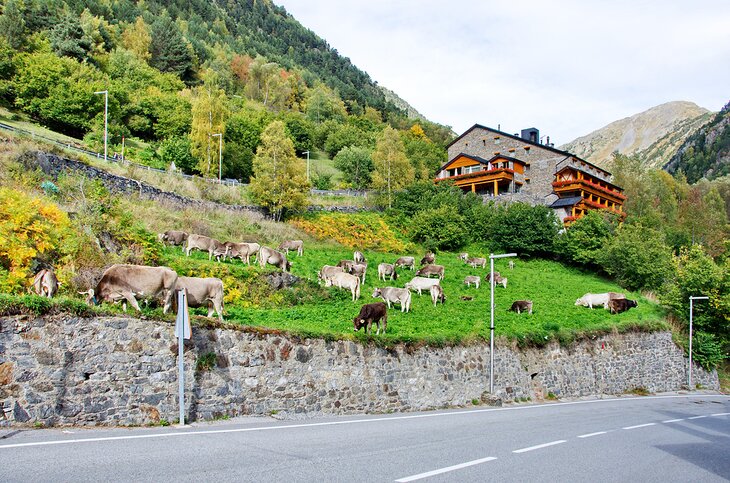 Another village worth visiting is tiny El Serrat. Located at the end of the road running through the Valira del Nord Valley, this extremely pretty small mountain village sits in a magnificent location and is a great base from which to explore the surrounding countryside.
It's equally popular among bird-watchers and hikers, as well as those with an interest in alpine flora. Come winter, activities switch to downhill skiing and snowboarding, as well as Nordic skiing and snowshoeing.
11. The Town of Les Escaldes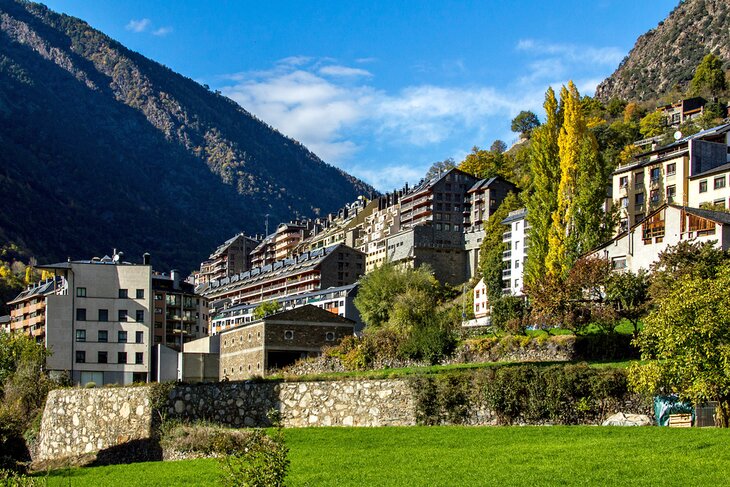 The Andorran town of Les Escaldes, just a few minutes' drive from Andorra la Vella, takes its name from the many hot springs dotted around the community. Known for their high sulphur and nitrogen content, the town's waters range from a pleasant 22 degrees Celsius to a scalding 66 degrees Celsius and were well known as far back as Roman times for their medicinal qualities.
Other highlights include the Viladomat Museum, with its displays of works by Catalan sculptor Josep Viladomat, and the ruins of the old fortress of Capilla Sant Rom. Be sure to include the historic Pont dels Escalls bridge, with its superb views of the old town, in your itinerary.
Also well worth a visit is the Thyssen Museum (Museo Carmen Thyssen Andorra), an art gallery centered around a large private collection, including works by 19th- and 20th-century Masters such as Monet, Matisse, and Gauguin. The country's newest major attraction, the museum also offers visiting exhibits.
Another art-related attraction is the Centre d'Art d'Escaldes-Engordany. This interesting gallery houses a good collection of sculptures and artworks in a historic heritage building.
12. Touring the Valira d'Orient Valley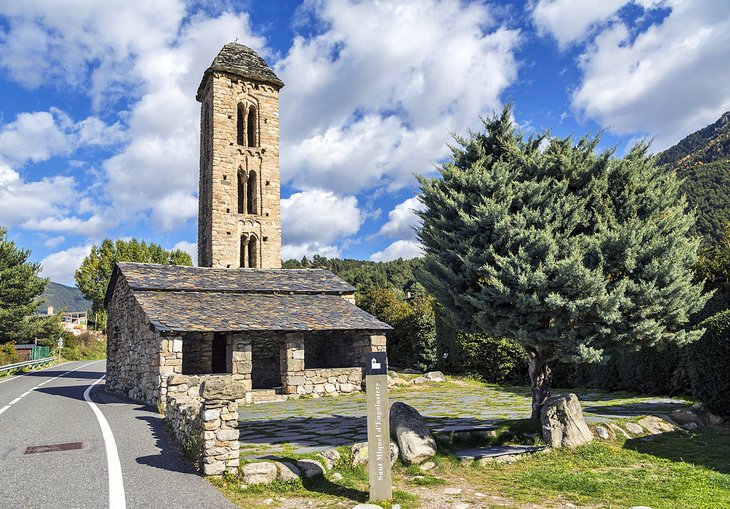 A highlight of a visit to Andorra is the chance to explore this small mountain nation's stunning scenery from the comfort of a car. One of the best routes is along the Valira d'Orient Valley.
Starting in Les Escaldes north of the capital Andorra la Vella, head along the narrow, winding road leading up to the 12th-century Sant Miquel Engolasters, a typical example of the country's many Pyrenean churches in Lombard Romanesque style.
From here, it's possible to walk to Lake Engolasters, an artificial lake created by a dam, which is popular for fishing and sightseeing.
13. Encamp and the National Automobile Museum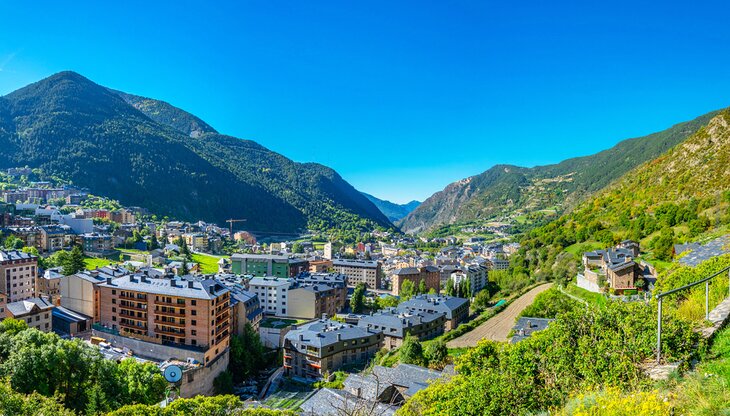 In the geographical center of Andorra, the town of Encamp, home to nearly 12,000 people, makes for a good base no matter what time of year you choose to explore the country. Its downtown is also one of the prettiest, with the Valira d'Orient river running through it, and its fine old buildings now serve as shops, cafés, and restaurants.
It's also a great place from which to embark on hiking and biking adventures thanks to the neighboring Pic dels Pessons mountain which, at 2,865 meters, is the parish's tallest peak. Come winter, the town is transformed into one of the country's most important ski centers with a gondola linking it directly to the slopes of Grau Roig and Pas de la Casa.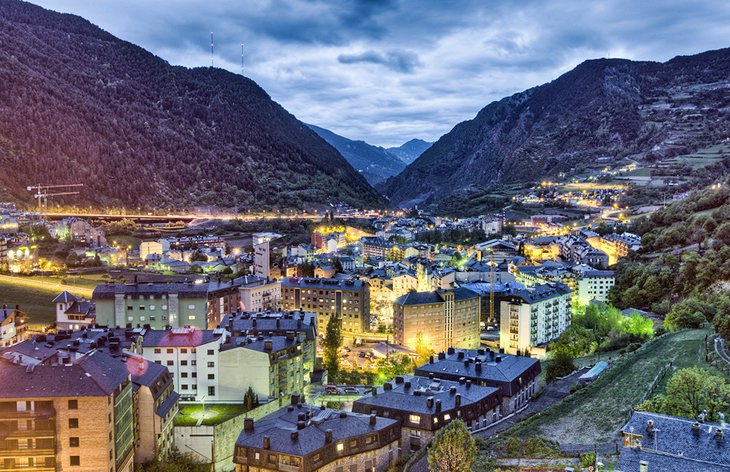 The city is also home to the excellent National Automobile Museum with its numerous displays of classic vintage cars. This impressive collection also includes a steam-driven machine dating from 1885, along with antique motorcycles and bicycles, all in mint condition.
Address: Avenida Príncep Episcopal 64
14. The Church of Santa Coloma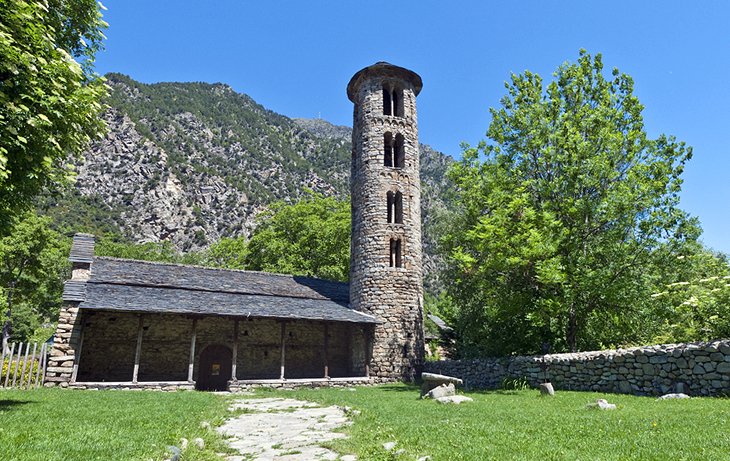 On the main road leading from Andorra to Spain in the little village of Santa Coloma is one of the country's finest Romanesque places of worship. The Santa Coloma Church, the oldest church in the country, is notable for its tall, rounded three-stage tower, which is very different from the more typical square design of other church towers in the country.
This splendid old stone structure dates from the 9th century and contains a much venerated 12th-century statue of the Virgin of Coloma, a number of Mozarabic frescoes on its arched entrance, and a splendid medieval font. Afterward, take the short hike up to the 12th-century castle of Sant Vicenç d'Enclar perched upon the commanding Roc d'Enclar just above the village.
Address: Carrer Major, AD500 Santa Coloma, Andorra
15. Madriu-Perafita-Claror Valley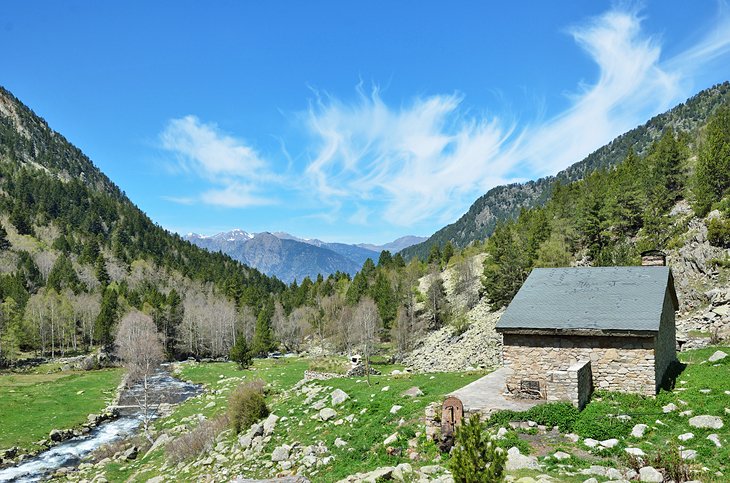 Despite being only 42 square kilometers, Andorra's only UNESCO World Heritage Site, the beautiful Madriu-Perafita-Claror Valley occupies nearly 10 percent of the country's total area. Regarded as the "spiritual heart" of this tiny nation, it looks like something out of a picture book as it's so attractive and unspoiled.
This remote glacial valley is also a refuge for a variety of endangered and rare species of wildlife, and boasts spectacular vistas over mountain pastures, rugged crags, and thickly forested valleys. Part of the fun is getting here. Given its remoteness, the valley is only accessible by walking trails, resulting in a surprisingly peaceful and tranquil hiking experience.
Along the way, you'll come across a variety of reminders of the region's prior human habitation (no one lives here now), stretching back some 700 or more years. These include two small villages, which are fun to explore. The dwellings here, along with some of the surviving mountainside huts, now serve as accommodations for hikers.
16. Our Lady of Meritxell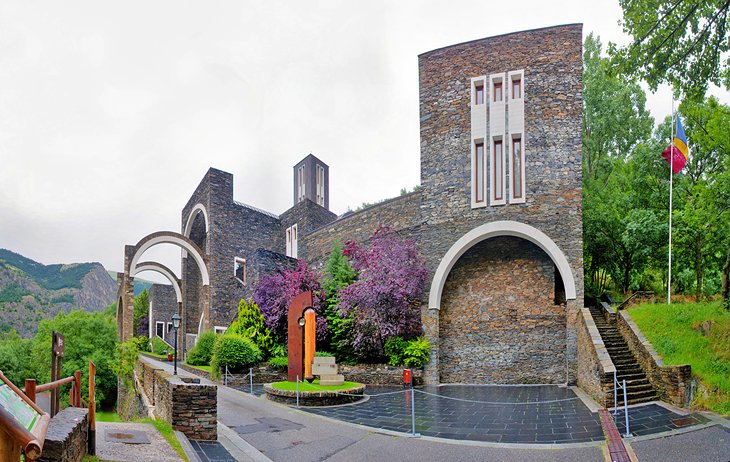 Andorra's patron saint, Our Lady of Meritxell (Mare de Déu de Meritxell), is famous as the country's spiritual guide. She's also the subject of a major festival held each September 8th since 1873, the same day as the Andorran National Holiday.
This Roman Catholic saint is associated with the Meritxell Chapel and is represented by a statue of the Virgin Mary with the baby Christ in her lap; the original statue, made in the 12th century, was destroyed in a fire. The replica, carved of wood and standing just 33 inches high, is said to be close to identical to the original and can be viewed, along with other relics, in the church's sanctuary.
Be sure to also take in the splendid courtyard with its impressive arches. This church is also a part of the Marian Route, an important itinerary of pilgrimages that includes sanctuaries in Montserrat and Lourdes, among others.
Address: AD100 Meritxell, Andorra
17. The Museum of Miniature
The Museum of Miniature (Museo de la Miniatura) is a great way for young and old alike to spend an hour when in Ordino. And these really are miniature artworks.
Crafted by Nicolai Siadristy, a Ukranian artist who's widely regarded as the best in his field, these tiny masterpieces are so small that many have to be viewed through a magnifying glass or microscope to be appreciated.
Crafted from metals such as gold and platinum, as well as everyday materials including paper and wood, even grains of rice, the museum's huge micro-miniature collection features everything from minuscule Russian Dolls to religious artifacts such as crucifixes. The exhibits are augmented by an interesting audio-visual display, which also features details of the artist's life and craft.
Address: AD300 Ordino, Andorra
Map of Tourist Attractions in Andorra
More Related Articles on PlanetWare.com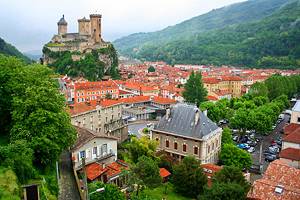 Explore Toulouse and the French Pyrenees: Thanks to its location in the very heart of the beautiful Pyrenees Mountains, Andorra serves as a perfect jumping-off point to a variety of top attractions in the French Pyrenees. Of these, the top-most visited points of interest include the town of Lourdes, famous the world over as a place of pilgrimage, and the spectacular Cirque de Gavarnie, a huge circular ring of mountain cliffs, which many suggest resembles a giant church nave.
Another great French destination to visit from Andorra is Toulouse, just a two-hour drive north and full of must-see attractions and famous for its many rose-colored brick buildings.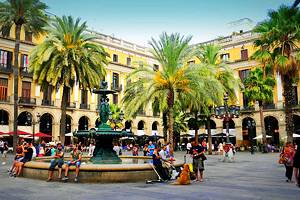 A Day Trip to Barcelona: Just two-and-a-half hours' drive to the south is one of the most popular tourist destinations in all of Spain: Barcelona. Whether stopping by for a day trip or an extended visit, must-see attractions include the iconic Basilica de la Sagrada Familia, a spectacular cathedral, which has been in the making since 1883 and is still not finished; and Barri Gòtic (Gothic Quarter), famous for its well-preserved historic architecture and narrow cobblestone streets. While visiting Barcelona, be sure to set time aside for a walk around the hilltop neighborhood of Montjuïc, a popular jaunt for its lovely parks and gardens, museums and art galleries, and superb views over the Mediterranean Sea.