Andorra in Pictures: 14 Beautiful Places to Photograph
Although one of the smallest countries in Europe - it covers just 468 square kilometers and has a population of 77,000 souls - Andorra offers no end of fantastic opportunities for those seeking beautiful places to photograph. Tucked away between France and Spain, this small principality is where you'll find some of the most spectacular scenery in the Pyrenees mountain range, including charming hillside villages, lush green valleys, and, of course, rugged peaks.
The opportunities for great photographs (and selfies!) are just as plentiful in winter, too. Andorra is a popular ski destination, and sunny winter days spent slope-side ensure ample opportunities for memorable pictures for the family album.
1. Andorra La Vella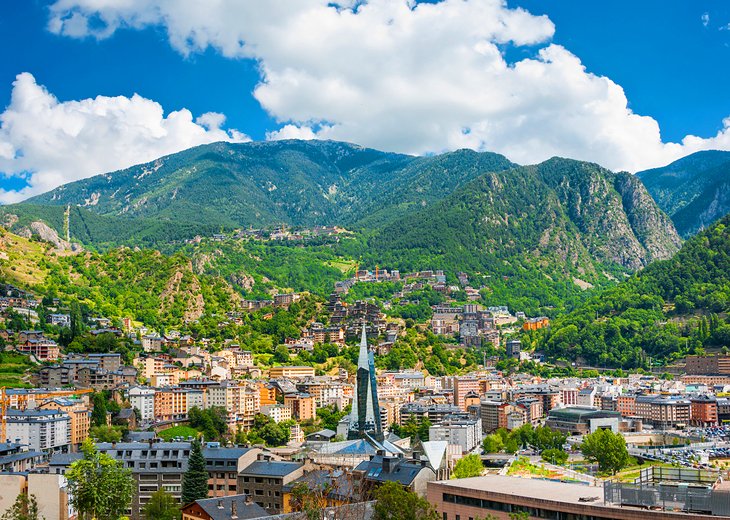 The spectacular mountain setting of Andorra's capital, Andorra la Vella, makes for a stunning backdrop for great vacation photographs. Whether visiting in spring, summer, fall, or winter, this attractive cityscape can be easily explored on foot, with great vistas and photo opportunities at every turn.
Popular things to do here include exploring Andorra la Vella's main street, and visiting the 16th-century Casa de la Vell while squeezing in a little shopping at the same time.
2. Sant Esteve, Andorra la Vella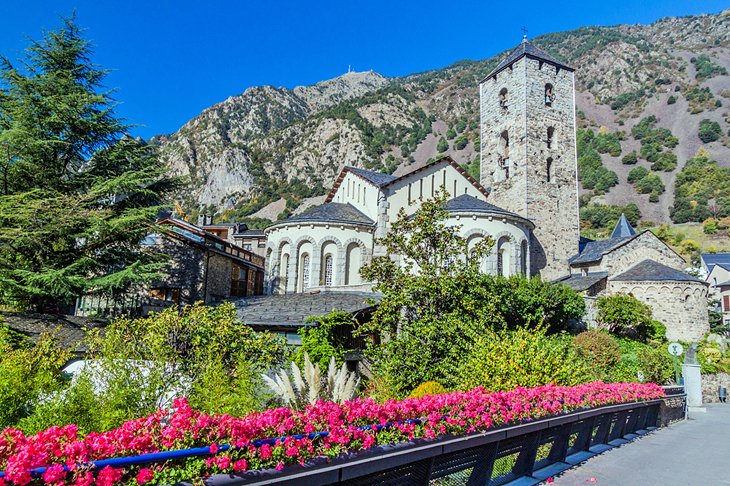 Be sure to include Sant Esteve Church (Església de Sant Esteve) on your list of "must-shoots" in Andorra la Vella. This spectacular 12th-century medieval church is as photo worthy inside as it is outside, especially since it has been fully restored. The best time to capture the church in a photo is spring or summer when the surrounding flowerbeds and blooms are at their peak.
3. Mirador Roc Del Quer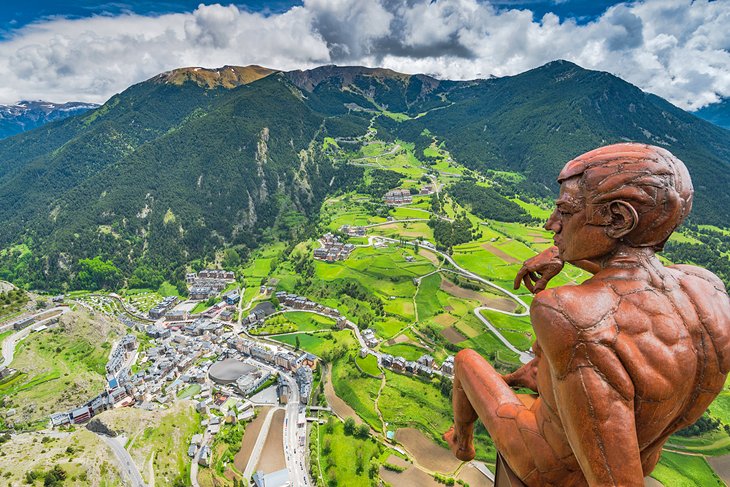 The views from the observation deck at Andorra's Mirador Roc Del Quer are simply breathtaking. Suspended 500 meters above the valley floor near Canillo, the photos and selfies taken here are all the more memorable thanks to the addition of a sculpture called The Ponderer, who sits on the precipice contemplating the incredible views over this part of the Pyrenees.
4. Ordino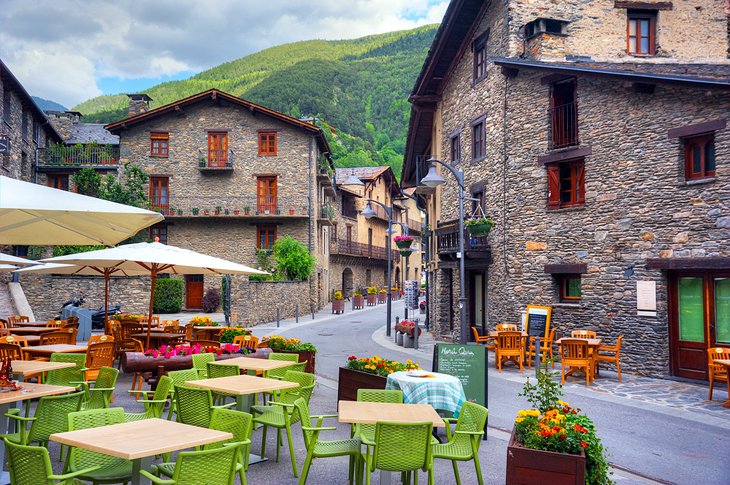 In the attractive old town of Ordino, it seems as if every street is worthy of a photograph. Some of the best shots, though, can be had in the center of this picturesque community, with its bustling cafés and quaint street scenes. Pull up a chair, grab a coffee, and let your creative juices flow as you soak up the scenery and get in a little people watching.
5. Incles Valley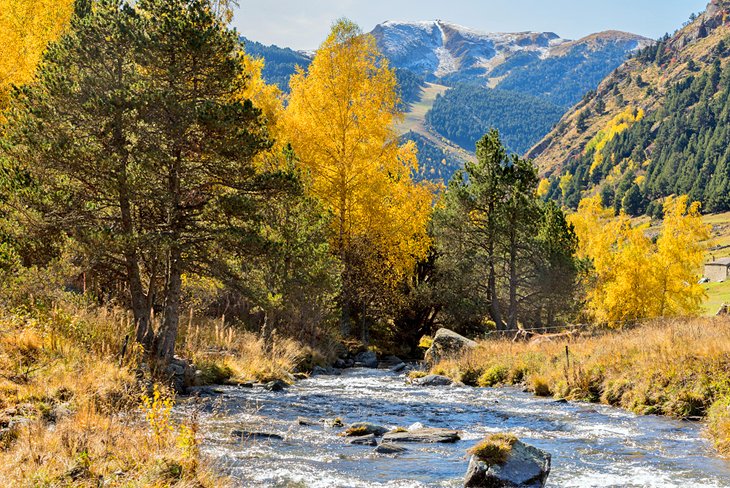 A good time to visit Andorra is in autumn. Not only are there fewer tourists, but a whole new sightseeing experience opens up as you capture the country's lovely fall colors. A favorite spot for both serious and casual photographers is the lovely Incles Valley (Valle de Incles), popular for its spectacular glacier-fed river and mountain backdrop.
6. Estanys de Tristaina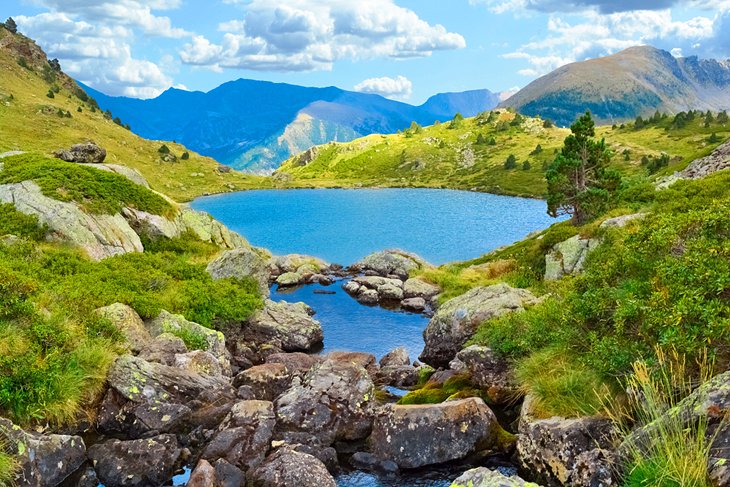 Estanys de Tristaina is another area of outstanding natural beauty in Andorra that's just begging to be explored. An area of high mountains and stunning scenery, it's especially fun for those who enjoy hiking, with its many natural lakes making the perfect backdrop for a rest and a photograph (or two). A variety of trail options are available, including easy options suitable for those more interested in a casual stroll than a hard hike.
7. The Bridge of Margineda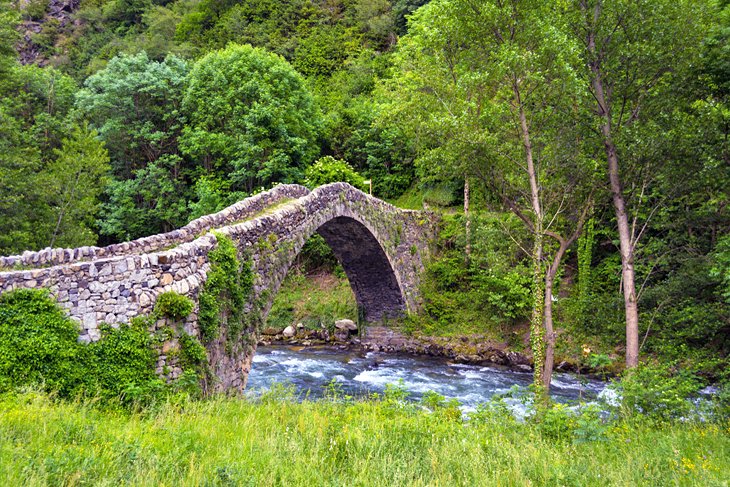 Located on the outskirts of Andorra la Vella, the romantic Bridge of Margineda (Pont de la Margineda) is one of the country's most popular wedding photo spots. Stretching 33 meters over the River Valira, this spectacular bridge - built hundreds of years ago during medieval times - is a must-include on your Andorra travel itinerary.
8. Via Ferrata Canal del Grau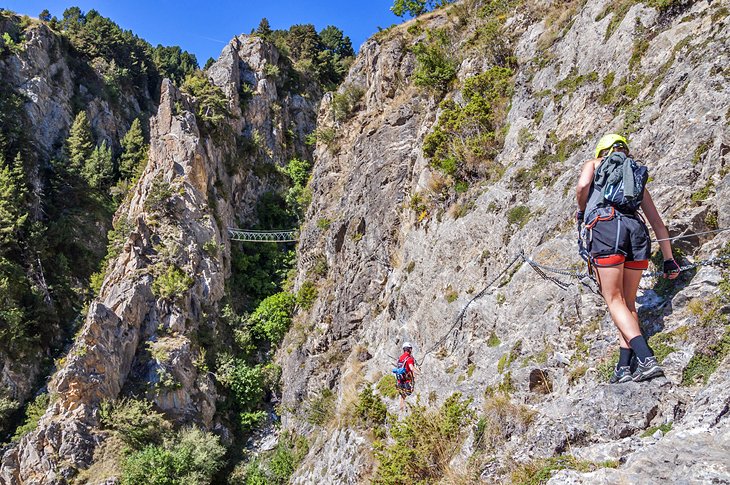 Thanks to its mountainous setting, Andorra has become an extremely popular destination for those who enjoy adventure travel. For experienced rock climbers, the Via Ferrata Canal del Grau near Canillo offers a variety of challenging routes, ranging in duration from 30 minutes to a few hours. Those new to the sport should look into securing a guided tour that includes some rock climbing lessons.
9. Vallnord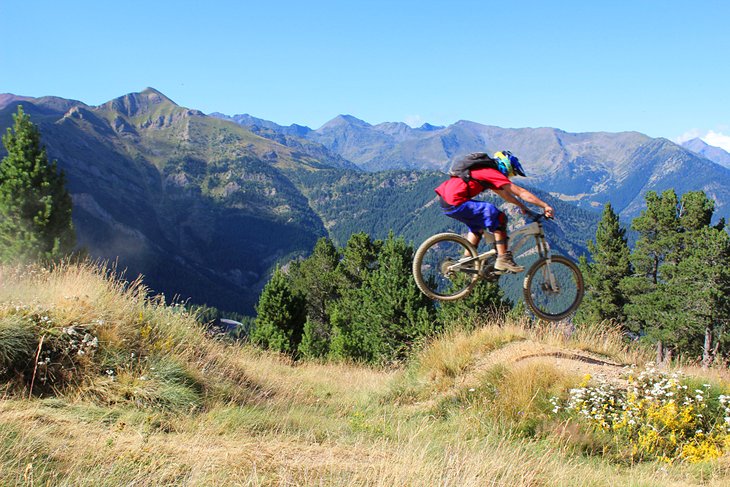 While its mountain peaks are busy with skiers and snowboarders in winter, come summer, Andorra's resorts switch gears. During the warmer months, visitors flock to popular resorts such as Vallnord for outdoor activities including hiking, biking, and climbing.
Interested in more sedate pastimes? Then simply go for a stroll along a resort trail (the views are equally impressive), hang out poolside, or enjoy the area's famous hospitality in its many restaurants.
10. Caldea Thermal Complex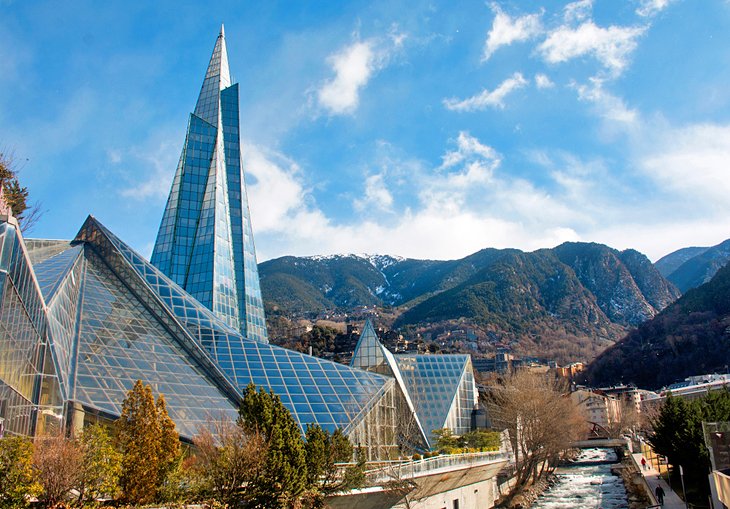 While on the topic of relaxation, it just so happens that Andorra la Vella is home to the country's top spa. The ultra-chic Caldea Thermal Complex - the largest spa complex in Europe - offers indoor and outdoor pampering in its mineral-rich warm pools, along with saunas and an adults-only area. Its striking modern design is a draw for those who enjoy taking photos of stunning architecture, too.
11. Sant Marti de la Cortinada Church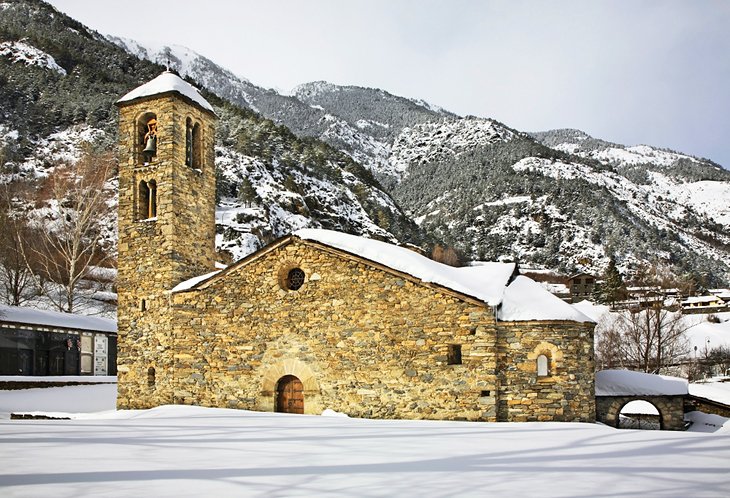 Situated in a quaint village called La Cortinada, the Sant Martí de la Cortinada church is another romantic spot for a memorable photograph. While this 12th-century building's charming Romanesque frescoes are popular for those interested in interior photography, it's the church's stone exterior that really catches the eye.
12. Les Escaldes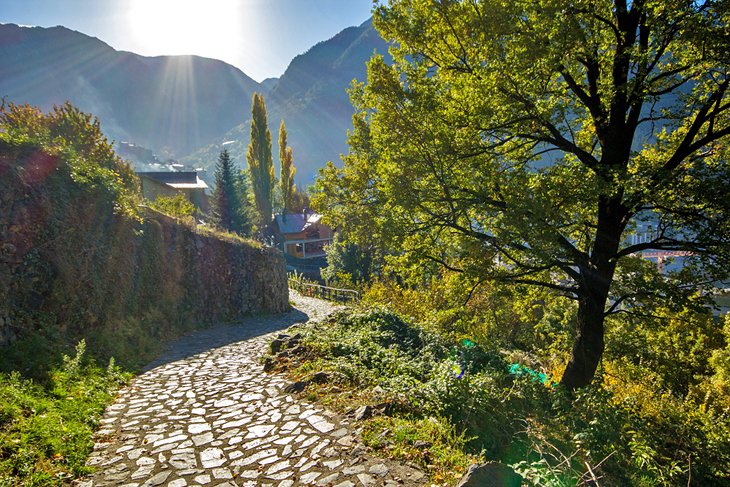 Taking a pleasant, unhurried stroll - camera in hand - is undoubtedly one of the top things to do in the Andorran town of Les Escaldes. Located just a few minutes' drive from Andorra la Vella, this attractive community features a network of paths and streets that will lead you to no end of photo-worthy old buildings and stunning vistas of the Pyrenees mountains.
13. Valira d'Orient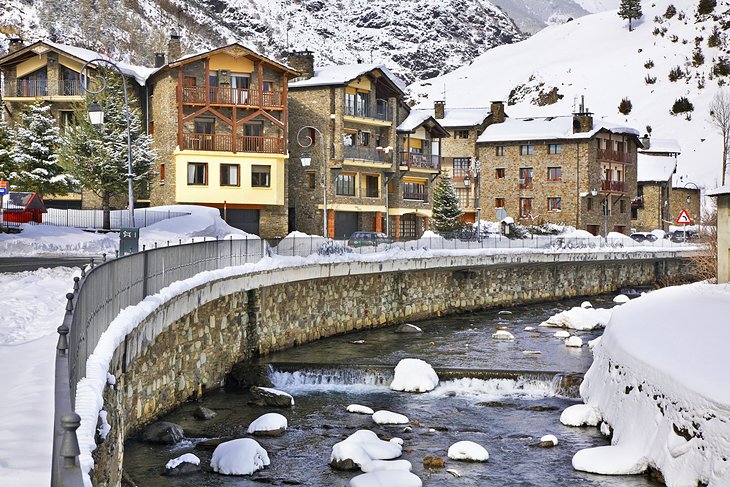 While some of the best winter scenery in Andorra can be enjoyed on the ski slopes, the coming of snow adds another dimension to the country's prettiest towns and villages. A favorite winter sightseeing spot is along the Valira d'Orient river in the village of la Cortinada, when the fresh snowfall makes the scene reminiscent of a Christmas card.
14. Church of Santa Coloma d'Andorra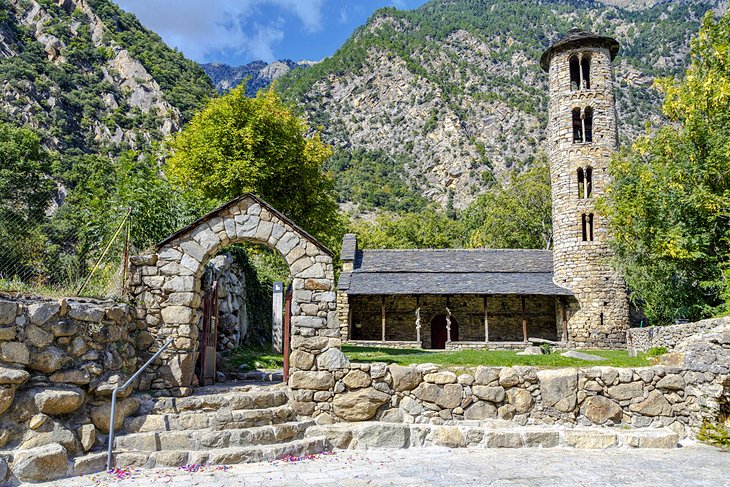 The Church of Santa Coloma d'Andorra is another must-photograph historic landmark in Andorra. Parts of this pre-Romanesque heritage site date back as far as the 8th century. This, along with its charming mountainside setting, has ensured the old church has become one of the most famous places for a photograph in the country.