17 Best Beaches in Mallorca
Travel writer Freddy Sherman loves spending time on Mediterranean islands. He last visited Mallorca in 2022.
Mallorca (Majorca) is a beautiful Spanish island destination in the Mediterranean Sea, located near its wilder neighbor, Ibiza. The island's beautiful beaches and its close proximity to most of mainland Europe make it one of the world's most popular places to visit for beach getaways.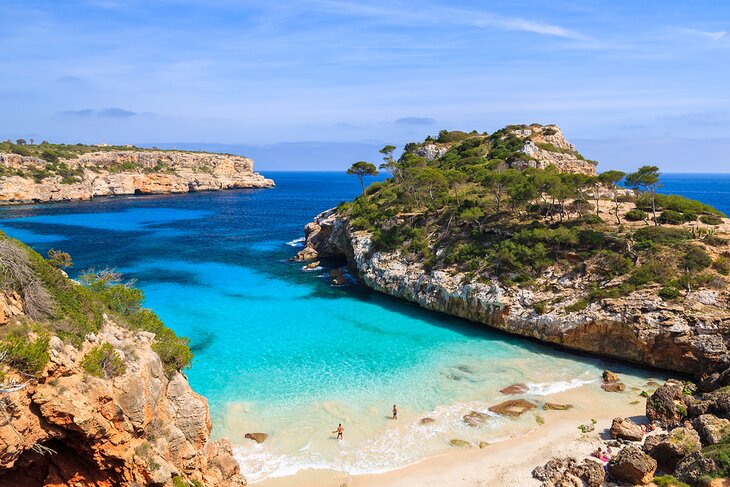 Regardless of what kind of beach you like, with about 345 different beaches, Mallorca's got it. It has secluded, hidden beaches nestled in coves and canyons, like Sa Calobra, along with wide, sweeping beaches fronted by promenades and lines of hotels, shops, and cafés like C'an Pastilla.
If you like water sports, beaches like Cala Mesquida have a lot of activities and rentals. Mallorca even has beaches like Es Trenc for those who want to enjoy the sand and sea au natural. Some beaches like Magaluf are great for kids and families because they have activities, as well as bathrooms and food for convenience.
The island has many Blue Flag beaches, an international designation indicating that they meet stringent environmental management, health, and safety standards.
Although the island isn't huge, renting a car is the best way to get around and will allow you to also see the attractions. The high season is summer, from June through August. A visit during what's known as shoulder season, May or September/October, will deliver great weather with far fewer crowds.
Plan your time along the Spanish coast with our list of the best beaches in Mallorca.
1. Cala Mesquida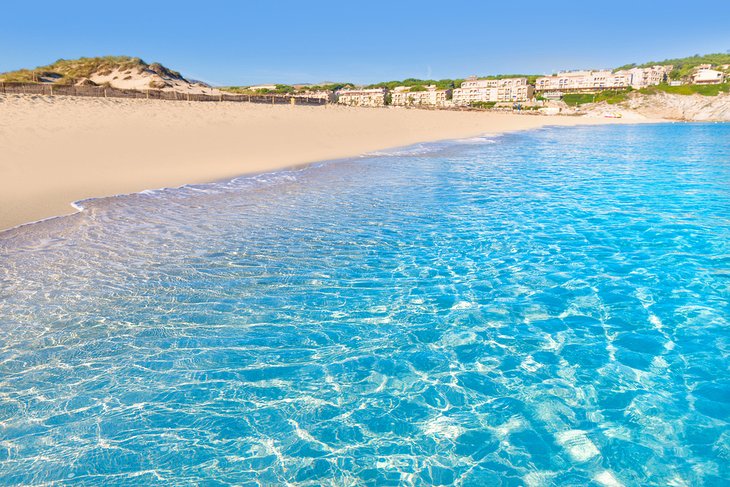 Cala Mesquida is a long, wide beach popular with people who like to play in the water. The sea is shallow for a long distance from the shore, so you can wade quite far out. This makes it great for water sports and snorkeling.
On one side of the beach, there's a very nice resort, the VIVA Cala Mesquida Resort & Spa. The resort has several dining options, including a casual café on the sand where you can get takeout.
The other side is part of a protected nature reserve, so it's all pine trees and sand dunes. This adds to the remote, secluded vibe.
There are sun loungers and umbrellas available to rent and several toilet areas along the beach.
2. Es Calo del Moro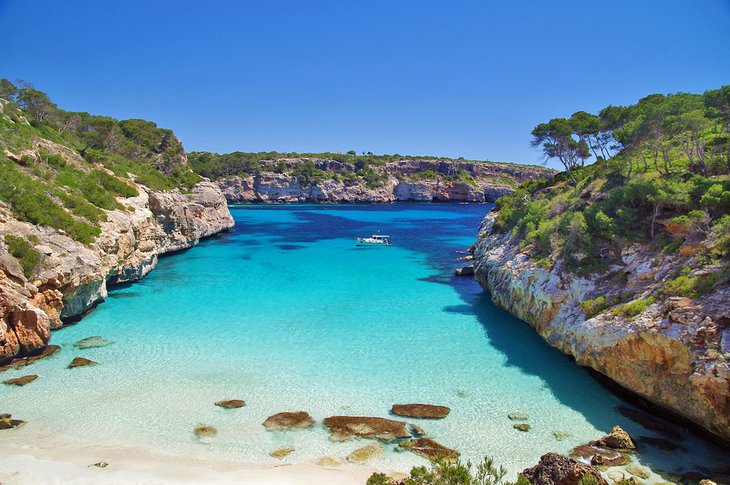 Located on the island's southern coast, Calo del Moro is a beautiful, secluded beach located near the town of S'Almunia. This Blue Flag beach is raw, natural, and undeveloped, preserved for eternity by a private foundation. The water is a deep turquoise color, with a small, sandy beach surrounded by high cliffs. There is a steep hike down a rocky trail to access the beach, so it's best to wear sneakers.
The beach at Es Calo del Moro is on the short side of the rectangular bay. It's unique, as the sides of the bay are straight sheer cliff faces, so it's like the beach is at the end of a canyon.
The beach can be crowded during busy summer weekends. If so, walk a bit to Cala S'Almonia, a larger neighboring beach (bigger but less scenic).
3. S'Amarador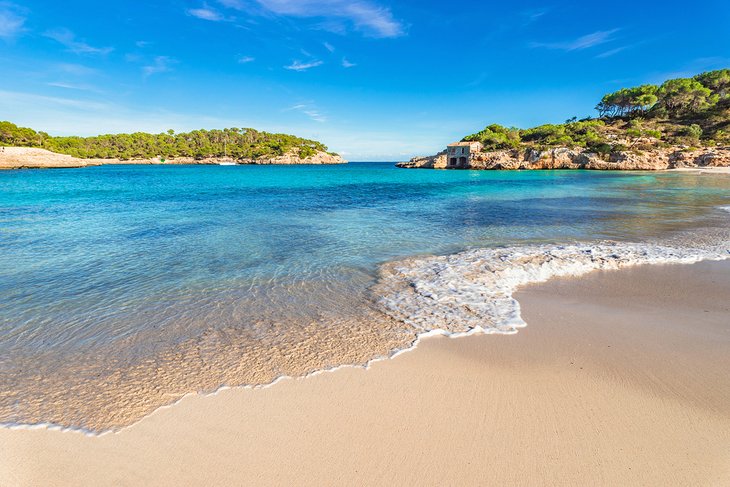 This beach is inside Mondrago Natural Park, a protected nature preserve. It's easily reached by car and has its own parking area. The draw here is the location - because it's inside the park, there is no development at all, it's truly raw and unspoiled. You can also venture off the beach and explore the park's forests and sand dunes.
There are three beaches at S'Amarador. Parking is at S'Amarador beach, but you can then walk to two other adjacent beaches: Cala Mondrago and Cala d'en Borgit.
The Hotel Playa Mondrago is a great place to stay inside Mondrago Natural Park, about a five-minute walk from the beach. There's a nice pool with a Jacuzzi, a small spa, and even a little market with groceries and sundries. All the rooms and suites have private balconies and little kitchenettes.
4. Cala Formentor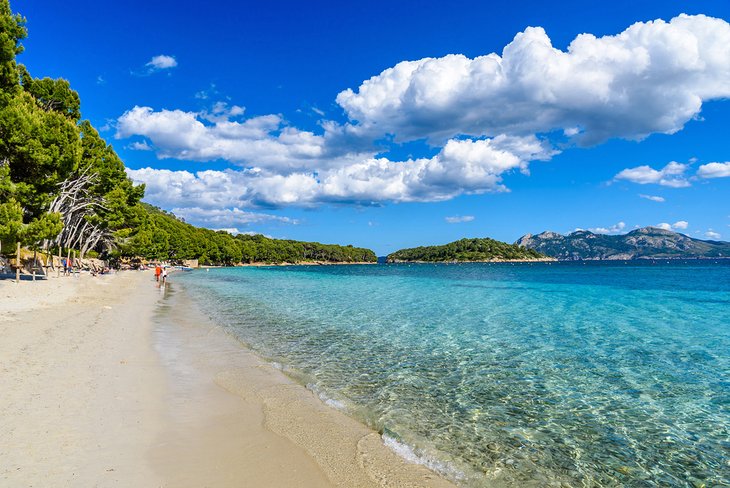 This wide, flat beach is on the southern tip of a peninsula on Mallorca's northern coast. The water is warm and calm, as the area is a protected bay. It's fun to relax on the beach and just look out at all the small boats moored just offshore.
The setting is really nice, as the rear side of the beach is lined with a grove of pine trees. The trees provide some shade for areas of the beach as well. There are lifeguards, as well as restrooms, changing rooms, and even some restaurants and cafés.
After spending the day on the beach, take a drive to the Faro de Capdepera, the lighthouse on the island's easternmost point, to watch the beautiful sunset. The beach is about 10 minutes from Port de Pollenca.
The Hoposa Hotel Pollentia is in Port de Pollenca. It's a highly rated, adults-only boutique property with sea views and warm, personal service. The beach is only a few steps away.
5. Cala Torta
One of Mallorca's best secluded beaches is Cala Torta, on the northwest tip of the island near the town of Arta. The beach is at the end of an unpaved road but worth the effort to get to. It's a natural, secluded beach with no development other than a single snack stand. You won't find showers or toilets here.
The beach has bright, fine white sand, with rocks on one side and sand dunes on the other. There are really no services and no water sports rentals at Cala Torta, other than people snorkeling (it's a great place to do it). You can also scuba dive in the bay. The warm, calm water is shades of turquoise and deep blue, depending on the bottom surface (sand or rock).
The nearby historic town of Arta is a fun place to visit, especially on Tuesdays, which is market day.
6. Es Trenc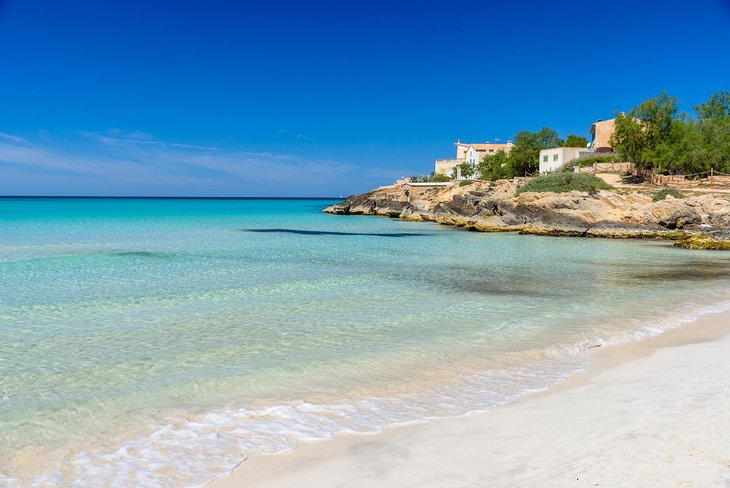 Es Trenc is one of the island's most beautiful beaches, as it's huge, long, wide, and flat with calm water, yet it remains virtually free of development. The majority of the 11-kilometer beach is part of a nature reserve, and it's always possible to find your own private space, even on the busiest of holiday weekends.
No water sports are here at the "virgin beach," just a few boats moored offshore, and there are no restrooms or showers either. Es Trenc has no hotels or accommodations — you can find those in the resort of Colonia Sant Jordi to the south or the town of Sa Rapita to the north.
Foodies should explore the Salinas de Es Trenc works, behind the beach, where the famous fleur de sel sea salt is harvested. Walking tours (in Spanish) of the saltworks are offered. Es Trenc is near the town of Campos on Mallorca's southern coast.
7. Magaluf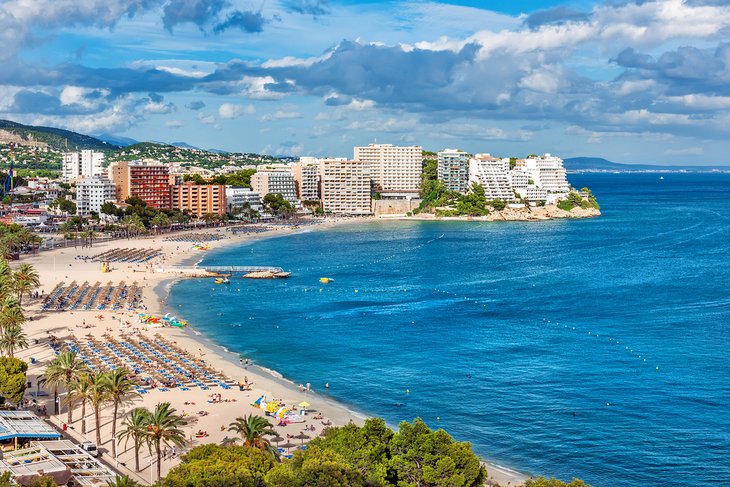 If your vacation goals are more social, and you're a solo or single traveler, Magaluf is a great place to visit. The resort city is a popular tourist destination, and its long, wide fine-sand beach is fronted by a promenade. This is lined with cafés, shops, and restaurants. It's a fun, lively alternative to some of the island's most remote, secluded beach options.
The beach and water are kept clean, and you have a lot of services here. You can rent beach chairs and umbrellas or spend the day at one of the beach clubs, which have their own private areas. You also get waiter service, so you never have to leave your lounger, except for a dip in the water.
Its reputation and vibe have changed a lot over the past few years, and it's less of a party town. Magaluf remains a great beach to visit for adults, as there is a lot to do off the beach, during the day and night.
8. Sa Calobra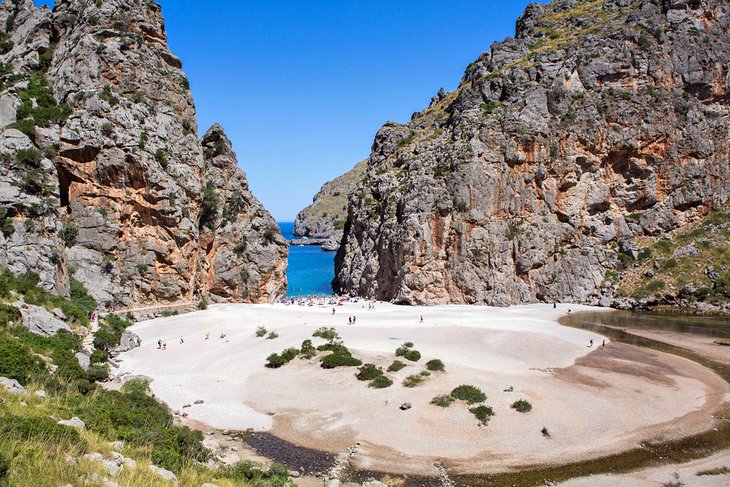 This beach is on the western coast of the island, and the drive to the beach, with its switchbacks, hairpin curves, and dips is a truly intense driving experience. The remote beach is reached through a tunnel that goes through a mountain. You can also arrive by sea and take a ferry from Port de Soller.
At Sa Calobra, you'll find a pebbly beach, with crystal-clear turquoise water teeming with sea life. The beach is surrounded by very tall, rocky cliffs and rock walls. It sits at the end of a canyon called Torrent de Pareis, which is a UNESCO World Heritage Cultural Landscape Site. The canyon is a popular place for hikers and cyclists. There are several cafés near the beach, and it has showers and toilets.
9. Cala Pi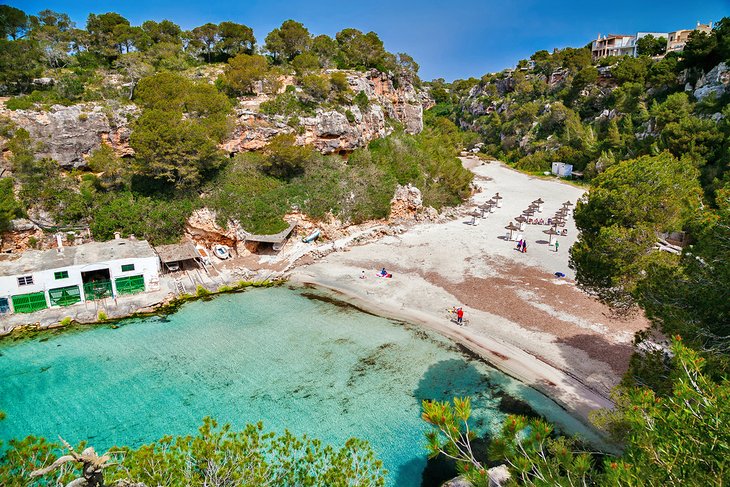 Cala Pi is a great example of one of Mallorca's secluded beaches that ticks all the key boxes. It's reasonably secluded yet easy to get to, it has good parking, and it's surrounded by beautiful scenery. It's also one of the less crowded beaches in Mallorca, even during the summer.
The beach isn't huge, but it's deep and extends a long way back from the waterline. The sand is fine and white, with water that is a beautiful shade of turquoise. The sea is shallow for a long way out, making it great for water sports.
There are changing rooms and bathrooms along with a small beach shack selling food.
10. Cala Banyalbufar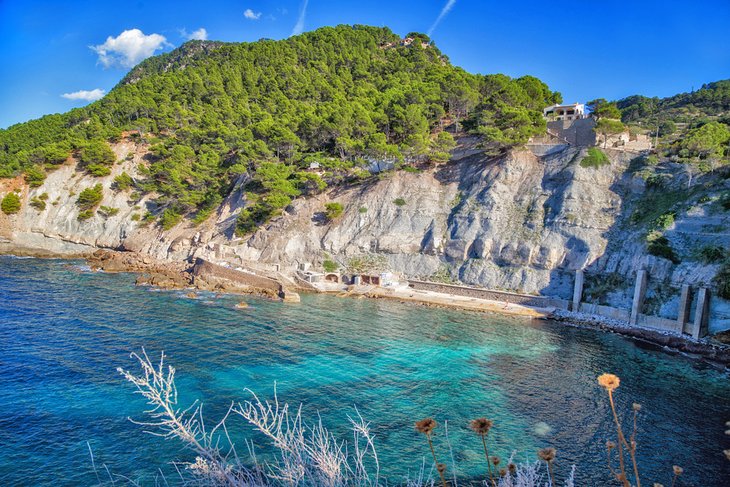 This is one of the most scenic, beautiful beaches on Mallorca. There are two beach areas. One is a sandy platform protected by rocks; the other is a sandy beach area, which becomes rocky at the waterline at low tide. The sea floor is rocky, too - bring some kind of water shoes if you want to go in the water. It's a good beach for snorkeling, although the waves can be too rough sometimes.
Cala Banyalbufar is located on the northwest coast of Mallorca, near the town of the same name. Bring food, some snacks, and sunscreen, as there's no place to buy anything.
11. Sant Elm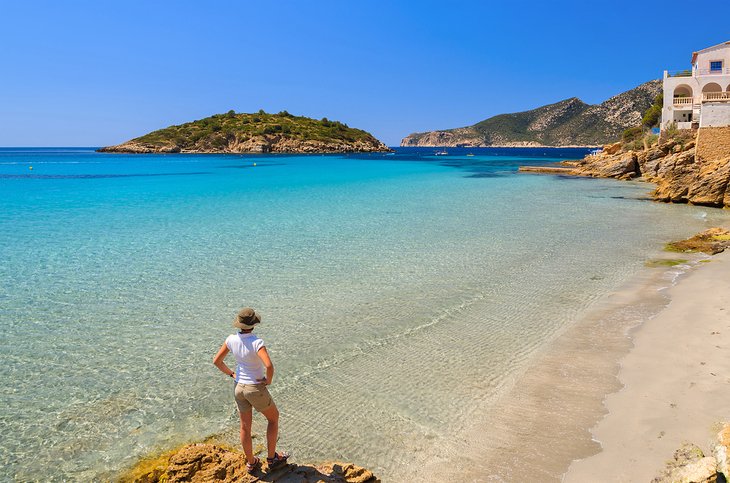 This charming beachside village offers mountain views behind it and a cool view of an uninhabited island (Sa Dragonera) just in front of the Blue Flag-certified beach.
The town has two main beach areas: the larger one is called Sa Platja G. It can be quite busy during the summer months, but you have a lot of services and amenities, like sun loungers and umbrellas available for rent.
As its name implies, Cala Petita is the town's smaller beach and is better for children and families, as the water is shallow for a long distance out from shore. For day trippers, both are close to the town's main parking area.
Sant Elm's close proximity to the mountains means it's also a popular spot for both cyclists and hikers. It's about 10 minutes from the town of Andratx and less than an hour's drive from Palma.
12. Cala Barques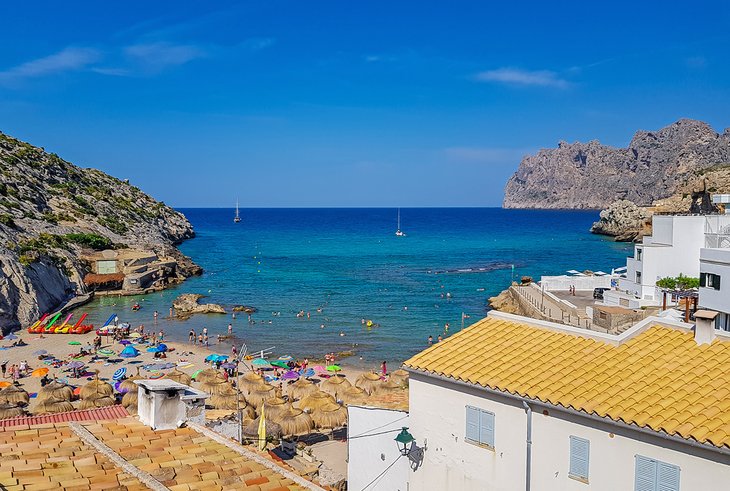 Another one of the island's Blue Flag beaches, Cala Barques is in the town of Cala San Vicente. The beach area is fronted by a fairly large bay with bright turquoise water, usually populated by a few dozen boats.
There are hotels and resorts along the beach, and the large beach area means it never gets very crowded. The wide beach is bookended by mountains on either side.
There are water sports rentals and also sun loungers and umbrellas available for rent. There's a good balance here between a nice beach area and reasonable beachfront development.
When you're finished enjoying the beach, spend some time exploring the nearby Hypogeum of Cala San Vicente, a Bronze Age cave temple.
13. C'an Pastilla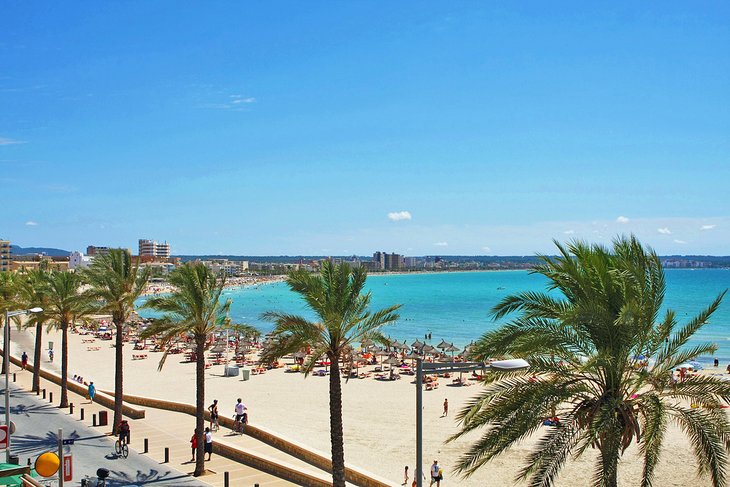 This stretch of fine-sand beach is a good big beach near Palma de Mallorca. Skip the crowded, in-town beaches and drive a bit out of the city center for a better experience. This beach isn't far from the airport and offers the full range of amenities — lots of bathrooms, snack stands, and cafés, a range of water sports options and rentals, sun loungers, and umbrellas.
The beach is wide, flat, and gently curving, with a paved beachfront promenade lined with shops. There's also a bike path and jogging trail. The water is shallow and free of currents or riptides, making it a great beach for families and kids – it's also near both Aquapark El Arenal and Palma Aquarium. Even parking at C'an Pastilla is easy to find on the streets near the beach.
14. Cala de ses Penyes Roges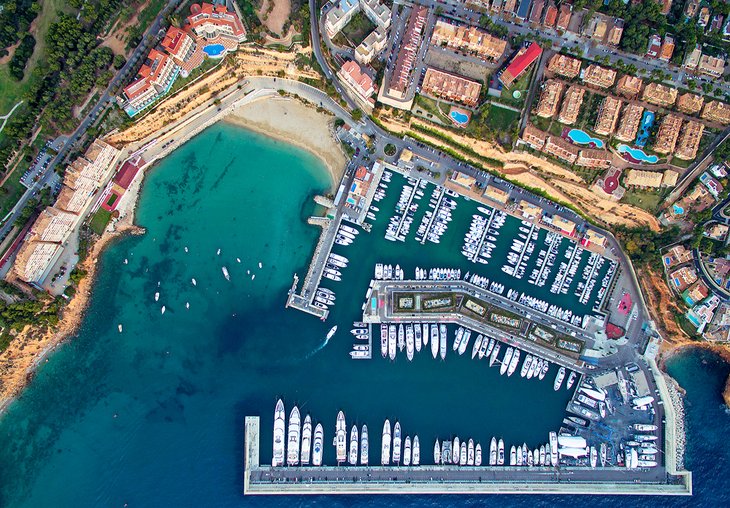 El Toro is a small seaport turned resort, and its Cala de ses Penyes Roges is a great manmade beach to visit near Palma. It's got a different vibe than many of the island's resort areas, as it's mainly apartments with a few hotels. Those apartments are mostly owned by British and European expats, who spend winters here.
The beach is large and not too wide but long and curving. The area is surrounded by large red rock walls on one side, which is why it's called the beach of the red rocks. You've got fine, golden sand and gentle waves due to a jetty in the marina that blocks the bay. There are showers and restrooms and a lifeguard but no sun loungers or umbrellas to rent.
El Toro is also home to Port Adriano, the largest marina on Mallorca. Aside from lots of yachts, the area is home to an entertainment zone with shopping, dining, and even concerts and other things to do.
15. Es Caragol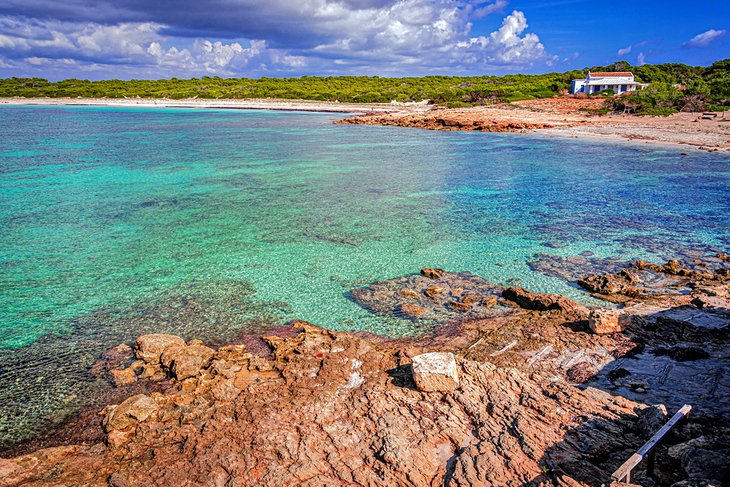 Located near the island's southernmost point, Es Caragol may be Mallorca's most secluded beach that doesn't require mountain climbing skills to access.
It takes about 30 to 40 minutes to walk here from the car park area, but it's a seriously beautiful stretch of fine white-sand beach with shallow, crystal-clear turquoise water lapping at it. It really looks and feels like a giant swimming pool. There is a huge area of warm, shallow water, perfect for wading and playing.
Es Caragol beach is really unspoiled, but that means there are no toilets, services, or shops of any kind, so bring your own food and water (and sunscreen).
16. Palma Nova Beach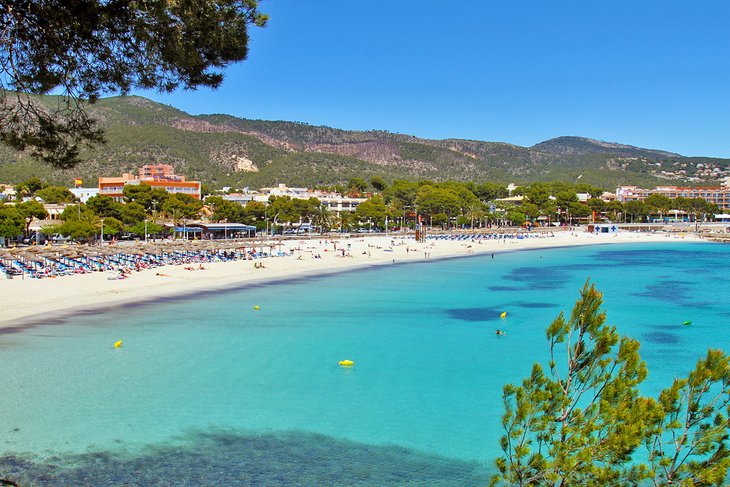 If you're looking for the best beach for children on Mallorca, it's hard to beat Palma Nova. For family beach trips, it really delivers. Palma Nova is very close to Palma, less than a 10-minute drive. It's the best beach for families on Mallorca because it's easy to access, easy to find parking, easy to find snacks and food, and easy to find your own little plot of sand.
The beach has chair and umbrella rentals, or make it easy and spend the day at a beach club. There is a public kids' playground and dedicated areas in the water for swimming. The beach also has lifeguards, restrooms, and outdoor showers.
Palma Nova is right around the headland from Magaluf, and you can walk over there if there's something you can't find at Palma Nova.
17. Platja de Alcúdia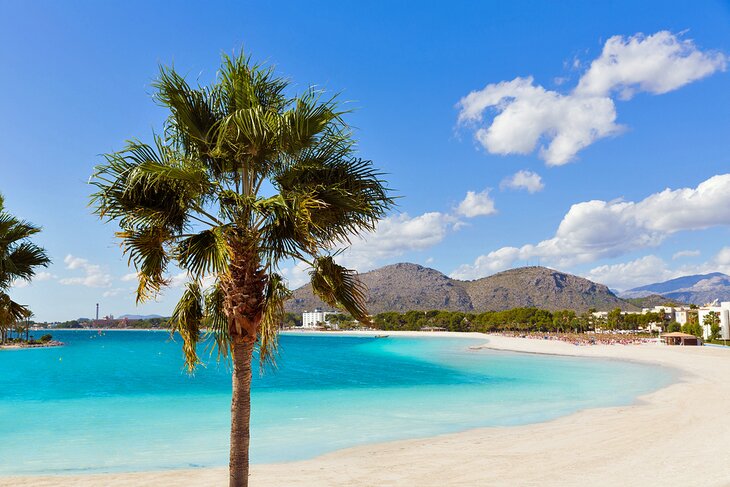 Another one of the best beaches in Mallorca, Platja de Alcúdia brings you some history with your beach day, as it's at the medieval town of Alcúdia. The seriously well-groomed, almost two-mile-long beach is another great beach for kids and families.
The water is warm and clear, the sand is highly rated for sandcastle construction, and the beach offers many showers, restrooms, and changing rooms. There are beach and water toys available for rent and a playground if the kids tire of the sand.
For sustenance, there's a row of restaurants and cafés along a wooden boardwalk. It's a big beach, so it's always possible to find a space for yourself, even on busy weekends and holidays. Leave time to explore the fascinating walled medieval town with its many shops and narrow streets. The fortress walls were constructed in the 16th century to defend against pirate attacks.
Map of Beaches in Mallorca