15 Top-Rated Beach Destinations in France
We may earn a commission from affiliate links ()
Sunny days spent on lounge chairs, swimming in warm crystal-clear waters, and dining at stylish waterfront restaurants – this description could define the typical French beach vacation.
A classic seaside holiday is what many travelers expect, but this is just the beginning. France offers a wide variety of wonderful beach destinations, from glitzy resorts to idyllic islands and pristine secluded shores.
On the French Riviera known as the "Coast of Blue" ("Côte d'Azur), sun lovers can soak up the dreamy scene of azure waters at private beach clubs. This glamorous strip of the Mediterranean coastline incudes world-famous resorts such as Saint-Tropez, along with more casual towns like Menton.
The elegance of the Belle Epoque era is found at the fashionable beach resorts of Biarritz in the Basque Country, Deauville in Normandy, and Dinard in Brittany. To really get away from it all, take a ferry to Corsica or to the tiny island of Porquerolles, where the beaches are prized for their powdery white sand and translucent turquoise waters.
Find the best places to visit on your next summer vacation with our list of the top beach destinations in France.
Note: Some businesses may be temporarily closed due to recent global health and safety issues.
1. Biarritz and the Basque Coast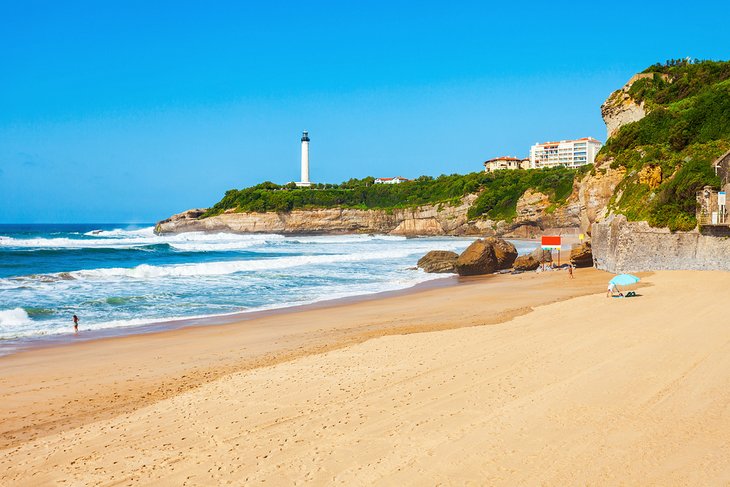 Biarritz is an elegant beach resort that has drawn high-society holidaymakers since the Belle Epoque. With its fine sandy shores, crashing waves, and refreshing ocean breezes, Biarritz surpasses the French Riviera in its variety of beaches.
One of its largest, the Grande Plage is a beautiful, wide beach in the shadow of the famous Hôtel du Palais, a luxury lodging that was once the seaside residence of Napoleon III and his wife Empress Eugénie.
During high season, the broad shoreline of the Grande Plage is packed with sunbathers and striped cabanas. The Quai de la Plage promenade alongside the Grande Plage invites visitors to take a leisurely walk while admiring the majestic Bay of Biscay coastline. The promenade also features seafront restaurants and cafés.
Right next to the Grand Place, the Plage du Miramar is a place of gorgeous natural scenery that overlooks the Biarritz Lighthouse; this beach also has colorful striped beach tents that lend an old-fashioned look to the oceanfront scene.
Biarritz is a capital of surfing in Europe because of its powerful waves. Favorite surfing beaches are Côte des Basques, where surf competitions are held, and the Plage de Marbella, a wild and rugged beach with crashing waves.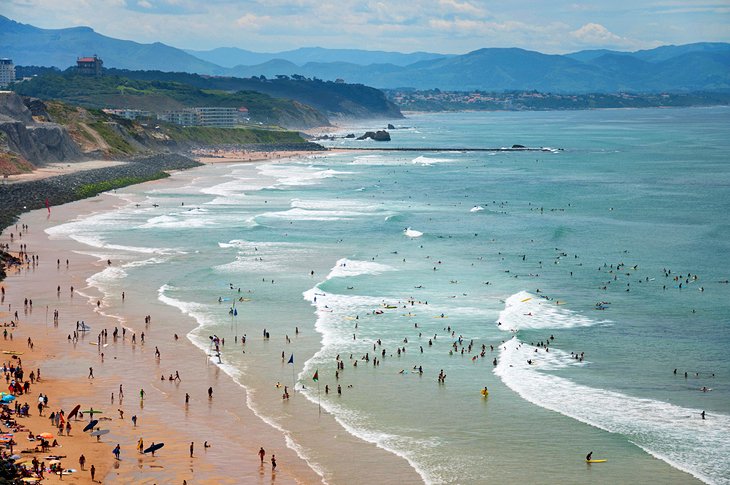 The best beaches for families with children are Le Port Vieux, with relatively calm waters, and Plage de la Milady, with a playground.
Because Biarritz is on the Atlantic Ocean, attention to water safety is more important than on the French Riviera where the Mediterranean Sea is gentle. During certain periods, bathing, swimming, and surfing are prohibited because of strong currents and dangerous waves. It is only advised to swim and bathe at Biarritz beaches when lifeguards are on duty.
Biarritz is a good base for a seaside holiday in the South of France. The area around Biarritz boasts other alluring beach destinations along the Atlantic Coast.
At Arcachon, visitors can admire the Dune du Pilat, the highest sand dune in Europe. This popular summertime beach destination includes a charming seaside town, a fishing neighborhood, and a sublime stretch of fine-sand shoreline.
About 20 kilometers south of Biarritz, Saint-Jean-de-Luz is a charming French village filled with historic buildings that overlook a long, sandy beach.
2. Saint-Tropez: Plage de Pampelonne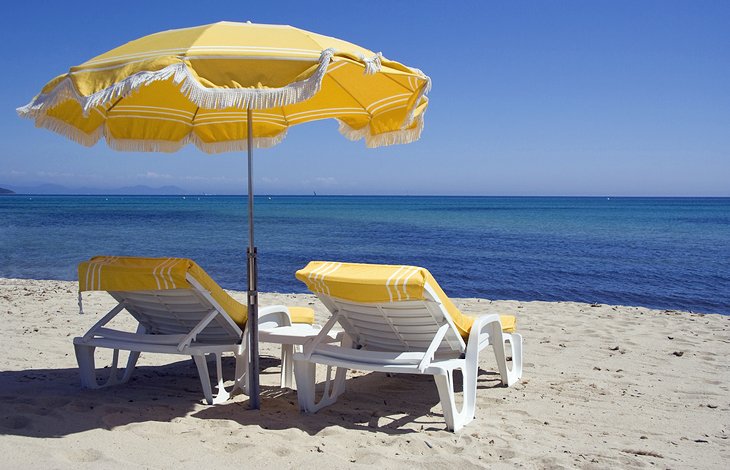 This sun-soaked French Riviera resort is synonymous with seaside glamour and gorgeous Mediterranean scenery. Celebrities are drawn to the town's exclusivity, but anyone willing to pay the price can enjoy the fashionable beachside lifestyle.
Although it's now known as an upscale destination, Saint-Tropez was once just an unpretentious fishing village, and it has retained the character of a small town in the Provence region. The historic center of Saint-Tropez still has traditional open-air Provençal markets, outdoor cafés, and shaded squares frequented by locals.
Nestled in a serene bay, the Plage de Pampelonne delivers the luxury that people expect at a Côte d'Azur resort. There are public areas, as well as private beach clubs that provide amenities like lounge chairs, parasols, cabanas, and well-maintained restrooms.
Several private beach clubs stand out: Eden Plage has a chic restaurant, entertainment, and yacht shuttle services; Nikki Beach is known to attract a celebrity clientele; and Tahiti Beach features a boutique hotel and a gourmet restaurant overlooking the seafront. Le Club 55 is the Plage de Pampelonne's most understated private beach club, with a relaxed atmosphere.
For an even more laid-back ambience, the nearby Cavalaire-sur-Mer is a casual beach with the same sun and seashore but without the high prices and exclusive attitude. The long beach here is popular with families and those who enjoy water sports such as scuba diving, snorkeling, kayaking, and deep-sea fishing.
3. Cap d'Antibes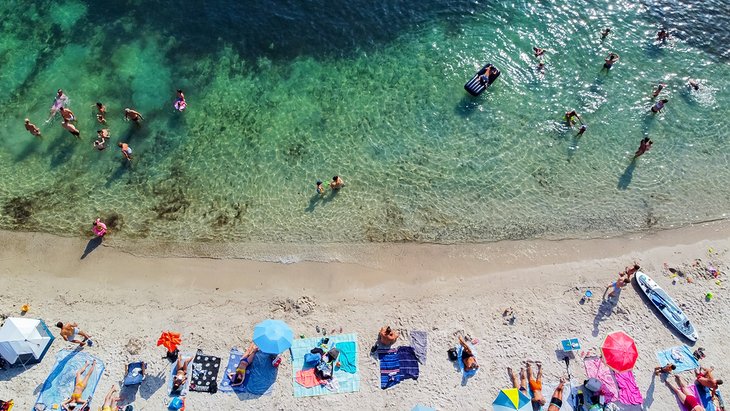 Unlike much of the French Riviera, the Cap d'Antibes is renowned for its sandy beaches. The Plage de la Garoupe, a fine white-sand shoreline tucked away in a small cove, is especially picturesque. During summertime, private beach clubs take up most of the real estate at the Plage de la Garoupe, however the entire stretch of shoreline is open to the public during the off season.
The Plage Keller, La Petite Plage, and Plage Joseph are the most exclusive of the private beach clubs; they offer lounge chairs, sun umbrellas, and stylish seafront restaurants.
At the southernmost tip of the Cap d'Antibes, the Chemin des Douaniers footpath (also known as the "Sentier de Tirepoil") is a 3.7-kilometer seaside trail that follows the coastline along cliff sides and through a typical Mediterranean landscape. Hikers will admire the magnificent sea views and elegant villas along the way.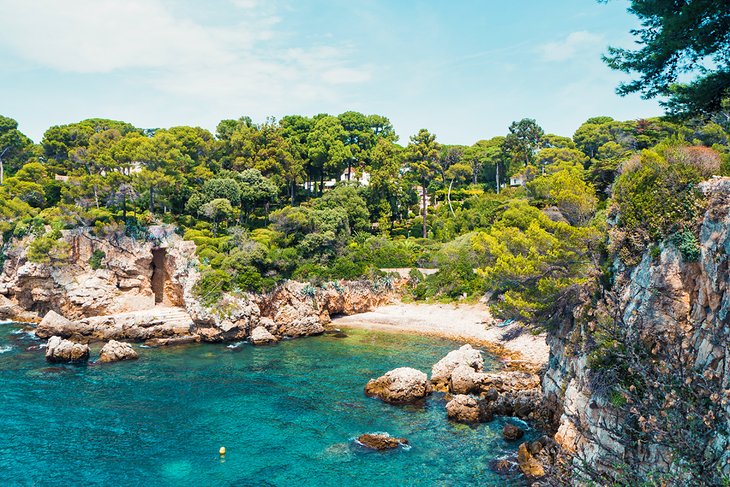 For those who don't own a villa but would like to stay overnight on the Cap d'Antibes, luxury accommodations are available at the Cap d'Antibes Beach Hotel. This five-star Relais & Châteaux property has a private beach overlooking the Iles de Lérins, islands that are just off the coast.
The Cap d'Antibes Beach Hotel's Michelin-starred Les Pêcheurs restaurant specializes in classic French cuisine with a gastronomic menu that includes superb locally caught seafood.
Among the top tourist attractions of Antibes are the public beaches of Juan-les-Pins, which extend from near the town center. This area bustles with seaside activities, including scuba diving, snorkeling, and parasailing, along with shopping, dining, and people-watching at outdoor cafés.
4. Menton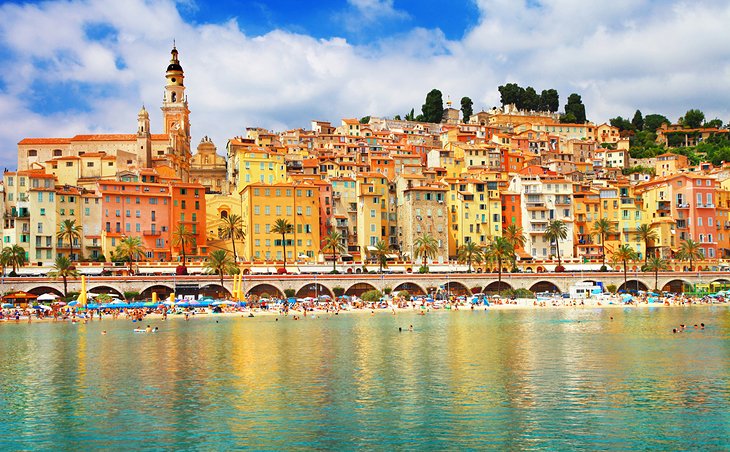 Just a few kilometers from Italy, this balmy beach town prides itself on its perfect weather, averaging 316 days of sunshine a year. Menton's shoreline offers a variety of sandy beaches, as well as pebbly beaches, both private and public, all of which have serene waters that are safe for swimming.
Another draw of Menton is the charm of the historic village, with its narrow cobblestone streets, atmospheric staircases, and sea views. Since the Belle Epoque, when the well-heeled British residents built extravagant villas here, Menton has been filled with luxuriant gardens.
The peak holiday season begins in mid-June and lasts until mid-September. In early June, the beaches are reshaped, and the benches of the promenade are repainted in preparation for the soon-to-arrive vacationers. The Menton beaches are cleaned every day during the summer, and most of the beaches have lifeguards on duty in July and August.
5. Corsica's Plage de Palombaggia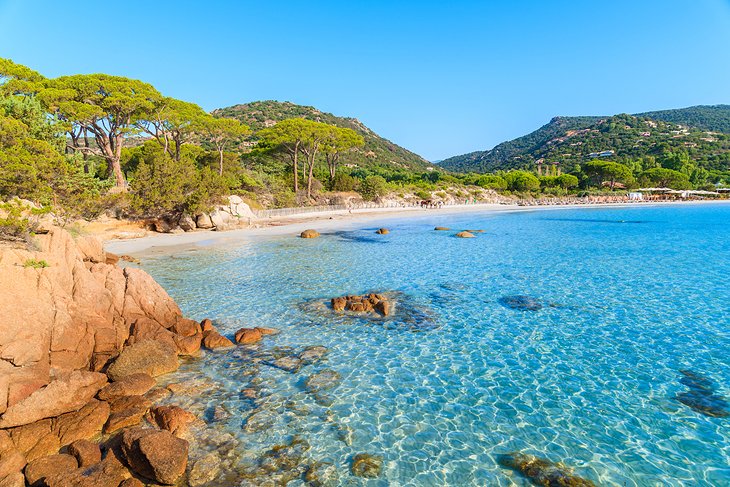 An image of island paradise, the Plage de Palombaggia is prized for its wide swath of soft, fine white sand and crystal-clear aquamarine waters. The scenic drive that leads to this picture-perfect stretch of beach is noteworthy in itself, with enormous red granite rocks and maritime pine trees adding to the coastal scenery.
Because Palombaggia Beach is one of Corsica's finest, it can be crowded. Tourists could avoid the crowds by visiting off-season and still enjoy sunny weather and stunning scenery.
Palombaggia Beach is 10 kilometers from Porto Vecchio, an ancient fortified town with pleasant town squares, outdoor cafés, and a scenic marina. A coastal walking path, Le Sentier du Littoral de Tamaricciu, leads from the Plage de Palombaggia to the nearby Plage de Tamaricciu, a white-sand beach shaded by pine and oak trees. It takes one hour or less to hike the trail each way.
One of the longest beaches on the Island of Corsica is the Plage de Calvi, where the sand stretches for several kilometers, and to its north, the little resort towns of Algajola and L'Île-Rousse have long beaches, both connected to Calvi by a tourist train.
6. Île de Porquerolles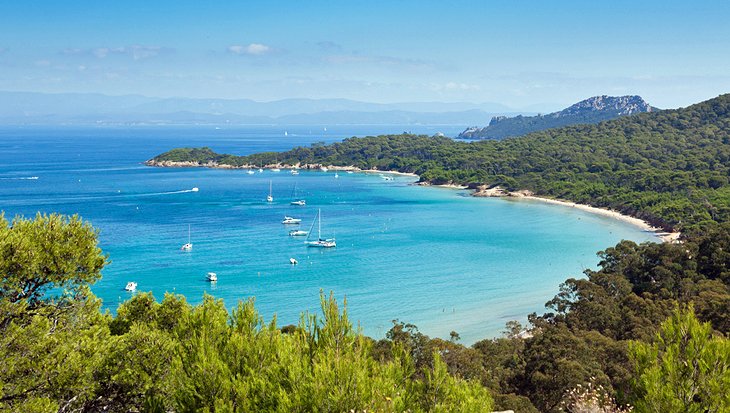 Beach lovers can escape to a small piece of paradise by taking a 30-minute ferry ride from Hyères, an easy day trip from Marseilles, to the Île de Porquerolles (the Island of Porquerolles).
Appreciated for its dreamy island scenery and peaceful secluded beaches, Porquerolles has a Mediterranean seaside charm reminiscent of the Greek Islands. The Île de Porquerolles gives visitors the impression of getting away from it all. Unlike any other place on the French Riviera, the island feels uncrowded and undiscovered.
Tourists favor the Plage d'Argent because of its excellent amenities: public toilets, lifeguard surveillance, and a stylish restaurant. Nestled in a protected cove, this lovely beach is blessed with a fine sandy shoreline and calm waters that are ideal for wading, swimming, and stand up paddleboarding. The beachside restaurant offers splendid sea views along with gourmet cuisine.
Bordered by a pine forest and near a yacht marina, the Plage Notre-Dame delights beachgoers with its sheltered, sandy shoreline and calm, turquoise waters. Nearby are scenic walking trails.
The largest beach on the Island of Porquerolles, the Plage de la Courtade is a wonderful stretch of white-sand beach. This beach has tranquil, shallow waters that are appreciated by families with children.
7. Deauville and Trouville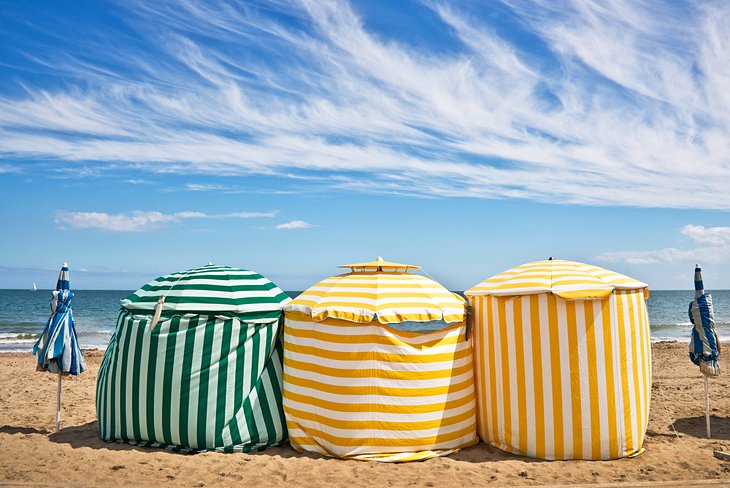 Along Normandy's Côte Fleurie, Deauville basks in an air of gentility, thanks to its Belle Epoque villas, luxurious facilities, and upscale ambience. Deauville's beaches recall the elegance of a fashionable 19th-century seaside resort.
On the two-kilometer sandy shoreline of the Plage de Deauville, sunbathers lounge under colorful umbrellas and make use of striped beach tents. This legendary beach has several special features: a historic boardwalk dating to 1923, Art Deco changing cabins, an Olympic-size saltwater swimming pool, and a tennis club. Lifeguards are on duty during the high season.
As a refined beach resort, Deauville is also renowned for its high-end boutique shopping and calendar of cultural events, which includes music concerts, theater shows, film festivals, equestrian events, and regattas.
Across the Touques river, Trouville is a more low-key family-friendly beach resort. The shops sell more T-shirts than diamond necklaces, and the beach is a lively scene of kids playing in the sand while families kick back in the sun.
Trouville has an unpretentious air that's felt everywhere, from the shoreline to the traditional fish market. The Marché aux Poissons takes place in the center of town and is surrounded by excellent restaurants that specialize in seafood dishes. Fishing boats line the port, instead of yachts, another reminder of Trouville's down-to-earth character.
8. Plage de l'Espiguette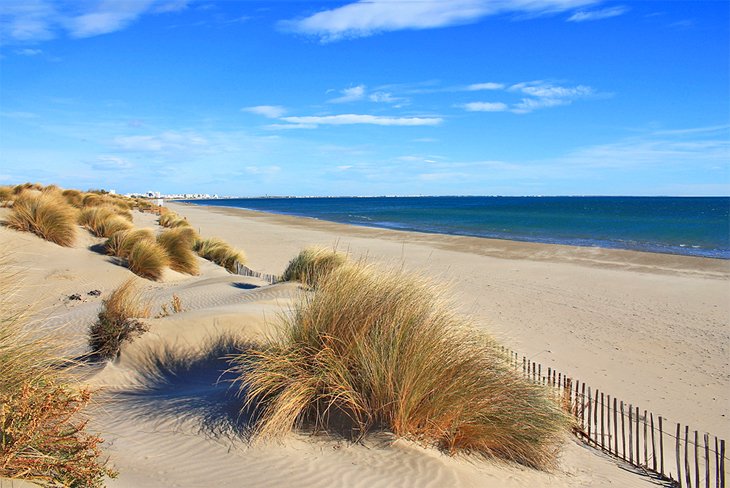 Calm blue seas and rolling white sand dunes characterize the shoreline of Espiguette, a protected nature site about 40 kilometers from Montpellier in the Languedoc-Roussillon region and 30 kilometers from the Camargue Nature Park (a day-trip from Arles).
Completely wild and unspoiled, the expansive sandy beach is around 700 meters in width and extends for 18 kilometers in length.
Striking sand dunes add to the dreaminess of this special place. Espiguette Beach has gentle waters that have been awarded the Blue Flag label for environmental cleanliness and safety. The coast of Languedoc-Roussillon has more than 40 beaches that carry the Blue Flag.
9. Dinard on the Brittany Coast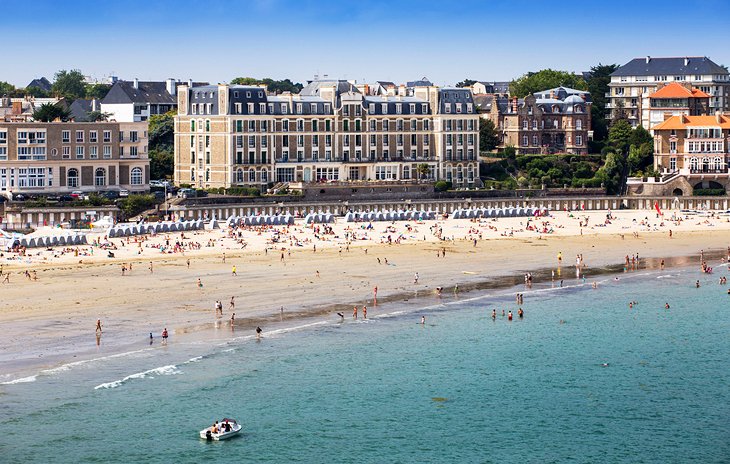 Dinard is a top beach destination on Brittany's Emerald Coast and especially appeals to families. This old-fashioned seaside resort has sandy beaches dotted with colorful, striped beach tents and Belle Epoque villas.
The sandy coastline of Dinard overlooks the Rance Estuary and the English Channel. Most of the beaches have public restroom and shower facilities, as well as lounge chair and beach tent rentals.
The Plage de l'Ecluse offers the widest range of amenities, including an Olympic-size swimming pool filled with saltwater. It is well sheltered, and its waters are warmed by the Gulf Stream, which also brings mild weather well into fall.
Stately 19th-century oceanfront mansions frame the Plage de Saint-Enogat, giving the beach an aristocratic air. This beach is a favorite spot for families with young children because of the kids' club activities during July and August.
With views of Saint-Malo in the distance, the Plage du Prieuré is an inviting spot for relaxation and sunbathing. This beach nestles along the Baie du Prieuré, a tranquil bay with gentle waters that are safe for wading and swimming. Sporty types can take advantage of an outdoor swimming pool, open-air fitness equipment, and opportunities for kayaking.
In the neighboring community of La Houle on the breathtaking Bay of Saint-Briac-sur-Mer, the Plage de la Grande Salinette is a family-friendly beach with protected waters. During summertime, lifeguards survey this beach, which has a Blue Flag rating for safety.
10. Île de Ré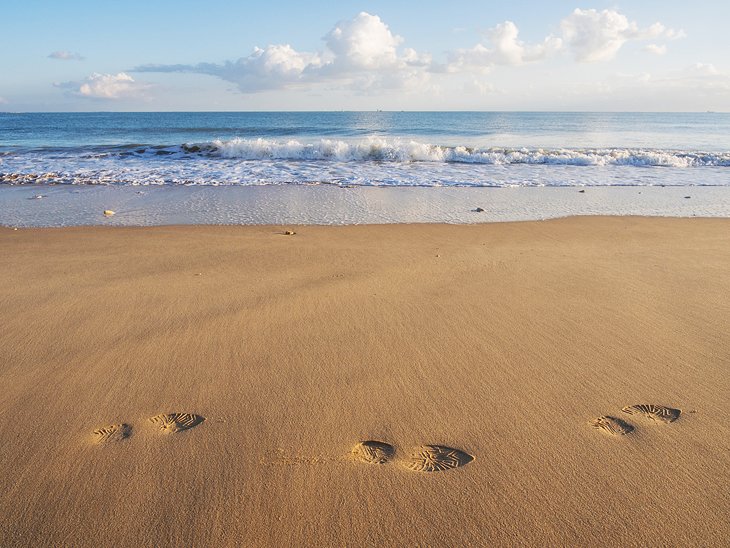 A long bridge connects the island of Île de Ré to the mainland city of La Rochelle on France's Atlantic coast. But this idyllic island seems a world away, with its quaint villages and miles of bike lanes winding through fields and along white-sand beaches backed by pine woods.
The best-known beach is Le Bois Plage en Ré, near the UNESCO-listed capital town of Saint-Martin-de-Ré. The shoreline's sands seem endless, so there's no problem finding a spot with plenty of elbow room.
Farther away, on the western end of the island, there's an even more secluded feeling at the Conche des Baleines, a long half-moon beach with golden sands fringed by pine trees.
Fine, pillowy sand continues for miles along the Île de Ré's shoreline, and the best way to find the hidden beaches is on an electric bike, which can be rented in Saint-Martin-de-Ré.
11. Plage de la Paloma at Saint-Jean-Cap-Ferrat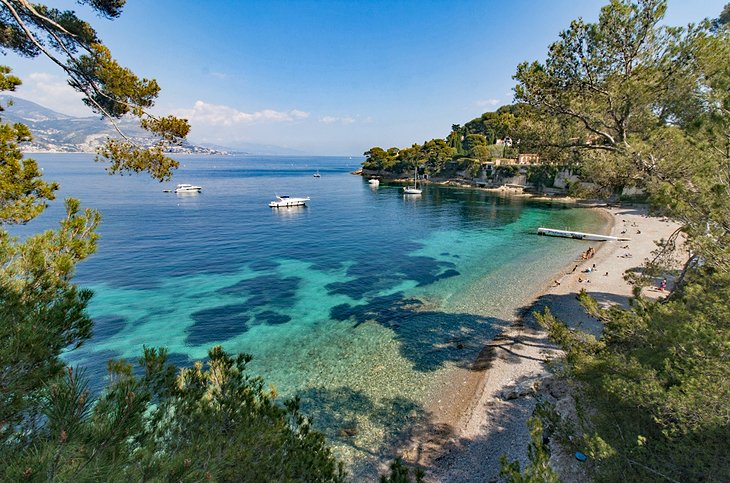 The sun-kissed Plage de la Paloma is found on a small inlet of the Saint-Jean-Cap-Ferrat peninsula, a little paradise in the verdant Cove of Scaletta, sheltered from the winds, overlooking the Bay of Beaulieu. The beach was named after Paloma Picasso since the painter used to spend time here with his family.
In its lovely hidden spot, the Plage de la Paloma exudes glamour and luxury. The beach also offers a chance for celebrity spotting. Sunbathers join the beau monde while relaxing on lounge chairs at this beach and enjoying the seaside scenery.
The beach has a gourmet restaurant that serves Mediterranean cuisine with a focus on fresh seafood. The restaurant's outdoor seating invites leisurely meals while admiring the gentle waves and the cerulean waters.
Besides dining and lounging in the sunshine, other things to do include water sports, such as paddleboarding, waterskiing, jet skiing, and sailing. Paloma Beach is a 12-kilometer drive from Nice and would be an easy day trip.
Address: 1 Route de Sainte-Hospice, 06230 Saint-Jean-Cap-Ferrat
Official site: www.paloma-beach.com
12. Family-Friendly Beaches of Saint-Jean-de-Luz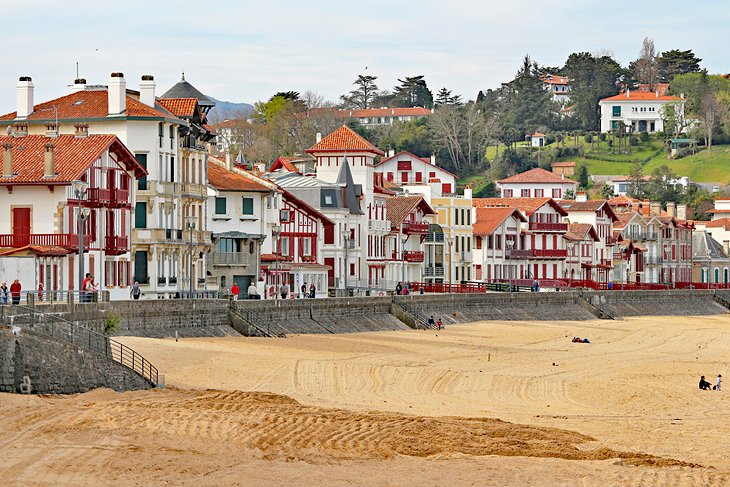 Saint-Jean-de-Luz is close to Biarritz (about 20 kilometers) but further away in character and ambience. While Biarritz is upscale and glamorous, Saint-Jean-de-Luz is a typical old Basque fishing village.
The charming town is filled with historic buildings, enticing shops, and traditional restaurants. Locals and visitors alike enjoy strolling the atmospheric cobblestone streets and lingering over coffee or a good meal.
A popular summer resort destination, Saint-Jean-de-Luz boasts a long sandy beach (the Grande Plage) right in the center of town. Families with young children appreciate this beach because of its gentle waters, which are safe for swimming thanks to sea walls that protect against ocean waves.
The Grande Plage has several beach clubs, as well as places to rent beach lounge chairs, sun parasols, and beach tents. On the outskirts of the town are more wild beaches with untouched natural scenery.
13. Étretat in Normandy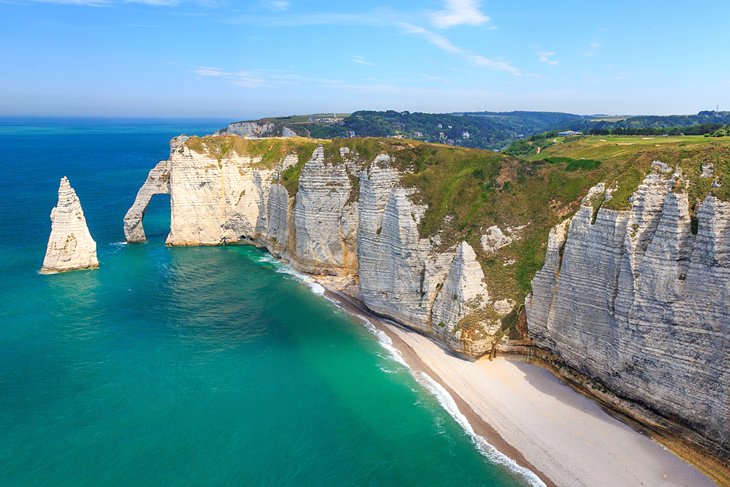 With dramatic cliffs that plunge into the Atlantic Ocean, Normandy's majestic coastal landscape of Étretat inspired Claude Monet and other Impressionist artists. Monet captured Étretat's iconic Porte d'Aval arch and other cliff formations in a series of paintings.
Although the Plage d'Étretat is a pebble beach, it is appreciated for its spectacular location. Enclosed by cliffs, the beach offers views onto the 80-meter-high l'Aiguille ("Needle") formation.
Note of caution: Visitors should pay attention to the tides, which can rise quickly and obstruct access to the shore from certain points.
14. Dune du Pilat and Pristine Beaches of Pyla-sur-Mer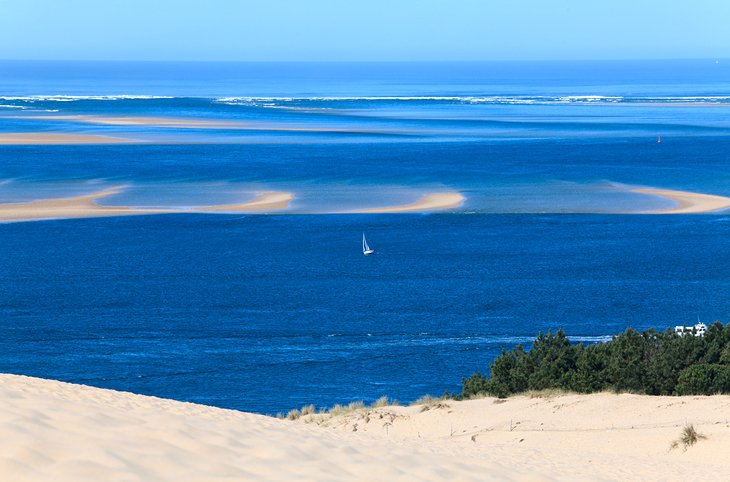 Along the Atlantic Coast, about an hour's-drive from Bordeaux, the highest sand dune in Europe is found at Arcachon Bay. The approximately 100-meter-high Dune du Pilat is surrounded by an expansive pine forest. Stretching out over more than 6,800 hectares, this amazing environment is constantly changing in shape and size based on influence from the winds and the tides.
The main attractions of the Dune du Pilat are hiking and paragliding to take in the sensational ocean views.
At the foot of the Dune du Pilat, the Plage de la Corniche affords marvelous views of the deep-blue ocean waters and the vast horizon. The beach has lifeguards on duty during the high season.
The nearby seaside resort of Pyla-sur-Mer is adored for its pristine sandy beaches. The Plage du Petit Nice is a sheltered beach with public restroom facilities and a picnic area. This beach is less developed than most beaches in France and does not have any restaurants or cafes. Lifeguards survey the beach from July through September.
15. Royan's Sunny Beaches and Spa Treatments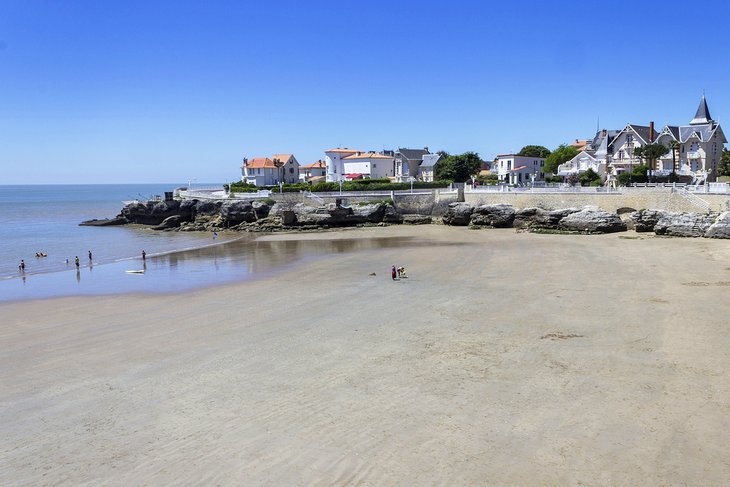 The unspoiled, secluded beaches of Poitou-Charente on France's Atlantic Coast provide a welcome contrast to the crowds of the French Riviera. Along the "Côte de Beauté" (Coast of Beauty) is the sunny beach resort of Royan, which has been a favorite seaside destination since the Belle Epoque.
Royan has several golden-sand beaches, ranging from protected coves to wide sandy shores. Stretching for two kilometers along a wide cove, La Grande Corniche is the main beach, with excellent facilities and lifeguards on duty.
The bays of Royan also attract cyclists, golfers, and water sports enthusiasts. For those seeking pampering after a day at the beach, Royan's spas offer European spa treatments, massages, and wellness therapies.
More Related Articles on PlanetWare.com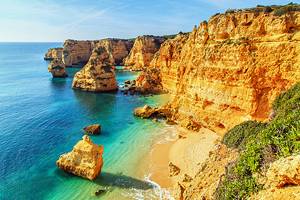 Beach Destinations in Europe: If you're visiting beaches along the Mediterranean coastline of France, you may also want to consider exploring the best beach destinations in Italy. Is Portugal on your European itinerary? Tempt yourself by reading through our list of the best beaches in Portugal.