18 Top-Rated Beach Destinations in Italy
We may earn a commission from affiliate links ()
Surrounded on three sides by water and with two offshore islands larger than some countries, it's no wonder Italy is famed for its beaches. Whatever your taste in beach resorts, you're likely to find it somewhere here.
Long stretches of fine golden sand are lapped by the Mediterranean, the Adriatic, and several smaller seas. Beaches in little secluded coves are guarded by rocky headlands that hide them from all but those who know where to look. Europe's tallest dunes protect white beaches that are nearly empty, even in August. The walls of medieval towns look down on sandy strands, and Art Nouveau resort towns are redolent of Belle Epoch gentility.
Take your pick. Join crowds in the boisterous fun of unabashedly overcrowded scenes at Viareggio, Rimini, or Lido in Venice-or take a local boat to your own private pink-sand cove off the fabled Costa Smeralda in Sardinia. Stretch out on a sunbed at the private beach of a luxurious resort hotel, or slip into something chic and saunter along Italian Riviera promenades where royalty once strolled. You'll find all these and more along Italy's 7,600-kilometer coast.
Plan your time by the sea with our list of the top beach destinations in Italy.
1. Costa Sud and Costa Verde, Sardinia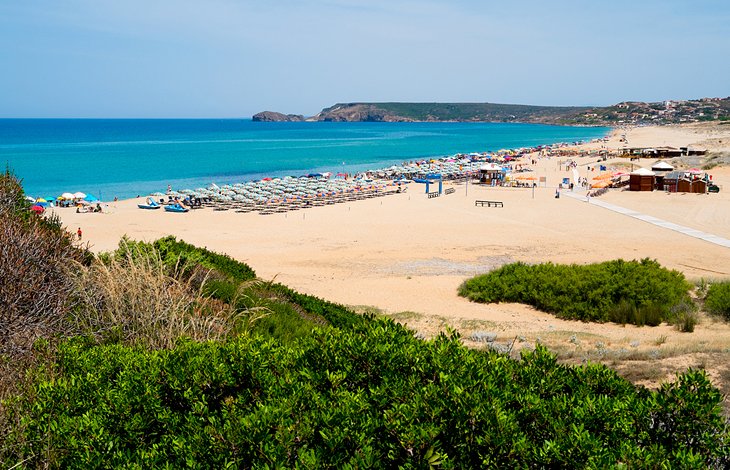 Southwest of Sardinia's capital of Cagliari, SP 71 winds through spectacular scenery of promontories and islands. Sandy beaches hide in coves between headlands topped by round towers that were built when western Sardinia was under Spanish control. A World Wildlife Fund reserve protects birds, wild boar, and indigenous deer in the mountains behind.
Three miles of beach at Porto Campana has plenty of space, with remote sections, as well as places to rent equipment and take lessons in kiteboarding or paddleboarding, even scuba diving in the crystal waters. Stay at the five-star Faro Capo Spartivento hotel, housed in a former lighthouse, with spectacular sea views. Tuerredda Beach, near Chia, is especially beautiful, with warm blue-green water that's perfect for swimming and snorkeling.
The coast swings north to the almost deserted white sands of the Costa Verde, where a broad plain separates the sea and mountains. These are some of Sardinia's longest, least-used, and most beautiful beaches, where even in August, you'll find long stretches of empty sands. Behind the beaches lie the Dune di Scivu, among Europe's tallest sand dunes.
One of Europe's top Thalassotherapy centers is at the Forte Village Resort in Pula, using natural seawater for therapy, and the major archeological site of Nora is at the end of a beautiful nearby beach. Built by Phoenicians, Nora is today a huge open-air museum of Sardinian antiquity, with remains of its Roman and Phoenician past.
Toppled walls of massive Roman baths tower over the street, and the Roman theater is still used for summer performances. Where else can you find a world-class ancient city at the end of a beautiful white-sand beach?
Accommodation: Top Hotels and Resorts in Sardinia
2. The Salento, Puglia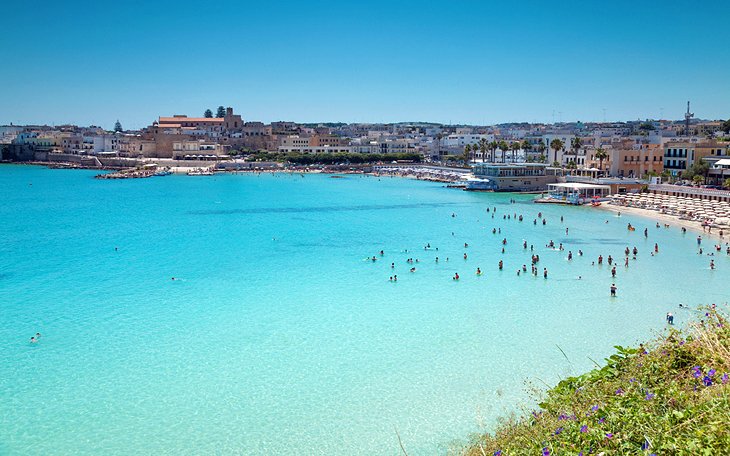 Puglia forms the heel of Italy's boot-shaped map, and at the very tip of the heel is the even-less-visited Salento, where the Adriatic and Ionian seas mingle off a sublime and largely pristine coast. Rocky cliffs and headlands separate deep coves and inlets that hide tiny beaches along the eastern shore, protected by the Parco Naturale Regionale Costa Otranto.
Picturesque little Otranto on its headland has only a small beach, but stop to see the 12th-century church mosaics before heading north to the pristine blue-flag beaches on Baia dei Turchi, in the nature reserve.
South from Otranto are more sandy coves between here and Santa Maria di Leuca, at the very tip of the heel. West of Santa Maria di Leuca are some of Italy's most beautiful beaches, kilometers of glorious golden sand broken by occasional rocky promontories.
Beyond the rocky Punto del Pizzo, where the Gulf of Gallipoli begins, are even more long beaches, backed by pines. Historic Gallipoli's long beach begins right beneath its walls. Park-protected, pine-bordered, in-town, or caught between soaring headlands, you can take your choice of beach style in the Salento. A good base is the family-owned Masseria Salinola in Ostuni, built in the sixteenth century and surrounded by century-old trees.
Accommodation: Where to Stay in Salento
3. Capo Testa and the Maddalena Islands, Sardinia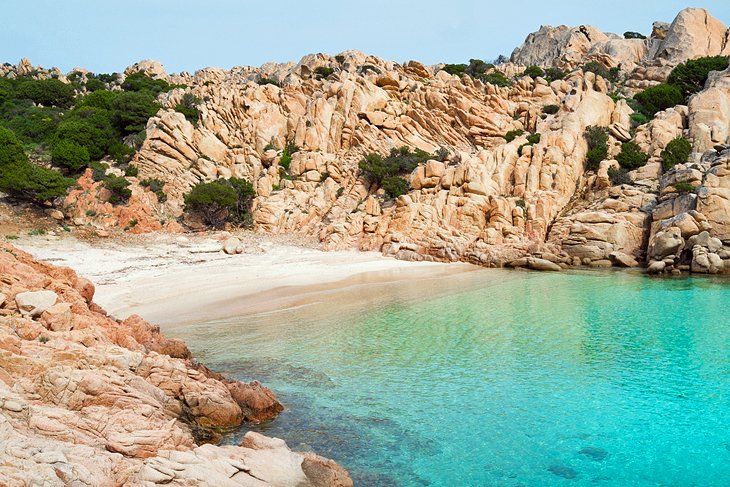 While nearly all the beaches on Sardinia's fabled Costa Smeralda are either private or only accessible by private boat, these same emerald waters lap the equally beautiful beaches around neighboring Capo Testa and the Maddalena Islands. The cape's fantastically shaped cliffs and rock outcrops are a continuation of the mountain landscapes of Gallura that rise behind them, sculpted by millennia of winds.
If you prefer pink instead of white sands as a contrast to the water, hop aboard a ferry to the adjacent Maddalena Islands for more beaches. Once here, if you don't want to share the sand, local boats will take you to your own private island and pick you up later.
Cala Granara, on Isola di Spargi, is the most idyllic, its soft white sands backed by palms and tropical foliage. Bring your own towels, umbrella, and refreshments, as most of these beaches are undeveloped.
4. San Vito Lo Capo, Sicily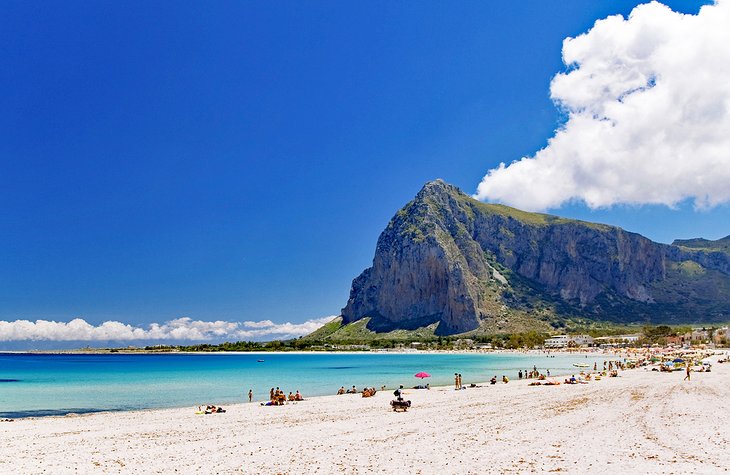 Its palm trees, powdery white sand, and crystal-clear blue water make this long crescent near Trapani look a lot like the Caribbean. Bounded by the soaring rock headland of Monte Monaco, the wide beach of San Vito Lo Capo is adjacent to the Zingaro Nature Reserve, on Sicily's northwestern coast.
Inside the nature reserve is Capreria Beach, with no crowds and clear waters perfect for snorkeling. The little resort town-don't expect a quaint fishing village, as it's mainly modern-is lively in the summer, but the area is not over-run despite its popularity with Italian families. You can reach San Vito Lo Capo by public bus from both Trapani and Palermo.
As it is somewhat remote at the end of a cape, this is not a good base for touring. Do as the Italians do: settle in for a few days to enjoy the sand; the sun; and the warm, sheltered waters; the luxury Hotel Capo San Vito sits right above the beach. You can follow the hiking trails through the nature reserve for beautiful views, or take a boat for sightseeing or to discover secluded pebble beaches.
5. Elba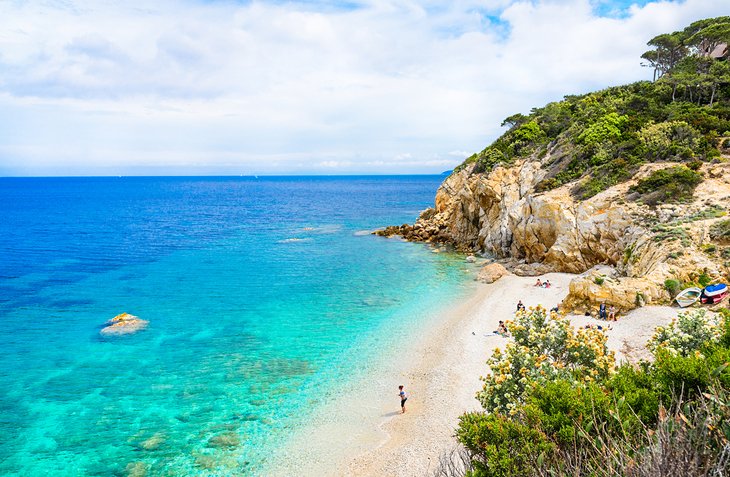 The jagged coastline of Elba, an island off the coast of Tuscany, is dotted by more than 150 beaches, from long sandy stretches to tiny shingle beaches hidden in coves. While the main beaches can be very crowded in summer, you'll find more space at Sant'Andrea without losing any of the amenities, including parasols, lounge chairs, and places to eat.
For water sports, you can rent windsurfers and boats here; the protected waters are fairly shallow. The beach at Sansone is a mix of sand and smooth pebbles that slopes gently into the sea, a good choice for families with small children.
The beach at Forno is in a cove surrounded by lush greenery. Biodola and the other big beaches are less crowded during spring and fall, from late May through early June, and in September. Ferries to Elba leave from the port of Piombino, on the Tuscan coast south of Livorno. The island has a good local bus service.
6. Cala Goloritzé, Sardinia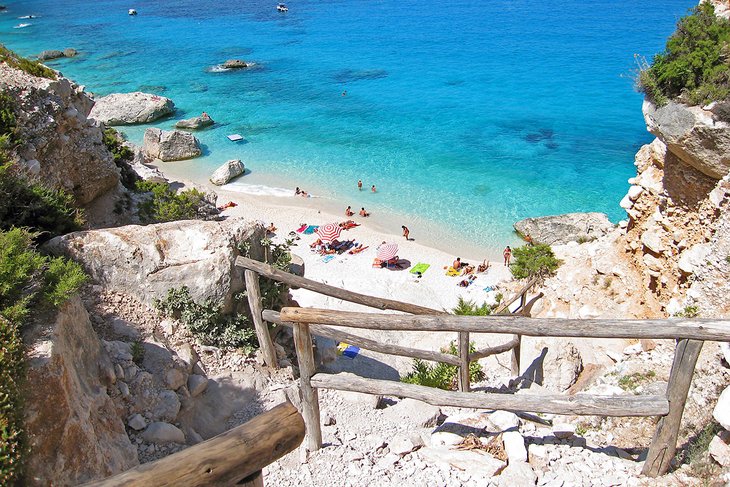 Protected as a National Monument, Cala Goloritzé is even more alluring for the difficulties in getting here. At the foot of a cliff and framed at either side by soaring rock formations, the beautiful white beach is accessible only by a rough trail down the cliffs.
The boats that can take you to several other beaches along the shore of the Gulf of Orosei, where the Gennargentu mountains drop precipitously into the sea, cannot land in the protected areas. But the rewards of the trek to Cala Goloritzé is a pristine beach lapped by pale turquoise sea, with a sea arch and a 148-meter rock pinnacle at either side.
Boats from the nearby port of Cala Gonone, usually make stops to swim at the beaches of Cala Luna, Biriola, and Mariolu or Cala dei Gabbiani.
7. Isola Bella, Sicily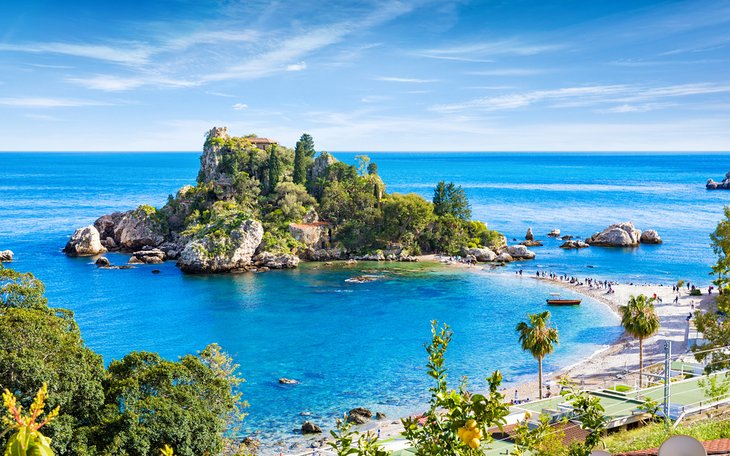 Not the biggest beach in Sicily, but surely the most beautifully positioned, Isola Bella lies surrounded by intensely blue sea directly below the town of Taormina. The tiny island is connected to the mainland by a narrow beach, and a path continues around the wooded island, which is protected as a World Wildlife Federation nature reserve.
Beach clubs offer lounge chairs and umbrellas, and you can rent kayaks to paddle around the island. Water here is so clear that it's a favorite spot for snorkeling, but most are content to swim and enjoy the views from a lounge chair.
8. Spiaggia di Sabaudia, Lazio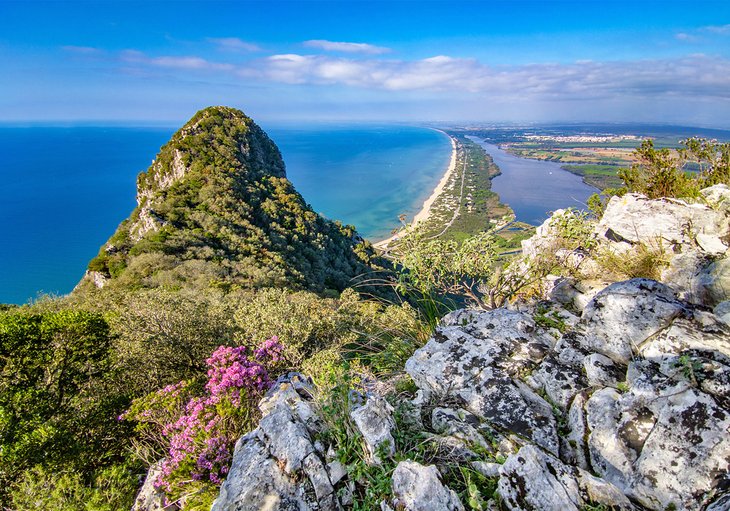 More natural and undeveloped than neighboring beaches close to Rome, Spiaggia di Sabaudia is surrounded by the Circeo National Park. The 15 kilometers of dune-backed sand is so clean, and the turquoise water so clear that Spiaggia di Sabaudia has been awarded the coveted Blue Flag status.
Approached by a series of boardwalks across the dunes, the beach does have a few stabilimenti offering loungers and umbrellas to rent, but because it is so big, the beach is rarely crowded. And unlike most beaches along this popular coast, much of this one is free. The rocky summit of Mount Circeo overlooks the beach.
9. Positano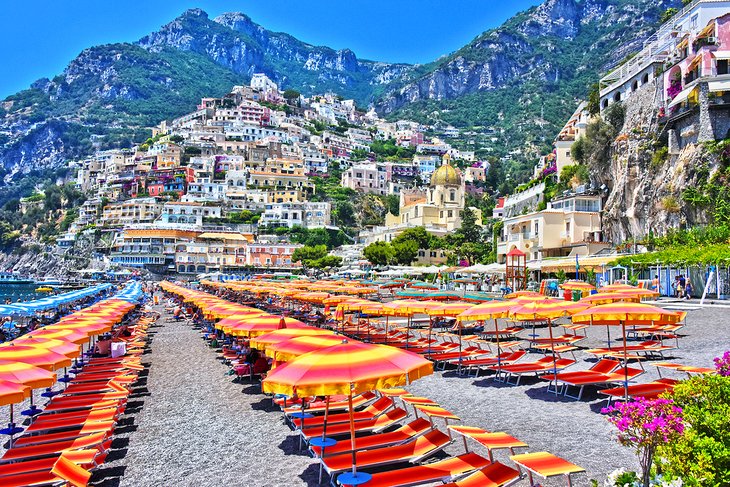 Positano is one of the top beach destinations on the Amalfi Coast, home to one of the area's most posh beach areas at Marina Grande. This 300-meter beach is the center of activity in town, lined with restaurants and Music on the Rocks, a popular disco that's frequented by celebrities visiting the posh neighborhood.
Tourists will find that most of the beach is occupied by beach lounger rentals, but there is also a free area, and even if you aren't up for swimming, this is a great place to visit for people-watching. This beach is also where you will find the small port that offers shuttle boats to smaller, more secluded beaches.
As the town's most centrally located beach, it can get very crowded, and fortunately there are other great options for tourists visiting Positano. West of the main beach is Fornillo Beach, another long stretch of white sand that is flanked by several restaurants. Although it is far from subdued, this is a somewhat quieter option for those who don't need to be in the middle of the action.
For a much more secluded spot, head to cozy Laurito Beach just west of town. Part of this beach is free, and the other part is owned by Il San Pietro di Positano Hotel. This stunning five-star luxury resort features bespoke ocean-view guest rooms with private balconies, spa services, on-site fine dining, and a pool in addition to the private beach.
Accommodation: Where to Stay in Positano
10. Sanremo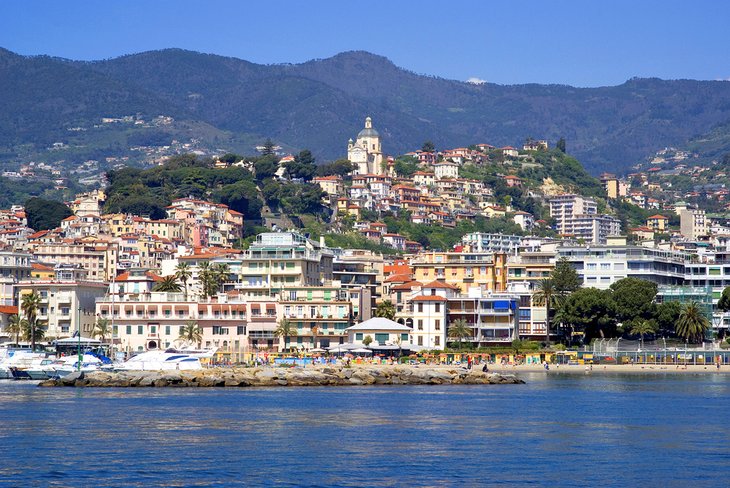 At the heart of the fabled Italian Riviera is Sanremo, made famous as a watering hole for royalty, nobility, the wealthy, and wannabes who gathered here in the early 20th century. Empress "Sisi" of Austria and Emperor Nicholas II of Russia enjoyed its year-round balmy climate and added to its glamorous allure.
Wealthy visitors built Art Nouveau villas and gardens that still line its streets. Its old town, where houses date from medieval times, is a warren of winding alleys and passageways that were designed to foil marauding pirates.
Today's boat traffic is more in the line of wealthy yacht owners. Grand hotels from the Belle Epoch, such as the luxury Royal Hotel Sanremo line the palm-shaded esplanade and hillside above its in-town beach.
The climate has also led to Sanremo becoming one of Europe's major flower-growing centers, and the fragrance of blossoms hangs in the air, adding to its aura of old-world gentility. Some of the best beaches of the Ligurian coast are between Sanremo and San Lorenzo to the east. Most are free and much less crowded than the Riviera beaches closer to Genoa, and they are connected by a 25-kilometer bicycle path created from the former seaside rail line. Many hotels provide guests with bicycles.
Accommodation: Where to Stay in Sanremo
11. Ischia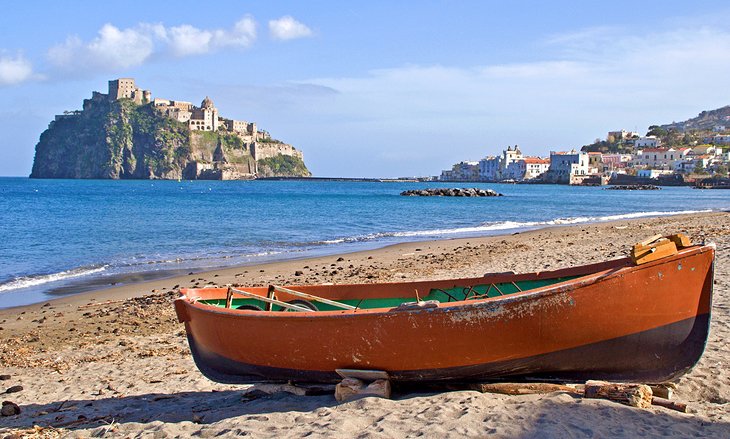 Ancient Greeks and Romans frequented the volcanic island of Ischia, in the Bay of Naples, to bathe in its hot springs amid its luxuriant flora. The best known of Ischia's fabled beaches is Spiaggia dei Maronti, in the south near the postcard village of Sant'Angelo. Along with good swimming, its three kilometers of sand give access to open-air pools of a thermal spring.
Also popular is the Spiaggia Citara, where the elegant gardens of a high-end thermal spa overlook the beach. There are a number of others along its 37-kilometer coast, but the large ones are crowded in the summer (Ischia is particularly popular with German tourists) and much of the sand is covered with rows of umbrellas and sun lounges for rent.
In high season, it's worth taking a water taxi to one of the many secluded coves with smaller uncrowded beaches. The little island of Procida is even more picturesque, and easy to reach by boat. You can get to Ischia from Naples harbor by ferry.
Accommodation: Where to Stay in Ischia
12. Santa Margherita Ligure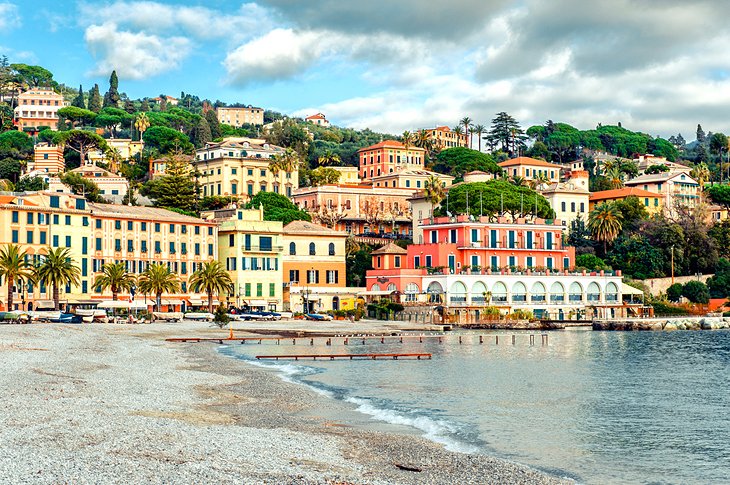 There's a feeling of stepping back into another era in Santa Margherita Ligure. The town recalls a time when ladies and gentlemen spent seaside holidays in the genteel surroundings of candy-colored grand hotels, sipping lemonade on the verandahs or under sedate rows of palm trees, dressing for dinner, and taking an evening stroll along the esplanade above the beach.
Of course that's not exactly what beach-goers do there now, but the old-fashioned atmosphere is still just right for it. Don't choose this resort town for miles of sand, but for its old-world charm, comfortable hotels (the Lido Palace Hotel is a classic, with balconies overlooking the beach), great seafood restaurants, and air of gentility.
The town is worth exploring. Its Baroque church, Santuario di Nostra Signora della Rosa, is lavishly decorated with frescoes and gilded carving. Climb the narrow streets to the little Castello and to the terraced gardens of 17th-century Villa Durazzo, now a public park with fountains and statues set among the greenery. Admire the classy yachts in the harbor and watch the fishing boats unload in the morning, or take one of the frequent ferries to pretty Portofino.
Accommodation: Where to Stay in Santa Margherita Ligure
13. Viareggio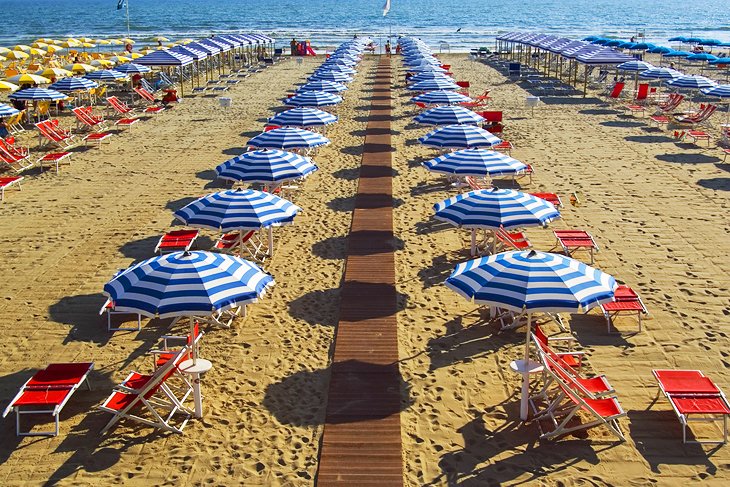 In August, when the streets of Milan, Genoa, and Florence all seem to have emptied onto this 15-kilometer stretch of Mediterranean beach, it may be hard to find the sand for the sea of umbrellas. Whether or not this scene is to your taste, there's no denying that it's an authentic Italian beach experience.
Apart from the small and hard-to-find public beach at the south end, nearly every inch of sand is reserved for those who have rented their space from the hotel, restaurant, or lido operator that manages it. Extended families, groups of friends, and even entire neighborhoods rent their adjacent parasols and lounge chairs and spend their days here.
As shadows lengthen, the buzz moves to the Belle Époque promenade for the evening passeggiata, past fashionable boutiques and designer shops. Cittadella Jazz & More concerts draw crowds from mid-June through mid-August.
Out of season, Viareggio is quiet, except in February when it's the scene of one of Italy's wildest and most colorful Carnival parades. Unless you plan to trek to the public area, it's wise to reserve at a hotel overlooking the beach. For the full Viareggio experience, the moderately priced Hotel Villa Tina occupies an original Art Nouveau beachfront villa right on the boardwalk.
Accommodation: Where to Stay in Viareggio
14. Cefalù, Sicily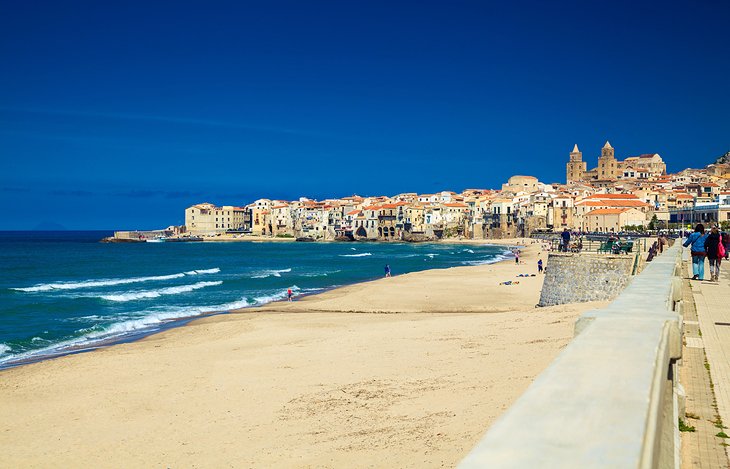 Set below a dramatic rock on Sicily's northern coast, Cefalù neatly combines two of Sicily's most appealing features: a beautiful beach and a historic town to explore. A Norman cathedral stands out above the winding stone streets and colorful fishing harbor, all within sight of the long white sands that stretch from right below the old town.
The city began in Phoenician times, and the cathedral dates from the 12th century, one of Sicily's best medieval buildings, with beautifully preserved mosaics. What makes Cefalù such a popular holiday resort-both with Sicilians and mainland Italians-is the long beach that curves below the old town.
There's a free public beach and a part with lidos where you can rent lounge chairs and umbrellas. Behind part of it is a promenade, the Lungomare Giuseppe Giardina, where locals mix with vacationers in the early evening for a stroll or to just sit on a bench and watch the sea.
Accommodation: Where to Stay in Cefalù
15. Tropea, Calabria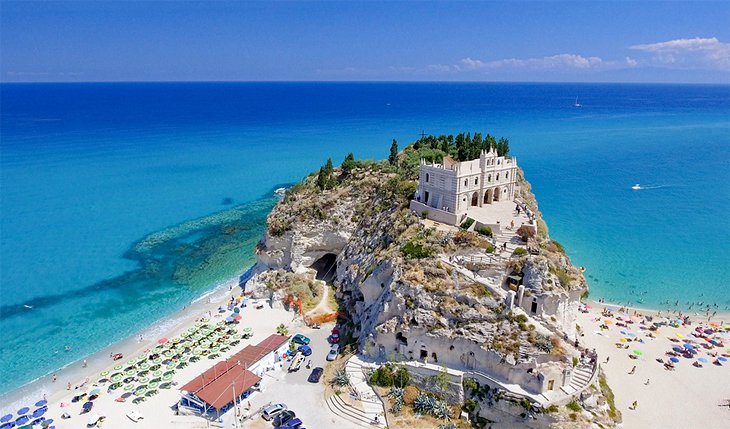 Directly beneath the lofty town of Tropea, overlooking the Tyrrhenian Sea on a stretch known as "La Costa degli Dei-the Coast of the Gods-Marasusa Beach has everything: soft white sand, calm and clear waters, scenic cliffs rising above, and-except in August-few crowds.
The entire coast is marked by dramatic cliffs and rock formations bordered by intensely turquoise waters. There are lots of ways to play in the sea here: you can rent paddleboats, canoes, and rubber boats, and there's a diving center for snorkeling and scuba diving.
Calabria, at the southern tip of Italy, is only beginning to see foreign tourists, so you may be the only visitors to attractions such as Tropea's Norman cathedral. The town is a four- or five-hour train ride from Naples.
16. Spiaggia della Pelosa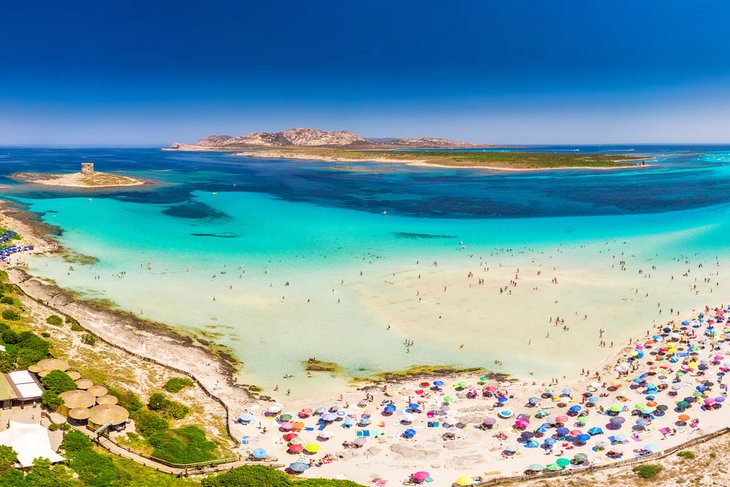 Once one of the finest of Sardinia's sand beaches, the 300-meter beach of La Pelosa has diminished somewhat due to sea erosion and overuse. But its white sands and shallow cerulean water could make you think you were in the Caribbean. Adding to the scene is an old stone watch tower and the offshore island of Asinara.
The shallow water extends far out, making this a good place for snorkeling and paddleboarding, as well as safe for young children. To protect this fragile beach, it is necessary to reserve in advance, both for access and for rental of loungers, umbrellas, or water sports equipment. From the pretty town of Stintino, the closest to the beach, you can get boats to Isola Asinara.
17. Rimini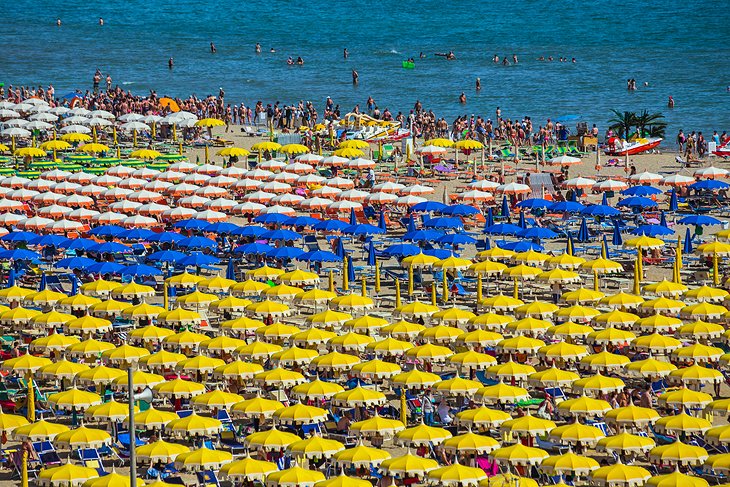 What you see at Rimini is what you get-kilometers of white sand washed by mild Adriatic waters and covered with row on row of rented beach umbrellas and lounge chairs. It's Italian beach resort at its most typical, and that's just the way the Italians love their Riviera del Sole.
So pay up, flop down, and join the fun. There's a Coney Island honky-tonk atmosphere here that's contagious, once you get past the idea of renting sand. Across the street behind the beach is a row of hotels of every kind-even the grand hotels of the sort you'll find at old-money resorts like Sanremo, such as the luxury Hotel De Londres, with its pool and rooftop spa. Don't expect to find an available umbrella-or lodging-in August without an advance booking.
While you're here, stop to explore the surprising town of Rimini just inland, a busy Roman colony and port with a number of Roman sites. Children will love taking a trip through the wonders of Italy, all shrunk to their size at the popular attraction, Italia in Miniatura.
Accommodation: Where to Stay in Rimini
18. Lido, Venice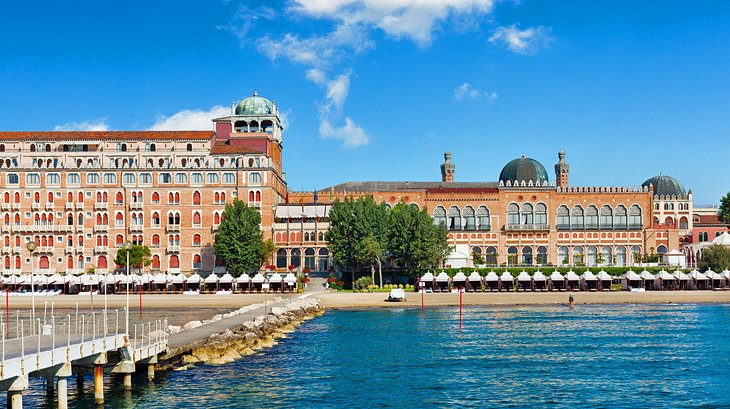 Europe's first real beach resort developed on this 12-kilometer barrier island that separates the Venetian lagoon from the Adriatic Sea. Crowned heads of Europe gathered at its grand hotels and Art Nouveau villas, which are still well-kept and glamorous.
The hotels also control much of the fine sandy beach, where you can rent an umbrella (or a thatched cabana at the grander of them), although a large section of beach at the north end of the island is open to the public, near the church of San Nicola.
Lido is easy to reach by vaporetto from Venice, and well worth a trip, even when it's too cold for the beach, just to see the Art Nouveau fripperies.
Several other beach options surround Venice. Lido di Jesolo is on the mainland east of the city-a functional purpose-built resort with a good beach but no charm. Farther east at Grado, the beach has more character, and is close to the important Roman site of Aquileia. South of the city, popular beaches are at Sottomarina in the Venetian lagoon near the fishing town of Chioggia.
Accommodation: Where to Stay in Lido
More Related Articles on PlanetWare.com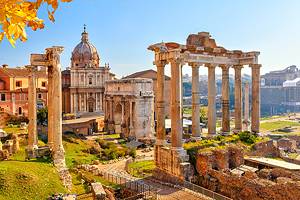 Where to Go in Italy: Chances are that beaches are not your only reason for traveling here, so you may be interested in the top things to do in Italy and the best places to visit in Italy. Plan out your routing with the help of our article on the top Italy itineraries.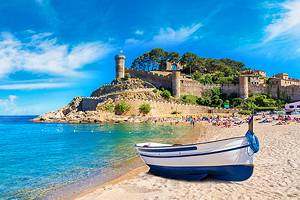 Where to Find More Beaches in Europe: Our page on the Hottest European Resort Destinations will help you find the type of beach you're looking for, either for a family vacation or fun getaway. Also have a reach through our top-rated beaches in Spain and more beaches in Portugal.