14 Top-Rated Beaches in Portugal
Portugal is blessed with 948 kilometers of Atlantic Ocean coastline. Much of the country enjoys a temperate Mediterranean climate, and it boasts some of the finest beaches in Europe.
The most celebrated stretches of sand are found in southern Portugal's Algarve province. Here, the beaches range from those pocketed in peaceful coves, picture-framed by rusty-red cliffs, to vast, secluded dunes pummeled by thunderous Atlantic rollers. Beaches along the more remote west coast are the preserve of surfers and more independent-minded tourists.
Beaches dotted on the coast of central and northern Portugal also lure sunseekers, and many of the destinations here are wonderfully traditional in character and a great addition to a Portugal itinerary. Some have garnered a big-wave reputation.
During the busy summer months, lifeguards patrol most of Portugal's beaches. A raised checkered flag denotes that the beach is temporarily unsupervised. Beachgoers should also note that while a green flag means that bathing and swimming is permitted, a yellow flag forbids swimming, although paddling is allowed. Never enter the water when a red flag is hoisted. In addition, a coveted blue flag fluttering over the sand denotes the beach as environmentally friendly.
Pack your gear and pick a beautiful stretch of coast with our list of the best beaches in Portugal.
1. Camilo Beach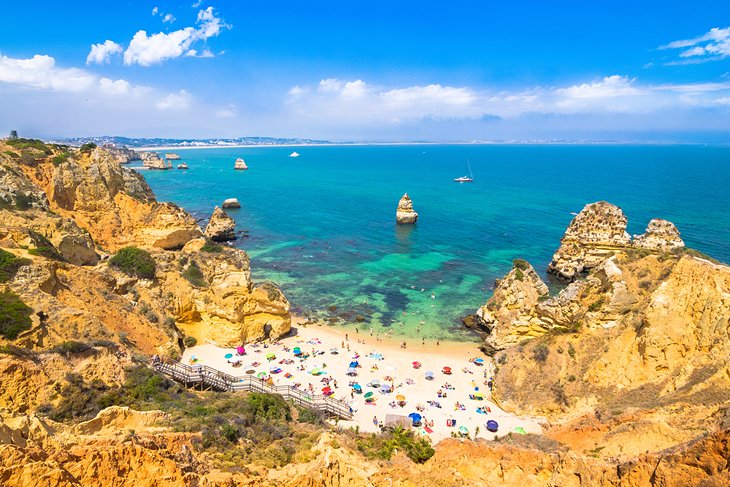 One of the prettiest beaches in southern Portugal, Camilo Beach lies near the lively seaside town of Lagos in the western Algarve. Hemmed in by sandstone cliffs and curiously formed rock formations, this delightful pocket of dazzling white sand is reached via a long wooden staircase that snakes down through a carpet of shrubby kermes oak and wrinkle-leaved rockrose.
Lapped by warm, shallow, turquoise waters favored by snorkelers, Praia do Camilo's tranquil setting exudes an air of peaceful exclusivity despite its proximity to some of the region's major resorts.
A small cliff-top restaurant serves sunbathers and tourists, where the menu is heightened by a fabulous panoramic sweep over the coastline between Lagos and distant Albufeira.
2. Falésia Beach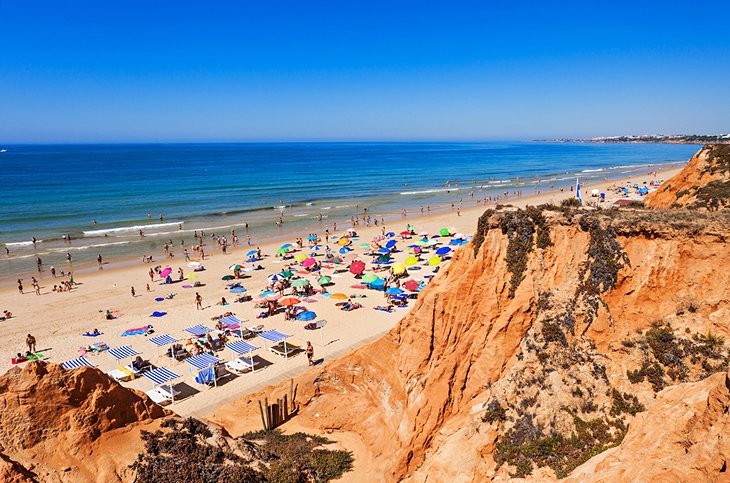 Stunningly picturesque, Falésia Beach shares a golden ribbon of sand nearly six kilometers in length in one of the most popular tourist areas in the Algarve.
East of Albufeira, Praia da Falésia is flanked by a line of amazing cliffs painted with rich earthy hues: burnt ochre, rust red, and gingerbread orange. Years of erosion have molded this sandstone belt with sinuous furrows and deep gullies as if ploughed by an industrious ogre.
A coastal path crowns the overhang and meanders through aromatic pine groves. Falésia's length is such that, even during high summer, you can find a quiet, uncrowded spot to relax and sunbathe.
Overlooking the beach are a number of prime oceanfront resorts which offers café and restaurant options to non residents.
3. Amado Beach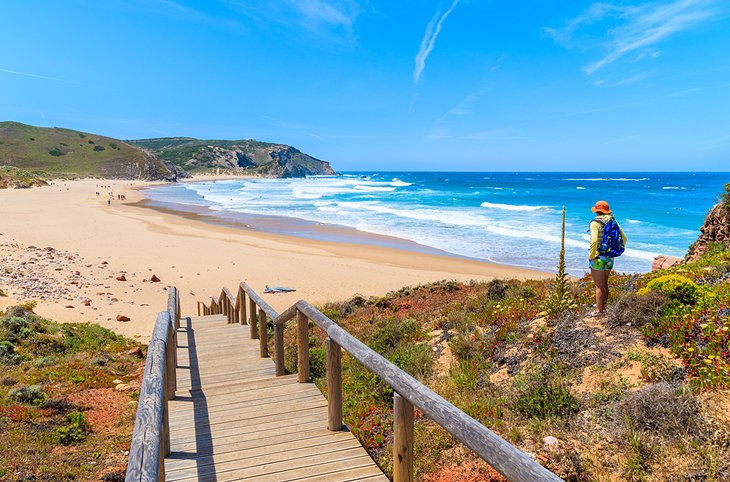 Amado Beach is one of Portugal's premier surfing locations. Famed for its reliable and diversified waves, this beautiful half-moon strip of sand is banked by rolling dunes and falls within the boundaries of the protected Parque Natural do Sudoeste Alentejano e Costa Vicentina.
Typifying many of the beaches found along the Algarve's wild and capricious Atlantic Ocean west coast, Praia do Amado boasts several surf schools, some of which are open year-round. Indeed, the setting is the venue for prestigious national and international surfing competitions.
Remote and somewhat off the beaten track, Amado is not for the traditional resort-seeking tourist. Instead, this is a destination for independent, free-spirited travelers and those interested in the region's diverse flora and fauna.
4. Quinta do Lago Beach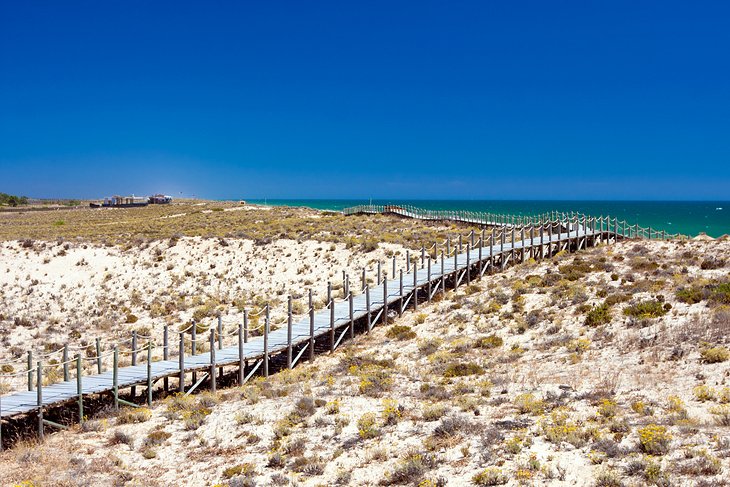 Set in the heart of the internationally renowned Parque Natural da Ria Formosa, Quinta do Lago Beach - effectively a huge sand bar - is accessed by following a long, narrow, finger-like bridge across a brine-laced reed bed and then walking the boardwalk to the water's edge.
Much of the appeal of Praia da Quinta do Lago lies in the wealth of birdlife that calls this stretch of the Algarve home; the marshlands are home to numerous waders, and you can also usually observe graceful storks and flamingos.
The beach is impressive and bereft of commercialism, save for an excellent restaurant noted for its seafood choice. The nearby Quinta do Lago Hotel caters to an upmarket clientele and is just minutes away from San Lorenzo Golf Club, one of the most celebrated golf courses in Portugal and southern Europe.
5. Martinhal Beach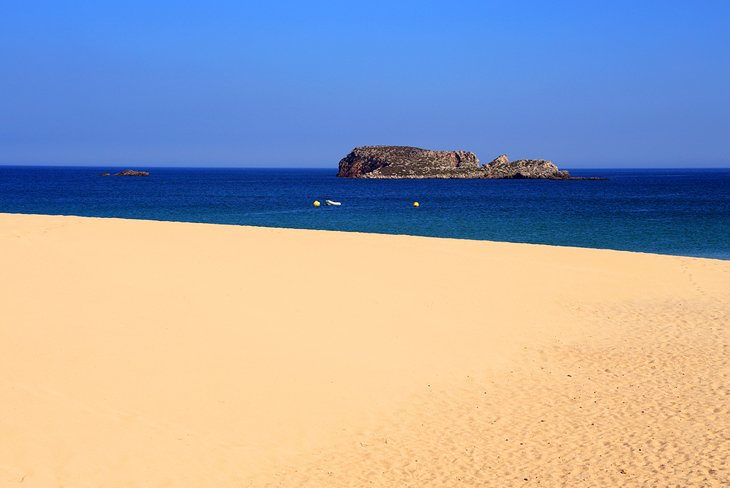 Wonderfully secluded Martinhal Beach is a favorite destination for families in that it fronts the Martinhal Sagres Beach Family Resort Hotel, where food and drinks are available from chic oceanfront bistros.
Praia do Martinhal's beautifully soft and golden sand forms a natural bay, which is landmarked by scenic outcrops of limestone rock. Teeming with marine life, these islets make for excellent diving excursions. Swimming is safe, and there are plenty of water sports activities. When a north wind prevails, the more adventurous can windsurf.
Other things to do include beachcombing the walk to Sagres, a leisurely 30-minute amble west, and exploring the ruins of the Roman kilns situated east of the resort complex.
6. Guincho Beach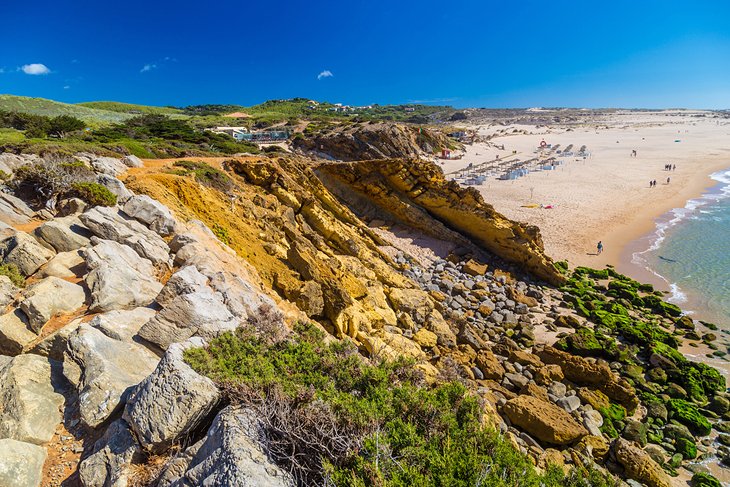 One of Europe's top windsurfing and kitesurfing destinations, Guincho Beach enjoys a spectacular location on the Lisbon coast, six kilometers northwest of the cheery resort town of Cascais.
Flanking the western edge of the Parque Natural de Sintra-Cascais, Praia do Guincho's vast expanse of sand greets a thunderous Atlantic Ocean. Together with a near constant breeze, this wild and windy beach provides ideal conditions for surfers, windsurfers, and kitesurfers confident enough to harness nature's raw and often unpredictable power.
With little shelter from the elements, Guincho is not really a beach for tourists seeking solace under the sun. Nor is it particularly family focused. Instead, this is an adrenaline-packed choice for dedicated water sports enthusiasts.
7. Rocha Beach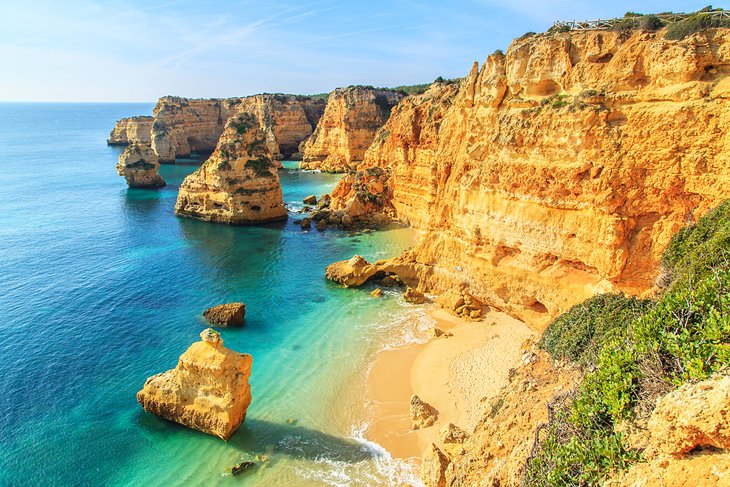 One of the best-known beaches in Portugal, Praia da Rocha is named for the resort located near Portimão, the Algarve's second city. An impressive swathe of sand accessed by numerous boardwalks and walkways, Rocha is hugely popular with locals and tourists and is a favorite summer holiday destination.
The beach is accessed from the seafront avenue, a busy thoroughfare lined with hotels, cafés, restaurants, and other recreational facilities.
Interesting sightseeing diversions include the neighboring Portimão Marina and the Fortaleza de Santa Catarina fortress to the east of the beach, and the elevated viewpoint at Três Castelos at its far western end. This is where you can also admire mighty outcrops of sandstone rock (rocha means "rock" in Portuguese).
For a light lunch, pop along to the historic Bela Vista Hotel & Spa, built in 1918 and one of the first hotels in the region.
8. Nazaré Beach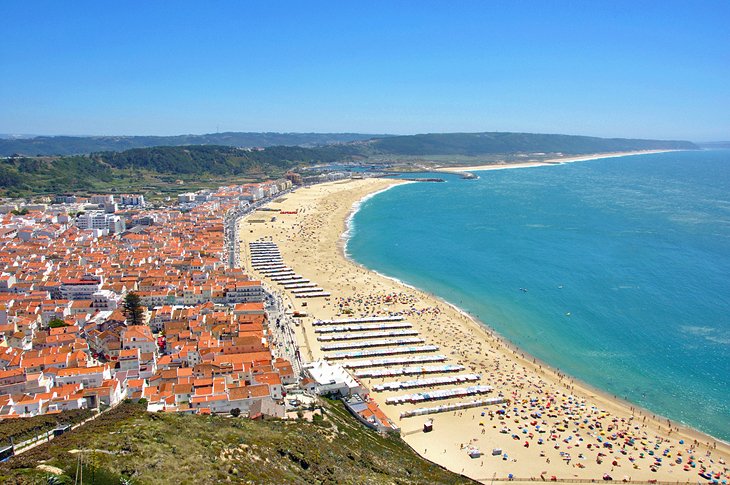 Long distinguished for its traditional character, the fishing port of Nazaré is blessed with a fantastic beach that draws sun worshippers to this lively town in central Portugal.
One celebrated visitor is American big-wave surfer Garrett McNamara, who rode a monster 30-meter (100-foot) wave here and surfed straight into the record books. That was over the Nazaré Canyon off Praia do Norte.
Most surfers and tourists, however, settle for the far tamer Nazaré Beach, a glorious band of sand that hugs the town's wide, mosaic patterned promenade. Sunbathers share Praia da Nazaré with fisher folk, who can be observed mending nets or arranging mackerel and sardines on wire racks to dry. The old-world charm is tangible.
Meanwhile, the esplanade is lined with plenty of authentic seafood restaurants, and shopping and sightseeing opportunities abound.
9. Comporta Beach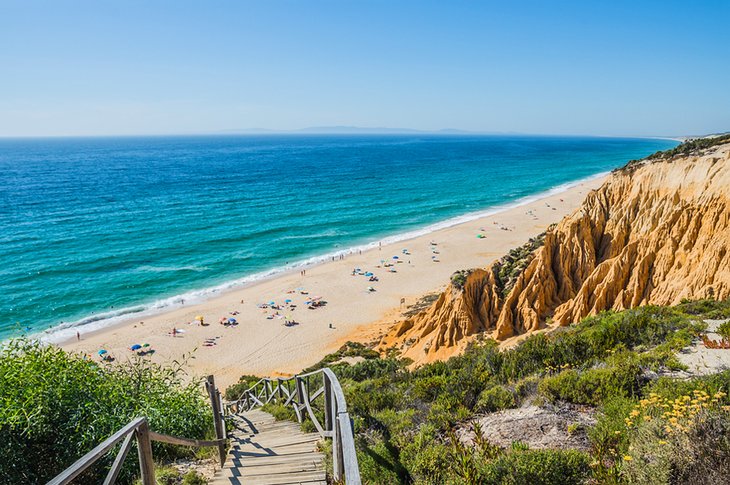 An hour's drive south of Lisbon, Comporta Beach exudes an appealing beach-shack vibe. Perched on the Tróia Peninsula - a slither of sand jutting out from the northwestern coastal reaches of Portugal's Alentejo province - this understated bolthole remains blissfully free from mass tourism.
Named for the charming little whitewashed village of Comporta, a gem of a place straddled over rice paddies and salt pans and where every chimneystack, it seems, has been commandeered by white storks, pristine Praia da Comporta is the preserve of a chic, more discerning crowd, as well as in-the-know surfers.
Here, thatched cabanas cling to shifting sand dunes and the bleached-wood restaurants punctuating the boardwalks surprise with their colorful and funky interiors.
10. Carcavelos Beach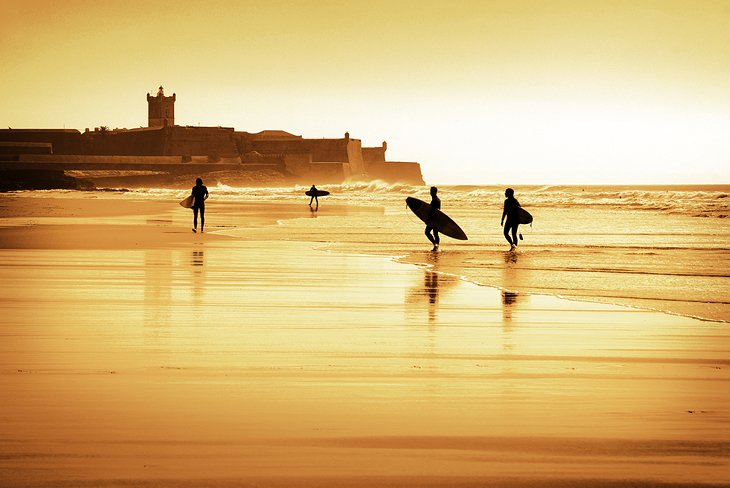 Just 20 minutes west by train from central Lisbon, Carcavelos Beach is a hugely popular day excursion for locals and city-break travelers. With a near-two-kilometer shoreline of flawless sand, the beach is noted for its excellent leisure and water sports opportunities and, in particular, its surfing.
Providing a historical backdrop is the 16th-century Forte de São Julião da Barra, an imposing military stronghold still in use and sited at the eastern end of Praia de Carcavelos.
An excellent view is offered from the esplanade, which makes for a lovely walk at any time of year. Summertime sees the beach at its busiest though, especially at weekends and holiday periods when youngsters, family groups, and tourists converge here to escape the city heat.
11. Canto Marinho Beach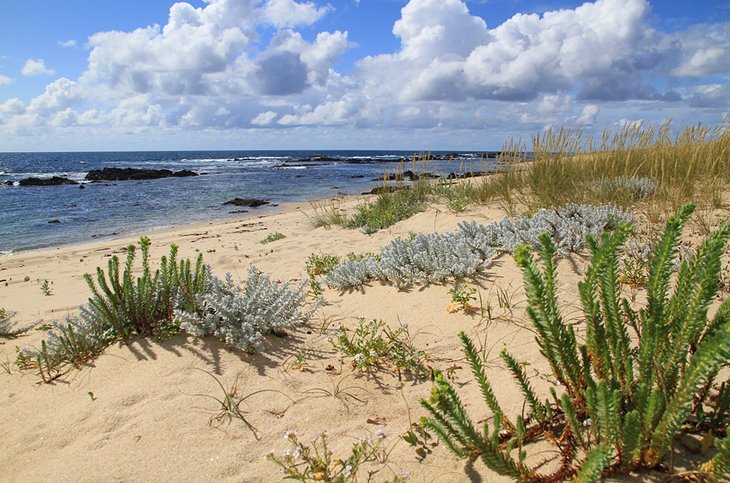 Wild, windy, and captivating, Canto Marinho Beach is where to enjoy nature in all its glorious seclusion. Backed by dunes embroidered with marram grass and sea holly, the beach is fronted by banks of rock visible at low tide, which makes it unsuitable for swimmers but rewards others with a series of shallow pools suitable for paddling and beachcombing.
Most of all, Praia do Canto Marinho - in northern Portugal, not far from the historic city of Viana do Castelo - serves as a peaceful retreat for those seeking communion with the ocean well away from the hustle and bustle of modern life. Indeed, the entire beach lies within a protected environmental zone. Leave only footprints!
12. Almograve Beach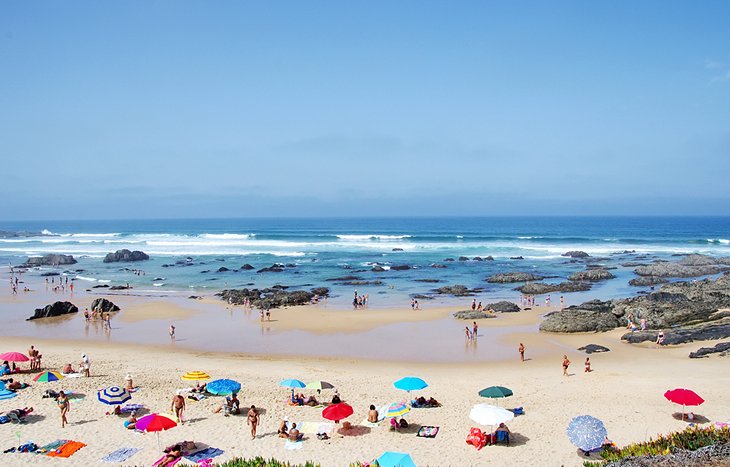 Tucked away on the Alentejo coast halfway between Vila Nova de Milfontes and Zambujeira do Mar is this local secret that few tourists have discovered.
Often described as the most attractive stretch of sand in the region, Almograve Beach affords sunseekers a choice of two very different leisure areas: a beach to the south with a rocky shoreline set against a craggy cliff line, the other towards the north, molded out of undulating sand dunes.
This beach is a favorite hangout for surfers, but it's also a hit with families when the tide is out - the ankle-deep shallows provide an exciting seaside playground for youngsters.
Overlooking Praia do Almograve is a cliff-top café that provides light refreshments, and amenities include handy restrooms.
13. Ribeira do Cavalo Beach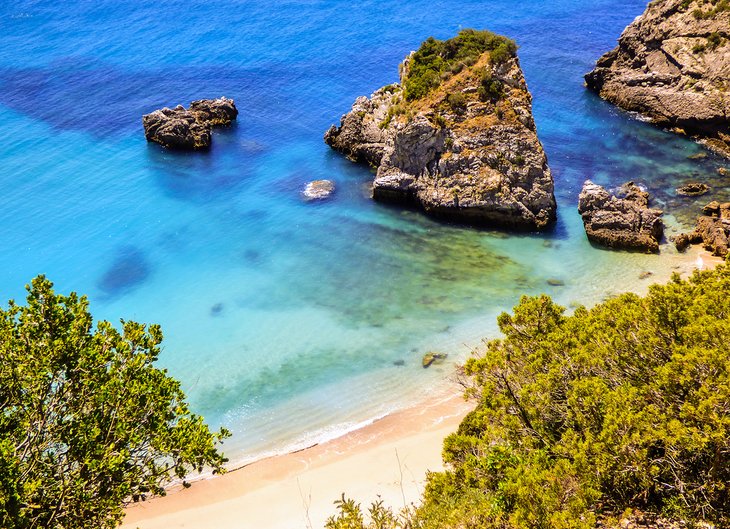 Isolated and better for it, this achingly attractive beach could be located in the Caribbean such is its exotic outlook and tropical veneer.
In fact, it's found at the base of a cove along the coastline of the protected Arrábida Natural Park, and can only be reached on foot or by boat.
This is probably how Mother Nature intended all beaches to look, a wedge of flaxen-hued sand lapped by crystalline water and hemmed in on three sides by a seemingly impenetrable mass of vegetation, itself clinging to some of the roughest cliffs in the region.
It's a steep hike down to the water's edge, and there's not a café or vehicle in sight! Furthermore, there is no lifeguard service in operation.
But if snorkeling in a secluded bay teeming with sealife is your idea of paradise, the effort to get here and the lack of amenities simply won't be a problem.
And here's a tip: Pack all you need in a waterproof bag and join a kayaking tour that includes Praia da Ribeira do Cavalo on the itinerary. It really is the only way to travel!
14. Porto Santo Beach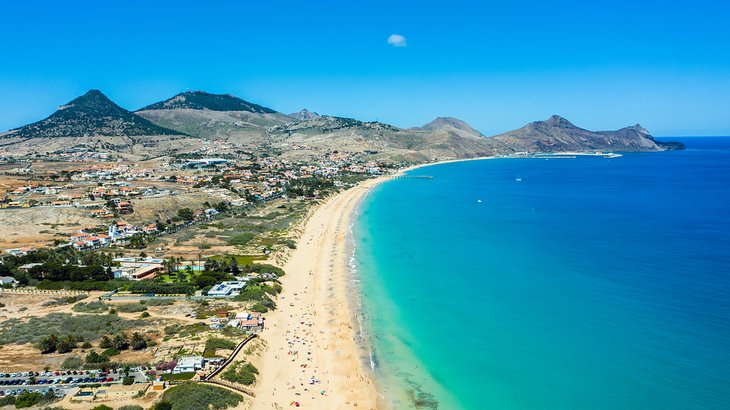 Moored off Madeira Island in the Atlantic Ocean is Porto Santo. Smaller and lesser known than its more illustrious neighbor, Porto Santo does however have an ace up its sleeve - the finest beach in the whole archipelago!
Praia do Porto Santo stretches for nine kilometers along just about the entire southwestern coast of the island. It's divided into five smaller beaches, each with a name.
The golden sand, organic in origin, is blended in areas with a concentration of detritus from the erosion of volcanic rocks to lend the beach an odd yellow and black two-tone appearance in places. The sand is believed to have therapeutic properties that help relieve all sorts of aches and pains.
A number of low-key resorts, restaurants, cafés, and boutiques flank the beach, which as you can imagine is a favorite destination with sunseekers during the summer months.
Map of Beaches in Portugal