12 Best Beaches near Lisbon
Set on the Atlantic Ocean coast, Lisbon is blessed with a collection of stunning beaches, most of which are within easy traveling distance from the Portuguese capital.
The Lisbon coast is served by an excellent rail service. Trains depart regularly from the city's Cais do Sodré train station for the resort town of Cascais 34 kilometers west - about a 40-minute journey.
Several beaches are set conveniently close to railway stations, making a day out by the seaside an even more tantalizing proposition.
Portugal's bathing season kicks off mid-June and runs to the end of September. During this period, teams of qualified lifeguards supervise the majority of the country's beaches. The summer months are busy, and Lisbon's tempting bands of sand are no exception.
Beachgoers should note that a green flag hoisted over the sand indicates that it's safe to swim; a yellow flag denotes caution: stay within your depth! If a red flag is flying, do not enter the water. A checkered flag signifies that the beach is temporarily without lifeguard supervision. Be aware that few beaches, if any, benefit from lifeguard vigilance out of season.
Most of Lisbon's beaches have been awarded a Blue Flag, a coveted environmental citation indicating that the area meets stringent management and sustainability criteria, and that the water is of optimum quality.
Take a break from sightseeing in the city to discover the top places to visit along this beautiful coast with our list of the best beaches near Lisbon.
1. Praia de Carcavelos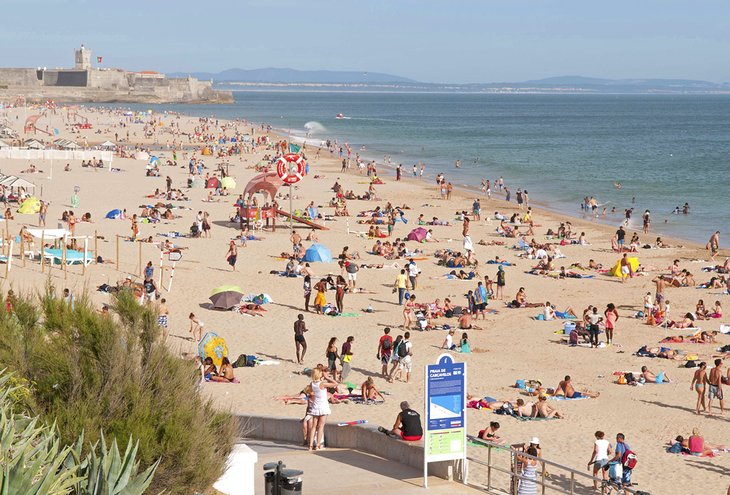 Praia de Carcavelos is without doubt Lisbon's favorite beach, a two-kilometer bed of sand set at the mouth of the Tagus estuary.
A magnet for sun worshippers and holidaymakers, Carcavelos also lures seasoned surfers to its reliable waters. In fact, the beach is distinguished for its plethora of highly regarded surf schools that operate year-round.
Leisure amenities abound. The promenade backing this golden playground is lined with kiosks renting out bicycles, E-scooters, and stand up paddleboards. Competition beach volleyball is regularly played here. Showers, toilet facilities, and first-aid points are also scattered along the esplanade.
Numerous cafés and eateries cater to the hungry and thirsty, and there are one or two restaurants sited here that are renowned for their seafood menus.
Carcavelos is suitable for all ages, and is extremely popular with Lisbon residents who flock here during the summer months. Out of season, the beach attracts lots of walkers.
The beach is a 15-minute walk from Carcavelos railway station. Ample car parking also makes arriving by vehicle a viable option.
2. Praia do Guincho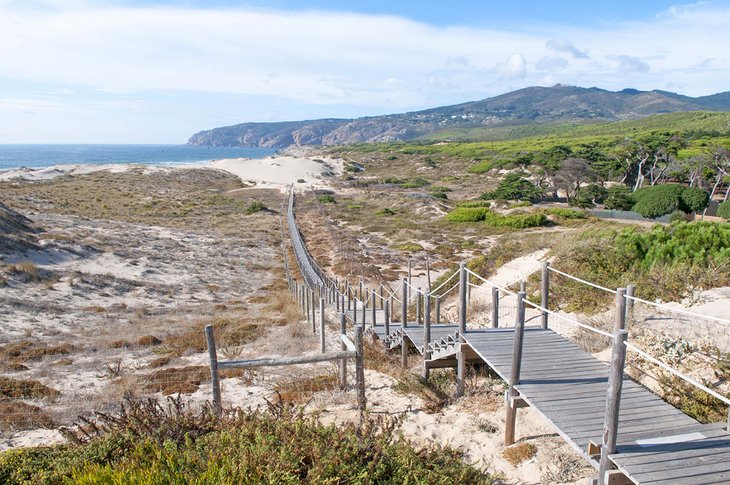 One of Portugal's most spectacular beaches, Praia do Guincho flanks the Sintra coast six kilometers northwest of Cascais.
Characterized by an enormous amphitheater of soft white sand, and backed by a series of huge shifting dunes, Guincho's spectacular setting is reason enough to seek out this impressive natural wonder.
Guincho's west-facing outlook draws the very best surfers, windsurfers, and kiteboarders keen to harness the often-strong winds that whip off the Atlantic Ocean. Indeed, this is one of Europe's premier water sports locations, but is not best suited for those seeking sun in sheltered surroundings. It can be chilly, too, even in mid-summer!
Swimmers need to be aware of hidden undertows and strong currents, so while appealing in its beauty, Guincho is not really suitable for mums and dads with young children - unless you're looking for a bracing family walk along the shoreline.
Long since a Blue Flag destination, Praia do Guincho is relatively remote. A vehicle is the best way to get here, though there's a regular and inexpensive bus service from Cascais, the route of which follows a wild and untamed coastline.
3. Praia do Tamariz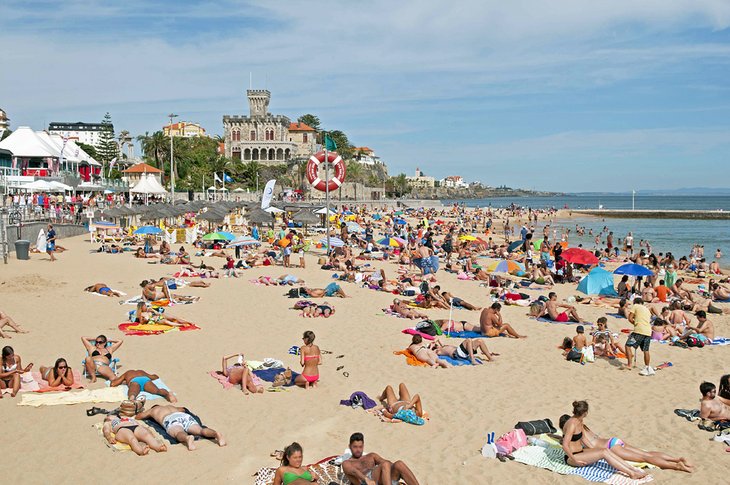 Taking full advantage of its location at the glamorous seaside resort of Estoril is Praia do Tamariz, long established as a premier beach going destination.
It takes around 30 minutes by train from Lisbon to reach Estoril. After alighting, nip through the underpass, and you're literally on the sand. Yep, the beach is that close!
Tamariz makes full use of its Blue Flag credentials and is one of the cleanest beaches in the region. Indeed, splashing around in the warm, shallow water is bliss. No wonder then that this particular stretch of the coast has been popular with residents and holidaymakers for decades.
Leisure amenities abound. A promenade lined with cafés, restaurants, shops, and boutiques overlooks the beach. Facilities include a PADI registered diving school, and there's also a popular paddleboat and canoe hire concession. Freshwater showers are set next to the esplanade, and toilet blocks are conveniently located nearby.
Estoril is a favorite nighttime haunt, and on Saturday nights during the summer months a free fireworks display lights up the ink-black sky over Tamariz - a suitably spectacular end to the day!
4. Praia de Santo Amaro de Oeiras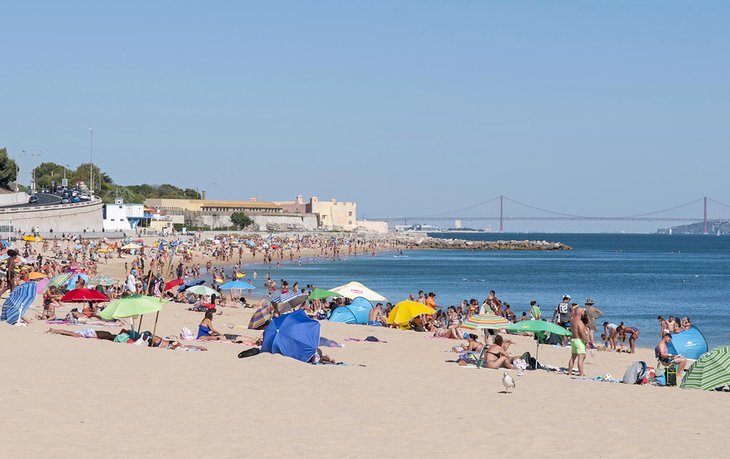 A five-minute walk from Santo Amaro railway station brings you to one of the region's largest and most popular beaches, Praia de Santo Amaro de Oeiras.
A popular recreational beach, Santo Amaro's generous sweep lends itself to a variety of sports activities: beach volleyball and five-a-side soccer tournaments are often staged here! Youngsters, meanwhile, have an adventure playground set in the sand to clamber over.
Santo Amaro's leisure amenities include sun lounger hire options, and beachgoers can take advantage of a cheerful café that provides table service with a smile. The eastern end of the beach tends to be quieter, so bag a spot here if peaceful sunbathing is your thing.
The one-kilometer band of sand boasts a Blue Flag and extends around a shallow bay, itself backed by a broad seaside esplanade that continues a couple of kilometers in both directions. Sited west and within easy walking distance is fashionable Oeiras marina.
A wonderful lunch and coffee-on-the-boardwalk option, the marina also caters for water sports enthusiasts, with a number of tourist outlets offering sightseeing cruises and guided sea kayak excursions.
5. Praia da Ribeira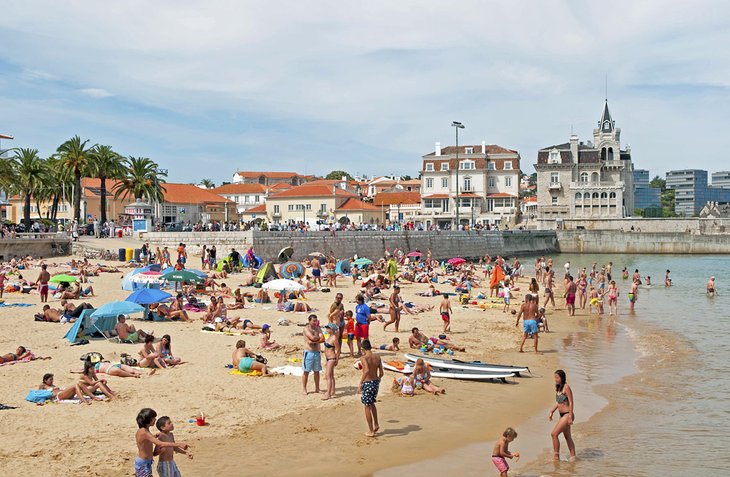 Praia da Ribeira is where most sun-seekers head for after alighting at Cascais train station - the last stop on the Lisbon coast railway line.
The attractive resort of Cascais is a popular destination throughout the year. But in summer, tourists are drawn here as much for the town's delightful beach as the many fashionable boutiques, seafood restaurants, and lively cafés thronging its busy hub.
Praia da Ribeira, a compact half-moon wedge of honey-hued sand set off the sidewalk and easily accessed from the hotels and guesthouses that overlook Cascais Bay, is a convenient option for those wanting to top up the tan or escape the heat.
While the beach lacks on-site leisure amenities, Ribeira does hold Blue Flag status, meaning water quality is excellent and the surrounding environment is soundly managed.
During high season, the promenade often plays hosts to free music concerts, artisan markets, and food festivals. Linger after dark, and you'll be treated to midnight firework displays that illuminate the bay and beyond.
6. Praia da Conceição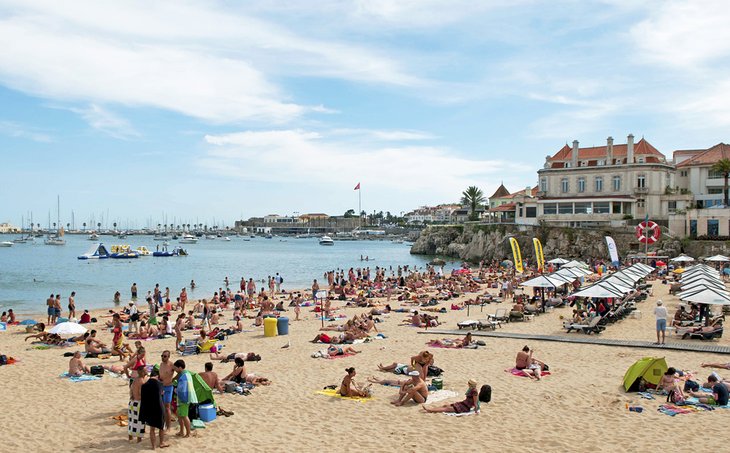 Located in the center of Cascais and wedged between the upscale Albatroz Hotel and the wonderfully quaint Chalet Faial, Praia da Conceição is an obvious draw for residents but also finds favor with visitors for its powdery sand-between-your toes appeal and ever so slightly exclusive allure.
Positioned in a sheltered inlet, Conceição's placid shallows make it a perfect bet for kids. Its flat and even layout also makes the beach especially suitable for those with limited mobility. And the cleanliness of the water has earned it a Blue Flag.
A scattering of beachfront cafés and an abundance of nearby restaurants serve to make this sandy pocket of Cascais an ideal day-out-by-the-seaside option.
By the way, Conceição marks the beginning of the seafront promenade that stretches three kilometers east all the way to São João do Estoril, which makes for a memorable walk.
7. Praia das Moitas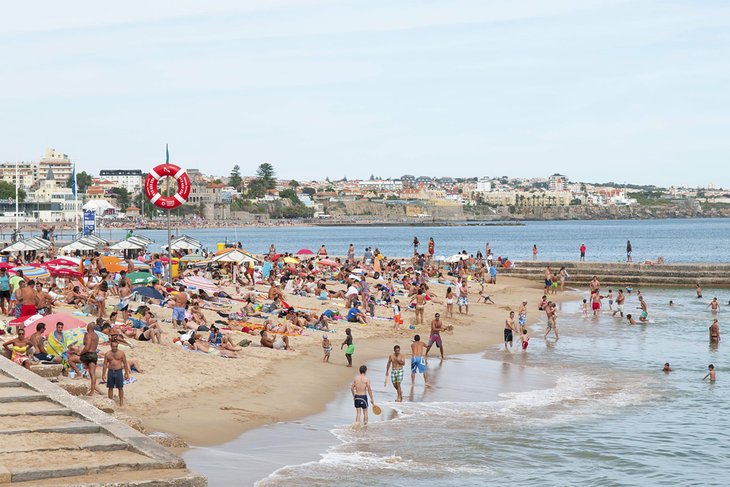 Bordered by a pier and backed by a seafront promenade, this modest wedge of sand becomes prime real estate in summer, when those in the know arrive early and stake their claim on the sand near the adjacent Atlantic Pool, a series of stepped and terraced seawater swimming pools that are free to use and great fun to splash around in.
Praia das Moitas benefits from easy pedestrian access, the beach being within easy walking distance from both Estoril and Cascais railway stations.
A Blue Flag flutters over the beach proper, a soft bed of beige-colored sand that gently slopes down to the water's edge. The breakwater helps lessen the swells that occasionally roll in along this part of the coast. But for the most part, a warm and inviting sea laps Moitas.
A couple of restaurant-cafés overlook the beach, with tables set across the broad esplanade. A medical first aid point stands nearby, and for those who want to work out, a series of light outdoor gym stations, known as the "Life Trail," runs along the seafront.
8. Praia da Poça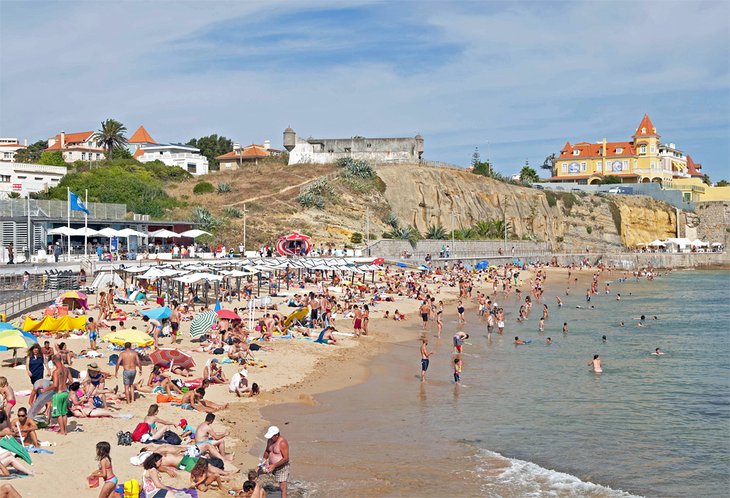 The most rewarding way of reaching Praia da Poça is to follow the promenade east from Cascais, a leisurely half-hour stroll that takes in much of this picturesque coastline.
This beach is ideal for kids, its small dimensions meaning parents can keep a close eye on their offspring as they build sandcastles or paddle the shallows.
Flanking the beach to the east is Forte São Teodósio da Cadaveira, a 17th-century sea fort built to defend the entrance to the River Tagus. The weathered landmark looms over a collection of cafés and ice-cream kiosks, and one or two good restaurants. First-aid points and toilets with access to those of limited mobility also furnish the esplanade.
Low tide exposes a stony seabed, and while this may not be perfect for paddling, exploring the rock pools will keep youngsters and grownups occupied for hours. As with most beaches along the Lisbon coast, Praia da Poça is blessed with a coveted Blue Flag.
9. Praia da Rainha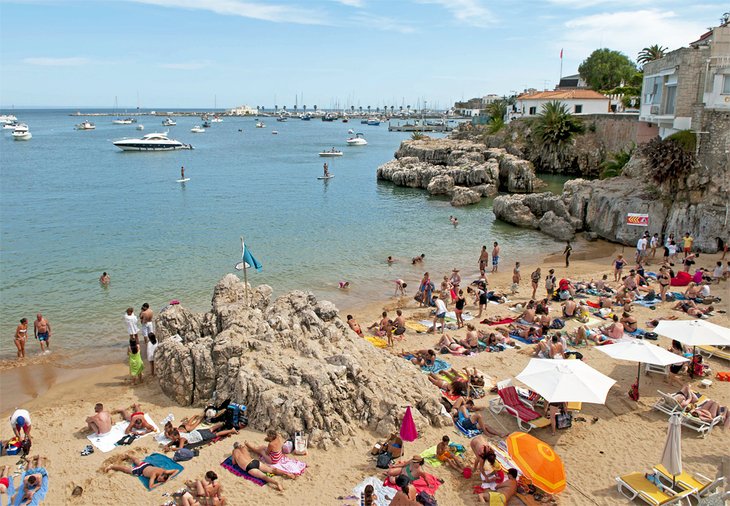 Praia da Rainha (rainha means queen in Portuguese) is the smallest beach in the region, but is big on scenic charm.
This picture-perfect Blue-flagged smudge of sand lies right in the heart of Cascais old town, squeezed between a row of elevated beach apartments and grand 19th-century townhouses. It is accessed by a steep set of worn steps, so you'll need a stout pair of legs to reach it.
Limited space means Praia da Rainha is not the place to unfold your towel if peace and quiet is your goal. In fact, the beach can get a tad overcrowded in good weather, when privacy gets buried in the sand.
That said, the "Queen's Beach" offers a right royal welcome to those in family groups, and to anyone who doesn't mind sunbathing cheek by jowl.
A small beachfront café sells refreshments, but above the bay there's a larger restaurant with tables set out on a terrace.
10. Praia da Duquesa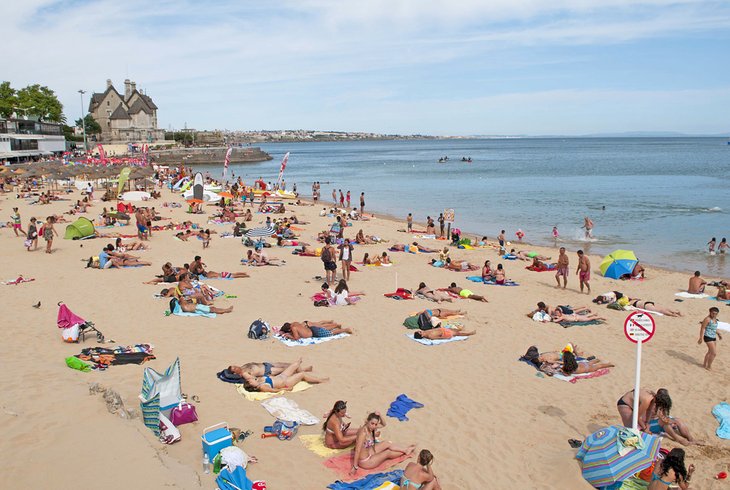 Named for the late 18th-century Palácio dos Duques de Palmela (Dukes of Palmela Palace), which squats regally at the eastern end of the beach, Praia da Duquesa is another band of sand easily reached from Cascais and connected by the promenade that meanders along the coast to São Joao do Estoril.
This is a choice beach for water sports enthusiasts, served as it is by a number of diving, kayak, water ski, and stand up paddle-hire concessions. A Blue Flag flies over Duquesa, the accolade recognizing the destination's pristine environmental character.
Praia da Duquesa doesn't fall shot of leisure amenity options. There are plenty of cafés and restaurants set along the esplanade, plus toilet facilities and a first aid post. For added comfort, sun loungers and parasols can be hired on an hourly basis.
The beach conveniently runs parallel to Cascais bus and railway stations, so little effort is required to reach this premium pocket of sand.
11. Praia de São Pedro do Estoril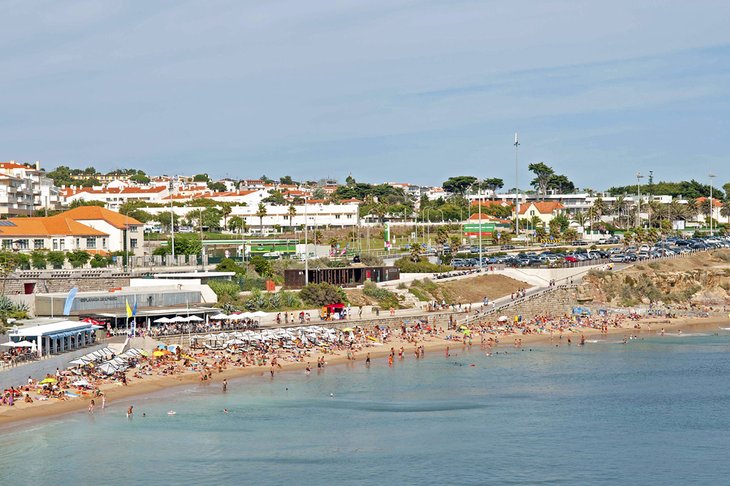 Out of season, this slither of Blue-flagged sand is the domain of surfers and anglers. Summer, however, draws eager locals to one of the region's lesser known but no less appealing beaches.
Praia de São Pedro do Estoril is an attractive alternative to some of the more popular beaches dotted along the Lisbon coast, and tends not to get overrun with summer tourists.
Instead, family groups often gather here for the sheltered location and paddle-perfect waters.
The beach boasts one outstanding natural wonder: At low tide, a promontory known as Pedra do Sal (Salt Stone) is exposed.
This interesting geological feature is composed of limestone and marl believed by scientists to be between 90 and 120 million years old. So, you may end up sunbathing next to a geologist!
While it's anchored to a collection of lively cafés and restaurants, Praia de São Pedro do Estoril is somewhat adrift from the public transport network. In fact, it's quite a jaunt on foot from Estoril railway station, so having your own vehicle is a real plus.
12. Praia de Caxias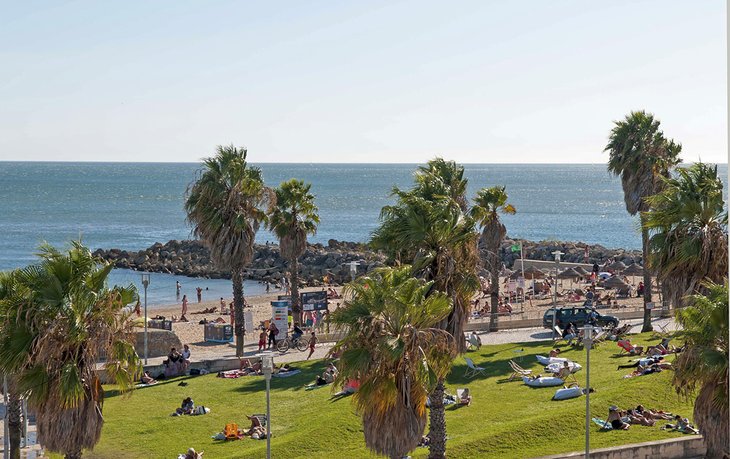 This is the first good beach you arrive at heading west out of Lisbon, and certainly one of the easiest to reach: Praia de Caxias lies conveniently adjacent to Caxias railway station!
The beach is divided into three pockets of sand, the longer expanse hemmed in by two squat 17th-century sea forts, Forte de São Bruno and Forte de Giribita.
Set as it is skirting the busy Avenida Marginal, Caxias is not the quietest beach on the block. Its close proximity to Lisbon also means it's a favorite with locals and can get crowded during the summer months, and especially so at weekends.
That said, this is a perfect option for those who don't want to travel too far out of the city and who like the idea of hopping off a train and immediately flip-flopping down on the sand.
Sheltered from the wind, this sunny semi-urban oasis over which a Blue Flag is raised features a number of handy leisure facilities, including toilets and freshwater shower points.
The attractive Bahia Beach Club offers a snack menu during the day, and serves meals in the evening. Note that parking is limited, with the railway station car park filling up quickly during peak periods.
Map of Beaches near Lisbon
Lisbon, Portugal - Climate Chart
Average minimum and maximum temperatures for Lisbon, Portugal in °C
J
F
M
A
M
J
J
A
S
O
N
D

15

8

16

9

18

10

19

11

22

13

25

16

27

17

28

18

26

17

22

15

18

11

15

9

PlanetWare.com
Average monthly precipitation totals for Lisbon, Portugal in mm.

109

112

69

64

38

20

5

5

25

81

114

109