9 Top-Rated Tourist Attractions in Albufeira
Albufeira is one of the most popular seaside resorts in the Algarve and a major European vacation destination. Located on the coast in the center of the region, about 36 kilometers west of Faro, the town is synonymous with tourism and boasts some of southern Portugal's best beaches.
Once a quiet fishing village, Albufeira still retains something of its traditional character. The old town center is a maze of steep, narrow streets lined with whitewashed houses and fishermen's cottages that lead down to a fabulous beach.
Evidence of Albufeira's Roman and Moorish heritage is scant, however, with only vestiges of the town's once-mighty castle walls visible. The original Arabic name of the town, Al-Buhera, means "Castle-on-the-Sea," and one or two buildings feature telltale Moorish arches. But as the tourist capital of the Algarve, modern Albufeira is a lively holiday hub of hotels, restaurants, and boutiques.
Inland, away from the clamor, a more secluded Algarve is waiting to be discovered - countryside little changed by the advances of tourism.
For ideas on the best places to visit see our list of the top attractions in Albufeira.
1. Beaches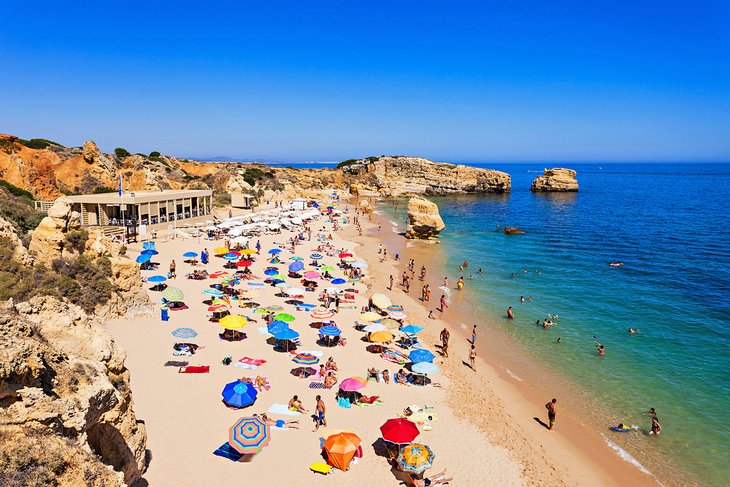 Albufeira is blessed with an outstanding choice of beautiful and unspoiled beaches (praias).
Praia dos Pescadores is right on the resort's doorstep. Named for the colorful fishing boats that once decorated the beach (they now all berth at the marina), this family favorite is conveniently accessible by foot, but can get uncomfortably crowded in peak season.
Alternatively, nearby Praia da Oura can be reached by following a scenic two-kilometer coastal footpath east out of the resort. Larger and less sheltered than its neighbor, this beach is a popular destination for windsurfers. Both beaches are served by an inviting array of seafront cafés and restaurants, and there are plenty of fun-packed activity options for water sports enthusiasts.
Also close by is Praia de São Rafael, one of the best beaches in the Algarve and a wonderful pocket of sand enclosed by honey-hued cliffs that resemble wedges of gingerbread.
Slightly more exclusive is picturesque Praia Olhos da Água. Set five kilometers away from the center of Albufeira and connected by local bus services, the wonderfully named "Eyes of Water" is a small pocket of sand wedged in a half-moon cove. This is a great place for kids to explore when the tide is out; the ankle-high shallows and rock pools are a beachcomber's dream.
Farther east still is stunning Praia da Falésia. Set under ochre-hued sandstone cliffs topped with clusters of umbrella pine, this is one of Portugal's best beaches, renowned for its seemingly endless band of golden sand and shallow waters. You'll need a vehicle to reach the out-of-the-way location.
2. Marina de Albufeira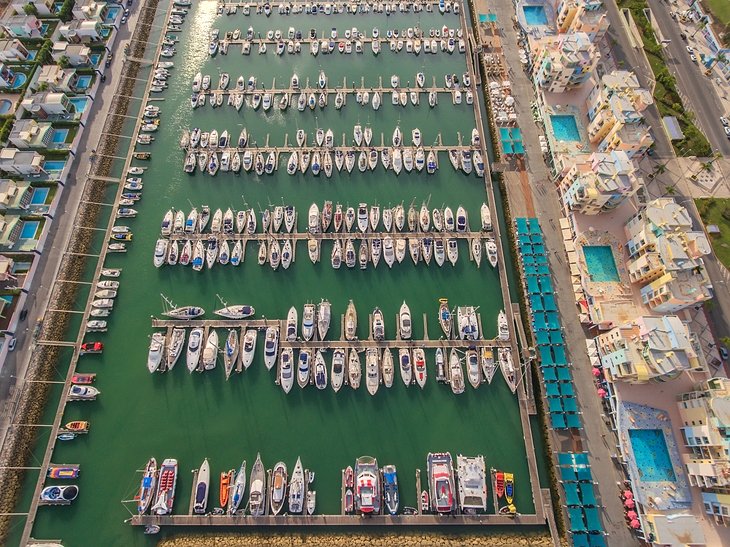 Enhancing Albufeira's holiday resort credentials is the destination's swanky marina, located four kilometers west of the resort. The central focus of an upscale vacation apartment complex, the marina makes for an interesting diversion away from the busy town center.
Fringed by a boardwalk lined with several cafés and restaurants, plus a number of retail outlets and busy market stalls, this is also the departure point for numerous sightseeing cruises, maritime excursions, and other adventure tourist attractions.
Address: Rua da Orada, Albufeira, Algarve
Official site: http://marina.marinaalbufeira.com
3. Parque Aventura
High roping through a treetop assault course is the name of the game at this exciting and challenging Adventure Park. Participants must overcome a range of obstacles in order to complete the course, among them a giddy ropewalk and the daunting Monkey's Bridge. There's also an intricate cobweb to traverse, a vertical net to climb, and a zipline to glide down.
Located in verdant woods near Santa Eulália and Praia da Oura, the park consists of a series of games and trails set at varied heights between the trees. The course is designed to test stamina and motivation and allows participants to develop their own sense of responsibility as they move slowly through the canopy. There's a number of different adrenaline-pumping routes to attempt, each posing varying degrees of difficulty (some say playfulness).
Fully trained personnel supervise every step of the way, with special initiation trails set up for active youngsters. As well as being great fun, this is an educational experience and helps promote awareness of the forest environment. The organizers can also arrange paintball tournaments for adult groups.
Address: Estrada de Santa Eulália, Albufeira
Official site: http://www.lusoaventura.com
4. Largo Engenheiro Duarte Pacheco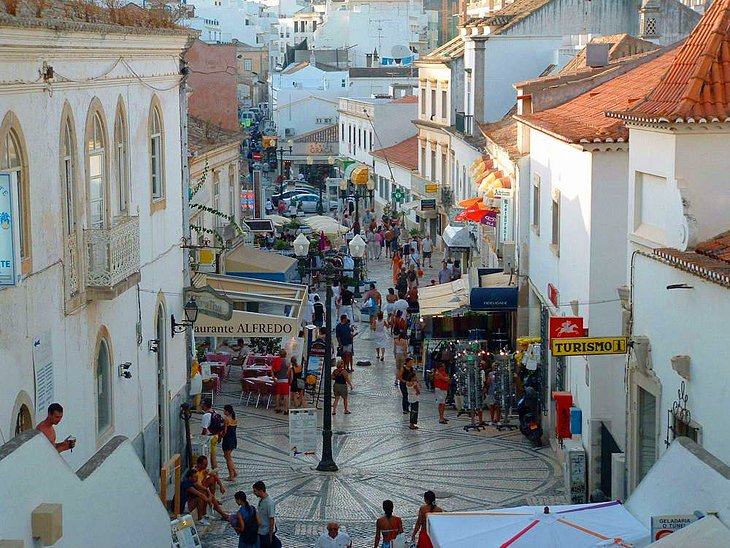 Albufeira's boisterous hub is tacky, over the top, and absolutely irresistible. Named after an illustrious 20th-century Portuguese statesman and civil engineer, this modern pedestrianized square draws locals and tourists alike to its plethora of restaurants, cafés, and snack bars.
It pays to browse the assortment of fashion boutiques for inexpensive summer garb, and it's worth investigating the handicraft workshops lining Rua Candido dos Reis for locally made souvenirs and a delightful selection of assorted vacation kitsch.
An interesting cultural attraction is the Galeria Pintor Samora Barros, a noted contemporary art gallery that exhibits works by Portuguese and international artists. After dark, troupes of buskers and street artists appear to help entertain the throngs.
The square is a short amble to Largo Cais Herculano, the town's bustling beachfront promenade, where a section of the original castle wall - now part of a restaurant façade - can be admired.
5. Museu Arqueológico
While modest in scope, the exhibits on display at the archaeological museum in Albufeira encompass prehistory; the Roman, Islamic, and Visigoth periods; and the modern age.
Set over two floors, the most interesting artifacts include Stone Age flint tools, fragments of mosaics unearthed from a nearby Roman villa, and a collection of weathered 16th-century keystones.
The highlight is an impressive 10th-century Islamic silo, excavated while the premises still served as the town hall.
Address: Praça da República 1, Albufeira
6. Igreja de São Sebastião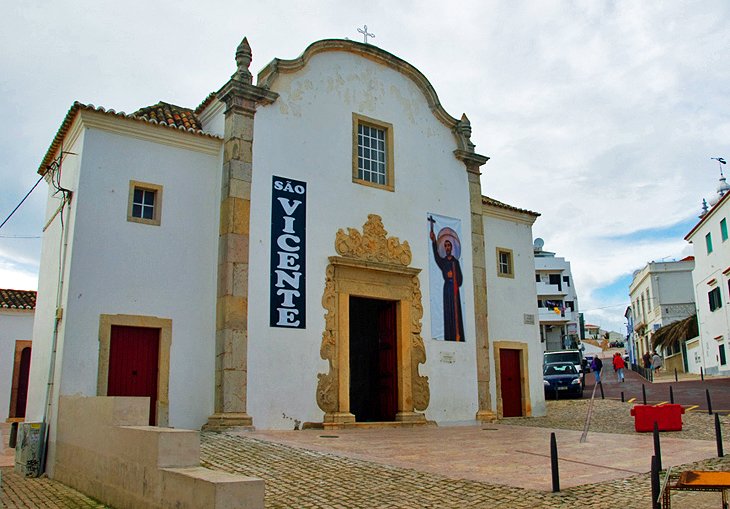 The tiny, whitewashed church of St. Sebastian is an understated cultural highlight of Albufeira. Consecrated in the mid-18th century, its exterior is distinguished by a decoration of flourishing Baroque stonework framing the main portal.
Confusingly, the church's façade features a plaque dedicated to São Vicente - St. Vincent, the town's patron saint. Inside, visitors are regaled with a rare altarpiece of gilded wood surmounted by the rounded and ruddy faces of smiling cherubs. The nave doubles up as an ad-hoc museum of sacred art, and is also used for temporary exhibitions.
Address: Praça Miguel Bombarda, Albufeira
7. Zoomarine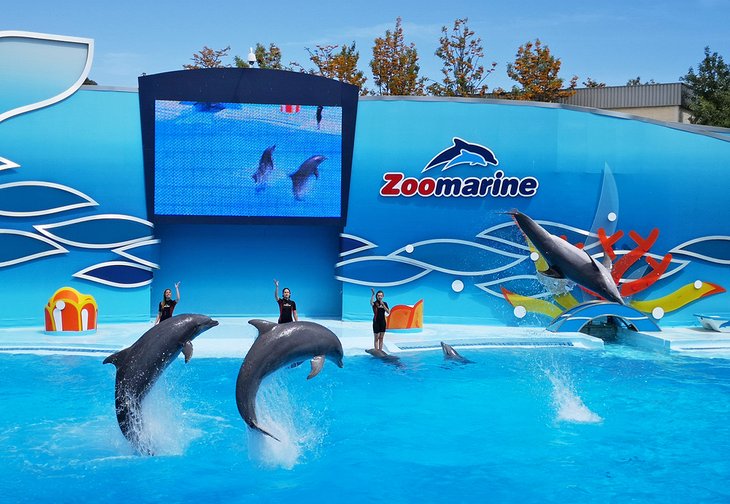 One of the Algarve's great family entertainment options, Zoomarine stages spectacular dolphin shows and an amusing sea lion spectacle, among other daily performances. There's also a fascinating aquarium-museum to explore.
A number of different habitats showcase exotic sea birds and majestic birds of prey. In addition, tickets allow entry to a fun-filled fairground and a fantastic aqua park complete with swimming pools for kids and adults and a giant waterslide.
Another highlight is the digitally animated film screened in the 4D cinema, which portrays a sea turtle's oceangoing journey. But the most magical moment is likely to be the opportunity to interact with bottlenose dolphins, where visitors can swim with these beautiful and intelligent creatures in a pool under the supervision of trainer.
Official site: http://www.zoomarine.pt
8. Krazy World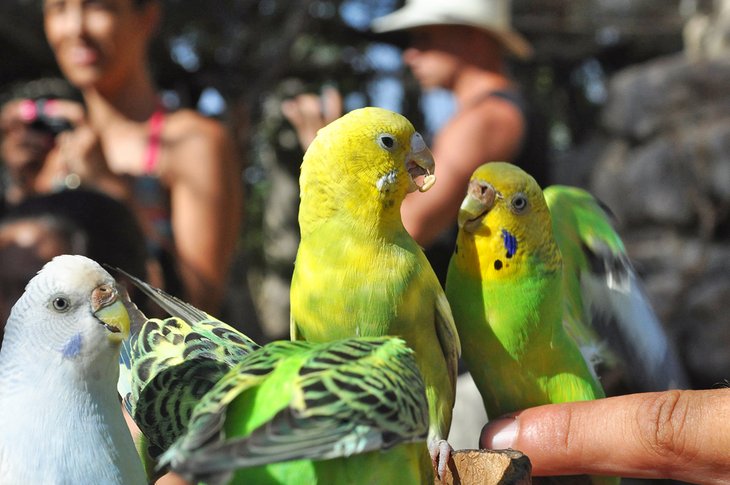 Lying somewhat off the beaten track, this wonderfully unpretentious theme park comprises a mini zoo and a string of leisure amenities ideally suited to those tourists traveling with youngsters. The idyllic countryside setting provides a pleasant contrast to the often-crowded coastal resorts, and the rural ambiance is tranquil and unhurried.
Parents and children can say hello to an array of cute and cuddly domestic animals at the petting farm, while the reptile zone is home to exotic creatures like turtles, iguanas, alligators, and snakes, including a gigantic python. There are pony rides and bouncy castles for younger kids, and teenagers can test their driving skills on the moto-quad track.
Meanwhile, budding golfers can practice their putting on the 18-hole mini golf course. And when it's hot, the swimming pools are especially welcoming.
Official site: https://www.krazyworld.com
9. Castelo de Paderne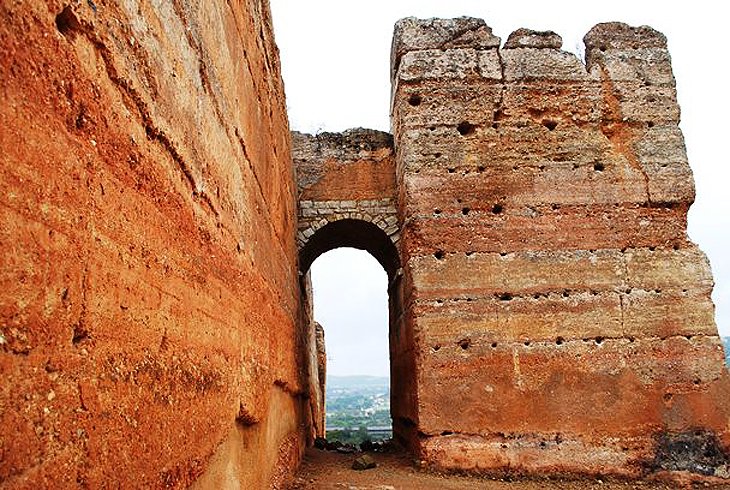 The atmospheric ruins of Paderne Castle sit in splendid isolation high on a hilltop deep in the Algarve hinterland. Built by the Moors in the 12th century, on the site of an earlier Roman fortification, the castle overlooks the Quarteira River, where a well-preserved Roman bridge can still be crossed.
The castle, however, has proved less impervious to the ravages of time. The still impressive outer walls remain, as do vestiges of the tower gate, but little else. The site, though, affords a glorious sweep of the countryside, especially evocative during spring, when the slopes are flecked with flowers.
Within the ramparts lies the ruined Chapel of Nossa Senhora do Assunção, built after Christian forces overran the Moors in 1248.
The castle is situated near Paderne, a charming but sleepy smudge of a village that is worth a quick look before seeking out the castle. Visitors should note that the castle is unsupervised, and the steep dirt track leading up to the entrance should not be driven during wet conditions.
Tips and Tours: How to Make the Most of Your Visit to Albufeira
Boat Tours: A popular tour from the marina is the Caves and Dolphin Watching Cruise from

Albufeira

. This two-hour excursion explores some of the caverns carved from the rugged sea cliffs. Along the way, keep an eye out for common and bottlenose dolphins that cruise the coastline. Another rewarding jaunt, and one with a fantastic fun factor, is the Leaozinho Pirate Ship Cruise from

Albufeira.

Kids can pretend to be Captain Hook or Long John Silver on this half-day or two-hour westward voyage along the picturesque Algarve coast.
Map of Tourist Attractions in Albufeira
Frequently Asked Questions
What are some of the must-visit destinations near Albufeira?
Porches: Porches is one of those blink-and-miss towns, but keep your eyes peeled for this charming yet unassuming destination. Set 22 kilometers west of Albufeira on the N125 road, Porches is synonymous with pottery. This is where to shop for some of the finest handmade ceramics in the Algarve, and you can't miss the roadside artisan's stores advertising their wares - just look for the shop fronts clad with colorful hand-painted glazed pottery and earthenware.
One recommended outlet is the Porches Pottery Shop and Atelier, trading since 1968 and producing some of the best quality ceramics in the region. After purchasing a decorative pot, plate, or mug (ceramics make ideal souvenirs), take time to wander around town, perhaps lingering for lunch, before journeying on.
Armação de Pêra: Located on the coast about a 30-minute drive west of Albufeira is this appealing seaside town, which fronts one of the largest beaches in the region. The destination melds a modern, fairly nondescript urban hub with a far more attractive historic quarter, fronted by a pedestrianized promenade overlooking a band of golden sand.
The remains of the town's ancient fortified walls are at the eastern end of the resort, a reminder of the threat marauding pirates posed in the 16th century.
At the other end of Pêra, two kilometers west of the town center, stands the diminutive Capela de Nossa Senhora da Rocha, a fortified chapel built on 8th-century foundations on a promontory that affords sweeping coastal views.
What are some of the best resorts near Albufeira?
Vilamoura: Portugal's premier resort destination, Vilamoura is home to a collection of upmarket hotels, championship golf courses, and fabulous leisure facilities, including an expansive beach. At the heart of the town is a glitzy marina, the largest facility of its kind in the country. Shops, boutiques, and restaurants line the boardwalk, which is also the departure point for some of the most exciting water sports activities on the south coast.
Vilamoura's cultural draw is the Museu Cerro da Vila, which displays vestiges of a 2nd-century Roman villa complex, with sunken baths, salt tanks, and several well-preserved mosaics. A collection of Roman, Visigoth, and Moorish artifacts are displayed in the on-site museum.
Quarteira: While it won't win any awards for looks, high-rise, down-market Quarteira has its merits. One of the first fishing villages to be developed in the Algarve, Quarteira's rapid expansion effectively obliterated any semblance of old-world character and yesteryear charm. Yet despite (or because of) the developer's worst efforts, the destination retains a tacky allure that is oddly irresistible.
The beach is an immediate selling point, a two-kilometer carpet of soft, honey-colored sand - effectively an extension of nearby Vilamoura's beach. Another reason to visit the town is to browse its bustling fish market, one of the busiest in the region and where Portuguese restaurateurs come to stock their kitchens.
What are some of the best golf courses near Albufeira?
Salgados: A leisurely 15-minute drive west out of Albufeira brings you to Salgados Golf Course. This 18-hole, par 72 layout is set around an extraordinary number of water hazards, and keeping the ball dry will test the most accurate of play. Salgados is one of the flattest golf courses in the region, which will suit straight hitters. But with several fairways flanked by water (the narrow par 3 3rd has water on both sides), off-game players can expect a damp scorecard.
Pine Cliffs: A nine-hole golf course set within the well-manicured grounds of the upscale Pine Cliffs Hotel, this superb layout lies perched 60 meters above the beach on a sandstone clifftop embroidered with umbrella pine. It's one of Portugal's most original golf courses and quite unique in that the sixth hole requires pin-point play over a deep ravine known as the "Devil's Parlour."
Balaia Golf: The nearest golf course to Albufeira is Balaia Golf, a nine-hole, par 27 layout that's attached to Balaia Golf Village, located five kilometers east of the town. A favorite with recreational golfers seeking to improve their iron shots and short game, Balaia nonetheless requires a studied approach. The course is hilly and presents subtle challenges to the novice golfer.
Vilamoura: Synonymous with golf in Portugal, Vilamoura boasts no less than six golf courses within its boundaries, including The Old Course, Laguna, and Victoria - designed by golf legend Arnold Palmer and home to the prestigious Portuguese Masters tournament.