8 Top-Rated Tourist Attractions in Olhão
A distinctly North African atmosphere pervades the narrow streets of this attractive and busy fishing port. The flat-roofed houses clustered near the riverfront bear a Moorish design signature, an architectural legacy from the days when Olhão traded goods with Morocco.
The town is bereft of any outstanding historic attractions. Instead, you'll find plenty of other fun things to do. Visitors are charmed by Olhão's local character, especially when browsing the bustling harborfront market or strolling lively Avenida da República, the main avenue.
Olhão is also an ideal base from which to explore the Parque Natural da Ria Formosa and the sandbank islands of Armona, Culatra, and Farol. The protected natural park is a haven for marine life, and taking a sightseeing cruise is the best way to appreciate this wonderful and fragile habitat. For sunseekers, the island beaches are peaceful and secluded and practically untouched by tourism.
Discover more places to visit with our list of the top tourist attractions in Olhão.
1. Mercado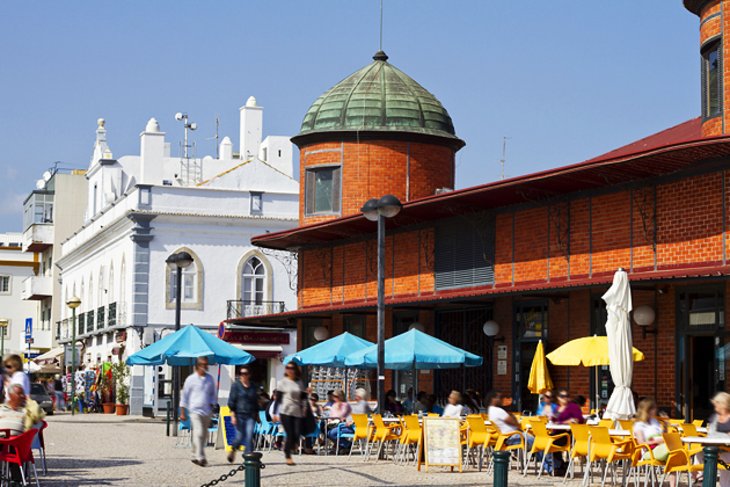 It's often still dark when Olhão's market begins trading, and if you arrive before dawn, you can watch groups of grizzled fishermen landing their catch on the harbor side. Business starts early here, and by sunrise, locals are already gathering for the best buys.
The covered market is divided between two early-20th-century redbrick buildings, each distinguished by onion-domed corner turrets. One houses the fish market, the other sells meat, fruit, and vegetables. By mid-morning both are bustling. The choice of fish and seafood is bewildering.
Marble-topped tables groan under the weight of gleaming tuna, sea bass, and the ubiquitous sardine. Opposite, in the second hall, the entire Algarve countryside looks like it's for sale. Look out for specialties like juicy fig and golden pumpkin.
For a real treat come on a Saturday morning, when outside stalls line the quay and tempt customers with flowers and homemade jams.
Address: Avenida 5 de Outubro, Olhão
2. Quinta de Marim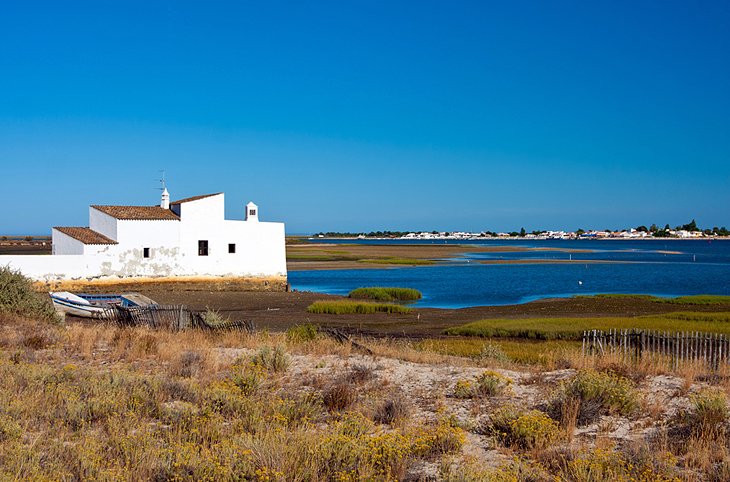 Olhão lies on the boundary of the Parque Natural da Ria Formosa, and three kilometers east of the town center is Quinta de Marim, the park's headquarters. The rather basic facility doubles up as an environmental educational center and is located within the protected reserve.
The tranquil setting is ideal walking territory, and you can spend several hours following a signed nature trail from the car park that meanders through conifer woodland, coastal dunes, and past mudflats, salt marsh, and freshwater lagoons.
An interesting archaeological feature along the way is an ancient tide mill, the last of 30 that used to operate on the Ria Formosa. Farther along are the remains of five Roman salting tanks dating from the 2nd century.
The park is a birder's paradise, and squadrons of white stork can often be seen overhead, spiraling on a thermal. Among the many resident wading birds is the rare purple gallinule; a seasonal treat is the greater flamingo.
Keep your eyes peeled to the ground, too, for appearances by fiddler crab, the harmless viperine snake, and, if you're really lucky, the Mediterranean chameleon.
The trail eventually loops back to the visitor's center.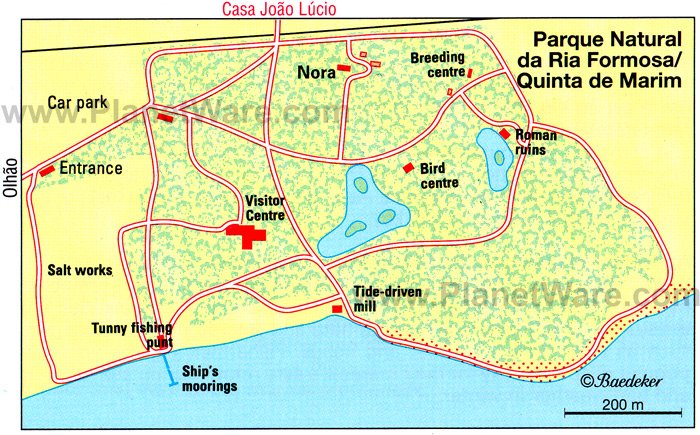 3. Parque Natural da Ria Formosa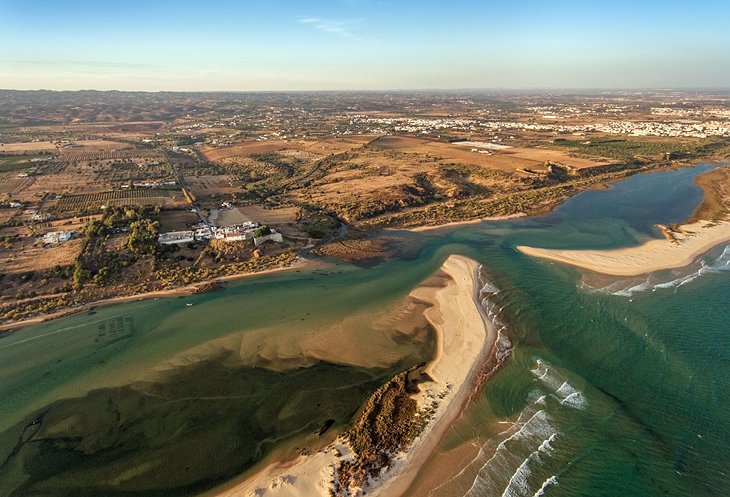 One of the most important wetlands in Europe and a prized attraction for tourists who appreciate nature and the outdoors, the protected Ria Formosa Natural Reserve follows 60 kilometers of Algarve coastline, from Praia de Faro to Cacela Velha.
A valuable and delicate ecosystem, the lagoon area of marshes, salt pans, islets, and channels are a haven for resident and breeding wetland birds, including the rare purple gallinule. The lagoon waters are also home to numerous species of fish.
Sheltering this pristine environment from the Atlantic Ocean is a series of barrier islands - in fact, huge sand dunes - natural anchors for a diversity of flora, and attractive to wildlife such as snakes, toads, and the shy Mediterranean chameleon.
To fully appreciate this beautiful marine park, consider the relaxing Ria Formosa Natural Park Four Islands Boat Trip out of nearby Faro. The boat spends about five hours meandering through the shallows and explores the remote and near-deserted sand dune islands.
4. Nossa Senhora do Rosário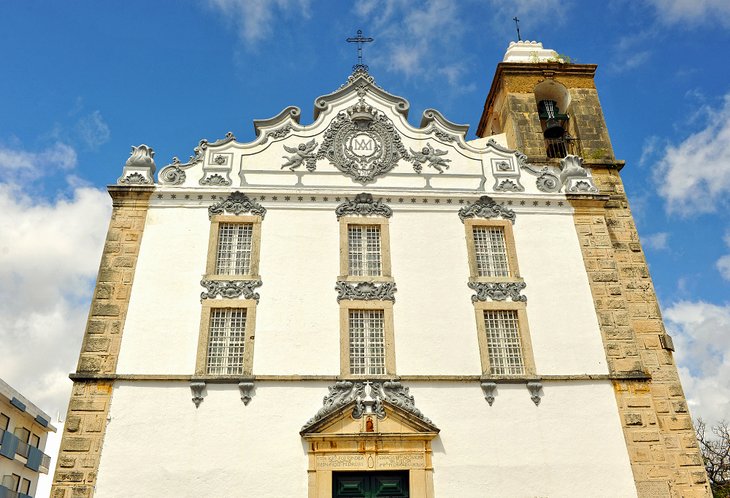 Sightseeing in Olhão old town should include exploration of the parish church of Our Lady of the Rosary. Built between 1681 and 1698 and financed entirely with donations from the local fishermen, this is the town's most prominent historic building.
Its whitewashed Baroque façade positively gleams when the sun shines, but it's the external chapel of Nossa Senhora dos Aflitos, situated at the back of the church, that tends to catch the public's eye. In a tradition stretching back centuries, women still come here to pray for their men's safety when there is a storm at sea - a display of devotion that's quite moving.
Inside, if it's open, visitors can climb the bell tower for inspiring views across the maze of streets and flat-roof terraces that characterize the old town center, and the Ria Formosa beyond.
Address: Praça da Restauração, Olhão
5. Ilha da Armona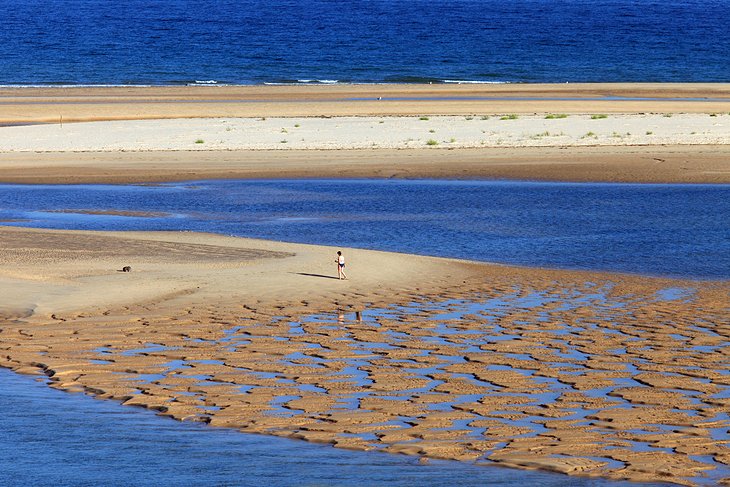 Olhão is sheltered from the open sea by a series of barrier islands - flat narrow bars of sand that are part of the protected Parque Natural da Ria Formosa. One of these is Ilha da Armona, a pristine nine-kilometer sand bar that's reached by ferry from the town's waterfront.
A popular summer destination for day-trippers, Armona Island is scattered with holiday homes and a number of cafés. Otherwise, it's the swathes of gloriously soft, white sand that draw visitors, and the farther away from the ferry pontoon you walk, the less likely you'll be sharing the beach with anyone else. Pack a picnic and plenty of sunscreen.
6. Ilha da Culatra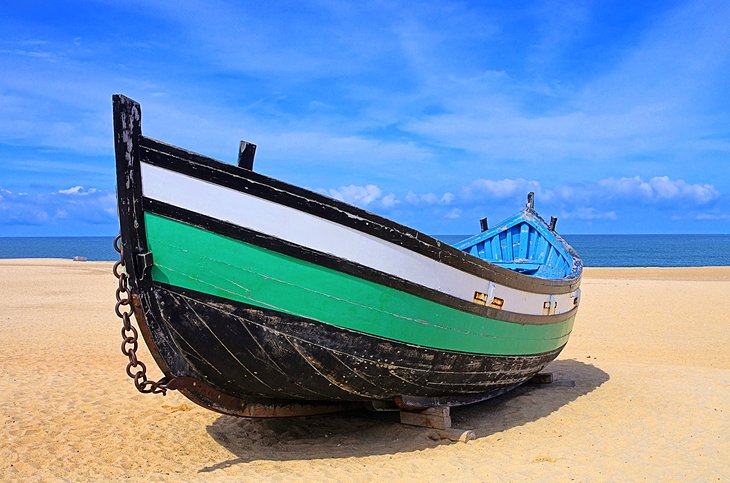 The ferry from Olhão links the town with a number of barrier islands - long, narrow strips of sand that shelter the Parque Natural da Ria Formosa from the open sea.
Culatra is one of the busier islands: Culatra village, on the eastern tip of the spit, has a resident population of around a thousand souls. The islanders eschew the trappings of modern life (there are no cars here) and maintain a more traditional way of life that charms visitors. Fishing is the mainstay, which is probably why the seafood restaurants are among the best in the Algarve.
Another endearing feature is the beach - a long strip of white sand as soft as velvet.
7. Ilha do Farol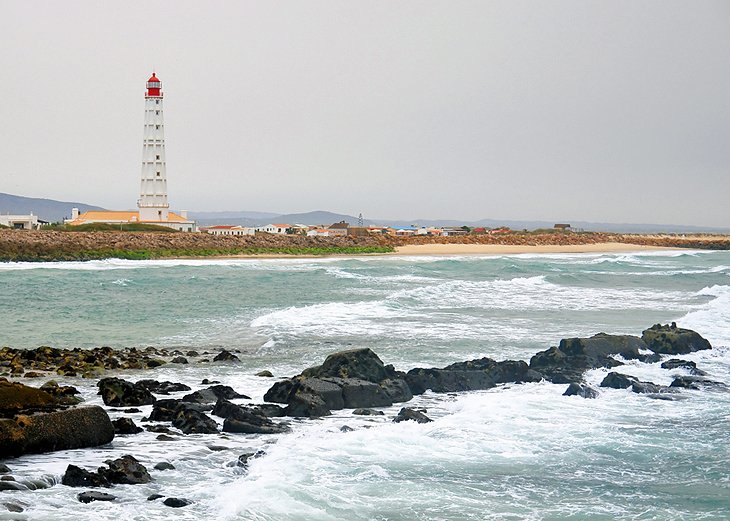 A lofty, scarlet-topped lighthouse (farol) is the landmark feature of this popular vacation destination. Confusingly, Farol is still part of Ilha da Culatra - the western tip of the island is where the lighthouse is situated, so locals refer to the area as "Ilha do Farol."
Tourism here is well established, and a regular ferry service runs from Olhão and Faro. Clusters of holiday homes lie near the jetty, served by some excellent restaurants. The sweeping beach is noted for its lively cafés, which are a magnet for teenagers.
8. Museu da Cidade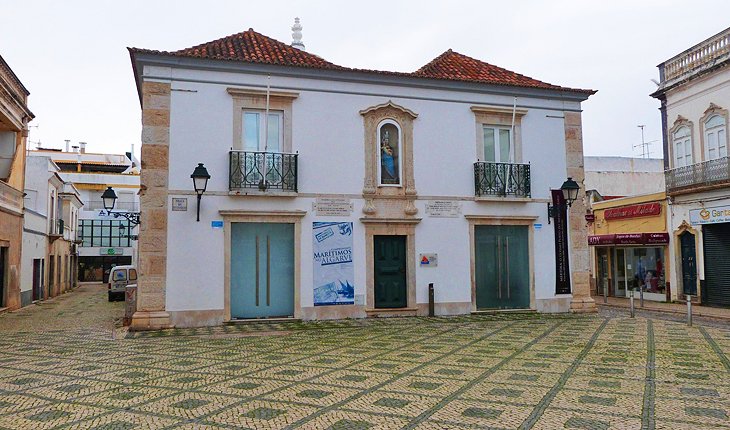 Olhão's jaunty City Museum is housed in an 18th-century manor house that once served as the headquarters of the Maritime Commission and is of considerable architectural merit.
The museum's collection is, in effect, an illustrative history of the town and the immediate vicinity. A modest but appealing miscellany of archaeological finds displayed on the ground floor includes Bronze-Age pots, fragments of Iron-Age tools, and Roman and Islamic vases.
Upstairs, Olhão's industrial and seafaring heritage is explored through a variety of artifacts, items such as 19th-century fishing tackle and equipment, oil presses, and a display of model fishing boats. Vintage black-and-white photographs of Olhão and its townsfolk decorate the walls.
Address: Praça da Restauração, Olhão
Frequently Asked Questions
How do you get to Olhão from Faro (and Faro airport)?
There is no direct public transport services operating between Faro airport and Olhão. Unless you hire a car or opt for a taxi (a tad expensive), onward journeys will require a transfer in Faro itself.
Olhão is an easy 25-minute drive east of Faro along the N125.
Public transport links are good, with buses running every half hour or so from Faro's main bus terminal to Olhão's centrally located bus terminal.
A quicker way to get to Olhão from Faro is by train. The 10-minute jaunt takes in some lovely views of the coast, and Olhão railway station is conveniently situated near the waterfront.
Which are the best beach resorts near Olhão?
Olhão sits right on the coast within the boundaries of the protected Parque Natural da Ria Formosa.
The town faces a string of barrier islands located within the park that while accessible to visitors, cannot be developed. As such, the nearest beach resorts are clustered west of Faro, namely Quinta do Lago, where you'll find the luxury Quinta do Lago Hotel; Vale do Lobo and the aptly named Vale do Lobo resort; along with Quarteira and Vilamoura.
You have to travel nearly 30 kilometers east to Tavira to reach the charming, upscale beach resort of Vila Galé Albacora. Guest services include organized water taxi transfers to nearby Ilha de Tavira, a sandbar island of exceptional beauty and large enough that you can bask in seclusion even during the busy high season.
What are some of the must-visit destinations near Olhão?
Faro is easily reached from Olhão, and you can combine exploration of its tourist attractions, including the charming Cidade Velha (Old Town), with a sightseeing cruise along the Ria Formosa.
Tavira is always worth a few hours of your time, and the 40-minute drive to get there is pleasant enough. The town's Roman bridge, medieval castle, and Renaissance Misericórdia Church are among its top sights and are all within easy walking distance of each other.
A few kilometers west of Tavira is the quaint fishing village of Santa Luzia, known as the Algarve's "octopus capital" for the abundance of restaurants serving this delicious seafood delicacy. In summer, sea safaris depart from Santa Luzia's quayside and cruise the waters off Ilha da Tavira.
What are some of the best golf resorts near Olhão?
Monte Rei Golf & Country Club: The Jack Nicklaus Signature North course at Monte Rei Golf & Country Club ranks as one of the best golf courses in Portugal.
The 18-hole, par 72 layout is set against the backdrop of the Serra do Caldeirão hills to the north and the Atlantic Ocean to the south.
The course is long, tight, and tough, and features an abundance of water hazards. Wide, forgiving fairways weave through shallow, tree-studded valleys to create a unique test on every hole.
The 18th is a corker of a finisher, where the golfer's skill is tested right up to the end.
Monte Rei is located 53 kilometers east of Olhão.
Address: Sesmarias, Vila Nova de Cacela
Benamor: The Benamor Golf Resort is set in attractive, rolling countryside 40 kilometers east of Olhão.
The golf course, an 18-hole, par 71 layout, is embellished throughout with an abundance of regional flora, including olive and fig tree, almond, and carob.
These natural obstacles combine with numerous bunkers and several water hazards to present the golfer with challenging but thoroughly rewar ding play.
Address: Quinta da Benamor, Conceição
Colina Verde Golf & Sports Resort: Ideal for anyone seeking an active vacation but insisting on all modern conveniences at hand, Colina Verde Golf & Sports Resort is set just 20 minutes' drive east of Olhão.
The nine-hole golf course is suitable for players of all abilities, and is especially appealing to those who want to sharpen their iron play and short game.
There's also a bunker practice area and chipping green for golfers looking to improve their technique.
Address: Sitio da Maragota, Moncarapacho
Map of Tourist Attractions in Olhão
Olhao, Portugal - Climate Chart
Average minimum and maximum temperatures for Olhao, Portugal in °C
J
F
M
A
M
J
J
A
S
O
N
D

16

8

17

8

18

9

20

10

22

13

25

16

29

18

29

18

27

17

23

14

19

11

17

9

PlanetWare.com
Average monthly precipitation totals for Olhao, Portugal in mm.

79

71

38

38

20

8

0

5

15

66

86

94
Average minimum and maximum temperatures for Olhao, Portugal in °F
J
F
M
A
M
J
J
A
S
O
N
D

61

45

62

47

65

48

67

50

72

54

77

60

83

64

83

64

80

62

73

57

66

51

62

47

PlanetWare.com
Average monthly precipitation totals for Olhao, Portugal in inches.

3.1

2.8

1.5

1.5

0.8

0.3

0

0.2

0.6

2.6

3.4

3.7