16 Top-Rated Tourist Attractions in Antibes-Juan-les-Pins
This French Riviera resort town offers all the attractions of a summertime vacation destination: sunny days, sandy beaches, and a lively ambience. Antibes has 25 kilometers of coastline with dozens of beaches overlooking the serene blue Mediterranean Sea.
Besides the allure of sunshine and beaches, Antibes boasts an interesting cultural heritage. The medieval fortified castle in the Old Town was for many years the seat of a bishop and a holiday residence of the Grimaldi family.
The beautiful natural setting of pine groves and sea views once inspired Claude Monet, Pierre-Auguste Renoir, and other artists. Today, you can admire the lush scenery and experience the vibrant open-air markets of Antibes year-round, thanks to the mild climate of southern France.
Antibes-Juan-les-Pins is one of the best places to visit on the French Riviera for sightseeing, but it's also a great place to just slow down and relax. Discover the most interesting monuments, museums, and beaches in the area with our list of the top tourist attractions in Antibes-Juan-les-Pins.
1. Vieil Antibes (Old Town)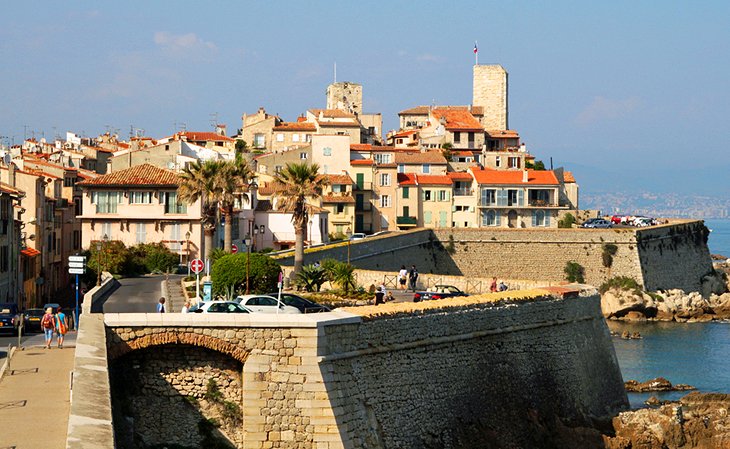 The walled Old Town of Antibes is an inviting place to wander at a leisurely pace. The narrow, winding cobblestone streets are filled with little boutiques, gourmet food shops, cafés, and restaurants. Exploring by foot leads to enchanting discoveries: seaside views, bougainvillea-draped alleyways, and shaded squares with outdoor dining terraces.
This medieval quarter is especially bustling during market hours when vendors sell fresh fruits, vegetables, and flowers, as well as artisanal products like cheese and olives. A traditional open-air Marché Provençal is held every morning year-round (except Mondays from September through May) on the Cours Masséna.
After admiring the Old Town's atmospheric pedestrian lanes, go for a stroll along the ramparts (les remparts). Overlooking the Baie des Anges, the path along the city's historic fortifications offers an exceptional panoramic outlook over the Mediterranean Sea.
Two top tourist attractions are found within Vieil Antibes: the Cathédrale Notre-Dame and the renowned Musée Picasso (in the medieval Château Grimaldi).
The Old Town of Antibes is called "Vieil Antibes" or "La Vieille Ville d'Antibes" in French.
Read More: Top-Rated Day Trips from Nice
2. Cap d'Antibes and Juan-les-Pin Beaches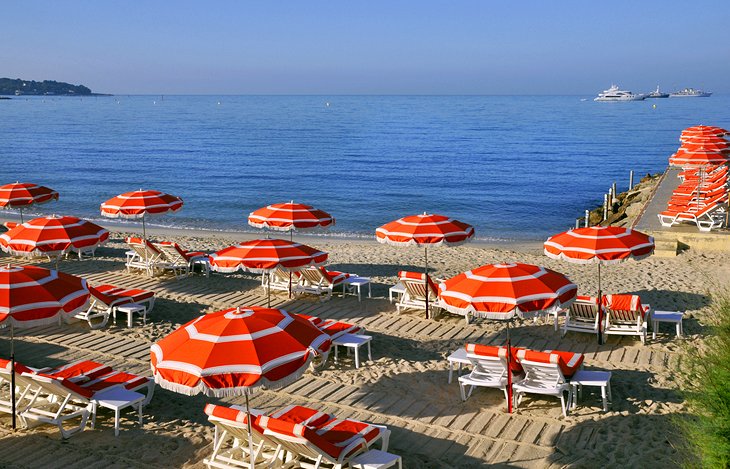 Be sure to check out the Antibes beach scene if you visit during summertime. The area around Antibes boasts a wide selection of beautiful and well-maintained sandy beaches.
Outside the Antibes city limits, there are two areas with excellent beaches: the Cap d'Antibes peninsula and the Juan-les-Pins coastline that extends along the Golfe-Juan between Antibes and Cannes. Both areas have public and private beaches. Many of the public beaches offer showers and toilet facilities; private beaches generally have waterfront restaurants.
Named after the pine groves sheltering the coastline, Juan-les-Pins is prized for its pristine environment, as well as its stylish beach clubs. Les Pirates - La Pinède is a popular private beach club, found on a shoreline of fine golden sand; amenities include a restaurant and lounge chairs & sun umbrellas.
A favorite public beach in Juan-les-Pins is the Plage de la Gallice, which has a protected sandy shoreline and a laid-back ambience.
The Cap d'Antibes peninsula is known for its hidden beaches tucked away in coves and the fancy villas that dot its hillsides. One of the most picturesque spots on the Cap d'Antibes is the Plage de la Garoupe. This private beach boasts fine white sand and gentle crystalline waters. During the off-season, the Place de la Garoupe allows public access.
The beachfront property of the Cap d'Antibes and Juan-les-Pins is dotted with restaurants and seaside hotels. The five-star Cap d'Antibes Beach Hotel provides access to a private beach. Other Cap d'Antibes hotels with private beaches include the legendary Hôtel du Cap-Eden-Roc and the glamorous Hôtel Belles Rives.
Read More: Top-Rated Beach Destinations in France
3. Musée Picasso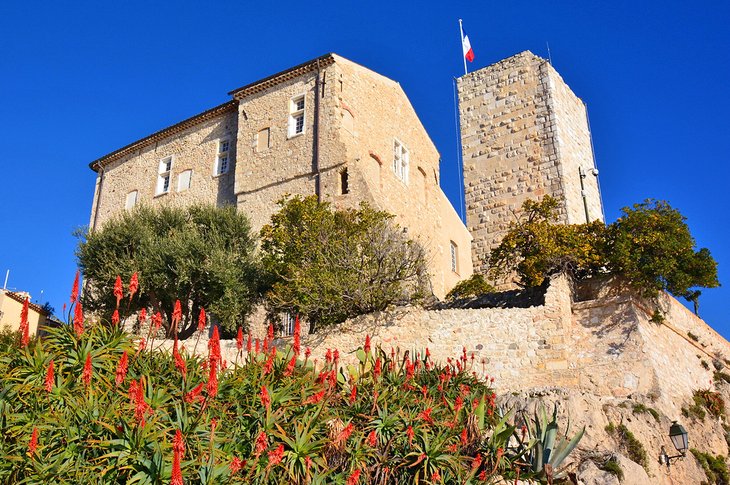 The Musée Picasso occupies the Château Grimaldi, an impressive medieval fortress with sea views. Pablo Picasso used this château as an art studio for several months in 1946, and during this period, he completed 23 paintings and 44 drawings.
A highlight of Vieil Antibes, the Picasso Museum exhibits present over 200 works by Picasso, including many famous pieces. The museum gives these paintings the proper context, as they represent Picasso's infinite creativity and a period of joie de vivre in his life.
The museum also has a permanent collection of modern and contemporary artworks created by renowned artists including Nicolas de Staël, Hans Hartung, Anna-Eva Bergman, and Joan Miró. The castle's terrace displays sculptures by Joan Miró, Germaine Richier, Bernard Pagès, among others.
Address: Château Grimaldi, Place Mariejol, Antibes
4. Chemin des Douaniers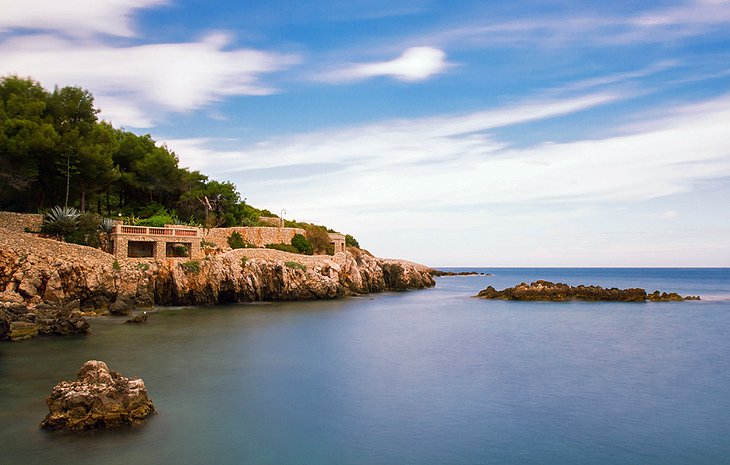 Experience the breathtaking scenery of the Cap d'Antibes on this 3.7-kilometer coastal hike. Because of the gusty breezes off the bay, the Chemin des Douaniers has earned the nickname "Sentier de Tirepoil," which loosely translates to "wind-blown hair trail." The salty sea air and panoramic views are certainly invigorating.
Beginning at the Plage de la Garoupe, the narrow, winding seaside trail includes pedestrian staircases, and portions are near cliff edges overlooking the Mediterranean waters. The trail also continues alongside terraces and gardens of private villas.
The pathway winds around the Cap d'Antibes headland, through pine groves and across freshwater creeks. The trail continues until the tip of Cap d'Antibes at the Villa Eilenroc, which has splendid grounds (open to the public) with a rose garden and olive grove.
The Chemin des Douaniers falls within an area of the Cap d'Antibes that is a protected nature site. This unspoiled environment features lush vegetation and abundant wildlife. Seagulls are a common sight, and dolphins may be spotted frolicking in the bay.
Read More: Top-Rated Beach Destinations in France
5. Jazz à Juan Festival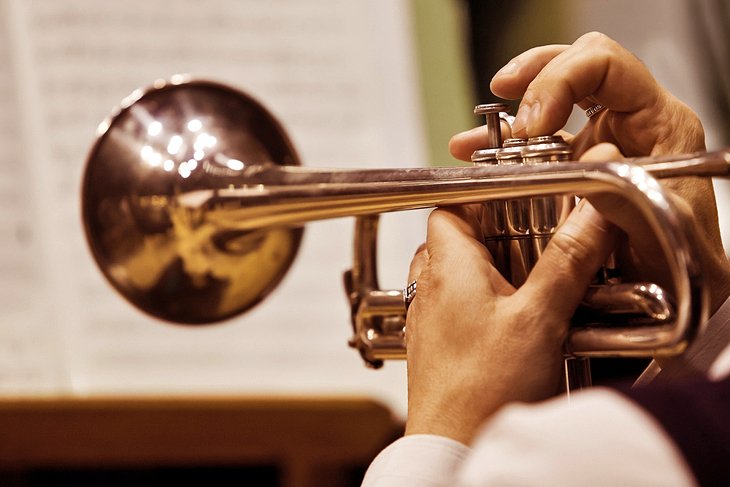 The prestigious Jazz à Juan festival is held in Antibes every summer (late June through mid-July). The first festival held in 1960 was a tribute to the famous jazz musician, Sidney Bechet, who loved Antibes, and since the 1960s the festival has welcomed jazz legends including Ray Charles, Miles Davis, Dizzy Gillespie, Ella Fitzgerald, and Sarah Vaughn.
The festival enjoys a spectacular setting in Juan-les-Pins. The Petite Pinède amphitheater (Rue Leonetti and Boulevard Baudoin) stands next to the Mediterranean Sea in a shady pine grove (Pinède Gould).
The repertoire of music reflects a great diversity of cultures, such as American, African, Latin, and Cuban. Musical performances cover a wide range of styles from Cool Jazz and New Orleans Jazz to Gospel, Blues, Swing, Be-Bop, and Electro-Jazz.
Address: Jardins de la Pinède, Boulevard Baudoin, Antibes (Juan-les-Pins)
6. Musée Peynet et du Dessin Humoristique (Cartoon Museum)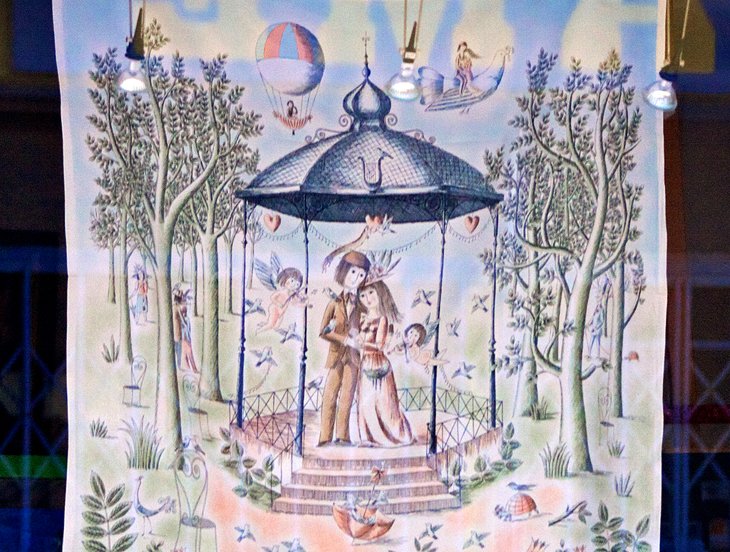 Founded in 1995, this museum is dedicated to the work of cartoonist Raymond Peynet, who lived in Antibes for many years. The collection displays whimsical drawings, etchings, lithographs, and comic strips created by Peynet during his 60-year career.
The collection at the Musée Peynet et du Dessin Humoristique also presents other cartoonists' works. Over 30 noteworthy illustrators of the 19th and 20th centuries (as well as contemporary cartoonists) are represented.
The museum is open Tuesday through Sunday and is closed on Mondays, January 1st, May 1st, November 1st, and December 25th.
Address: Place Nationale, Antibes
7. Fort Carré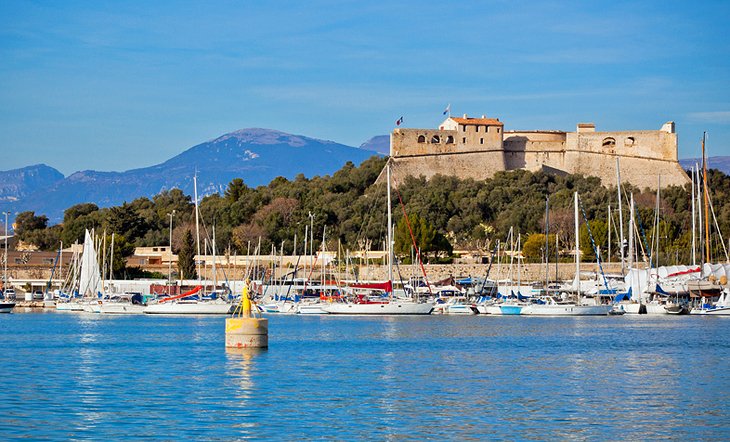 For astounding coastal views, head to Fort Carré. This Monument Historique affords a 360-degree vantage point from its perch above the Port Vauban (harbor/marina). The Renaissance fortress was built in the 16th century on the orders of Henri II.
Within the Fort Carré is a pathway along the ramparts, where you can take a stroll. You will have a chance to admire the amazing military architecture and splendid sea views.
Four hectares of protected parkland surround Fort Carré. The grounds feature typical Mediterranean vegetation.
The Fort Carré is open year-round Tuesday through Sunday and is closed on Mondays, January 1st, May 1st, November 1st, and December 25th.
Address: Avenue du 11 Novembre, Antibes
Read More: Top-Rated Day Trips from Cannes
8. Cathédrale Notre-Dame-de-la-Platea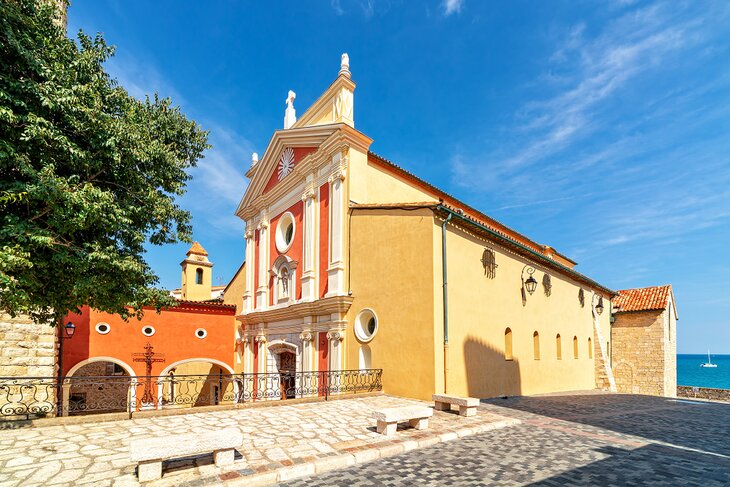 In the heart of Vieil Antibes, the Cathédrale Notre-Dame-de-la-Platea exemplifies Provençal Baroque architecture with its cheerful rose-colored façade. The intricately detailed doors on the façade were sculpted by Joseph Dolle during the 18th century.
Visitors will also be delighted by the artwork inside the cathedral, including the Vierge du Rosaire painting by Louis Bréa circa 1515. This famous piece depicts the Virgin Mary holding the Christ child with little cherubs in the background. The panels surrounding the Virgin Mary represent the 15 Mysteries of the Rosary: five each of Joy, Sorrow, and Glory.
Address: Rue du Saint-Esprit, Antibes
9. Jardin Botanique de la Villa Thuret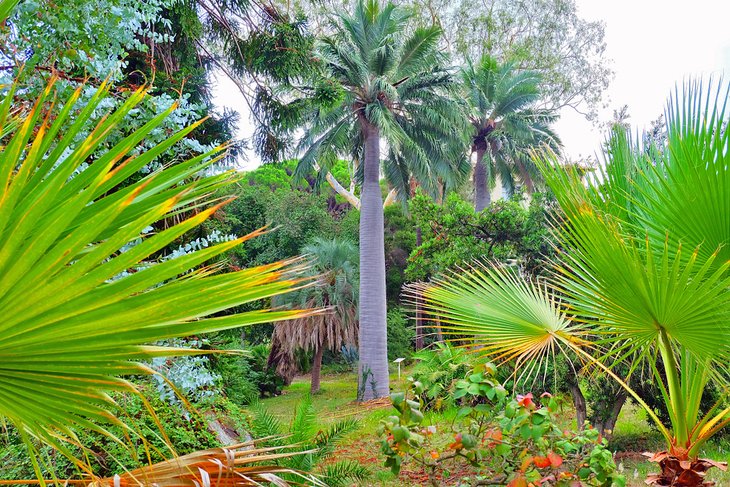 This stunning 3.5-hectare botanical garden boasts a great diversity of plants, including many exotic plants that thrive in the climate of the Cap d'Antibes. There is also an arboretum with an extensive collection of trees and shrubs.
The Jardin Botanique de la Villa Thuret was created by botanist Gustave Thuret who laid it out around 1856. The novelist George Sand wrote in Letters of a Traveller that it was "the loveliest garden [she] had ever seen."
Besides being a tourist attraction, the Villa Thuret Botanical Garden serves as a space for scientific research and studies of conservation.
The garden is open (free of charge) Monday through Friday year-round; opening hours are 8am until 6pm from June through September and 8:30am until 5:30pm from October through May; it is closed on Saturdays, Sundays, and holidays.
You could easily visit this garden along with a nearby beach in the same afternoon. The Villa Thuret Botanical Garden is located near (a five-minute drive from) the Plage de la Garoupe on the Cap d'Antibes peninsula.
Address: 90 Chemin Gustave Raymond, Antibes
10. Chapelle de la Garoupe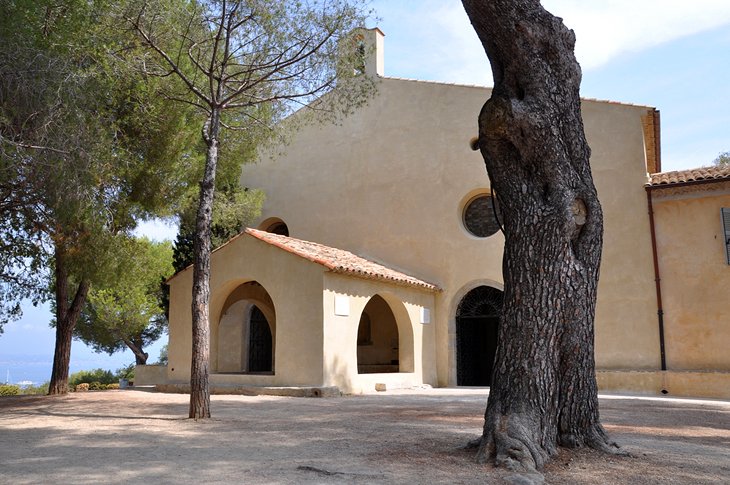 This little chapel is an emblematic monument in Antibes, thanks to its exceptional location on the Plateau de la Garoupe. The chapel stands on an ideal vantage point for viewing the town of Antibes and the Côte d'Azur coastline.
Besides breathtaking vistas from the outdoor terrace, the chapel has an atmospheric sanctuary. The intimate and inspiring spiritual space features frescoes and commemorative plaques. Other artworks include a 14th-century icon from Sébastopol and an interesting Madonna and Child statue crafted from wood and entirely gilded.
Classified as a Monument Historique, the Chapelle de la Garoupe is open (free of charge) every day from 10am until 6pm.
Address: 635 Route du Phare, Antibes
11. Villa Eilenroc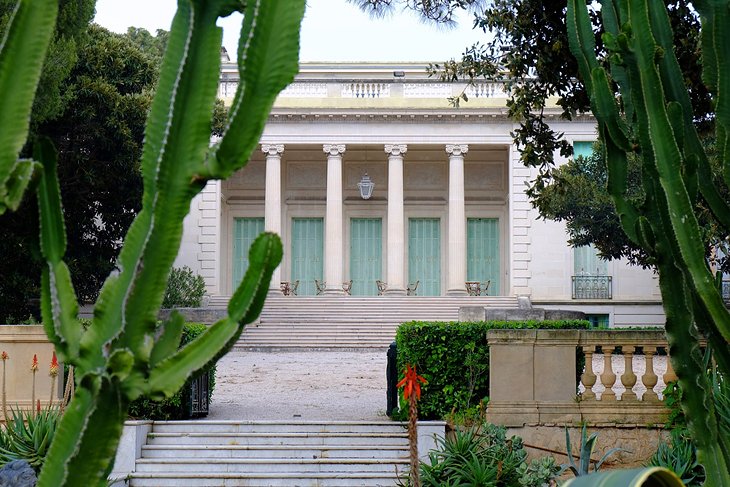 The Villa Eilenroc epitomizes the luxury of the French Riviera during the Belle Epoque. Built in 1867, the villa was designed by Charles Garnier, the architect of the Paris and Monte-Carlo opera houses. You can visit the first-floor rooms of the Villa Eilenroc, which is open (with an admission fee) on Wednesdays and Saturdays from 10am until 4pm.
Be sure to take a stroll through the villa's beautiful public park (open at the same hours as the villa). The park features Mediterranean landscaping and a rose garden with thousands of blooms. Most of these fragrant roses originated in Antibes, France's capital of rose growing.
The Chemin des Douaniers, a 3.7-kilometer coastal path begins at the beach near the Villa Eilenroc and ends at the Garoupe Bay where the Plage de la Garoupe (beach) is located. This seafront trail, along the tip of the Cap d'Antibes peninsula, offers sweeping views from various vantage points.
Address: 460 Avenue Mrs Beaumont, Antibes
12. Musée d'Archéologie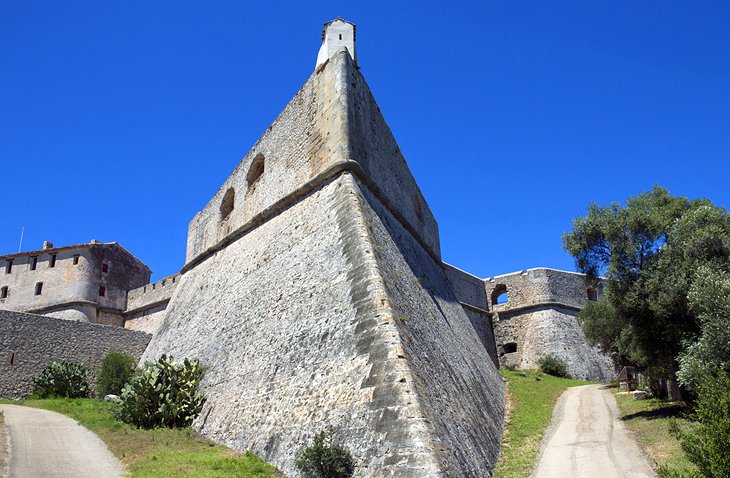 The Musée d'Archéologie is housed within the 17th-century Bastion Saint-André. This museum displays archaeological exhibits that reveal Antibes' ancient history, first as a Greek settlement and then as a Roman city.
In two galleries, the museum presents collections of ancient ceramics, mosaics, coins, vases, and other everyday objects. The artifacts on display were retrieved from various excavation sites in the city and the surrounding waters. Many precious items were found from Etruscan, Greek, Phoenician, and Roman shipwrecks.
The museum is open Tuesday through Sunday, from February through October, and Tuesday through Saturday in the low season (November through January). The museum is also closed on national holidays (January 1st, May 1st, November 1st, and December 25th).
Address: 1 Avenue Général Maizière, Bastion Saint André, Antibes
13. Nomade at the Bastion Saint-Jaume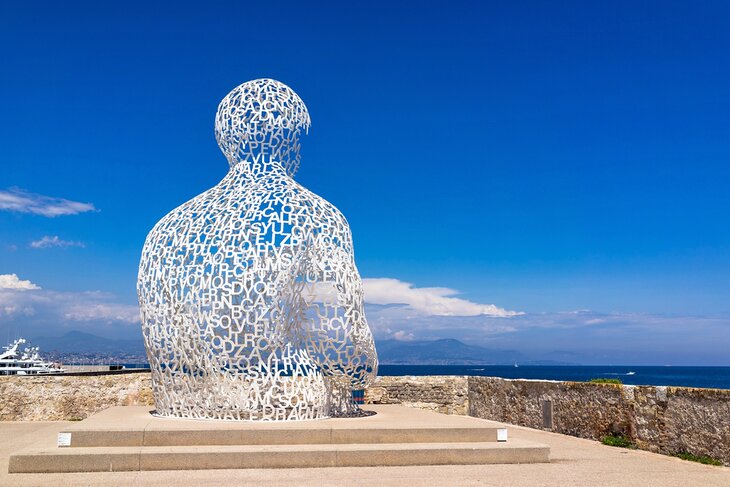 Viewed from far away, this cloud-like sculpture appears to be a figment of your imagination. It's fitting that this dreamy art installation stands on the site of the Bastion Saint-Jaume shipyard, where Captain Cousteau's famous ship, the Calypso, set out.
Though the shipyard closed in 1985, this site now features the remarkable Nomade sculpture. Depicting a man staring out to sea, this innovative and immense installation by the Catalan artist Jaume Plensa evokes a sense of mystery and adventure.
The site is open every day except Mondays. Opening hours are 10am until 11pm from June through August and 10am until 6pm from September through May. Admission is free of charge.
Address: Quai Henri Rambaud, Antibes
14. Chapelle Saint-Bernardin
Classified as a Monument Historique, this 16th-century Gothic church was built for the Brotherhood of the White Penitents of Saint Bernardin.
The ornate interior will surprise you with its richness and beauty. Frescoes from the 16th and 19th centuries adorn the walls, and the 18th-century wooden altarpiece was crafted in Baroque style.
The chapel is open to the public (free admission) year-round Tuesday through Saturday from 10am until 6pm.
Address: 14 Rue du Docteur Rostan, Antibes
15. Day Trip to the Hilltop Village of Biot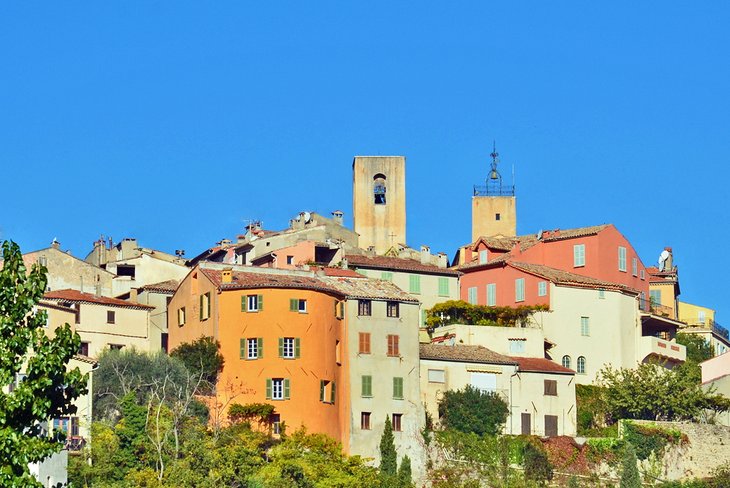 Just seven kilometers away (about a 20-minute drive) from Antibes, Biot is a quaint medieval hilltop village with cobblestone streets and idyllic pastoral views. Not to be missed is the Eglise Sainte-Marie-Madeleine, which has a Vierge du Rosaire painting by Louis Bréa.
Other things to do in Biot include browsing the town's art galleries and boutiques. The village is known for its arts and crafts, including gold and silver work, ceramics, handcrafted glass, wood carvings, weaving, and silk-screen printing.
A short drive away from the center of the village is the Musée National Fernand Léger on the Chemin du Val de Pôme. Created by Léger's widow, Nadja, in the 1950s, the museum displays the artist's works in a comprehensive fashion. The enormous outdoor mosaic was originally intended for a sports stadium in Hanover, Germany.
16. Day Trip to Grasse, the Perfume Capital of France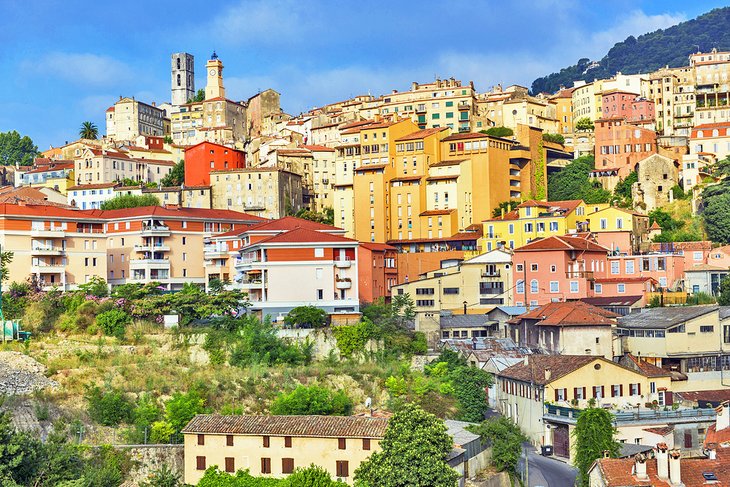 Perched on a hilltop and surrounded by fields of flowers, Grasse is a characteristic Provençal town. This lovely city, just 20 kilometers away from Antibes, makes a delightful place to visit for a day trip in the Côte d'Azur countryside (an area overlapping with the Provence region).
Grasse is the world capital of perfume, which has been made here since the 16th century. In the countryside around the town are aromatic species of roses, jasmine, violet, mimosa, and lavender used to create exquisite fragrances.
Today, Grasse has several exceptional perfumeries. The prestigious Parfumerie Fragonard (20 Boulevard Fragonard) and Maison Galimard (73 Route de Cannes) factories are open to the public for guided tours.
Want to create your own perfume? Sign up for a workshop at Parfumerie Fragonard or Maison Galimard, or try the perfume workshop at Parfumerie Molinard on the Boulevard Victor Hugo in Grasse.
At the Musée International de la Parfumerie (2 Boulevard du Jeu de Ballon), you learn about the history, art, and science of creating perfume. A highlight of the International Perfume Museum is the fragrant garden, which is filled with sustainable aromatic flowers and plants used to make perfumes.
Another must-see cultural attraction, the Musée Fragonard in the Hôtel de Villeneuve (14 Rue Jean Ossola) displays 20 important paintings by Jean-Honoré Fragonard. The famous 18th-century artist is appreciated for his delicate and joyful Rococo style. In addition, the collection presents the work of two other artists from Grasse: Marguerite Gérard and Jean-Baptiste Mallet.
Be sure to save time for wandering the narrow streets of Grasse. The quaint pedestrian lanes are lined with enticing boutiques and lead to shady fountain-adorned public squares. The city's main drag (Rue Jean Ossola and Rue Marcel Journet) has many cafés, restaurants, and shops including perfume boutiques.
The medieval center (Old Town) of Grasse is a typical Provençal hilltop town with pedestrian staircases, refreshing fountains, and views of the surrounding landscape. From some vantage points, there are amazing views of the Mediterranean Sea, as the Bay of Cannes is visible in the distance.
Not to be missed is the Cathédrale Notre-Dame-du-Puy, a 12th-century Romanesque church that presides over a square of pastel-painted buildings. The exterior of the church looks weathered, but the interior houses precious artworks, including an altarpiece by Louis Bréa and paintings by Peter Paul Rubens.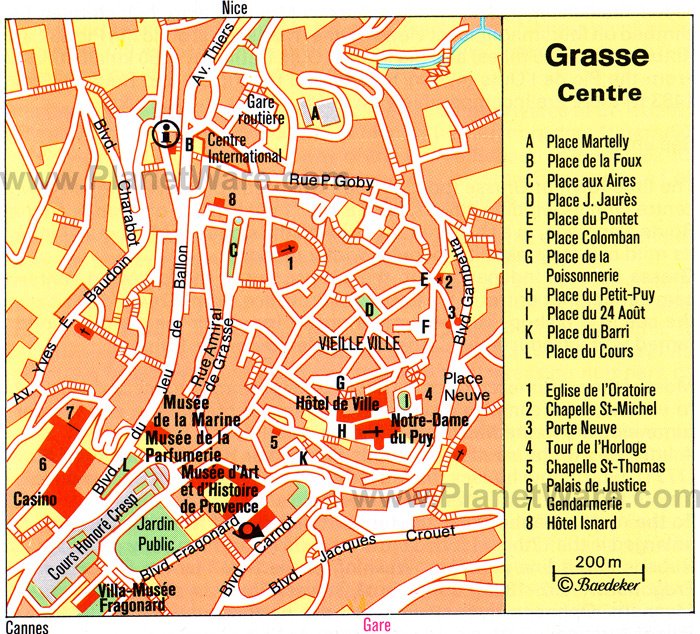 Map of Tourist Attractions in Antibes-Juan-les-Pins
More Related Articles on PlanetWare.com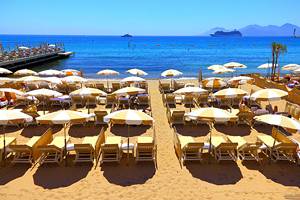 French Riviera Beach Holiday: Antibes-Juan-les-Pins is a good starting point to explore the famous Côte d'Azur. A short drive or train ride from Antibes (11 kilometers away) is the legendary seaside resort of Cannes, with its Belle Epoque hotels, stylish restaurants, and glitzy Cannes Film Festival held in May. A stroll down Cannes' main street, the Boulevard de la Croisette, gives you a taste of the good life.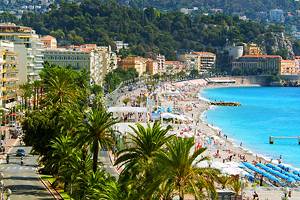 Things to Do in and around Nice: Within a 30-minute train ride or drive (22 kilometers away) is Nice, a picturesque city appreciated for its elegant waterfront promenade, quaint Old Town, and wealth of cultural attractions. The quintessential French Riviera village of Cagnes-Sur-Mer (11 kilometers away from Antibes) and other pleasant day trips from Nice await vacationers who have more time to enjoy the area.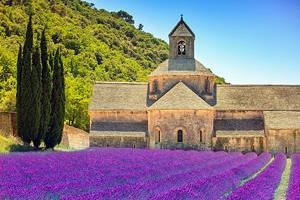 Glamorous Monaco and Charming Provence: Slightly farther away are two more top attractions: the medieval "perched village" of Eze (48 kilometers from Antibes) and gorgeous, glittering Monaco (50 kilometers away). If you are traveling by car, you can also visit the charming hilltop towns of Provence, such as Tourette-sur-Loup (25 kilometers away) and Saint-Paul-de-Vence (17 kilometers away).