From Nice to Saint-Tropez: 3 Best Ways to Get There
The Côte d'Azur beckons visitors with its gorgeous Mediterranean coastline and glamorous beach resorts. Two of the region's most beautiful seaside towns are Nice and Saint-Tropez. Besides being must-see destinations on the French Riviera, Nice and Saint-Tropez rank high on the list of places to visit in France.
Many travelers find that Nice and Saint-Tropez are highlights of their vacation itinerary through the South of France. Getting from Nice to Saint-Tropez is easy enough that both cities can easily be visited in one trip, particularly if you are driving.
Although both Nice and Saint-Tropez attract plenty of holidaymakers throughout the year, and both are often featured on tourist itineraries, public transportation does not directly link the two cities.
The easiest and most direct way to get from Nice to Saint-Tropez is by driving there. However, travelers should keep in mind that during summertime, the trip takes much longer because of traffic.
Other options for getting from Nice to Saint-Tropez include taking the train and taking a ferry ride. Travelers may prefer the ferry ride during summertime, when it's pleasant to lounge on a boat deck and admire the sun-dappled coastal scenery.
When deciding which mode of transportation to select, consider your overall vacation plans and your travel style. Read our guide to learn about the best ways to get from Nice to Saint-Tropez and choose the right form of transportation for your trip.
1. From Nice to Saint-Tropez by Car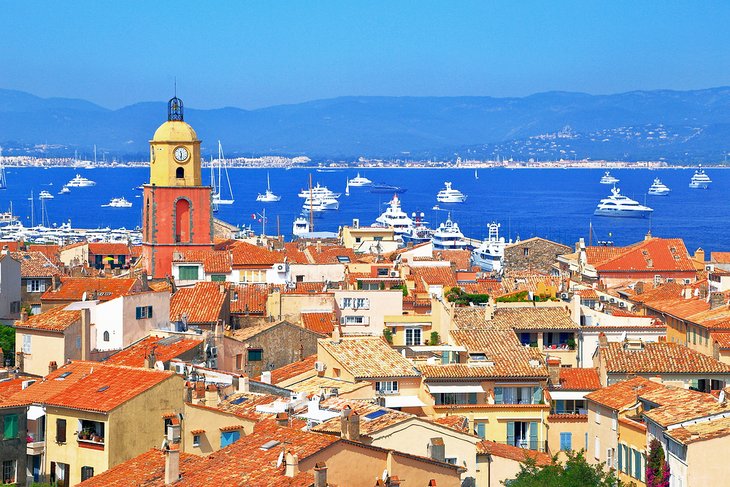 For most travelers, driving from Nice to Saint-Tropez is the best choice. Compared to public transportation, driving is the most efficient way to get there.
Without traffic, the drive takes about two hours (or less) to travel the 112-kilometer route. The drive begins on the A8 highway and connects with the D125 highway in Le Muy and then continues on the D25 road in Les Preyres.
Renting a car works for travelers who have an international driver's license and who feel confident driving in France. It's easy to find a rental car near the Gare de Nice-Ville (Nice Train Station) at the Hertz rental car agency (12 Avenue Thiers); Avis rental car agency (located next to the train station on Avenue Thiers); or Enterprise Rent-A-Car agency (34 Avenue Auber).
There are also rental car agencies by the Nice waterfront, near the Promenade des Anglais and the Quai des États-Unis. For visitors staying on or around the Promenade des Anglais, it would be convenient to pick up a rental car in this area, for instance at ADA Location Voiture (3 Avenue Gustave V); Elite Rent-a-car (9 Rue Massenet); Budget Location Voiture (2 Avenue des Phocéens); or Avis Location Voiture (Place Massena).
When deciding where to stay in Nice, consider that staying near the Promenade des Anglais simplifies travel logistics if you are picking up a rental car in this area. Luxury hotels line the promenade, such as the five-star Hyatt Regency Nice Palais de la Méditerranée with a spa, outdoor swimming pool, restaurant, and concierge, and Le Negresco, a landmark hotel that opened in 1913 and still delights guests with Michelin-starred fine dining and sumptuous accommodations decorated on artistic themes. Mid-range lodging in this area includes La Malmaison, a four-star boutique hotel, and the three-star Hôtel de la Fontaine.
Other travelers may prefer to leave the driving to someone else. In that case, it is possible to pay for a private transfer/chauffeur service from Nice to Saint-Tropez, with the price fixed in advance.
The AtoB airport taxi company offers private transfers by car (or by minivan for larger groups); a professional driver provides door-to-door service. The company, Nice Driver, offers chauffeur service from Nice to Saint-Tropez in luxury Mercedes vehicles; this company also has private sightseeing tours that allow participants to discover the historic harbor, the Old Town, and other highlights of Saint-Tropez.
Tip for Travelers: Keep in mind that summertime brings hordes of visitors to the French Riviera, which means that you should expect traffic. In July and August, as flocks of holidaymakers arrive for their beach vacations, the road leading into Saint-Tropez get very congested. During this high season, the drive might take an hour and a half (or more) longer than usual.
2. From Nice to Saint-Tropez by Train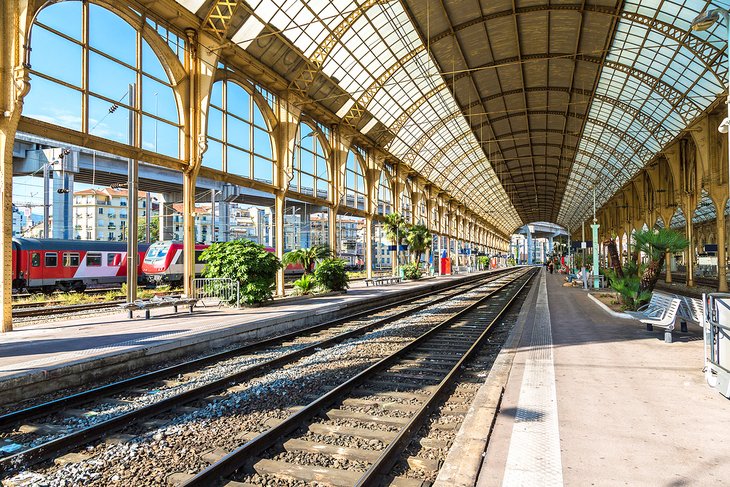 Taking the train from Nice to Saint-Tropez suits travelers who are not able to drive or prefer not to drive in France. SNCF (Société Nationale des Chemins de Fer Français) operates direct train routes from the Nice-Ville station to the Saint-Raphaël Valescure station. The route takes around 50 minutes and is offered several times daily.
On certain days, there are also routes from Nice to Saint-Raphaël Valescure that make a connection in Cannes, which takes about 1 hour and 40 minutes from start to finish (including the transfer/waiting time in Cannes).
Saint-Raphaël Valescure station is about a 50-minute taxi ride to Saint-Tropez. Unfortunately, there are no train routes available that travel all the way to Saint-Tropez.
Travelers will easily find taxis at the Saint-Raphaël Valescure SNCF train station and may simply hop in a cab after departing the train (without planning ahead). Alternatively, a taxi ride or car service may be booked in advance. Some of the local taxi companies include Central Taxis de Saint-Raphaël (available at the SNCF train station in Saint-Raphaël), Esterel Taxis, and Taxi M.
3. From Nice to Saint-Tropez by Ferry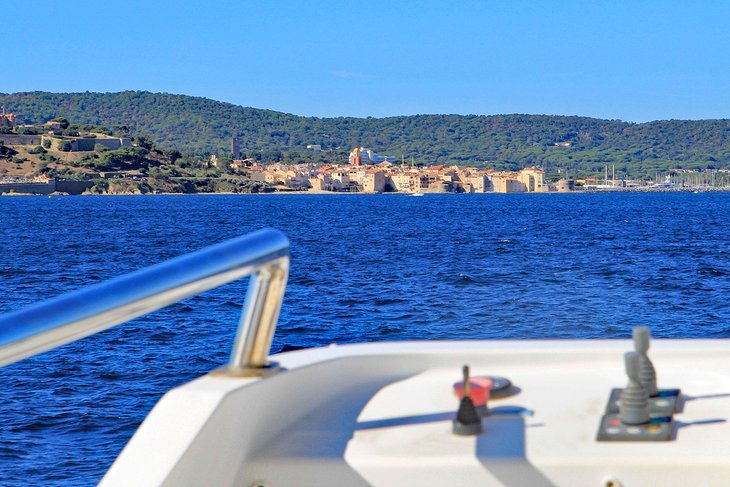 The most picturesque way to get from Nice to Saint-Tropez is by ferry boat. Taking a ferry ride gives travelers the chance to soak up the coastal scenery, while cruising through the deep-blue Mediterranean Sea.
With the sun beating down on the ferry deck, the sight of glistening waves, and the sound of squealing seagulls soaring overhead, a boat ride along the French Riviera coastline is a truly invigorating experience. As the ferry makes its journey, colorful parasol-filled beaches, hidden coves, and ancient seaside towns appear in the distance.
The Trans Côte d'Azur company operates a ferry boat service from the Port de Nice to the Saint-Tropez harbor. The ferry departs from the Quai Lunel on the Port de Nice at 9am and arrives 2.5 hours later at the Guepratte Quay/L'Estacade Quay, which is about a 10-minute walk from the touristy area (Old Town) in Saint-Tropez. A return ferry leaves the same day at 7pm. This route is available every Tuesday, Thursday, Saturday, and Sunday in low season (from May 21st until July 15th and in September) and every day except Mondays in high season (July 16th through August).
Another ferry company, Riviera Lines, provides ferry boat service from Golfe Juan (a 30-minute taxi ride from Nice) to the Saint-Tropez harbor, arriving at the Guepratte Quay/L'Estacade Quay. This ferry route is available several times a week at 9:20am, and takes about two hours. A return ferry ride departs at 6:20pm on the same day. During July and August, this ferry route is offered daily.