17 Top-Rated Tourist Attractions & Things to Do in Genoa
Today, Genoa (Genóva in Italian) is Italy's leading port, with a long history of maritime power that began when it defeated rival Pisa in the 10th century. The riches that flowed into the city in the 16th and 17th centuries still show in the marble palaces that earned it the nickname of La Superba.
These old noble palaces, more numerous and splendid here than in any other place in Italy, are the city's most important tourist attractions. Along the waterfront, in the tangle of steep streets and lanes of the old sailors' quarter, fanning up from the Porto Vecchio (old harbor), you gain a sense of what the city must have felt like at the height of its sea power. Two of Genoa's outstanding things to do for families are here, the Aquarium and the Maritime Museum, which bring seagoing experiences to life for children.
The sea has always played a major role in the life of Genoa, and today many of its most popular tourist attractions and things to do are at the harbor. If you have time, visit the streets and squares near Piazza de Ferrari, Piazza Matteotti, via Dante, and Via XX Settembre.
But remember: things that look close on the map may be a long climb apart. Genoa is a vertical city, rising abruptly from the arc of its harbor to the lower slopes of the Apennine mountains. You cannot simply drive across town - its various segments are linked by five road tunnels and high bridges.
You can decide what places to visit with the help of this handy list of the best tourist attractions in Genoa.
See also: Where to Stay in Genoa
1. Via Garibaldi Palaces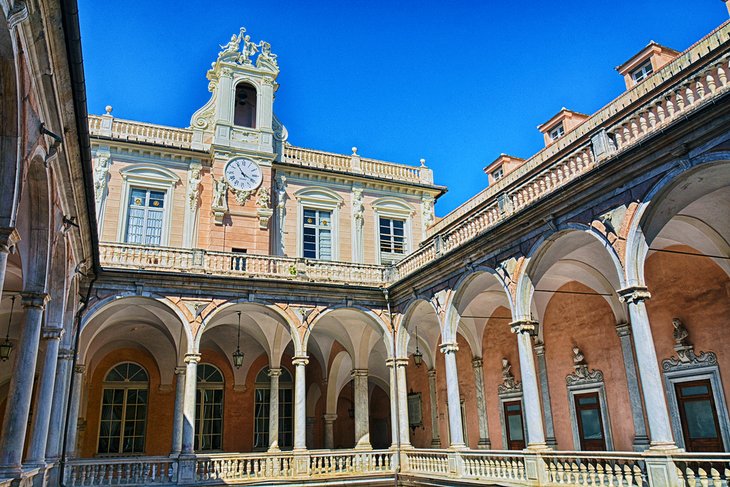 You might expect a street laid out in the 16th and 17th centuries as a setting for palaces of Genoa's richest and most powerful families to be a grand broad avenue, but Via Garibaldi is little more than a lane. It seems even narrower because it is hemmed in on both sides by the grandiose facades of side-by-side palaces.
This little street, which lies north of Piazza Ferrari and above the sailors' quarter, is worth walking down even if none of the palaces are open to tour. Its facades present a succession of carved and painted embellishments, frescoes, grand arcades and loggias, balconies, courtyards, and entrances crowned by crests of noble families whose homes these were.
So outstanding is this assemblage that it was named a UNESCO World Heritage Site. You can tour three of these - Palazzo Rosso, Palazzo Bianco, and Palazzo Tursi - on a single ticket to see the interiors and their superb art collections.
Address: Via Garibaldi, Genoa
2. Acquario di Genova (Aquarium)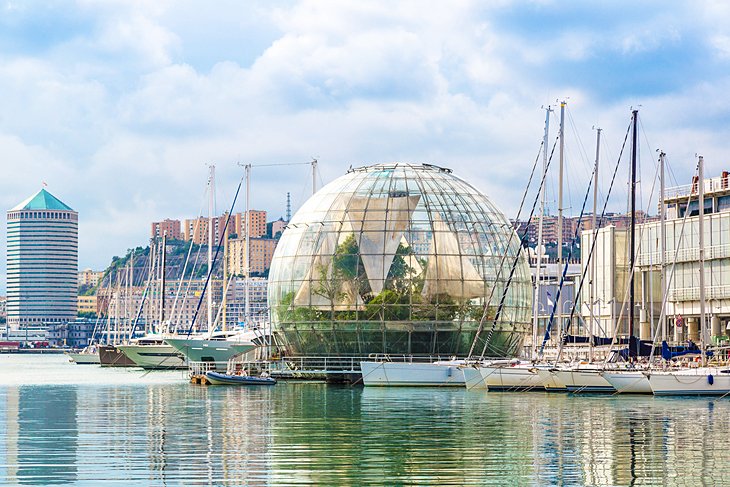 The largest aquarium in Italy and one of the largest in Europe, Genoa's is part of a massive waterfront "Edutainment" center that could take days to explore fully. Built in 1992 to celebrate the 500th anniversary of the voyage of native son Christopher Columbus, the aquarium teaches about marine animals of all kinds, showing them in largely natural environments.
The biosphere, an eye-catching steel-and-glass globe structure designed by foremost Italian architect Renzo Piano, contains a tropical garden. In the garden are exhibits telling about these fragile and endangered ecosystems.
Location: Porto Antico, Genoa
Official site: http://www.acquariodigenova.it/en/
3. Cathedral of San Lorenzo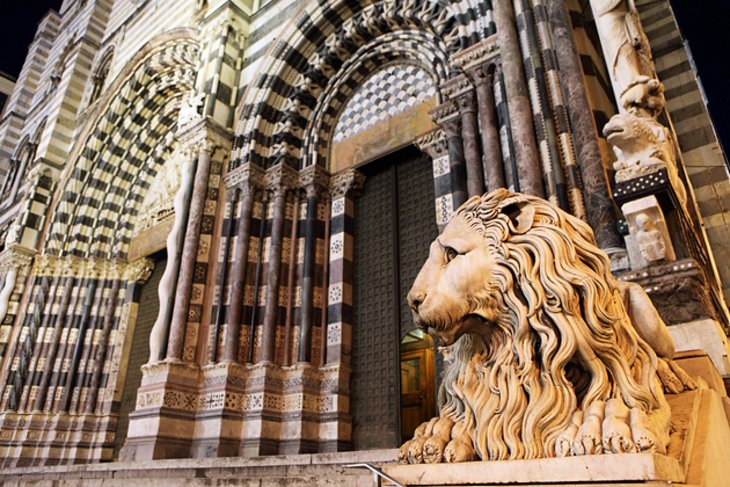 From Piazza Matteotti, the busy Via San Lorenzo runs northwest to the harbor. You can't miss the dramatic Cathedral of San Lorenzo, built originally as a Romanesque basilica in the 1100s, remodeled in Gothic style in 1307, and finished off with a Renaissance dome in 1557.
Inside are more bits of architectural history: the large 15th-century Cappella San Giovanni Battista is the earliest example of Renaissance architecture in Genoa, built to hold the remains of St. John the Baptist. The saint's ashes, the platter on which Salome is reputed to have been presented his head, and a bowl long held to be the Holy Grail are all in the Tesoro della Cattedrale (treasury) below.
Address: Piazza San Lorenzo, Genoa
4. Santi Ambrogio e Andrea and Piazza Matteotti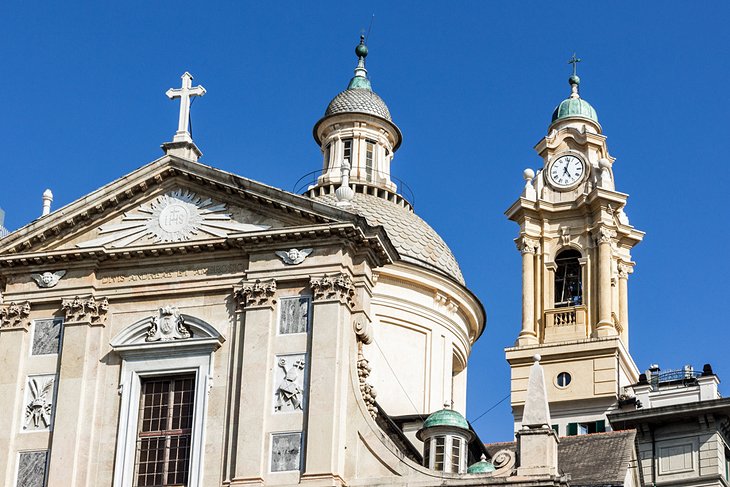 The highlight of Piazza Matteotti is the Jesuit church of Santi Ambrogio e Andrea, built 1588-1637 by the Renaissance architect and artist Domenico Tibaldi (1541-1583). To many, this is the most beautiful church interior in Genoa, in exuberant high-baroque style with marble, gilded stucco-work, frescoes and two paintings by Peter Paul Rubens. Although the façade was not added until the 1800s, it is based on drawings by Rubens.
The former Doge's Palace, now an exhibition center, dominates Piazza Matteotti. But if you go around the palace to the left along Via Tommaso Reggio, you'll find the black-and-white-striped Gothic church of San Matteo (1278). Inside are many relics of the noble Genoese Doria family. In the crypt is the tomb of Andrea Doria, the Admiral who restored Genoa's independence in the 1500s, and beside the church is a beautiful early 14th-century cloister.
Address: Piazza Giacomo Matteotti, Genoa
5. Santa Maria di Castello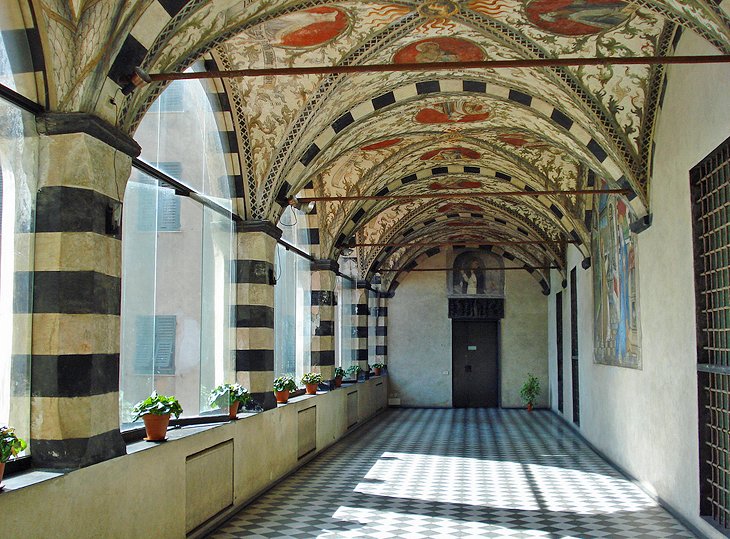 There is evidence that Castello Hill is one of the most ancient sites in Genoa, in use when the early tribes traded with the Phoenicians and Etruscans. Between the 12th and 16th centuries, a succession of churches and convents were built here.
At the center of the complex is the 12th-century Romanesque church of Santa Maria, and from its sacristy you can enter a three-story cloister added when the Dominicans made it into a convent in the 15th century. These loggias overlook the sea, and have beautiful frescoed ceilings.
Address: Salita Santa Maria di Castello, 15, Genoa
6. National Gallery in Palazzo Spinola
Deep in the tangled streets of the sailors' quarter is another extravaganza of carved marble, trompe l'oeil decoration, mosaic floors, painted ceilings, crystal chandeliers, and opulent furniture from Genoa's glory days. In addition to the frescoes and architectural details in the lavish rooms and galleries of the lower three floors, you'll find original 15th-century costumes and a massive painting by Rubens.
The top two floors of Palazzo Spinola hold the National Gallery's art collections, which are especially strong in Flemish painters and those of the Italian Renaissance.
Address: Piazza di Pellicceria 1, Genoa
7. Via Balbi and Palazzo Reale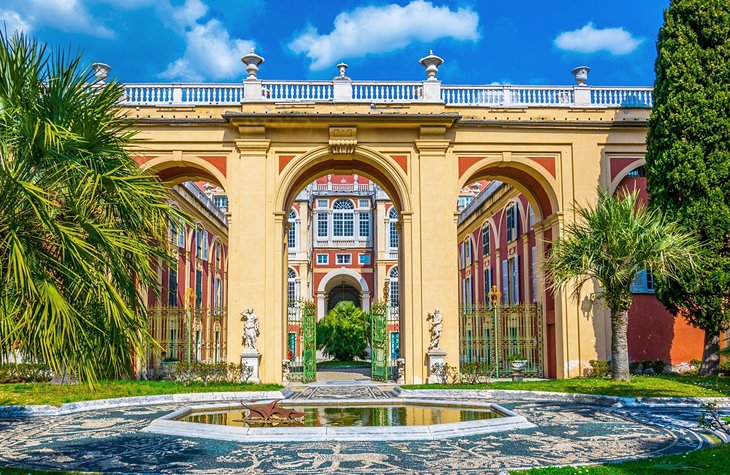 West of the magnificent church of Santissima Annunziata is the beginning of Via Balbi, another street laid out in the early 17th century and lined with splendid palaces. Wider than Via Garibaldi, but less breathtaking in grandeur and more punctuated with shops and everyday life, it still has its share of palaces.
At No. 4 stands the Palazzo Balbi-Senarega and at No. 5 is the Palazzo dell'Università, with the finest courtyard and gardens in Genoa. Opposite Palazzo dell'Università is the 17th-century Palazzo Reale, worth seeing for its grand staircases; balconies; sumptuously decorated interior; and art collection, which includes several by Van Dyck, who lived and worked in Genoa for six years. Step onto the beautiful garden terrace for views of the harbor and Piazza Statuto.
Address: Via Balbi 10, Genoa
8. Harbor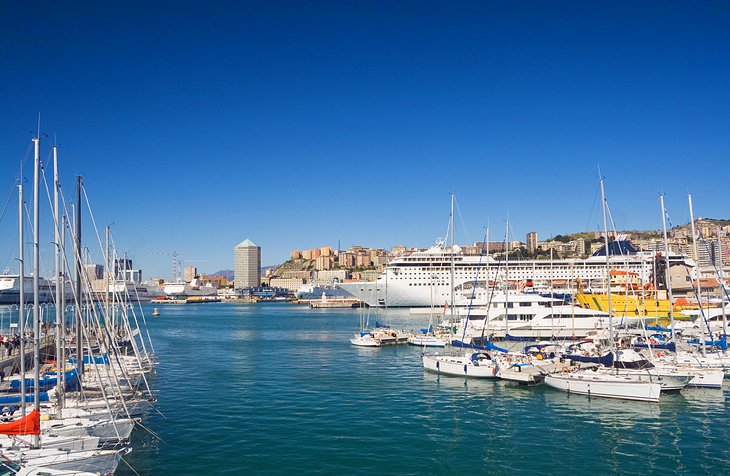 At Genoa's harbor, some 22 kilometers of wharves host cruise, pleasure, and transport vessels in one of the Mediterranean's two largest ports (the other is Marseilles). As the traffic outgrew the Porto Antico (also called the Porto Vecchio - old port), a series of new facilities and a maritime station were built for shipping commerce, to welcome cruise passengers, and house a maritime museum and aquarium. But the historic section remains, and you can still see the Darsena, where the galleys of Admiral Andrea Doria were built.
From Piazza Cavour, south of the free port, runs the Circonvallazione a Mare, a seafront highway built when the outer city walls were torn down. The highway passes the International Trade Fair grounds on land reclaimed from the sea, ending at Piazza della Vittoria.
9. Take a Harbor Tour or Boat Trip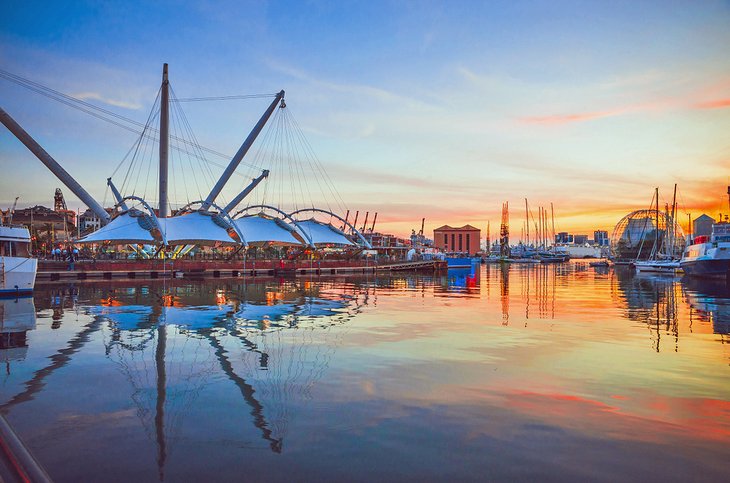 For the best sense of the enormity and activity of the harbor, as well as to see the big ships and the little Porticciolo Duca degli Abruzzi, used by yachts and sailing boats, hop onto one of the many harbor cruises. As a bonus, you will also get the best view of the city itself, spread in a giant bowl at the foot of the mountains.
You'll find a wide variety of boat excursions from the harbor, including whale and dolphin watching, sailing, fishing, snorkeling, and diving. Half-day and full-day cruises to Portofino provide a chance to see that fabled coast from the water.
10. Galata Museo del Mare (Maritime Museum)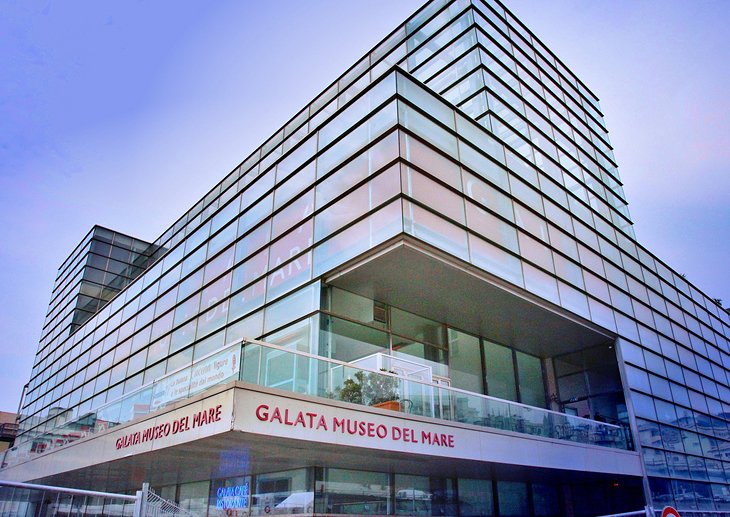 Genoa was a major Mediterranean naval power, especially from the 16th to 19th centuries, so its old harbor is an appropriate place for the Mediterranean's largest maritime museum. Occupying part of the Darsena where the Republic of Genoa built its own fleet, the four floors of engaging exhibits give a good picture of ships and navigation from the Age of Discoveries to ocean liners and submarines.
These are not static exhibits, but immersive experiences that are especially engaging to children. Families can share the feeling of seamen in a storm-tossed lifeboat; step onboard a 17th-century Genoa galley to explore the interiors; and discover the life onboard, interacting with crew members.
From here, visitors step into the era of ocean liners to explore the deck of a steamship, the original wheelhouse, chart room, and deckhouse for first-class passengers. This is the largest maritime museum in the Mediterranean and an exceptional experience, especially for families with children.
Address: Calata De Mari 1, Genoa
Official site: http://www.galatamuseodelmare.it/jsp/index.jsp
11. Museo d'Arte Orientale (Oriental Art Museum)
In Villetta di Negro Park, a favorite place for cooling breezes and harbor views, the Museo d'Arte Orientale, also called Museo Chiossone, displays one of Europe's largest collections of Asian art.
Based on the collections of Edoardo Chiossone, the museum is especially known for Japanese art: 11th- to 19th-century paintings and prints, enamels, bronzes, lacquer ware, textiles, pottery, theater masks and costumes, musical instruments, and armor. Outstanding sculptures from Japan, China, and Thailand date as far back to the third century BC.
Address: Piazzale Mazzini 4, Genoa
12. Piazza De Ferrari and Teatro Carlo Felice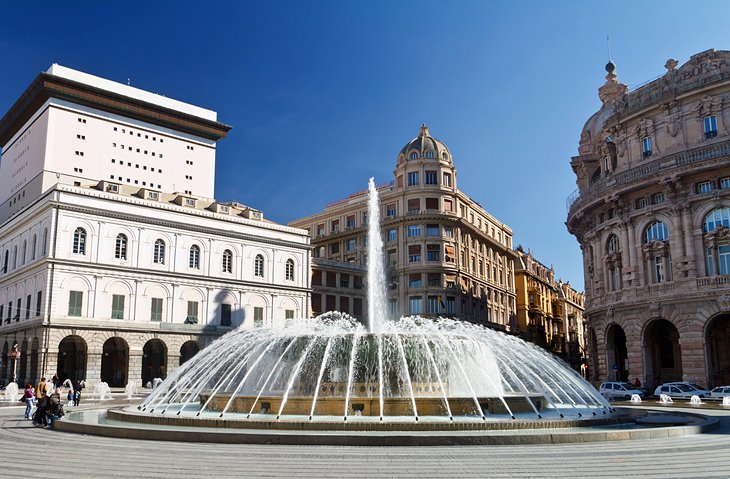 The hub of Genoa is the Piazza De Ferrari, its splashing fountain surrounded by grand buildings, and with the busiest streets radiating from it in all directions. Walk down Genoa's principal street, Via XX Settembre, and adjacent streets to see the outstanding Art Nouveau facades. The imposing 19th-century Neo-Baroque building on the east side is the Exchange (Borsa), and the Accademia Ligustica di Belle Arti holds sculptures from Genoa and Liguria, along with other art.
At the corner of Via Roma, from which you can access the Galleria Mazzini shopping arcade, stands the Teatro Carlo Felice, built in 1828, and rebuilt after World War II. Among Italy's finest and largest opera houses, this new state-of-the-art venue has flawless acoustics and hosts concerts and jazz along with opera.
Address: Passo Eugenio Montale, 4, Genoa
13. Cimitero di Staglieno (Staglieno Cemetery)
One of the more unusual things to see in Genoa is the beautiful Campo Santo or Cimitero di Staglieno, among the most famous cemeteries in Italy. Located a little way north along the Bisagno valley, it is accessible by car or bus from the city.
Its terraces of arcades almost overflowing with elaborate stone monuments, the cemetery is a must-see for anyone who loves Art Nouveau sculpture and decoration. At the top, in the Boschetto dei Mille, is the tomb of Giuseppe Mazzini, Italy's hero of independence and a Genoa native.
Address: Piazzale Resasco, Genoa
14. Porta Soprana and Casa di Colombo (Columbus's House)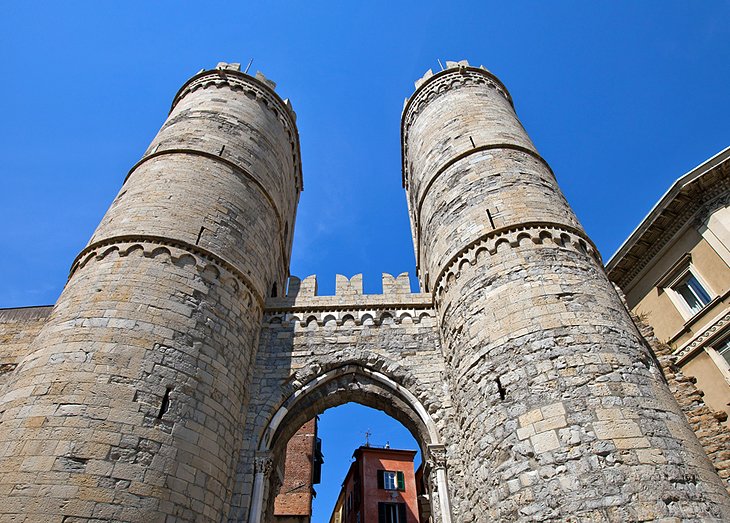 The short Via Dante leads south from Piazza De Ferrari to Piazza Dante, where you'll see the two well-preserved towers of Porta Soprana, a gate in the city walls, built in 1155.
Christopher Columbus spent his childhood in the much-restored stone house next to the beautiful little cloister of Sant'Andrea, with its delicately carved columns and arches. There's not much to see in the museum inside, but the combination of the house, gate, and cloister make this short detour worthwhile as you are sightseeing in Genoa.
Address: Piazza Dante, Genoa
15. Boccadasse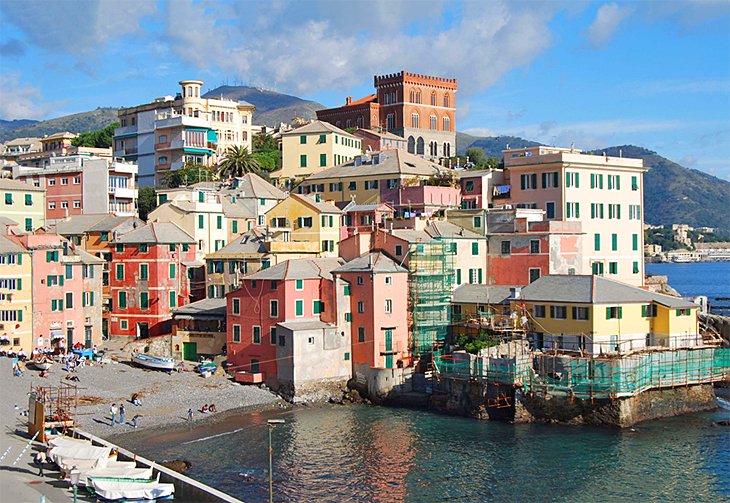 There are no real beaches in Genoa, but its location on the Mediterranean is between two major beach regions of the Italian Riviera. You'll find a small beach at Boccadasse, an old and picturesque fishing village that's now a neighborhood of Genoa.
You can stroll along the seafront promenade or take a local bus to this little seaside enclave of pastel buildings around a shingle beach. There are plenty of restaurants from whose terraces you can enjoy the view, but they're crowded on weekends when the weather is good.
16. Day Trip to Portofino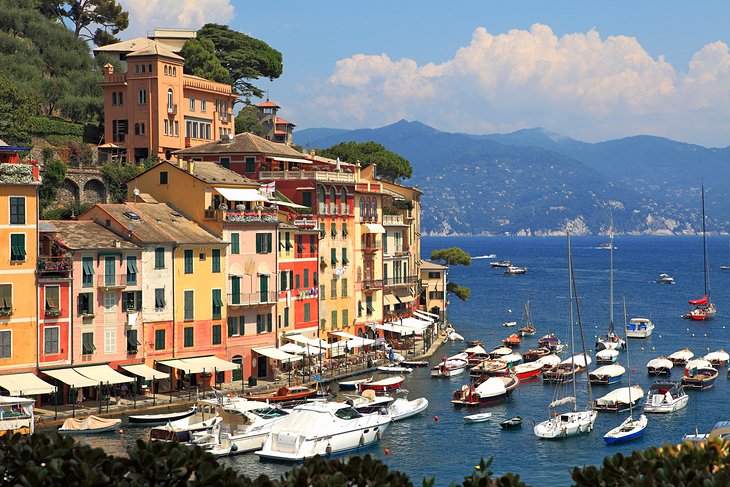 The postcard perfect little village of Portofino, a circle of candy-colored buildings set around a harbor bristling with masts of sleek yachts (and a few colorful fishing boats), is possibly the most photographed in Italy. It's also a favorite of the rich, the glitterati, and the celebrity-watchers who follow them.
It is certainly worth driving the 32 kilometers, or better yet, taking a boat trip here from Genoa, along the spectacular coast. Once here, you can pay an outrageous price for a coffee in one of its cafés, visit the small Castello Brown sitting above on its crag, or hike along the steep shore to the lovely abbey of San Fruttuoso of Capodimonte for breathtaking views.
17. Day Trip to Santa Margherita Ligure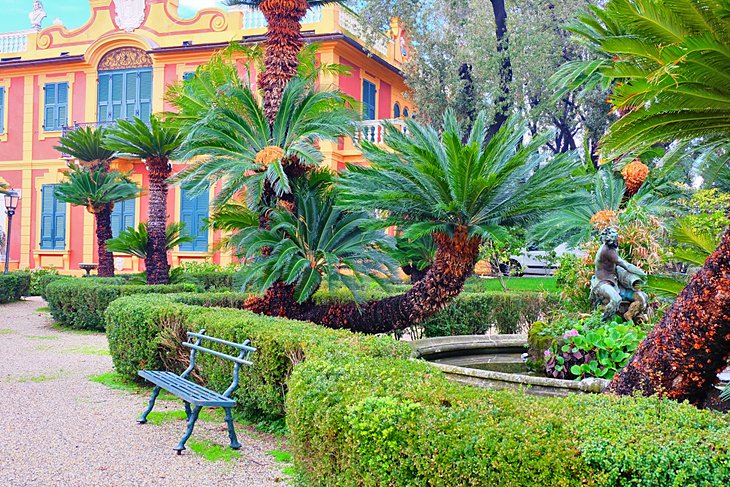 After the busy streets and harbor of Genoa, the genteel little seaside resort town of Santa Margherita Ligure will seem even more quiet than it is, with its back-in-time promenade above the beach and its century-old, grand hotels.
If you can leave the old-world charms of its seafront, climb the steep, narrow streets to the little Castello, and to the terraced gardens of Villa Durazzo. This pink confection of a villa was built in the 17th century, and its grounds are now a public park with palm trees, fountains, and statues. The Santuario di Nostra Signora della Rosa is a Baroque church, decorated with frescoes and gold-embellished carving.
Santa Margherita Ligure is 30 minutes from Genoa by train; from here you can take a ferry on to Portofino.
Where to Stay in Genoa for Sightseeing
Unlike many European cities, where the historic sights are in a small medieval core, Genoa's attractions are more widely spread. Getting between them is sometimes complicated by topography, so two points that look adjacent on a map may actually be quite a steep climb apart. Take advantage of Genoa's excellent buses, trams, and funiculars to reach other attractions from these highly rated hotels in Genoa:
Luxury Hotels:
Resplendent in polished marble and with a rooftop pool and on-site parking, Grand Hotel

Savoia

is near the harbor and main rail station, a short walk from the palaces of Via Balbi.
In a quiet area within walking distance of the aquarium and Palazzo Reale, Melia

Genova

has a gym, indoor pool, and spa.
On the water beside the aquarium, NH Collection Genova

Marina

has balconies with harbor views and is handy to ferries, boat tours, and the atmospheric old port neighborhood.
Mid-Range Hotels:
Near the main station and Via Balbi palaces and a 10-minute walk from Via Garibaldi, Hotel

Continental

has antique furnishings, rooms with balconies, and a selection of nearby restaurants.
A few steps from Galleria Giuseppe Mazzini, the opera house, and Piazza Ferrari, Best Western Plus City

Hotel

is only a short walk to the cathedral.
Near Palazzo Reale and a short walk to the marina, Hotel

Balbi

has spacious rooms just off Via Balbi and a five-minute walk from the train station.
Budget Hotels:
With balconies overlooking Via XX Settembre's shops, Olympia Hotel

Genova

is only a few blocks from Piazza Ferrari and the most popular attractions; some rooms have shared baths.
Not far from the harbor, Hotel Nuovo

Nord

is on Via Balbi, a three-minute walk from the train station and airport buses.
On Via XX Settembre, near Piazza de Ferrari and the opera house, Soana City

Rooms

occupies the fourth floor of a beautiful old building.
Tips and Tours: How to Make the Most of Your Visit to Genoa
Sightseeing Tours:
A flexible way to see the top sights in Genoa and to get around without having to climb its many steep streets is on a Genoa City Hop-On Hop-Off

Tour

. With a ticket that's good for 48 hours, you'll have two full days of transport between the districts where you'll find the most popular tourist attractions. The open-air double-decker buses provide great views, and a commentary tells about the city and identifies important landmarks as you travel. You can hop off to visit any of them or explore on your own, then re-board to discover the next attractions.