14 Top-Rated Tourist Attractions on the Côte d'Azur
The stylish and scenic strip of coastline called the Côte d'Azur stretches from Saint-Tropez to Menton near the border with Italy. Also known as the French Riviera, the Côte d'Azur translates to "Coast of Blue," taking its name from the deep azure-blue color of the Mediterranean Sea.
Buzzing with energy during the summer holiday season, the French Riviera is a playground for the rich and famous who have lavish villas on the coast and impressive yachts docked in the harbors. Private beaches, high-end restaurants, and five-star hotels reinforce the image of seaside elegance and prestige.
Whether basking under a cabana in Cannes, setting sail from the port of Monaco, or people-watching on the boulevards of Nice, visitors will delight in the pleasures and the beauty of the French Riviera.
Discover the best things to see and do in the region with our list of the top attractions on the Côte d'Azur.
1. Promenade des Anglais, Nice
With its beaches, balmy weather, and charming Mediterranean character, Nice is the quintessential French Riviera resort town. The most famous street in Nice is the Promenade des Anglais, a gorgeous pedestrian area that follows the curve of the Baie des Anges beaches.
Since the Belle Epoque, the promenade has been graced by opulent buildings such as the Art Deco Hyatt Regency Nice Palais de la Méditerranée resort hotel; the legendary Le Negresco hotel, known for its luxurious accommodations, fine dining, and cosmopolitan clientele; and the Villa Masséna, a 19th-century aristocratic mansion (now a museum of art and history) set in a Mediterranean garden.
The Promenade des Anglais attracts crowds for sunbathing on the beaches and strolling, rollerblading, or cycling along the promenade. There are also many cultural and historic sightseeing attractions nearby.
A traditional open-air Provençal market takes place at the Cours Saleya, steps away from the Quai des États-Unis (which is just off the Promenade des Anglais). Beneath colorful striped awnings, vendors sell fresh flowers, fruits and vegetables, and local artisan food products. The market is held daily, except on Mondays.
The Jardin Albert Ier is within easy walking distance of the Promenade des Anglais. This expansive garden was one of Nice's first public parks. In a delightful seaside location, the park features Mediterranean pine trees, aromatic roses, towering palms, and monumental fountains.
During summer, the garden's outdoor theater, the Theâtre de Verdure, hosts concerts and cultural performances.
Accommodation: Where to Stay in Nice: Best Areas & Hotels
2. Saint-Tropez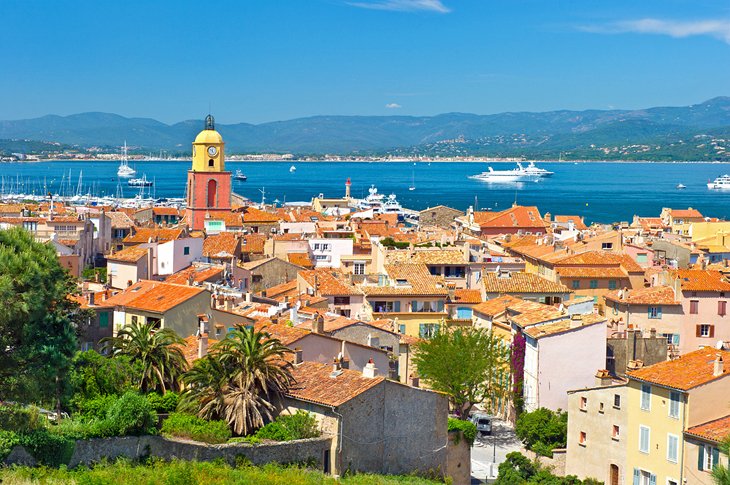 This celebrated beach-holiday destination was once just a humble fishing village, but is now a glamorous beach resort (made famous by Brigitte Bardot in the 1950s). Nestled in a picturesque bay, Saint-Tropez has retained its quaint historic village, which easily charms visitors.
With its cobblestone streets and shady squares, the historic center of Saint-Tropez has an appealing old-world allure. Despite the fancy restaurants and fashion boutiques, there's still an authentic Provençal atmosphere. Visitors will see the town's elderly gentlemen playing pétanque, while villagers shop at traditional markets or chat at outdoor cafés.
Although there are still fishing boats in the Vieux Port (old harbor), you're more likely to find luxury yachts that belong to the jet-setting crowd. For tourists, the Vieux Port is a great place to stop for refreshments at a sunny café terrace.
The attractive Mediterranean scenery and chic ambience are the main attractions of this relaxing beach town. For those seeking a stylish spot on the French Riviera with sandy shoreline, Saint-Tropez is one of the best places to visit.
Accommodation: Where to Stay in Saint-Tropez
3. Cannes Beaches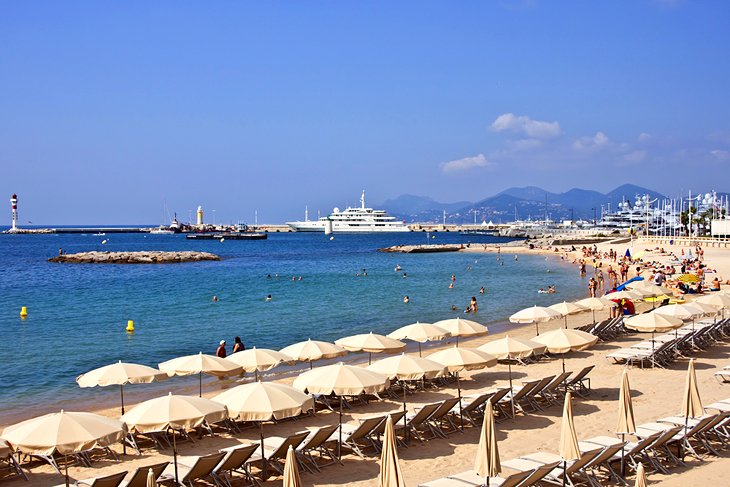 During the summer months, colorful parasols line the sandy beaches of Cannes, and beach lovers soak up the sun in classic French Riviera style. Most of the popular beaches in Cannes are found right off La Croisette Boulevard, the city's elegant main street.
Among its many tourist attractions, Cannes is prized for its exclusive private beaches. However, there are municipal beaches that charge a small fee (Macé Beach and Zamenhof Beach, both sandy beaches with shallow waters).
There are also public beaches that offer free entry: Gazagnaire Beach, which is good for swimming; La Casino Beach, a long, wide stretch of sandy shoreline; and locals' favorite, Mouré Rouge Beach.
Most of the beaches have parasols and lounge chairs available to rent. Many beaches also have snack bars and lifeguards on duty during the high season.
To truly savor the luxurious Côte d'Azur lifestyle, visitors should indulge in seaside dining at one of the enticing gourmet restaurants or outdoor cafés along the Cannes beachfront.
Some of the most fashionable seaside restaurants in Cannes include the two-Michelin-starred La Palme d'Or at the luxurious Hôtel Martinez (73 Boulevard de la Croisette) and Le Park 45, a gourmet restaurant that serves Mediterranean (Provençal & Italian) cuisine on a garden terrace at Le Grand Hotel (which also has a private beach club with a restaurant, Hyde Beach).
Trendy beachfront restaurants include CBeach (45 Boulevard de la Croisette), a private beach club with excellent amenities, and Palais Stéphanie Beach restaurant (50 Boulevard de la Croisette), which treats guests to delicious Mediterranean cuisine and sushi on shaded tables that overlook the beach.
Accommodation: Where to Stay in Cannes
4. Monaco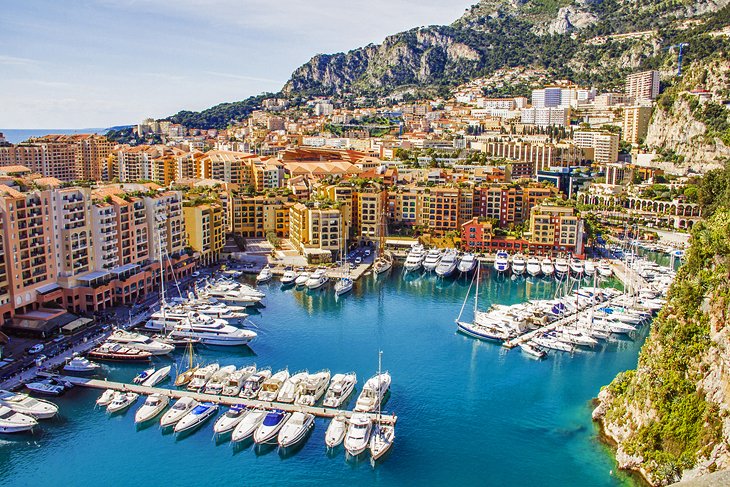 Renowned for its prestigious yachting event and sublime natural scenery, Monaco has a special status on the Côte d'Azur. This small coastal city is its own principality with a royal family, epitomizing the glamour of the French Riviera. The palace of the royal family is located on what is fondly called "Le Rocher" ("The Rock"), a promontory overlooking the sea.
Tourists may visit the Palais Princier de Monaco (royal palace) to discover its treasures: a monumental Carrara marble staircase; precious 16th- and 17th-century frescoes depicting mythological scenes; the Mazarin Room, covered with ornate wood paneling; and the Throne Room, where official state events and ceremonies take place.
Other cultural highlights in Monaco include the cathedral; the Chapelle de la Visitation, which houses a museum of religious art; the Oceanographic Museum in an amazing waterfront setting; and the Jardin Exotique, a gorgeous exotic garden with stunning sea views.
Another of the must-see attractions in Monaco is its emblematic harbor (Port Hercule), filled with luxury yachts. This enormous harbor is large enough to dock cruise ships. With its picturesque Mediterranean scenery and refreshing sea breezes, Port Hercule is a wonderful place for leisurely strolls or al fresco dining. Many of the waterfront restaurants have pleasant outdoor terraces.
Accommodation: Where to Stay in Monaco
5. Hilltop Village of Eze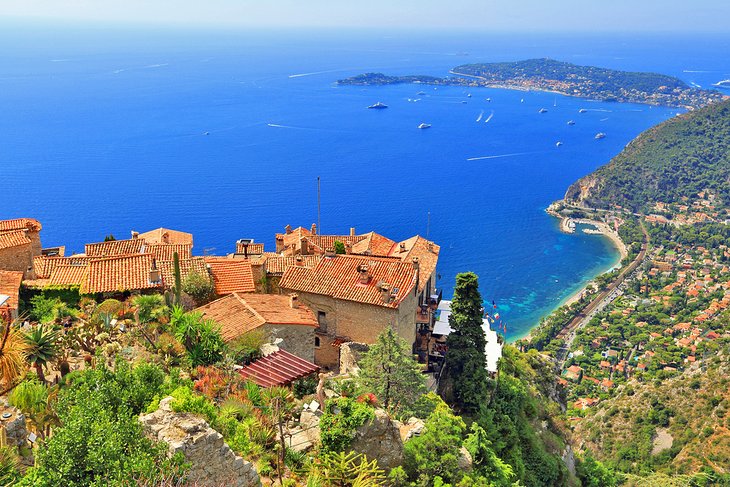 A picturesque "village perché," Eze is a gem of the Côte d'Azur. This charming medieval village is perched on a steep hilltop high above the Mediterranean Sea, with sweeping panoramas of the Cap-Ferrat coastline.
Wandering the narrow cobblestone streets of the village leads to wonderful discoveries, such as small art galleries, interesting artisan boutiques, and beautiful sea views. The village also has a lovely 12th-century church with an elegant neoclassical facade from the 18th century.
At the very top of the Eze hillside is the spectacular Jardin Exotique with a breathtaking outlook. On a clear day, the Exotic Garden affords 180-degree views of the coastline all the way from Italy to Saint-Tropez.
One of the attractions of Eze is a property called La Chèvre d'Or, which is a five-star hotel housed in a 14th-century château. The hotel occupies several buildings within the heart of the medieval village and has a Michelin-starred restaurant. With heavenly vistas of the coastline and its mesmerizing azure waters, the property's exquisite garden brims with fragrant roses, sweet jasmine, vibrant bougainvillea, shady trees, refreshing fountains, and striking contemporary art installations.
Just below the medieval village is the Fragonard Parfumeur perfume factory that utilizes aromatic flowers grown nearby in the Provence region. The Fragonard perfume factory is open to the public for guided tours.
For those who enjoy nature walks and hiking, a scenic trail begins near the Fragonard perfume factory, continues down the hillside, and leads to the beach, with incredible sea views along the way. This trail is known as the Nietzsche Path because it was a place of inspiration to the philosopher when he spent time in Eze. The hike down the trail takes about 45 minutes, whereas it is more than a one-hour trek returning (uphill) to the village.
Accommodation: Where to Stay in Eze
6. Villa & Jardins Ephrussi de Rothschild, Cap-Ferrat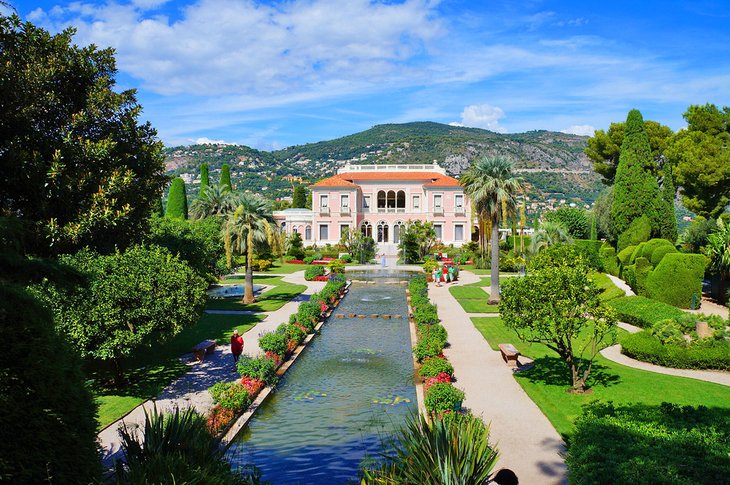 Between Nice and Monaco, the Cap-Ferrat is a narrow peninsula with serene seaside scenery, overlooking the bays of Villefranche and Beaulieu. The coastline is dotted with fancy villas and vacation homes, although visitors rarely have a chance to see past the gated entryways.
One remarkable villa that's open to the public is the Rothschild Villa built for Béatrice Ephrussi de Rothschild, the daughter of the wealthy banker Baron Alphonse de Rothschild. Upon inheriting her father's enormous fortune in 1905, Béatrice created an incomparable residence in a sublime setting on the tip of the Cap-Ferrat.
The villa was designed in the style of an Italian palazzo, with a facade of delicate pastel pink. Béatrice's exceptional taste is revealed throughout the interior and especially in the Grand Salon with its Louis XVI furnishings and sumptuous floral-motif decor. After touring the villa's interior, visitors should leave plenty of time to explore the grounds.
Wandering around the villa's magnificent gardens is a delightful experience. The eight distinct gardens include a formal French Garden, with musical fountains; a Spanish Garden, with trellised patios; a Rose Garden, with dozens of floral varieties; and a Japanese Garden featuring a traditional pavilion, wooden footbridge, and koi fish pond.
The Villa & Jardins Ephrussi de Rothschild is open every day of the year for self-guided tours (with audio-guides). Visitors appreciate the villa's elegant tearoom, which serves lunch, coffee, and afternoon tea. The tearoom has a dining area with bay views and an outdoor terrace with tables shaded by orange trees and sun umbrellas. A boutique sells souvenirs, jewelry, postcards, and books about the French Riviera during the Belle Epoque.
Address: Saint-Jean-Cap-Ferrat 06230
Official site: http://www.villa-ephrussi.com/en/home
7. Menton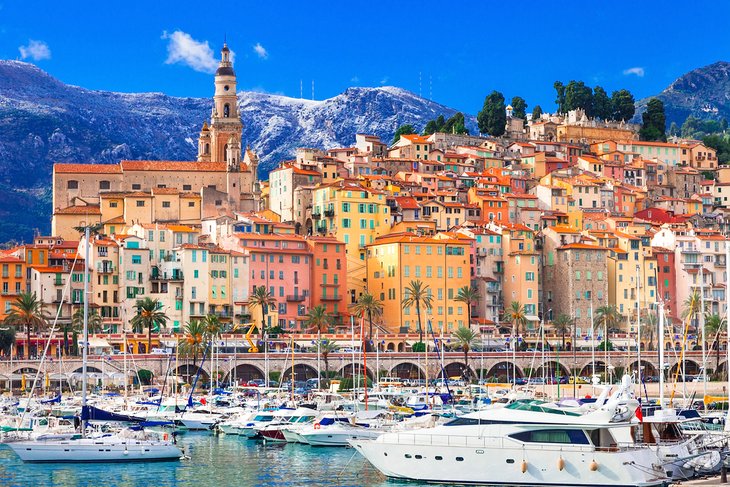 The sunny seaside city of Menton boasts a sensational location (the closest town on the French Riviera to Italy) with a mild climate year-round. The warm weather allows vibrant flowers and citrus fruits to flourish. In this lush Mediterranean environment, Menton's Vieille Ville (Old Town) has a distinctive Italian influence.
Visitors can begin a tour along the Rue des Logettes and the narrow Rue Longue, passing the town's ancient fortifications. A flight of steps (Rampes de Saint Michel) leads up to the Place de la Conception terrace with marvelous views of the sea. On the left stands the 17th-century Parish Church of Saint Michel with a winged altar created by Manchello in 1569. Farther up is the 17th-century Jesuit Chapel of the Conception.
For those in search of seaside relaxation, the Plage des Sablettes (beach) is ideal for sunbathing or taking a dip in the calm, temperate waters.
Menton is classified as a Ville d'Art et d'Histoire (City of Art and History) because of its cultural attractions. Not to be missed are the Musée des Beaux-Arts (Palais de Carnolès), which presents a collection of European paintings from the 19th century to contemporary pieces, and the Musée Jean Cocteau (at Menton's harbor), which displays hundreds of pieces painted by Jean Cocteau, who created many noteworthy artworks here during the 1950s.
Another highlight of Menton is its splendid gardens, including the Jardins Biovès, filled with sculptures, fountains, exotic trees, and flowering plants, and the Jardin Serre de la Madone, classified as a Historic Monument and a Jardin Remarquable (Remarkable Garden), which dazzles visitors with its reflecting pools, rare plants, and landscaped terraces.
The Jardin Botanique Val Rahmeh is another luxuriant green space. This lovely botanical garden is planted with a wide variety of palm trees and tropical vegetation including avocado, banana, and papaya trees.
Accommodation: Where to Stay in Menton
8. Cannes Film Festival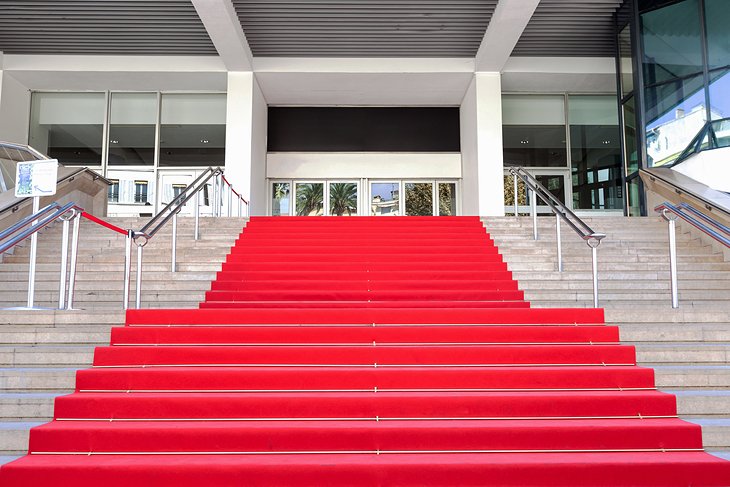 The most glamorous event of the French Riviera calendar, the Festival de Cannes draws movie stars and film producers from all over the world. While the actors and actresses strut the red carpet, locals and visitors watch as the scene unfolds at the Palais des Festivals et des Congrès.
This prestigious film festival is widely attended by cinema industry professionals and is well known for recognizing new cinema talent. It is always exciting to find out who wins the Palme d'Or and Grand Prix awards.
During the festival, there is a special buzz in the air. Every corner of Cannes seems to be part of the event, and giant billboards can be seen throughout the city, paying tribute to international stars and famous film legends.
9. Antibes Beaches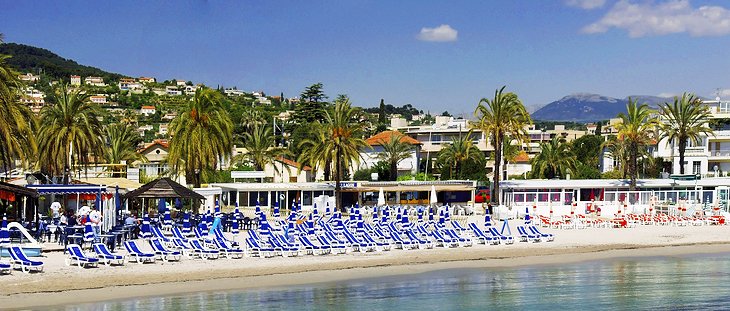 Antibes is an atmospheric seaside town, surrounded by gorgeous beaches in an unspoiled natural environment. The neighboring community of Juan-les-Pins was named after the groves of pine trees that flourish in this region.
The atmospheric Old Town (Vieil Antibes) and the beautiful coastline are the top attractions of Antibes and Juan-les-Pins. To appreciate the scenery, visitors can hike along the Chemin des Douaniers, a 3.7-kilometer trail (beginning at the Plage de la Garoupe) that offers invigorating exercise and majestic sea views.
Beach lovers have many choices, from large public beaches to private beaches with restaurants overlooking the waves. There are two main areas of beaches around Antibes: the Cap d'Antibes peninsula and Juan-les-Pins. The beaches in these areas are renowned for their fine sandy shores.
For those who enjoy excellent French cuisine, the Antibes and Juan-les-Pins area has many fine-dining establishments and chic bistros with outdoor terraces.
This area also boasts top-notch resort hotels such as the legendary Hôtel du Cap-Eden-Roc, known for its refined accommodations and luxurious amenities (spa, seaside swimming pool, and Michelin-starred restaurant); the five-star Cap d'Antibes Beach Hotel, which has a private beach; and the Hôtel Belles Rives, which occupies a 1920s Art Deco building with a piano bar that is listed as one of the Cafés Historiques et Patrimoniaux d'Europe.
Accommodation: Where to Stay in Antibes-Juan-les-Pins
10. Beaulieu-sur-Mer and Villefranche-sur-Mer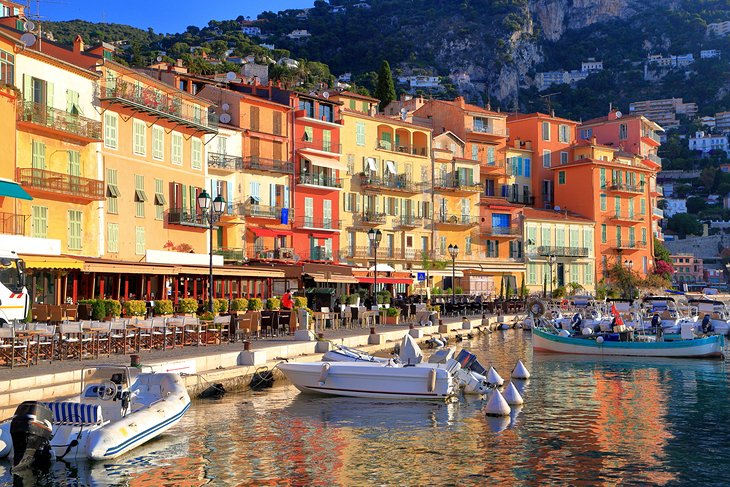 Closer than 10 kilometers (under a 30-minute drive) from Nice are two quaint seaside villages: Villefranche-sur-Mer, with a cheerful harbor, and Beaulieu-sur-Mer, an idyllic vacation resort. Both destinations rank among the top day trips from Nice.
In a lush Mediterranean environment of palm trees and vibrant flowers, Villefranche-sur-Mer is distinguished by its colorful waterfront buildings and a remarkable historic chapel, the Chapelle de Saint Pierre des Pecheurs. This 16th-century chapel has a surprising interior covered in frescoes that Jean Cocteau painted in 1957. The whimsical dream-like murals illustrate biblical themes, as well as typical scenes of the fishing village.
Just four kilometers away from Villefranche-sur-Mer, Beaulieu-sur-Mer is worth visiting to see the Villa Kérylos. This stately waterfront palace is a close replica of an ancient Greek nobleman's house (circa 2nd-century BC), complete with decor and furnishings based on items found at archaeological sites.
Accommodation: Where to Stay in Villefranche-sur-Mer
11. Île de Porquerolles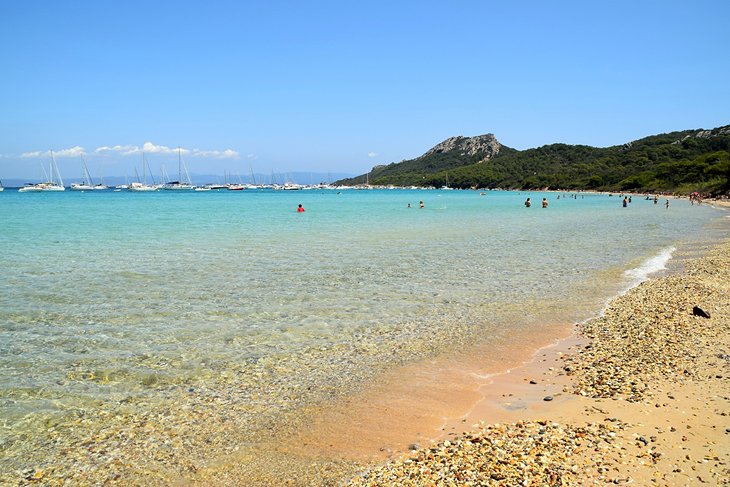 With gentle turquoise waters lapping against its soft sandy shores, the Île de Porquerolles has a dreamy, tropical feel. Although it's only a 10-minute boat ride from the French Riviera coastline, Porquerolles Island gives the impression of being much farther away.
The northern side of the island has fantastic beaches, while the southern side features steep cliffs and secluded hiking trails alongside creeks. Other popular activities during summertime are sailing, snorkeling, and scuba diving.
Nestled in the center of the island is the little village of Porquerolles, with a wide selection of hotels and restaurants.
To arrive at the Ile de Porquerolles, take a shuttle boat from Hyères (about a one-hour drive from Saint-Tropez or less than a 30-minute drive from Toulon.)
12. Jazz à Juan Festival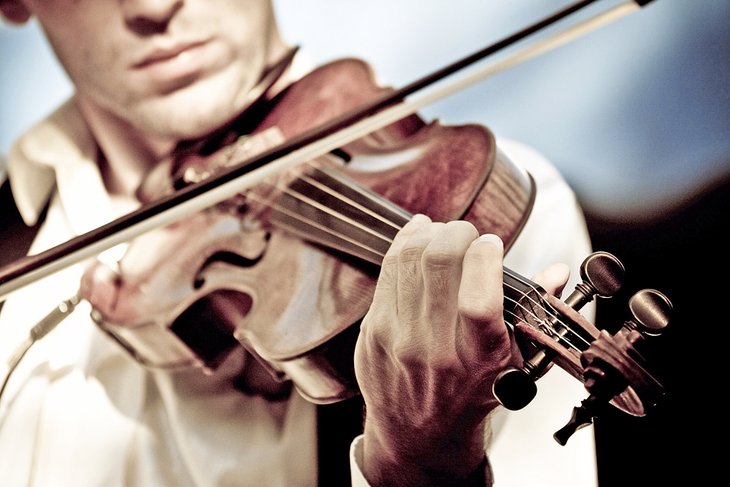 For music lovers, attending the Jazz à Juan festival in July is one of the most exciting things to do on the French Riviera. Set in a spectacular outdoor setting, this renowned festival presents world-class talent, including famous performers and up-and-coming new artists. Concerts represent a range of musical genres, such as New Orleans Jazz, Latin Jazz, Swing, and Blues.
Official site: http://www.jazzajuan.com/
13. Cassis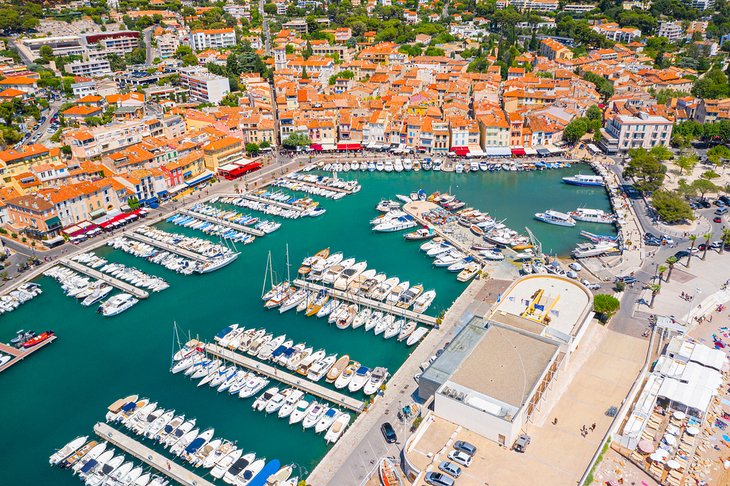 One of the top day trips from Marseille, Cassis is a quaint fishing village with colorful waterfront houses and a picturesque bay. The lovely setting attracted many artists in the early 20th century.
Cassis, along with Saint-Tropez, is considered part of both the Provence region and the French Riviera. As a traditional Provençal town, Cassis features narrow cobblestone streets, tree-shaded squares, and many restaurants with sunny outdoor terraces.
Summertime vacationers appreciate the nearby beaches, which are just a few kilometers outside of the town. There is also a beach within the town.
Accommodation: Where to Stay in Cassis
14. Saint-Raphaël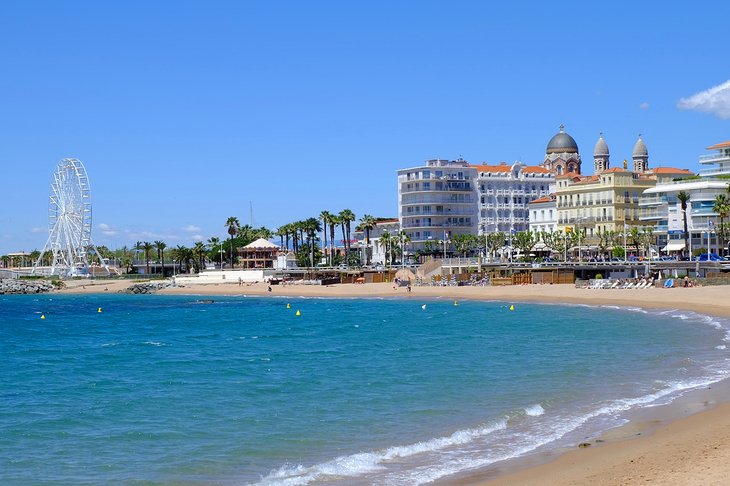 Sunshine, sandy beaches, and a lively city center await visitors to the resort town of Saint-Raphaël, located between Cannes and Saint-Tropez. The town has a traditional Provençal feel, with its pleasant pedestrian streets, old stone buildings, and daily open-air market. The well-maintained beaches are great for sunbathing and water sports.
Accommodation: Where to Stay in Saint-Raphaël